It is not easy to win a major PokerStars title. It is exponentially tougher to win a title in all three PokerStars COOP series and only six players managed the feat to date. Rui "RuiNF" Ferreira was the third player to notch those honors and he added a second SCOOP to his list of accomplishments after dominating a tough Day 2 on the $2,100 Six-Max event to earn nearly $200,000.
The tournament had more than $1.1 million in the prize pool up for grabs after 556 players put up the buy-in with the last three players all guaranteed a six-digit payout. The short-handed format kept the action moving at a quick pace and less than 5% of the starting field would be around when the two-day tournament paused for the overnight break.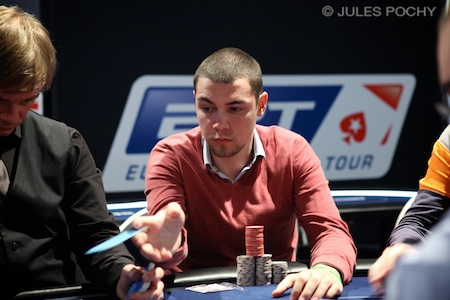 Rui "RuiNF" Ferreira
You certainly couldn't help but enjoy the amount of talent that came back for Day 2. There were only 24 players remaining at four tables with success players sitting all around.
We had six players looking for their second SCOOP title. elmelogno4, Malaka$tyle, and pAtcAsh83 from 2016. Jacob "donut604" Mackoff and KumariOy (also a WCOOP champ) in 2017 along with XD89lol earlier in this series.
Alexandros "mexican222" Kolonias, Charlie "JIZOINT" Combes, and dragonwarior were looking for their third SCOOP. Another three players were looking for the second leg of the Triple COOP; Mark "RenRad 01" Darner (WCOOP), MikeyGG3 (TCOOP), and Carster (WCOOP) could get one step closer.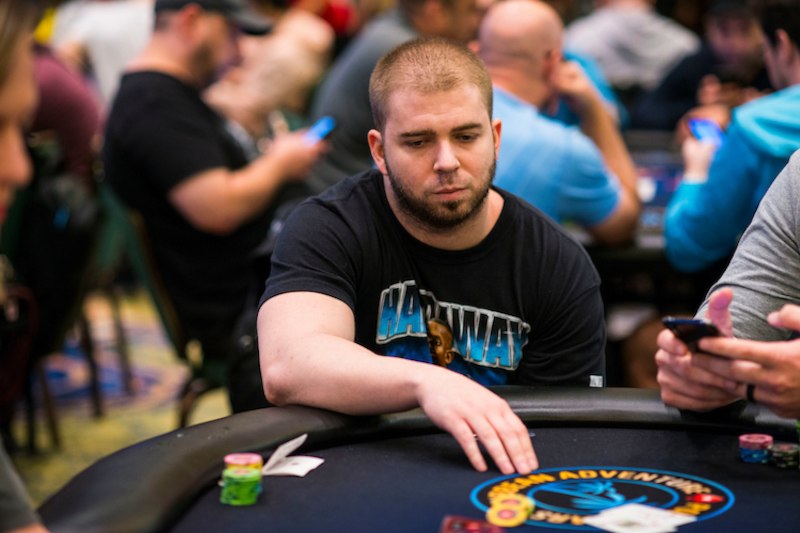 Mark "RenRad 01" Darner
girafganger7 already had two of the three parts needed and came into Day 2 as our only Triple COOP contender. Last year he captured a TCOOP title in January and followed that up with a WCOOP win September.
And then there was Ferreira. He was the third person in poker history to earn PokerStars Triple COOP honors and really had nothing left to prove except putting a little icing on top of the cake.
They hit the final table with Ferreira holding a healthy lead and the average stack sitting right on 50 big blinds. They got down to seven players when two-time COOP runner-up ImDaNuts ran his A♦Q♥ into Day 2 starting chip leader XD89lol<3's A♠K♣.
Final table lineup:
Seat 1: steakaddict. – 7,664,528 (48 bb)
Seat 2: fring2013 – 3,519,824 (22 bb)
Seat 3: 07Papi – 4,238,559 (26 bb)
Seat 4: Rui "RuiNF" Ferreira – 17,811,222 (111 bb)
Seat 5: Iimitless – 5,671,847 (35 bb)
Seat 6: XD89lol<3 – 10,861,498 (68 bb)
Seat 7: Kumari0y – 5,832,522 (36 bb)
Blinds: 80,000/160,000 with a 20,000 ante
Wait for it, wait for it, two gone
Deep stacks and a slow structure. The seven remaining players were in no hurry (or in any danger) so they could make the moves they thought best. That also meant it took nearly two hours for someone to hit the rail.
And then they lost two in one orbit.
fring2013 was one of the few players returning with a smaller result sample than most. The Chinese grinder slipped under two big blinds and took a shot. Ferreira and steakaddict. called his shove then checked it down till the board read J♦8♣7♥4♥A♥. steakaddict. bet the river, Ferreira called, and steakaddict. was best with A♣K♣ versus A♦10♥ for the side pot. fring2013 mucked his hand and it was a SCOOP scoop for steakaddict..
Iimitless made a WCOOP final table in September but he fell short of a title here as well. He was the next short stack shove a few hands after laddering up the payouts and it was Ferreira getting the scalp this time. He open-shoved from the button and Iimitless called at risk in the small blind. Iimitless was live with K♣Q♦ versus A♣6♠ but kickers played on the 10♦4♦4♠6♥10♥ board.
Cooling off XD89lol<3
XD89lol<3 is basically freerolling the rest of the series. And a long time after that. The Finnish player won the Sunday Millions Special Edition on opening weekend for almost $200,000 and he had another nice run today.
It took a tough beat for him to exit this tournament and it was 07Papi's turn to send someone out. XD89lol<3 three-bet shoved from the button after a 07Papi open and the bet was quickly called.
XD89lol<3 was in great shape for a huge double, his Q♣Q♠ dominating A♣Q♥, but the virtual dealer was unkind with the A♠5♣2♥ flop. The board finished with the J♦ turn and A♥ river to knock the 2018 SCOOP winner out.
No Papi
But that one knockout was not good enough to keep 07Papi around much longer. With Ferreira and steakaddict. sitting comfortably at the top of the counts, the other two players needed to make a move.
Kumari0y was the shortest stack and he had to settle for a fourth-place finish, missing out on a second SCOOP and 07Papi moved all in shortly after he was eliminated. His hand took five bets at the three-handed table to get all of the chips in the middle.
Once again, 07Papi had a big ace but this time he was racing. Perhaps he's more comfortable as the underdog. His A♠J♥ was up against the 8♣8♥ for Ferreira and the 9♥6♠2♥Q♦3♥ runout could not save his tournament.
Settle in for the long haul
Seat 1: steakaddict. – 26,698,223 (76 bb)
Seat 4: Rui "RuiNF" Ferreira – 28,901,777 (83 bb)
Blinds: 175,000/350,000 with a 45,000 ante
Both stacks were relatively close so the last two players settled in for the long haul. Ferreira had a small lead to start heads-up but steakaddict. turned the tables when he won a big hand without a showdown. Ferreira opened his button to 773,500 and steakaddict. three-bet to 2,707,221. Ferreira put in a fourth bet to 5,793,655 and steakaddict. called to see the 7♦6♣3♠ flop.
Check, check, A♦ turn and a bet of 2,452,235 from steakaddicts. took down the 11 million chip pot for the lead.
But Ferreira returned the favor a few hands later when steakaddict. defended his big blind to see the Q♣4♣4♦ flop. Then steakaddict. pulled a check-raise but his aggression was checked when Ferreira called to see the 5♦ turn. It went check, bet, call for another 1.2 million and another check, bet, call for 4.53 million after the 10♠ river. Ferreira tabled 5♥4♥ for a full house to drag the 16 million chip pot.
steakaddict. mucked so we'll have to wait for the replay later to see what he had.
The result was another lead change to put Ferreira back in charge.
It takes a cooler to end it
The heads-up battle could have gone on for hours. As it was, it still took an hour of back-and-forth to get it done and only after both players hit big hands.
It was a standard preflop hand with a limped button, raised big blind, and call to a flop. The K♣J♥4♣ board prompted a 1,566,000 bet from Ferreira and steakaddict. raised to 4,848,720. Ferreira settled with a call, checked the 5♠ turn then called 4,335,021.
The river came 7♠ and Ferreira checked. steakaddict. probably thought he was taking Ferreira to Valuetown the entire board and shoved for 8,231,346 with flopped top two K♥J♦. But it was Ferreira letting steakaddict. do all the heavy lifting and he was good with his flopped set of fours with 4♥4♦.
The tournament ended right there. A second COOP runner-up finish for steakaddict. to go along with his $213,000 second-place finish in the 2017 TCOOP High Roller.
This is the fourth COOP title for Ferreira and his second SCOOP. As of January 2016, only two players had so far earned titles in all three major PokerStars COOP series. Shawn "buck21" Buchanan was the first to lock up a WCOOP, SCOOP, and TCOOP title and he was followed by James "Andy McLEOD" Obst.
Ferreira broke through with Triple COOP honors that January in TCOOP to put his name on a very short list of players to accomplish the feat. Since that time, Fabrizio "SixthSenSe19" Gonzalez, Mike "goleafsgoeah" Leah, and Nick "chilenocl" Yunis added their names to put Ferreira in some very unique company.
Ferreira earned $196,407 for the SCOOP win and solidified his standing among the best online poker players.
SCOOP-30-H ($2,100 NLHE 6-Max) results
Entrants: 556
Total prize pool: $1,112,000
Places paid: 71
1. Rui "RuiNF" Ferreira (Netherlands) $196,407.42
2. steakaddict. (Romania) $140,256.56
3. 07Papi (Switzerland) $100,158.95
4. Kumari0y (Russia) $71,524.72
5. XD89lol>3 (Finland) $51,076.71
6. Iimitless (Macao) $36,747.48
7. fring2013 (China) $28,947.58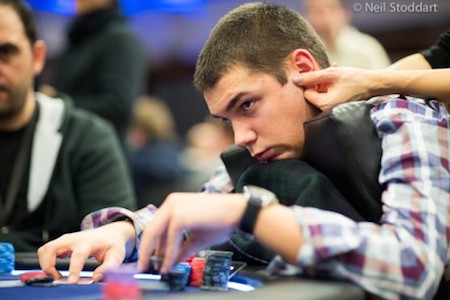 Rui "RuiNF" Ferreira
---
Ready to sign up for PokerStars and go for your own SCOOP title?
Click here to get a PokerStars account.
---