It was only a matter of time before Finland's XD89lol<3 basked in the warm glow of the COOP winner's spotlight. XD89lol<3 final tabled High Roller events during the 2017 SCOOP and 2017 WCOOP, but fell short of a title. After several near misses in PLO High Rollers, XD89lol<3 locked up a COOP victory and a Sunday Million win in the same breath by winning the 2018 SCOOP Event #4-M.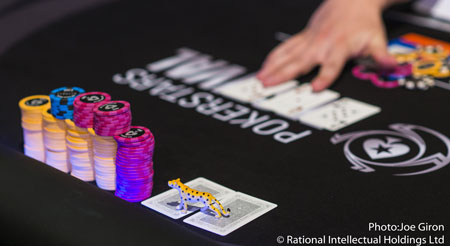 Cards went in the air on Sunday for the tenth incarnation of the Spring Championship of Online Poker (SCOOP). The pinnacle of the Sunday majors, the Sunday Million, also doubled as SCOOP Event #4-M $215 NL on the opening day of the 2018 SCOOP. This "Special Edition" of the Sunday Million had a $1 million guaranteed prize pool, but it didn't come close to kicking in because the total pool topped $1.38 million. A total of 6,916 runners took a single shot at this week's Sunday Milly. They all eyed a juicy first-place prize worth $196K.
The Sunday Milly Stat Tracker:
6,916 runners
$196,472.69 to first place
$1.38M prize pool
Top 989 paid
Day 1 of the Sunday Million ended with only 195 players surviving the cut. valerascr from Russia bagged up the most chips at the end of Day 1 with 10.5M. The leader board was dominated by Russia and Brazil with 3 players each in the top 10.
Early on Day 2, johnnyknock became the player to beat as the Canadian built up the big stack to over 14M. With 45 remaining on the final 5 tables, volandNEW enjoyed a brief reign in the top spot with 18M johnnyknock resumed his coquettish relationship with the lead.
With 36 on the final 4 tables, fellow Canadian EndlessJ moved into second place behind johnnyknock and the gregarious red and white flag with the red maple leaf occupied the top two spots.
With 27 to go, new chip leader Russia's AABP_SAKH became the first player to pass 30M in chips. By the time the field thinned to 20, johnnyknock doubled his stack to over 48M and regained the lead.
The final ten played five-handed for a lot longer than anyone anticipated. The bubble lasted nearly four levels. muka_gming began the bubble second overall in chips, but failed to maintain one of the big stacks. muka_gming couldn't stop hemorrhaging chips and incurred a significant amount of damage. muka_gming got it all-in with pocket deuces versus Eduardo850's K♦Q♦. Eduardo850 turned a flush and muka_gaming bubbled off the final table in tenth place.
Sunday Million – Final Table Chip Counts:
Seat 1: Eduardo850 (27,535,196)
Seat 2: XD89lol<3 (80,429,822)
Seat 3: hotfils77 (28,688,660)
Seat 4: JonTarg (31,482,688)
Seat 5: volandNEW (40,732,663)
Seat 6: johhnnyknock (61,938,759)
Seat 7: EndlessJ (24,735,780)
Seat 8: barn284 (27,235,192)
Seat 9: ham1l_I0n (23,021,240)
With nine to go, bigstacked XD89lol<3 led with 80M and ham1l_I0n from the Ukraine was the short stack with 23M.
QUICKIES
After a protracted bubble, we saw three quickie bustouts. The first elimination occurred on the second hand of the final table when hotfils77 flopped a set of nines with 9♦9♠ and three-bet shoved on the turn. JonTarg got it all in with J♣10♠ and a straight draw, but never got there. hotfils77's set of nines held up and Ireland's JonTarg was the first player out at the final table.
A couple of hands soon after, EndlessJ made a final stand with A♥6♠ but XD89lol<3 prevailed with [Kc][Jh]. EndlessJ flopped a Broadway gutshot draw and turned a pair of Aces, but never improved on the river. XD89lol<3 flopped two pair, which held up. EndlessJ got smoked in eighth place, which paid out $14,940.91.
JOHNNYKNOCK KO'D
Former front-runner johnnyknock met his fate in seventh place. johhnnyknock had fallen on hard times and picked a spot to rumble with K♦Q♥. volandNEW accepted the challenge with A♣10♠. Neither player improved and volandNEW dragged the pot with an Ace-kicker. Canada's johnnyknock took home $21,588.57 for seventh place.
FEND FOR YOURSELF HAMILTON
ham1l_I0n came into the final table as the short stack, but didn't let the deficit get in the way of a brilliant comeback. ham1l_I0n made what Cardi B would refer to as "money moves." ham1l_I0n's run at the top spot seemed legit after picking off barn284 in sixth place. ham1l_I0n outflopped Ace-seven with J♣10♣. barn284 flopped a Broadway gutter, but it never materialized and barn284 never improved. ham1l_I0n dragged the pot with two pair. For sixth place, the U.K.'s barn284 earned $31,193.92.
With five remaining, two of the short stacks rumbled. All the money went in on the flop. Eduardo850 check-raised all-in with 5♥4♥ and had a flush draw and an open-ended straight draw. volandNEW flopped top pair with J♦8♠ and led until the Queen of hearts spiked on the turn and filled in a flush for Eduardo850. Russia's volandNEW won $45,072.81 for fifth place.
With four remaining, the chips tilted to ham1l_I0n's side of the table, who chipped up to over 123M.
THE 4-WAY SLOG; COWBOYS GOOD
The first half of the final table busted in an expedited fashion, but everything hit a slog with four remaining. They played nearly 5 levels of action before someone busted as the blinds crept over 1.5M/3M. After 80+ minutes of four-handed action, hotfils77 got it all-in preflop and attempted to double up with A♣J♠ but ran into ham1l_I0n's K♥K♣. Neither player improved but pocket cowboys held up and hotfils77 hit the road in fourth place, which paid out $65,126.86.
With three to go, ham1l_I0n's monster stack topped 200M, while XD89lol<3 was second with 100M and Eduardo850 held onto the small stack with 40M.
ACES GOOD; BOA NOITE EDUARDO850
XD89lol<3 went to work and chipped away at ham1l_I0n's lead. Meanwhile, it was finally time to go for the short-stacked ninja from Brazil. Tough timing for Eduardo850, who moved all-in with [Kh][4h] and ran into ham1l_I0n's [Ac][Ah]. The flop was [9c][6h][5h] and Eduardo850 caught a glimmer of hope with a flush draw. Eduardo850 turned a pair of fours, but whiffed on the river. No flush for Eduardo850. Aces held up and ham1l_I0n won the pot. Eduardo850 busted in third place and the Brazilian earned $94,103.10.
HEADS-UP: XD89lol<3 (Finland) vs. ham1l_I0n (Ukraine)
Seat 2: XD89lol<3 (197,818,921)
Seat 9: ham1l_I0n (147,981,079)
Down to two and ham1l_I0n trailed by 50M.
The decisive hand occurred approximately 11 minutes in when ham1l_I0n got caught with a hand in the cookie jar. XD89lol<3 sniffed out a bluff to win a sizable pot worth 126M. That pot decimated ham1l_I0n, who was left to fend with a gaunt stack worth 31.4M compared to an opposing behemoth stack in excess of 314M. ham1l_I0n would be on the run for the remainder of tournament before losing the heads-up duel.
XD89lol<3 WINS SUNDAY MILLION AND SCOOP EVENT #4-M
Despite multiple valiant efforts to stave off elimination, ham1l_I0n couldn't pull off a successful coup. On the final hand, big-stacked bully XD89lol<3 open-shoved with [9s][8h] and ham1l_I0n called all-in with [Ah][5h]. ham1l_I0n was outgunned when the [9c] hit the flop. XD89lol<3 took the lead with a pair of nines. The board ran out [Th][9c][6d][Tc][3s]. ham1l_I0n never improved and XD89lol<3 won the pot with two pair -- tens and nines.
For a runner-up finish, ham1l_I0n from the Ukraine banked $135,971.87.
XD89lol<3 took down $196,472.69 for winning the Sunday Million and SCOOP event #4-M.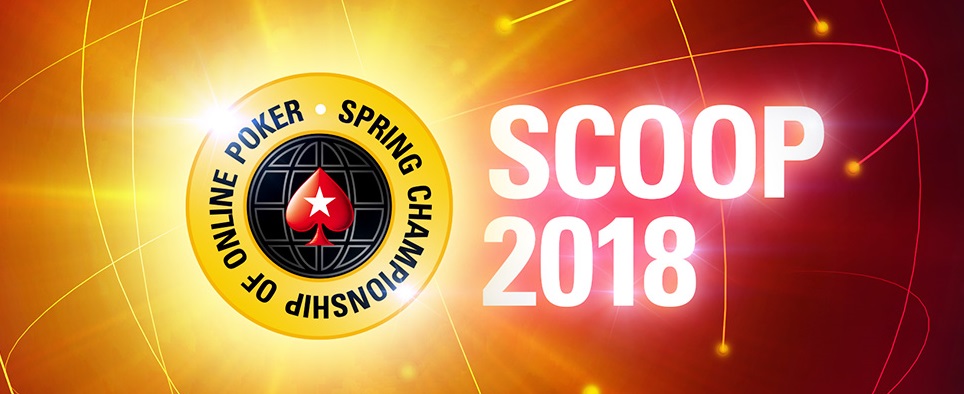 SCOOP-04-M ($215 NLHE [Sunday Million SE]) results
Entries: 6,916
Prize pool: $1,383,200
Places paid: 989
1. XD89lol<3 (Finland) $196,472.69
2. ham1l_I0n (Ukraine) $135,971.87
3. Eduardo850 (Brazil) $94,103.10
4. hotfils77 (United Kingdom) $65,126.86
5. volandNEW (Russia) $5,072.81
6. barn284 (United Kingdom) $31,193.92
7. johnnyknock (Canada) $21,588.57
8. EndlessJ (Canada) $14,940.91
9. JonTarg (Ireland) $10,340.24
Visit the SCOOP homepage for a schedule of events and find out who is on top of the Leader Board and in contention for Player of the Series.
---
Ready to take your shot at a SCOOP title? Sign up for PokerStars today!
---