Star spotting on the PokerStars VR tables…
He was barely recognizable beneath the bowler hat, the false beard, the mirrored shades and the cigar, but one of live poker's top pros dropped into the PokerStars VR world this week to check things out in our alternative universe.
Not that he was wearing any of this stuff. But he could have been, with a wardrobe full of avatars and cosmetics to try before taking a seat in this revolutionary new game.
Which is one of the great things about the uber-cool virtual poker world. You can be anyone you want, and look how you want. Although if your name is Michael Mizrachi you're likely to be spotted.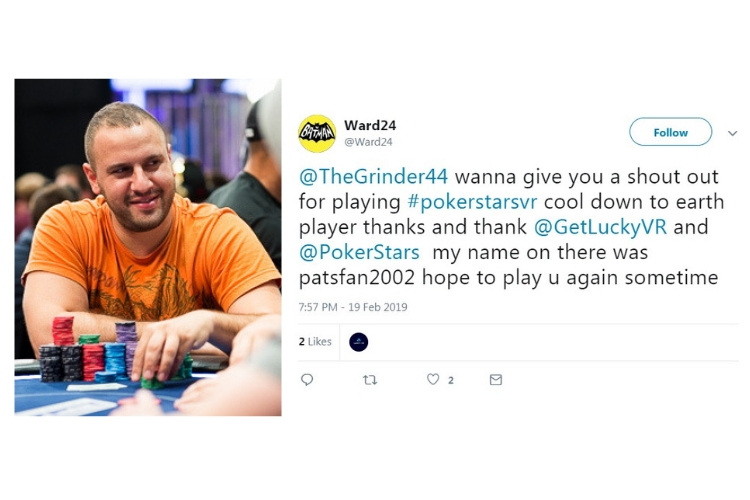 Michael @TheGrinder44 Mizrachi making a good impression on PokerStars VR
It's not clear how Mizrachi got on after plugging himself into the PokerStars VR world. But then after a single session you quickly realise that's not the point.
It's not just about winning and losing. There's the interactive part, the "cosmetics," and all the fun to be had throwing accessories – like hot tea – at your opponents. All without fear of a one round penalty, or the disapproval of people back in the real world.
And if you have a few extra pixels in your stack at the end of your session, even better.
If you want to join the likes of Mizrachi, as well as members of Team Pro in the PokerStars VR world, you can play for free on PokerStars.
The PokerStars VR homepage has all the details including how to log in, what hardware you'll need, and a few of the special features (the hot tea for instance) that you can play around with.
It also explains how to host your own private table to play against friends, as well as leader boards, in case you want to pay attention to the poker rather than your miniature pet donkey.