The first time he found himself within three places of winning the Super Tuesday, Daris "DEX888" Pedes got his chips in as a 2-to-1 favorite. The player who eventually won the tournament outdrew him and DEX888 settled for fourth place.
Tonight DEX888 revisited that experience from a different (and much more profitable) perspective. He began an hour of four-handed play as the short stack and then, after surviving one crucial pot with a dominated ace, stormed into the chip lead. He won the pot that trimmed the field to three players, came into heads-up play in a virtual tie after his opponent knocked out the third-place player, and then picked up two big pairs on back-to-back hands 22 minutes later to walk away with a hard-fought Super Tuesday win.
Apart from a short stretch after he doubled up with 18 players left, DEX888 played most of the tournament with an average stack or smaller. In fact, he had the shortest remaining chip stack by the time IAmSoSo's J♦J♠ held up against slarki1's 6♥6♠ to knock the Romanian player out in 10th and set the final table lineup.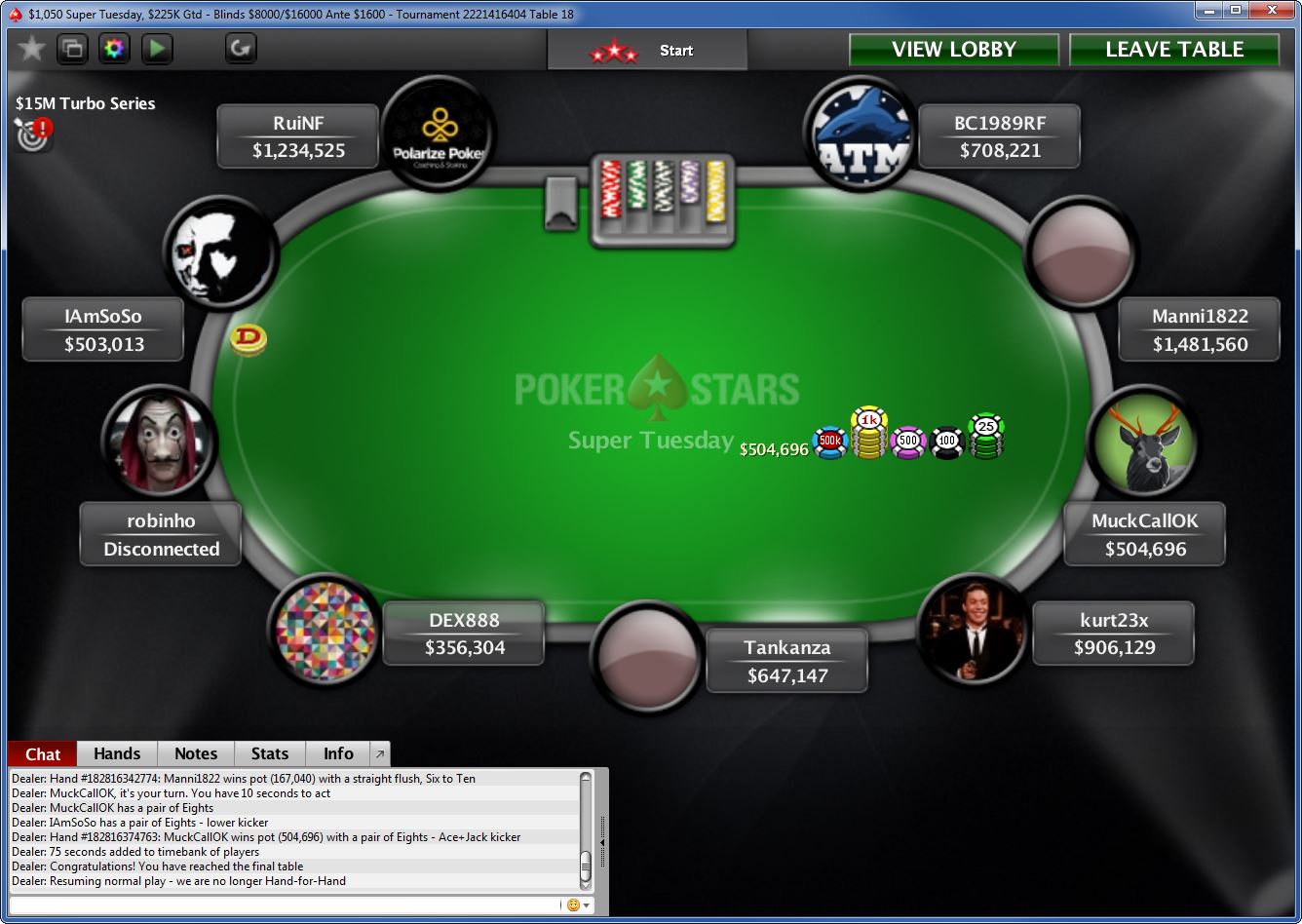 DEX888 had to work from the ground up to win this week's Super Tuesday
Seat 1: BC1989RF (708,221 in chips) finished fourth in last week's Super Tuesday
Seat 2: Manni1822 (1,481,560 in chips) past WCOOP finalist
Seat 3: MuckCallOK (504,696 in chips) past Sunday Warm-Up & $109 Sunday Rebuy winner
Seat 4: kurt23x (906,129 in chips) $3.3 million in PokerStars cashes
Seat 5: Tankanza (647,147 in chips) WCOOP 2017 Super Tuesday SE winner
Seat 6: Daris "DEX888" Pedes (356,304 in chips) past SCOOP & Super Tuesday finalist
Seat 7: Robin "robinho" Ylitalo (708,405 in chips) TCOOP winner in 2013 & 2016
Seat 8: IAmSoSo (503,013 in chips) WCOOP 2017 finalist
Seat 9: Rui "RuiNF" Ferreira (1,234,525 in chips) became PokerStars' third Triple COOP winner back in 2016
The pots stayed small for most of the first 30 minutes. DEX888 was able to stay afloat by picking off the blinds and antes once or twice an orbit and didn't meet any real resistance from the two similarly-stacked players to his left. When IAmSoSo doubled up at the 20-minute mark – after moving all-in from the cutoff and catching a ten with K♣10♣ to top Rui "RuiNF" Ferreira's pocket eights – it was only the second pot at the final table worth at least 20 big blinds. A much larger pot played out ten minutes later when Robin "robinho" Ylitalo limped on the button with A♦J♣ and IAmSoSo followed in the small blind. RuiNF moved all-in with K♣Q♠ from the big blind and robinho called as a 3-to-2 favorite to double to 1.35 million. He almost got there but the river of the 4♥5♦3♠4♠Q♥ board gave RuiNF a pair of queens and ended robinho's tournament in ninth.
The same two hands were matched up two hands later. BC1989RF, appearing at a second consecutive Super Tuesday final, opened all-in for 502,721 chips in the small blind and Manni1822 called in the big blind. Manni1822 had the A♦J♥ on this hand and it won unimproved when the board came nine-high. BC1989RF's K♦Q♣ was no good and the Hungarian player was out in eighth.
Those big wins sent both RuiNF's and Manni1822's stacks north of 2 million chips each, good for 80 big blinds. The other five players were hanging on with anywhere from 16 to 30 blinds. That made for a lot of raise-and-fold poker until IAmSoSo raised and RuiNF called. IAmSoSo tried to steal from the small blind with 10♥8♦ and RuiNF came along with Q♦J♣. A queen on the flop locked up 539,872 chips for RuiNF and IAmSoSo settled for seventh.
Four hands later the final table's lone player from the Western Hemisphere, and one of its three players from Austria, went to battle before the flop. MuckCallOK raised small in the cutoff with Q♣Q♥ and then called all-in when kurt23x shoved with 5♣5♦ on the button. A set on the flop and a paired board on the turn gave MuckCallOK queens full of aces and the 1.23-million-chip pot. kurt23x, who was left with about three big blinds' worth of chips after that loss, held on for four more hands and then bowed out in sixth.
kurt23x's departure left five European players to decide who would win this week's title. The lone German among them, DEX888, was in the same territory he'd been in when the final table began: he had a stack worth about 12 big blinds and needed a break to avoid elimination. That break came five minutes later when he defended the small blind with A♠J♣, re-raising all-in for just 251,132 chips. Cutoff raiser MuckCallOK called with J♥9♥ and DEX888 doubled up when both players ended up with a pair of deuces on the board.
DEX888 was able to hold his chip position for the next 20 minutes before catching another break. This time the only player left with a shorter stack, Tankanza, opened all-in from the cutoff seat with 3♦3♠. DEX888 isolated with A♦9♦ and caught the 9♥ on the flop to eliminate Tankanza in fifth.
"During four-handed play the one constant was that the bigger the pot, the greater the chance DEX888 would end up winning it."
That win put DEX888 back on equal footing with MuckCallOK at about 25 big blinds apiece, though still well behind Manni1822's 89 blinds and RuiNF's 62 blinds. The stack sizes would change over the next hour but the lineup stayed the same. The one constant was that the bigger the pot, the more chance that DEX888 would end up winning it. The trend began after a pot in which DEX888 limped on the button with A♠4♠. RuiNF did the same from the small blind but got out of the way after Manni1822 raised to 157,500 chips in the big blind and DEX888 shoved for another 630,000. Manni1822 called quickly with A♣K♦ but lost out when the 6♠Q♦A♦4♣J♦ board gave DEX888 aces and fours.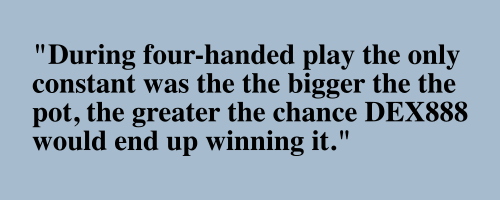 The players came back from a break to play more small ball. It wasn't until a half-hour later that the next seven-figure pot came along – and once again it was contested by DEX888 and Manni1822. This time DEX888 defended the big blind with K♦5♦, made a pair of fives on the flop, and check-called two streets of Manni1822's bets before both players checked the river with the board reading 4♣10♦5♣3♦Q♥. DEX888 showed down the fives and dragged the 1.2-million-chip pot as Manni1822 mucked.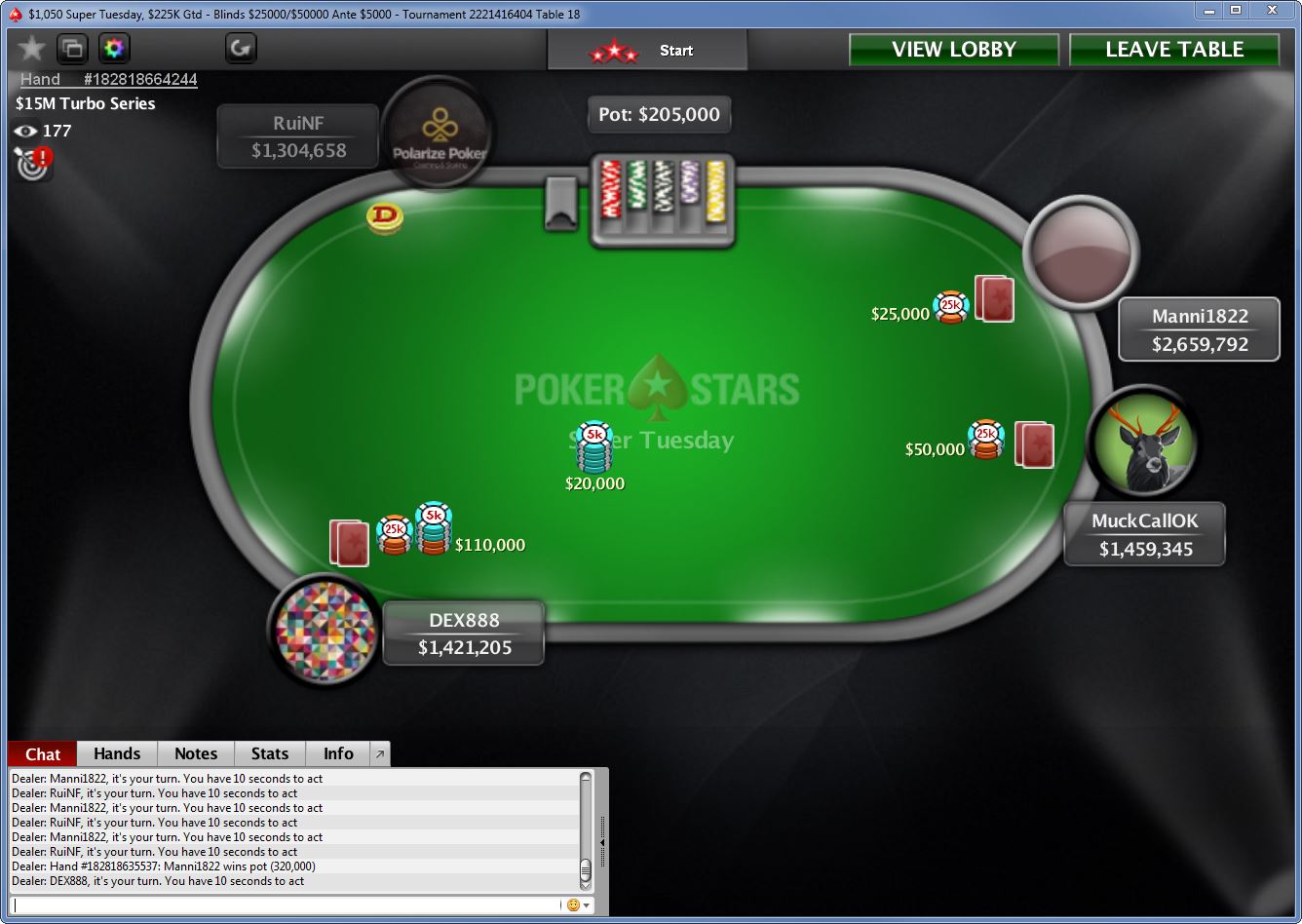 Four-handed play lasted more than an hour and gave DEX888 the chip lead
Just five hands later DEX888 ended the four-handed portion of the final table, moving all-in with A♠10♣ over the top of MuckCallOK's shove from the button. The Austrian was a slim favorite with pocket sevens but wound up departing in fourth after the A♦ hit the river.
After an epic session of four-handed poker, three-handed play lasted only four hands. The last one saw DEX888 raise small on the button and then fold after RuiNF jammed with K♥J♥ in the small blind and Manni1822 re-shoved with 6♠6♦ in the big. RuiNF still had a whopping 17 outs after the turn of the 7♠7♥3♠A♥10♦ board, but the river card wasn't one of them. Manni1822 scooped up the 2.6-million-chip pot and RuiNF's journey ended in third.
DEX888 took down the first four pots heads-up. The first two were small but the third was a whopper.
DEX888 defended the big blind with A♥2♥, picked up a flush draw on the J♥8♥K♦ flop, and check-called bets there and on the 10♠ turn before making a pair of aces with the A♣ on the river. DEX888 check-called one more time for 695,000 chips and dragged the 3.06-million-chip pot when Manni1822 showed down 9♥6♣ for nothing more than a busted straight draw. Manni1822 still had plenty of room for manoeuver with 40 big blinds' worth of chips, but then DEX888 picked up pocket kings on back-to-back hands.
The first pair of kings came on the button and DEX888 managed to get three streets of value from them, dropping Manni1822 under 30 big blinds. DEX888 defended the big blind with the second pair of kings, then raised and eventually called when Manni1822 three-bet all-in with J♦9♣ for an open-ended straight draw. The draw missed and DEX888's unlikely journey ended in victory.
Congratulations to DEX888 on persisting against a skilled lineup and pulling off one of the bigger Super Tuesday final table comebacks we've seen in quite a while!
2/13/18 Super Tuesday ($1,050 NL Hold'em) results
Entrants: 282
Total prize pool: $282,000
Places paid: 39
1. Daris "DEX888" Pedes (Germany) $53,777.52
2. Manni1822 (Austria) $39,995.38
3. Rui "RuiNF" Ferreira (Netherlands) $29,745.41
4. MuckCallOK (Austria) $22,122.27
5. Tankanza (Austria) $16,452.81
6. kurt23x (Costa Rica) $12,236.29
7. IAmSoSo (Sweden) $9,100.39
8. BC1989RF (Hungary) $6,768.16
9. Robin "robinho" Ylitalo (Sweden) $5,033.61
---
Play weekly with the world's best in the Super Tuesday. Click here to open your PokerStars account today.
---