There were 185 tournaments. There were more than 1 million entries and prize pools only a whisker shy of $100 million. Here's the final daily instalment of our 2018 World Championship of Online Poker (WCOOP) round-up as the game's biggest online series goes out with a bang–and names its latest World Champion.
---
TODAY'S HEADLINES
• "wann2play" turns $530 satellite ticket into $1.35 million Main Event triumph
• Wins Platinum Pass to PSPC after beating "eze88888" heads-up
• "wellingtowap" wins $55 Main Event, locks up leader board for Brazil
• Two players final table Main and $25K High Roller simultaneously
• Macau's "limitless" wins huge to end 2018 WCOOP
• More than 1 million entries; $100 million in prizes
---
WANN2PLAY LAYS MAIN EVENT TO WASTE
It took close to 25 hours of play, stretched over three days, and left all of poker's finest scattered to the wind. At then at 3:52 a.m. WET, "wann2play", a $530 satellite winner from the Netherlands, finally ran out of opponents.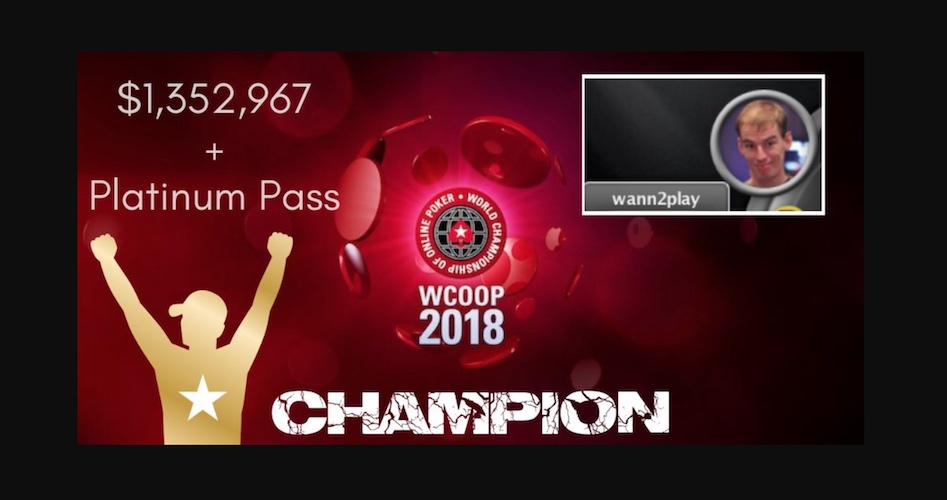 wann2play is WCOOP Main Event champion
At the start, 2,044 had wann-ed 2 play against him, but now none had any more chips. "wann2play" was crowned champion of the 2018 World Championship of Online Poker (WCOOP) Main Event and took a first prize of $1,352,967.97 plus a Platinum Pass to next January's Poker Players Championship (PSPC) in the Bahamas.
He is the second Dutch champion in consecutive years, following in the footsteps of Steve "SvZff" Van Zadelhoff, who won this tournament in 2017. If only there was an obvious idiom to describe such an achievement. Got it: Two-Time Netherlands!
The final moments:
"wann2play" had lived up to his name ever since he entered a $530 satellite to the Main Event, which didn't finish until nearly three-and-a-half hours after the major tournament had begun. But he took seat, in on the cheap, and never left it until he cut a heads-up deal with Argentina's "eze88888" when the pair had seen the dangerous Linus "LLinusLLove" Loeliger hit the rail in third.
Loeliger has already won one huge tournament during this WCOOP series, and was chip-leader throughout much of this tournament too. But the Austrian came up short in third, winning $764,501. "eze88888" was chip-leader when the deal negotiations began — he had 342 million to "wann2play"'s 169 million — and locked himself up a $1,257,203.66 payday. But "wann2play" came back strongly when they were heads up, pushing "eze88888" into second.
Right now, we don't know much about "wann2play", beyond the fact that he or she represents the Netherlands and sealed the deal last night with K♦6♣, through a board of 3♥2♣2♦J♠A♠. "eze88888" only had Q♣8♣. But the shroud of anonymity will lift as the Platinum Pass is awarded and "wann2play" takes a shot at an even bigger prize next January.
Stick around on the Blog for potential winner's interview, and much more.
The top eight were as follows.
1: wann2play (Netherlands) – $1,352,967.97*
2: eze88888 (Argentina) – $1,257,203.66*
3: Linus "LLinusLLove" Loeliger (Austria) – $764,501.99
4: PlayaPlz (Costa Rica) – $540.584.85
5: Michael "mczhang" Zhang (UK) – $382,252.52
6: Noah "Exclusive" Boeken (Netherlands) – $270,293.45
7: 0409479 (UK) – $191,127.28
8: 4rebmun (Canada) – $135,147.23
In the $55 "low" buy-in Main Event, Brazil's "wellingtowap" secured a first prize of $192,036.92, beating Russia's "nafnaf_funny" into second place. Not only did "wellingtowap" secure the biggest win of his career, but the victory also sent Brazil to the top of the countries leader board for this WCOOP.
Brazilian players won 23 titles, beating the UK's total by one. "wellingtowap"'s huge score was decisive.
---
TODAY'S RESULTS
| Name | Buy-in | Entries | Prize pool | Places | Winner | Country | Prize |
| --- | --- | --- | --- | --- | --- | --- | --- |
| 58-L: NLHE Main Event | $55 | 39,817 | $1,990,850 | 6,461 | wellingtowap | Brazil | $192,036.92 |
| 58-H: NLHE Main Event | $5,200 | 2,044 | $10,220,000 | 251 | wann2play | Netherlands | $1,352,267.97* |
| 62-L: NLHE 8-Max High Roller | $215 | 4,582 | $916,400 | 751 | WATnlos | Austria | $130,598.18 |
| 62-M: NLHE 8-Max High Roller | $2,100 | 792 | $1,584,000 | 111 | Sam "Str8$$$Homey" Greenwood | Canada | $268,775.65 |
| 62-H: NLHE 8-Max High Roller | $25,000 | 141 | $3,458,025 | 17 | limitless | Macau | $725,847.48 |
| Daily totals | | 47,376 | $18,169,275 | 7,591 | | | $2,669,526.20 |
*after deal
Click for full results from WCOOP 2018
---
BEHIND THE HEADLINES
The $25K High Roller constellation: The final high buy-in event of this year's WCOOP, and the last event to conclude, was the $25,000 High Roller hold'em turbo. A late addition to the schedule, it attracted without doubt the densest concentration of poker heavyweights of any event, many of whom had been competing over the weekend in the Poker Masters at the Aria, Las Vegas.
Here's the full list of players making the money, which reads like the entry list to most Super High Roller tournaments across the globe:
1: "limitless" (Macau) – $725,847.48
2: David "dpeters17" Peters (Canada) – $561,903.81
3: Luke "Bit2Easy" Reeves (UK) – $434,989.46
4: Michael "mczhang" Zhang (UK) – $336,740.74
5: Bartlomeij "bartek901" Machon (UK) – $260,682.86
6: Andras "probirs" Namath (Hungary) – $201,803.76
7: Sergio "zcedrik" Aido (UK) – $156,223.54
8: Linus "LLinusLLove" Loeliger (Austria) – $120,938.19
9: Justin "ZeeJustin" Bonomo (Canada) – $99,556.53
10: "dannagger" (Norway) – $81,955.19
11: Stephen "stevie444" Chidwick (UK) – $81,955.19
12: Ivan "Negriin" Luca (Argentina) – $81,955.19
13: "fr0zZy" (Russia) – $67,465.72
14: Juan "Malaka$tyle" Pardo (UK) – $67,465.72
15: Mustapha "lasagnaaammm" Kanit (Austria) – $67,465.72
16: Sami "Lrslzk" Kelopuro (Finland) – $55,537.95
17: Bryn "BrynKenney" Kenney (Mexico) -$55,537.95
One of the only players we don't know for certain is the winner, "limitless". But as a regular at the highest stakes heads-up online games, and with a location set to Macau, we're guessing even a $725K payday this is not his or her biggest win.
Here's how Fintan and Spraggy saw it:
As if the Main Event wasn't enough:
Two players from the final table of the $5,200 Main Event made it clear that playing for a $10 million prize pool wasn't enough for one night. They wanted more. So it was that Linus "LLinusLLove" Loeliger and Michael "mczhang" Zhang also played the $25,000 turbo High Roller, and also both made the final table of that. Loeliger's ninth place was worth $120,938.19, while Zhang won $336,740.74 for fourth. That means Loeliger took more than $885,000 from those two tournaments, while Zhang's combined total was about $718,000.
---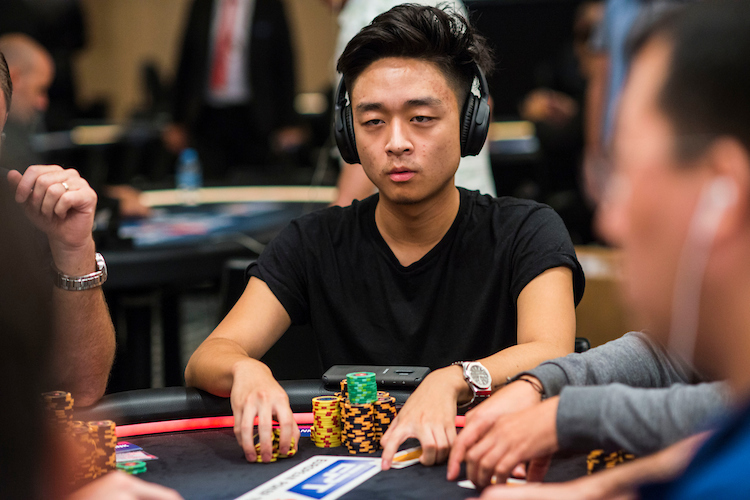 Michael Zhang: Two huge final tables simultaneously
---
Darn Str8: Sam "Str8$$$Homey" Greenwood won the $2,100 High Roller, picking up his second career WCOOP title, to add to his two SCOOP wins, a World Series bracelet and near $13 million in live tournament earnings. Greenwood has won Super High Roller tournaments in Monte Carlo and Barcelona, and has a string of other high-profile cashes. He beat Michael "ImLuckBox" Addamo to this title, winning $268,755.65, and prevailing from a final that also included the on-fire Joao "Naza114" Vieira, and poker's biggest winner of all time Justin "ZeeJustin" Bonomo.
---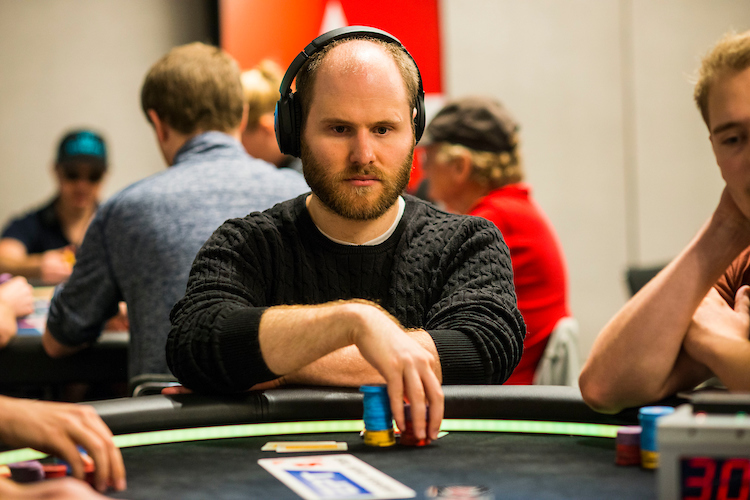 Sam Greenwood: Decent final day at the WCOOP tables
---
STAT TRACKER
There's no getting away from it, this WCOOP was enormous. According to the stat tracker, we had more than 1 million entries and close to $100 million in prize pools!
Events completed: 185
Total entries: 1,101,677
Total prize pools: $99,539,195
Players in the money: 150,239
First prizes awarded: $15,112,664.08
Numbers subject to official confirmation
---
COUNTRIES LEADER BOARD
In the end, no one could beat Brazil. Despite becoming the go-to destination for displaced Italians, French and Spanish poker players, the UK could only muster 21 victories during this WCOOP series, allowing the ever-dominant Brazilians to run out top of the countries leader board.
"wellingtowap" won the low buy-in Main Event last night, on a day where the UK failed to find a champion. They'll be sambaing around Rio tonight.
Here's the top 12 on a pie-chart (minimum four wins each):
---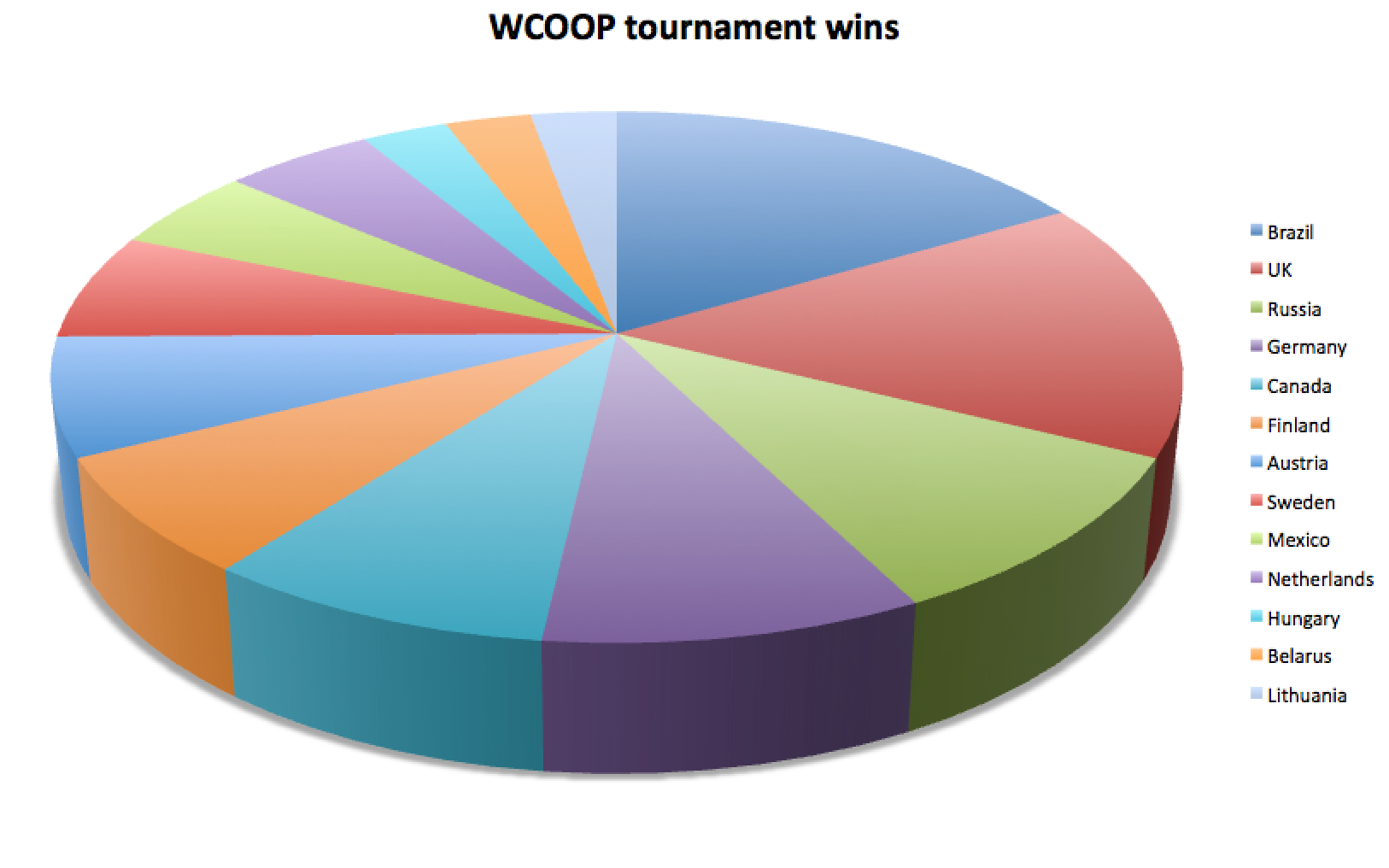 WCOOP tournament wins by country (minimum four wins)
---
Final countries total: Brazil (23 wins); UK (22); Russia (14); Germany (13); Canada (12); Finland, Austria (10 each); Sweden (9); Mexico, Netherlands (7); Hungary, Belarus, Lithuania (4); Romania, Belgium, Poland, Latvia, Ireland (3); Norway, Malta, Greece, Chile, Cyprus, Costa Rica, Bulgaria, Switzerland (2); Thailand, Slovakia, Japan, Georgia, Estonia, Denmark, China, Argentina, Peru, Czech Republic, Uruguay, Croatia, Taiwan, Ukraine, Macau (1).
---
INTERVIEW! INTERVIEW! INTERVIEW!
Rory "DeosOner" Young won the first WCOOP tournament of his career when he took down the $109 NLHE Super Tuesday last week, out-lasting a final table that also featured Mikita Badziakouski and Jeff Gross. Jack Stanton caught up with Young to hear his side of the story after such a tremendous win. "I honestly don't remember any tough spots in the whole run," Young said.
Read the full interview with Rory "DeosOner" Young
---
TOP TWEETS
It's been an inspirational few weeks for @clawztrophobia watching from the rail. This time next year. This time next year…
At the same time, @MartyMath isn't done with this one yet:
Meanwhile Connor "blanconegro" Drinan made the final table of the $55 WCOOP Main Event, but also entered the $25,000 High Roller, without success. That explains this:
---
TWITCH WATCH
Yesterday was all about the rock star Lex Veldhuis. Today was all about Lex Veldhuis too. But this time, things weren't quite so jubilant for the man from the Netherlands. Veldhuis fired two bullets in the $25,000 High Roller Turbo, and neither of them went anywhere near their target. Don't watch the clips below. You know you don't want to. OK, maybe from behind the couch.
---
LEADER BOARD UPDATES
There were various leader boards contested during the series. The highest of which was the Player of the Series.
As well as the Overall winner, there were High, Medium and Low categories. You can find all the final standings on the WCOOP 2018 leader board page.
Then there were those other leader boards, collating Return on Investment, Knock outs, and In The Money finishes in all the Low and Medium Events.
Our alternative leader board page has all the final standings, including the answer to that burning question: Which Team Pro topped the KO rankings.
(Hint: It wasn't Spraggy)
---
COMING UP
Real life, I'm afraid.
---
PREVIOUS WCOOP ROUND-UPS
DAY 1 | DAY 2 | DAY 3 | DAY 4 | DAY 5 | DAY 6 | DAY 7 | DAY 8 | DAY 9 | DAY 10 | DAY 11 | DAY 12 | DAY 13 | DAY 14 | DAY 15 | DAY 16