The first Day of the Jeju Red Dragon 2018 High Roller has concluded, here at the Landing Casino on Jeju Island, South Korea. Of the 73 players who came down to take part in the ₩12,000,000 buy-in event, it was China's Huahuan Feng who converted his time into the chip lead, concluding play with a stack of 415,000, more than quadrupling what he started the day with.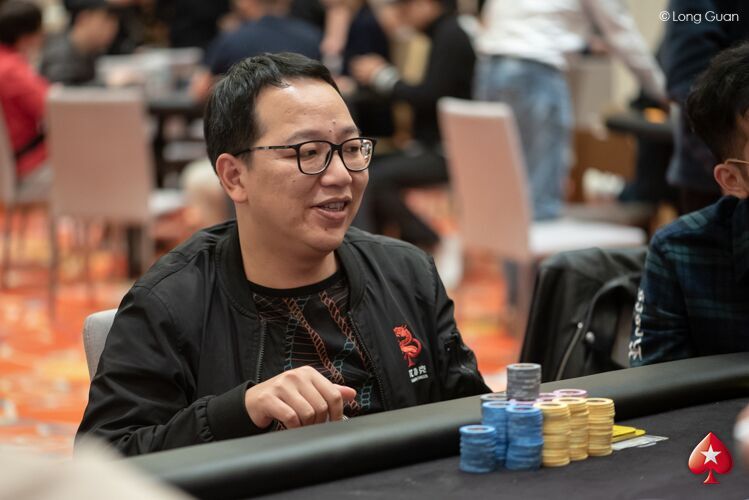 Huahuan Feng
At the end of Level 9, following six-hours of play, 45 lasted to return to Day 2 tomorrow, but with unlimited re-entries and late registration staying open until the end of Level 12 (3:10pm, 4th December), that will all change. So too, will the prize-pool. An impressive ₩824,900,000 has been collected so far, almost three times the guarantee. The final prize-pool and individual prizes will be confirmed once registration has closed.
High roller regular Huang Shan was not far behind Feng, he was a mere whisker behind in fact, finishing up with 412,500 for the second chip lead. He was on the same table as Chen An Lin (310,500) and for much of the latter part of the day, it looked like the lead would go to one of those, that was until Feng nabbed the top spot at the end. Nan Wei (336,000) was third in chips and Wen Jun Long (306,500) rounded out the top five.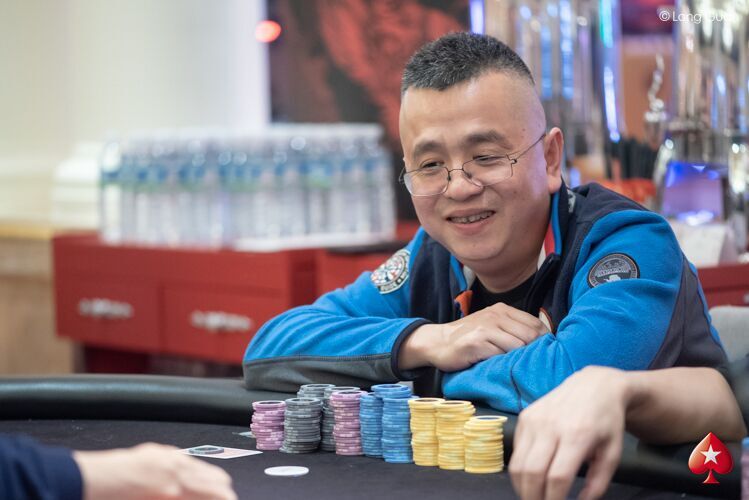 Huang Shan
There were also a lot of notable names who graced the field. Poker Hall of fame inductee John Juanda will return tomorrow with a very healthy 213,500 on his second bullet. Some of the biggest success stories of the series so far have continued their strong runs with Baby Dragon winner, James Won Lee (84,000) and runner-up Dong Chen (171,500) still in the running. Jun Wah Yap who finished 2nd in the Short Deck earlier today then jumped straight into the High Roller, bagged 125,500. Super High Roller finalist Michael Soyza didn't have the best start to his campaign and will return tomorrow with 67,500, hoping to fare better.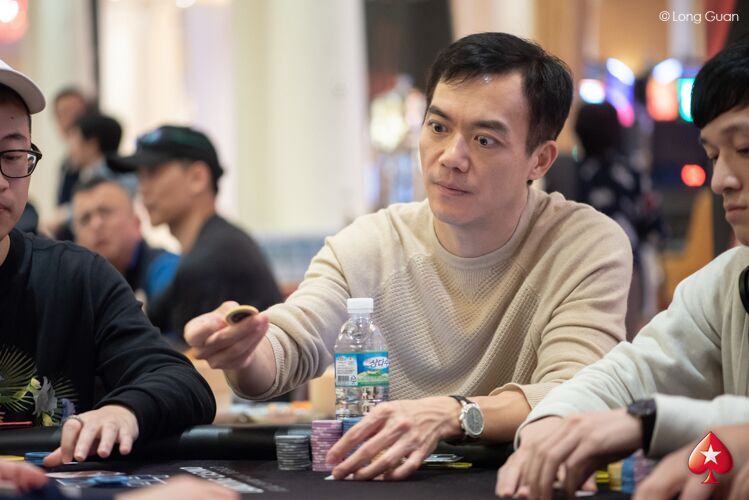 John Juanda
There were also some notables who didn't make it to the end of play. APT Korea 2017 Main Event champion Albert Paik busted an hour before the end, with the last of his chips going to Huidong Gu. Super High Roller finalist Ivan Leow also failed to make the second day despite a strong early start. Kok Weng Beh, runner-up in the Kick-off, will have to re-enter for a chance to take the title and Quan Zhou had a particularly rocky day, firing a total of three bullets.
Albert Paik
Tomorrow is a new day however, with play starting at Level 10 with blinds at 2,000/4,000 (500 ante). This means a 25 big blind stack for any late entries. See you back here when the action kicks off at 1pm tomorrow.
---
10:40pm: And that's a wrap
Level 9: Blinds 1,500/3,000 (500 ante)
For now at least, with play returning back here at 1pm tomorrow. A full wrap will follow shortly.
10:20pm: Seven more hands
Level 9: Blinds 1,500/3,000 (500 ante)
The clock has been paused, in order for the last seven hands to play out before the Day 1 of the High Roller ends.
10:10pm: Shan vying for chip lead
Level 9: Blinds 1,500/3,000 (500 ante)
If you scroll down to a couple of posts ago, you will see that alongside mentioning Chen An Lin's monstrous stack, it was noted that there were some serious contenders on the same table who were in with a chance of nabbing the top spot for themselves by the end of the day. Huang Shan was one of those players and…well now he has pulled up to 395,000 – which is up there with the best of the stacks – and close of play is just around the corner.
Most recently he took a sizable pot against Yin Gui Li, an opponent that Shan eliminated earlier. Li bought in again, to find himself in a different seat but on the same table. Shan opened the button to 6,300 and Li defended his big blind.
The flop came 4♥Q♣A♣ and Li check-called Shan's 6,300 continuation. The turn brought a Q♦ and both players opted to check. Finally there was a J♦ on the river and Li checked to Shan again, who set the price at 20,500. Li made the call but mucked when he saw Shan held trips with Q♠3♣.
9:55pm: Soyza pulls some back
Level 9: Blinds 1,500/3,000 (500 ante)
With the day nearing it's end, Michael Soyza has just pulled a decent pot back, bringing himself up to 80,000. In a blind v blind scenario, Soyza had limped in the small blind and Ming Juen Chan checked in the big, taking the pair to a 7♠7♦8♠ flop.
With a check apiece, the dealer laid a 7♥ on the turn, bringing the possibility of a one-card full house. Soyza checked again and Chan made it 3,000 to proceed. Soyza threw the chips in and the final card came the K♣. Following another check from Soyza, Chan bet 9,500, only to find himself facing a reraise to 30,000. After some deliberation, Chan made the fold, leaving him with 75,000, whilst Soyza scooped the pot.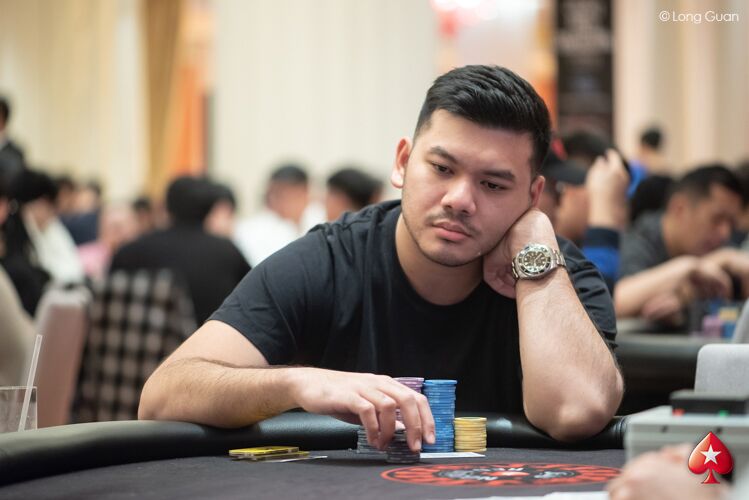 Michael Soyza
9:45pm: Lin soars
Level 8: Blinds 1,200/2,400 (400 ante)
Each time we walk past Chen An Lin, his pile of chips on the table is larger than the time. Right now, he is closing in fast on the 400,000 mark, which is four times what he started the day with and puts him as one of the most likely players to finish the day with the chip lead.
There is only one more level after this one, so time is ticking for his opponents to challenge it but with some very experienced players on his table, including Huang Shan and Xixiang Luo sat on his table, it is certainly not outside of the realm of possibility.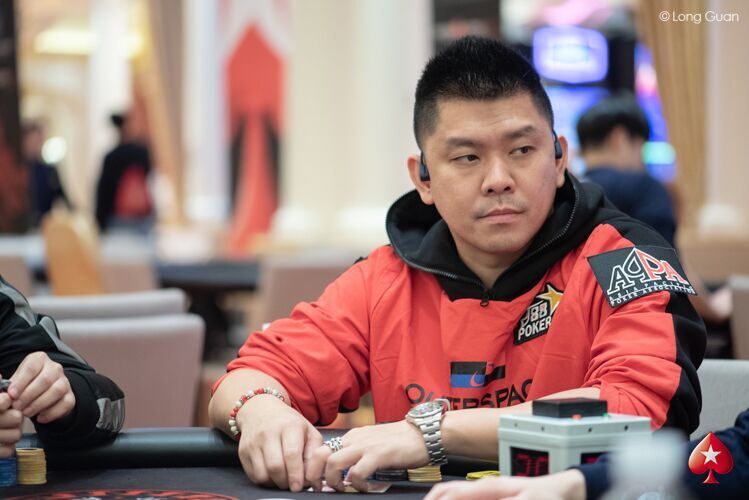 Chen An Lin
9:35pm: Paik out
Level 8: Blinds 1,200/2,400 (400 ante)
Albert Paik has just busted, losing the last of his chips to Huidong Gu. Paik hasn't had the best run since the Jeju Red Dragon series began, as he bubbled the Baby Dragon tournament yesterday. Fortunately for the AAPT 2016 Main Event Champion, there still plenty of time to re-enter and take another stab at the High Roller trophy.
Gu, who has amassed more than $300,000 in winnings, now has around average stack with 152,000 chips in front.
9:20pm: Jiang wins pot versus Juanda
Level 8: Blinds 1,200/2,400 (400 ante)
Sihai Jiang just won a decent pot against John Juanda, in a hand that played all the way to the river. The J♠6♥J♥ flop was out and Jiang checked to Juanda, who bet 3,500, which Jiang peeled. The turn was the Q♥ bringing a third heart to add to the paired board and once again Jiang checked. Juanda bet 7,000 this time and Jiang hesistated before calling.
Finally the A♦ came on the river and there was a third check, before Juanda barrelled a third and final time, making it 13,500 to see his cards. It was a snap from Jiang and he flipped over 9♥5♥ for the flush, whilst Juanda showed the 7♣5♣ bluff.
Jiang remains on starting stack with 103,000, meanwhile Juanda drops to 64,000.
9pm: Another Super High Roller finalist joins the fray
Level 7: Blinds 1,000/2,000 (300 ante)
Third place finisher in the Super High Roller, Michael Soyza, has entered the running. He is currently sat on 110,000 after taking down a moderate sized pot without showdown. We expect to see a lot more of the Malaysian, who has logged $3 million in live tournament cashes.
8:40pm: Sun doubles through Isshiki
Level 7: Blinds 1,000/2,000 (300 ante)
China's Yunsheng Sun has just found a welcome double up, after dropping to little more than a third of starting stack. All the money went in preflop and Sun was a long way ahead with 9♦9♥ against the 5♠5♥ of Japan's Takuya Isshiki.
The dealer laid out 6♠J♠8♦4♥J♣ on the board, which was safe for Sun and he now has a much healthier 72,000 to play with. Meanwhile Isshiki has 54,000 left, or around 25 big blinds.
8:25pm: Back to the action
Level 7: Blinds 1,000/2,000 (300 ante)
There are three more levels scheduled for today, meaning there are two more hours of High Roller action for you to enjoy.
8:15pm: Break time
Level 6: Blinds 800/1,600 (200 ante)
It's that time again and players will take their second and final break of the day.
7:55pm: Juanda in the house
Level 6: Blinds 800/1,600 (200 ante)
Poker Hall of Fame inductee, John Juanda, has taken a seat in the event. 12th on the all-time money list with an enormous $24 million in live tournament earnings, will the seasoned pro be able to add to his already accomplished resume in this event?
7:30pm: Ren eliminated by Leow
Level 5: Blinds 600/1,200 (200 ante)
Ya Ji Ren has fallen and it was Ivan Leow who took his chips. Leow remains steady on 170,000, which is well above the 111,500 average. Ren's hope are not necessarily over yet either if he chooses to fire another bullet into the event. We'll keep you posted.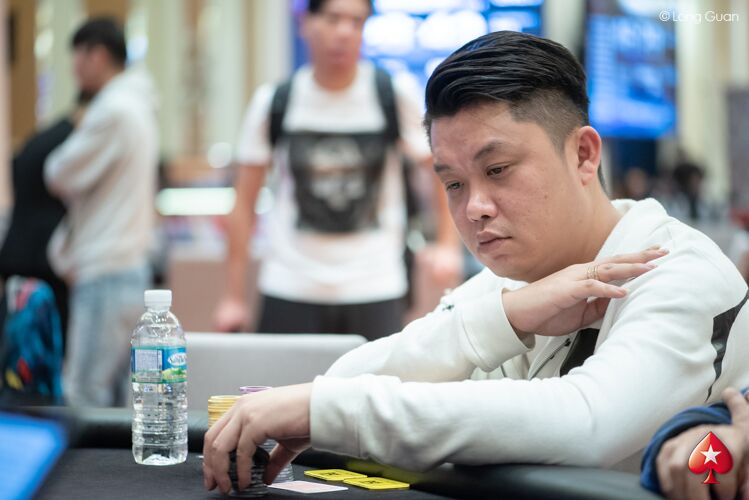 Ivan Leow
7:10pm: High Roller continues to draw a crowd
Level 5: Blinds 600/1,200 (200 ante)
At the last count, the field had risen to 46 entrants. With a shot-clock in play, combined with 40-minute levels, it is likely that we will see some players taking advantage of the unlimited re-entries in the coming levels.
6:55pm: Beh applies pressure
Level 4: Blinds 500/1,000 (100 ante)
Kok Weng Beh and Wenjun Long were heads up and there was over 50,000 in the middle when we arrived at the table.
All the community cards had been dealt and the board read Q♥9♦10♥A♠2♣. Long was out of position and checked to his opponent, who moved all in for around 90,000. It was enough to cover Long and after using one time bank chip, he elected to fold, leaving Beh to collect the pot. Beh has now moved up to 147,000 in chips, whilst Long has dropped to 75,000.
6:35pm: The shot clock explained
Level 4: Blinds 500/1,000 (100 ante)
Still a relatively new introduction in the world of live poker, the High Roller has a shot-clock, which means that players have only 30 seconds to make each decision. For any particularly difficult spots, they have been given two time bank chips that grant an extra 30-seconds. Anyone who makes it through to Day 2 tomorrow will be given another two, with a final two awarded to players that reach the final table.
6:20pm: And we're back
Level 4: Blinds 500/1,000 (100 ante)
The seats are warming up again as players return for another two hours of poker.
6:10pm: Time for the first break
Level 3: Blinds 400/800 (100 ante)
With three levels under their belts, it is time for players to take their first ten-minute recess of the day. See you shortly.
6pm: Leow returns
Level 3: Blinds 400/800 (100 ante)
Ivan Leow is back in the game, following his final table result in yesterday's Super High Roller. Leow will hope to improve on his 4th place finish in that event and he has made great progress towards that end already, improving his stack to over 170,000 chips. A great start to the day for the Malaysian.
5:50pm: Shan in the field
Level 3: Blinds 400/800 (100 ante)
High Roller regular Huang Shan is in the running. Shan is known for his entertaining play style, as well as his success on the felt with over $1.2 million in live earnings to date. Shan's biggest result so far came in Macau earlier this year, finishing runner-up to Alex Foxen in the APPT Super High Roller event for $692,183.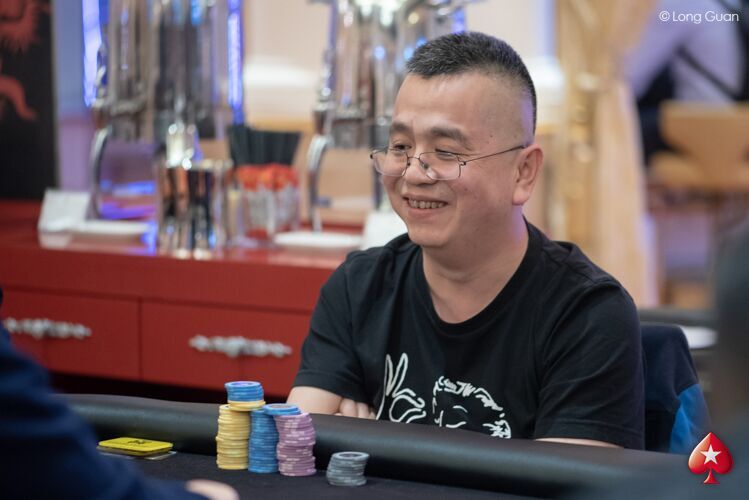 Huang Shan
5:35pm: Antes are in
Level 3: Blinds 400/800 (100 ante)
We have entered Level 3, the last before players go for their first break, and a running ante has been introduced.
5:25pm: Chen off to a strong start
Level 2: Blinds 400/800
After making it to heads up in the Baby Dragon yesterday, Dong Chen is well out of the starting blocks, chipping up to 120,000 already. The most recent acquisition came against Hao Xiang Wang. Action was on the river, with 7♠4♣9♦2♠2♦ showing. Wang had checked and faced a substantial bet from Chen. It looked like a tough spot for Wang, who used one time bank chip before deciding that fold was the best option.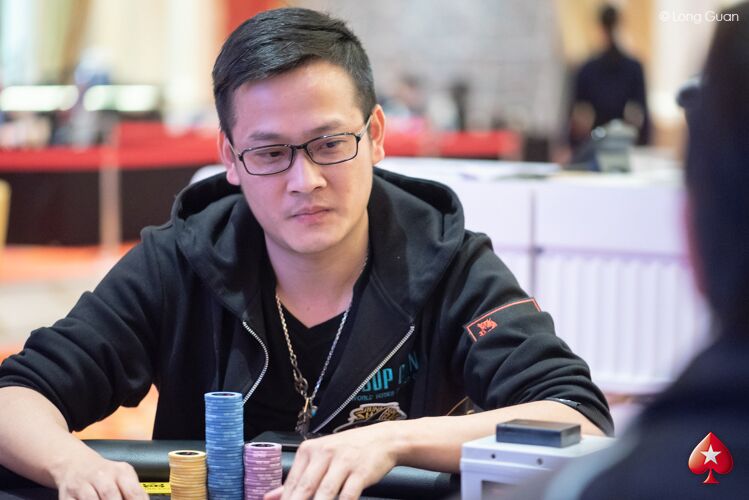 Dong Chen
5:10pm: We have surpassed the guarantee
Level 2: Blinds 400/800
The ₩300,000,000 guarantee has already been passed and by quite a long way…with the prize pool currently standing at ₩361,000,000. Not only that but there are still 22 hours of late registration left. Given the record-breaking success of the Super High Roller event that took place over the last few days, it indicates that the popularity of the inaugural Jeju Red Dragon series shows no signs of slowing down.
5pm: Scatch the last post!
Level 2: Blinds 400/800
The entries are coming in thick and fast, with 32 runners now in the field. This means five tables in play and as a result, James Won Lee, Dong Chen and Chen An Lin have been moved away from one another.
4:40pm: Some notables
Level 1: Blinds 300/600
We already have some familiar names in the field. James Won Lee, current Baby Dragon champion is already in his seat. Fresh off his win just yesterday, it will be interesting to see if he make another deep run in the High Roller. Dong Chen, who was runner-up in same event, is also in his seat and interestingly, he is on the same table as Lee.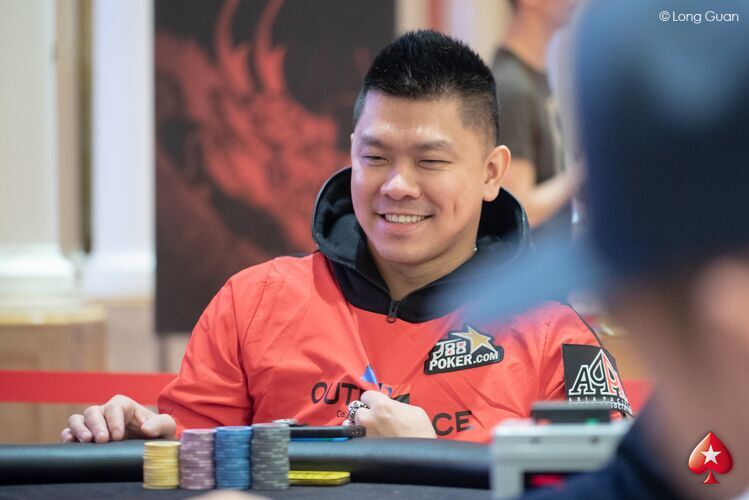 Chen An Lin
Joining them is Chen An Lin, a Taiwanese poker pro who has over $1 million dollars in live tournament earnings. Once again Lin is on the same table as Lee and Chen, meaning this will be a table to watch over the next few hours.
4:25pm: Three tables already in play
Level 1: Blinds 300/600
There are 18 players in their seats so far. Play will be eight-handed all the way down to the final table, when we switch to a nine-handed format, but for now it means there are already three tables in play.
4:10pm: Cards are in the air
Level 1: Blinds 300/600
The early birds are in their seats, raring to go. The starting stack for this event is 100,000 chips and dealers have just dealt the first hand. We are off the mark!
3:30pm: High Roller tournament will begin shortly
The third day of the inaugural Jeju Red Dragon 2018 has already begun and today sees the High Roller (shot-clock) kick-off at 4pm, local time.
The buy-in is ₩12,000,000 (~ $10,800 USD) and the guarantee is ₩300,000,000 (~$270,000). Not to be sniffed at. Not only that but yesterday saw registration close on the Super High Roller, which brought 44 entries in total and absolutely smashed the guarantee in the process. Given that, it is very likely we will see many of those players return today.
There are also unlimited re-entries for players to take advantage of and a late registration period that ends tomorrow at 3:10pm, after 12 levels. So there will be no shortage of opportunity to get involved in the action.
Live coverage will begin at the start of play and will continue right through to the end. With nine 40-minute levels on the schedule, that's six hours of live updates to soak up through this afternoon and this evening. Players will also have a 10-minute break at the end of every three levels.
See you back here very soon once the tournament is underway.