When you look back at some of the most iconic moments of past international football tournaments, you'll often be left with a false impression of a notable player.
Sometimes it's the kind of exaggeration you're only ever likely to see with a congested run of games that take place with the world watching. It's the kind of mindset that convinces Manchester United to sign Kleberson or Karel Poborsky off the back of a good tournament, only to realise the error of their ways soon after.
However, on other occasions the false impression can be far more literal. When you watch Paul Gascoigne lift the ball over Colin Hendry at Euro 96, or Ronaldo break the deadlock in the 2002 World Cup final, one thing stands out alongside the skill and the drama: the hair.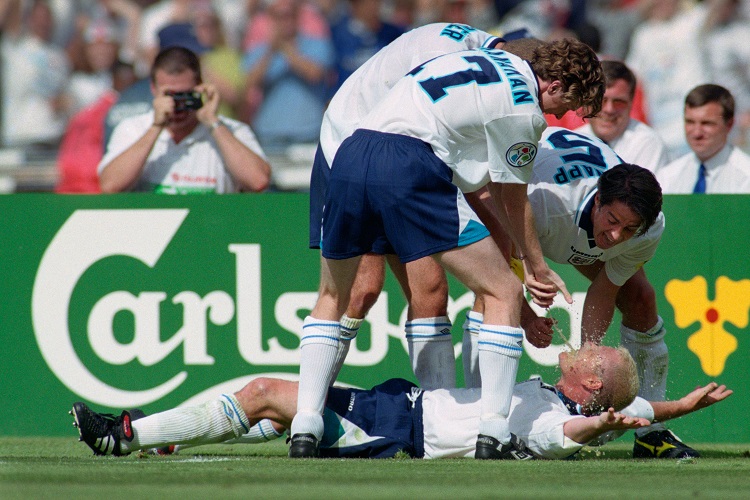 Gazza's biggest moment came with a loud haircut too
Gascoigne's goal and infamous dentist's chair celebration came with a bleached-blond look only visible for a fraction of his professional career, while O Fenomeno took centre-stage with his trademark shaved head giving way to a haircut which even his own mother called 'ugly'.
Of course, confirmation bias means we often forget those distinctive efforts which aren't accompanied by victories. We might see more bottle-blond Mexicans if Javier Hernández or Carlos Salcedo had helped El Tri to a famous victory over Brazil, while a Croatia triumph at Euro 2016 might have been enough to convinced wide-eyed fans to mimic Ivan Perišić and get the country's famous red and white checks dyed into their hair.
But is this a major tournament thing, and what can we learn from the players who go down this path?
Looking the part
"Blond dye-jobs are not something I get asked [to do] regularly," admits Simon Townley, personal barber to a number of members of England's 2018 World Cup squad.
"However, from my experience bold hair statements such as this one are definitely more popular before major tournaments than during the regular season, when the players have a chance to showcase themselves on a global stage."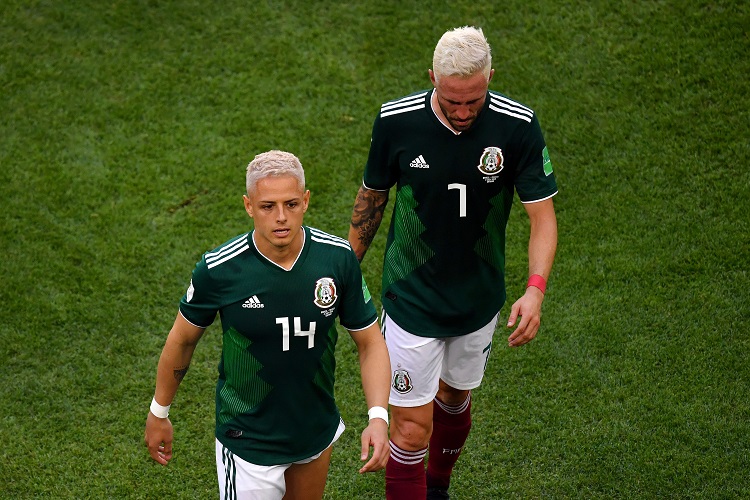 There's certainly something to be said for making sure you'll be seen when all eyes are on the tournament, especially for players whose club sides rarely find themselves in front of quite as many viewers. Gascoigne and Ronaldo, though? They'd have always been frontrunners for centre-of-attention status regardless.
Townley, who worked with Remington Legends during the World Cup, admits that, in some instances, we may be digging too deep into players' preferences, noting that major tournaments usually take place in the summer months, a time of year when people are often more willing to experiment more generally.
The carrot of being noticed enough to earn a transfer has long gone, though, with the Pavel Nedved comparisons which drove Juventus to recruit blond-locked Miloš Krašic a thing of the past.
"To soccer's elite scouts, though, it is almost an afterthought," Rory Smith writes for the New York Times. "Their summer transfer plans no longer rest on whichever player most captures the imagination this month. [The World Cup] is not where clubs come to find players. Not anymore."
That's not to say there aren't rewards on offer for players adopting a distinctive style – it's just that doing so isn't restricted to major tournaments. Furthermore, conscious ignorance doesn't rule out unconscious bias, both in major tournament type environments and elsewhere. Bleached hair on its own might not be the sign of a talent, but it can magnify players to the point that their best moments are picked up more readily: think of it as a quite literal highlight reel. Just as those perceived as 'flash' can be targeted by opponents keen to put them to the test early on, a player's ability to escape others' attention and run the game on their own terms will only be more noticeable when said player stands out among a sea of identikit haircuts.
Business class barbers
Of course, assuming a player only has others in mind when embarking on a statement haircut is itself naïve – sometimes it can be a means to retain individuality and ensure they stay confident in their own abilities. "For many players, their hairstyle is the only feature that can be altered to give them uniqueness and character," psychologist Dr Vivian Diller told The Atlantic during the last World Cup.
Indeed, the psychological pressure of a specific shirt can be felt by players, whether it's those who have attempted to follow Cristiano Ronaldo as Manchester United's number seven, or those who thrive at club level but freeze after their first international call-up; hairstyles can serve as a reminder that, while other circumstances have changed, they still have control over their output.
Plenty of footballers have remained faithful to their chosen barbers after moving to a new country – Ivan Campo flying between England and Spain for haircuts and Graziano Pellè flying his barber out to China, to name but two – and the balance between visibility and comfortability is not to be sniffed at.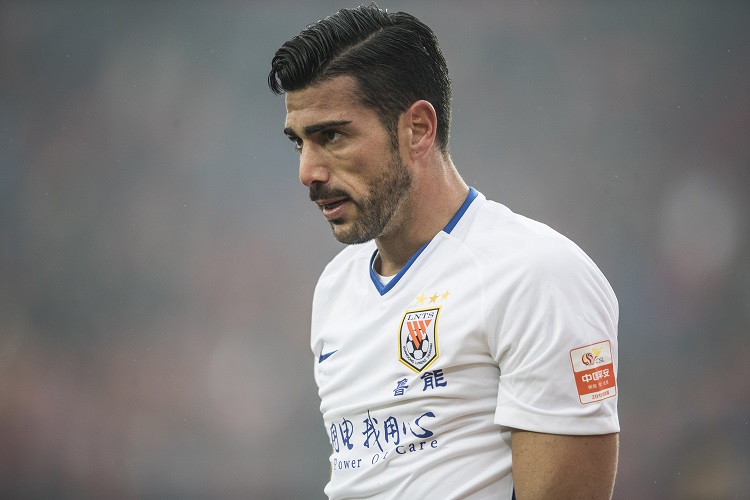 Hair like Graziano Pelle doesn't come cheap
"Players in other sports take opportunities to brand themselves with piercings and tattoos, but soccer is all about feet and heads, since that's all that can touch the ball," Diller explained.
Townley certainly believes there's a certain type of player who might be more prone to extravagant haircuts – those who he describes as more style-conscious and "trendsetters on and off the field" – but there can be a bit of a chicken-and-egg scenario when it comes to the haircut making the swaggering athlete and vice-versa. Can certain individuals carry off outlandish looks because of their existing charisma, or is it the look itself which gives off that impression? At times it can almost feel like a package deal.
Painting the tongue blue
In addition to those whose haircuts give them self-confidence, it's also worth considering the impact it can have on those coming up against them in competition. Goalkeepers have been known to do everything within their power to distract opponents bearing down on goal – Team GB goalkeeper Jack Butland turning his tongue blue for a penalty shootout at the 2012 Olympics is a prime example, but not the only one – and there's something to be said for harnessing the power of intimidation.
Competitive sport is all about marginal gains, especially in tournament football where single moments see their importance exaggerated, so anything that can give off a certain impression – even for a second – can work in your favour.
"I have a client playing in the Championship who told me people thought he was some kind of 'nutter' when he played in centre midfield, not because of the way he played but because he has a zero shaved head," Townley recalls. "Once he grew his hair into a side parting, people started to realise he's a really nice guy."
That said, it can work the other way, with traditionally dirty players adopting a more easy-on-the-eye haircut and reaping the benefits of kinder treatment from referees.
Watford's Valon Behrami, for example, was responsible for 63 fouls in his two seasons at Vicarage Road, but picked up just 10 cards for his troubles while sporting peroxide-blond locks. Across the same period, teammate José Holebas – a player with closer-cropped hair – was carded 16 times despite committing 12 fewer fouls than the Swiss international.
Making a statement
Any athlete going for a statement haircut, be they a footballer, an Olympian, or anything in between, knows they are treading that thin line between boosting their own confidence and setting themselves up for a fall.
Paul Pogba, for example, admitted he went against his usual extravagance at the World Cup "so [people] could only criticise the football part," while Ronaldo's unique 2002 approach was the other side of the coin, distracting from his pre-tournament injury worries by controlling the conversation.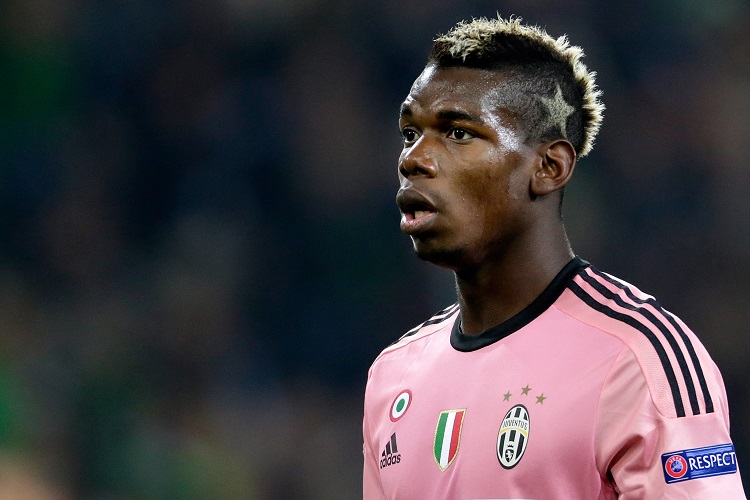 Paul Pogba at Juventus – where he let his hair do the talking
That, too, is a big part of it: control. In a world where athletes have every single part of their life scrutinised, any chance to dictate how they are regarded and take control of the narrative is not to be sniffed at.
"I have had clients who almost have the Samsonite effect, as I like to call it, where they go from long to short hair and suddenly lose their ability to perform," he says. "It's like losing some sort of super hero powers, but as they get back to their looks they regain confidence and are empowered by having that perfect haircut again."