This year, PokerStars Blog is attending its 15th consecutive World Series of Poker (WSOP) Main Event. We've been here since Raymer, through Hachem, Eastgate, Cada, Duhamel et al. Periodically through the 2018 renewal, we'll dig out some coverage from yesteryear and take a look at how things went down back then.
Today is the last day before the final table and historically it has seen an enormous amount of drama. No single hand has had greater exposure than when Griffin Benger and Will Kassouf went head-to-head on the feature table in 2016. At the time there was no live stream and the official WSOP updates detailed only the rudimentary hand/bet-size information. However we were ringside for arguably the most talked about confrontation in recent memory.
Remember this is a contemporary report, written in the immediate aftermath of the hand. We never heard Benger's now infamous "Check your privilege" line at the time. But we did see enough to detail the anatomy of Kassouf's spectacular elimination.
---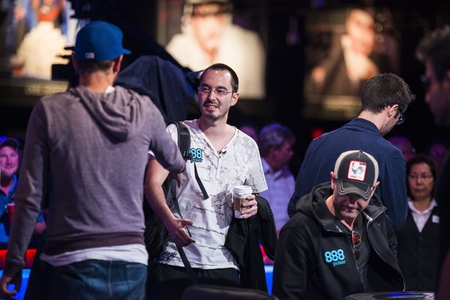 William Kassouf and Griffin Benger shake hands after the former's controversial elimination
If William Kassouf was going to be knocked out of this poker tournament, there was one thing we could all be sure about: he wasn't going to go quietly.
So it proved moments ago on the vast television stage in the Amazon Room, where the polarising British player has become the 17th place finisher in the World Series of Poker Main Event.
Make no mistake, Kassouf is going to be the story of this tournament. He has already filled most column inches as they have played to the last day of the summer, and the manner of his elimination at the hands of Griffin Benger will fill many, many more. It is going to make great television–even if Kassouf probably needs to prepare to be portrayed as the villain.
But Kassouf should have have some fans too. They all say they want personalities at the poker table, and William Kassouf certainly has that.
Two hands did for Kassouf, sending him from 22 million chips and a great shot at the November Nine to the rail in hasty succession. The first was just a grim run out for Kassouf with A♠A♥, losing to Gordon Vayo's A♣J♦ on a A♦9♦5♦7♦6♦ board.
But the second was a full-on barnstormer: players losing their cool, bellows from the bleachers, a panicked tournament announcer fearfully calling for a supervisor to the table lest things come to blows.
You will watch it all on TV, but here are the edited highlights.
It started innocuously enough. Kassouf was standing by the rail talking to some of his friends about the previous hand against Vayo. But he scampered back just in time to receive his cards in the hijack and see Benger open to 875,000. (Blinds are 200,000/400,000.)
Kassouf peeked at his cards and three-bet to 2.3 million. Then action got back to Benger, who four-bet to 5.6 million.
Action came back to Kassouf, who now adopted a familiar routine. Kassouf's problems with tournament officials this week have come in these particular spots, where he is involved in a hand after significant action and then wants to get some information from his opponent about what he is up against.
"You've got it?" Kassouf started. "All these coolers. I've got to go all in or fold."
Benger remained completely silent. "If you don't say anything, I'm going to ship," Kassouf said. "This could be the one. Have I got you covered or have you got me covered?" (Their stacks were almost precisely the same, at around 15 million.)
The chit-chat went on for a long, long time, but Benger said nothing. The crowd was restless in the seats ringing the stage. "He hasn't said one word to him," one spectator said. "He's been talking to him for ten minutes." He then raised his voice to a shout that could be heard on the stage. "Come on dude, put it in!"
The tournament announcer turned to scowl at the man on the rail, but then needed to turn quickly back to the table. Someone had called the clock and it was ticking down to about 30 seconds, 20 seconds, all with Kassouf continuing the barrage of questions at a silent Benger.
But suddenly Benger cracked. "This is verbal abuse!" he said. Many of the other words were lost in what quickly escalated into a slanging match: Kassouf insisting, "I'm just trying to get information" and Benger returning with "The bet is 5.6 million chips" and banging his hand on the table.
The crowd stood up, other players also rose to their feet and the atmosphere in the tournament room turned ugly. Kassouf has been getting under a lot of opponents' skins this week, but never for a tournament defining pot on the biggest stage, and never with an opponent also joining in the argument.
Just before the clock ran entirely down, and with insults still peppering the air, Kassouf announced: "I'm all in."
Benger immediately replied. "I call," he said, picking up his two cards and slapping them down on the table. They were two black aces. Kassouf turned his over. They were two black kings.
"Whatever happens, my life is good!" Benger said, wheeling around with his arms in the air and looking at his anxious rail. "Give it to him! Put a king down there! It doesn't matter!"
Calvin Anderson and Tim Reilly were prominent in Benger's railing section, but didn't seem to know exactly what they were rooting for. "What do you have, Griffin?" Anderson said. Reilly said, "We have the aces?"
"You let it get to you," Kassouf taunted Benger.
"I let it get to me?" Benger taunted back, still highly unimpressed by Kassouf's antics. "Let's go, let's go. It won't change my life."
"Let's go Blue Jays!" bellowed a fan from the rail, referring to Benger's shirt. "It's over for the Brit! The Brit is going home!"
Another fan hadn't quite taken the hint offered by the Toronto livery and shouted, "U.S.A! U.S.A.!" (Benger, it should be noted, is Canadian.)
"King of hearts on the flop," Kassouf said, still standing all but alone at the table. Just he and the dealer seemed to be within viewing distance of the where the flop would soon emerge.
"Any kings about," Kassouf said. And then he dropped the immortal, "One time!"
"You kicked his ass, baby!" came another misguided shout from the rail. "U.S.A.! U.S.A.!"
Griffin Benger secures the double up
It was finally time to see some community cards. They fell slowly, but surely, and there was no help for Kassouf. The 10♥8♥3♦ came on the flop. The turn was the 6♣ and when the 10♦ spiked the river, the Amazon Room erupted.
Kevin Mathers, the WSOP media officer, spoke for the poker community:
As for Kassouf, having verified with the dealer that Benger had him covered, he picked up his coffee cup and went man-by-man around the table, shaking hands with everyone, including Benger. He then headed to an interview with Kara Scott, where he let off some steam.
"I think I've been targeted and victimised," he said, referring to at least two warnings he has received from tournament officials and a one-round penalty yesterday. "I've been pulled aside." He added: "I'm a smart guy, I'm a lawyer. That's my strategy." He said much the same to PokerStars Blog earlier in the week.
Kassouf soon regained his composure and paid tribute to the people who have been supporting him from home. "People have said I'm an inspiration," he said. "For me, that's massive." He talked about players learning their poker in pub leagues, who have been getting in touch with him and saying that they want to emulate his achievements.
When the dust settles, many more will likely look at Kassouf and acknowledge the achievement too. From 6,737, there was only one William Kassouf.
---
MAIN EVENT DAY 7 CHIP COUNTS | TEAM PRO'S PROGRESS/RESULTS
Previous 2018 WSOP coverage:
Short stories of long nights at the poker table
The payout process
The regulars, the decorated and the knockers
From the archive: The Fukuburger flood of 2015
Then and now: Jake Cody
From the archive: K.L. Cleeton's inspiring run
Is Andreas Kniep this year's Ylon Schwartz?
Inside the ideas factory: Jason Somerville's Run It Up Studios
Stop, start, break, start, bubble for Matt Hopkins
Then and now: Barry Greenstein
A comprehensive guide to the WSOP bubble
The field converges for bubble day…perhaps
The rough and tumble of Day 2
From the archive: Blood, sweat and other bodily fluids
Untangling the cake riddle to discover the key to Liv Boeree's heart
Meet Muskan Sethi: India's presidential poker ambassador
A return of the masses for the long, slow dance
Then and Now: Daniel Negreanu
Records broken and Red Spades flying
"Thanks Daniel" — A letter to Negreanu from Phil Galfond
A flippin' fantastic way to enter a poker tournament
Jeff Gross: A momentary pause in the perpetual motion
From the archive: Stages
Moneymaker surveys the world he created
Negreanu continues preparations for PokerStars Players Championship
Then and Now: Andre Akkari
An exceptional Day 1A
From the archive: Rio here, Rio there
Then and Now: Maria Konnikova
All systems go on 'cattywumpus' World Series
WSOP photos by PokerPhotoArchive.com.