There's only one subject of conversation among English poker players this week at the World Series of Poker (WSOP) Main Event. It's the same conversation that's happening in every public space in England too–but here we're more worried about the time zone.
Yes, England's improbable run to the soccer World Cup semi-final in Russia has united a nation, and the football crazy English expats out here in Las Vegas are similarly enraptured. It's just that the games kicking off at 3pm UK time start at 7am here, while 7pm is 11am. That's fine except for one thing: 11am is the start time of the WSOP Main Event as well.
Some poker players have made the ultimate sacrifice and skipped the WSOP. Both Patrick Leonard and Sam Trickett are known to have gone to Russia instead. For others, such as Jake Cody, it's meant carefully juggling schedules. Cody managed to incorporate England's victory over Colombia as part of his hit-the-ground running strategy after immediately jetting in from home. But having progressed to Day 3 yesterday, it would be foolish even for someone of Cody's known stamina to be rising at the crack of dawn to watch football before playing the most important tournament of the year.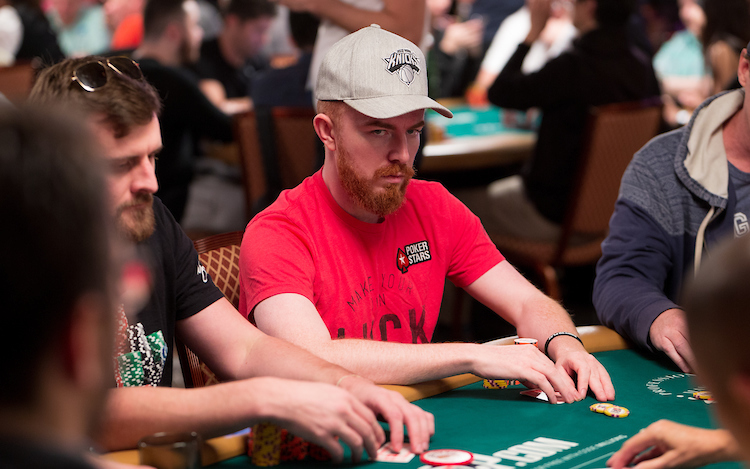 Jake Cody: Torn between the World Cup and the WSOP
Cody instead set the alarm in his hotel room for three minutes before kick-off and watched it in bed. The 2-0 victory over Sweden rewarded his restraint.
For the match against Colombia last week, I went with poker publisher Dan Addelman (a Manchester United fan, whose family comes from within a stone's throw of Old Trafford) to the Rio Sports Book to watch the match. We held off from getting a beer until about 30 minutes in (that's 11.30am) but we soon calmed our jangling nerves with a couple of Sam Adams.
And right around that point a man came to share our table who did not look particularly English. He did not look particularly Colombian either, but then he took off his jacket to reveal a bright yellow shirt: the colours of England's opponents. It was quickly confirmed when the name Valderama was revealed over his shoulders, the name of the iconic former Colombia captain.
It was true. We were going to have to spend the match in the company of a Colombia supporter. Or so it seemed. But actually, it quickly got worse. This Colombia fan introduced himself as Andreas. He was German. He said that with Germany out of the World Cup, he had turned to Colombia as a plan B.
At this point, my thoughts turned to my father. If he was ever to find out I was watching an England match with a German in a Colombia shirt, I expect he'd disown me. But as the match wore on, and Addelman and I went through the special kind of wringer known only to England fans in the World Cup, we began to greatly appreciate the presence of our new friend. He was endlessly calming, charming and knowledgeable. I think we even got him rooting a little bit for England. (This claim is unsourced. But he does need a Plan C.)
It was with real delight, therefore, that I began watching the ESPN broadcast of today's WSOP Main Event and saw our friend Andreas on the big screen. There he was, sitting alongside Antonio Esfandiari, Davidi Kitai and Damian Salas, among others, playing Day 4 of the Main Event.
Allow me to introduce Andreas Kniep, a 38-year-old professional player, who is originally from Munich, but grew up in Berlin and now lives in San Francisco. He has previously made a final table on the WPT so has played under studio lights once before, but this is his deepest run at the WSOP.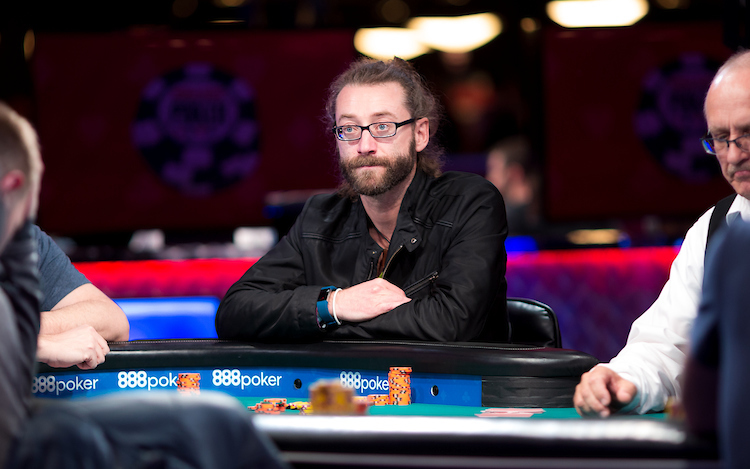 Andreas Kniep: Football went wrong, poker going right
We were due to catch up again at the most recent break, but Kniep was whisked away by the ESPN producers to record an interview. Find out more by tuning into the broadcast.
I'll just add this: PokerStars Blog has previous form in meeting people randomly the night before the Main Event and sending them on a glorious deep run. Back in 2008 (when PokerStars Blog looked a bit weird) we met and befriended Ylon Schwartz playing a small cash game in the Golden Nugget. A week later, Schwartz was heading to the November Nine and an eventual $3.7 million payday.
We're not necessarily expecting the same from Kniep, but it would be nice. Nobody expected much of Gareth Southgate's England, and now look where they are.
With Jake Cody having departed in the early stages today–his prediction that "Poker's coming home" did not come to pass–Kniep is officially our plan B.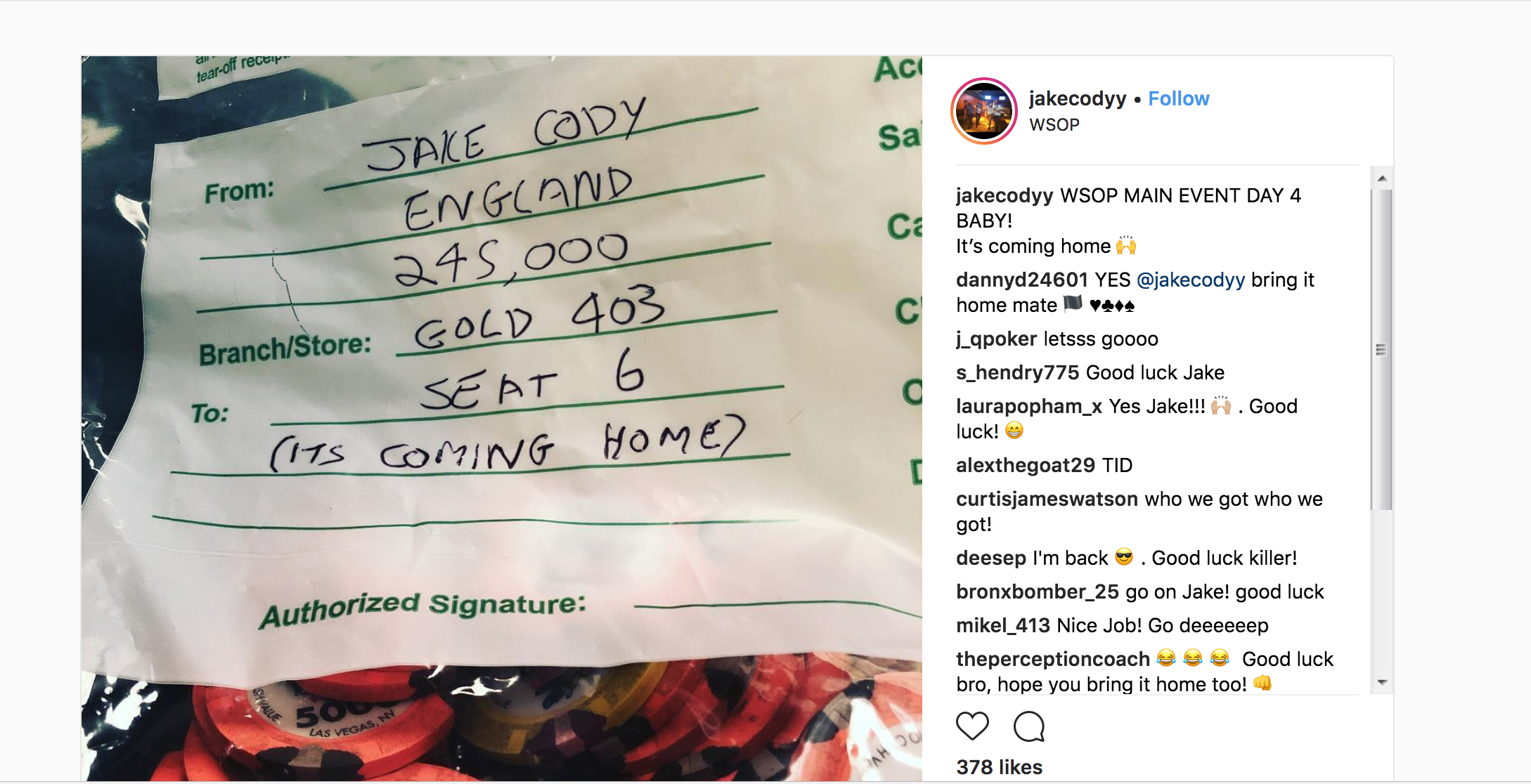 Jake Cody's chip bag
---
DAY 4 CHIPS | DAY 2AB CHIPS | DAY 2C CHIPS | TEAM PRO'S PROGRESS
Previous 2018 WSOP coverage:
Inside the ideas factory: Jason Somerville's Run It Up Studios
Stop, start, break, start, bubble for Matt Hopkins
Then and now: Barry Greenstein
A comprehensive guide to the WSOP bubble
The field converges for bubble day…perhaps
The rough and tumble of Day 2
From the archive: Blood, sweat and other bodily fluids
Untangling the cake riddle to discover the key to Liv Boeree's heart
Meet Muskan Sethi: India's presidential poker ambassador
A return of the masses for the long, slow dance
Then and Now: Daniel Negreanu
Records broken and Red Spades flying
"Thanks Daniel" — A letter to Negreanu from Phil Galfond
A flippin' fantastic way to enter a poker tournament
Jeff Gross: A momentary pause in the perpetual motion
From the archive: Stages
Moneymaker surveys the world he created
Negreanu continues preparations for PokerStars Players Championship
Then and Now: Andre Akkari
An exceptional Day 1A
From the archive: Rio here, Rio there
Then and Now: Maria Konnikova
All systems go on 'cattywumpus' World Series
WSOP photos by PokerPhotoArchive.com.