January PokerStars VIP Club Blast Off
Extra VIP Poker Club Reward Offers!
All through January the PokerStars VIP Club is offering you more value than ever with a selection of added incentives for all players.
Here's what's on offer:
Discount TCOOP Tickets & Merchandise Sale
The Turbo Championship of Online Poker (TCOOP) is PokerStars brand-new tournament series running January 19-29, and players with SilverStar status and higher can buy event seats from the VIP Store. The tickets are available at discounted rates, and the higher your status, the better the discounts are, so make sure you aim high!
More than 100 items in the store will also be on offer for lower prices - some as much as 60% - from January 4 until the end of the month. You can find the discounted TCOOP tickets in the VIP Store, under 'Online Tournament Tickets'. You can see a list of sale items under '2012 January Sale'.
Please Note: There are only a limited amount of TCOOP tickets in stock, and players are only able to purchase one of each discounted ticket on offer. Tickets purchased can only be used in TCOOP events.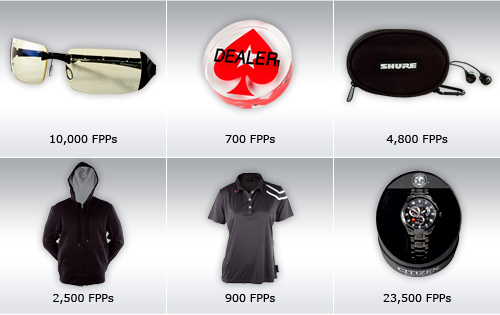 VIP Ring Game Happy Hours
Earn 50% more VPPs and FPPs with Ring Game Happy Hours running every day from January 2-29. Simply play on any real money ring game table during one of the Happy Hours to earn your extra points. Happy Hours run at these times:
January 2-8: 04:00-05:00 ET
January 9- 15: 10:00-11:00 ET
January 16-22: 16:00-17:00 ET
January 23-29: 22:00-23:00 ET
Pace Bonus
VIPs can get a cash bonus the following month based on how many VPPs they earn in January. It's your chance to earn big while planning your targets for 2012, as you make your way towards Milestone Cash Credits.
| January Target VPPs | Total Bonus | February Clearance VPPs | Yearly VPP Pace |
| --- | --- | --- | --- |
| 8,333 | $100 | 5,000 | 100,000 |
| 16,667 | $200 | 10,000 | 200,000 |
| 25,000 | $300 | 15,000 | 300,000 |
By earning a Pace Bonus with your January VPPs, you'll be on pace to earn Supernova VIP status and possibly even a Milestone Cash Credit! You can calculate what kind of rewards you can expect in 2012 with the VIP Calculator.
Please Note: The Pace Bonus will be applied to player accounts before 12:00 ET on February 2, 2012. Players will have until 23:59 ET on February 29 to clear the bonus in full.
Special VIP Tournaments
January's VIP Club tournaments are being boosted with extras prizes as follows:
Weekly $30,000 VIP Tournaments - running every Saturday in January at 14:30 ET. Buy-in is 100 FPPs and all SilverStar and higher VIPs can play. In addition to the cash prize pool, the winner each week will also be awarded a Citizen watch. Everyone at the final table meanwhile will win prizes as listed below:
Week 1: Shure headphones | Week 2: Customized leather wallet | Week 3: Oakley sunglasses
Week 4: Logitech Optical Mouse
Monthly $100,000 VIP Tournament - running Saturday, January 28 at 15:00 ET. Entry is free for GoldStar and higher VIPs, but SilverStar VIPs can also qualify via satellites. The winner will get a Tag Heuer watch, and everybody at the final table will also be awarded a pair of Porsche sunglasses.
Don't forget that there are also Quarterly VIP Tournaments, each with a $1,000,000 prize pool, for Supernova and Supernova Elite VIPs. The next one takes place February 11, and GoldStar and PlatinumStar VIPs can win a seat via special satellites.
VIP Tournaments can be found under 'Tourney' > 'VIP' > 'All' in the PokerStars game client.
VIP TCOOP Satellites
As part of the VIP Club's long-running series of online and live event satellites for SilverStar and higher VIPs, January's tournaments will give you the chance to qualify for TCOOP events. They offer great value, and the perfect way to turn your FPPs into a huge payday.
See the 'Tourney' > 'VIP' > 'All' tab to view all VIP Satellites.
Contact support@pokerstars.com if you have any questions about any of the VIP Club Blast Off promotions.