The poker player who wants to change the world
As a boy, he played tennis against Novak Djokovic. Before poker he was a backgammon professional. Now he plays for high stakes against the best poker players in the world. Testing himself at the highest level is a theme with Alexandros Kolonias.
So, while he has achieved a lot in his seven years as a pro - a career highlight being his second place finish at Pokerstars Monte Carlo championship in 2016 worth €805,000 - it was refreshing to hear how he spoke of his Turbo Series win last week.
But there's more to Kolonias than poker.
To start with he wants to change the world, and also he thinks a huge evolution in technology is coming at the speed of light as he explained in an interview with the PokerStars Blog.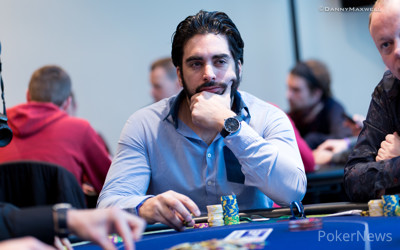 Alexandros "mexican222" Kolonias won Turbo Series Event 70 last week for more than $196,000
He spoke about his win in Turbo Series worth more than $195,000 (giving an idea to anyone interested in knowing how much work goes in to being a player of his caliber) before expanding on the world outside of poker.
It's thoughtful stuff. You might agree. You might not. But either way it makes for a fascinating interview, which you can read below.

PokerStars Blog: Do you have a routine when you're playing something like Turbo Series or does it vary from one day to another?
Alexandros Kolonias: Well turbos are not really what I am really good at since I am a cash game player, so deep stack poker is my thing and I prefer deep stack tournaments but I think I played really well in this one, so I would take that win. To be honest I do enjoy tournaments a lot more than cash games.

BLOG: Who did you tell first when you won, and what was their reaction?
AK: A friend of mine who was also railing me, he was very excited screaming and really happy for me.

Blog: You must have played well to get a result like this, but can you tell me about the parts of your game that you thought you were doing well in this event? (In short: what worked?)
AK: Yes, I think I played really well in this one. I was focused from the beginning and made very few mistakes throughout the whole tournament. I tried to play a very low variance game and to capitalize on spots later. I didn't like only one of my plays where I risked deviating from a standard snap call to a fold because I thought I got a timing tell but I was wrong. I obviously run good too, you can't win a tournament otherwise.

Blog: Talk about the event itself. What was it like to reach the final, and what were your expectations at that point?
AK: Everything was going really well from the beginning. I had a great table and I won a big hand with 45 people left that gave me the chip lead which lasted till the very end. It was a triple all-in where I had AK vs AQ and AJ and it was definitely the hand of the tournament. When we reached final table, I was still the chip leader so I expected to win.

Blog: What was winning like? What was your personal reaction, what did you do? What was going through your mind at that point?
AK: It was actually the best feeling. I have to feel like this since I was 14 and I won a tennis tournament. I said a loud Vamos, then went out to celebrate with my friends.

Blog: What are the things you'll most remember from this win the next time you play it? Did you pick up any lessons that you'll use again?
AK: Well yes that players in tournaments deviate a lot from optimal even the good ones so I have to do so too, more than I usually do. Also I shouldn't pay that much attention to timing tells.

Blog: What were the hardest moments of the final table?
AK: I had two very difficult decisions both off them with pocket tens. I spent an hour analyzing both of them the next day and I am happy I chose the best play in both of them over table.

Blog: Are you a full-time player or do you have a regular job?
AK: Yes, I am a full-time poker player for the last 7 years. Also, lately I have start working on some new projects too and studying and taking some classes in some subjects that are very interesting to me and I think will be significant in the next years to come and I am really excited about it.

Blog: Do you have any plans for the money you won? Do you normally go big on something or does it go back into your game?
AK: I never go big on things I go on travels and investing. I am going to use my poker money in general to create some innovating and pioneering things that I have in mind that will benefit society.

Blog: How does this result compare to others you've had?
AK: I had some tournament scores a lot bigger than this one and large cash games wins but this was definitely the sweetest one. It is my first title in a big tournament after many years.
I enjoyed it the most because it was a title, a first place, my bigger scores were second, third and fourth place finishes and because I am really satisfied with the way I played, with my performance. Now I mostly play poker to win and because I love the game and not primarily for the money, money is of course important too but only second best to some feelings. Money is just the way to keep the score in poker.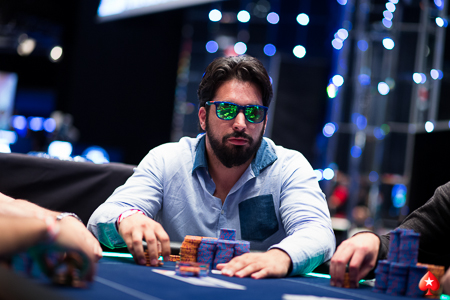 "Money is of course important too but only second best to some feelings"
Blog: What do you like in poker the most?
AK: I love poker! Since I was a kid I had a passion with all mind sports (chess, backgammon etc. riddles and puzzles and mathematics. And poker combines all of them and it is the ultimate mind sport. Every decision you have to make is a riddle you have to solve taking into consideration a lot of things and human factor as well.
Also, because of that it is the only game where humans can still do better than computers against the field and there is only one correct action every time and you have to find it, that's very exciting for me.

Blog: What's been going on in your life over the last year, good and bad? And what are you looking forward to next (poker or life in general)?
AK: Hmmm that's a tough one, I had some of the best moments of my life and maybe some of the worst too, poker-wise was my worst year from the seven years I play professionally but can't complain the year before was my best one. I would like to promote poker as much as I can and make it known to everyone because I think it is a wonderful mind sport. Besides poker I want to build a company of my own that I have in mind.

Blog: How did you get started and learn to play poker and improve? Tell as a bit about how your poker career started and evolved?
AK: When I was playing backgammon professionally a lot of players and some friends of mine were quitting to play poker and they told me I have to learn this game too, because I would love it and the strategies are very similar and poker is a lot bigger.
Then I got a few books to read about poker strategy and I was really hooked into it from the beginning. Having a backgammon background really helped me. Immediately, I start playing live cash games €2-€4 at casino Loutraki and games were crazy soft even thought I had just started, I managed to build a bankroll from nothing.
After a few years, I moved to online cash games, medium stakes which were a lot tougher and that's when I really started to know what poker is about and by playing and studying I got better and better and I quickly moved to the highest games.
I really studied the game a lot for a few years back then doing nothing else than poker. The most important thing is learning from your mistakes and to try to make less and less and also to try carefully to spot them, that's even more significant because sometimes you make a play over and over again and never realize it is a mistake.
Poker is a really difficult and a complicated game and even the best in the world are making quite a few of mistakes and there is always room for improvement. Also working with solvers a lot and going through the hands I have played, Also playing every day at the highest cash games stakes at the same tables with the best players in the world is huge for improving.

Blog: We've met a lot of poker players over the years. More often than not, there is something about them that is a lot more interesting than their poker game. What is that thing about you and why? Can you tell us a few interesting things about your past life and maybe general thoughts about the world?
AK: That's a tough one too. I was a tennis athlete playing competition at juniors and was in the national team of Greece, I have played Djokovic and lost third set when 14 years old in a European championship.
Then I played backgammon professionally for a few years while at the university of physical education, I was a tennis coach for a while too then I quitted both backgammon and tennis when started poker.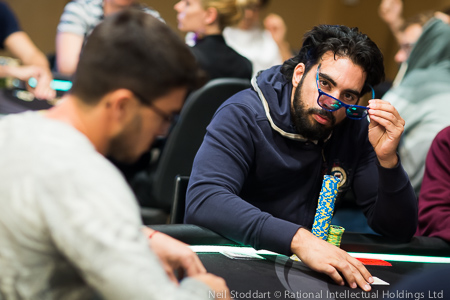 "What I do know is that we should all be more aware about that and also concerned and try to make it a good one for the humanity."
Well firstly I think something is going terribly wrong with the world and needs to change. Inequality, poverty, climate change, wars and corruption and a few big corporations and lobbies running the world just to name a few, all that are unacceptable in 2018, the world is still very immature and we can really do better.
Secondly, I believe we are in a very critical point throughout whole history, at an edge where a technological explosion will happen. Things from now on will involve exponentially. I think in maybe seven years from now, the world will change so much that looking back to today would be like a 100 years ago.
And that's huge and is really flying under the radar off 99% of people and governments. Nothing will be the same as today.
Artificial Intelligence, blockchain and genetics will radically change the world we live in and is happening now, in our generation.
I am not sure if that's going to be a good or a bad thing but it is definitely exciting and really, really important. No one really knows how all this is going to turn out, not even the top scientists in each field and that worries me a lot.
What I do know is that we should all be more aware about that and also concerned and try to make it a good one for the humanity. This big evolution in technology and changes and universal basic income will most likely fix some of the huge problems mentioned earlier.
To fix the world and to make it a better place in general plus to make rightly the huge evolution that is coming are two riddles too that need to be solved and I want to devote my time and skills on it, I really want to create something that would have a positive impact in humanity.