Your simple guide to saving a fortune in this Sunday's 25-seat EPT Sochi satellite
Turn a $215 satellite into a shot at RUB150,000,000 this Sunday at 13:05 ET...
There's a lot you can do with $2,685.
That's the difference between the $215 buy-in for the mega-satellite on PokerStars this Sunday, and the $2,900 (RUB191,800) price of a seat in the EPT Sochi Main Event later this month.
For instance:
You could start a 24-month Russian language course for about $143. You might learn phrases like "Deshëvka!" (bargain!), "Ty syuda často prixodiš?" (Do you come here often?) and "Bog tróitsu lyúbit" (Third time's a charm).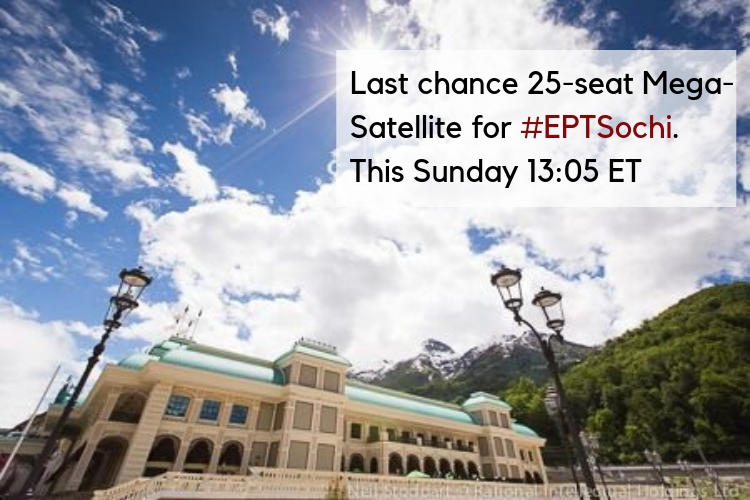 You could brush up your slalom skills with some intensive skiing lessons before trying out Sochi's Olympic pedigree winter sports facilities. That will cost you up to about $500. Or you could just get a warm coat and see what the view looks like from the top of a mountain.
You could book extra leg room on the flight to Sochi, which offers unparalleled views of the capital as you change in Moscow. From there Sochi is less than two hours away. Let's call that $500.
Or you could save it all and play one or more of the bigger side events on the Sochi schedule. Maybe the single re-entry hold'em event (about $1,000), some Omaha ($500), or even the EPT Cup (buy-in RUB18,200) for about $276.
That would still leave you money left over for a big Russian hat, a Matryoshka doll, and a bottle or two of clear local produce "for the folks back home".
Thinking about it, you could even use it for a re-entry in the satellite this Sunday if things don't go to plan the first time.
Your last chance to win a seat to EPT Sochi is this Sunday
Then there's the reason to play in the first place: the EPT Sochi Main Event itself.
As we've said once, and twice before, if you haven't already been to Sochi (or if you want to go again), this weekend's mega-satellite is your best and last chance to win a seat and expenses to this Black Sea resort.
You'll win your seat and expenses, and we'll provide a dedicated service to help arrange your visa (if you need one - you can check if you don't here). We'll also make sure you get the most out of what is a vibrant resort town when you get there.
$215 and a shot at a $3 million prize pool
And these are proving popular events. This is the third mega-satellite on PokerStars in the past month. Both previous satellites sent more players to Sochi than their guarantees promised.
We're even sending a big contingent of English speaking players. That means more people to ask if they know what Otpravim yego!* means.
The reasons to go are obvious to the discerning poker player. It's a great value Main Event, in a place you've never likely been before, against a largely local field. And it has a guaranteed prize pool of RUB150,000,000. That's close to $3 million.
Your shot at that starts this Sunday March 3 at 13:15 ET (6:15PM UK). Buy-in for the Mega-satellite is $215, but you can win your way into that between now and Sunday on PokerStars.
And for a better glimpse at what to expect in Sochi, read our Need-to-know Guide. In that you find everything from details of the event itself, the venue, as well as what to do away from the tables.
Mega-Qualifier: Sunday March 3. Start time 13:15 ET (6:15PM UK)
Udachi! (Good luck)
*Roughly translated this means "ship it!". Best used with caution.