Poker pro James Chen of Taiwan doesn't play many tournaments. "I prefer cash games," Chen told us after his victory in the APPT Macau $100,000 High Roller event, the largest APPT high roller tournament of all time. "Tournaments are kind of a vacation."
Now he's gearing up for the ultimate poker vacation, since his HKD$4,021,000 (US$512,629) victory came with a $30,000 Platinum Pass to the PokerStars Players Championship next year in the Bahamas.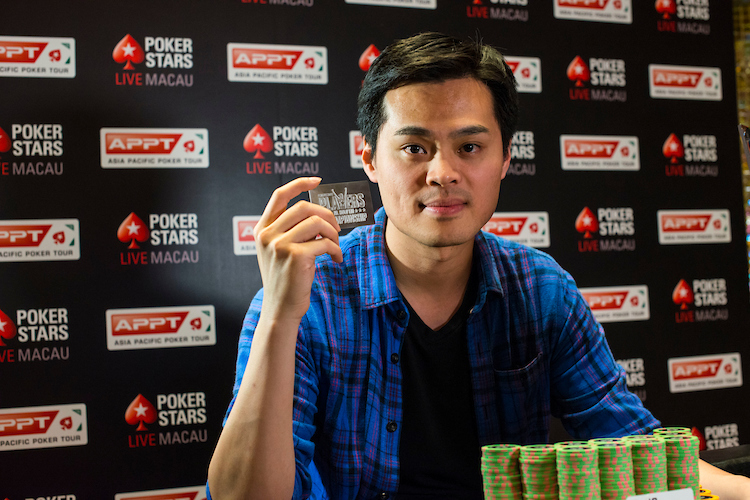 James Chen with his Platinum Pass
PokerStars is handing out a total of 300 Platinum Passes this year to players at all levels of the game. Chen said he was aware of the Platinum Pass before the tournament but didn't really know what it was all about. Now he's in on the secret and he loves the idea of it.
"I think the Platinum Pass promotion is great for the game," said Chen. "First of all there's the prize money. But second, it's a tournament among tournament winners, so you get a chance to battle it out against other great poker players."
On top of the prize money and the chance to play with the best in the inaugural Players Championship, there's also another benefit: the pride and respect of his family and friends. Chen started playing years ago in $10 home games with his buddies and quickly began climbing in stakes until he found himself competing — and winning regularly — in Macau's biggest cash games. But cash games are hard for non-players to understand, since they can't follow them online the way they can with tournaments.
"When I won my first high roller championship — the Red Dragon here in Macau — that was a great moment for me," said Chen. "Not really because of the prize money. I mean, it's nice, but when you play cash games, even if you're crushing, to outsiders and family it's still like you're just gambling."
"But when you play a tournament there's live reporting, they can find you on the internet, there's photos and interviews. It starts to be more legit to family members. That first win was when my family said, hey, maybe this poker thing is legit. My family posted on social media saying how proud they were. That's still a big part of why I play tournaments."
"I'm really excited to play in the Bahamas next year," Chen said. And why wouldn't he be? With all his friends and family watching, he'll have the chance of a lifetime to show them just how legit poker can be.
Click here to find out more about the PokerStars Players No-Limit Hold'em Championship, and how you earn your own Platinum Pass to the Bahamas in January 2019.
---
James Chen is one of more than 300 Platinum Pass winners who will be going to the PokerStars Players No-Limit Hold'em Championship. Want to see more? Meet them all on in our PSPC Platinum Pass Winners index.
Back to Top