You've already read in glorious prose all about the PCA 2018. And starting today you can watch all the world-class skill, coolers, and bad beats for yourself in marvellous HD — and you might even win a Platinum Pass in the process.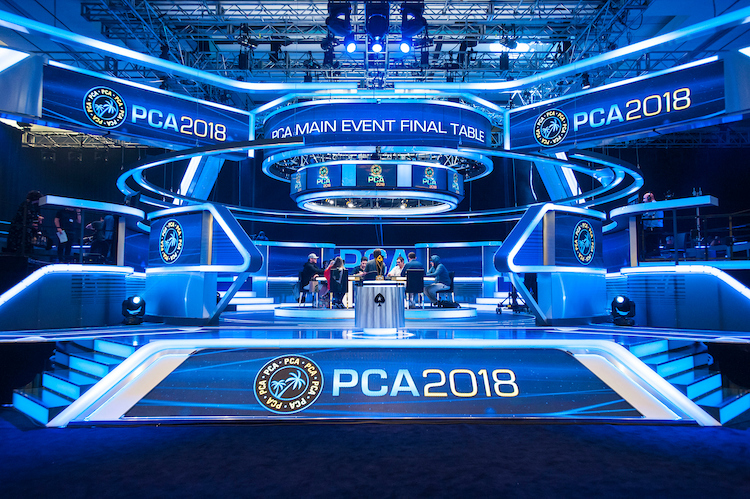 The mothership — err, the 2018 PCA — has landed on TV
Watch the PCA on Channel 4 and online
The rollout of full TV coverage is as big as the PCA itself. It begins today with the 2018 PCA $100,000 Super High Roller. From now through mid-October we'll be spotlighting Cary Katz's $1.4 million victory on PokerStars.TV and on the PokerStars YouTube channel.
Then, on October 17, Channel 4 will begin televising nine consecutive weeks of coverage of the $10,000 PCA Main Event in the U.K. and Ireland.
They tell the full story of the tournament, with commentary from Maria Ho and Lex Veldhuis. They'll follow world-class pros like Daniel Negreanu and amateur hopefuls like Brazilian dance teacher Charles Modesto. Each will be looking to progress to a final table filmed on one very distinctive TV set.
Along the way you'll see Maria Konnikova and online qualifier Stephen-Michael Jost as they win some of the very first Platinum Passes to be awarded.
Speaking of Platinum Passes…
If you watch the PCA Main Event coverage on PokerStars.TV or the PokerStars YouTube channel, you'll also have a chance to win your own trip to the Bahamas.
Each of the first six online episodes will contain information about a special freeroll that will award one $30,000 Platinum Pass. We'll reveal a new part of the password or the date and time of the tournament during each new episode, so be sure to watch them all for a free shot at playing with the world's best for millions of dollars in a Caribbean paradise.
So keep watching, and we'll see one of you in the Bahamas next January!
Back to Top
Study Poker with
Pokerstars Learn

, practice with the PokerStars app

Try our Free Scholars Leader Board to practice your new skills.
Quick Links
Learn
Practice
Chat with us
Watch and share