The next stop on the Asia Pacific Poker Tour is the 2018 Macau Millions which will be held at PokerStars LIVE Macau from April 17-23. Whether you're familiar with the biennial event or not, you definitely want to take a look at what's in store so read on!
BUY-IN & GUARANTEE
The first thing people notice is a relatively small buy-in of HK$3,000 for the Main Event. Indeed, this is a poker series made for the everyman. PokerStars LIVE Macau is well known for its tournaments with buy-ins of HK$15,000 (Macau Poker Cup), HK$40,000 (APPT Macau), and HK$100,000 (ACOP) but the Macau Millions gives you the same big tourney feel and excitement at an affordable price.
And when I say big tourney feel it's not a prediction, it's a guarantee. The fine folks at PokerStars have given the Main Event an impressive HK$3 million prize pool guarantee – which, in Asia, more commonly comes at a much higher cost. That means the field is assured of being at least 1,000 entries and there aren't many poker tournaments in the world that can make that claim.
Also, I'll let you in on a secret. The prize pool is going to be closer to HK$6 million than the listed guarantee (see below).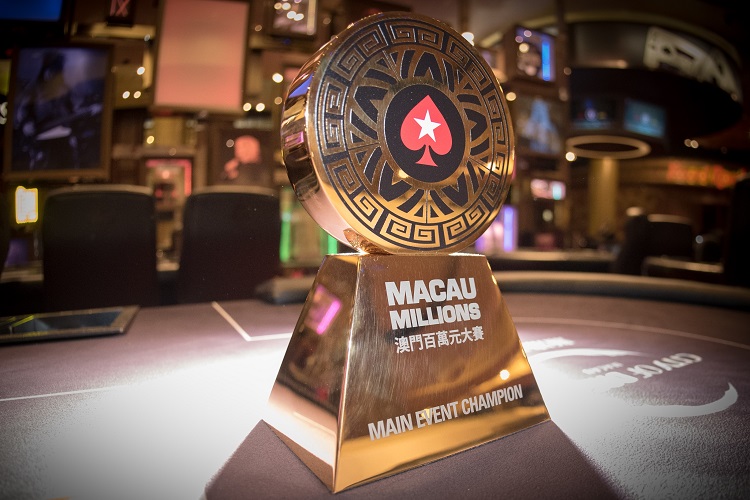 LARGEST FIELD IN MACAU HISTORY
Since the series was introduced in 2010, the Macau Millions has owned the record for Largest Field in Macau. Each following installment has seen that record broken and the number to beat currently stands at an astounding 2,343 entrants!
2018: ???
2016: 2,343 entrants
2014: 1,804 entrants
2011: 1,329 entrants
2010: 741 entrants
MAIN EVENT FORMAT
If you've played at PokerStars LIVE Macau before then you already know that our Main Events are classic freezeouts – meaning you get one buy-in, one chip stack, and one chance at taking home the title.
The Macau Millions is the exception to the rule.
There are three Day 1 flights with each heat also offering a turbo version later on the same day (Example: Day 1a Standard, Day 1a Turbo). Each starting flight plays down to the Top 7% of the field and survivors are ensured a min-cash of HK$9,000 in addition to advancing to Day 2.
Still with me? Good, because this is where people get confused.
All players can play another Day 1 flight. You'll fall into one of two categories:
1. Busto – Each Day 1 flight allows for unlimited re-entries. If that day doesn't work out for you, you can choose to play in as many other Day 1 flights as you wish to try and make Day 2.
2. Survivors – So you played an early Day 1 flight and have nothing to do until Day 2? Not the case at all. You can still play another flight and if you survive once again, you'll be taking your biggest chip stack to start Day 2. Your smaller stack gets removed from play and gets replaced with HK$15,000 cash straight into your pocket.
Make Day 2 a third time? Now you're getting HK$30,000!
Sound impossible? It's not. Two players have already done the Macau Millions triple (ok, I totally just made up the term but it really HAS been done it before)
PSPC PLATINUM PASSES
More? Of course, more!
The winners of the Warm-up (Event #1) and the Main Event will each receive a PokerStars Players NL Hold'em Championship (PSPC) Platinum Pass worth USD $30,000 each!
What is this Platinum Pass you may ask?
In January 2019, the PCA will be hosting the USD $25,000 buy-in PSPC and it's sure to be the biggest of its kind. PokerStars will be awarding more than 300 Platinum Passes throughout the year and the package includes the 25K Main Event buy-in, six nights' accommodation at Atlantis Resort, and USD $2,000 in travel and on-site expenses.
For more info on the PSPC, Platinum Passes, and how to win them, please visit: www.pokerstarslive.com/pspc/pass/
For more information on the 2018 Macau Millions please visit www.PokerStarsLIVEMacau.com
Follow us on Twitter at @PokerStarsMacau with hashtag #MacauMillions
Back to Top
Study Poker with
Pokerstars Learn

, practice with the PokerStars app

Try our Free Scholars Leader Board to practice your new skills.
Quick Links
Learn
Practice
Chat with us
Watch and share