New $109 buy in, but $1 million guarantee remains the same
You might already have heard, but the Sunday Million will be slightly different from this weekend.
Players will have the same starting stack, the event will have the same start time, and you'll still be able to re-enter. But the buy in will be $109, down from $215.
---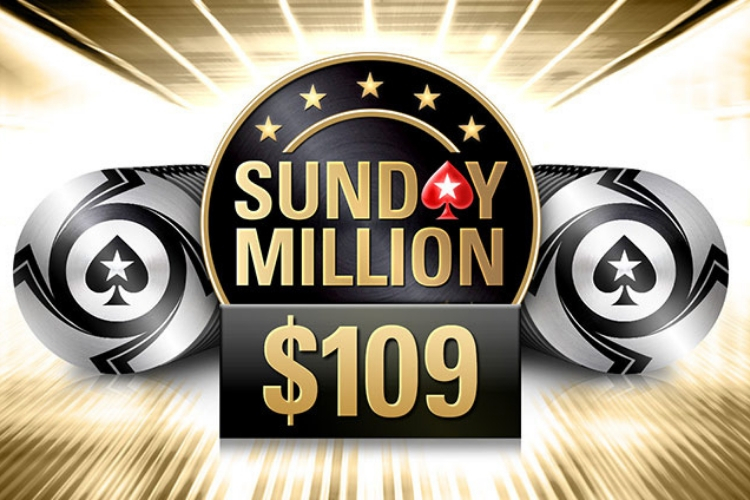 The Sunday Million has a new buy-in of $109 from this Sunday (27 January)
---
Why the change to $109?
The plan is simple. We want to open online poker's flagship event to more and more players. The lower buy-in will do that, while ensuring the "Milly" remains the Sunday Major every player wants to win.
The PokerStars Sunday schedule has always had the players in mind. Events like the $22 Mini Million and the $11 Sunday Storm have proven immensely popular. Meanwhile the new High Roller Club has quickly become a place for high stakes players to play.
The new look Sunday Million sits within those changes, offering thousands more players a chance to play and win a six-figure payday in the biggest event of its kind.
What differences can you expect?
For at least the first week, the buy-in is the only major change. We're leaving the structure the same to observe how it plays out, but adjustments will be made as needed in order to achieve two goals:
1) To make sure the average stack at the start of the final table remains about the same
2) Prevent the tournament from lasting significantly longer
That could mean a few changes in the structure to eliminate more people in the middle stages, and it could mean deepening play in the later stages.
Everything else remains the same:
• Same 6pm UTC start time
• Late reg. is open for 3 hours 15 minutes
• The starting stack remains 10,000 chips
• Opening blinds are 25/25 with a 5 ante
• Levels are 12 minutes long through to level 10, and 15 minutes thereafter
We'll also be adjusting the satellite schedule for the Sunday Million, and adding new satellites awarding seats to the Main Event. Check out the PokerStars lobby for details of those.
The same $1 million guarantee
While the buy-in changes, the $1 million guarantee, which after all gave the tournament its name remains exactly the same. First prize will also be more than $100,000 every week.
Tell us what you think
As with all changes that are made on PokerStars, it's done with players in mind. We want the reduced buy-in to make the Sunday Million more accessible to more players.
We also have an obligation to make sure these changes work. With that in mind we want to hear what you think.
So, contact us in the usual way with any comments. For now you can do that on twitter: @PokerStarsBlog.
Back to Top