Towards the end of the day, it looked like Scott Janik couldn't lose a hand.
Janik won pot after pot and mercilessly sent players to the rail. When it was time to bag, his stack stood above the rest at 307,500. But while Janik was the only player to bag more than 300,000, he has some stiff competition. Koshiro Motodate is his closest contender so far with 271,500 and Taehoon Han, the reigning champ who took down the PokerStars Festival Main Event here last year, finished the day with 204,700.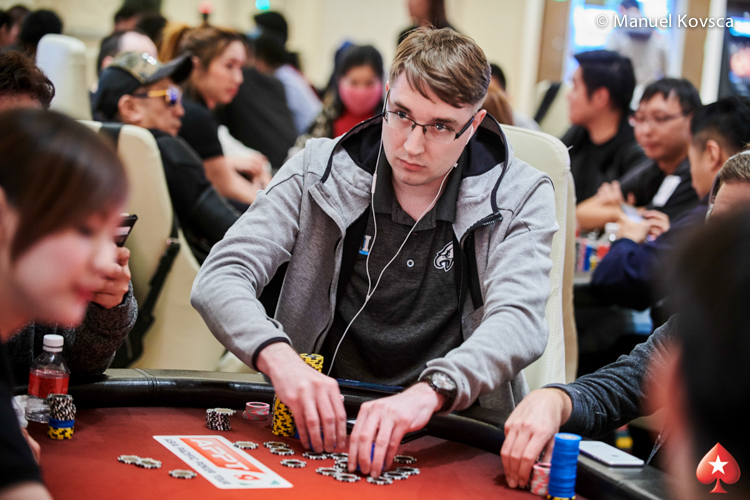 Scott Janik
Not only is Han defending his title, he's hungry for another trophy after just missing out on one yesterday.
If you were following the National Championship final table yesterday, (and honestly, who wasn't?) you might remember that Han finished second. In a bizarre turn of events, Han was heads-up against Yuki Ko, the same player he battled for his title in Seoul last year.
Ko came out victorious yesterday though and in an even more bizarre turn of events, Ko jumped straight into the Single-Day High Roller and won that tournament too. That wasn't enough poker for the double champ and he fired a few bullets in Day 1A today. Ko couldn't keep the streak alive though and he was eliminated in the last level of the day.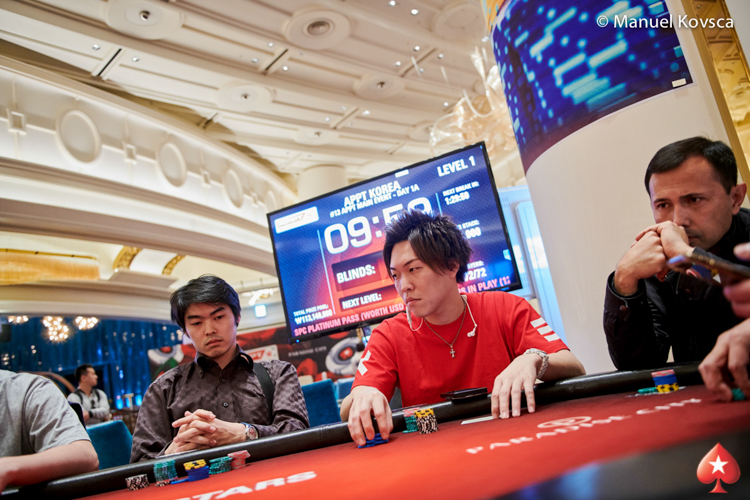 Yuki Ko (center) might've used up too much rungood yesterday
But hopes for a third round of Ko vs. Han are still alive.
There are unlimited rebuys and late registration for Day 1B will stay open for the first nine levels of play. While those two have a lot of experience getting heads-up with each other, it'll be tough to get a repeat. Out of the 182 entries, about 60 made it through Day 1A, including Team PokerStars Online Randy Lew. Lew started the day late but did some quick work. Lew more than quadrupled his stack in that time and will start Day 2 with 125,400.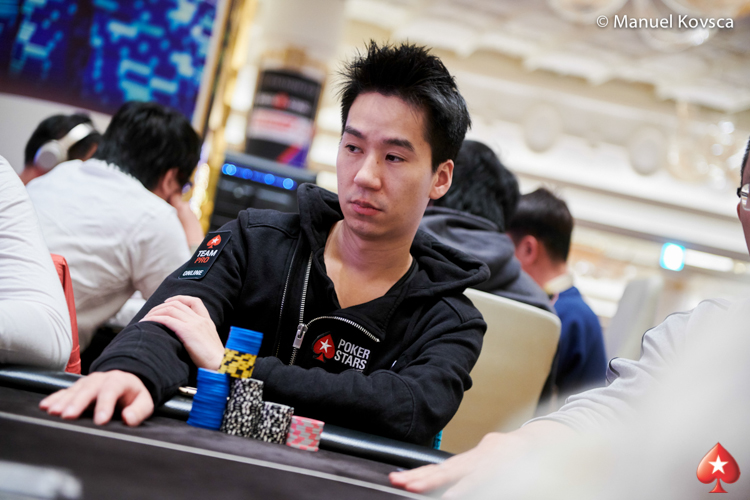 Randy Lew
Our other red spade pro, Team PokerStars Pro Celina Lin, didn't fare so well. Lin took a few shots today but couldn't run things up. She'll be back tomorrow though and she'll be joined by another horde of players looking to take down the APPT title.
Action starts a little later tomorrow. Day 1B kicks off at 18:00 local time and if you want to catch all the action, come right back here to the PokerStars Blog. –AV
• PLAYERS: 60 (of 182 entries)
• ALL APPT KOREA INFO
• DOWNLOAD POKERSTARS | Follow @PokerStarsBlog on Twitter

11:25pm: Last five hands
Level 12 – Blinds 1,000/2,000 (ante 300)
The clock has been paused, and current chip leader Scott Janik drew the card for five more hands on the night.
Janik's stack just got a further boost when he knocked out Kazuki Ikeuchi in one of the final hands. Both made it to the river, which put three clubs on board. Ikeuchi jammed with the 8♣ 2♣ , and Janik snap-called with the Q♣ 6♣ for a bigger flush.
Janik sat with 240,000 after that one, but word has just come in that he has eliminated yet another player. What will Janik end the day with? Stay tuned. –JS
11:12pm: The Chong Kiss Goodnight
Level 12 – Blinds 1,000/2,000 (ante 300)
Victor Chong's evening and final level of the day couldn't have kicked off better. But unfortunately for Xingbao Zhu, Chong's winning hand proved to be a kiss of death for much of his big stack.
Chong had min-opened to 4,000 under the gun, and it folded around Zhu in the small blind. Now, we're not sure exactly what happened, but when we arrived Zhu had 46,000 infront of him (which seems on the large side for a three-bet). It didn't really matter though, as when the big blind folded Chong jammed for 67,600 total and Zhu snap-called.
Zhu had the goods with the K♣ K♦ , but Chong's goods were better: A♣ A♠ . That got the table pumped for an exciting runout, but the 7♠ A♥ J♦ flop improved Chong to a set. Zhu would need running straight cards, and he got one with the 10♦ turn.
There were a couple of chants for a queen from the table, but the 7♣ river changed nothing. Zhu is still healthy with 100,000, while Chong now sits with 144,000. –JS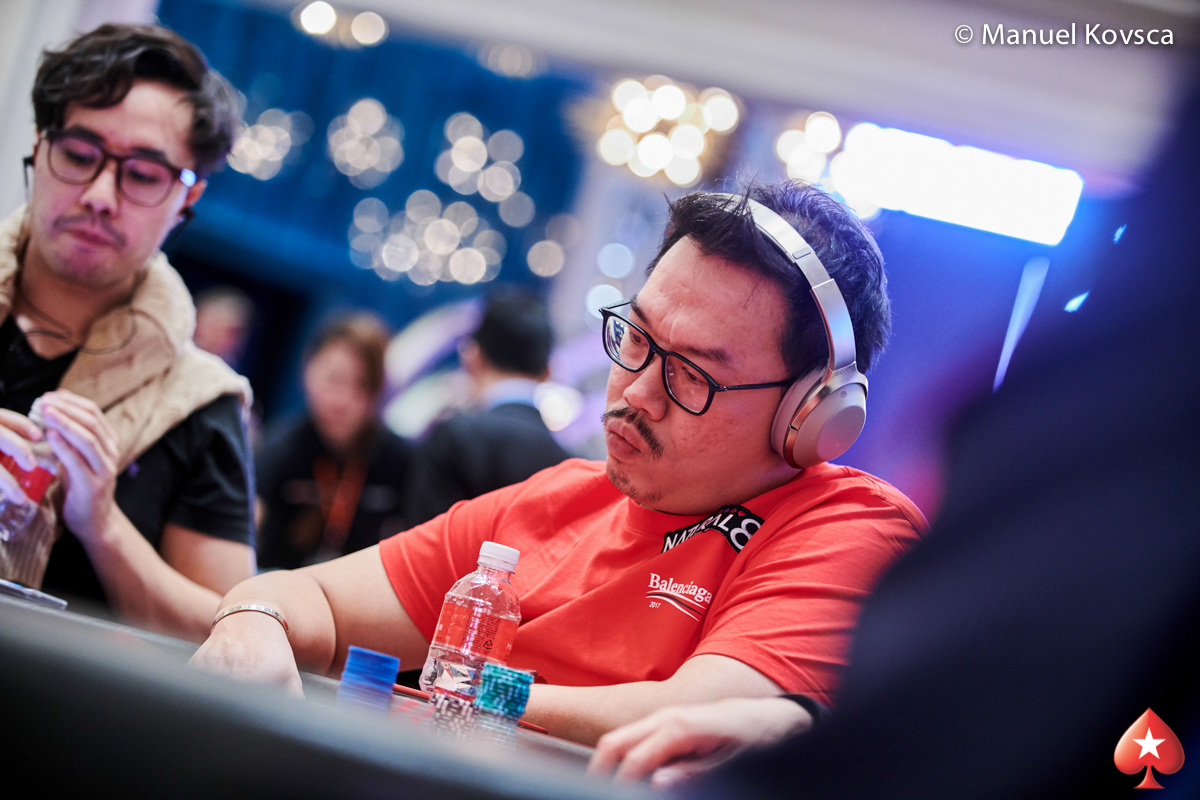 Chong doubles
11:05pm: Nasty river leaves Turner with fumes
Level 12 – Blinds 1,000/2,000 (ante 300)
Priit Turner was left with just 5,900 chips after his kings were cracked by a jubilant Masato Shimizu.
Turner was in the cutoff and three-bet a 3,700 open to 11,000. Shimizu was on the button, four-bet all-in for 55,500 and was snap called by Turner after the original raiser folded.
Turner: K♣ K♠
Shimizu: Q♦ Q♣
Shimizu was up out of his seat, ready to make a quick exit, but he sat back down with pleasure after the board ran a Japanese flavoured 5♣ J♠ 2♣ 7♣ Q♥ . –MC
10:56pm: Barring some unforeseen incident
Level 11 – Blinds 800/1,600 (ante 200)
There's a line often used in this writer's favourite sitcom, Seinfeld, which indicates something terrible is going to happen before the show ends that will ruin any progress a character has made in the episode. The line is: "Barring some unforeseen incident," and is usually followed by something like: "I think you're the right person for the job."
Of course, chaos then ensues and something happens which stops that character from getting the job.
Why do I bring all this up? Well, it's because the defending champion, Taehoon Han, is doing rather well right now. In fact, he's got one of the bigger stacks in the room, and he just won a pot.
It went four-ways to the 4♥ 3♠ K♦ flop and it checked to Michael Soyzer who led for 5,000. There were two folds before Han made the call, bringing the 4♦ on the turn. Check check.
The 6♥ completed the board, and Han saw an opportunity. He led for 11,700, and that was enough to shake off Soyzer and stack up 135,000.
Yep, Han is in great shape to end the day as one of the bigger stacks in the room.
Barring some unforeseen incident… –JS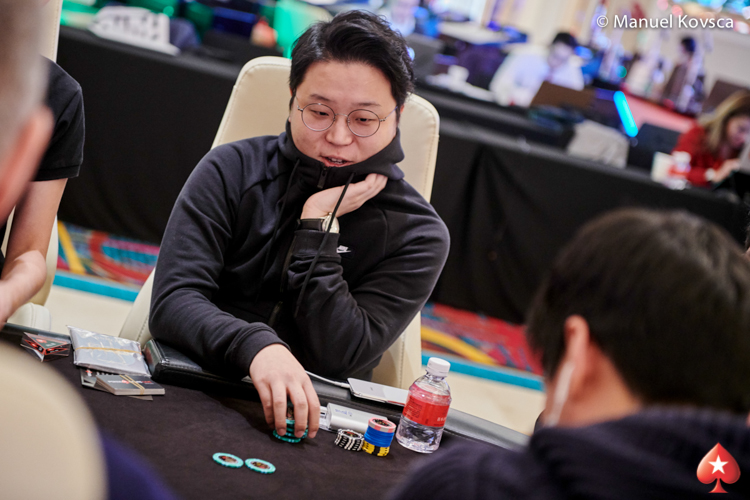 Defending champ, Taehoon Han
10:50pm: Rising tides, growing stacks
Level 11 – Blinds 800/1,600 (ante 200)
There are some real towers starting to pop up around the tournament floor. The biggest is just a chip or two shy of 200,000 but there are several others starting to close in on that mark.
Scott Janik – 195,000
Ying Chan – 175,000
Aritake Teruhiro – 150,000
Chun Meng – 145,000
Jingming Zhang – 135,000
–AV
10:40pm: Mamiya saps Sapra
Level 11 – Blinds 800/1,600 (ante 200)
Sumit Sapra was down to 21,400 and got it all-in from the button. The small blind called and then Ruiko Mamiya rejammed for about 75,000 from the button. It was too much for the small blind and he let the two duke it out.
Mamiya showed Q♥ Q♠ while Sapra turned over A♦ 4♥ . Sapra was hoping to hit an ace but got none on the 9♣ 2♣ 9♠ 10♥ J♥ board. Sapra hit the rail while Mamiya chipped up to a hefty 125,000. –AV
10:30pm: No chance for Lin, no chance
Level 10 – Blinds 600/1,200 (ante 200)
"I always lose with or to aces!" bemoaned a smiling, soon to be out, Celina Lin.
The Team PokerStars Pro was down to 18,300 and then she made her move from early position. She was only called by Ma Wanxin in the hijack.
"No chance. No chance!" she predicted.
Lin: 9♠ 9♦
Wanxin: A♥ A♣
The board ran a decisive 5♣ Q♥ A♠ Q♦ 10♦ , making Wanxin a full house.
That put Wanxin up to 90,000 but she was cut down to 40,000 the very next hand when she ran a set of queens into a set of aces. Ouch, or easy come, easy go? –MC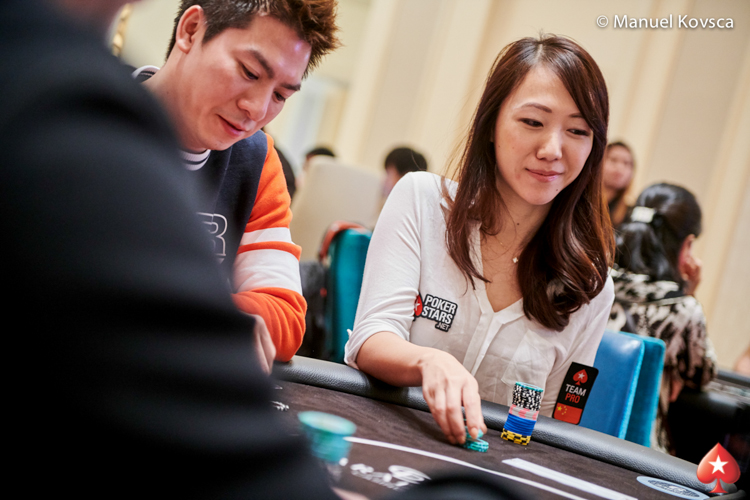 Celina Lin
10:20pm: Gao's going good
Level 10 – Blinds 600/1,200 (ante 200)
Wenling Gao was up late last night. She found herself still awake around 4am, but it was for good reason: she was heads-up for the APPT Korea Single Day High Roller title.
Alas, she would lose out to the red-hot Yuki Ko. But she banked a ₩48,020,000 payday, and she's back in action here on Day 1A, having built her stack up to around 75,000 now.
Her latest pot came off Wie Hun Lu. Picking up the action on a 9♠ 3♥ 6♦ flop, Pete Chen checked and Gao fired 3,300. Lu called, Chen folded, and the dealer burned and turned the A♦ .
Gao continued her aggression for 6,900, and Lu had to give it some thought but eventually folded. –JS
10:10pm: Turner and Lew
Level 10 – Blinds 600/1,200 (ante 200)
Randy Lew's late ascent has continued. The Team PokerStars Online player is now up to about 75,000 even after losing a small pot to Priit Turner. Lew started that hand off with a raise to 2,600 and Turner three-bet to 7,500 from the button. Action folded back around to Lew and he called, bringing an A♣ 4♠ 10♠ flop.
Lew checked and then folded after Turner bet 5,500. Both players are well above average. Lew has his 75,000 while Turner is up to 90,000. –AV
10:05pm: Lin's in (no, not that one)
Level 10 – Blinds 600/1,200 (ante 200)
Celina Lin isn't the only Lin in town. Chen An Lin has quietly made his way into this Main Event, and has built himself a decent stack too.
We just caught him in a pot, although it wasn't too exciting. After a 3,000 open and a call, Lin defended his big blind. The board ran out 7♥ J♥ Q♣ K♠ 10♥ , putting four to broadway out there, and it checked all the way until the river. The original raiser led for 5,000 and both folded.
Still, Lin has amassed 62,000 without being spotted. Now that we've clocked him, how much can he amass in these last few levels? –JS
10:00pm: Ryu rises through Burns
Level 10 – Blinds 600/1,200 (ante 200)
Simon Burns and Jaebok Ryu were both battling at the final table of the National Championship yesterday and now they're at it again in Day 1A of the Main Event.
In their most recent clash, Ryu came out on top with a double up. Ryu started that hand off with a raise to 2,800 and Burns called from the button. Both players checked the 5♦ 7♠ 9♥ flop and a J♣ came on the turn. Ryu bet 2,500, Burns called and a 5♠ completed the board. This time things escalated quickly and all the chips went in the middle.
Ryu was at-risk and screamed "Yes!" as soon as Burns called. Ryu turned over 10♦ 8♦ for the turned straight and Burns tried to muck but was made to show his A♥ J♦ . Ryu doubled up to about 80,000 while Burns dipped to 45,000. Then, while Ryu was still stacking his chips, tournament staff came with a pile of racks and broke the table.
Someone at the table mentioned that Burns wouldn't be able to get revenge, but as luck would have it, Burns and Ryu got seated right next to each other at the same table. –AV
9:50pm: Big-slick up costs Fujibayashi
Level 10 – Blinds 600/1,200 (ante 200)
Makoto Fujibayashi has hit the rail after he shoved into the second nuts belonging to Xingbao Zhu, who rose to 92,000.
Fujibayashi opened to 2,600 from under the gun and was called in two spots, including Zhu in the hijack. A 2♠ 7♠ K♦ flop was spread and Fujibayashi saw his Chucky 7,000 c-bet called by both opponents. The turn was the 8♠ and Fujibayashi committed his last 11,600 chips with A♥ K♥ for top pair. Zhu called with K♠ 10♠ for a flush and Fujibayashi made his exit after the 5♥ river was revealed. –MC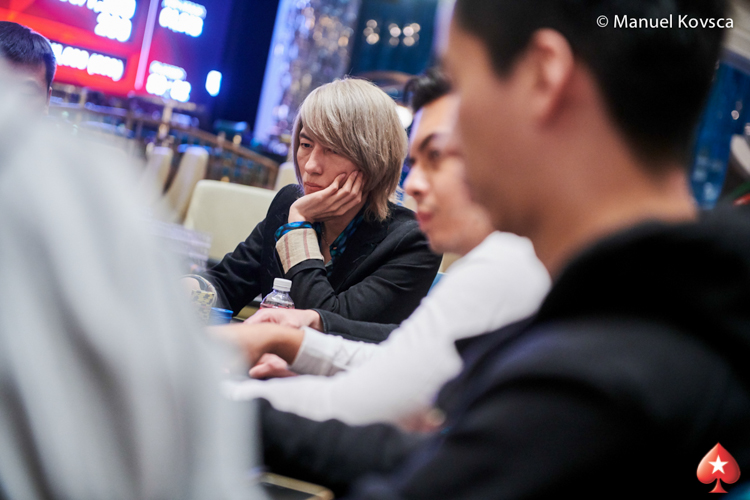 Aritake Teruhiro in the shadow of Randy Lew
9:30pm: Break
Players are on their final 10-minute break of the day. Registration will close as soon as level 10 starts and we'll get our official number of entries for the day.
9:25pm: Gao will settle for that
Level 9 – Blinds 500/1,000 (ante 100)
Wenling Gao – who came second in the Single Day High Roller last night – has moved up to around 65,000 after she eliminated her neighbour, a fellow female poker player. Unfortunately we don't have her name as she made a very quick exit and had already lost her media ID card.
Gao and our mystery lady were one of five players that took to a 10♠ 2♣ A♦ flop after an under-the-gun raise to 2,300. The action checked around to mystery lady on the button who bet 5,400. Gao was the only caller from the cutoff and both players went own to check the 6♣ turn. The river was the 7♠ and Gao nonchalantly moved all-in and her opponent snap called all-in for 15,000. Gao opened 10♣ 10♥ for a flopped set and her opponent's cards were swept into the muck by the dealer. –MC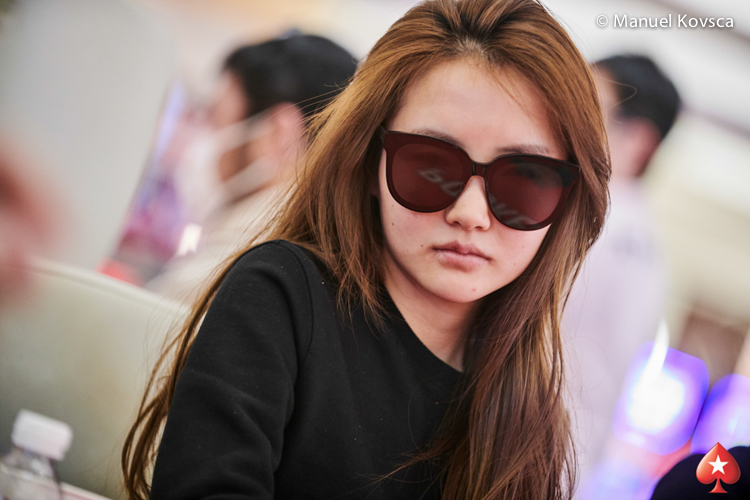 Wenling Gao
9:25pm: Triple H
Level 9 – Blinds 500/1,000 (ante 100)
Kenji Hata raised to 2,300 from middle position and he got a lot of customers. Hyunil Hong called from the button, Nishiyama Hiroshi did the same from the small blind and Taehoon Han called from the big blind.
The four players saw an A♥ 6♣ A♦ flop and action checked to the initial aggressor. Hata, who hit trips with A♣ 9♦ , bet 2,600. Hong called, Hiroshi folded and Han paid to see the turn.
It was a Q♥ and it brought another bet from Hata. This time Hata made it 3,500 and Hong called again. It was too much for Han though and only two players made it to the K♦ on the river. the river had just put Hong in the lead, but Hata had no idea. Hong had K♠ K♥ and the river gave him kings full of aces. Hata bet 4,200 and Hong called one more time.
The pot put Hong up to 55,000 while Hata is still well above average with 65,000 after losing the hand. –AV
9:15pm: King Chong
Level 9 – Blinds 500/1,000 (ante 100)
That feeling when you think for ages, make a call, see you're ahead, and then the turn leaves you drawing dead? Yeah, that. Kohei Nakai knows it well.
Picking up the action on a 9♥ 7♥ 8♦ flop, Victor Chong had checked and Nakai led into a 10,000 pot for 7,000. Chong was giving it a good old think when we arrived, before ultimately moving all in with the bigger stack.
Nakai had 20,000 behind and was in a tough spot. He stood up staring at the board, and was in the tank for a good few minutes before eventually slamming down a call.
Nakai – J♣ J♠
Chong – A♥ 5♥
With all the pressure on him, Nakai had made a great call and was currently in front versus Chong's nut flush draw. However, the 4♥ instantly hit the turn, followed by the 3♣ to end it. Now Nakai slammed the table in dissappointment, understandably.
He's out, Chong's up to 75,000. –JS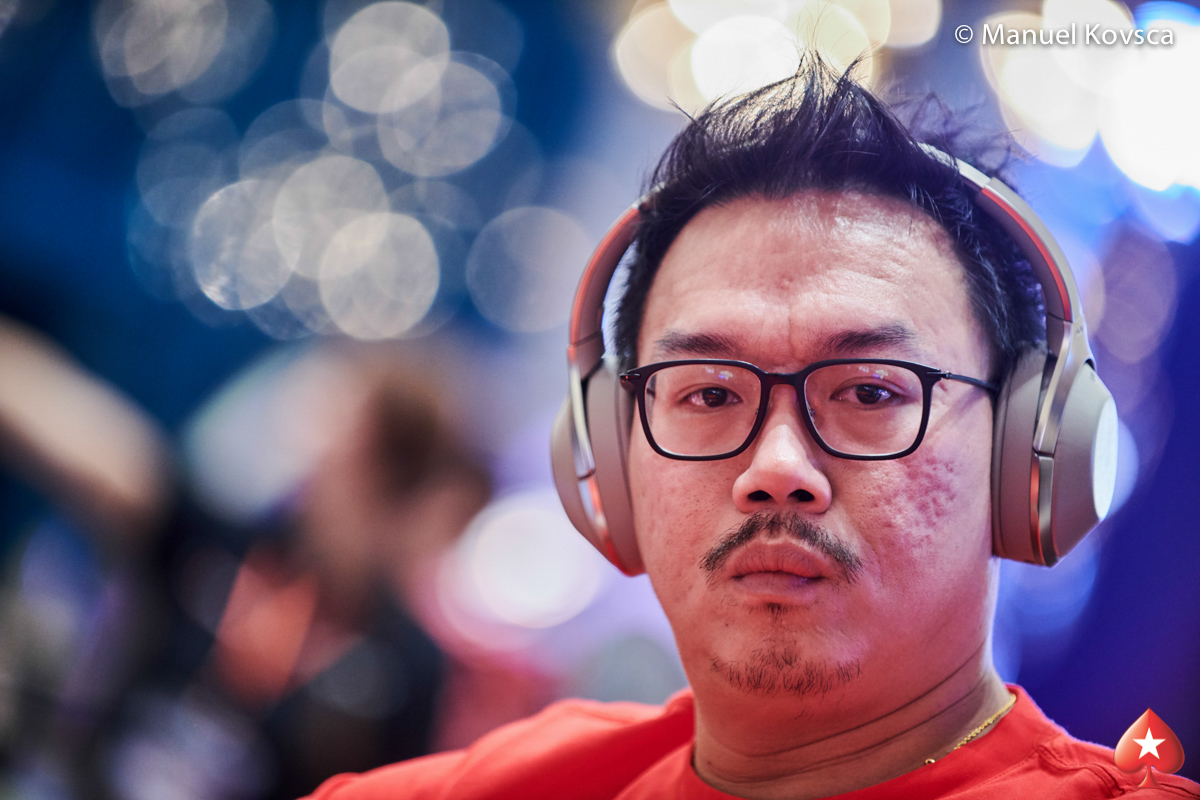 Chong's on the up
9:10pm: River bomb works for Teruhiro
Level 9 – Blinds 500/1,000 (ante 100)
The good old over-bet with a full house from Aritake Teruhiro worked out well for him and helped his stack soar to 138,000.
He was on the button and battling heads-up versus Jingming Zhang in the cutoff. Around 30,000 chips lay in the middle of the table, next to a resting board that read J♦ 9♥ 3♠ J♥ Q♥ . Zhang checked to face a 45,000 bet that he did not like.
How did we know that? Well, he stood out of his chair and let out lots of groans and moans. The call would cost him half his stack and it do when he slammed the chips down over the (imaginary) line. Teruhiro calmly opened Q♦ J♣ and Zhang mucked, sat back down and shook his head a few times. –MC
9pm: Thomas Ward's him off
Level 9 – Blinds 500/1,000 (ante 100)
Our first sighting of New Zealand's Thomas Ward has seen him eliminate a player.
On a Q♣ 7♠ 10♦ flop, Hyunil Hong had jammed for 18,300 and Ward made the call with the Q♦ 9♠ , up against K♥ J♠ . Ward's top pair held after the 8♥ turn and 3♣ river, taking his stack up to around 50,000. –JS
8:55pm: Tournament growth and shrinkage
Level 9 – Blinds 500/1,000 (ante 100)
Iori Yogo out. Dongliang Cheng out. Another table broken.
We're down to 12 tables and 106 players in Day 1A. We've also ticked into level 9 and after this one is done, we'll have our official player count for the day. The field currently has about 170 entries and we'll see how many more we can squeeze in before the end of the level. –AV
8:50pm: New's good for Lew
Level 8 – Blinds 400/800 (ante 100)
Either Randy 'nanonoko' Lew was simply moved, or the Team Pro Online busted and reentered (as players can do for another level of play).
Whatever happened, Lew is in a new seat and it seems to be treating him well. After Jingming Zhang limped from the cutoff, it folded to Lew in the big blind and he raised it up 5x to 4,000. Zhang made the call, and the flop fell A♥ 6♣ 5♠ . Lew continued for a smaller sizing, 1,500, only for Zhang to raise it to 3,500. Nanonoko just called.
The 7♦ turn was checked by both, resulting in a river: 6♥ , pairing the board. Lew checked once more, and Zhang tossed out a 5,000 chip. Lew did the same, but not over the line just yet; first he had to think it through. After he'd figured something out, Lew tossed in the call and we waited for Zhang to reveal his hand.
He picked up his hand slowly, almost like he was slow rolling. Turns out he just mucked though, meaning Lew didn't have to show to win the pot.
Lew's up to 44,000 now. –JS
8:40pm: Changing Ko
Level 8 – Blinds 400/800 (ante 100)
We're not sure what's the secret to Yuki Ko's poker success, but it could have something to do with his constant wardrobe changes. Yesterday Ko won the National Championship with one hoodie, and then won the Single-Day High Roller with the same hoodie, but in a different color.
Then, today, Ko started the day off wearing one thing, but now that he rebought he's wearing another. He's still at about starting stack, so we're not sure if that's the key. He did take a downa pot against Tianhang Zhang though.
Zhang and Ko were faced with a 7♣ 6♣ Q♥ 4♣ A♠ board and there was about 5,000 in the pot. Ko bet 2,500 and Zhang called. Ko turned over A♦ J♦ for the rivered pair of aces and Zhang threw his cards into the muck.
The pot put Ko up to 32,000, above starting, but below average. Come to think of it, Ko also brushed his teeth at the start of yesterday's table. Maybe that's the secret. We'll keep watching. –AV
8:30pm: Flip city
Level 8 – Blinds 400/800 (ante 100)
The amount of flips on Day 1s increases significantly toward the ending levels. Stacks are getting short, blinds are getting big and the need to gamble is as well.
Jia Ying was one of the most recent players to go for the late-day flip. Ying moved all-in for about 15,000 with A♣ K♠ and Dongliang Cheng called with 9♠ 9♥ . Ying paired on the flop of an 8♦ K♦ Q♠ 4♥ 10♦ board and she doubled to about starting stack while Cheng was left with just 8,000. Now it'll be his turn to try and win a flip and double up. –AV
8:15pm: Lai leaves
Level 8 – Blinds 400/800 (ante 100)
Patty Lai has been eliminated again. This time it seems like she won't try again –at least not during Day 1A– as she took her stuff and walked out of the tournament area. Only about 118 players remain. –AV
8:05pm: Huge pot for Huang
Level 7 – Blinds 300/600 (ante 100)
Bryan Huang's Main Event has got off to a brilliant start, courtesy of this huge pot.
It started with a 1,500 open from Aleksander Grigorev UTG+1, which got one call before Liang Yongjun three-bet it up to 3,900. Huang just flatted on the button, and Shome Sudo called from the big blind too.
Back to the Russian, Grigorev jammed for 16,500, which got a fold before Yongjun's problem began. He had a hand he liked, that much was clear. He hung his head in his hands, and stared at the all-in triangle in front of his opponent shaking his head.
Eventually, he'd let it go, but Huang snap-called. Sudo called quickly too, and the cards were flipped:
Sudo – 9♦ 9♥
Grigorev – A♠ K♠
Huang – 10♦ 10♣
Huang had the best of it but was flipping with Grigorev. However, the 8♣ 2♦ 6♥ 2♠ 10♥ runout improved Huang's hand to a set. Grigorev was out.
Huang is now up to 62,000, more than doubling up within his first level of play. Sudo is still healthy with around 60,000 himself. –JS
7:55pm: Lew joins the pack
Level 7 – Blinds 300/600 (ante 100)
Celina Lin now has a fellow Team Pro in the field; it just happens to be her fiance, Randy 'nanonoko' Lew. He seems to have around starting stack still, but stay tuned as we track his progress. –JS
7:50pm: Up and down
Level 7 – Blinds 300/500 (ante 75)
Before the break we reported that Shinobu Tanaka was chipping up and sitting at the top of the leaderboard. We also said we'd keep an eye on his stack. Well, we did and it appears that most of that stack got shipped over to Tsuyoshi Ishibashi.
Ishibashi is sitting with about 110,000 while Tanka is down to below starting stack with about 25,000. While Ishibashi is the table leader, there's another larger stack in the tournament. Jingming Zhang has a few thousand more than Ishibashi. Zhang is currently up to 115,000. –AV
7:35pm: Numbers increasing
Level 7 – Blinds 300/600 (ante 100)
After that second break the total entries for the day has increased to 155. Only 120 remain though.
One of the latest entries is Bryan Huang. No.2 on Singapore's all-time money list, Huang has almost $1.3 million in cashes to his name dating back more than 12 years.
His reputation must precede him, as he just opened his first pot to 1,500 from middle position and got all folds, including from Yuki Ko in the big blind. –JS
7:15pm: Ten-minute break
We'll be back shortly.
7:10pm: Kan battling but it's Ikmyung collecting
Level 6 – Blinds 250/500 (ante 75)
Raiden Kan has been pretty quiet in our coverage so far, but he's still battling away. Unfortunately for him, his stack has dwindled to around 12,000 after this latest pot.
It started with a hijack open to 1,200 from Chun Chua which Choi Imkyung called in the small blind. Kan was in the tank when we arrived, and although it looked like he was considering a raise, he opted just to call.
The flop fell 7♦ 6♦ 2♣ and it checked to Chua who made a c-bet worth 2,200. Imkyung came along, but Kan departed at this point, before the 9♦ turn. Both quickly checked.
The J♦ completed the board and put four diamonds out there. Imkyung instantly led for 6,000, and Chua made a pretty quick fold. Encouraged by his neighbour Federico Butteroni, Imkyung flashed the A♦ for the nuts before mucking his cards and raking in a nice pot.
He's up to 37,000 now, while Chua is still ahead with 86,000. –JS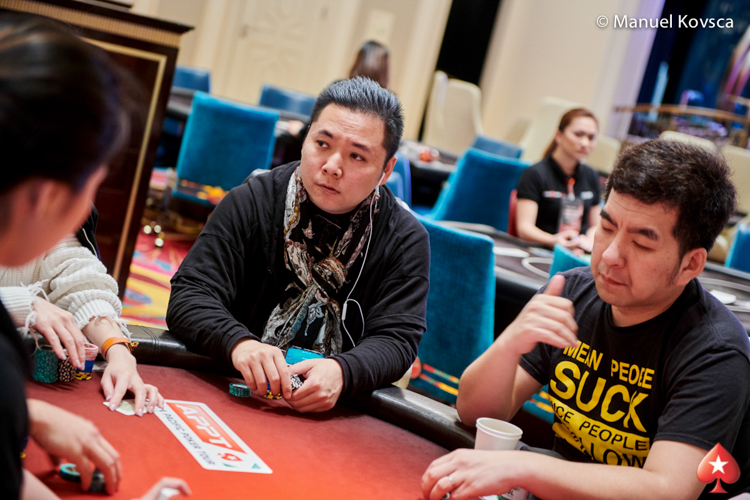 Raiden Kan – can he chip up?
7:00pm: Out and in
Level 6 – Blinds 250/500 (ante 75)
Both Patty Lai and Team PokerStars Pro Celina Lin hit the rail a bit ago, but they've both bought back in and taken a new seat. Well, Lai took a new seat at a new table. Lin got seated at the same seat at the same table she was eliminated from. We'll see if she fares better this bullet.
Raiden Kan might also need to bit another bullet soon. Kan is now at the sub-20 big blind mark with 9,350. Kan recently raised to 1,000 from early position with his small stack and got put to the test when the small blind re-raised to 3,500. Kan folded and was left with 9,350. –AV
6:50pm: Entries so far
Level 6 – Blinds 250/500 (ante 75)
We're now up to 138 total entries so far here on Day 1A, with 118 still remaining. With unlimited reentries open for another three levels though, that number is sure to rise.
One player who has opted for a second bullet is Yuki Ko. No surprise when you've been running as hot as he as this week (or yesterday, to be more specific).
Want to know more? Well here you go. –JS
6:40pm: Tanaka taking charge
Level 6 – Blinds 250/500 (ante 75)
We've reached level six and the midway point of the day is closing in.
There are also some chunky stacks that are starting to sprout up across the field. One of them, the chunkiest of them all, belongs to Shinobu Tanaka. Tanaka has already crossed the six-figure mark and appears to be in the lead with 115,000.
We'll keep an eye on Tanaka's stack to see if it keeps on growing. –AV
6:30pm: Suzuki speeds past the pack
Level 5 – Blinds 200/400 (ante 50)
A whole lot of chips just went in the middle without community cards being dealt, and now all of them sit infront Masayuki Suzuki.
The hand began with an under-the-gun 1,000 open from Aleksander Grigorev, which was called by Ianjulius Rudolph two seats over. Suzuki then made the call too, and when it got to the big blind of Eun Yul Yee, he squeezed it up to 4,500.
Grigorev called. Rudolph did too. But when it was Suzuki's turn he put pedal to the metal and shoved for 28,500. Yee thought about it but opted to lay it down, as did Grigorev. Rudolph took a look at Suzuki's stack, but he opted to lay it down too, saying "nice hand".
Suzuki is up to 43,000 now. –JS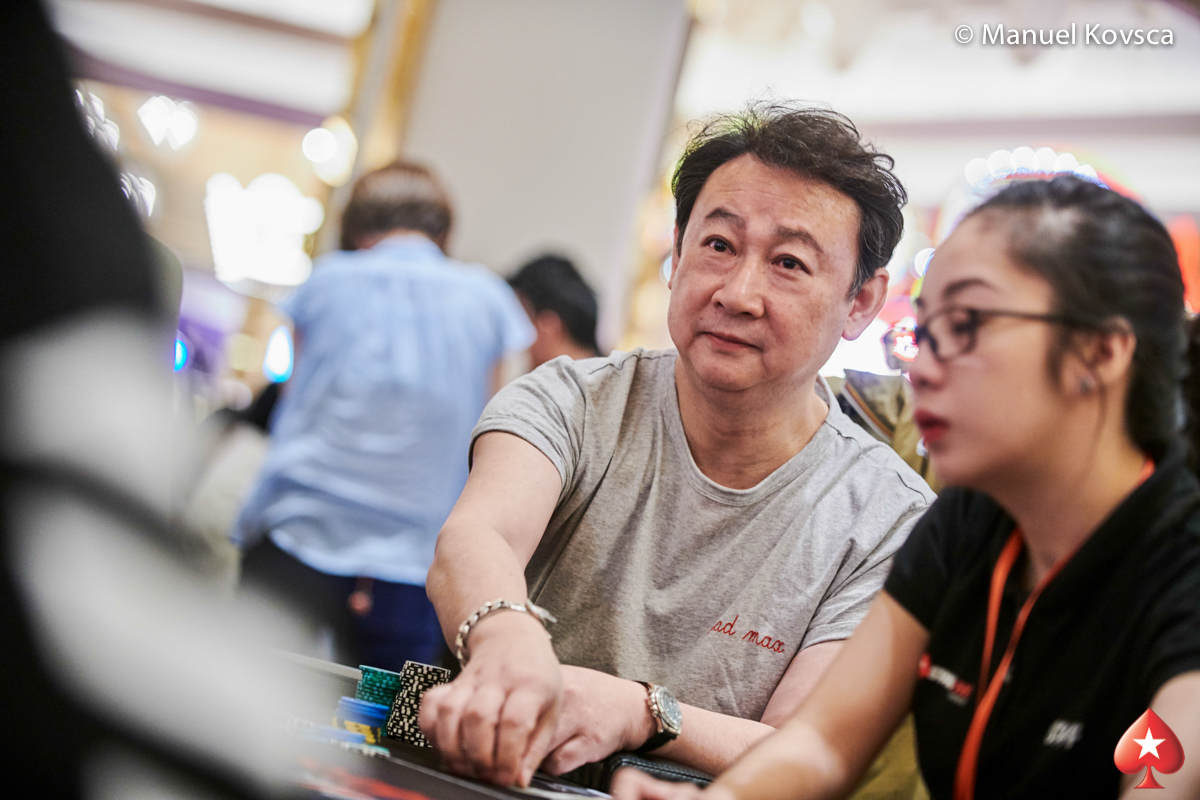 Suzuki races forward
6:20pm: Big decisions, big questions
Level 5 – Blinds 200/400 (ante 50)
It was gearing up to be a big pot. There was raise from middle position, a re-raise to 1,200 from the small blind and four-bet to 5,000 from the big blind.
Both players called and then Carvey Horng, the four-bettor on the big blind, moved all-in for about 40,000 on the 3♦ 2♦ 6♣ flop. Maxwell Curtis, the initial raiser, only had about 13,000 behind. Curtis thought, grabbed his pile of chips, shook his head and folded. There was another quick fold after that and Horng took down the pot.
"Tens?" Curtis asked. Horng shook his head.
"Kings? Tens?" Curtis needed to know, but Horng wasn't giving any answers.
"Ace-king?" Priit Turner chimed in.
"You'll never know," Horng said. The next hand was underway and Curtis was left without an answer. –AV
6:05pm: Ko out, Yu in
Level 5 – Blinds 200/400 (ante 50)
Amazingly, after two straight back-to-back wins, Yuki Ko has been eliminated from a tournament here at APPT Korea. Lucky for him, he can reenter anytime until the end of Level 9.
Meanwhile, Winfred Yu has fired his second bullet into this one and has a brand new seat and stack. –JS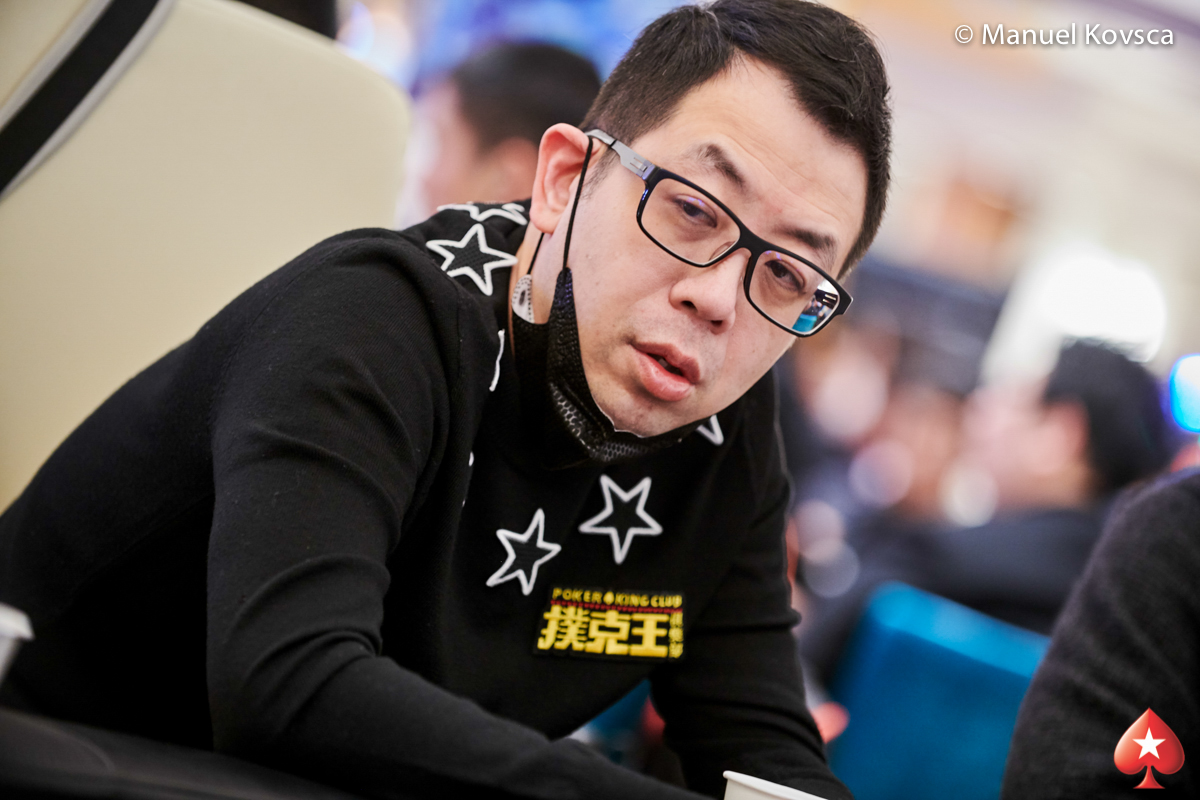 Yu's back
5:55pm: Tomomitsu's not singing anymore
Level 4 – Blinds 150/300 (ante 50)
Our new favourite musician Ono Tomomitsu (see our 3:50pm post) just lost a decent pot to Tianhang Zhang. He's just lucky she didn't check-raise him (his song is about check-raising, y'see).
Tomomitsu kicked things off with an open to 900 which was called by Diego Palma in the cutoff. Zhang called from the big blind, bringing a flop: 10♣ 2♦ J♦ . It checked to Tomomitsu and he put in a c-bet for 1,400, which both called.
The turn was the 5♣ and Tomomitsu fired again when it checked to him. The 3,500 bet was enough to shake off Palma, but Zhang refused to go way. That meant they'd need a river card, and the dealer obliged with the 8♠ . Check check.
Zhang showed the 10♠ 9♠ for second pair, and that was good when Tomomitsu mucked. She's up to 44,000 now, while Tomomitsu drops to 23,000. –JS
5:50pm: Turner takes out Kim
Level 4 – Blinds 150/300 (ante 50)
Denis Kim, Priit Turner, and Wenling Gao were all faced with a 2♦ Q♣ 5♦ flop and a raised pot and Kim moved all-in for about 13,000. Gao folded but Turner called.
Kim turned over Q♠ J♣ for queens while Turner showed Q♦ 10♦ for a pair of queens of his own. Turner also had a flush draw that turned into a flush after the J♦ came on the turn. Kim could still hit a full house, but the K♠ came on the river to end his tournament…for now.
Turner, on the other hand, chipped up to about 57,000. –AV
5:45pm: Lin loses one to Takeda
Level 4 – Blinds 150/300 (ante 50)
Yusuke Takeda raised to 700 from early position and action folded around to Celina Lin on the big blind. Lin called and the flop came down 5♠ 8♥ 3♣ . Lin check-called a bet of 600, but then fired a bet of 1,575 after the 6♣ came on the turn.
Takeda called and a K♣ completed the board. This time Lin made it 3,500 to go and Takeda called again. Lin turned over 10♥ 7♣ for air and Takeda tabled a set of fives with 5♦ 5♥ . Lin is still above average with 37,000 while the pot put Takeda up to 25,000. –AV
5:40pm: Chua collects from Butteroni
Level 4 – Blinds 150/300 (ante 50)
Federico Butteroni's stack has just suffered a decent hit after an unlucky river card helped Chun Chua.
The Italian made it 1,000 to go from the UTG+1 seat and it folded around to the small blind who called. Chua defended his big blind, and the dealer spread a 10♠ 2♥ 6♣ flop, which was checked to the raiser. Butteroni continued for 1,500, and now only Chua called.
They saw the 5♠ on the turn and Butteroni kept firing for 2,400 when checked to. Chua matched it to see the 9♠ river, and the action was the same. Check, bet 2,400, call.
Butteroni turned over the J♦ J♠ for an overpair to the board, but he got some bad news when Chua revealed his 10♣ 9♦ for a rivered two pair. That pot brings Butteroni's stack down to 17,000, while Chua is sitting pretty with 49,000. –JS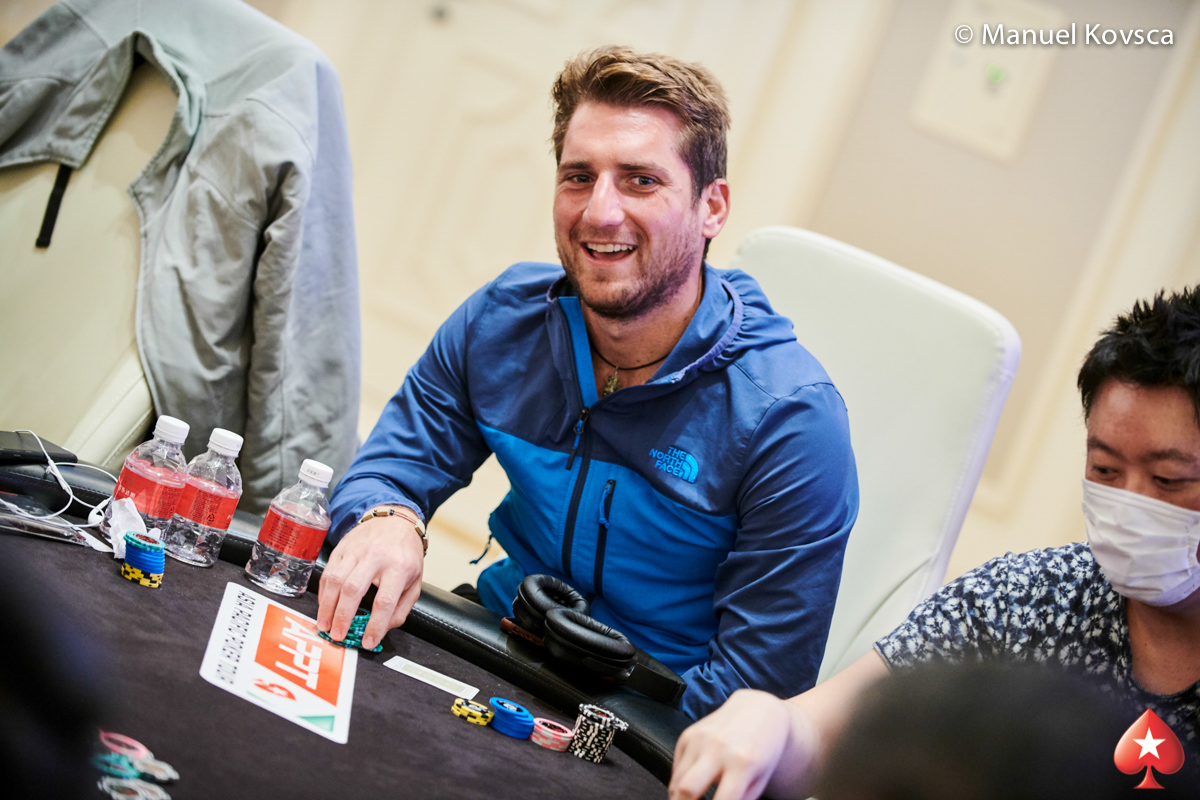 Federico Butteroni
5:35pm: Rising up
Level 4 – Blinds 150/300 (ante 50)
The average stack is still just slightly above the 30,000 starting stack, but a few players are already starting to pull away from that.
Hyunil Hong is out and Ryuichi Saito was stacking up a pile of chips. Hong was hoping to score a double-up with Q♥ Q♠ but couldn't get one. Hong's queens were beat on the river of a 8♥ 3♦ K♣ 5♣ J♣ board and Saito had a winning K♥ 2♦ spread out in front of him.
By the time Saito was done piling up his newly-one chips he was sitting with about 55,000. –AV
5:20pm: Chen and Chong
Level 4 – Blinds 150/300 (ante 50)
We've had a couple more famliar faces take their seats in the Main Event since the break.
First off there's Taiwan's Pete Chen, fresh off his fourth-place finish in yesterday's National final table for ₩11,053,600. Chen has more than $1.8 million is career earnings, including a deep run in last month's APPT Macau Main Event (12th – US$26,260), while his biggest score came from a runner-up finish in a WSOP event in 2017 for $382,000.
Then we've got popular Malaysian pro Victor Chong, who also went deep in Macau. Chong finished 11th for the same prize (US$26,260), and has cashed for $435,000 in his career.
Chong's off to a good start here too. With 10,000 in the middle already by the turn of the 6♥ A♠ Q♦ 10♥ board, Yuki Ko checked to Chong and he led for 4,000, which was enough to get a fold. Chong has 37,000 now, while Ko dips to 23,500. –JS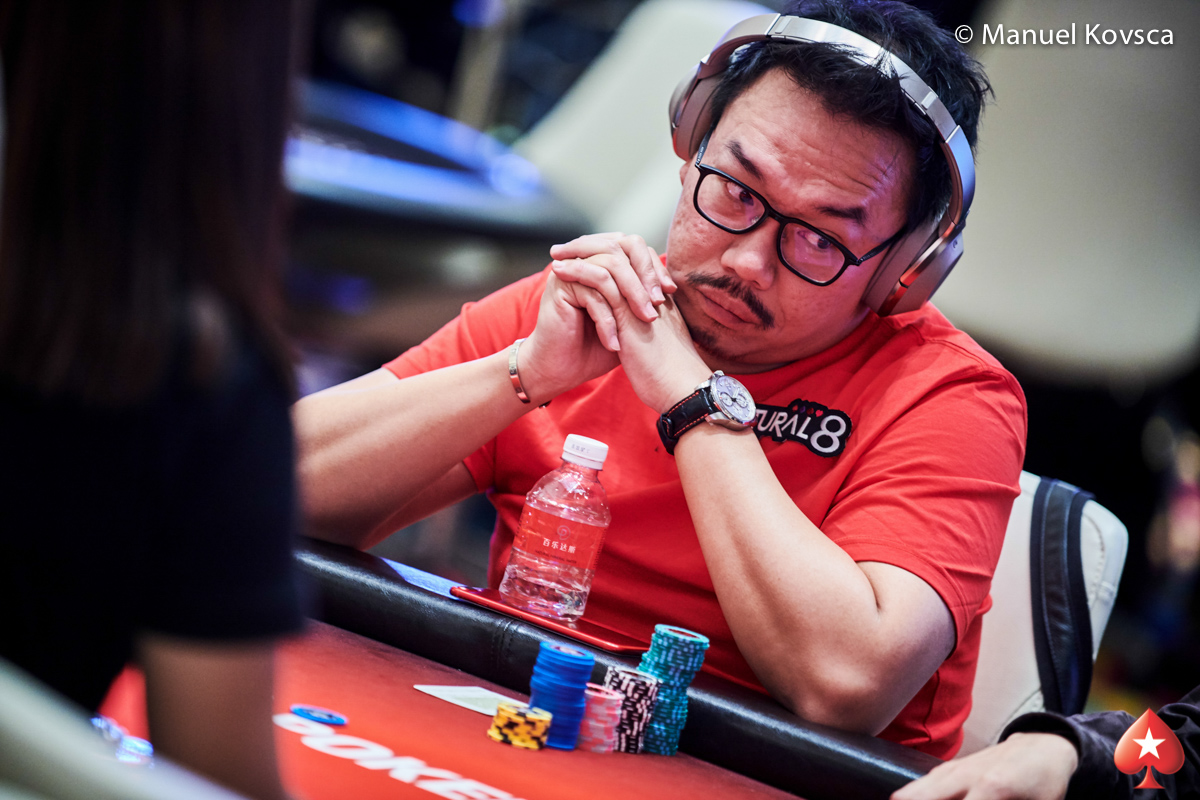 Victor Chong
5:05pm: Break it up
The first three levels of play are done and we're on our first 10-minute break of the day. Come back in a bit for more action.
5pm: Accessory count
Level 3 – Blinds 100/200 (ante 25)
As the number of players increases so does the amount of facial and cranial accessories. Aside from the myriad of sunglasses and headphones that constantly decorate poker tournaments across the world, there are a fair amount of facemasks.
There are currently eight facemasks in the field, varying in color and built quality. Some seem made of paper and look fairly disposable while others are stylish and made of different fabrics. Their popularity has even surpassed hats, which number just four so far in today's field. –AV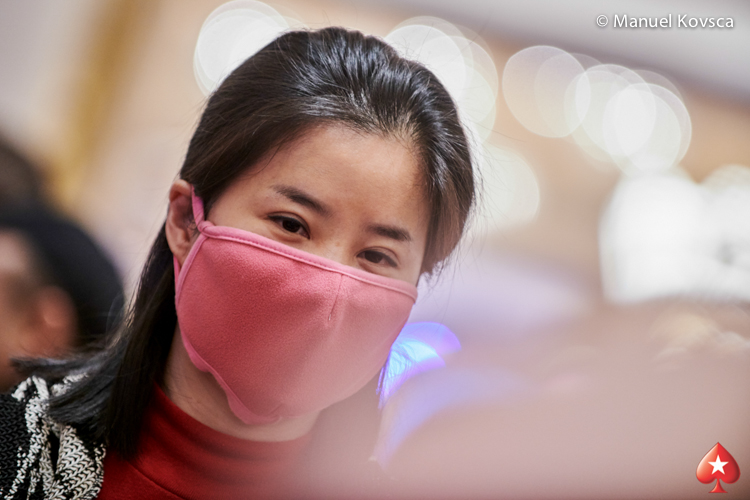 Claudia Yum and a stylish pink facemask
4:55pm: Quick bullet for Yu
Level 3 – Blinds 100/200 (ante 25)
Winfred Yu has made quick work of his first bullet in this Main Event. We've just seen him make an exit, but lucky for the high roller, this one is unlimited re-entries. –JS
4:50pm: Rudolph the six-bet shover
Level 3 – Blinds 100/200 (ante 25)
We just noticed that Winfred Yu (high stake game organiser and player) has just taken his seat. But in noticing that, we also noticed an interesting pre-flop pot building between Taehoon Han and the USA's Ianjulius Rudolph.
Rudolph had opened in the UTG+1 seat only for Han to three-bet him to 1,350 from the cutoff. Back to Rudolph, he bumped the price of poker up to 3,900. But this was the defending champ we're talking about. Han came back over the top to 9,200, and put the pressure right back on the American.
Rudolph didn't feel it. He six-bet shoved for it all, but before he could even get his chips over the line Han made a quick fold.
That brings Han's stack down to 27,000, Rudolph's up to 37,000, and Yu? He's got the starting stack of 30,000. –JS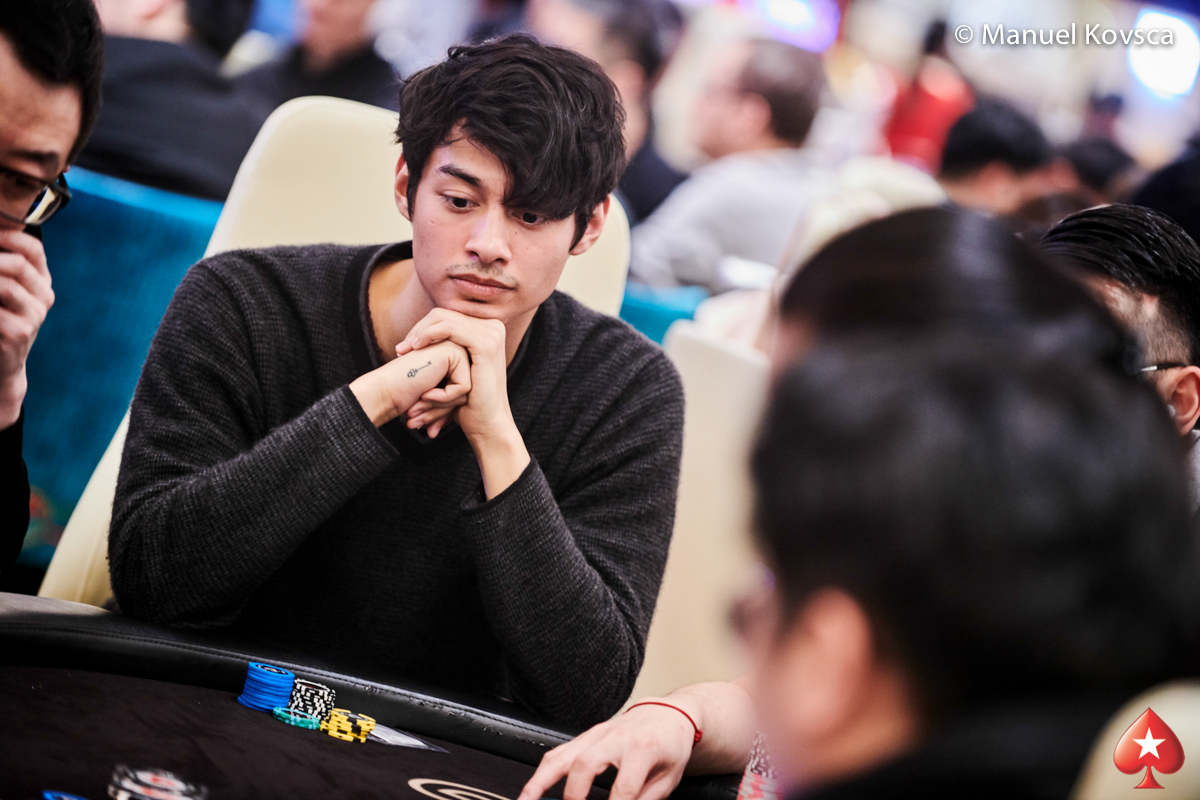 Ianjulius Rudolph
4:45pm: Triple digits
Level 3 – Blinds 100/200 (ante 25)
We're in the third level of the day, the last one before we take a break. The field has also crossed the triple-digit threshold and we've also crossed 100 entries. The constant growth has also caused constant shuffling. Team PokerStars Pro Celina Lin is now on her third table of the day after being ping-ponged around the tournament.
But while she still has a seat, about a handful of players have already lost theirs. But their Main Event dreams aren't over yet. Players are allowed unlimited entries until Level 9 and they can also buy-in for Day 1 B. –AV
4:35pm: Suzuki drives off with Han's chips
Level 2 – Blinds 75/150
Japan's Masayuki Suzuki just took a small pot from the defending champ, Taehoon Han. With no action in front of him, Suzuki opened the button to 375, and Han called from the small blind as did Yusuke Takeda in the big.
The three went to a 4♣ 5♠ 9♥ flop which checked around to the A♣ turn. Han opted to lead out here for 500, which shook off Takeda but got a quick call from Suzuki.
When the 2♥ river completed the board, Han slowed down and checked it. This let Suzuki retake the betting lead for 600, but Han wasn't done instantly. He gave it a good think, counting out some chips like he might make a move. Ultimately though he'd hand his cards to the dealer with something of a dejected sigh. Was he planning a bluff but couldn't pull the trigger? –JS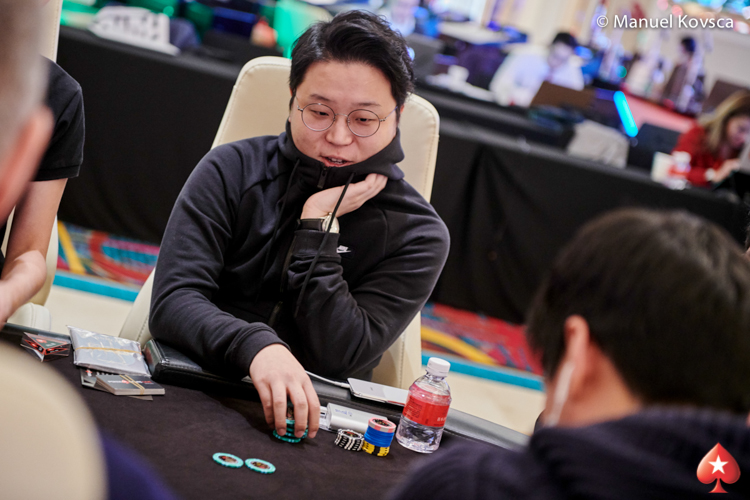 Defending champ, Taehoon Han
4:25pm: Going ons and happenings
Level 2 – Blinds 75/150
It's early on in the tournament and things have been going on fairly calmly.
Over at one table, Jaebok Ryu, who made the final table of yesterday's National Championship, just chopped a pot with queen-jack versus queen jack. Celina Lin has been playing a few small pots, but they've concluded before the river.
A few tables over, Denis Kim and Pei Yu Lai got involved in a small pot. Kim raised from the small blind when action checked to him and Lai called from the big blind. Both players checked the 10♥ K♣ Q♦ flop and the 7♥ on the turn. Kim then took a stab at the 9♣ river and bet 500. Lai fought back with a raise to 1,500 and Kim called after some thought. Lai showed 9♣ 7♥ and took down the pot. –AV
4:15pm: No go for Yogo
Level 2 – Blinds 75/150
There'll be no more chip pogoing for Andy Chen. Despite running his 300 stack back to 8,050, he's just been eliminated. –JS
Chen (left) earlier with Celina Lin
4:10pm: Blast from the past
Level 2 – Blinds 75/150
What has 2015 WSOP Main Event November Niner Federico Butteroni been up to lately? It's a question everyone in the poker world has been wondering.
The truth is we don't know. But a quick glance at his poker CV shows that the Italian has racked up a couple of hundred thousand bucks in cashes since his eighth-place million dollar score. He's also just taken his seat in this Main Event. –JS
4pm: Chen's stack pogos
Level 2 – Blinds 75/150
What goes up must come down, right? Well, from here on out, Andy Chen's stack can only go up as he lost most of his stack at the end of the first level.
We missed the action, but by the end of the 2♠ 3♥ Q♠ 4♠ 3♠ board all but 300 of Chen's chips were in the middle. He had the A♣ 5♣ for a straight, but alas his opponent – Ja Tang – had the J♣ J♠ for a flush.
Chen let out a moan, but he did manage to quadruple his stack in the next hand. He moved all in, and Tang called followed by the button and big blind. Those three would check down the 2♦ K♥ 10♥ 3♥ 9♥ board the whole way, and Chen had the K♣ 3♠ for two pair and the win. –JS
3:50pm: Japanese poker and harmonicas
Level 2 – Blinds 75/150
The Japanese contingent is strong in the field today. Aside from Yuki Ko (who is actually Korean but resides in Japan), the man who had a monopoly on big events yesterday, there are a few more Japanese poker powerhouses.
Iori Yogo, a man whose cashes mostly end in final tables and has more than $1 million in live tournament earnings, is in the field and battling for the title. Yogo has two ANZPT runner-up finishes, but has yet to score an APPT final table. No doubt he'll be looking to remedy that in this tournament. Then there's Shinji Kashima, a Macau regular who tears up tournaments and cash games as well as Ken Okada, who has been tearing up the Filipino poker scene recently.
But we also have a Japanese Player who knows how to slay the guitar and harmonica. Ono Tomomitsu not only knows how to play poker, but how to sing about it. He's got a song that's popular in the Japanese poker scene inspired by the old check-raise. Instead of telling you about it, how about you watch and listen for yourself:
–AV
3:40pm: Platinum Pass Palma
Level 1 – Blinds 50/100
Chile's Diego Palma will no doubt be playing a lot of live poker throughout 2018, having won his Platinum Pass a few days ago here at APPT Korea. His practicing (not that he needs it with two top two finishes this week alone) begins here in the Main Event.
Exgeni Ehzhen opened under the gun to 275 and it folded around to Palma in the big blind who defended. The flop came 4♣ 5♦ 8♦ , and both checked it to the K♣ turn. Palma now led for 350 but Ehzhen quickly called.
The 10♣ river brought no more action, and Palma confidently flipped his K♠ J♠ . He'd have to settle for a chop though, as Ehzhen had the K♥ J♥ for the same hand. –JS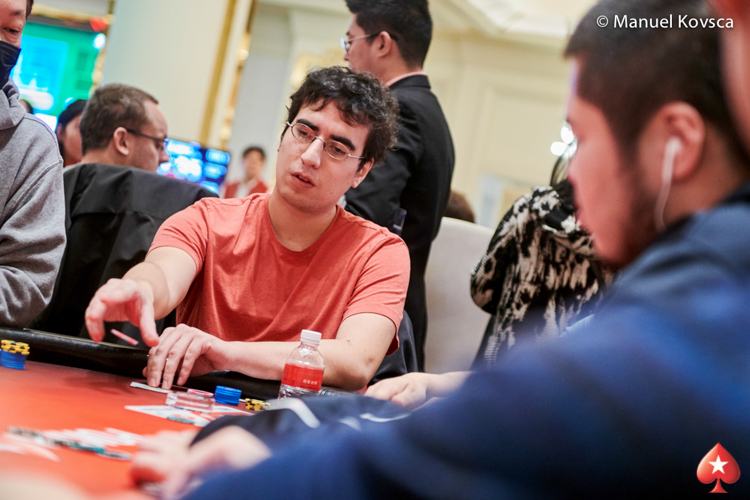 Palma in action
3:35pm: Ko says 'let's go'
Level 1 – Blinds 50/100
Having spent the first minutes of this opening level milling around and socialising, the man of this event so far, Yuki Ko, has taken a seat.
The National, High Roller and Platinum Pass winner just lost a pot to Xingbao Zhu though. With 10,000 in the middle and a 10♣ 5♦ 8♦ J♠ 10♠ board out there, Ko checked and Zhu led for 6,000 and Ko gave it some thought but laid it down. –JS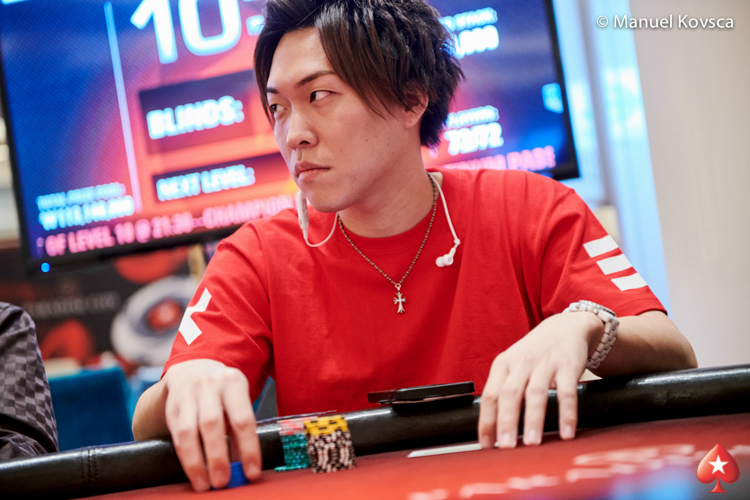 Go time for Ko
3:30pm: Ballooning field, Lin takes a seat
Level 1 – Blinds 50/100
We're a little more than halfway through the level and the field has nearly doubled. The field stands about 60 and we have our first Team PokerStars Pro in the tournament.
Celina Lin has taken her seat in the tournament, and it's bound to be a one filled with action. The Team pro finds herself seated with Diego Palma and Raiden Kan. Lin has nearly $1 million in live tournament earnings and two Red Dragon trophies to her name. Lin also made the final table of the APPT Seoul Main Event back in 2015, but came up short of the title and finished fourth.
Now she's on the hunt for another big cash, another title, and a shiny Platinum Pass. –AV
3:15pm: Names for the list
Level 1 – Blinds 50/100
Who's here, you ask? Well, fresh from his runner-up finish in yesterday's National Championship, defending Main Event champion Taehoon Han has returned to Paradise City today to begin his title defence. With a ₩22,100,000 score already under his belt this week, Han's off to a flyer.
Two other players who have enjoyed a successful APPT Korea so far are also in the Day 1A field. Chile's Diego Palma won his PSPC Platinum Pass a few days ago when he took down the APPT Kickoff for ₩21,110,000 (~US$19,890), and he followed that up with a second place finish in a PLO event for ₩5,000,000 (~US$4,676). How will he fare today? We'll find out.
The winner of the aforementioned PLO event was the silver-haired Raiden Kan, who banked himself ₩5,690,000 (US$5,321). Kan's here today to begin his Main Event run. –JS
3pm: Shuffle up and deal
Level 1 – Blinds 50/100
Dealers heard the magic words and cards are in the air. Blinds are 50/100, levels are 40-minutes long and late registration will close after level 9. There are currently about 30 players in the field, but that number is quickly rising as a steady trickle of players are taking their seats.
One player who is in the tournament area but isn't currently playing is Yuki Ko. After winning two tournaments in one day, Ko seems to be happy just walking around the tournament floor saying hi to his friends. –AV
2pm: Main Event kicks off at 3pm
Good afternoon/morning/evening wherever you are in the world! And welcome back to the beautiful Paradise City in Incheon, South Korea. Today sees the ₩1800000 (~US$1,680) Main Event kick off with Day 1A, the first of two starting flights with unlimited re-entries. The plan is to play 12 40-minute levels, with play wrapping up around midnight local time.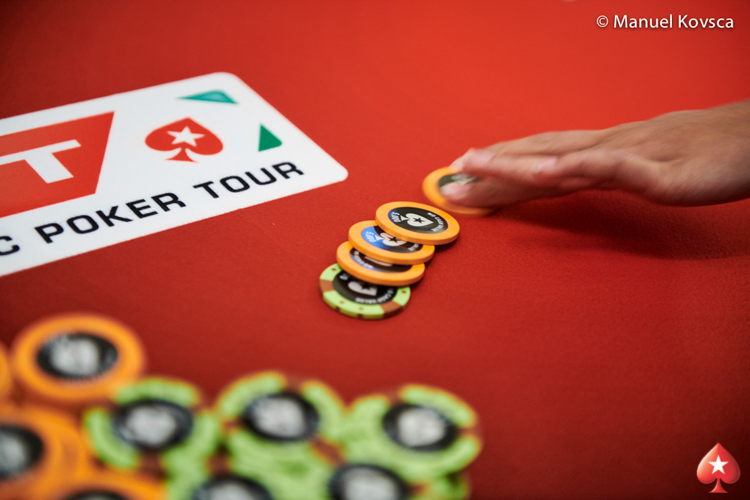 Exciting Main Event ahead
APPT Korea has already been an exciting event, with two Platinum Passes already being won. Chile's Diego Palma picked up his by winning the APPT Kickoff event a few days ago. Yesterday our live coverage started with the APPT National Championship final table, which weirdly ended up with a major deja vu heads-up battle.
In last year's PokerStars Festival Korea Main Event, Yuki Ko finished second to Taehoon Han. And while Han will come into the 2018 APPT Korea Main Event as the defending champ, yesterday Han would have to settle for second as Ko defeated him heads-up to take down the National for ₩33,835,000 (US$31,692) and the $30,000 PSPC Platinum Pass. Incredibly, Ko then went on to sit down in the Single Day High Roller, and took that one down as well! That makes it back-to-back wins for the Korean who resides in Japan, banking another KRW66,400,000 (~US$62,265). Amazing.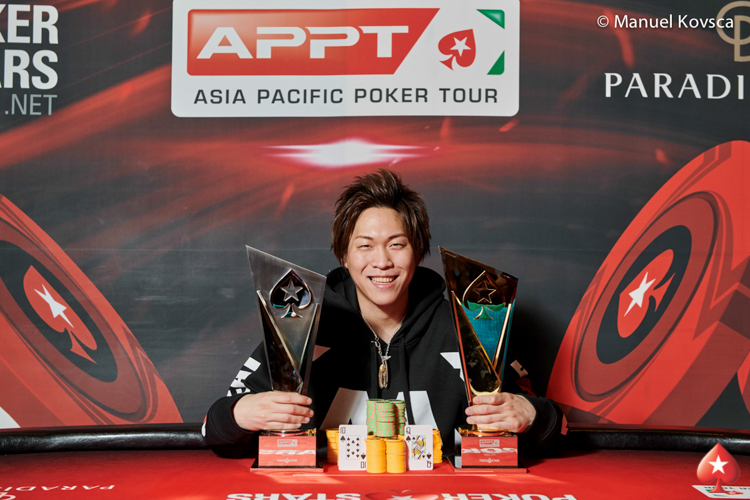 Two tournament wins, one day for Yuki Wo
Back in 2016, it was Albert Paik who took it down for ₩119,097,600 (US$101,000), while other past winners include Jason Mo (2015) and Chane Kampanatsanyakorn (2014).
Join us for exclusive live updates all day, and all week, as we play our way down to another APPT Korea Main Event champ and Platinum Pass winner. –JS
---
PokerStars Blog reporting team on the APPT Korea Main Event: Marc Convey, Jack Stanton, and Alex Villegas. Photography by Manuel Kovsca. Videos for PokerStars by 23Digital.
Ready to sign up for PokerStars? Click here to get an account.
---
Back to Top
Study Poker with
Pokerstars Learn

, practice with the PokerStars app

Try our Free Scholars Leader Board to practice your new skills.
Quick Links
Learn
Practice
Chat with us
Watch and share