That's it for Day 1B folks.
Only about 90 players survived today's 12 levels of play and after the chips settled, Tsuyoshi Ota had the biggest stack with 266,200. Kojiro Mizukami is close behind with 250,800, but they're both a fair bit behind yesterday's leader. While Ota topped today's field, he couldn't overcome the massive lead that Scott Janik accumulated towards the end of the day yesterday. Janik went on a heater during the last few levels and finished as the overall leader with 307,500.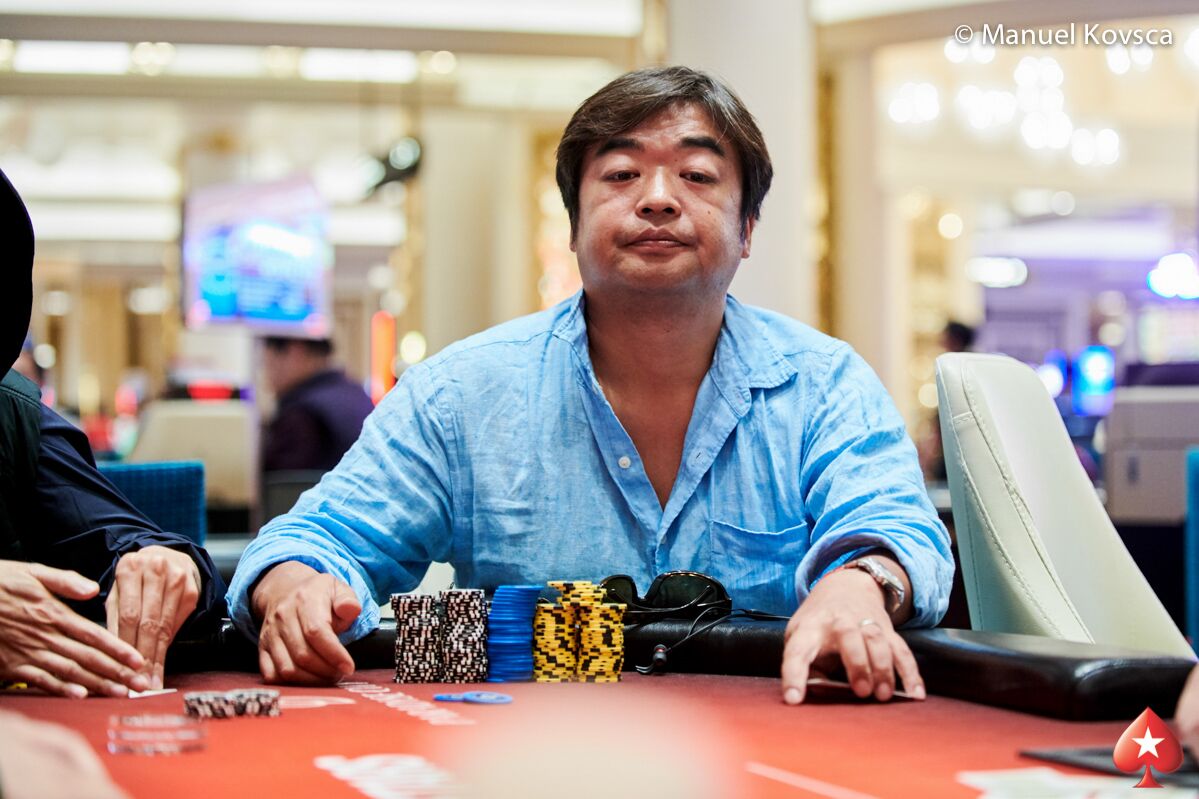 Tsuyoshi Ota
They'll be be back tomorrow though and now everyone knows exactly how much they're playing for. The 449 entries created a ₩705,558,600 (~$658,000) prize pool and a first-place prize of ₩158,700,000 (~$148,000). For more details, head on over to our payouts page.
Things started a bit later today with action kicking off at 6pm, but that just meant players came with all their Friday night energy. We even had the occasionally dancer to liven up the tournament area.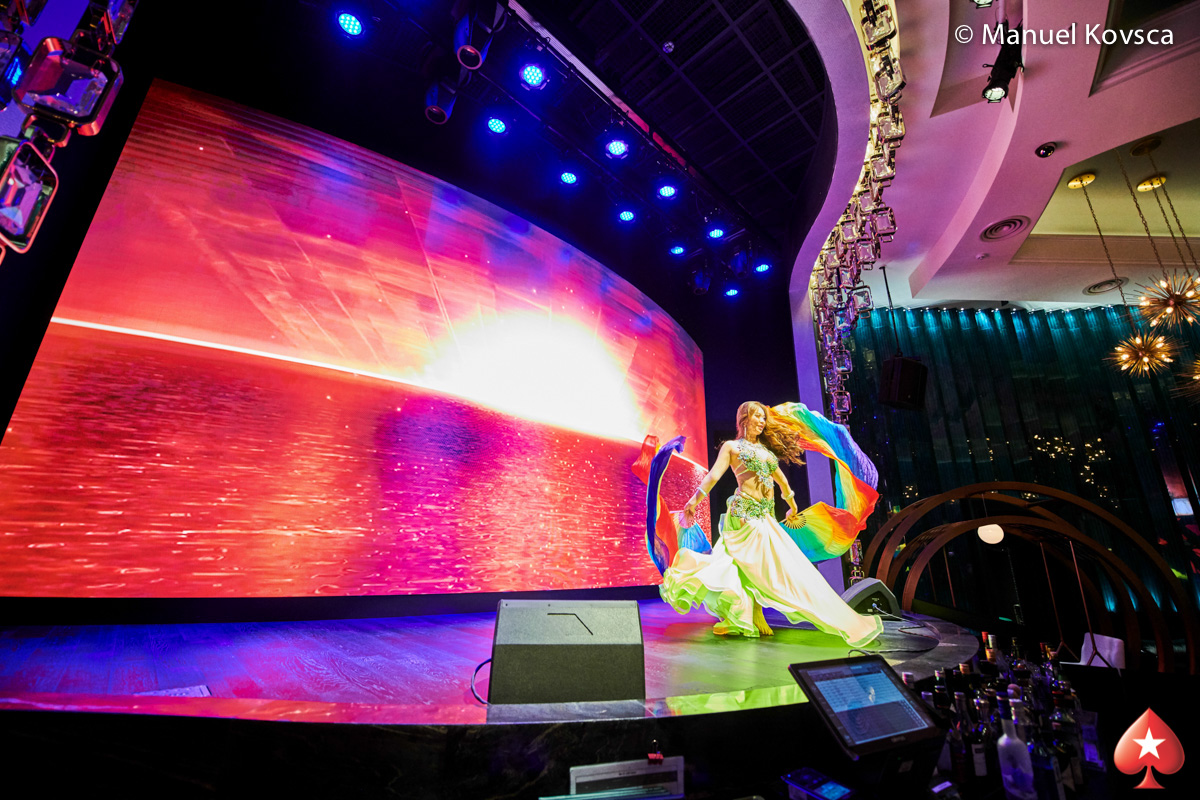 Friday night lights at Paradise City
We also knew Day 1B was going to be big from the get-go. We had nearly double the players as yesterday to start the day and there was a hefty line at the registration desk. Players kept signing up until the end of level 9 and by the time that was done, Day 1B had seen a total of 267 entrants.
While the number of players easily beats the Day 1A field, the Day 1A field got the bigger stacks. While there was some chip disparity between the days, they did share a lot of the same players. Yuki Ko, who won the National Championship and Single-Day High Roller a few days ago, fired a few bullets in yesterday's field but got eliminated in the last level of play. Ko made it through today though and will start tomorrow with 79,400.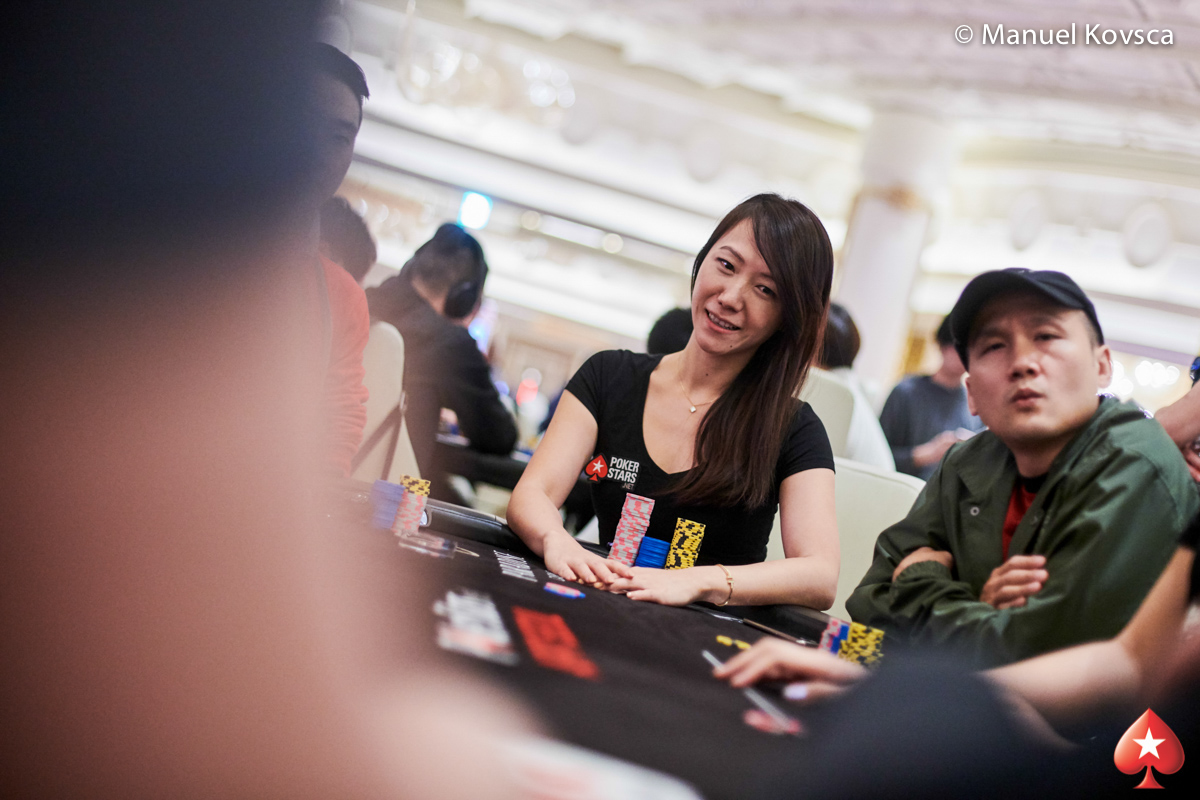 Celina Lin
Team PokerStars Pro Celina Lin was also in Day 1A but didn't survive. Now Lin will return with 54,800. Lin will join the 150ish survivors for another day of poker tomorrow. Action will start back up at 2pm local time and we'll play 10, one-hour levels.
Don't miss out on the action. We'll be bringing it all to you right here on the PokerStars Blog. –AV
• PAYOUTS
• ALL APPT KOREA INFO
• DOWNLOAD POKERSTARS | Follow @PokerStarsBlog on Twitter

2:32am: Last six hands
Level 12 – Blinds 1,000/2,000 (ante 300)
The clock has now been paused. There will be just six more hands before chips get bagged. –JS
2:26am: Unseen back-and-forthing
Level 12 – Blinds 1,000/2,000 (ante 300)
We have no clue what happened, but when we arrived at Kasuyuki Tanemura and Hsiao Weikuo's table the two had built a 70,000 pot. The action was still preflop though, as Weikuo had 37,100 in front of him and Tanemura was in the tank.
We can only guess that after a raising war, Weikuo jammed and everything but what Tanemura had left to call was dragged into the middle.
Tanemura was thinking for a good while, but with just a few minutes left on the day, and despite getting around three to one odds, he opted to preserve his 100,000 stack. Weikuo raked it in and now sits with roughly 110,000. –JS
2:16am: Big stacks
Level 12 – Blinds 1,000/2,000 (ante 300)
There's less than half an hour to go here on Day 1B. The chip leader right now is Kajiro Mizukami with 260,000, followed by Edward Mandel. Our eyes believe they're the only two over 200K. –JS
2:05am: Lin put to the test for it all
Level 12 – Blinds 1,000/2,000 (ante 300)
Right before we entered the last level of the night, Celina Lin was facing a decision for her tournament life.
Picking up the action on a 10♥ 10♠ K♣ flop, Lin check-called a 2,800 bet from Andrew An, her sole opponent. That brought a 4♠ turn which both checked, leading to the 9♦ river.
Lin now chose to lead out for 10,000. An leant forward, and asked for a closer look at Lin's chips behind (~34,000). He then grabbed a stack of yellow 5,000 chips and plonked them down; enough to put Lin all in.
The Team Pro gave it some thought, but would end up folding. With less than 20 big blinds, she'll be hoping to spin it up before the chip bags are brought out. Meanwhile An is cruising with 150,000. –JS
1:50am: Another double goes to Nose
Level 11 – Blinds 800/1,600 (ante 200)
Gen Nose was part of the final table over in the fancy tournament annex and got a double up before the table broke. Now Nose is in the main tournament area and he also scored a double here.
This one was against Takon Nakamura and all the chips went in on the river. There was already about 30,000 on the pot by that point and an A♣ 8♥ 2♥ 4♠ Q♦ board on the table. Nose then moved all-in for 27,400 and Nakamura thought. Then he called.
Nose turned over 8♣ 8♦ for a set of eights and Nakamura threw his hand into the muck. Nose doubled up to about 90,000 while Nakamura dropped to about 40,000. –AV
1:40am: The fall of Lee
Level 11 – Blinds 800/1,600 (ante 200)
Jay Lee has just been felted after somewhat of a rollercoaster few hands.
First, Masato Yokosawa open-shoved under the gun for 33,000 and Lee called to his left. Everyone else folded, and Yokosawa saw he was in terrible shape with his 6♦ 6♣ against Lee's A♦ A♣ . The board had Yokosawa's back though, running 2♥ 6♠ 8♥ 7♠ K♦ to give Yokosawa a set.
That left Lee with just 5,600, and he'd stick it all in under the gun the next hand. It folded around to Yokosawa, now in the big blind, and he made the call with his A♦ 5♦ versus Lee's K♥ 8♣ . This time the runout favoured Lee though: 8♥ 5♣ J♦ 7♥ 6♦ , eights beating fives.
Finally Lee defended his big blind in the next hand after an open by Jeffrey Holbrook. Ther flop came 5♦ 4♠ 10♠ and all of Lee's chips went in, which Holbrook snap-called with his 6♦ 6♣ . That was ahead of Lee's A♦ 5♠ , and he'd find no help on the J♦ turn or 9♠ river. Lee was out.
Holbrook's up to 77,000 now, while Yokosawa has 58,000. –JS
1:30am: Money money money
Level 11 – Blinds 800/1,600 (ante 200)
It's official people. This tournament is now by far the largest ever held on Korean soil.
A total of 449 entries were accumulated over the two starting flights, and we've now got some details of the payouts.
The final 54 players will make the money, with a min-cash worth ₩3,180,000. However, everyone in this room and those returning tomorrow will all have their hearts set on the first place prize:
₩158,700,000 (~US$150K) + a $30K PSPC Platinum Pass. –JS
1:20am: More from Zhang
Level 10 – Blinds 600/1,200 (ante 100)
That table just kept giving action. This time there was about 50,000 in the pot already and a 3♥ 5♠ Q♦ 3♣ 9♠ board on the table. Fan Zhang put out another bet worth 19,000 and the only other player at the table wa Hyushi Kazuhiko.
Kazuhiko thought for a bit and finally called. Zhang turned over A♥ 4♣ and Kazuhiko had him beat with A♦ K♣ . The massive pot went to Kazuhiko and he rose to about 135,000. –AV
1:10am: Zhang's got Fans
Level 10 – Blinds 600/1,200 (ante 200)
Every time I thought I was about to head back to my laptop to write a hand, another one sprung up. All on the same table. And mostly featuring Fan Zhang.
First off, Zhang opened under the gun to 2,500 which got a call from Hiroyuki Yoshimusa to his left. It then folded around to Albert Paik in the big blind who three-bet squeezed to 7,200, which both called. The dealer laid a 4♦ 3♣ 9♥ flop, and Paik continued for 8,000. Zhang stuck around, but Yoshimusa left the party.
The turn was the 4♥ and now Paik slowed down. Zhang fired 16,900 when checked to, but Paik still made the call to see the 10♦ river. He checked again, and Zhang checked behind. Paik showed his hand: A♥ Q♥ for a busted flush draw. Zhang had the best of it with his Q♣ 9♣ for second pair.
Two hands later, Eric Wasylenko opened to 2,800 only for Takuya Kitamura to jam for 15,200. It folded to Zhang who called in the small blind, and Wasylenko called too. Both would check down the 3♥ 4♠ 4♦ Q♦ Q♥ board the whole way, and Wasylenko's 8♥ 8♠ beat Zhang's A♥ 10♦ and Kitamura's 5♠ 5♦ , eliminating the latter.
Zhang and Wasylenko clashed in the next hand too. Zhang had opened to 3,000 which Yoshimusa called, only for Wasylenko to three-bet to 12,500. Zhang was the only caller, bringing a 2♥ 2♣ 9♦ flop, which Wasylenko led for 8,000 and got a fold to win the pot.
And finally, Albert Paik shoved from early position, and got it through.
Chip counts after all that?
Albert Paik – 22,000
Fan Zhang – 71,500
Hiroyuki Yoshimusa – 67,000
Eric Wasylenko – 175,000
Takuya Kitamura – OUT
–JS
12:55am: Last table, lots of action
Level 10 – Blinds 600/1,200 (ante 100)
There's just one lonely table left in the main event flow over room. But while it may be lonely, it's filled with plenty of action.
In one hand Shigeji Kusakabe raised to 2,600 from middle position and got called by Steven Chang on the button. Gen Nose was on the small blind called as well. The three players went to the 9♦ 7♠ 6♥ flop and Kusakabe bet 3,000 when checked to. Both players called and a 4♥ came on the turn. This time Kusakabe raised the stakes: all-in.
Both Nose and Chang folded, but they got their chips in against each other a few hands later.
Chang raised to 3,000 from the hijack that hand and then Nose moved all-in for 21,000 from the cutoff. Action folded bcrutack around to Chang and he called.
Nose turned over K♣ Q♦ and was flipping for his tournament life after Chang showed 6♥ 6♣ . The 4♠ K♥ 7♠ A♦ 5♦ board fell in Nose's favor and he got the double up with the pair of kings.
Nose doubled to about 45,000 while Chang was left a little less than a starting stack. –AV
12:46am: We're back
Level 10 – Blinds 600/1,200 (ante 200)
Player are back from the last break of the day and registration for the APPT Korea Main Event is officially closed. Tournament staff are crunching the numbers into the PokerStars Ultra MegacomputerTM and we'll have final numbers shortly. –AV
12:36am: Final break
Players have gone on their final ten-minute break of the night before play ends. Back soon. –JS
12:35am: Kan can't
Level 9 – Blinds 500/1,000 (ante 100)
Raiden Kan has just busted his second bullet of the day, Lucky for him, he's still got until after the break to reenter (beginning of Level 10).
Kan had opened from the lojack and got calls Celina Lin (cutoff) and Andrew An (button). The flop came 9♣ 6♥ 2♥ and Kan continued for 3,600, which shook off Lin. An was intrigued though, and asked to take a peek at Kan's chips behind before he called.
The turn was the J♠ and Kan kept firing for 7,200. An made a quick call, bringing the K♠ river. Kan now jammed for around 12,000 and An snapped it off with the J♣ 9♥ . His turned two pair was best as Kan showed the A♣ A♦ .
With the aces cracked, Kan went off possibly looking for rebuy. Meanwhile, An stacks up 65,000 now. –JS
12:20am: Button to button with Lin
Level 9 – Blinds 500/1,000 (ante 100)
Team PokerStars Pro Celina Lin is one Red Dragon away from being the poker equivalent of the mother of dragons. She's also an APPT connoisseur, so we decided to spend a round with her, from button to button, to see how she plays late in a day 1. Take note.
In the first hand, Lin was on the button and folded to a middle position raise. Then Lin was on the cutoff and let that hand go when action folded to her. After that, Lin found herself on the hijack and Takuya Kitamura raised to 2,000 from middle position. Lin called and then Andrew An moved all-in for 22,800 from the cutoff.
Kitamura folded and so did Lin.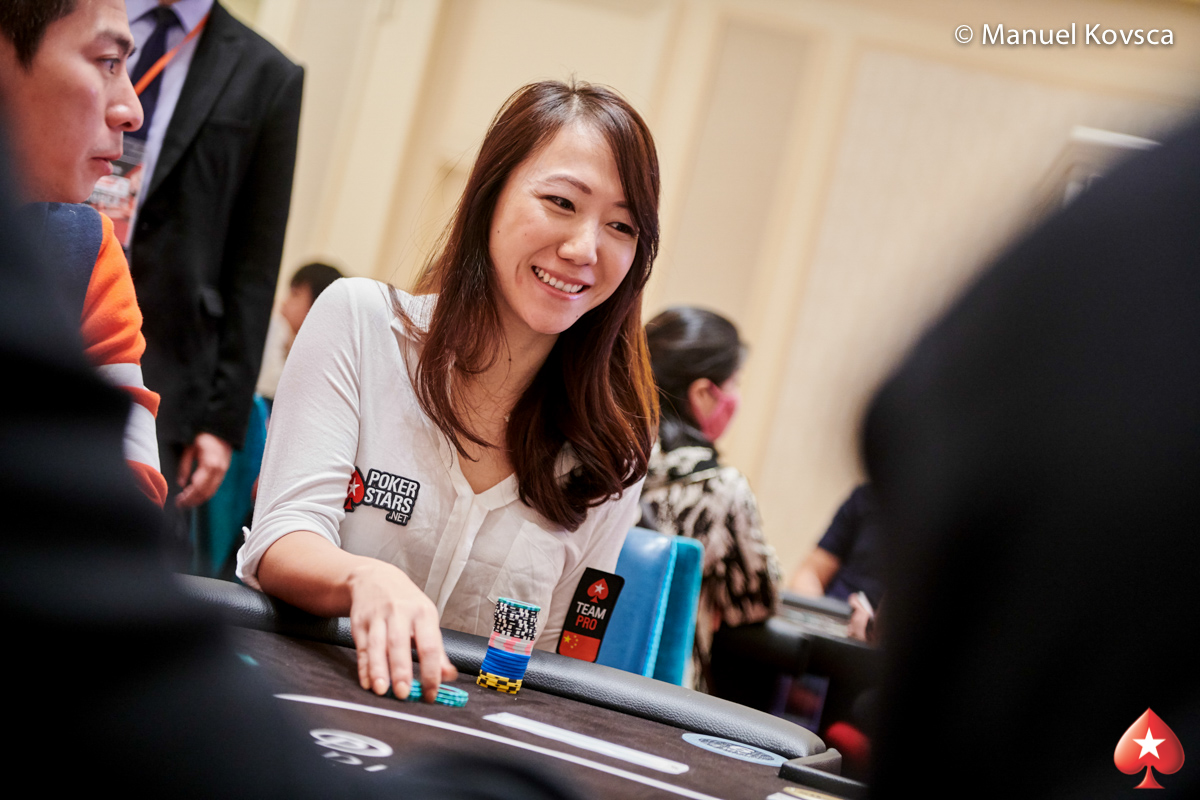 Team PokerStars Pro Celina Lin
Kitamura then raised to 2,500 from under the gun the following hand and Lin folded from middle position. Action folded to An and he moved all-in again. Kitamura folded another time and we had a fresh hand. Lin was under the gun that hand and decided to let it go.
Several other players decided to play it though. It was raised to 2,500 and four players went to the J♣ 2♠ 5♣ flop. Fan Zhang bet 6,600 and then Raiden Kan moved all-in for 36,000. The other two players got out of the way but Zhang called and we had a showdown. Kan turned over A♣ 6♣ for a flush draw while Zhang tabled K♣ J♦ for top pair. Zhang then improved to top two when a K♥ came on the river and Kan hit the rail. Zhang on the other hand chipped up to about 115,000.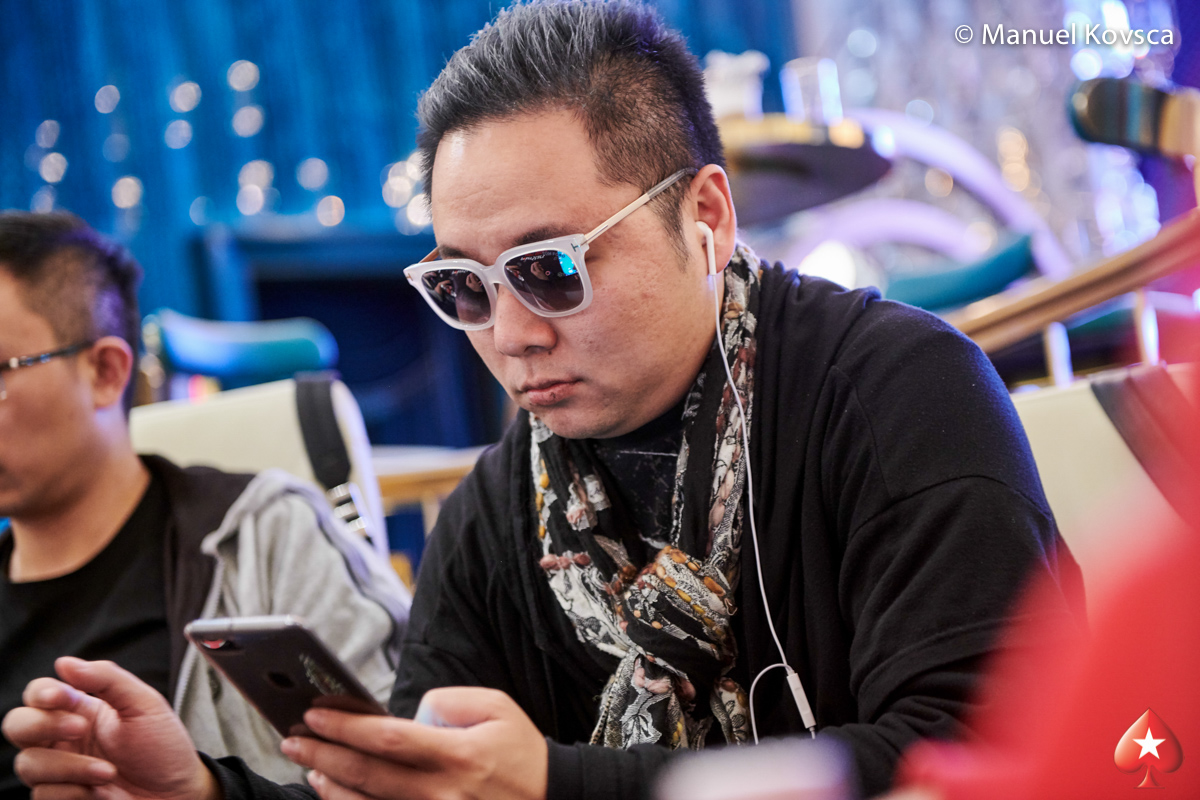 Raiden Kan
Kan's elimination paused play since the table was left with just six players, but Kan quickly rebought and got seated at the same table again. Play resumed with Lin on the big blind.
Hiroyuki Yoshimura raised to 2,500 from the cutoff that hand and Lin called from the big blind. The flop came down 3♦ 5♥ 9♠ and Lin checked. Yoshimura bet 5,000 and Lin let it go.
Small blind time. Kitamura called from the button and Lin did the same from the small blind. An checked his option and the flop came 9♣ K♣ 6♦ . Action folded to Kitamura and he bet 1,500. Lin then raised to 4,500 and both her opponents folded.
Back to the button with Lin. Kitamura called from the cutoff and Lin also went along from the button. An folded from the small blind and then Yoshimura raised to 2,600 from the big. Both Kitamura and Lin folded and Yoshimura took it down.
Celina Lin is at about 56,000 after the round. –AV
12:10am: Clickbait
Level 9 – Blinds 500/1,000 (ante 100)
---
click·bait
ˈklikbāt/
noun / informal
1. (on the Internet) content whose main purpose is to attract attention and encourage visitors to click on a link to a particular web page.
2. When a poker player min-raises a bet for value in order to entice an opponent to make a loose call.
---
Hideo Kimura just demonstrated the second definition beautifully. He'd opened the cutoff to 2,000, and with a dead button it was over to Jason Park in the small blind. He made the call, followed by Xiu Ja in the big blind. The three of them saw a J♥ A♥ A♣ flop fall, and it checked around to the K♦ turn.
Park checked again, and Ja now led for 1,500. Over to Kimura, he clicked it back to 3,000 which shook off Park but lured Ja in for a call. The river was the 8♥ and both decided to check it, and when Ja showed his 7♣ 7♥ Kimura revealed his A♦ 5♦ for trips.
Kimura's up to 50,000 now, while Park has 118,000 and Ja has 94,000. –JS
11:55pm: Notable stacks
Level 9 – Blinds 500/1,000 (ante 100)
As we enter into the last level for reentries, here are a few of the notable stacks remaining in the Day 1B field:
Iori Yogo – 75,000
Yuki Ko – 63,000
Linh Tran – 66,000 (2016 APPT Manila champ)
Celina Lin – 55,000 (PokerStars Team Pro)
Pete Chen – 45,000
Albert Paik – 40,500 (2016 APPT Seoul champ)
Raiden Kan – 40,000
Simon Burns – 37,000
Patty Lai – 35,000
Federico Butteroni – 34,000
–JS
11:50pm: Paik pushed off
Level 8 – Blinds 400/800 (ante 100)
APPT Seoul 2016 champ Albert Paik is still grinding out in the other tournament room. He'd built up a decent stack, almost double starting, but just took a hit.
After a 2,000 hijack open and a call from the cutoff, Paik called from the small blind and Chi Zhang came along from the big blind too. It went four ways to the 7♥ 6♠ 3♦ flop, but the field narrowed when Zhang led for 2,500 and Paik was the only caller.
The turn came the Q♣ and Paik checked again. Zhang continued for 3,500, but was then raised to 11,000 by Paik. Zhang quickly moved all in for 25,300 total, and after some consideration Paid laid it down.
He's got 40,500 now, while Zhang increases to 43,000. –JS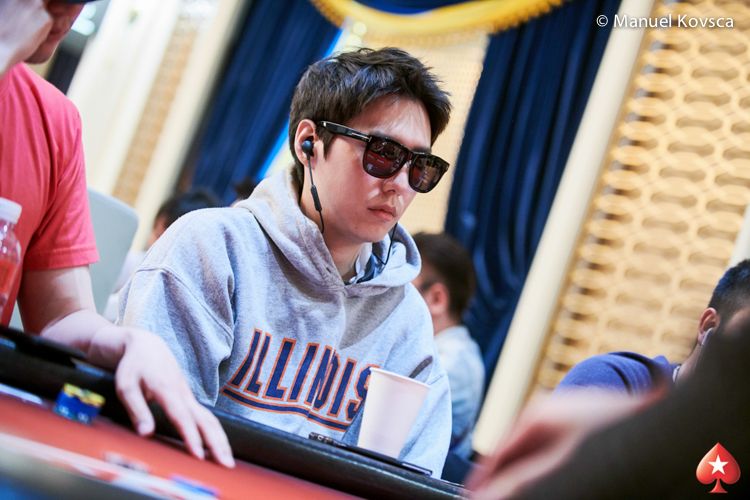 Albert Paik
11:41pm: Ko keeping active
Level 8 – Blinds 400/800 (ante 100)
It's hard to find a player that's more active than Yuki Ko.
Even when he's not winning multiple tournaments in the same day; Ko's wandering around the tournament room, chatting and laughing with friends. Maybe that's why he was brushing his teeth at the National Championship final table, he just doesn't have time for anything else than poker.
The level of activity doesn't seem to stop when he's at the table either. Ko was recently involved in several pots in a row. One had about 3,000 in the pot and a 3♠ 10♣ J♠ 2♠ 2d] board on the felt. Ko took a stab at it with a bet of 3,200, but snap-mucked when he got a call.
Ko then raised from the button the following hand and took down the blinds and antes. Eric Wasylenko then raised to 1,500 from early position the following hand and Ko called from the cutoff. Takahiro Nakai called from the big blind and all three players went to the J♦ 9♥ A♠ flop.
Action checked to Wasylenko and he took down the pot with a c-bet.
Wasylenko and Ko then got into it again a few hands later. Ko raised to 1,400 from middle position and Wasylenko called from the big blind. The flop came A♠ 8♣ K♣ and Wasylenko check-called a bet of 1,300. Both players then checked the 3♦ on the turn and checked again after a Q♦ came on the river.
Wasylenko turned over Q♣ 9♣ for a rivered pair of queens, but Ko showed K♠ 9♠ for a pair of kings. Ko took down the pot and is now up to about 77,500. The champs off to a good start, is a an APPT treble in his future? –AV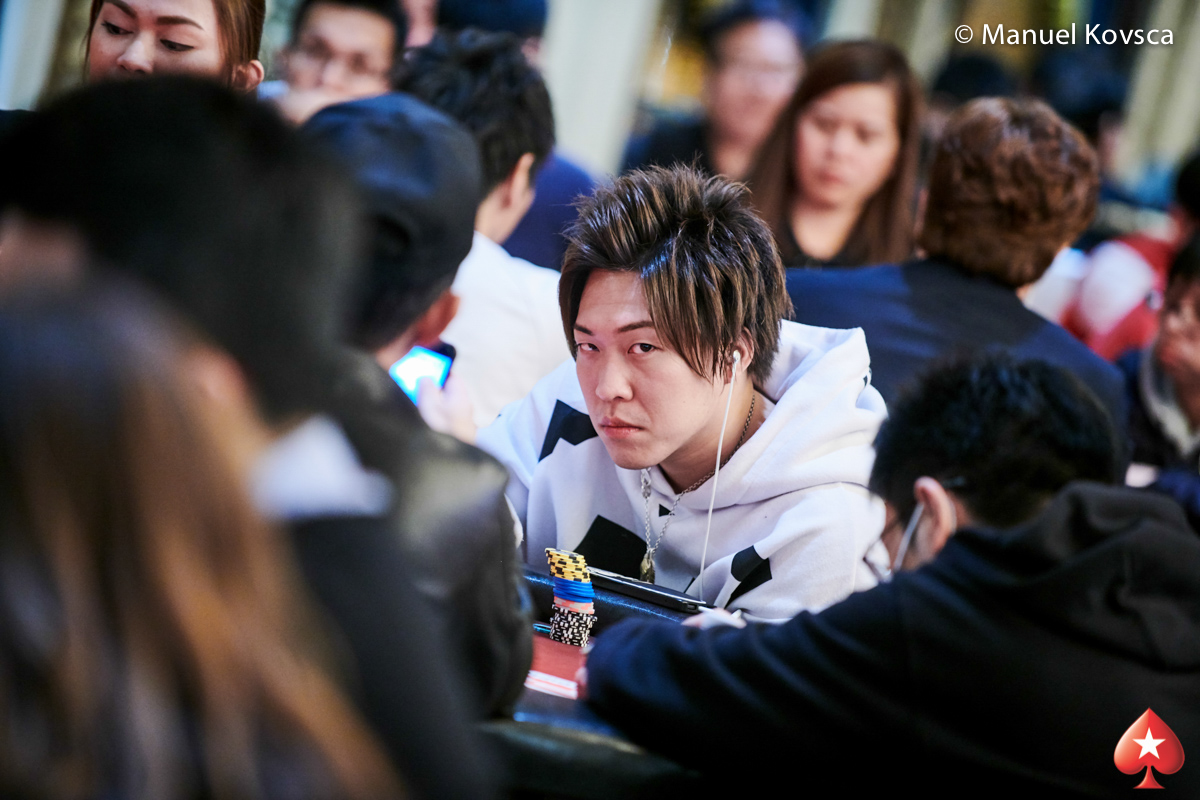 Yuki Ko, probably looking for more action somewhere
11:30pm: Missed a Burns
Level 8 – Blinds 400/800 (ante 100)
After one club too many, we're now missing the UK's Simon Burns.
He opened from the UTG+1 seat to 1,800, only to be three-bet to 4,300 by Xiu Ja in middle position. Back to Burns, he made the call to see a 4♥ 3♣ 9♣ flop.
It checked to the last raiser and Ja continued for 3,100. Back to the Brit, he raised it to 8,400 which gave Ja reason to pause. He had a plan though, and four-bet it 13,500, which inspired an insta-shove from Burns and snap-call.
Burns – 7♣ 4♣
Ja – A♣ A♥
Ja's rockets were in front but Burns had plenty of outs to take the lead. Any club for a start would do it, and that's what he got with the J♣ turn. However, the Q♣ river gave Ja the nut flush, much to Burns' disgust.
He made a quick exit, while Ja now stacks up 95,000. –JS
11:20pm: 2.5 hands lost for An
Level 7 – Blinds 300/600 (ante 100)
Level 8 – Blinds 400/800 (ante 100)
It was a bad end to Level 7 for Andrew An, and an average start to Level 8. He lost two hands on the bounce and chopped the third.
Celina Lin took a chunk of his stack in the first hand. She raised to 2,000 off the button after a couple of limps in front of her, then four-bet to 13,800 after An had three-bet to 6,500 from the small blind. The limpers and An all folded and the Team PokerStars Pro moved up to around 45,000.
Takuya Kitamura opened to 1,500 from the hijack the very next hand and called after An three-bet to 3,500 off the button. An continued for 2,600 on a K♦ 7♥ 4♦ flop and Kitamura check-called. The 8♠ turn was checked through to the 3♠ river where An folded to a 6,000 bet.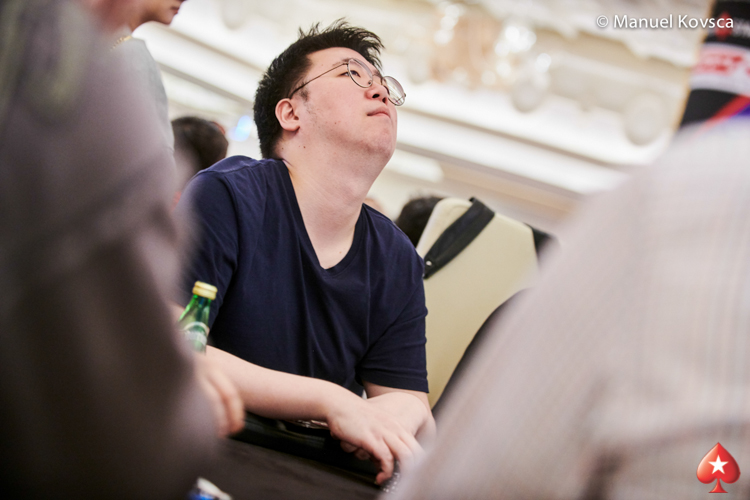 Andrew An
Try, try and try again.
Into Level 8 and An opened to 2,000. Eun Yul Yee was in the big blind and defended before both players checked the 10♦ 8♦ Q♠ flop. An's delayed 1,800 c-bet on the 2♦ turn was check-called by Yee and both players then checked the 2♥ river. Yee opened K♥ 9♥ and chopped the pot with An as the latter had the same hand with K♦ 9♠ .
An was left with 23,000 after the dust settled. –MC
11:10pm: The action table returns
Level 7 – Blinds 300/600 (ante 100)
Remember back at 7:34pm when we told you about the 'action table'? Well, it's still living up to its name.
First, Neil Sitenga opened to 1,800 under the gun and Federico Butteroni called. Makato Fujinbayashi then three-bet shoved for 13,300, which Sitenga called with his A♦ K♦ while Butteroni folded. He was up against Fujinbayashi's 8♥ 8♣ , and the 5♣ K♠ K♥ J♥ 9♠ runout gave him trips and the KO.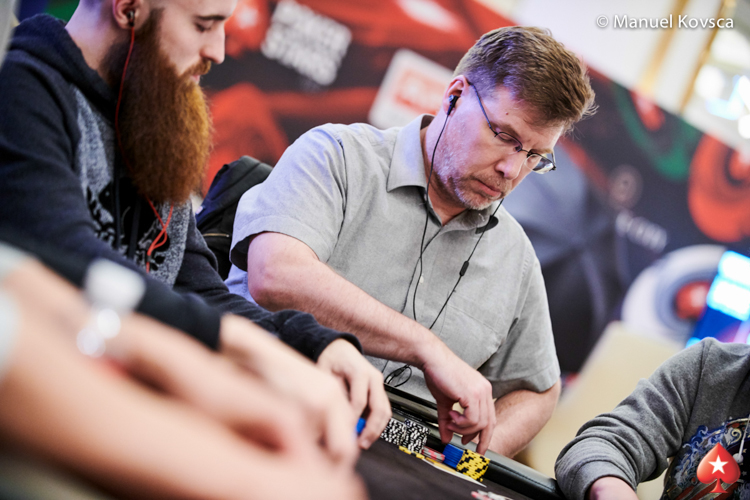 Neil Sitega
Butteroni then opened the next pot to 1,300 under the gun and got two callers: Takeshi Wada and Sitega (big blind). The three went to a 9♣ 5♦ 5♥ flop, and Butteroni continued for 1,600 when checked to. Wada came along, but Sitega got out the way.
The turn came the 6♥ and both checked, bringing the 5♣ on the river. With three fives out there, Butteroni led again for 10,000 which really put Wada to the test. He only had 17,500 behind, so a wrong call would cost him more than half his stack.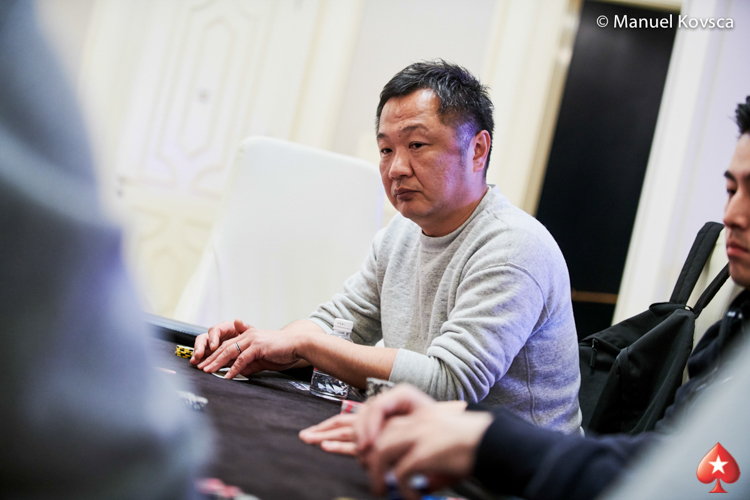 Takeshi Wada
Nevertheless, call he did and it proved to be a good one. Butteroni showed the Q♦ 7♦ for air, meaning Wada's 4♠ 4♣ was good.
Sitega – 65,000
Wada – 31,000
Butteroni – 29,500
Fujinbayashi – OUT
–JS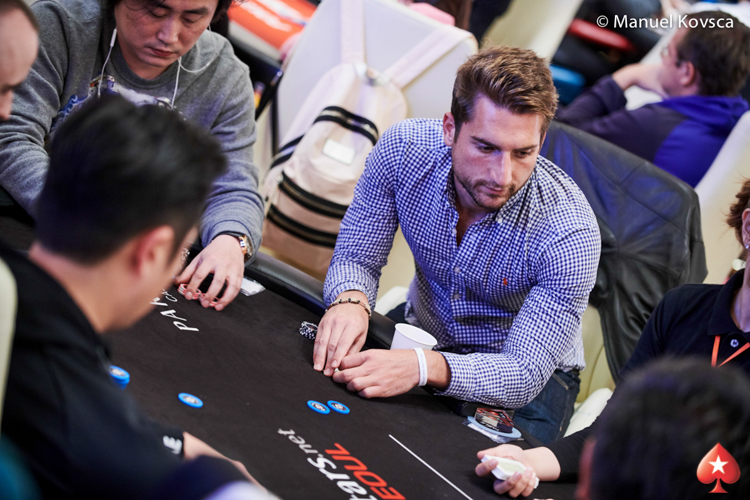 Frederico Butteroni
10:55pm: Lai loses a little
Level 7 – Blinds 300/600 (ante 100)
There was about 6,000 in the pot and three players were faced with a 8♣ A♣ J♠ flop. All three of them checked and then a 3♠ on the turn brought a bit more action. Kenichi Harada bet 2,000 from the big blind and only Patty Lai called.
A 6♣ completed the board and then Harada completed the betting. Harada bet 5,000 and Lai thought. She looked down at her stack and counted it out, only 23,000 behind. Lai grabbed all her chips in one hand and seemed conflicted. She thoguht for a bit, but eventually put her stack down, picked up her cards and threw them into the muck. –AV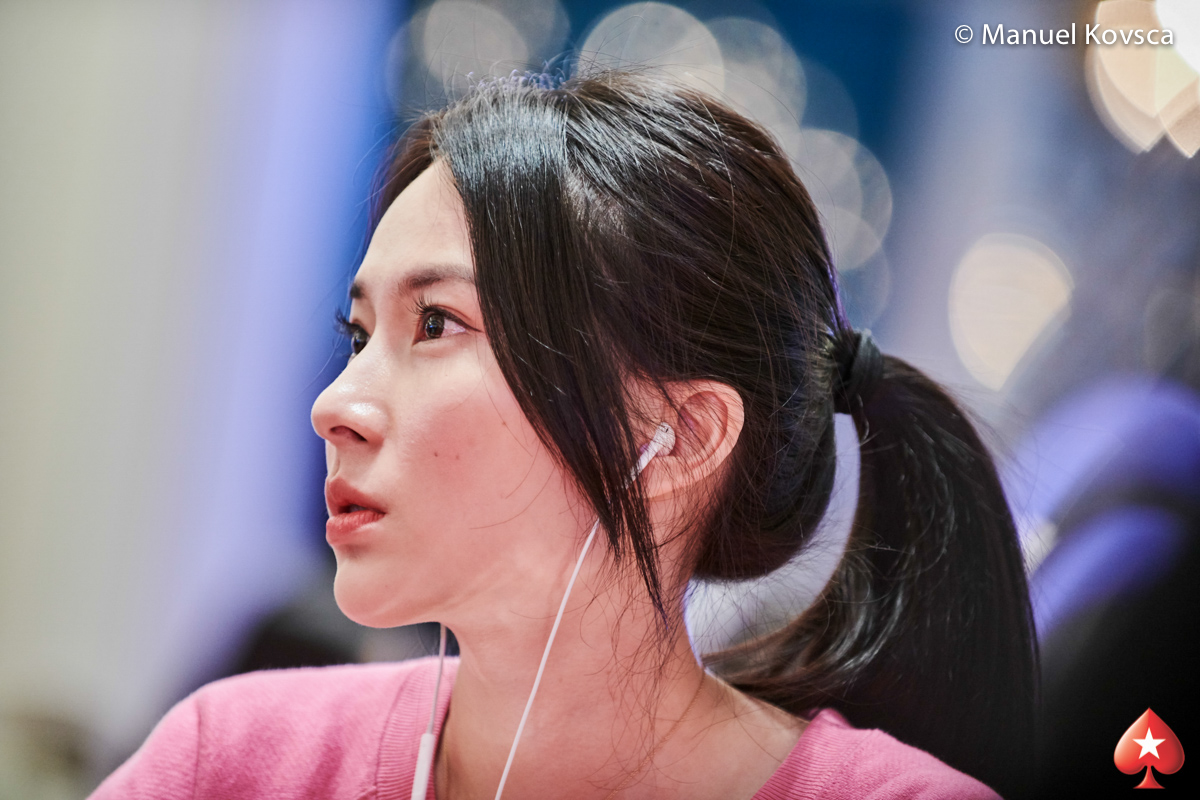 Patty Lai
10:52pm: Easy game for Yogo
Level 7 – Blinds 300/600 (ante 100)
Iori Yogo has smashed his way past the 100k mark after an opponent made a move on him when he was holding pocket kings.
He limped in from under the gun and then reraised to 6,800 after his opponent raised to 2,000 from the small blind. Yogo then snap called after the small blind shoved for 50,000.
Small blind: A♠ 7♦
Yogo: K♥ K♣
The board ran 4♠ 8♥ Q♥ 6♥ K♦ to make Yogo a set. Apologies for not having the small blind's name but he had no media ID card and was in no mood for answering questions, instead he made a very quick exit. Yogo moved up to 115,000. –MC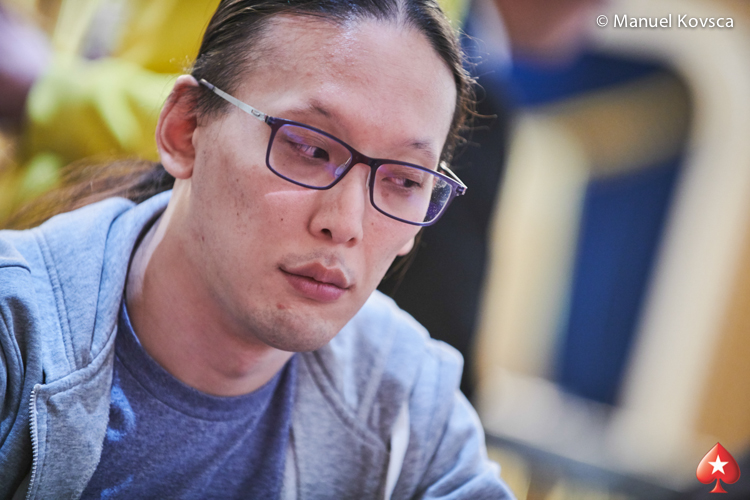 Iori Yogo loving life
10:45pm: Two for An
Level 7 – Blinds 300/600 (ante 100)
It's been a nice orbit for Andrew An.
First, he took down a nice pot from PokerStars Team Pro Celina Lin and Fan Zhang. Lin had opened from the cutoff, and An and Zhang called from the button and big blind to see a 4♥ J♠ 7♣ flop. It checked to Lin who led for 1,800, and both players called.
The dealer burned and turned the 9♦ , and Lin continued for 2,700 when it checked to her. Again, both An and Zhang called, bringing the J♣ on the river. Zhang checked a third time, and now Lin opted to check too. An took the betting lead for 8,500, and that was enough to force two folds.
An would take down the next hand too, three-betting a 1,500 open to 3,900 from the cutoff and getting a fold. He's up to 37,000, while Lin and Zhang both sit with around 33,000. –JS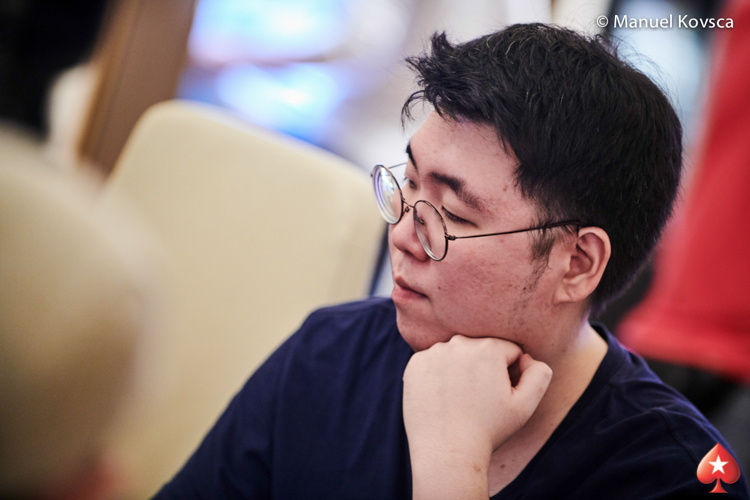 Andrew An
10:34pm: Bring it on
Level 7 – Blinds 300/600 (ante 100)
And we're back ladies and gentlemen. Level 7 features a fancy black-chip ante and the number of entries has risen to 230. Only about 187 of them remain. Those who busted still have a chance though since late registration with unlimited re-entries is still open for another three levels. Then we'll play another three before we bag and tag for the night. –AV
10:24pm: 50/50 break
We're halfway through the day and players are on their second 10-minute break of the day.
10:17pm: Shiga suspension
Level 6 – Blinds 250/500 (ante 75)
Patience is a virtue, even if you need to go to the bathroom.
Mitsuhira Shiga, the gambler wearing the slick grey tracksuit, bedazzled shoes and studded red-leather bag, recently learned that lesson. He also learned that it's part of the rules. In a recent hand Shiga needed to use the bathroom so he just folded his hand as soon as it was dealt to him and scampered off.
Shiga went to the bathroom and when he came back the floor gave him a two hand penalty for folding out of turn. Shiga seemed confused and Iori Yogo explained something to him in Japanese. Shiga responded with something that drew laughs from his posse and the table. We'll add entertaining to his growing list of traits. –AV
10:15pm: Small double for Curtis
Level 6 – Blinds 250/500 (ante 75)
As we near the midway point of the day, we're starting to see a few more flips. One recent one involved Max Curtis and Takami Takayusi.
Both players were short and Curtis moved all-in for 6,275. Takayusi had a few thousand more and then reshoved. The rest of the table got out of the way and they let the shorties duke it out.
Curtis turned over 7♠ 7♥ while Takayusi tabled A♣ Q♥ . Curtis then improved to a set of sevens on the 8♠ 7♣ 3♥ 9♦ 2♥ board and Curtis doubled up to about 13,000 while Takayusi was left with 5,000. –AV
10:10pm: A can Do attitude
Level 6 – Blinds 250/500 (ante 75)
Hoang Anh Do was short. Like, 4,000 short. Less than ten big blinds.
He had to get something going and find a double up, so when he picked up the K♣ 10♠ under the gun, he jammed all in. It folded around to Jiafei Yu in the small blind, and she moved all in to isolate (around 50,000). Finally the action was on Masaki Fujitani in the big blind, and he looked interested. He eventually called off his stack too.
Fujitani had the A♣ K♠ , dominating Do's hand, while Yu was in the lead with her 8♣ 8♠ . Do never looked worried though. He must have known the ten was coming.
The board ran out 9♦ 2♦ 6♦ 3♥ 10♦ , pairing Do on the end for the winner. He trebled up to 12,000, while all of Fujitani's chips (minus the 4,000) were shipped Yu's way. She's up to 80,000 now. –JS
10pm: Set over set scenes
Level 6 – Blinds 250/500 (ante 75)
Big reaction. Double fist celebrations. And all thanks to a cooler of a flop.
Keisuke Fujita was truly elated to be on the right side of the set-up. He had opened to 1,100 from under the gun and was called by the button before Hyunshik Yun squeezed to 4,700 from the small blind. Fujita made a quick call and the button came along for the ride too.
The flop spread J♦ 8♠ Q♥ and Yun continued for 4,700. Fujita snap shoved for 20,900 and was called by Yun after the button had called.
Yun: J♥ J♠ for middle set
Fujita: Q♣ Q♠ for top set
The reaction from the players at the table was that loud that players from other tables came over to see what all the fuss was about. Yun was actually the calmest player and he dropped down to 12,000 after the board ran out 3♦ K♥ . –MC
9:41pm: B>A
Level 6 – Blinds 250/500 (ante 75)
We've ticked into another level of play and we've also crossed another barrier. We now have more entries than we did in Day 1A. The field has grown to 212 entries and we clocked a total of 182 yesterday.
There's still time for this thing to grow too. Level 6 just started and after this, we'll still have another three levels of late registration. How big can it get? Stay tuned to find out. –AV
9:30pm: Wakamatsu gets Bloch-ed
Level 5 – Blinds 200/400 (ante 50)
Having recently won a decent pot with his pocket eights, Toru Wakamatsu has now lost a bigger one with pocket tens.
Picking up the action on the turn of the J♥ 3♥ 6♠ Q♦ board, a player checked and Wakamatsu led for 8,000. Michael Bloch made the call, while the other player made his excuses and left.
The river was the 8♥ , putting three hearts on board. Wakamatsu thought for a while before eventually moving all in, and Bloch snap-called, turning over the K♥ Q♥ for a flush. Wakamatsu had the 10♣ 10♦ , and shipped most of his chips Bloch's way.
Bloch now has 58,000, while Wakamatsu drops to 16,000. –JS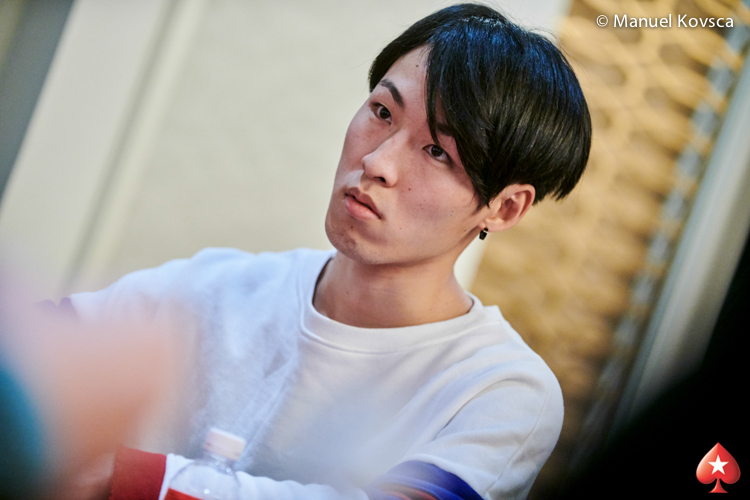 Toru Wakamatsu
9:15pm: Ono, Chang raising into aces
Level 5 – Blinds 200/400 (ante 50)
Tomomitsu Ono has managed to get his stack up to 75,000 already, just over four levels through the day. It helped that his opponent – Steven Chang – raised him while he was holding two black aces.
Ono had led for 1,800 on a 5♠ 8♣ 4♦ flop from middle position before Chang raised to 4,100 from the next seat. Ono called and that action seemed to be enough to scare both players as the 9♦ 10♣ turn and river were checked through.
Ono opened A♣ A♠ and Chang tanked before mucking to drop to 24,500. –MC
9:08pm: Back to the belly
Level 5 – Blinds 200/400 (ante 50)
We know everyone's been very interested about the status of the dancers here at Paradise City. We're happy to inform all the Soojung Yun fans out there that Yun was back on stage as the clock ticked into 9pm. Yun was the first dancer of the day to grab the stage with rainbow colored fabric that she waved and whipped around and she just finished round two. This time we have photographic evidence: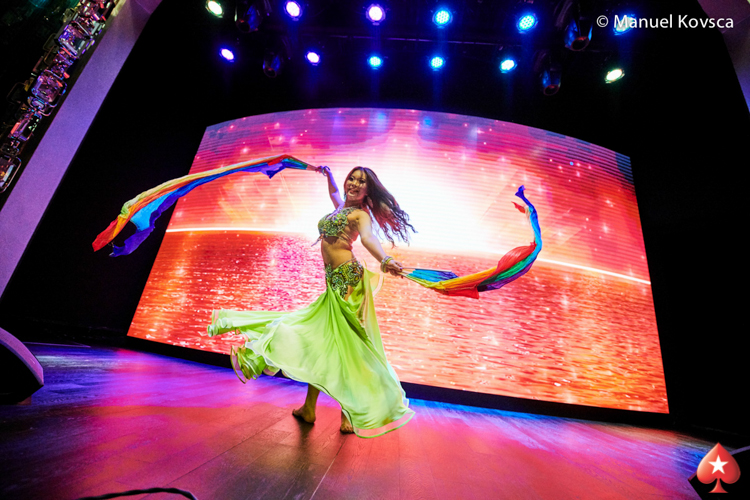 Soojung Yun
While the dancing was the same, things down in the tournament floor have changed a bit. Most notable is the fact that a few stacks are starting to get bigger. One of the biggest so far belongs to Kazuhiko Yotsushika, who has already broken the six-figure mark and is sitting with 100,000. –AV
9:03pm: Paik's back for another crack
Level 5 – Blinds 200/400 (ante 50)
Korea's own Albert Paik has just made an entrance into the Main Event for the first time. Paik, who resides in the USA, took down this very event in 2016 for a US$100K score. Not bad for his very first live cash.
Since then his poker career seems to have gone from strength to strength. Last month we saw him at APPT Macau, where he final tabled the HK$100K High Roller, ultimately finishing sixth for HK$933,000 (US$118,896). –JS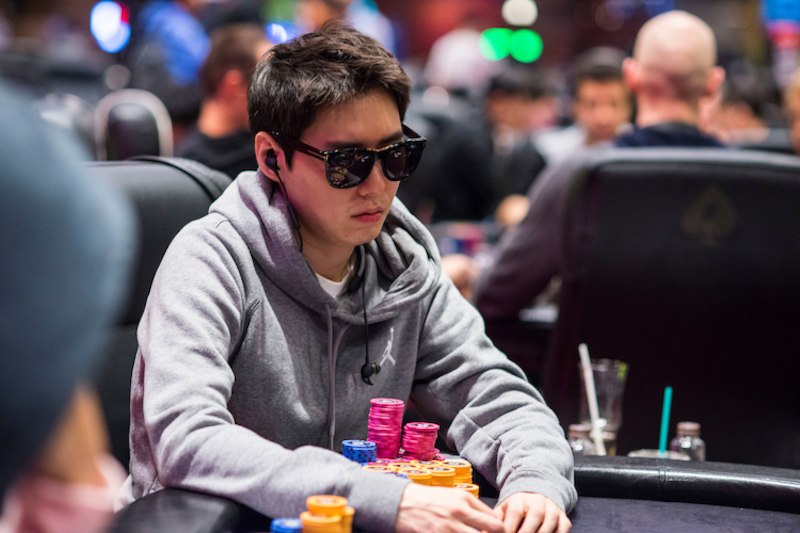 Paik in Macau
8:56pm: Lucky eights
Level 4 – Blinds 150/300 (ante 50)
Over in Macau, 'lucky' pocket eights are by far the preferred starting hand. Maybe Toru Wakamatsu got the memo.
Shigeji Kusakabe opened the pot to 800 and was three-bet by Wakamatsu to 2,000. It folded back and Kusakabe made the call to see the 8♠ J♣ Q♠ flop. Check check.
The 4♥ landed on the turn, and now Kusakabe led out for 2,000. Wakamatsu just called, and the dealer completed the board with the 2♣ . Kusakabe continued for 5,000, and Wakamatsu thought for around a minute before raising it up to 12,000. Kusakabe clearly liked his hand, but eventually opted for a fold.
Turns out it was a good laydown, as Wakamatsu then flipped over the 8♥ 8♦ for a flopped set as he raked in the pot. He's up to 42,000 now, while Kusakabe is down to 23,000. –JS
8:53pm: Sad Sang
Level 4 – Blinds 150/300 (ante 50)
Kim Sang has dropped down to 17,000 after he ran into the tips of Kenji Kurashina.
We picked up the action on the J♠ J♦ 2♠ flop where Sang (UTG) check-raised Kurashina 1,000 button bet up to 3,400. Kurashina called that bet and another 5,100 on the A♥ turn before he himself bet 10,000 on the 9♣ river when Sang checked. Sang looked to see how much Kurashina had back (another 10,000) and then made the call before mucking upon seeing K♥ J♣ for tips. –MC
8:46pm: Nakai in need
Level 4 – Blinds 150/300 (ante 50)
Takahiro Nakai's stack has been nearly halved.
Some of that loss came from being outsqueezed preflop and then pushed off another pot on the turn.
Chun Chua started the first hand off with a raise to 600 from early position and Masaaki Noda called from the small blind. Nakai went for the old squeeze with a re-raise to 2,800 and Chua folded. Noda then thought for a bit and grabbed 6,000 worth of chips and threw them in the middle for a four bet.
It was too much for Nakai and he let his hand go. Action then folded to Nakai on the small blind the following hand and he raised it up again, this time to 800. The big blind called and then Nakai check-called a bet of 2,500 on the 8♠ Q♥ 10♦ flop. A 7♥ came on the turn and Nakai checked again. This time there was a bet of 4,000 and, once again, it was a price Nakai wasn't willing to pay.
Nakai folded and is now down to about 15,000. –AV
8:38pm: Daily quads
Level 4 – Blinds 150/300 (ante 50)
There was a 3♥ 3♦ 9♦ 3♠ board out when we arrived, and Namie Hirai had a 5,000 chip bet in front of him. His sole opponent, Tatsuya Arai, then jammed for around 24,000, and Hirai was in the tank.
He'd eventually fold and live to fight another hand, leaving himself around 20,000. Arai proved he had the goods when he flashed his 3♣ as he raked in the pot, bringing his stack to 36,000. –JS
8:30pm: A lot of heart
Level 4 – Blinds 150/300 (ante 50)
Tomohiro Ishida made it 800 to go from the hijack and picked up two callers: Yoshiaki Tatenuma on the button, and Harunobu Kojima in the big blind.
The three Japanese players went to an all-heart A♥ 10♥ 8♥ flop, which checked around bringing a fourth heart in the K♥ . It checked to Tatenuma and he led for 1,200, which shook off Kojima but got a call from Ishida.
The J♦ river didn't complete the community flush, and Ishida opted to check. Tatenuma gave up, and mucked when Ishida showed his A♣ K♣ for top two pair. –JS
8:25pm: Back to business
Level 4 – Blinds 150/300 (ante 50)
Play has resumed here at Paradise City and we've had some new entries throughout the break, bringing the total field up to 180.
PokerStars Team Pro Celina Lin is now in the Day 1B field, having fired two bullets during yesterday's Day 1A but failing to survive. Her final bust came when she ran her pocket nines into Ma Wanxin's pocket aces. –JS
8:10pm: Break
Players are on their first 10-minute break of the day. Then it's back to more APPT Korea Main Event action.
8:05pm: The Shiga saga
Level 3 – Blinds 100/200 (ante 25)
Mitsuhiro Shiga looks like a man who likes to gamble.
He's sprawled back on his seat with dark sunglasses, a snazzy grey tracksuit and white bedazzled shoes. He's also throwing a lot of chips around.
He raised to 700 from middle position one hand and Ying Tang three-bet to 2,200 from the hijack. The flop came down 2♥ 4♠ K♠ and both players checked. Tang bet 2,500 after the 8♦ came on the turn. The river brought a 6♦ and Shiga checked again. Tang upped the bet to 7,000 and Shiga actually paused for a bit.
He grabbed 7,000 out of his stack and looked at the rest, just about 6,600 left. Shiga riffled the chips in his hand for a bit before calling. Tang turned over A♠ K♦ for a pair of kings and Shiga mucked. Shiga then moved all-in the next hand and threw his nine-eight offsuit into the muck after everyone folded. –AV
7:54pm: Big blind (moon)walks
Level 3 – Blinds 100/200 (ante 25)
Twenty minutes.
Twenty minutes I've been wondering around the tournament area trying to bring you more of the insane action, like that we just wrote about at 7:34pm. But it kept being just out of reach; whenever you were on one side of the room, all the action seemed to be on the other. But when you return, it moves back to where you were. It was big blind walk after big blind walk.
Luckily, while I don't yet have a hand to report, I can tell you about Juri.
Juri is a female Michael Jackson dancing impersonator who is currently on stage behind the casino bar. She's moving, shaking, and moon walking along to Billie Jean as I type.
It seems the Paradise City casino has a new dancer every hour, so if not for the poker, stick with us throughout the night for that. –JS
7:45pm: Mystery solved
Level 3 – Blinds 100/200 (ante 25)
The tournament area has been packed for a while and while the number of entries kept ticking up, the tournament didn't seem to grow . Some players were also mysteriously vanishing. Combined with the fact that it's Friday the 13th, we suspected supernatural foul play almost immediately.
But the mystery has been solved and the answer was simple: There's another tournament room. The casino VIP section is holding the tournament overflow and there are currently five tables playing there. The tournament is now up to 176 entries and one of the most recent additions to the room is Yuki Ko, the man with different colored-versions of the same hoodie and multiple APPT Korea trophies.
Can Ko get his hat trick in the Main Event? We'll keep an eye out for that as well as other mysterious supernatural shenanigans. –AV
7:34pm: Lot. Of. Action.
Level 2 – Blinds 75/150
Wow. I think it's safe to say I've found our action table.
First, Federico Butteroni opened early position to 300 and got a call from Jia Tang in the cutoff and Torii Ayumu in the big blind. The three went to an A♥ 10♥ 7♠ flop which checked around. So far, so dull, right?
Well, on the 2♦ turn it checked to Tang, and he led for 450. Ayumu got out of the way, but Butteroni then raised it up big to 3,800. Back to Tang, he quickly moved all in for around 38,000! Butteroni had a think but let it go.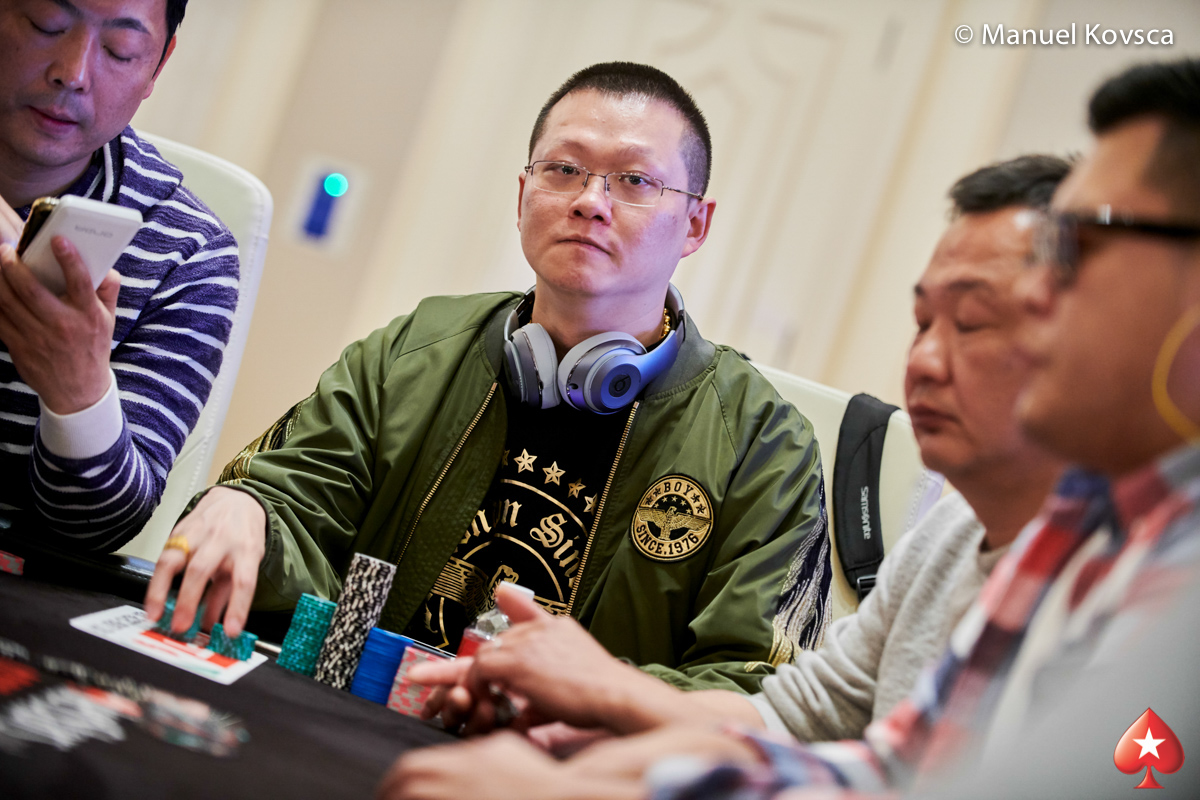 Jia Tang
Then in the very next hand, Xiaotian Yang opened under the gun to 350 and it folded to Tang who three-bet to 950 from the hijack. Ayumu was now in the small blind, and he four-bet it to 2,000 when it folded to him. Back to Yang, he five-bet to 4,600!
And it didn't stop there. Tang just called that bet, only for Ayumu to six-bet shove instantly for 37,000! Yang deliberated but made the call for his entire 30,000 stack. And guess what? Tang called too and the cards were flipped.
Ayumu – 10♥ 10♦
Yang – K♠ K♦
Tang – A♦ A♠
It was a cooler situation that Tang had by far the best of. Then the 7♦ 9♠ 6♣ flop gave Ayumu some more outs, as any eight would give him a straight. THEN the K♥ hit the turn giving Yang the best hand with a set! And finally the 9♣ river completed things, but changed nothing.
Ayumu was out, and Yang had trebled up to more than 90,000. Tang had the most chips, so still had 23,000 after most of Ayumu's chips were shipped Yang's way. He'd put them to use in the very next hand.
Tang opened to 350 and Yang called, bringing a 7♥ 9♣ 10♣ flop. The action finally stopped when Tang continued for 350 when checked to and took it down.
Aaaaaaand breathe. –JS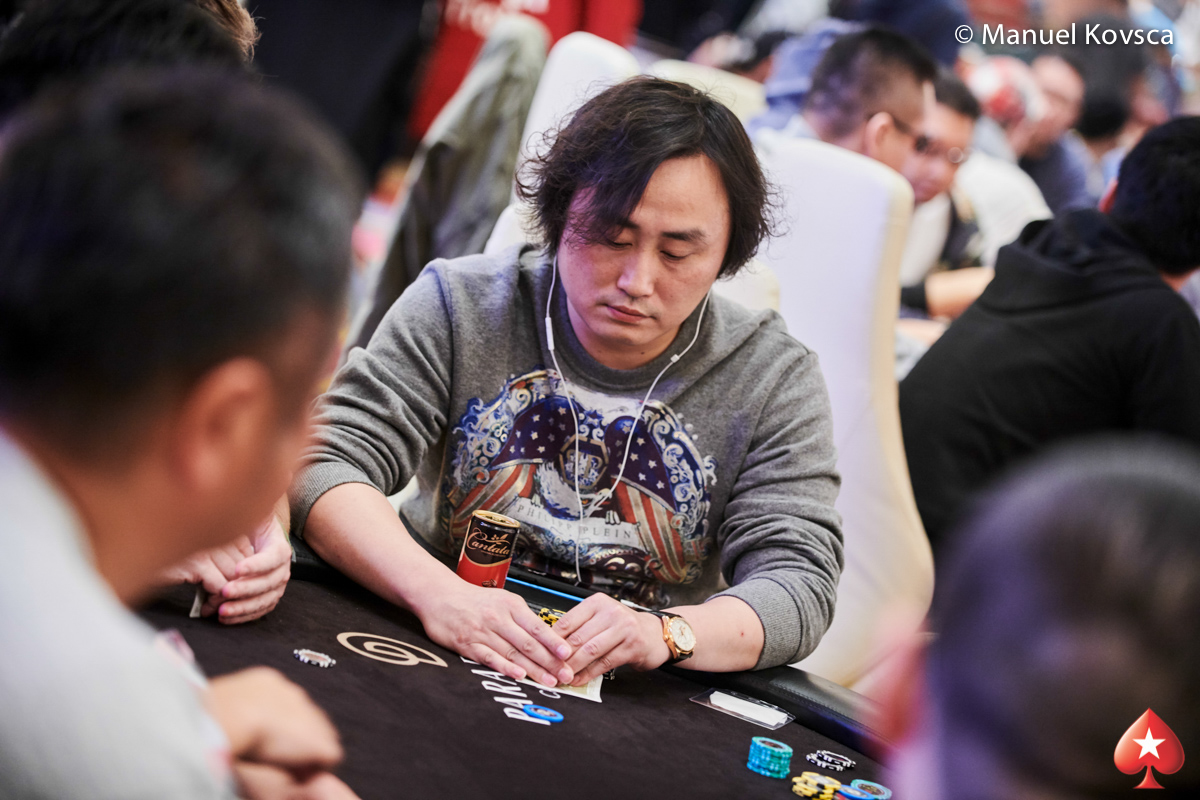 Xiaotian Yang
7:20pm: Burns bites some off Lai
Level 2 – Blinds 75/150
Simon Burns and Patty Lai are seated next to each other, but slightly protected from each other too. Burns has some noise-cancelling headphones on while Lai has a germ-cancelling facemask on.
There's no chip protection between them though.
They recently tussled in a small pot too. Burns raised from the cutoff, Lai called from the button and the blinds folded. The flop came K♦ 8♠ 8♣ and Burns bet 300. Lai called and a 10♣ came on the turn. Burns checked this time and Lai bet 500. Burns called and a 10♦ completed the board. Burns checked again and this time Lai checked behind.
Burns turned over K♣ 9♣ and Lai mucked. It wasn't the biggest pot, but chances are it won't be there last either. –AV
7:09pm: Tran's the man from Vietnam
Level 2 – Blinds 75/150
The winningest tournament player in Vietnam's history, Linh Tran, is among the now 120-strong Day 1B field. Tran has over a million bucks in cashes on his CV, most notably his win at APPT10 Manila back in 2016 for US$130K.
He's off to a respectable start tonight. With no action in front of him, Tran made it 400 from the cutoff and was called by Kashiro Sasamoso on the button. The two went heads-up to a 2♣ 6♥ 6♣ flop, and Tran continued for 500. Call.
The 9♥ landed on the turn, and Tran simply doubled his bet to 1,000. That was enough to get a fold. –JS
7:01pm: Friday night lights
Level 1 – Blinds 50/100
It's Friday night in Korea and you know what that means right? Belly dancing of course.
The giant screen displaying the tournament clock was quickly replaced by picturesque scenery and a belly dancer took to the stage. Players actually looked at something that wasn't their phones after they folded, but the dance only lasted a few minutes.
The belly dancer then vanished to wherever it is belly dancers vanish to and the screen is showing the clock again. We'll keep you updated on any more Incheonean surprises the casino will throw at us this Friday night. –AV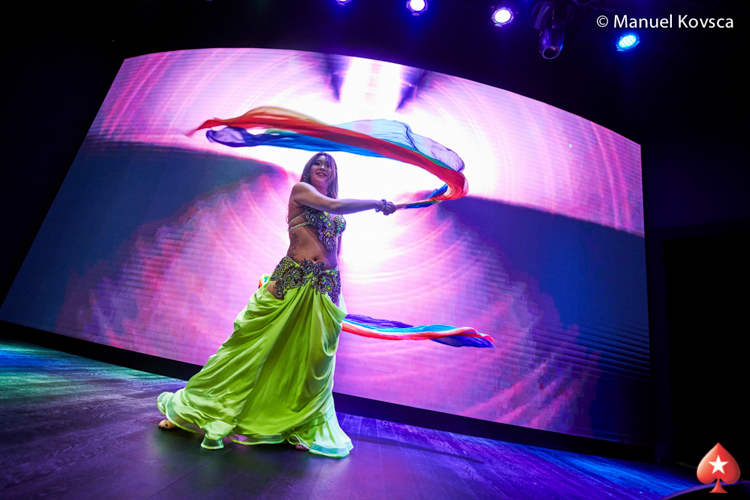 Soojung Yun – belly dancer extraordinaire
6:51pm: Japanese jewelery
Level 2 – Blinds 75/150
We're now up to about 120 players and some of the more recent additions include Patty Lai and 50 percent of the Japanese World Series of Poker bracelet winners. That 50 percent consists of just one man, Takahiro Nakai.
Nakai started cashing in large tournaments just a few years ago and then in 2015, he became the second Japanese player to win a WSOP bracelet after taking down a $1,000 NLHE event. Nakai won nearly $400,000 for that win and he also finished 25th at the APPT Seoul Main Event earlier that year.
Nakai is no doubt hoping for a combination of those results in today's Main Event. –AV
6:40pm: Fast start
Level 1 – Blinds 50/100
Despite the blinds being low and the antes as-yet non-existent, we've just seen a pretty big Level 1 pot.
There was close to 2,000 in the middle already when we arrived, next to a K♠ 10♠ J♥ flop. Tomorhiro Ishida checked it to Hiraoki Kato, who then led for 1,050. Back to Ishida, he clicked it back, raising to 2,300. Call.
The turn was the 4♥ and Ishida continued for 4,150, which got a quick call from Kato. Finally the 5♠ completed the board and Ishida loaded the gun once more. He fired 6,600, and Kato let it go with a sigh after about half a minute's thinking time.
Kato is down to 22,000, while Ishida is up to 40,000. –JS
6:35pm: Grand National
Level 1 – Blinds 50/100
Two of Wednesday's APPT National final tablists are out in the action tonight.
Genki Nakano was the first to exit that finale in ninth (₩3,455,000), running his A♥ 9♣ into Simon Burns' A♦ K♦ . And speaking of Burns, he's also in the Day 1B mix, having played yesterday but failing to make it through.
Burns ended up finishing third in the National for ₩14,225,000. –JS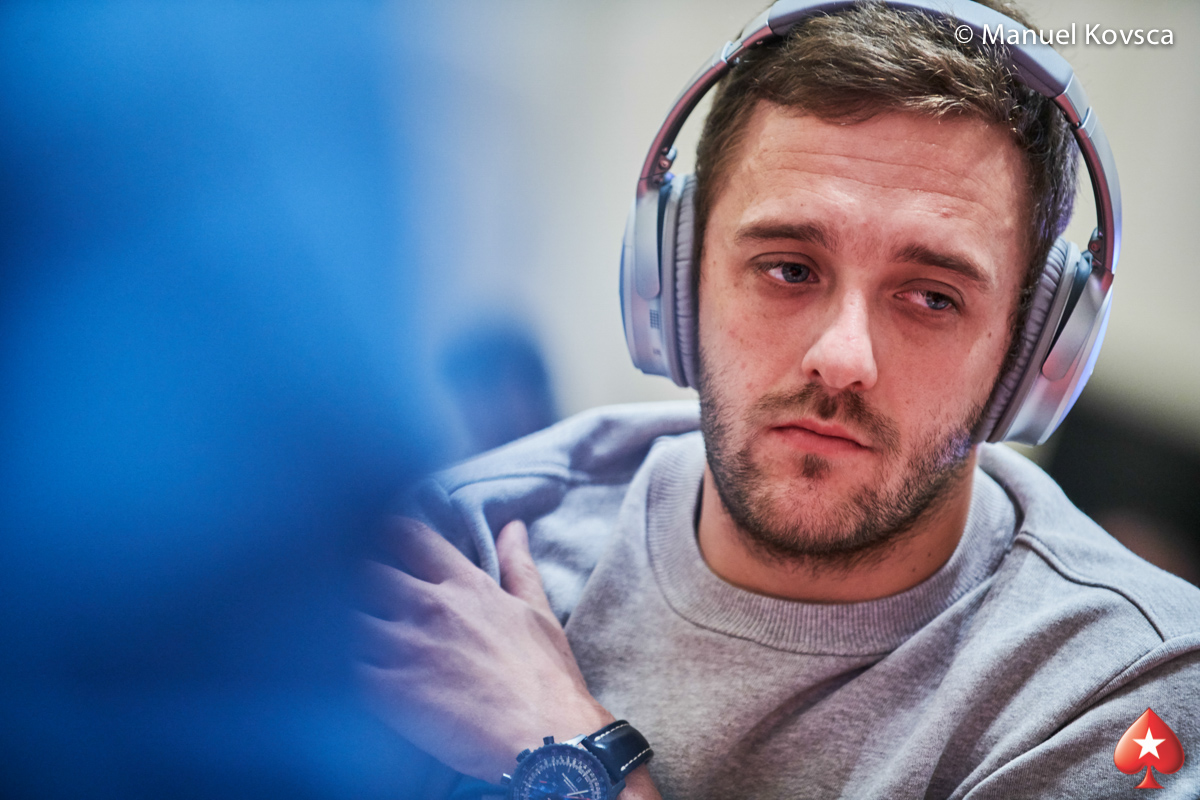 Burns is back
6:30pm: Daily forecast
Level 1 – Blinds 50/100
The forecast is slightly cloudy with a big chance of a large Day 1B.
We started the day with 64 players, nearly double Day 1A's starting field, and that number ticked up ticked up to 96 in the first 20 minutes of play. There's also a long line at the registration desk so we'll be crossing the 100-player mark in no time.
Today's going to be a big one. –AV
6:20pm: Guess who's back. Back again.
Level 1 – Blinds 50/100
At the beginning of tournaments we usually kick things off with a few 'who's out in the field?' posts. Tonight will be no exception.
However, there is a slight difference in that the players we recognise so far here on Day 1B were all in action yesterday too!
Italian former WSOP November Niner Federico Butteroni has returned for another shot at the Main Event title and Platinum Pass, as has Japan's Iori Yogo. Winfred Yu is also hanging around, and as he didn't make it through last night he could be sitting down soon.
It's well worth making Day 2, not only because they'll be nearing the cash bubble, but also because at the beginning of play tomorrow (2pm local time) there will be a random draw for all remaining players for another PSPC Platinum Pass worth $30,000. –JS
6:10pm: Action
Level 1 – Blinds 50/100
There was a slight delay in play, but action is now underway. Dealers were told to shuffle up and deal and they'll keep doing that for 12, 40-minute levels of play. We'll have 10-minute break after every three levels and late registration is open until the end of level 9.
Let the action begin. –AV
4:30pm: Evening all!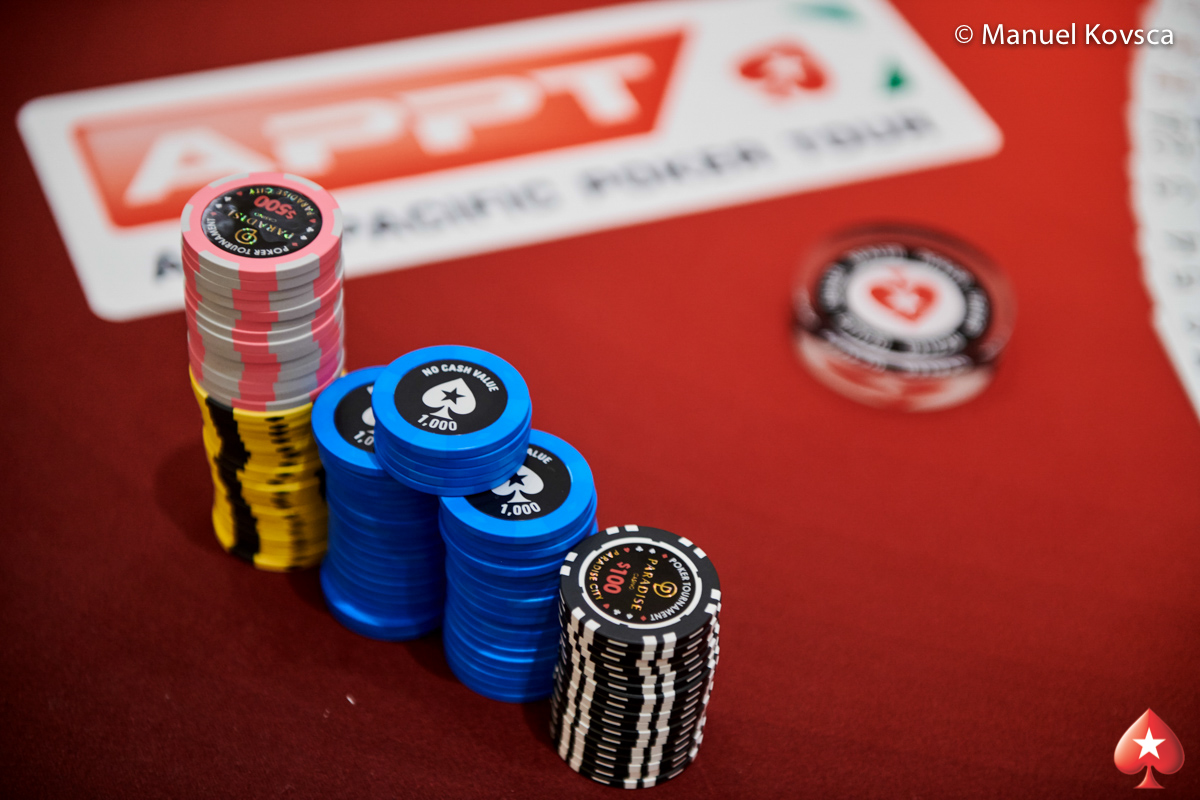 The Main Event continues
We're in for a late one tonight. Today's Day 1B session of the KRW1.8M APPT Korea Main Event kicks off at 6pm local time, and will see the players settle in for 12 40-minute levels taking us into the early morning hours.
If yesterday's Day 1A was anything to go by, then tonight's field is also going to be pretty big. A total of 182 players entered on Thursday (including the unlimited reentries, which many people used) and just 58 of them made it through to Saturday's Day 2.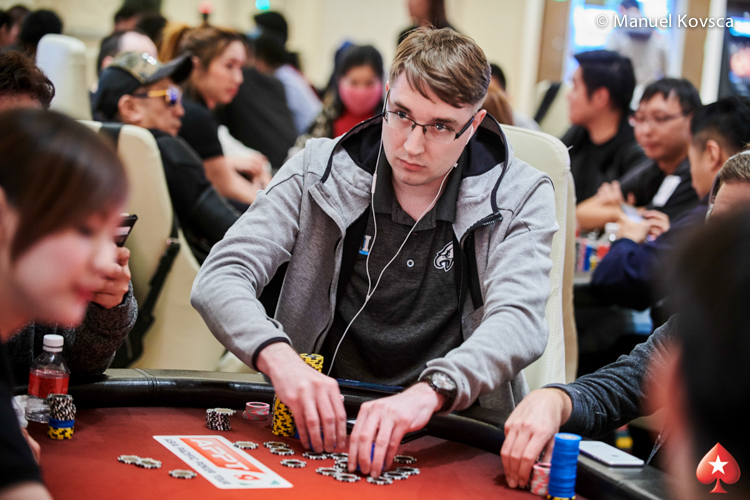 Scott Janik
Scott Janik is currently the player to beat. He went on tear late on, busting player after player and running up a stack of 307,500. Team PokerStars Online's Randy 'nanonoko' Lew also made it through, with a healthy 125,400 chip count.
There's a very good chance that this tournament will become the biggest in Korea's poker history. Stick with us all night for exclusive live updates. –JS
---
PokerStars Blog reporting team on the APPT Korea Main Event: Marc Convey, Jack Stanton, and Alex Villegas. Photography by Manuel Kovsca. Videos for PokerStars by 23Digital.
Ready to sign up for PokerStars? Click here to get an account.
---
Back to Top
Study Poker with
Pokerstars Learn

, practice with the PokerStars app

Try our Free Scholars Leader Board to practice your new skills.
Quick Links
Learn
Practice
Chat with us
Watch and share