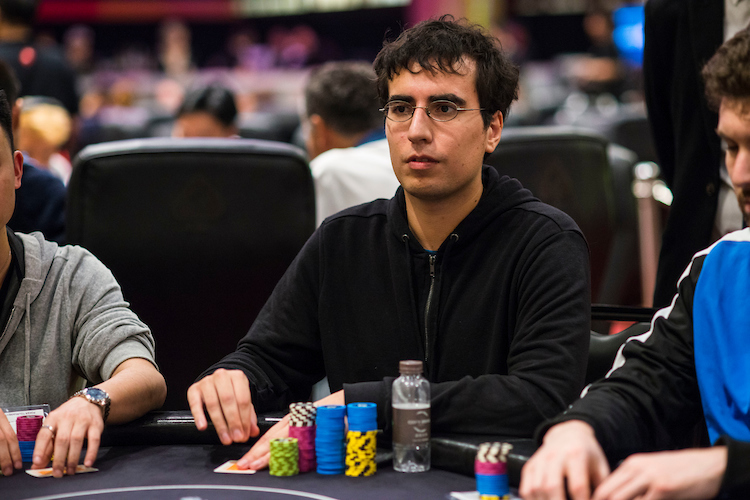 Chip leader Diego Palma
The APPT Macau Main Event made a welcome return today after taking a year out. Day 1A played out over six 75-minute levels and attracted a total of 153 players, with 98 making it through to Day 2.
Sometimes the first days of major tournaments can be quiet affairs but the atmosphere was alive in the PokerStars Live Macau at the City of Dreams resort today, and that had a lot to do with Alex Foxen winning the Super High Roller and Shuize Cai winning the first Platinum Pass of the festival (keep an eye out for a video of that later on).
Diego Palma of Chile was the player who made the best of it today, he bagged up an impressive 133,500. He assent to the top was timed nicely towards the end of the day with one big pot making the difference. With Chaofei Wang all-in for 8,625 with ace-king, Palma managed to force out two players, one of whom had called the all-in. His pocket kings were in great shape and stayed that way.
Other stacks of note to make make it through included: Ye Wang (131,000), Maria Ho (7,200), Aaron Been (53,100), Luc Greenwood (70,700), Preston Lee (56,700), Matt Moss (29,600), Alvan Zheng (21,500) and Alan Lau (21,100). Click here to see the full rundown of survivors.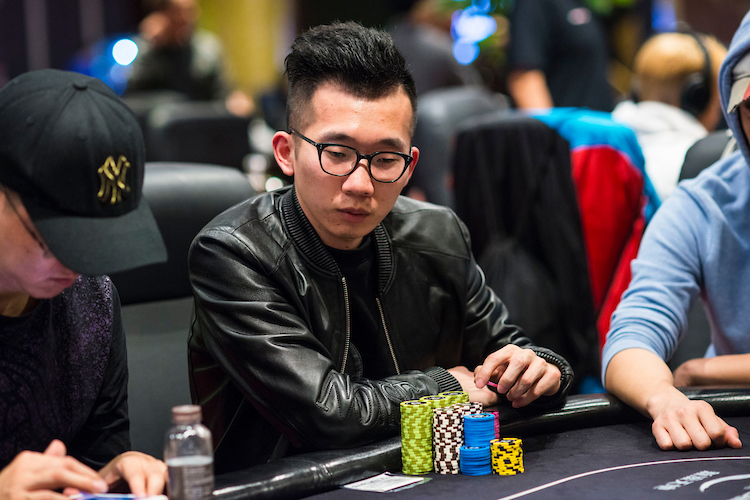 Ye Wang
Those who came, played and fell away included: Kristen Bicknell, Maria Konnikova, Joe Hachem, Klaus Pautrot, Pete Chen, Sparrow Cheung and JC Alvarado.
The second of two starting flights takes place tomorrow as you'd expect, but the start time is scheduled for 6pm, so we'll be playing through to the early hours. Enjoy your evenings and be sure to join us back here then when a bumper field is expected.

Day 1A coverage archive:

• PLAYERS: 98 of 153 (late registration open until start of Level 9)
• End of Day 1A chip counts
• ALL APPT MACAU INFO | TOURNAMENT SCHEDULE
• DOWNLOAD POKERSTARS | Follow @PokerStarsBlog on Twitter

---
9:20pm: Day 1 concludes
They've reached the end, with Diego Palma and Ye Wang both looking like they're still vying for the end-of-Day-1A chip lead. Back in a few with a full recap of an exciting day of poker. –MH
9pm: Palma doesn't want this day to end
Level 6 – Blinds 250/500 (ante 75)
Diego Palma is having such a good day he doesn't want it to end. The current chip leader drew a seven (the highest possible) to determine how many more hands will be played before bagging up commences. –MC
8:50pm: Wang makes big call, now has big stack
Level 6 – Blinds 250/500 (ante 75)
Ye Wang now has a big stack after making a difficult river call against an all-in opponent. Wang had A♠ K♦ and the board showed J♠ Q♦ 8♠ K♣ 8♥ , and with about 50,000 in the middle and facing a bet of about 36,000 he came up with the call, risking most of his stack if he were wrong.
He was right, though, as he was up against a bluff — A♦ 5♦ — and now the tournament has lost another player while Wang chips up to 128,000. –MH
8:40pm: Platinum stack for Zhen
Level 6 – Blinds 200/400 (ante 50)
Platinum Pass winner Alvan Zheng has risen to around 90,000 after he won a three-bet pot against Vincent Huang, who dropped to 72,000.
Huang opened to 1,150 from the cutoff and then four-bet to 10,550 after Zheng three-bet him to 3,500 from the next seat. Both players checked the 6♠ 5♣ 9♣ flop before Huang checked to face bets of 8,000 and 22,000 on the 10♠ 3♦ turn and river. Huang nodded and smiled when the river bet came, then he released his hand. –MC
8:25pm: Palma pushes ahead
Level 6 – Blinds 250/500 (ante 75)
We have what appears to be a new Day 1A chip leader here in the night's last level — Diego Palma of Chile. We'll see if Palma keeps building or if others catch him before the end of play in about 45 minutes, but for now, all hail Palma.
He got the lead in a hand that started with a mid-position raise to 625, called by Palma. Aaron Been called as well from late position. Then Chaofei Wang pushed all in for his last 8,625.
Zhikui Shi called the shove from the small blind, and it folded back around to Palma who responded with a big reraise of his own, enough to force out Been and Shi as well.
Palma showed K♠ K♣ and Wang A♣ K♥ , and five cards later — 7♥ 5♦ Q♣ J♣ 6♥ — Wang was eliminated while Palma boosted his stack up around 135,000. –MH
8:15pm: JC Alvara-go
Level 6 – Blinds 200/400 (ante 50)
JC Alvarado couldn't win the most classic of flips and was eliminated. He fell to Ye Wang who's on a late surge.
We missed how the action went down but Alvarado was all-in for 16,325.
Alvarado: A♠ K♣
Wang: Q♣ Q♦
The board ran 8♠ 8♥ 5♥ 3♠ 6♠ to miss the Mexican's hand. –MC
8pm: Level 6 begins
Level 6 – Blinds 250/500 (ante 75)
That's right. Level 6. The blinds go up, and so do the antes.
Are you ready? It don't matter none, 'cause Level 6 waits for no one. –MH
7:57pm: Intrigue at Laidlaw and Yang's table
Level 5 – Blinds 200/400 (ante 50)
Here's a hand with a somewhat intriguing start, and a very intriguing conclusion.
The curious beginning started with Renjun Yang raising to 1,025 from middle position, Jean Ferreira calling from the cutoff, then Daniel Laidlaw three-betting to 3,800 from the button. It folded back to Yang who called, and after considering it for a while Ferreira stepped out of the way.
Here comes the ho-hum middle. Flop 9♦ 2♠ 9♣ . Check, continuation bet 3,000, call. Turn K♣ . Check, check.
Now for the climax of the story, and most interesting part. The river was the A♠ , and Yang led for 6,000. Laidlaw sat motionless for over a minute, then set out a bet of 21,000 as a raise.
Yang then took two or three minutes to think about it all. However long it was, it was long enough for the clock to be called. As his last seconds were counting down, Yang folded his hand face-up — A♦ K♦ .
I don't know what Laidlaw had, but I can report his stoic look suddenly transformed into a wide grin at the sight of Yang's hand.
Put Laidlaw at just over 50,000, and Yang at around 25,000. –MH
7:55pm: Wang flushed away by Wang
Level 5 – Blinds 200/400 (ante 50)
Yongbin Wang and Ye Wang were both short stacked and went to war on a Q♠ 10♣ 6♠ flop. There would be only one winner.
Yongbin Wang: K♠ J♠ for a draw to the world
Ye Wang: Q♦ 10♥ for top two pair
It was too many out for Yongbin as the board ran out a blank 5♥ 6♥ . Ye moved up to 36,000. –MC
7:45pm: Li makes big call of Lee's big bet
Level 5 – Blinds 200/400 (ante 50)
Vincent Li just made a tough call and was right. Preston Lee was the one who'd made a big river bet to put Li to the test. Both ended the hand as winners.
The board showed 5♠ K♥ Q♥ K♦ 3♣ , there was about 28,000 in the middle, and Lee had led with an all-in shove. Lee had Li covered, and the latter studied the 22,000 or so he had behind as well as the board for a good while before coming up with teh call.
Li made the call with A♥ Q♠ , and saw Lee had A♦ Q♦ for the same two-pair hand, queens and kings.
After splitting the chips, Lee has about 62,000 now and Li about 36,000. –MH
7:40pm: Luo rivers straight, busts Pautrot
Level 5 – Blinds 200/400 (ante 50)
We happened by the table where Xiaoyang Luo and Klaus Pautrot were playing to find the pair engaged in an intense postflop moment.
With the board showing 4♦ 8♣ 10♦ 4♠ , Pautrot had put in the most recent bet when Luo opted to push all in and Pautrot called right away. Pautrot had A♠ A♦ and was ahead of Luo's J♣ 9♣ , but the 7♣ dramatically completed the board to give Luo a winning straight, taking all of Pautrot's chips and leaving him just one syllable — "wow."
With that pot, Luo is up around 100,000 and battling for the chip lead at present. –MH
7:30pm: Bicknell busts
Level 5 – Blinds 200/400 (ante 50)
There is a silver lining for Kristen Bicknell who just busted. She can now pay full attention to the heads-up battle going on in the Super High Roller where her boyfriend, Alex Foxen, is battling Shan Huang for the title.
Her bust out came when she ran two pair into a straight. Around 6,500 chips lay in the middle when Bicknell shoved for 5,950. She was called Junda Yu before Henry Wang check-raised all-in for 20,250 from the big blind. You tank folded.
Wang: Q♥ 9♥ for a straight
Bicknell: J♠ 10♣ for two pair.
The river bricked with a 2♠ and Bicknell headed over to the feature table. –MC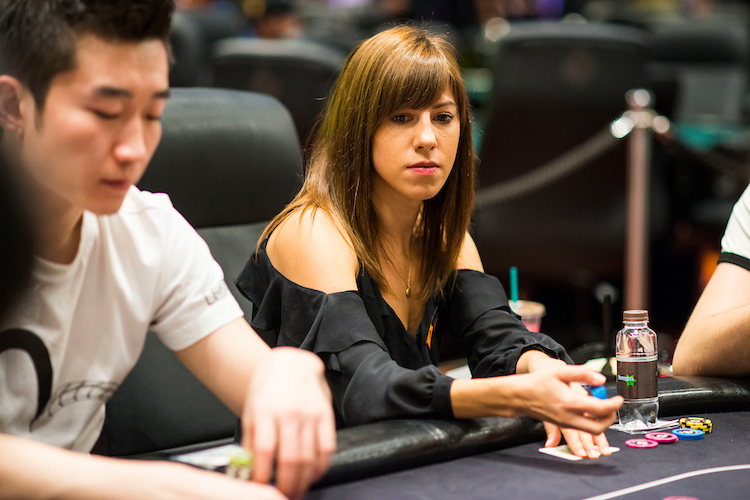 Kristen Bicknell can't win them all
7:15pm: Li over Li
Level 5 – Blinds 200/400 (ante 50)
After our circuit of the tables to find big stacks revealed Yuan Li to be one of the biggest around at present, we just watched Li get involved in a hand versus Juicy Sixiao Li sitting on his right.
It was a blind-versus-blind affair, and with the board showing 3♠ 4♦ 2♠ 6♠ it was Juicy checking and Yuan betting 1,100. Juicy then check-raised to 2,675, eliciting a wary-looking call from Yuan, and after the 2♥ river both players checked.
Juicy showed J♠ 4♠ for fours and deuces, and that was good as Yuan mucked. Juicy is up around 26,000 now, while Yuan is still among the leaders with 85,000. –MH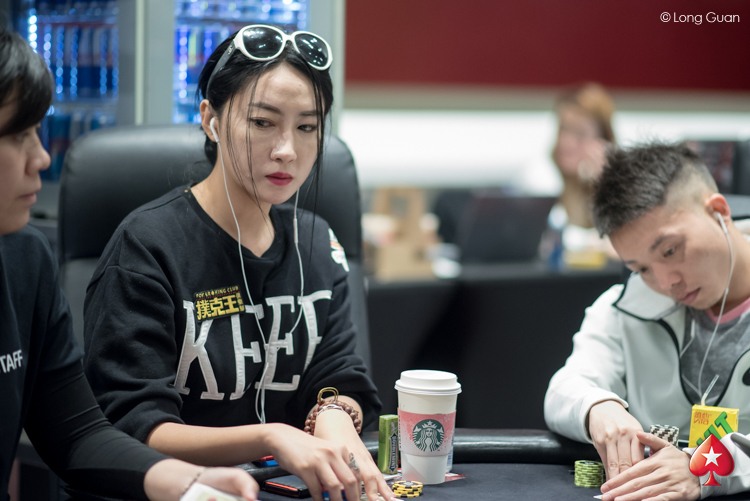 Juicy Sixiao Liu
7:10pm: Big stack watch
Level 5 – Blinds 200/400 (ante 50)
Yuan Li amongst the big stacks
| Name | Country | Chips |
| --- | --- | --- |
| Peter Robertson | Irekand | 94,000 |
| Yuan Li | China | 93,000 |
| Vincent Huang | New Zealand | 92,000 |
| Luc Greenwood | Canada | 80,000 |
| Vladimir Shabalin | Russia | 75,000 |
| Junda Yu | China | 74,000 |
| Aaron Been | USA | 73,000 |
| Tokuho Yoshinaga | Hong Kong | 72,000 |
| David White | Australia | 63,000 |
| Alvan Zheng | China | 62,000 |
| Daniel Carlsson | Sweden | 62,000 |
6:50pm: All-in and a chop
Level 5 – Blinds 200/400 (ante 50)
Following a middle-position limper, Xiaoyang Luo raised to 3,200, then Thomas Ward reraised all in and after it folded back to Luo he called.
Luo turned over A♦ K♦ and Ward showed A♠ K♠ , and once the flop came 8♥ 8♣ K♥ to ensure a chop all drama was removed from the situation. Luo has about 50,000 after that, Ward 22,000. –MH
---
Don't have a PokerStars account? Getting one couldn't be easier and could mean a trip to the next big PokerStars series. Click here to get started.
---
6:30pm: Another break
The players are taking a 15-minute break. They'll be two more 75-minute levels to play when we return. –MC
6:27pm: Ferreira tops Cai's kings
Level 4 – Blinds 150/300 (ante 50)
In the last hand of the level, Yan Cai raised from the hijack seat, then Jean Ferreira three-bet to 2,300 from the button. It folded back to Cai who called, and the two saw a flop come 9♥ 5♠ Q♦ . Cai checked, then called Ferreira's bet of 1,600. Then both players checked the 7♠ turn.
The river was the 6♦ . Cai checked once more, then Ferreira bombed it for 7,000 — more than 80 percent of the pot. Cai hemmed and hawed a bit before calling, and Ferreira tabled A♥ 8♦ to show he'd filled a gutshot draw for a runner-runner straight. Cain threw his cards down angrily across the table, and they were revealed to be K♥ K♦ .
Ferreira takes about 50,000 to the break while Cai slips to about 30,000. –MH
6:25pm: Peng takes from Lau
Level 4 – Blinds 150/300 (ante 50)
Two-time Asia Player of the Year Alan Lau has dropped down to 20,000 after he lost a pot to Zhongcai Peng.
They were heads-up to the turn where the board read A♠ 3♠ K♠ 2♦ . Peng (big blind) check-called 2,600 from Lau (UTG+1) before the 7♦ was checked through. Peng opened A♣ 2♠ and Lay mucked. That put Peng up to 43,000. –MC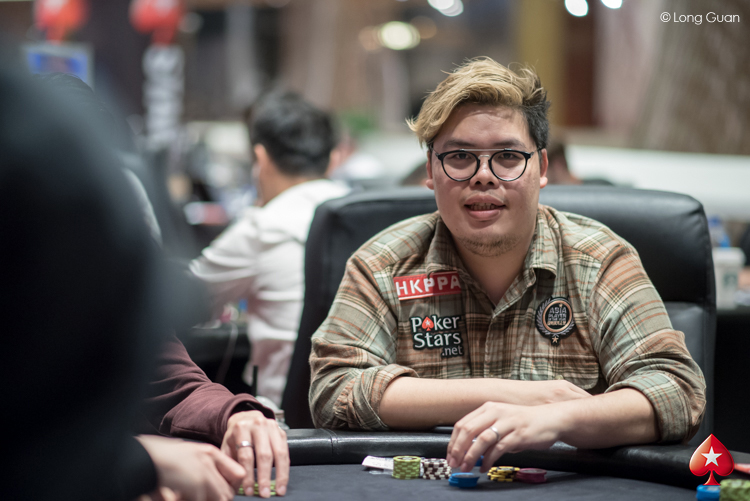 Alan Lau: one of (if not) the best in Asia
6:15pm: Another story of cracked aces
Level 4 – Blinds 150/300 (ante 50)
After Yingpeng Jiang had opened from under the gun, it folded back to Zifeng Zhang who three-bet, then Jiang pushed all in to put Zhang to the test for the rest of his stack. After a bit of thinking Zhang called and showed Q♣ Q♦ , but immediately rued having called when he saw Jiang's A♠ A♥ .
The aces remained good through the K♥ J♥ 7♣ and 10♠ turn. Then came the river… the 9♣ ! It took the standing Zhang a moment to recognize he'd backdoored a straight to survive, and he sat back down and stacked up around 60,000 chips. Meanwhile Jiang was knocked down under 5,000. –MH
6:05pm: Making a star of Tokuho Yoshinaga
Level 4 – Blinds 150/300 (ante 50)
Tokuho Yoshinaga outdrew Xingbiao Zhu to move up to 65,000 but he had his media ID card hidden below his chip towers. We asked him to make it visible and he said, "Oh, don't worry about me – I'm no one famous!"
You're featured in the Pokerstars Blog, so you are now my friend!
He had opened to 800 from early position and called after Zhu three-bet to 2,500 from the cutoff. The flop spread 7♣ 4♣ 5♦ and Yoshinaga check-raised Zhu's 3,000 c-bet all-in for an effective 12,000. Snap.
Yoshinaga: 6♠ 6♥ for a pair and a gutshot draw
Zhu: Q♦ Q♣ for an overpair
Zhu was in good shape but that immediately changed as the board ran out 3♠ 5♥ to make Yoshinaga a straight. Zhu was smiling as he made a swift exit. –MC
5:55pm: Presto conjures chips for Zhao
Level 4 – Blinds 150/300 (ante 50)
On the turn Mian Wei felt good enough about his hand to bet 3,000 — around half the pot — with the board showing J♦ 2♣ 5♠ 7♠ . Then Dong Zhao moved all in for around 18,000, and after some thought Wei looked a little less enthused when he made the call.
After Zhao showed his hand — 5♦ 5♥ (a.k.a., "presto") — Wei felt even worse about it all, only showing his K♦ J♠ for a moment before flipping his cards over. He was drawing dead, after all.
Zhao is up to 45,000 now, while Wei has about 20,000. –MH
5:50pm: Hachem no more
Level 4 – Blinds 150/300 (Ante 50)
Joe Hachem and Daniel Carlsson have been battling all day and, unfortunately for the Aussie, Carlsson is the only one still sitting at the table.
Hachem started his final hand by opening from the button and getting three-bet to 3,600 by Carlsson in the big blind. Hachem called and the flop came 9♥ 7♣ 4♥ . Carlsson bet out 2,400 and we're pretty sure Hachem moved all-in, although it was hard to track the flurry of action as it happened very quickly.
The bottom line was that all of Hachem's chips ended up in the middle as he turned over pocket tens.
"Piss off!" said Hachem under his breath when he saw Carlsson's pocket aces. The board finished out with a couple of deuces and Hachem was forced to hit the rail. Carlsson is now on 48,000. –MS
5:40pm: Zhang's queens zing Lindop's aces
Level 4 – Blinds 150/300 (ante 50)
UK player Alex Lindop — winner of a WSOP bracelet in 2015 — just got involved in series of raises with Liming Zhang of China. I arrived somewhere in the middle of the fracas, after Lindop had made it 2,300 to go and Zhang reraised to 6,000. Lindop then went all in and Zhang called, and Lindop had the big preflop edge with A♦ A♥ versus Zhang's Q♣ Q♥ .
Soon, though, it was Zhang enjoying the big postflop edge after the first three community cards came Q♠ 2♦ 7♠ to give him a set. The turn was the 6♣ and river the J♥ , and Zhang doubled to about 28,000. Lindop is still in fine shape, though, with about 40,000. –MH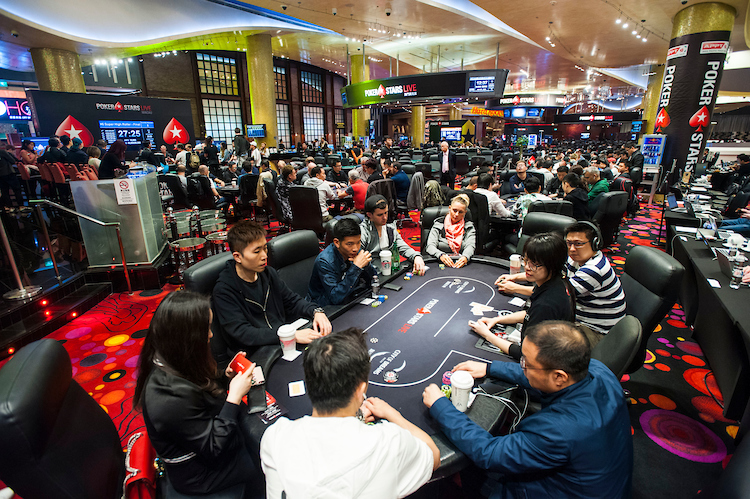 Day 1A continues
5:35pm: The Gong show
Level 4 – Blinds 150/300 (Ante 50)
Kristen Bicknell is down to just under 10,000 after playing a multi-way pot with Felix Weis and Wei Gong. We arrived on the flop but luckily for us, Kristen's boyfriend Alex Foxen was on break from the HK$400,000 Super High Roller final table and filled us in on the preflop action.
It started with Gong opening from under the gun and Bicknell calling two seats to his left. Weis called in late position and the flop came A♦ 10♥ 5♦ . Gong checked, Bicknell bet 1,600 and after Weis folded, Gong check-raised to 4,200.
The turn was the 8♥ and Gong tossed in two 10,000 chips. Bicknell thought it over before ultimately folding. Gong is now on 46,000. –MS
5:25pm: Janikova taken down 42nd street
Level 4 – Blinds 150/300 (ante 50)
Vladimir Shabalin turned bottom pair (at the time) into a bluff versus Alexandra Janikova and it turned out to be good on showdown.
The two players were heads up to the turn where Shabalin checked from the big blind to face a 2,500 from Janikovac in the hijack. He raised to 6,000 and was called before both players checked the 2♥ river. Shabalin opened K♠ 3♦ . Janikovac mucked while shaking her head. She dropped to 13,700 while Shabalin rose to 42,000. –MC
5:15pm: Wang makes the uncallable bet
Level 3 – Blinds 100/200 (ante 25)
"You cannot call. Whatever you have, you cannot call."
So said Henry Wang just now to Vitaly Tevis in a hand that had just ended with Tevis folding. The fact that Wang's river bet has been but 3,000 into a pot around six times that amount appeared to confirm Wang's thesis.
Kristen Bicknell had started it with a raise to 425 from middle position, with Tevis calling from one seat over in the hijack. Then Junda Yu raised to 1,150 in the cutoff and Wang cold-called the reraise from the big blind.
Bicknell decided to call the reraise as well, but Tevis scrambled things again by reraising to 3,925. Yu folded, Wang called, Bicknell folded, and with just two players left the flop came 4♠ 3♦ 5♠ .
Wang led for 1,225 and Tevis called, then the 2♠ on the turn filled a potential flush draw while also putting four to a straight on board. Wang bet another 2,150 and Tevis called once more, then the 9♠ river made it four spades on board.
That's when Wang made his small bet of 3,000, and Tevis looked a little pained at having to let his hand go to such a small bet.
Wang has 45,000 now, Tevis 17,000. –MH
5:10pm: Chua doubles through Paul
Level 3 – Blinds 100/200 (ante 25)
With the board showing 5♦ 2♥ 8♥ Q♥ 8♠ and about 25,000 in the middle, Vincent Chua bet all in with his last 16,150 and his opponent, Emanuel Seal, went fairly deep in the tank before finally emerging with a call.
Chua flipped over 2♣ 2♦ for a full house, and Seal nodded as he pushed his cards forward. As it was an all-in, his cards were shown — K♥ 10♥ for a beaten flush — and Chua collected the pot.
Chua is up to 58,000 now, while Seal is left with about 5,000. –MH
5:05pm: Sometime you need wings to fly high in a poker tournament
Level 3 – Blinds 100/200 (ante 25)
As the exclusive energy drink provider here at PokerStars LIVE at The City of Dreams, Red Bull are providing fridges full of Red Bull scattered around the venue. They are free for players and fans alike, so feel free to help yourselves if you find your energy flagging as you navigate these shark-filled Asian waters. –MC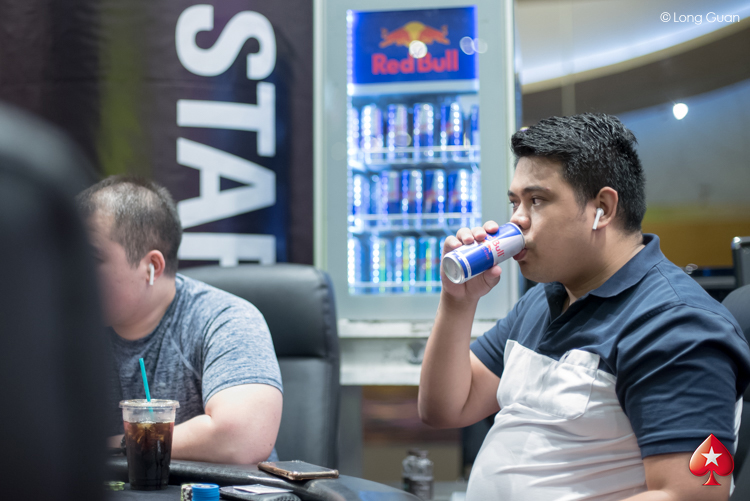 Red Bull
4:50pm: Bicknell lighter
Level 3 – Blinds 100/200 (Ante 25)
Recent APPT Macau National High Roller champ Kristen Bicknell has a few less chips after a skirmish with tablemate Junda Yu moments ago.
It started with the player under the gun limping and Bicknell doing the same from the button. The small blind called and Yu checked his option in the big blind.
The flop came down K♥ 6♦ 2♥ and when it folded to Bicknell she fired 525. Yu was the only caller and the turn was the J♠ . Yu check-called a 750 bet from Bicknell and the 2♠ hit the river. Both players checked and Yu quickly turned over K♠ 9♥ for top pair.
Bicknell folded and had about 28,000 after the hand. Yu is now up to 41,000. –MS
4:45pm: Ho bluff fail
Level 3 – Blinds 100/200 (ante 25)
Maria Ho has dropped down to around 27,000 after she emptied the clip on Yiwei Zhao with air. The latter moved up to 41,000 without having to show down.
Ho raised from the button and went on to bet 550, 1,600 and 4,000 on each street of a Q♦ 10♦ 3♣ 6♣ 6♦ board. Zhao was in the big blind and she check-called all three bets. Ho instantly mucked when her river bet was called. –MC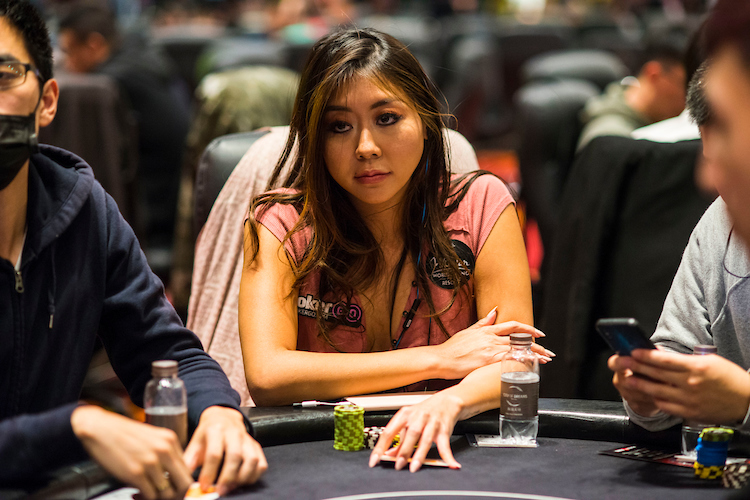 Maria Ho
4:35pm: Cai collects versus Gonzaga
Level 3 – Blinds 100/200 (ante 25)
Yan Cai of China and Terry Gonzaga of the Philippines were just involved in a hand in which both players really liked the 5♦ 8♦ 4♥ . In fact, they liked it so much they got all of Cai's chips in the middle.
Cai had 7♦ 6♦ , having flopped a straight, while Gonzaga had 8♠ 8♣ for top set. The Q♦ turn improved Cai further to a flush, and that hand held up through the K♥ river to enable Cai to survive.
Cai has about 48,000 now, while Gonzaga still has 42,000. –MH
4:30pm: Been there, done that
Level 3 – Blinds 100/200 (ante 25)
American Aaron Been's day is going great and it just got a bit better thanks to another big pot. It started with Yi Min opening to 450 from under the gun plus one and Been re-popping to 1,600 from the button.
The flop came Q♠ 8♦ 3♥ and after a check from Min, Been fired 2,500. Min called and the turn was the 5♠ . Min check-called again, this time 7,000, and the 5♦ hit the river.
Min checked one final time and Been cut out chips, sliding 12,000 into the middle. Min went into the tank and would have about 9,000 left over if he decided to call. After a few minutes he paid it off and Been turned over K♥ K♠ .
Min folded and Been's up to just under 50,000 as we near the halfway mark of Level 3. –MS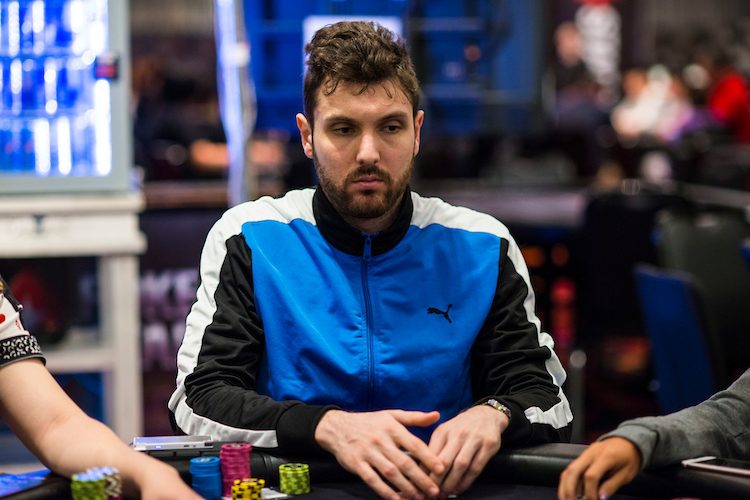 Been bags a pot
4:25pm: Konnikova KO'd
Level 3 – Blinds 100/200 (ante 25)
Maria Konnikova ran into a difficult kings-versus-aces situation early on today (see below, 3:05pm). The 2018 PokerStars Caribbean Adventure National champion managed not to lose all of her chips in that one, but alas for Konnikova, she did lose her last few chips shortly after returning from the break today to put a premature end her Main Event run here. –MH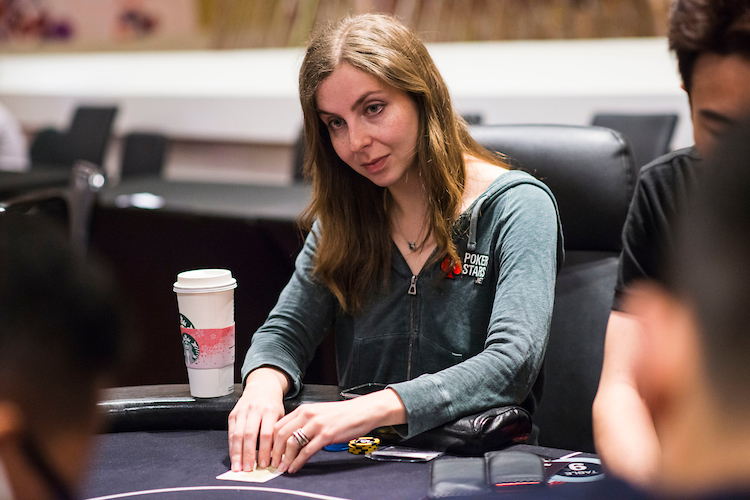 Konnikova cut down
4:20pm: A platinum table
Level 3 – Blinds 100/200 (ante 25)
Maria Konnikova probably isn't aware of it, but she's sat opposite a player that she has a great chance of facing in the PSPC next January at the 2019 PCA. Sandhy Rafael Sitepu won a Platinum Pass by taking down the MPC28 $HK25k NLHE here last month.
The Indonesian cash game specialist (although that could be changing) just played a hand very aggressively and won it to get up to 26,000. He was heads-up with Hsin Huang to a 10♣ 2♥ 8♥ flop and led for 1,400 from the big blind. Huang called from the button. Sitepu wasn't finished as he continued with bets of 2,000 and all-in for an effective 5,025 on the 4♥ 7♦ turn and river. Huang called quickly on the turn but tanked before folding on the river.
Check out Sitepu's winning story from last month below. –MC
4:05pm: Vukovic building
Level 3 – Blinds 100/200 (ante 25)
Here's a hand to share with you from the end of the last level, one from the end of the previous level involving Mladen Vukovic of New Zealand and Robert Heidorn of the U.K.
It started with Vukovic raising from middle position, then watching Heidorn three-bet to 1,450 from one seat over in the hijack seat. It folded back to Vukovic who made it 3,850 to go, and Heidorn called.
Vukovic led for 1,900 after the 3♣ K♣ 6♦ flop and Heidorn called, then the latter called again after Vukovic fired 4,000 following the 6♥ turn. The river then brought the 4♣ , and after a brief pause Vukovic set out enough chips to put his opponent all in, and Heidorn finally backed down and folded.
After that skirmish, Vukovic has about 64,000 to begin the new level, having more than doubled the starting stack before the first break. Meanwhile Heidorn is at about 14,000. –MH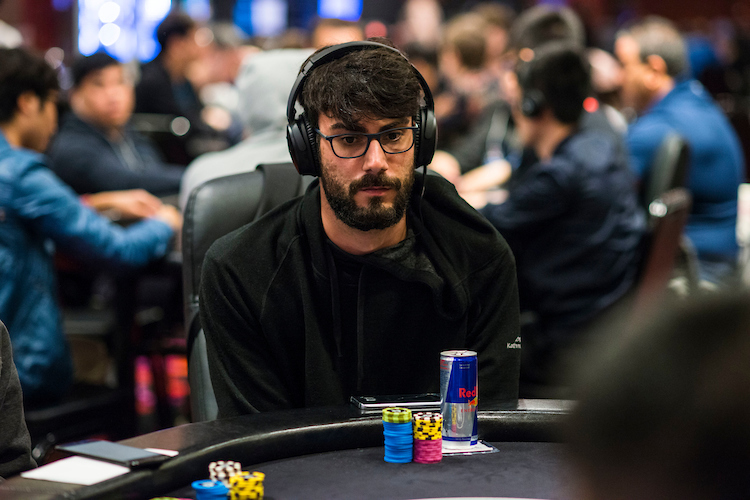 A victory for Vukovic
4pm: Back at it
Level 3 – Blinds 100/200 (ante 25)
Players are back in their seats, with the big board showing 131 have registered so far today. Late registration will be open until the start of Level 9 (i.e., two levels into Day 2). –MH
---
Don't have a PokerStars account? Getting one couldn't be easier and could mean a trip to the next big PokerStars series. Click here to get started.
---
3:45pm: Break time
On reaching the end of Level 2, players are now off on their first 15-minute break of the day. –MH
3:42pm: Hachem takes a hit
Level 2 – Blinds 75/150
Joe Hachem is at one of the toughest tables in the room and he's down to around 11,000, one-third starting stack, thanks in part to what looked like a tough laydown against Swede Daniel Carlsson.
We picked up the action on the flop with the board reading 7♥ 3♠ 2♥ and Hachem betting 1,000 from the hijack.
Carlsson called and the 5♠ hit the turn. Hachem bet again, this time 3,000, and Carlsson quickly deposited 24,000 across the line. It was enough to put Hachem all-in should he opt to call and it sent the Aussie deep into the tank.
He deliberated for close to two minutes before reluctantly letting it go. Carlsson is now on about 35,000. –MS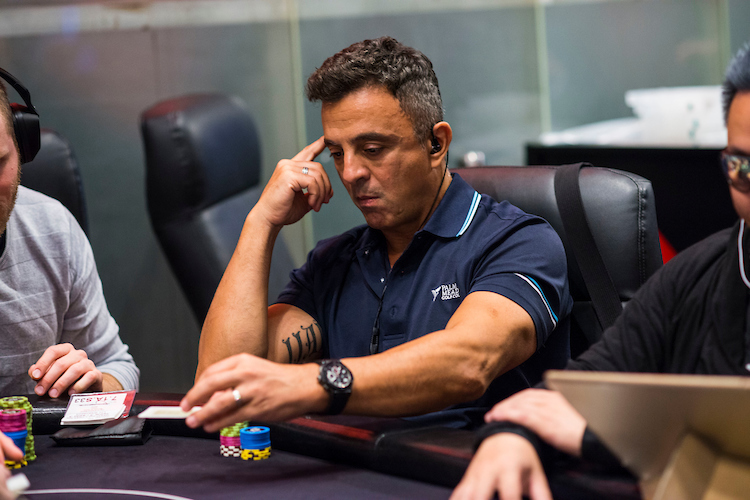 Hachem has to build back
3:40pm: Distraction not a problem for Bicknell
Level 2 – Blinds 75/150
Kristen Bicknell is very distracted today and that's understandable, but it doesn't seem to be affecting her game. Her beau, Alex Foxen, is leading the Super High Roller final table over the other side of the room, and every time a big hand is announced over the tannoy, her chair swivels around and away from the action at her table.
She watched and listened intently as he eliminated Christophe Vogelsang in eighth place and then turned back to immediately win a pot to rise to around 35,000.
Felix Weis opened to 350 from early position and was called in two spots before Bicknell squeezed to 2,000 from the big blind. Only Weis called but he too folded when faced with a 1,400 bet on a 2♦ 3♣ Q♠ flop. –MC
3:30pm: Hachem avoids Greenwood's trap
Level 2 – Blinds 75/150
Joe Hachem is seated to Luc Greenwood's left, and the pair just now got invovled in a blind-versus-blind skirmish.
It started with Greenwood raising from the small blind, then calling Hachem's reraise from the big. The flop came all diamonds — K♦ 3♦ 10♦ — and Greenwood check-called Hachem's continuation bet of 2,000. Both then checked the turn, yet another diamond — the A♦ .
The river was the 10♥ and Greenwood checked again, then after a bit of thought Hachem knocked the table to indicate his check behind.
Greenwood turned over A♠ Q♦ to show he had the highest-possible flush, and Hachem mucked. They chuckled a little afterwards as Greenwood noted how Hachem had escaped his attempt to set a trap.
Greenwood has about 40,000 now, Hachem 25,000. –MH
3:15pm: Cooler costs Klaus
Level 2 – Blinds 75/150
Klaus Pautrot flopped a set in a four-way pot. That was great for him until he found out one of his opponents happened to have a bigger set. It could've been worse for the Frenchman though as his opponent – Don Zhao – was very short-stacked.
Four players committed 2,200 each in a three-bet pot before a 9♦ 4♠ J♦ appeared. Pautrot led for 4,000 and called after Zhao moved in for 5,750.
Pautrot: 4♣ 4♥ for bottom set
Zhao: 9♥ 9♠ for middle set.
The board ran out A♣ J♣ and Pautrot dropped to 28,000. –MC
3:05pm: Maria Kooler-kova
Level 2 – Blinds 75/150
Maria Konnikova has had a lot of success in her short poker career, but she has her work cut out for her today after taking a big hit early.
We stopped by her table just now to see a stack of just 1,500 in front of her on the felt. She was gracious enough to fill us in on what happened.
It started with Wen Lin Wang opening to 400 from middle position, one other player calling, and Konnikova three-betting to 1,600. Wang then four-bet to 5,100 and only Konnikova called.
The flop came 9-6-3 with one diamond and Konnikova called bets on every street as the board finished out 5♦ 10♦ . Wang was all-in on the river and turned over pocket aces which had Konnikova's pocket kings beat.
Wang is now on just under 60,000. –MS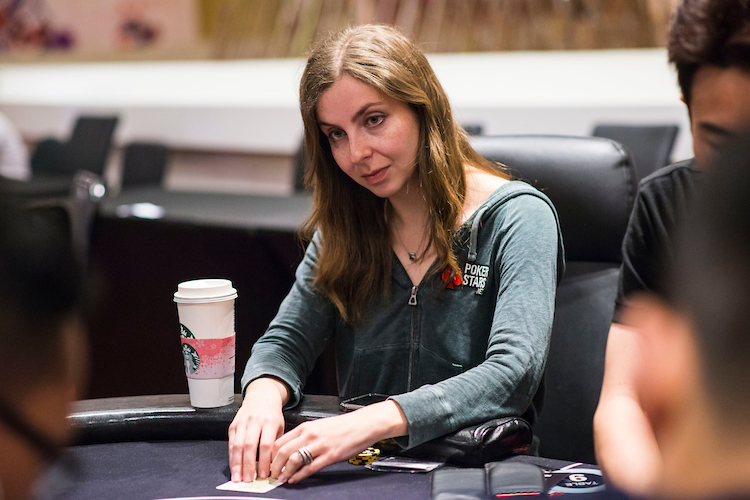 Kings fail Konnikova
2:55pm: Moss is not all White
Level 2 – Blinds 75/150
Matt Moss, a regular (almost) expat Macau crusher, has dropped down to 24,000 after he paid David White and his trips kings off.
Matt Moss
The action was three-way to a K♣ K♦ 10♦ flop where White led for 500. Only Moss called and then checked over the 6♥ 10♥ turn and river to White, who checked back the turn but then fired 2,000 on the river. Moss flicked in a quick call but mucked upon seeing White's K♥ 9♥ . The latter's stack swelled to 34,000. –MC
2:45pm: Bicknell rails Foxen before joining the Main
Level 2 – Blinds 75/150
Canadian tournament crusher Kristen Bicknell won the WPPT National High Roller just two nights ago. She's here again today, but instead of taking her seat right away in this Main Event, she took some time to rail her boyfriend Alex Foxen who's the chip leader at the final table of the HK$400,000 Super High Roller playing out on the other side of the room.
Bicknell's got an amazing record, including two WSOP bracelets won in the same year, and she's racked up over $1.5 million since starting to play low-stakes tournaments in 2006. She's just now taken her seat so keep an eye on our live coverage to see how she fares today. –MS
2:35pm: Broadway holds for Wang
Level 2 – Blinds 75/150
With the board showing Q♥ 2♦ K♣ J♦ and around 6,500 in the middle, Song Yang bet 4,550 and Yongbin Wang initially responded by sitting in contemplation for several seconds. Then Wang woke up to set his entire stack of around 22,000 forward as an all-in raise, and Yang called right away.
Wang tabled A♣ 10♣ to show that he'd turned Broadway, while Yang showed 2♠ 2♣ to reveal his flopped set of deuces. The river as the 7♣ and Wang's straight held. That pushes Wang up around 55,000 now while Yang suddenly slips to about 6,000. –MH
2:25pm: Hachem in the house
Level 2 – Blinds 75/150
2005 world champion of poker and former Team PokerStars Pro Joe Hachem just took his seat and wasted zero time getting in action.
We arrived with the board reading 9♦ 9♥ 8♥ A♣ A♠ and 7,800 already in the middle. Hachem had already bet 7,675 and his opponent was deep in the tank. After a few more minutes of intent deliberation he tossed his hand in the muck and sent the pot to the Australian.
Hachem is now on around 33,000. –MS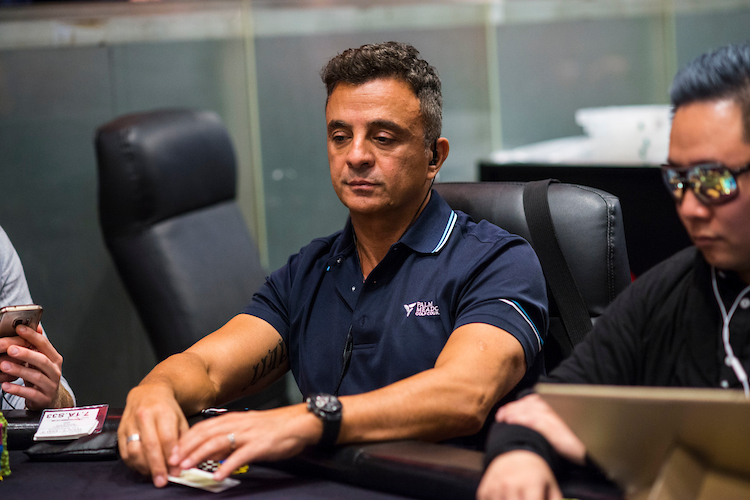 2005 WSOP Main Event Champion Joe Hachem sits down
2:20pm: Enter Ho
Level 1 – Blinds 50/100
Another familiar face has sat down in this one — none other than Maria Ho. Among Ho's more than $2.7 million in lifetime tournament earnings are four cashes here in Macau, all earned in 2017.
Ho got involved right away in a hand we picked up on the turn with the board showing K♥ Q♣ 5♠ Q♥ . After a leading bet of 2,100 from Na Wei playing from the big blind, Ho called from middle position. Wei then checked the 10♥ river, and a 5,500 bet from Ho was enough to earn her an early pot. –MH
2:15pm: River raise from Robertson
Level 1 – Blinds 50/100
Peter Robertson called Dengdong Huang's turn bet — pushing the pot up around 10,000 with the board showing 10♥ 6♦ 10♠ A♥ — it looked as though he was doing so with some reluctance.
However when the A♦ river completed the board Huang bet 4,000, Robertson's raise to 13,500 looked a lot more certain. Huang thought so, anyway, as he let his hand go after some thought.
The Irish pro Robertson is up around 37,000 near the end of the first level. –MH
2:05pm: Patni among early leaders
Level 1 – Blinds 50/100
Kunal Patni is up close to 42,000 from the 30,000 starting stack a little more than halfway through the first level.
Patni has a long list of cashes in major events all over the world, totalling over $350,000 (USD), and his first ever score was actually an outright win in the 2014 APPT Asia Championship of Poker right here in Macau. He's on a bit of rush right now, too. Last month Patni picked up three cashes in the WPT European Championship in Berlin, including two final tables and a runner-up worth a career-high €96,140 score (worth $115K USD).
Just now we caught the tail end of a big pot with Li Tao firing 6,650 on the river with the board reading 7♥ 6♥ 2♥ K♣ 9♥ . The bet was more than was already in the pot but Patni didn't think long before making the call.
Li turned over K♠ Q♣ dejectedly while Patni tabled A♣ J♥ for the fourth-nut flush. –MS/MH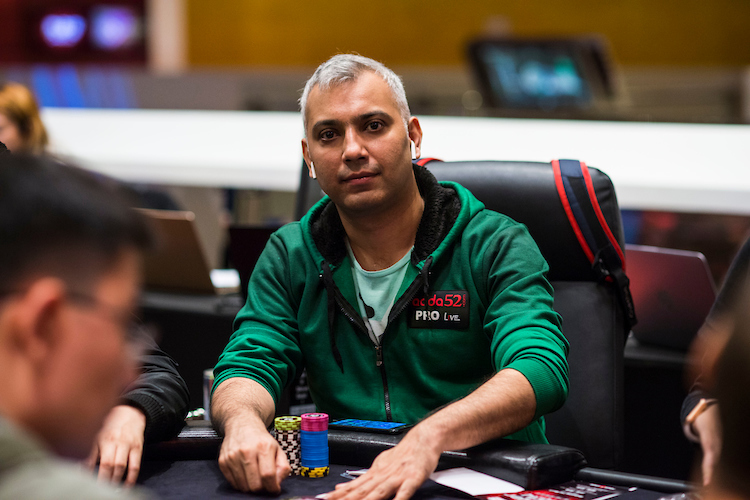 Patni hits the ground running
1:55pm: Luc using force
Level 1 – Blinds 50/100
Luc Greenwood has been active from the start, boosting his stack up around 40,000 in the early going with some late-position aggression.
Just now Greenwood raised to 250 from the button, watched Raiden Kan call from small blind, then Robert Carlsson three-bet to 1,200 from the big blind. Greenwood only took a short while before reraising again to 4,000, and that scattered both Kan and Carlsson.
On the next hand Greenwood called a middle-position raise to 250 from the cutoff, with Liming Zhang also coming along from the big blind. The 3♥ Q♥ 4♣ flop saw it check around to Greenwood who bet 600, and only Zhang called. The 4♥ turn saw Zhang check and Greenwood barrel again for 1,500. Zhang called once more.
The river was the 5♦ . Zhang checked once more, and Greenwood set out a bet of 2,500. Zhang called right away, then mucked at the sight of Greenwood's 6♥ 5♥ for a turned flush. –MH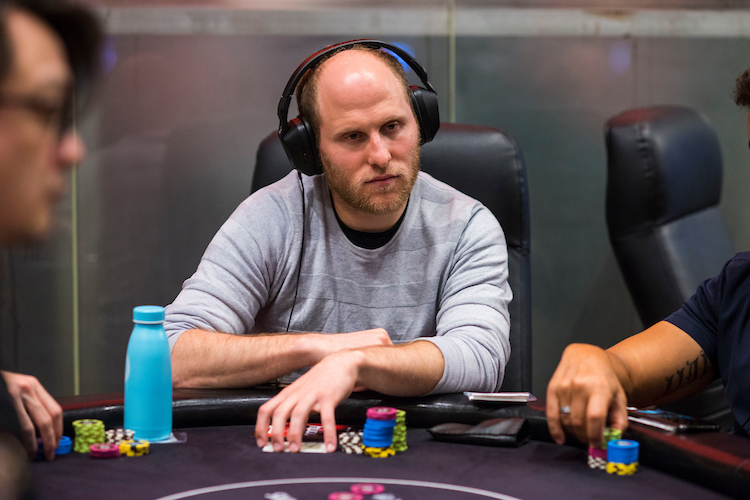 Luc Greenwood gathering early
1:50pm: Long walk of shame for Meng
Level 1 – Blinds 50/100
Well that was a short day for Long Meng. He picked an unfortunate spot to bluff and it cost him dear.
He and Preston Lee had made it to the river where a 9♥ 8♦ 5♣ K♥ 4♣ board rested. Apolgies for not getting the following betting amounts but the action was frantic.
Lee checked from the cutoff before raising after Meng bet from the next seat. Meng then moved all-in for around 26,000 and Lee snap called all-in for 28,700 holding 6♥ 7♥ for a straight. Meng shook his head as he could only muster up 10♣ J♦ for jack high. Lee raked in the big pot and is the early chip leader. –MC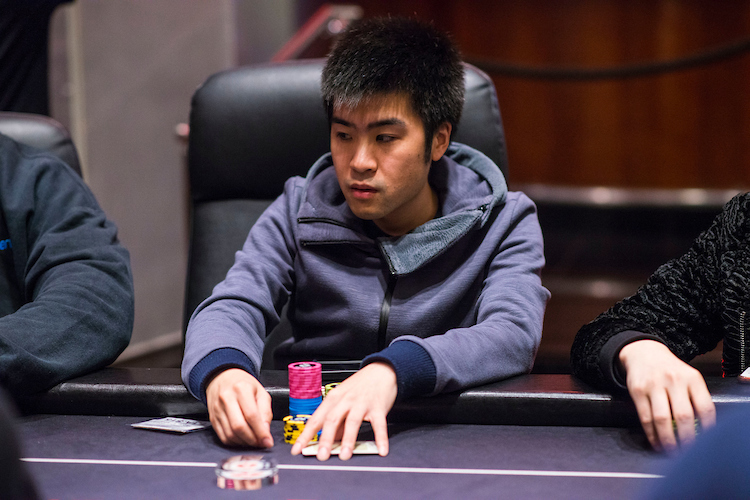 Preston Lee, early chip leader
1:45pm: We're seeing double (Greenwoods)
Level 1 – Blinds 50/100
If you've been following our coverage of the HK$400,000 APPT Macau Super High Roller over the last two days you already know that Canadian poker-playing twins Sam and Luc Greenwood are here competing.
Luc just took his seat in Day 1A of this Main Event and his table is directly adjacent to the final table of the aforementioned Super High Roller. It just so happens that Sam is at that final table with a chance at a close to $1 million first-place prize.
Both Greenwoods competed in the SHR event and now Luc will have a chance to cheer on his brother without leaving his seat. –MS
1:35pm: "It's going to be a woman"
Level 1 – Blinds 50/100
As Day 1A of this Main Event gets rolling we're noticing a very healthy representation of women already in their seats.
Maria Konnikova is one of them. You should remember Konnikova from her amazing story earlier this year at the PokerStars Caribbean Adventure. She's a former television producer and writer whose latest project sees her spending a year on the live poker circuit taking her game from beginner to pro-level with the help of experienced players including Erik Seidel.
Her training for the book, titled The Biggest Bluff, must have been working because she beat out 290 players in a $1,650 event in the Bahamas to take down $85,000 and a Platinum Pass worth $30,000 that will get her into the much-anticipated PokerStars Players Championship at next year's PCA.
We were chatting to Maria about how the next big poker star might be playing in today's event. "It's going to be a woman," she said with a confident smile.
Also in the field is Alexandra Janikova, one of the top dealers on the live European poker circuit. Janikova cashed in last year's WSOP Main Event, finishing 434th out of 7,221 for a $27,743 score. All told Janikova notched seven cashes in 2017 and she's looking to add to that record here in Macau.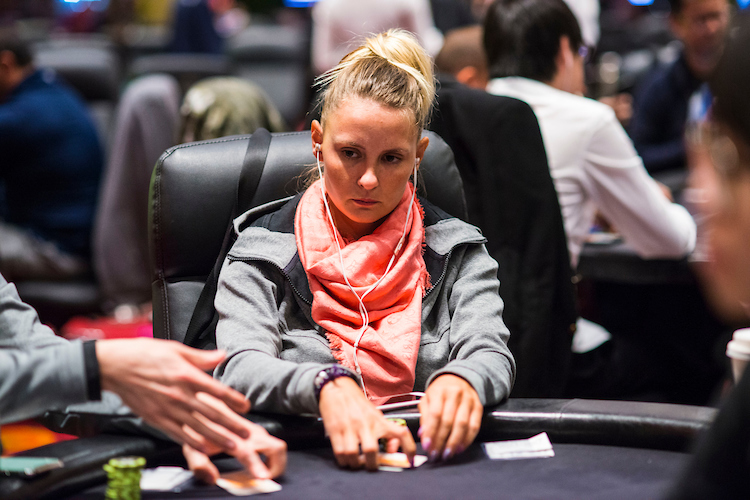 Janikova joins the field
Local poker pro Sixiao "Juicy" Li is also on the felt. Li has a very long list of cashes here in Macau and around the world totalling almost USD$720,000. Li's biggest score was a win in the 2017 Macau Poker Cup High Roller worth over $313,000 (USD). –MS
1:30pm: Trips for Tao
Level 1 – Blinds 50/100
The board showed K♥ 10♥ 2♥ 4♣ 4♠ — three hearts and two fours — and there was a decent-sized pot of close to 4,000 in the middle (at least for Level 1). Don't ask me how the pot had gotten that big, as I'd only just arrived. And given the one hand that ultimately gets shown in this one, I'll admit I'm curious what might have happened.
Li Tao, first to act, tossed out a nearly pot-sized bet of 3,500.
That caused Dong Zhao to meditate for a short while before he finally decided to call the bet, and Tao swiftly tabled his 4♦ 3♥ for trip fours. Zhao mucked, and Tao got an early boost to his starting stack. –MH
1:25pm: Platinum Pass winner Alvan Zheng in the field
Level 1 – Blinds 50/100
Alvan Zheng likes this poker room a lot. He had the best day of his poker career here a month ago when he beat a four-figure field to become the 28th Red Dragon champion. The win also meant we'll be seeing him at the 2019 PCA participating in the PokerStars Players Championship.
Zheng won one of four $30,000 (USD) value Platinum Passes handed out that festival. Another four Platinum Passes will be handed out this week, including one to the winner of this event.
Check out Zhang's winning video below. –MC
1:20pm: Who's here?
Level 1 – Blinds 50/100
As the first hands of the day are being dealt there are more than 60 players already registered and in their seats with more streaming in at a rapid clip.
We're scouting about now looking for familiar faces. So far we've spotted Li Tao, Luc Greenwood, and Aaron Been, all of whom played in the ongoing Super High Roller. Also here at the start is Hong Kong's Raiden Kan, winner of more than $1.1 million in tournament earnings including multiple first-place finishes right here in Macau.
Back shortly with more from the floor. –MH
1:10pm: Shuffle up and deal
Level 1 – Blinds 50/100
The tournament director has given the order to the dealers, and the Asia Pacific Poker Tour Macau Main Event is underway. Players start with 30,000 chips. –MH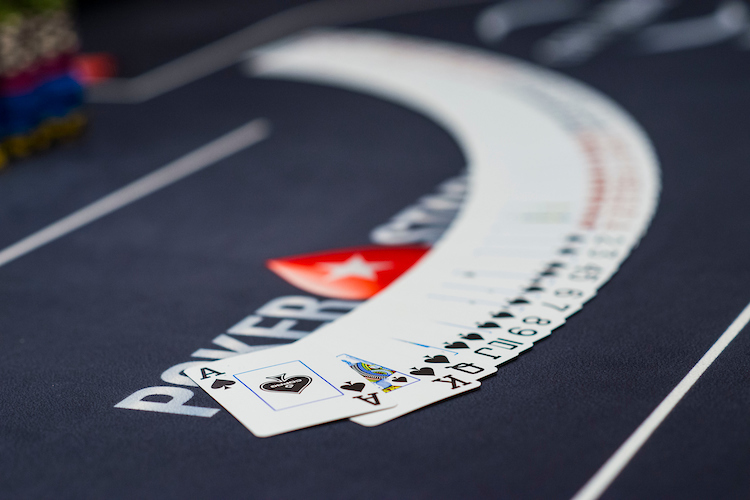 What's in the cards for the APPT Macau Main Event?
---
Don't have a PokerStars account? Getting one couldn't be easier and could mean a trip to the next big PokerStars series. Click here to get started.
---
12pm: Here comes the Main Event!
Hello once more from the Cotai Strip where an exciting day of poker awaits. While the final table of the APPT Macau Super High Roller plays down to a winner, the first of two Day 1 flights of the week-long Main Event also highlights another busy day in the PokerStars LIVE card-room at the City of Dreams.
Last year's Main Event saw the Canadian player Elliot Smith take away the title following a memorably long heads-up battle against China's Terry Tang. For topping the 536-entry field a year ago, Smith earned a first prize worth $2,877,500 in Hong Kong Dollars (equal to about $370K USD).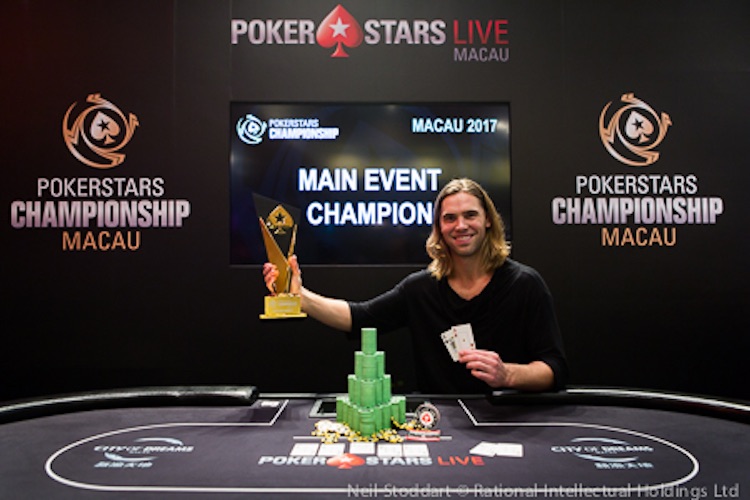 Elliot Smith, last year's Main Event champion in Macau
The buy-in is $40,000 HKD (the equivalent of a bit more than $5,000 USD). Besides collecting the trophy and top cash prize, the winner will receive an added bonus — a PokerStars Players No-Limit Hold'em Championship (PSPC) Platinum Pass worth $30,000 USD.
Players will have a somewhat short day to kick things off. Play begins at 1pm, with the plan for Day 1A calling for six 75-minute levels with 15-minute breaks after Levels 2 and 4. Starting chip stacks are 30,000 with blinds at 50/100 to begin.
Settle in here at PokerStars Blog and starting about an hour from now begin refreshing this page for all the exclusive live updates, photos, videos, and more throughout the week as we find out together who will be the next APPT Macau Main Event champion! –MH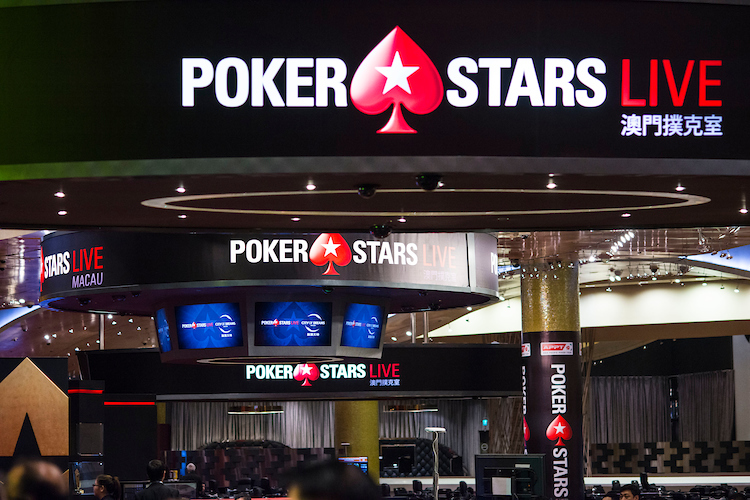 The City of Dreams
---
Download the PokerStars LIVE! app with all tournament information. Available for IOS and Android.
PokerStars Blog reporting team on the $40,000 Main Event: Marc Convey, Martin Harris and Matt Showell. Photography by Joe Giron/PokerPhotoArchive and Long Guan of Kenneth Lim Photography.
Back to Top