If you followed our PCA coverage this year you'll know that anyone who made a final table received a little something extra, a gift from PokerStars. The lucky dip included a drone, a Nintendo Switch and a PS4. You can pick up a PS4 for about £330, which is the same sum that it cost Giuseppe Caridi to enter the PokerStars Festival London Cup. Tonight the 46-year-old Italian beat 328 other players to the title, collecting £18,000 and a $30,000 Platinum Pass, ensuring he'll be heading to The Bahamas in 2019.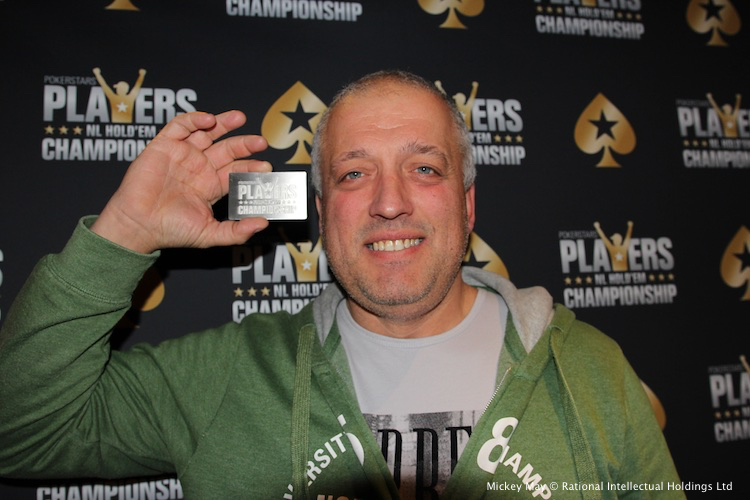 Look what I've won!
"It's an amazing thing, it's a dream of my life. I'm going crazy," said Caridi just moments after the win. It was third time lucky for Caridi when it comes to winning a Platinum Pass having tried and failed in the Italian Poker Open in Campione earlier this month and the Main Event here in London. "I came to London because of the Platinum Pass, it was absolutely the reason I'm here," he addded.
He's been chasing a PokerStars Spade a heck of a time longer though so that makes this victory all the sweeter. Caridi has been playing poker for ten years and has come agonisingly close to winning a Spade in the past. Three times he's been heads-up for a PokerStars title and each time he's lost that flip. So, coming into heads-up play in the PokerStars Festival Cup with the chip lead he was no doubt hoping to seal the deal as quickly as possible. It took two hands. Once the trophy was presented you couldn't get Caridi's two hands off his prize. Or his lips as he gave the trophy a victory kiss.
"I've been chasing a Spade for a while, I'm so super happy," he beamed. You didn't have to ask if the trophy or the money meant more. "Both of them but more the Spade than the money. It's a personal goal achieved after 10 years of playing poker. The trophy will go on a plinth in the middle of my living room along with the Platinum Pass."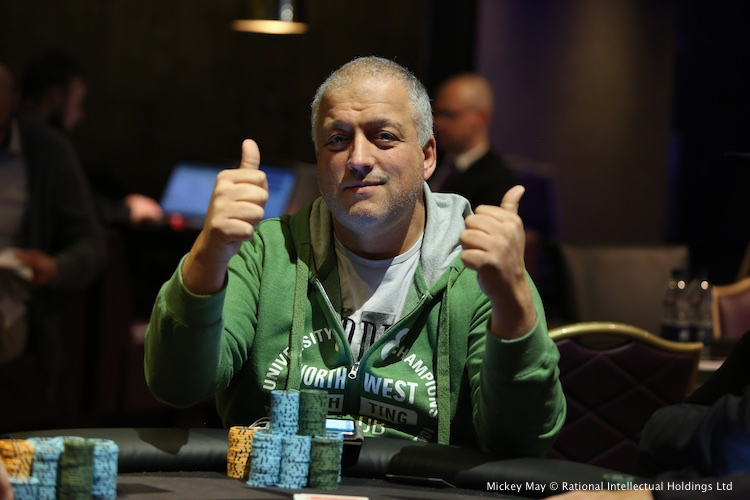 Giuseppe Caridi in action in the Cup
When not playing poker Caridi runs a Drinks distribution company in his home town of Reggio Calabria. He was introduced to poker by fellow Italian poker player Alessandro Minasi and Caridi will be turning to his friend in preparation for the PokerStars Players Championship. "I'm going to get some coaching from Alessandro. Mentally it's going to very tough, it'll be my first high roller. I'm a very instinctive player, I'm going to need coaching in how to remain focused and not be too instinctive or make rash decisions."
It is, though, those instincts and wild and unpredictable style that have helped him punch his ticket to the Bahamas next year, a place that he's visited before but for a vacation rather than a poker tournamemnt. "I was the most aggressive player at the final table and I was able to apply a lot of pressure."
He travelled to London with a group of seven friends and his reputation as a wild and unpredictable player meant that none of his friends – who had all gone to dinner – believed that he had won. Well he had and he'll be heading to the Bahamas in 2019. Congratulations to Giuseppe Caridi, our latest Platinum Pass winner. Want to know how you can win one yourself? Find out more information here.
---
Opening a PokerStars account is easy. Click here to get an account in minutes.
---
Back to Top
Study Poker with
Pokerstars Learn

, practice with the PokerStars app

Try our Free Scholars Leader Board to practice your new skills.
Quick Links
Learn
Practice
Chat with us
Watch and share