There's a lot of tournament choices around the world this week for players so, to be honest, we were not sure just how many would turn up today. Why were we (or just me maybe) worried? An amazing 785 of them emerged from every door, crack and crevice around the Hilton Prague. Add that to the 371 entries from Day 1A and we're already at 1,156 entries, so bravo players. And registration doesn't close until cards are in the air tomorrow.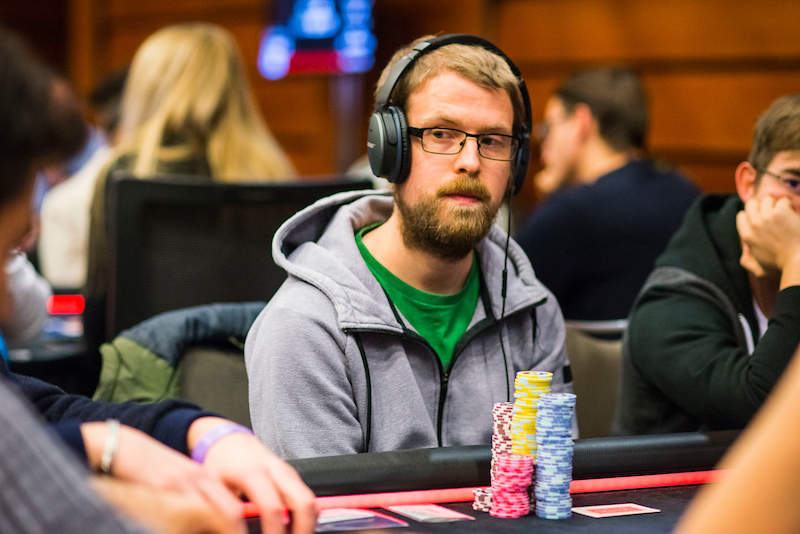 Armin Mette – Day 1B chip leader
Another 10 one-hour levels were played today and by the time they were all rattled through, Armin Mette topped the lot with 280,000. That means that no player managed to pass the 297,400 that John Saralis accrued yesterday, so he'll head into Day 2 as the overall chip leader. Other 200k-plus players heading into Day 2 from today's line up include: Aku Joentausta (276,600) Arthur Conan (275,000), Simon Pedersen (265,400), Laurynas Levinskas (236,300), Mateusz Wozniak (224,000), Arnaud Enselme (213,500) and Victor Choupeaux (208,200). Provisional end of day chip counts can be viewed by clicking here.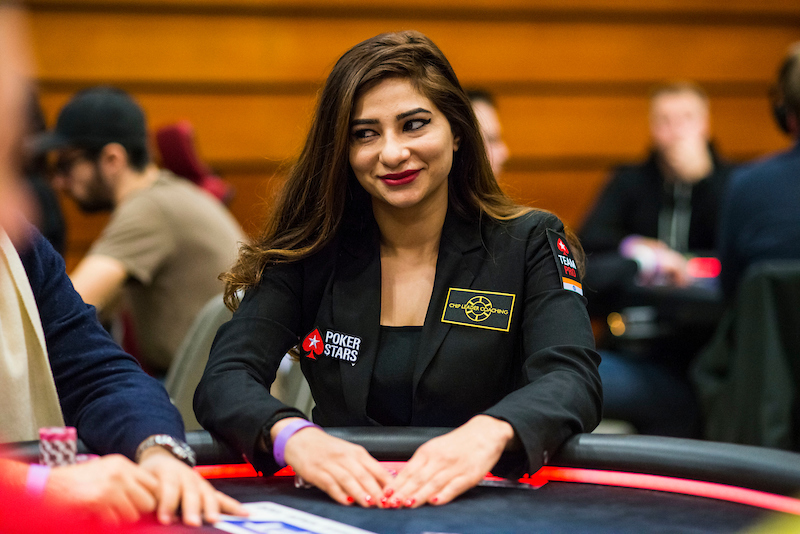 Muskan Sethi through to Day 2
Five players were representing the red spade of PokerStars today and two of them made it through. Muskan Sethi (28,000) and Fatima Moreira De Melo (30,700) both managed to do what Maria Konnikova, Jamie Staples and Jake Cody failed to do. Cody was so close, busting in the last level of the night.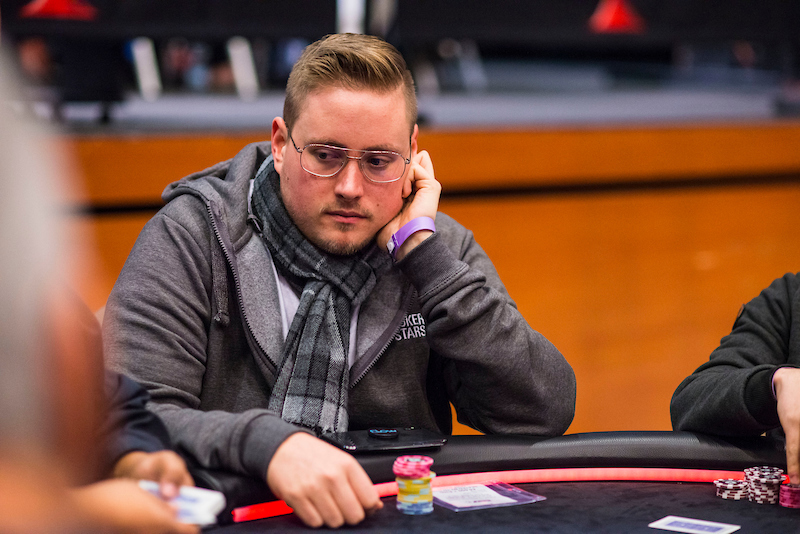 Jaime Staples busted early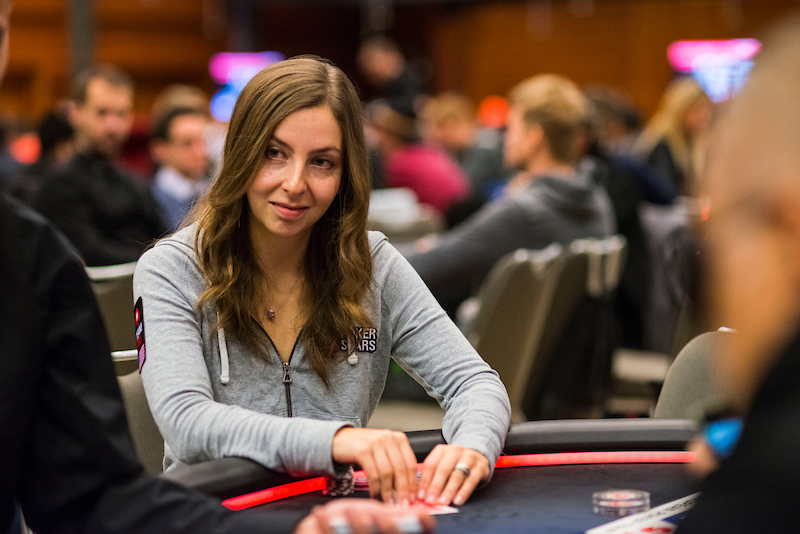 Maria Konnikova has the PSPC to look forward to at least
It was a great sight to see virtually the whole main tournament room filled with Main Event players and there was a festive atmosphere on show all throughout the day. The specific festive spirit of giving was asking a little bit too much though as the competition, as always, was very fierce.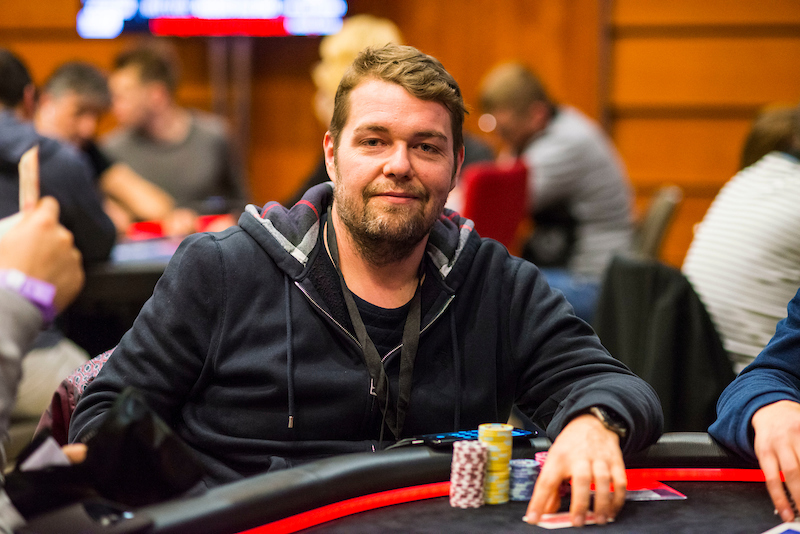 Jason Wheeler happy in life and at the table
Reigning champion Kalidou Sow was back for another shot after busting on Day 1A and spent the whole day just a couple of tables away from Jason Wheeler, whom he defeated heads-up last year. Wheeler lives locally these days and become a father for the first time this year – so having an EPT on his doorstep is a handy thing indeed. Both made it through (Sow, 30,000 and Wheeler, 62,500) so are still in with a chance of making another deep run this time around.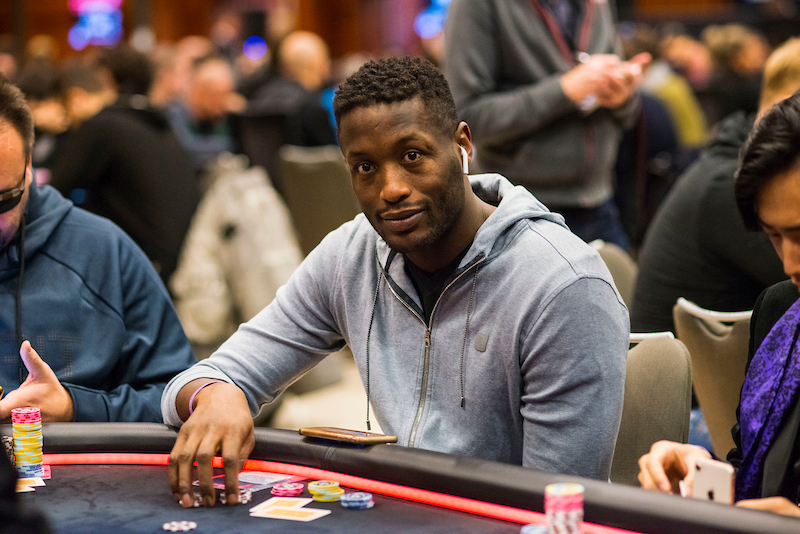 Kalidou Sow – reigning champion
Day 2 gets underway at 12pm CET tomorrow and we move to 90-minutes, with five of them to be played. Be sure to join us back here then make sure you keep warm, it's cold outside. Well it is if you're in Prague! –MC

• CLICK TO REFRESH FOR LATEST UPDATES
• ENTRIES SO FAR: 785 tbc (Day 1A: 371)
• DAY 1B PLAYER LIST | DAY 1A CHIPS
• ALL EPT PRAGUE INFO | TOURNAMENT SCHEDULE
• DOWNLOAD POKERSTARS | Follow @PokerStarsBlog on Twitter
---
12:05am: Last 3 hands
Level 10 – Blinds 600/1,200 (BB ante 1,200)
Just three more hands to play before bagging up commences.
12am: End of the road-y for Cody
Level 10 – Blinds 600/1,200 (BB ante 1,200)
After a long day of poker, PokerStars Team Pro Jake Cody is heading for the exit after two hands against Martynas Vitkauskas. First he ran his A-Q into Vitkauskas's pocket kings, leaving him with just 5,500 chips. Moments later, with the blinds (and big blind ante) looming, Cody jammed under the gun with A♥ 4♥ . Vitkauskas called in the big blind with J♥ 10♥ and got the better of the 3♦ 4♠ 5♣ J♠ K♣ board to take the rest of Cody's chips. –JK
11:55pm: Ruzicka's day is done
Level 10 – Blinds 600/1,200 (BB ante 1,200)
Homegrown hero Vojtech Ruzicka has busted with just half an hour or so to go on the day.
Kees van Brugge had made it 2,500 to go before Ruzicka jammed for 29,600. Van Brugge made the call with 7♣ 7♠ , and it was a flip against Ruzicka's K♣ Q♥ .
The board ran out J♠ 9♦ 4♠ 3♣ A♠ sending Ruzicka home and taking van Brugge up to 62,000. –JS
11:45pm: Last hour big stacks
Level 10 – Blinds 600/1,200 (BB ante 1,200)
Right now it looks like it's going to be a close call at the top of the chip counts. We've got several players hovering around the 230,000 mark.
Cornelis van Gent looks like the front runner with roughly 240,000, followed by Alisa Sibgatova and Daniel Heredi with around 230,000.
Not far behind them are Laurynas Levinskas and Arnaud Enselme with 190,000 a piece. –JS
11:35pm: 60 minutes
Level 10 – Blinds 600/1,200 (BB ante 1,200)
We're now into the last level of the day. –JS
11:30pm: Arthur Conan's foil
Level 9 – Blinds 500/1,000 (BB ante 1,000)
"I always lose! I'm afraid of this," said Haoxiang Wang, and we had to figure out what he was referring to. Luckily, you didn't have to be Sherlock Holmes to decipher that the thing he was afraid of was another raise from Arthur Conan.
The board showed A♠ 10♠ 8♠ and Conan had a bet of 13,500 in front of him. Wang had raised that up to 29,500, and when we arrived Conan looked like he was reaching for chips.
He then plonked down a raise to 65,000, and Wang wasn't happy. He picked up his cards and stared at one of them, then back to the board, then back to his card.
Eventually he'd toss them into the muck.
He looked up to us and with a deflated shrug told us he'd folded a set of eights.
Any detectives out there want to figure out if Conan had a flush?
Wang's still doing well with 125,000 after that one, while Conan's doing better with 187,000. –JS
11:25pm: Talvitie takes it down
Level 9 – Blinds 500/1,000 (BB ante 1,000)
The last time we saw Elias Talvitie, he had won a satellite into the Super High Roller event and enjoyed a wild ride before busting on Day 2. Today he's seated on the stage and up close to three times his starting stack after winning a healthy pot from Gergely Kulcsar.
There was already about 23,000 in the pot with the board reading A♦ 2♦ 5♠ 10♦ , Kulcsar in middle position, and Talvitie on the button. Kulcsar checked and Talvitie bet 14,500, giving Kulcsar something to ponder. Ponder he did, and then he called. The 7♦ fell on the river and both players checked before turning up a pair of aces — Kulcsar with A♣ Q♠ , and Talvitie with A♠ K♥ .
With that, Talvitie climbs to about 80,000, while Kulcsar slips to 42,000. –JK
---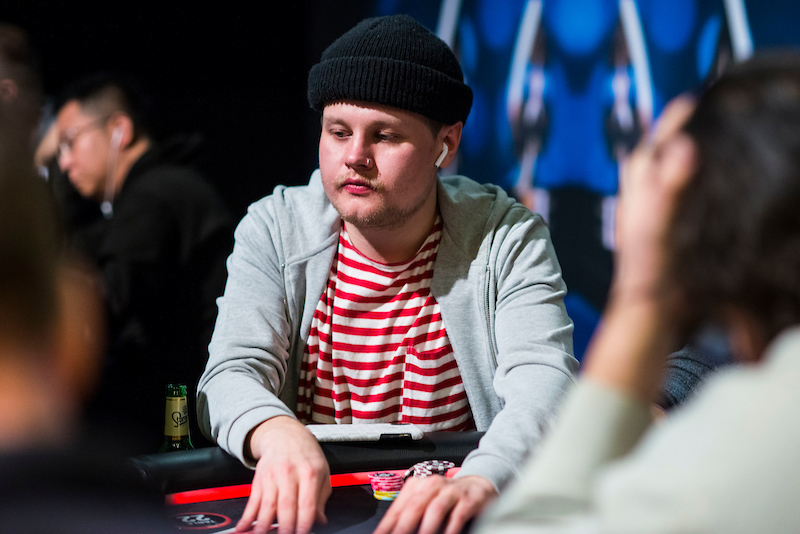 Elias Talvitie: Big Slick is good
---
11:20pm: Da Silva's stack melted
Level 9 – Blinds 500/1,000 (BB ante 1,000)
Sergio Da Silva found a squeeze spot to get his stack in, but it was ill-timed and he busted.
Lucas Reeves opened to 2,500 and was called by the small blind before Da Silva moved all-in. Reeves quickly shoves too and managed to isolate Da Silva.
Da Silva: A♠ 9♣
Reeves: A♥ K♣
The board ran 2♥ 8♥ A♣ 6♦ Q♣ and Reeves scooped the pot after taking the scalp. –MC
11:10pm: The last 40 minutes
Level 9 – Blinds 500/1,000 (BB ante 1,000)
After what felt like an eternity of wandering around the vast poker room only to find "raise and take its" and "c-bet fold" hands, I clocked a table with four players seeing a flop. That had to produce some action, right?
So here it goes.
The flop read Q♥ J♣ 7♠ and it checked over to Wuai-Cheng Tsang (bb). He led out for 3,100 which was called by Sergei Bagirov in the cutoff and Alexey Zakharov on the button, while Marcin Kreft folded out of the small blind.
The 8♥ hit the turn and Tsang didn't slow down, leading out for another 7,800. Bagirov got out of the way, before Zakharov jammed for 44,500. Tsang only had 37,000 behind, and after several minutes of tanking he decided to lay it down.
The very next hand saw Zakharov make it 2,500 from the cutoff, which Kreft three-bet to 7,700 on the button. Call.
After the 5♦ Q♠ 7♦ flop was dealt Kreft continued for 9,800, and now it was Zakharov's turn to tank. A few more minutes passed on the clock before he finally folded.
Here are the counts. –JS
Marcin Kreft – 73,000
Alexey Zakharov – 63,000
Wuai-Cheng Tsang – 37,000
Sergei Bagirov – 40,500
11pm: Bombs away on Table 24
Level 9 – Blinds 500/1,000 (BB ante 1,000)
Sometimes you drop by a table to catch the action and it's all raise-and-take-it. Other times you get what I just watched on Table 24, where the players are bombing the pot with abandon.
The first of three big pots in the span of a single orbit came when Marius Gicovanu opened for 2,500 on the button. Robin Hegele made it 9,300 to go from the small blind, putting the action to Luc Greenwood in the big. Greenwood thought it over for close to a minute and then shoved for around 55,000. Cue two folds and the pot was Greenwood's.
The next hand saw Gicovanu open again, this time for 2,200 in the cutoff seat. Hegele flat-called on the button, as did Greenwood in the small blind, before Michal Janczarski made it 10,000 from the big. Gicovanu and Hegele declined to join in but Greenwood called to take the 8♠ 9♠ 6♣ flop. Both players checked there and on the Q♦ flop as well. Greenwood check-called 8,500 on the 4♦ river and didn't even have to show his hand because Janczarski immediately tossed his hand in to the muck.
Moments later Jack Sinclair opened for 2,000 in early position. Hegele made it 5,700 behind him and then called with his A♥ Q♥ when Sinclair jammed for 23,200. Sinclair's 10♥ 10♠ had the lead and held on through the 6♠ 4♠ K♣ 5♣ K♠ board to give him the double.
After all that, Greenwood is on around 100,000. Sinclair holds 45,000, Janczarski 37,000, and Hegele is hanging on with around 5,000. Meanwhile, we've spotted both Davidi Kitai and Gaelle Baumann leaving the room. –JK
10:55pm: Who Nose how to play jacks?
Level 9 – Blinds 500/1,000 (BB ante 1,000)
Pocket jacks has always been one of the tricker hands to play correctly. What do you do when you have them under the gun and own a 22 big blind stack?
Gen Nose was in that position and decided the best option was to move all-in. Unfortunately for him though, Edgard Raffoul was sat with an even bigger pair a couple of seats along and made the call.
Nose: J♠ J♥
Raffoul: K♦ K♠
The board ran 3♣ 3♦ 7♠ K♣ 2♥ to seal the deal for Raffoul on the turn. He moved up to 90,000 as Nose hit the rail. –MC
10:40pm: Dias finds a dream flop to double
Level 9 – Blinds 500/1,000 (BB ante 1,000)
Rui De Oliveira Dias's tablemates were laughing after the Portuguese player found an amazing flop to lock down a hand and double up. All but Dinesh Alt that is.
Alt and Dias got involved in a preflop raising war that saw Duc call Dias' all-in worth 48,400. They were off to the races as Alt opened J♥ J♠ and Dias A♣ Q♣ . The flop came A♦ A♠ A♥ to make Dias quads! That's some way to close out a hand. The K♦ 3♣ were quickly dealt by the dealer and Alt was left with 70,000 after he paid his dues. –MC
10:22pm: A "fake update" for Ensan's mate
Level 9 – Blinds 500/1,000 (BB ante 1,000)
Before the break I was watching a Will Kassouf hand and scribbling stuff down (Kassouf three-bet Fidan Zahiti 1,900 open to 5,600) when a guy came up to me.
"Are you writing updates?" he asked. I told him I was writing for PokerStars Blog.
"Could you write me a fake update?"
Now, the answer to that normally would be no. But when the Kassouf hand didn't turn into much, I became intrigued.
Turns out this guy didn't really have an idea for this fake post though. He just wanted a photo of him with his friend.
"Who's your friend?" I asked, and he pointed to former EPT Prague champion Hossein Ensan.
So, while the Kassouf vs Zahiti hand was still in progress, photographer Neil Stoddart was on hand to take a quick snap.
Enjoy. –JS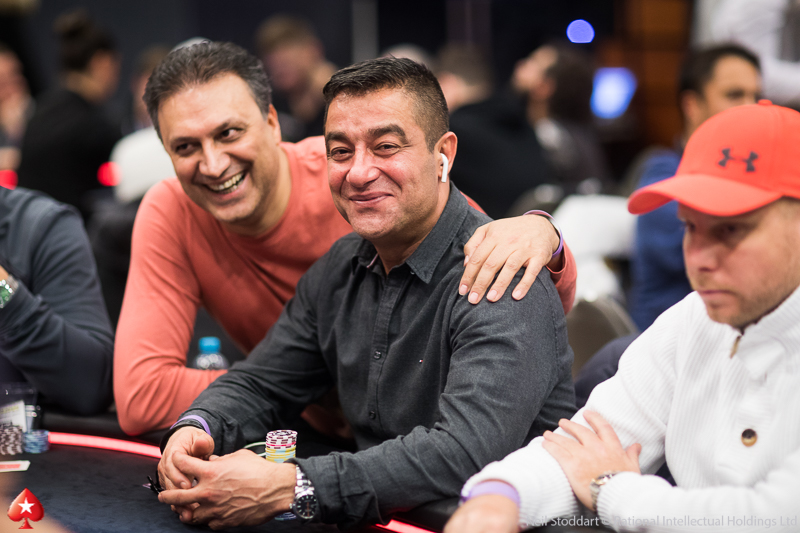 Hossein Ensan (and friend)
10:20pm: Two more levels
Level 9 – Blinds 500/1,000 (BB ante 1,000)
Cards are back in the air. Two hours to go. –JS
10pm: Break time
The players are on their last break of the day. When they return there will be two more levels before play is done. –JS
9:55pm: Cody sends Panyak packing
Level 8 – Blinds 400/800 (BB ante 800)
Jake Cody has been in the same seat all day, and despite several trips to his table we've not been able to catch him in an interesting pot. He busted someone this time around, so we think that's worth mentioning.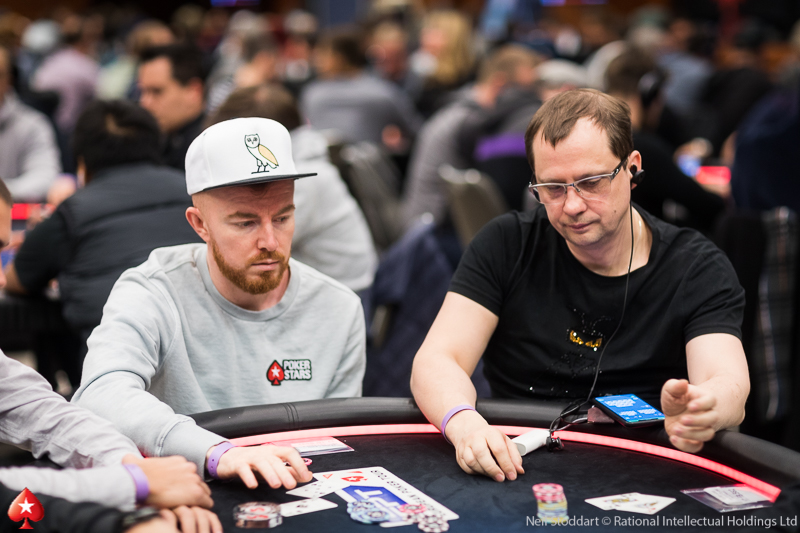 Cody vs Panyak
Action had folded to Cody in the small blind and he limped, only for Panyak to raise the big blind to 2,000. Cody then jammed for 26,500, and Panyak–who had 21,600 total–made the call.
Cody: A♠ 5♠
Panyak: K♥ Q♣
The board ran out 9♥ 2♠ 9♦ 5♥ 4♥ to pair Cody's five and send Panyak out the door. He's up to 48,900 now. –JS
---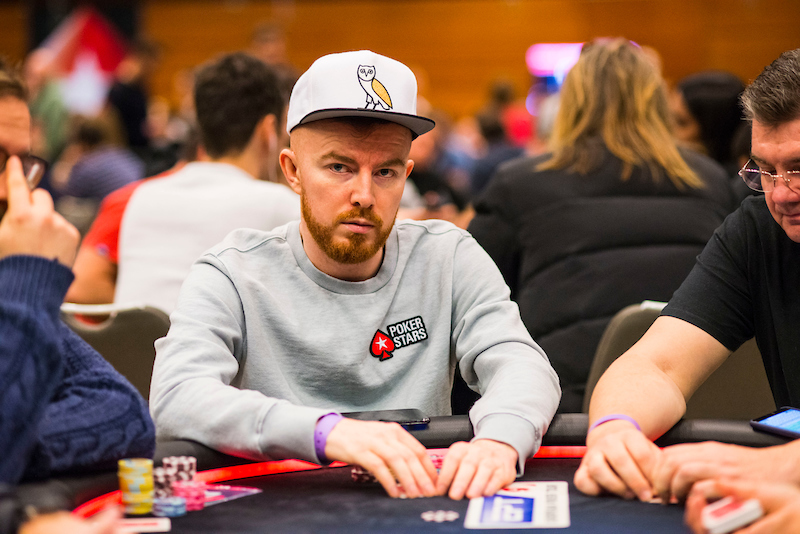 Jake Cody: Pack it up, pack it in, let him begin
---
9:50pm: "Five is good?" Well, it is now!
Level 8 – Blinds 400/800 (BB ante 800)
It's usually not a good idea to show your hand if you can get a player like Davidi Kitai to fold, but sometimes the urge is just too strong to pass up.
We showed up with a 5♠ 2♥ K♣ flop already on the table, about 8,000 chips in the pot, and the aciton having checked around to Kitai in the cutoff seat. Kitai bet 2,700 to clear out the button and small blind; only Sergio Castelluccio joined in from the big blind. They both checked the J♠ turn card, and Castelluccio checked again on the 2♣ river.
Kitai considered his options and then bet 4,100, only to see Castelluccio check-raise all-in for 11,000. Kitai didn't look too happy and tossed his cards into the muck after about 15 seconds, tapping the table. "Five is good?" asked Castelluccio.
Some of his tablemates urged Casteluccio to show his cards, so he turned up the 5♦ — and then, after a little more goading, the A♦ to go with it. Kitai looked downward, shaking his head with a grim smile, seemingly confirming that the Italian had indeed gotten the better of him this time around. Both players are now on around 28,000. –JK
---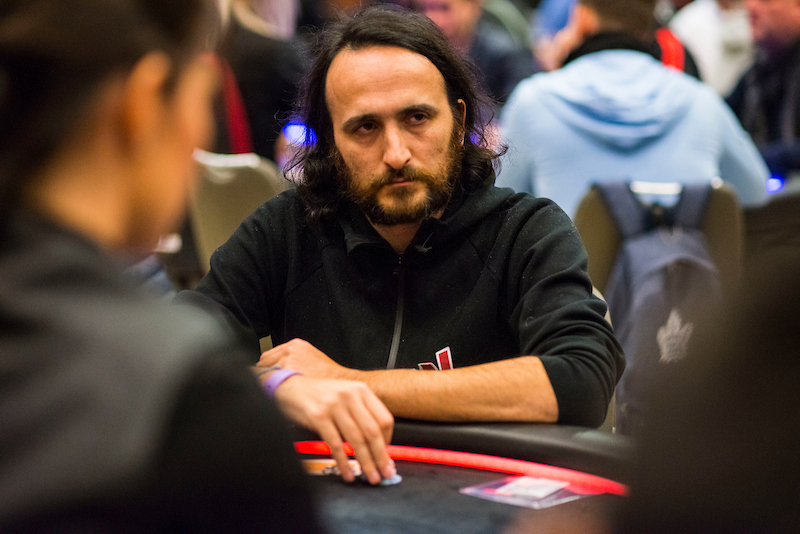 Davidi Kitai: Whatever the result, this is how he reacts
---
9:45pm: Champ on the up
Level 8 – Blinds 400/800 (BB ante 800)
Jeffrey Hakim was in no mood to hang around after he lost a flip to reigning champion Kalidou Sow, despite the latter looking like he wanted to shake the hand of his defeated opponent.
Sow had opened to 2,000 from under the gun and called after Hakim three-bet all-in for 11,800 from middle position.
Sow: A♦ Q♥
Hakim: 9♠ 9♣
The board ran A♥ 6♣ Q♦ 5♣ A♣ to make Sow a full house that put him up to 48,000. –MC
9:35pm: Fatima Watch
Level 8 – Blinds 400/800 (BB ante 800)
A stop by Team Pro Fatima Moreira De Melo's table reveals that she's having a pretty good day. She's sitting on twice the starting stack even after dropping a smallish pot to Hungary's Janos Kurtosi.
De Melo opened the pot for 1,700 in middle position and was the only caller after Kurtosi re-raised to 5,000 in the lojack seat. Then the two of them proceeded to check all the way down to the river of the A♦ K♦ 8♣ 8♥ 5♠ board. De Melo checked one more time and then insta-folded when Kurtosi bet 6,000.
That takes De Melo down to 58,000, while Kurtosi inches upward to 40,000. –JK
---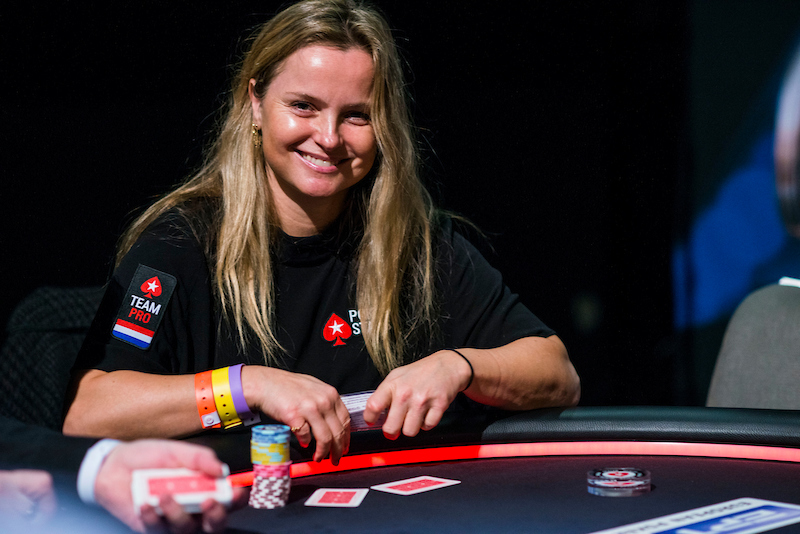 Fatima Moreira De Melo: Having a good day so far
---
9:35pm: Haarstad hits the rail
Level 8 – Blinds 400/800 (BB ante 800)
Thomas Haarstad was happy to see he had live cards when his all-in was called, and he managed to flop a pair, but that wasn't good enough.
He only had 4,000 was he made his move from middle position. Juerg Neuhaus was in the hijack and successfully isolated the Norwegian by reraising to 8,000.
Haarstad: K♦ 10♠
Neuhaus: A♦ Q♦
The board ran Q♥ 2♦ 10♣ 7♠ 7♥ to make the Swiss player the better two pair. Haarstad wished everyone good luck and headed for the exit. The win almost got Neuhaus back to starting stack. –MC
9:20pm: One step forward, two steps back for Kassouf
Level 8 – Blinds 400/800 (BB ante 800)
It feels like every time we see Will Kassouf his stack is fluctuating quite a bit in both directions. That's the sign of an active player.
He was below starting stack at the beginning of this one, and opened it to 1,800 from under the gun. It folded to the hijack who called, before Erkan Karakas three-bet squeezed from the cutoff to 5,200. Kassouf was the only caller, and it went heads-up to the 4♦ 3♠ Q♣ flop. Check check.
The turn was the 3♦ , and Kassouf saw an opportunity. He led out for 7,500 and got Karakas to lay it down, taking his stack up to 33,000. –JS
---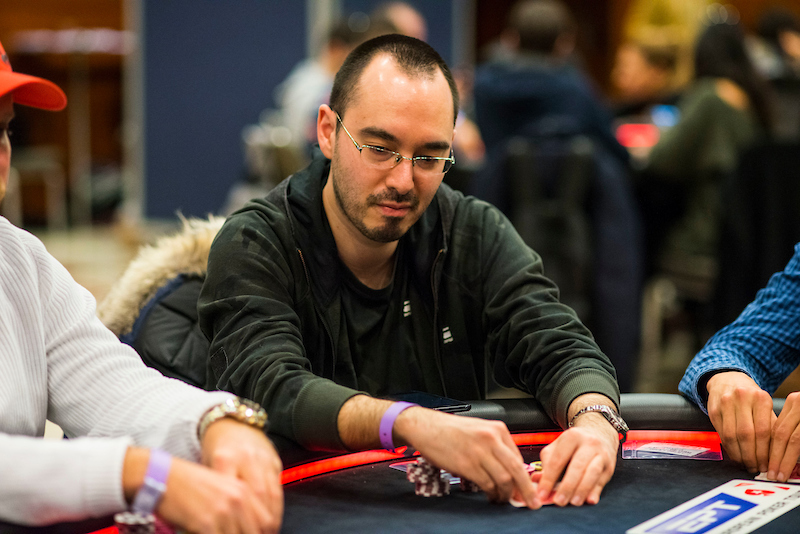 Will Kassouf: Up, down, and up again
---
9:15pm: Geraume drops the hammer on Brammer
Level 8 – Blinds 400/800 (BB ante 800)
It's been a quiet year for Chris "NigDawG" Brammer on the live cashes front, but he did win his first bracelet last year, so nobody could fault him for choosing to focus more on online.
He's here in the field today though, and we just caught him facing a tough decision courtesy of Eric Geraume. There was an A♥ K♠ 6♥ flop already out when we arrived, and Geraume had checked to Brammer. He then led for 6,200, which got a fold from another player before Geraume raised it to 17,000. Call.
The turn was the 2♠ and Geraume piled it in. The shove was for around 50,000, while Brammer only had 42,000 in front of him. He was thinking it over for more than a minute before he opted to let it go.
A hand or two later and Geraume made it 1,800 from early position. Brammer flatted, as did Andy Hills, before Simon Pedersen squeezed it up to 9,500. That got folds from everyone.
Chip counts after all that?
Brammer: 42,000
Geraume: 90,000
Pedersen: 100,000
Hills: 95,000 –JS
---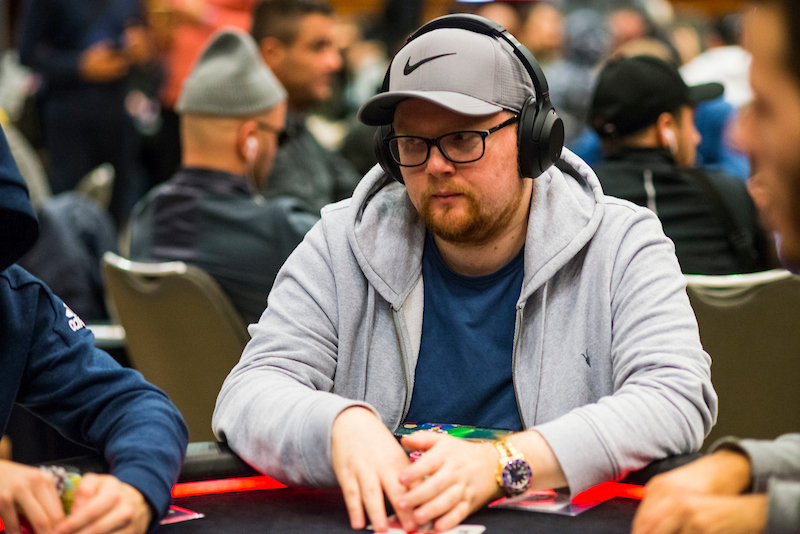 Chris Brammer: Hammer dropped
---
9:05pm: Hero call fail aids Oliveira double
Level 7 – Blinds 300/600 (BB ante 600)
Filipe Oliveira has doubled up to 25,500 after he managed to get Takao Shimizu to call his flop all-in with ace high.
The two players were heads up to a 9♦ 7♥ 5♦ flop where Shimizu bet 2,400 off the button. Oliveira was in the big blind and check-raised all-in for 11,900. His Japanese opponent tank-called with A♥ 6♠ . Oliveira tabled 6♠ 7♠ and survived the J♦ 9♣ turn and river. –MC
8:55pm: Luc "Not Daniel" Greenwood takes down the pot
Level 7 – Blinds 300/600 (BB ante 600)
Juerg Neuhaus just had a run-in with a poker celebrity — well, with a Canadian poker player, anyway.
Neuhaus opened the betting for 1,300 in middle position and Luc Greenwood called from the big blind. Both players checked the 6♣ 9♥ 8♦ flop. Neuhaus led for 1,200 on the 9♠ turn, drawing a call from Greenwood.
The river was where things got interesting. Greenwood thought for a solid 30 seconds before betting 10,000 — well over the size of the pot. That gave Neuhaus something to chew on for a few minutes, but he eventually decided to pass.
"You have the boat?" he asked Greenwood. And then, referencing the big overbet: "Ne-gre-a-nu?"
Almost, but not quite. Greenwood is Canadian — just not that particular Canadian. –JK
---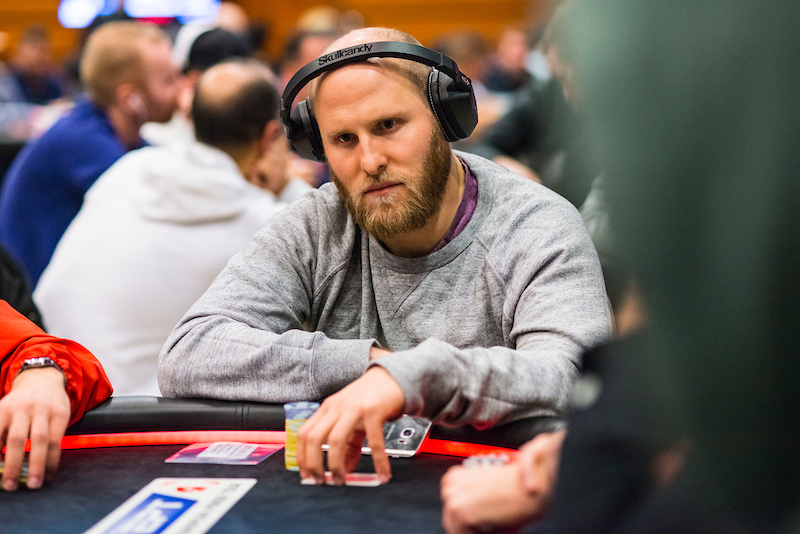 Luc Greenwood: Canadian, but not Daniel
---
8:45pm: Ari on the up and up
Level 7 – Blinds 300/600 (BB ante 600)
Ari Engel is loving life post dinner break. We just witnessed him win three pots on the bounce. A knockout, a three-bet and then a full double-up. It like scoring a hatrick in football with your left foot, right foot and head.
Mykhailo Beilin was down to just 3,100 when he made his move with 5♥ 6♥ from the hijack. Engel called from the small blind with A♥ J♥ and improved as the board ran 8♣ Q♥ 9♠ A♠ K♣ .
The next hand he successfully three-bet an opponent off a hand preflop.
One hand later he opened from the cutoff and Andrija Robovic peeled from the big blind to see a 6♠ 4♣ J♣ flop. Engel continued for 1,800 and was check-called. The 10♠ turn lit the fireworks as Robovic check-raised Engel's 5,200 bet all-in. Engel wasted little time is calling all-in for 24,800 with Q♣ Q♥ . Robovic had a draw to the world with K♣ 9♣ but whiffed on the 5♠ . –MC
---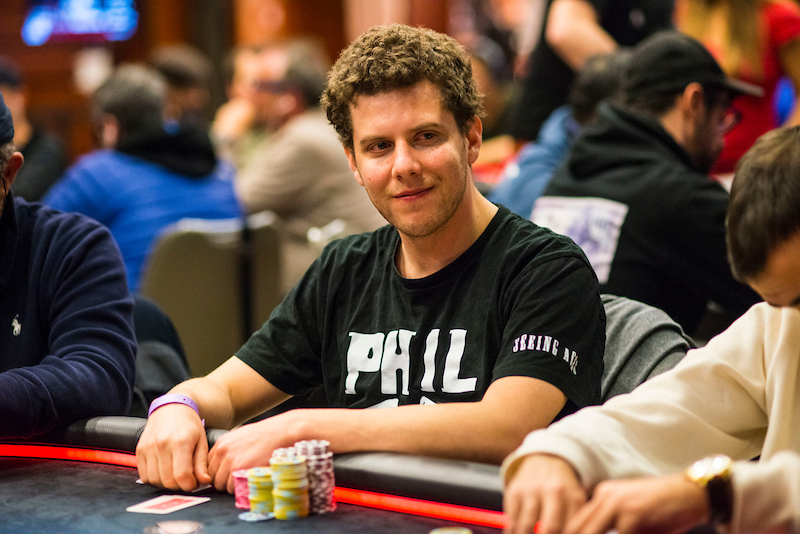 Ari Engel: on fire
---
8:35pm: The king and three queens
Level 7 – Blinds 300/600 (BB ante 600)
Matthieu Lamagnere's face after this hand said it all.
Yuck.
He'd opened to 1,300 on the button and Ana Marquez defended her big blind to bring a Q♥ 3♥ Q♣ flop. Both decided to check the paired board, and the dealer burned and turned the 6♦ .
Marquez checked to the raiser once again and Lamagnere made a delayed c-bet of 1,000. Marquez had a plan though, check-raising to 3,500 which was called.
An innocent looking 2♠ landed on the river and now Marquez bet big, making it 10,000. Lamagnere didn't like it, but felt he had to call with his Q♠ J♣ . His instinct was right as Marquez showed K♥ Q♦ for a better kicker with her trips.
Mark this one down as a cooler. Lamagnere drops to 21,000, while Marquez is up to 41,000 now. –JS
---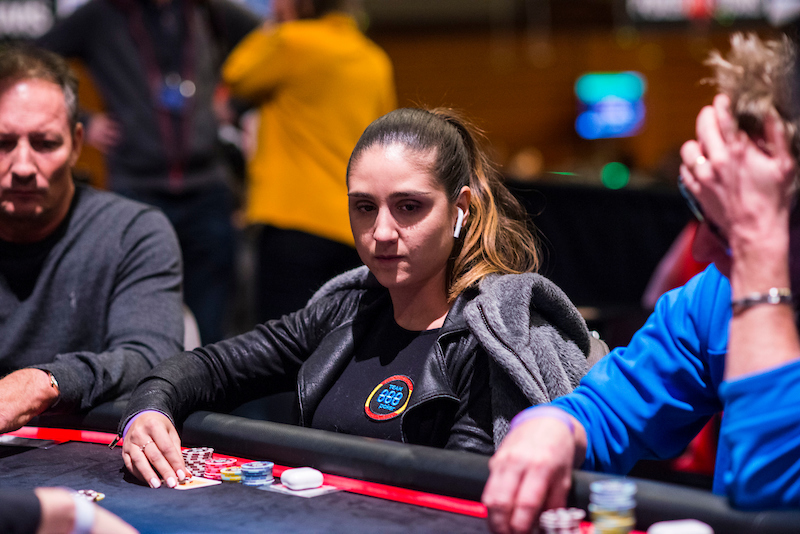 Ana Marquez: Cool as ice
---
8:25pm: Sperling rockets past Da Silva E Sousa
Level 7 – Blinds 300/600 (BB ante 600)
Germany's Fabio Sperling just picked up a nice pot via a huge overbet on the river.
We showed up to the table with the full 3♣ 8♣ J♠ Q♠ 6♦ board already dealt and only Sperling and Rui Miguel Nogueira Da Silva E Sousa left in the hand. Da Silva E Sousa had checked to his German opponent, who moved all-in for 34,700 — more than double what was already in the pot. Da Silva E Sousa agonized over his decision for a good two minutes before deciding on a call and tabling his 9♠ 9♥ . Unfortunately for him, Sperling showed A♥ A♣ to take down the pot and climb to around 70,000.
Da Silva E Sousa stood to leave but it turned that he had Sperling covered by 3,000 chips. Not an ideal situation to be sure, but on the bright side at least his decision making will be simplified from here on out. –JK
---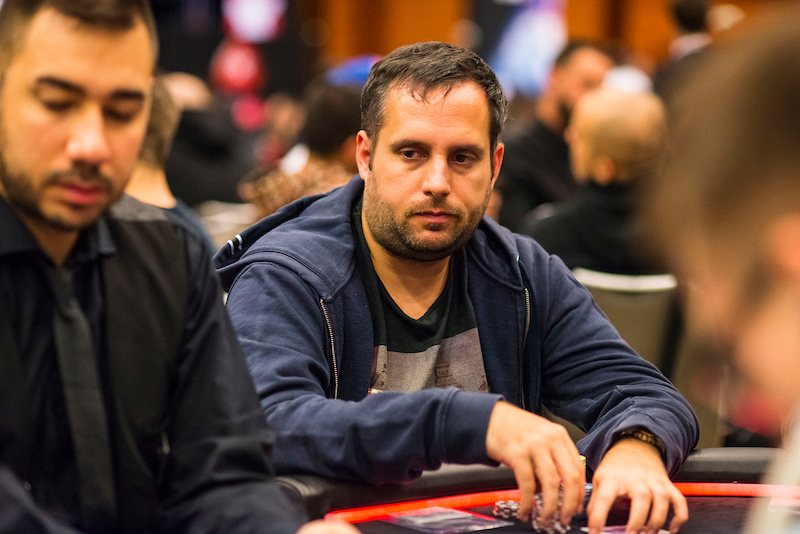 Fabio Sperling: Rocket man
---
8:20pm: One win, one loss for Dedusha
Level 7 – Blinds 300/600 (BB ante 600)
Artan Dedusha doesn't seem to like folding very much. We witnessed him playing two hands in a row where he was in no mood to fold. He won the small pot but lost the big one to settle on 39,000 after the dust settled.
Former UKIPT champion Kevin Killeen opened to 1,500 from the cutoff and Dedusha defended his big blind. The flop fanned J♦ 6♦ K♣ and Dedusha check-called 1,200 before the 10♠ J♠ turn and river where checked through. Dedusha opened 6♠ 7♠ and Killeen mucked to drop to 27,000.
The very next hand Dedusha three-bet to 4,300 after a cutoff open to 1,700 from Josef Huber. The latter called and soon faced a 4,600 c-bet from Dedusha on an A♦ 6♥ 9♠ flop. Huber clicked it to 9,200 and was called. His 11,900 bet on the J♣ turn was also check-called by Dedusha before the 7♥ river was checked through. Dedusha opened Q♥ Q♦ but lost out to Huber's A♠ Q♠ . Huber rose to 105,000. –MC
8:10pm: Not Sow easy
Level 7 – Blinds 300/600 (BB ante 600)
Defending champ Kalidou Sow is by no means having an easy time of it here today. We don't know what Rafal Nikiel had for dinner, but whatever it was he's come back from the break fighting for Sow's chips.
Picking up the action on a Q♦ K♣ 2♣ flop, there was 13,000 in the pot already when we arrived. Nikiel led out for 11,000 and Sow made the call, bringing the Q♠ turn. Nikiel then shoved for 31,500, and this forced Sow into the tank. The Frenchman only had 30,000 behind, so it was he who was at risk.
He thought. He thought some more.
Sow picked his cards in the air, flashing the A♠ . It became clear he was folding when he showed Nikiel the K♥ to go with it.
Nikiel quickly and proudly flipped the 9♠ 9♣ for what was essentially a bluff, and immediately put his fist up for Sow to bump it (they're sat right next to each other). Sow obliged, always with a smile, but he'll be hurting a little inside after that pot.
Sow's back to starting stack, while Nikiel is up to 74,500 now. –JS
---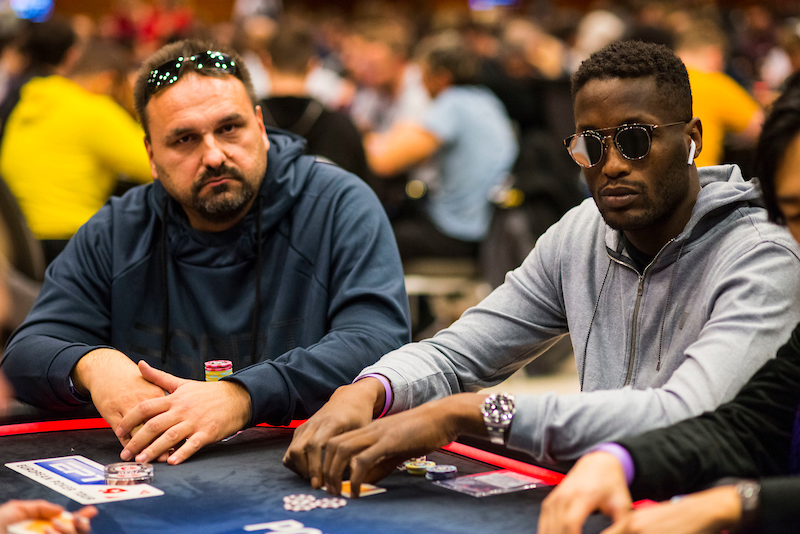 Kalidou Sow: back to square one
---
8pm: Back to it
Level 7 – Blinds 300/600 (BB ante 600)
We're full of schnitzel, but we're back and ready to work. Luckily for us so are the players, for four more 60-minute levels. –JS
---
6:50pm: Chips for dinner
Level 6 – Blinds 200/500 (BB ante 500)
Players are heading off on their 75-minute dinner break, and the biggest stacks in the room seem to be with these people.
Georgios Karakousis – 160,000
Alexandru Papazian – 130,000
Mateusz Wozniak – 125,000
Nikita Bochkin – 105,000
Denis Karakashi – 105,000
There are 723 now entered for today, including 105 re-entries, with 532 players still with chips. It kind of goes without saying that there is still a long, long way to go.
---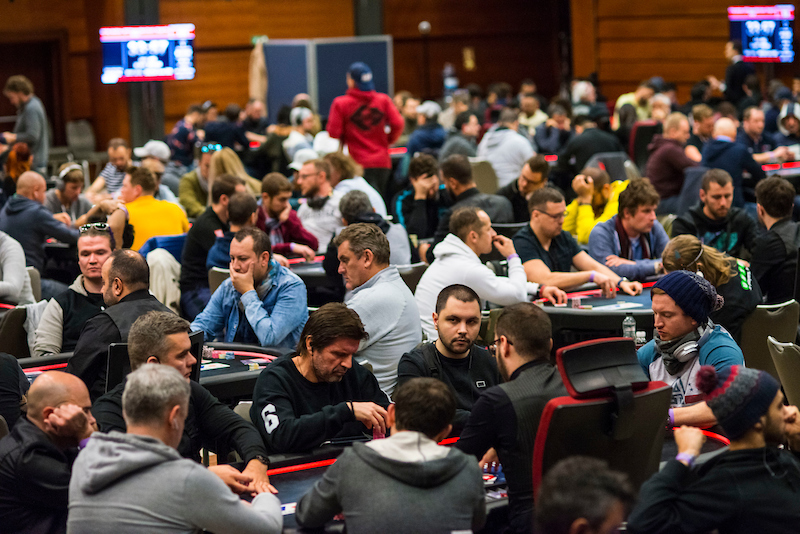 Tournament area at EPT Prague
---
But time to take a break and join us again at about 8pm. — HS
6:45pm: Robovic and Engel tangle
Level 6 – Blinds 200/500 (BB ante 500)
Once upon a time, just a couple of minutes ago, actually, Ari Engel and Andrija Robovic played a big pot and I'm here to tell you how it ended. I can tell you some of the middle, too, but if you want the beginning you'll have to ask them about it.
Picking up the story on the turn, the board was showing Q♦ 3♦ K♥ 7♠ . Robovic had pushed all in over an Engel bet, and the latter called. Engel turned over 3♣ 3♥ to show he'd flopped a set, but Robovic tabled 7♣ 7♦ to reveal he'd spiked a better one on the turn.
The Q♥ river kept Robovic in front, and now he sits with about 115,000 with the dinner break close while Engel slips to 22,000.
The end. –MH
6:40pm: Ladouceur doubles
Level 6 – Blinds 200/500 (BB ante 500)
The Canadian Marc-Andre Ladouceur just doubled through Sohayl Fjer of Morocco. Fjer had raised to 1,200, then Ladouceur reraise-pushed his 7,700-chip stack over that and Fjer called.
Ladouceur's A♣ Q♣ was ahead of Fjer's A♥ J♠ both before and after the K♠ 6♥ A♦ 9♣ 2♣ board, and now both players are right around the same 16,000-17,000 stack. –MH
---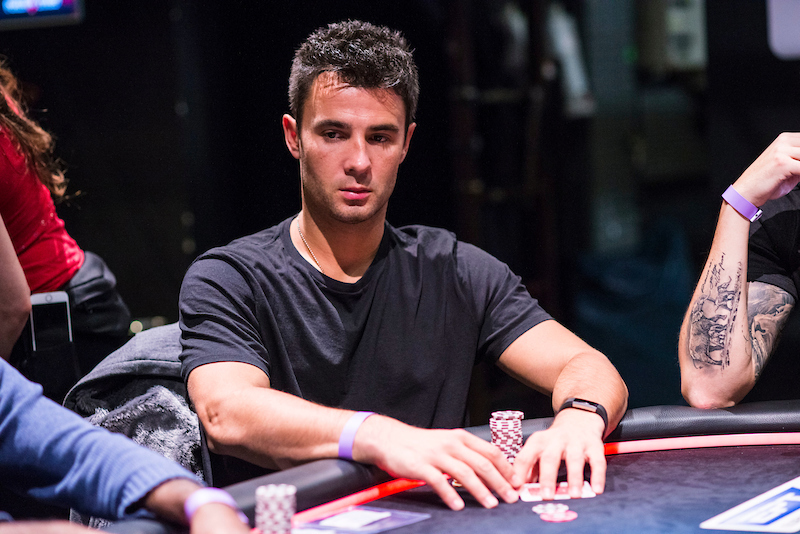 Marc-Andre Ladouceur: Good time for a double
---
6:35pm: Pavlos ruins the party
Level 6 – Blinds 200/500 (BB ante 500)
Former EPT Prague champion Hossein Ensan opened to 1,100 under the gun, and he picked up a caller in Will Kassouf. This hand was shaping up nicely. I didn't even have to learn any new names.
Then Xanthopoulos Pavlos had to go and ruin it.
He jammed on the button for 8,900, and while Ensan folded quickly (leaving himself with 86,000), Kassouf seemed interested. He'd end up letting it go though (leaving himself with 52,000), and my blog post was ruined.
What am I going to write about now? –JS
6:30pm: Nod of approval from Jorgensen
Level 6 – Blinds 200/500 (BB ante 500)
Theo Jorgensen lost the last hand before his table broke, meaning he'll take 22,000 battling chips to his new table.
---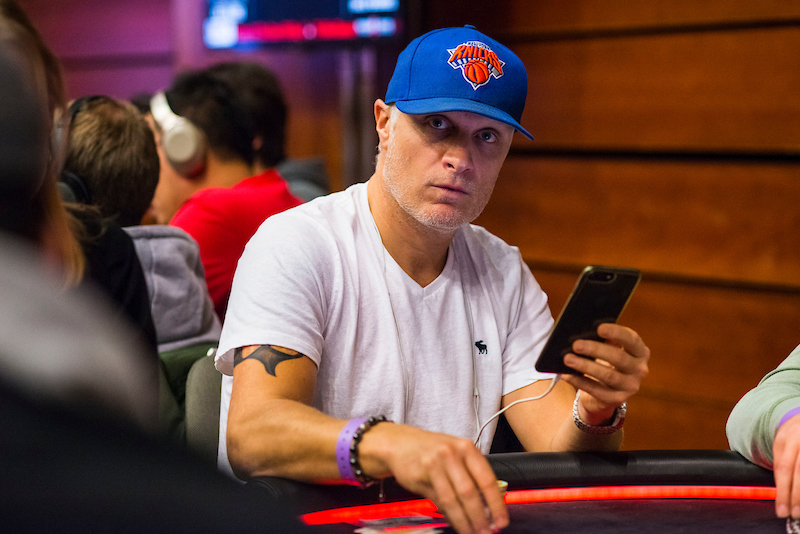 Theo Jorgensen: 22,000 and table move
---
The Danish poker legend was in the big blind and check-called a 3,900 button bet from Mamouni Smain. The final board rested as 5♠ Q♠ 3♣ 4♣ 3♥ and Jorgensen check-called another 5,200. Smain opened 7♣ 6♣ for a turned straight and Jorgensen slowly nodded before mucking his hand. That tidy pot win saw Smain move into six figures with 108,000. –MC
6:25pm: Big slick fails Makaci
Level 6 – Blinds 200/500 (BB ante 500)
Franck Makaci got all of his stack in the middle preflop versus Denis Karakashi, and when the cards were flipped over it appeared he certainly got them in good.
Makaci: A♠ K♦
Karakashi: A♦ J♠
The flop of 8♣ 10♠ 4♣ kept Makaci in front, but the J♥ turn caused him to throw his hands up in the air in the universal gesture of yougottabekiddingmegetouttaherewiththat.
The J♦ pleased him just as little, and Makaci departed. Meanwhile Karakashi is pleased to be up to 75,000 now. –MH
6:20pm: A good week for Boski
Level 6 – Blinds 200/500 (BB ante 500)
Aleksander Da Silva Boski is enjoying a good week here in Prague. The Portuguese player cashed in 31st place for €8,930 in the EPT National a few days ago — his sixth live cash in the last month — and then qualified for this Main Event by winning a live satellite. And now for good measure he's gone and taken a pot from a player who has made a WSOP Main Event final table.
The action folded around to the button, where Jack Sinclair made it 1,200 to go. Boski called in the big blind to see the J♥ Q♠ 2♥ flop, then check-called 2,000 from Sinclair to bring the 3♠ on the turn. Boski checked again, and this time Sinclair followed suit behind him.
The 7♠ fell on the river and Boski took about 30 seconds before betting 8,400. Sinclair considered his situation briefly but then let his hand go, ceding the pot to Boski.
Boski is back up to his starting stack of 30,000 with that win, while Sinclair slides a bit to 30,000. –JK
6:15pm: Boyaciyan puts his faith in a fold
Level 6 – Blinds 200/500 (BB ante 500)
David Boyaciyan, under the gun, opened for 1,200 then waited, thumbing the rosary he had in his hand.
The action was folded around to the big blind where Serhii Holodiuk was sitting. He called. They saw a flop. It came: 10♣ Q♣ 3♥
Holodiuk checked. Boyaciyan bet 1,400. Holodiuk called. Now the 6♠ turn card.
No change from Holodiuk. And no change from Boyaciyan. He bet 3,800 this time, which was called once more. More rosary action now. Now the 5♠ on the river.
Again Holodiuk checked to Boyaciyan who this time made it 6,900.
---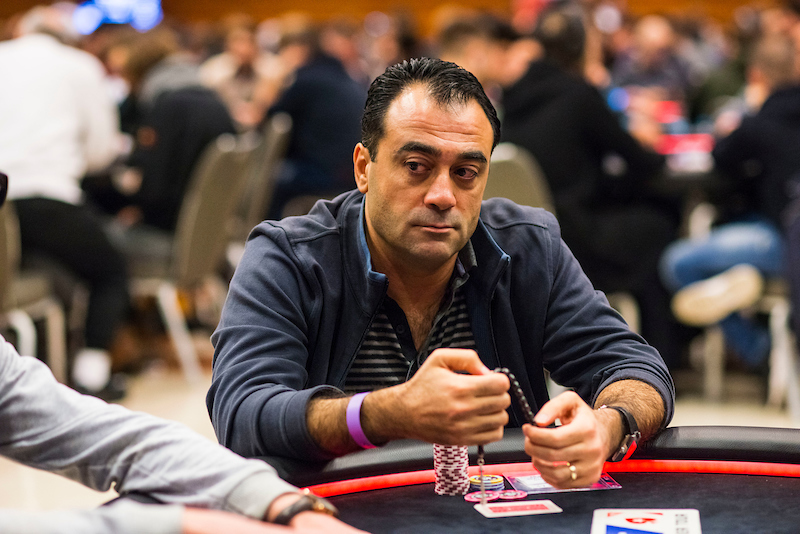 David Boyaciyan: Seeking divine intervention
---
Holodiuk didn't do anything right away. Boyaciyan sat with his rosary, leaving Holodiuk to tangle with the difficult choices. What he couldn't be sure of was that Boyaciyan wanted him to fold.
He did. Boyaciyan tapped the table and reluctantly turned over J♠ 8♠
Holodiuk looked closely, then turned over his own Q♦ 3♦ . A winner.
"Thank you," he said. It was hard to tell if he was being ironic. – SB
6:10pm: Toughening up
Level 6 – Blinds 200/500 (BB ante 500)
The tournament just got a little tougher with the introduction just into Level 6 of these two. (That's Luc Greenwood and Theo Jorgensen, in case you didn't know.)
---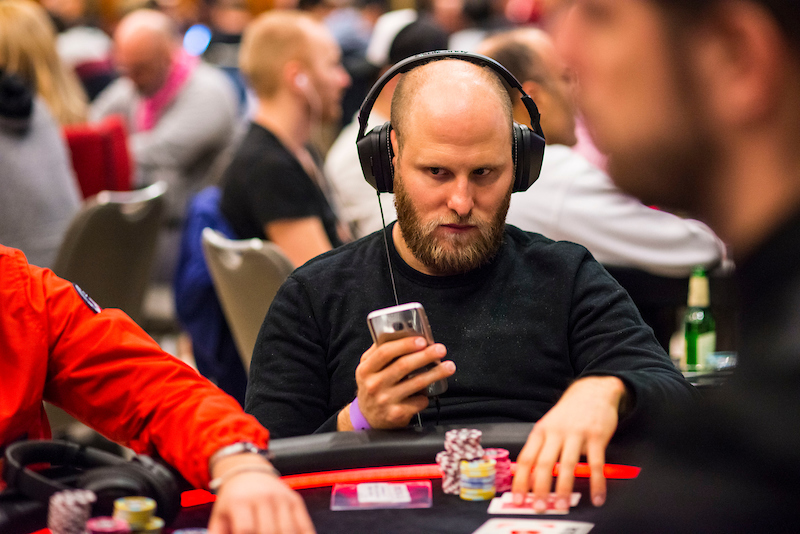 Luc Greenwood: New arrival No 1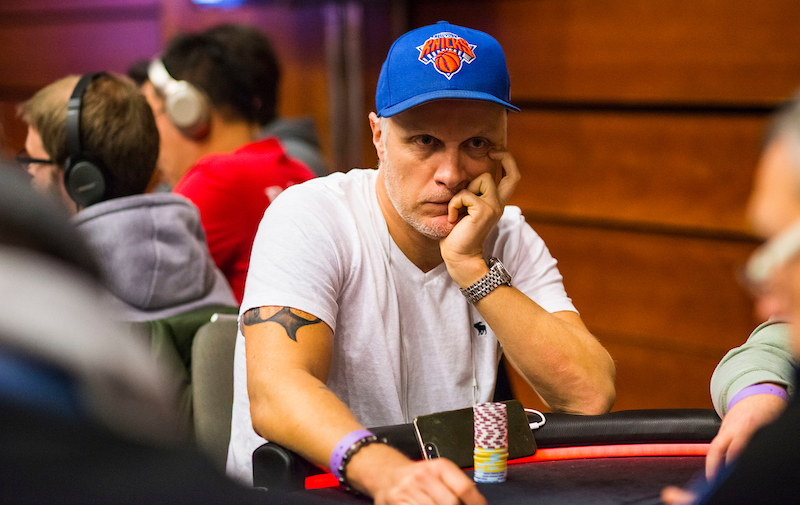 Theo Jorgensen: New arrival No 2
6:05pm: Float like a butterfly, sting like a ten on the flop
Level 6 – Blinds 200/500 (BB ante 500)
Chris Brammer made it 1,000 from early position and it folded around to Denmark's Simon Pedersen. He three-bet to 3,500, and a player then shoved instantly for 8,900. Brammer folded, Pedersen got a count, then made the call.
The all-in and at-risk player had 4♠ 4♥ and was up against Pedersen's Q♦ 10♦ , which moved into the lead on the 8♣ 10♥ 5♠ flop, remaining there after the Q♠ turn and 6♥ river.
When the busted player had gone, I began doing the rounds: collecting chip counts, and finding out names.
First I grabbed Pedersen's, then Maria Konnikova — who was sat in between the two — pointed me towards the other guy's ID card.
"This one is more fun," she said. "Muhammad Ali!"
Konnikova wasn't joking. Pedersen had just knocked out Muhammad Ali.
He's up to 47,000 now, while Brammer has 52,500 and Konnikova has 24,500.
For now the gloves are off for Ali. Will he make a triumphant return to the ring? –JS
6pm: My high card's better than yours
Level 6 – Blinds 200/500 (BB ante 500)
Tamer Kamel has moved up to 53,000 after he won a battle of the high cards versus Polish neighbour Wlodzimierz Laczkowski.
Laczkowski opened to 1,000 from early position and was three-bet to 2,900 by Kamel in the hijack. Laczkowski was the only caller and both players checked the 8♥ 4♦ 9♠ flop. The turn was the 3♦ and Laczkowski check-snap-called a 3,200 bet from Kamel before both went back to checking on the 7♥ river.
Laczkowski opened K♦ J♦ for a busted flush draw and dropped down to 19,000 after he was shown A♦ J♣ by Kamel. –MC
5:55pm: Andler keeps adding
Level 5 – Blinds 200/400 (BB ante 400)
Christopher Andler's bright orange cap stands out like a beacon amid the sea of players over on his side of the room. His chip stack is standing out, too, right now.
After a raise before him, Andler re-raised to 4,800, watched the player to his left three-bet to 13,700, then when it folded back to Andler he paused a few beats and jammed all-in for what was determined to be 91,300 total. A half-minute later his lone remaining opponent stepped aside, and Andler added still more to his stack.
---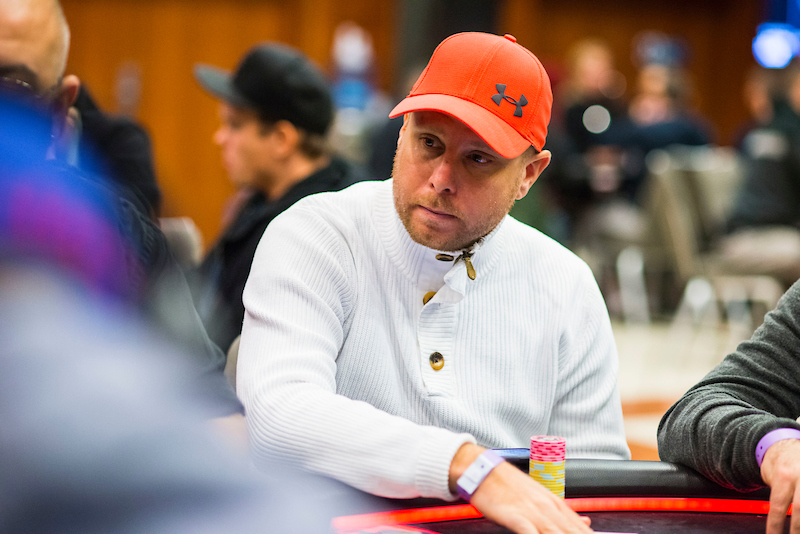 Christopher Andler: Standing out from the crowd
---
Andler is up over 100,000 now, which as much as we've seen anyone have so far today. –MH
5:50pm: Koleno's turn for aces
Level 5 – Blinds 200/400 (BB ante 400)
We all know that poker cards are dealt out randomly. But when a pattern of good cards emerges at a table, even the most rational of players can get their hopes up.
Arriving at Andy Black's table, he was all-in for 14,600 with A♦ A♠ against Murat Kilicsaymaz's Q♠ Q♥ . The K♦ J♦ 8♣ 7♦ 8♠ board secured him the double up.
---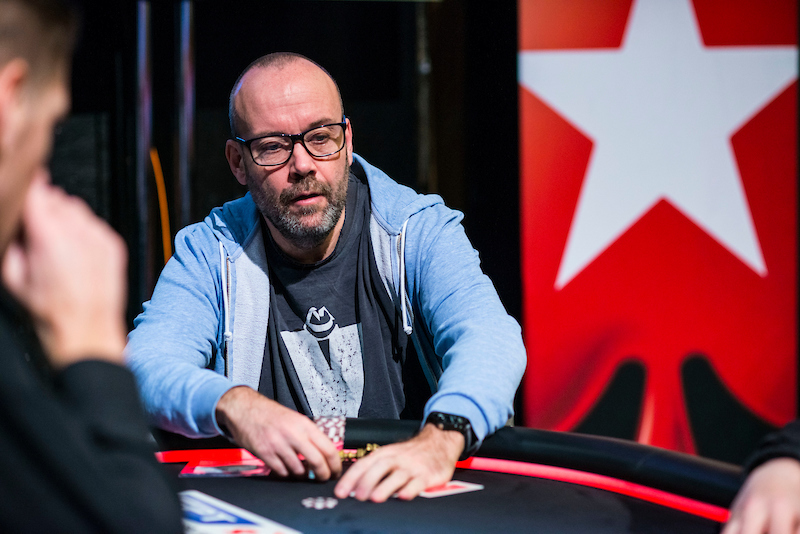 Double up for Andy Black
---
In the very next hand, the excellently named Thorben Vellrath (sat on Black's right) opened under the gun and then snap-called a 5,400 button shove from Jose Uguet, who held 6♠ 6♣ . Vellrath revealed he was now the one with pocket aces, and not just any two. The A♦ A♠ – exactly the same suits that Black held.
Aces held again to eliminate Uguet, and if we were Stanislav Koleno – the player on Vellrath's right – you better believe our hopes would be up. The same two aces were surely making their way around the table anti-clockwise, right?
It was Koleno's turn.
There was an early position open and it folded around to Koleno in the small blind. He peeled back one card, then two cards, then…folded, with a sigh.
Oh.
Koleno breaks the pattern and will have to find another way to increase his 23,000. Meanwhile, Vellrath now has 33,000 and Black is up to 31,000. –JS
5:45pm: Andreev can't call with jacks
Level 5 – Blinds 200/400 (BB ante 400)
Checking back in on Andrey Andreev just now, he was involved in a battle over a decent-sized pot with Jonathan Roy. The pair had built a pot of more than 50,000 by the time the river fell, and judging by how things turned out, Andreev didn't much care for the card that came on fifth street. Then again, the other four cards might have bothered him, too.
The board showed 3♦ 5♦ 3♣ 5♣ Q♥ , and Roy had pushed all-in with his last 30,000 or so, an amount representing close to what Andreev had behind. As Roy sat motionlessly with his hand over his mouth, Andreev looked at him and back at his cards a couple of times, then after about a minute folded them face up — J♠ J♣ — with a "what-can-you-do" look as he did.
Roy bumps up to 88,000 now, while Andreev preserves his 35,000. –MH
5:40pm: King David banishes Abinakle
Level 5 – Blinds 200/400 (BB ante 400)
Mark Abinakle tried a back shove but it was ill-timed and he hit the rail.
He opened from the cutoff before David Elyashar three-bet to 2,500 from the small blind. The big blind called and then Abinakle, with the action back on him, jammed for 19,000. Elyashar then shoved and forced the big blind into folding.
Elyashar: K♠ K♦
Abinakle: 9♦ 9♣
The board ran a blank 10♦ 4♥ 3♦ 8♠ Q♣ and Elyashar moved up to around 60,000. –MC
5:35pm: Muehloecker runs kings into aces
Level 5 – Blinds 200/400 (BB ante 400)
Thomas Muehloecker is out.
He shoved with K♠ K♦ but the player next to him on the button had A♠ A♣ .
The board was dealt, with a running commentary provided by a player at the other end of the table who would later admit to folding a king.
10♠ 3♣ Q♦ Q♣ 2♥
Game over for Muehloecker. – SB
5:30pm: Kabrhel in town
Level 5 – Blinds 200/400 (BB ante 400)
Martin Kabrhel sat down just after the break and had the clock called on him on the very first hand. Apparently his opponent said he had played with Kabrhel before and wasn't having any of the Czech No 1's insistence that he was just trying to figure out what the blinds were. — HS
---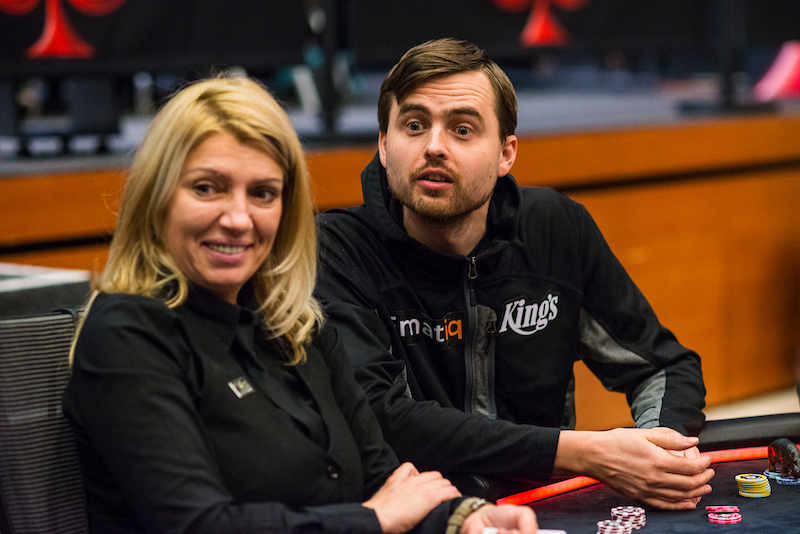 Martin Kabrhel: Into squabbles straight away
---
5:25pm: Konnikova stacked, will be back
Level 5 – Blinds 200/400 (BB ante 400)
By the middle of the fifth level, Maria Konnikova was down to a short stack, and just now she lost the last of that to Samy Ouellani. But her tournament isn't over yet, as the 2018 PokerStars Caribbean Adventure PCA National champion has already indicated she'll be back in with her one re-entry. –MH
5:20pm: When a check doesn't look like a check
Level 5 – Blinds 200/400 (BB ante 400)
As a tournament reporter, there are days when all you need to do is walk up to a random table to find a hand worth writing about. Then there are others where you can wander the room for half an hour and watch everybody fold the second you start show up. For me, at least, today is one of the latter.
In these sort of situations, any kind of action is worth noting because it can develop into something notable. It looked like that might be happening in an otherwise unremarkable pot on Maria Konnikova's table a few moments ago, after she limped from the small blind and then checked it all the way to a river with Erkan Karakas, in the big blind. The board was Q♣ A♦ 2♥ 7♥ J♣ .
---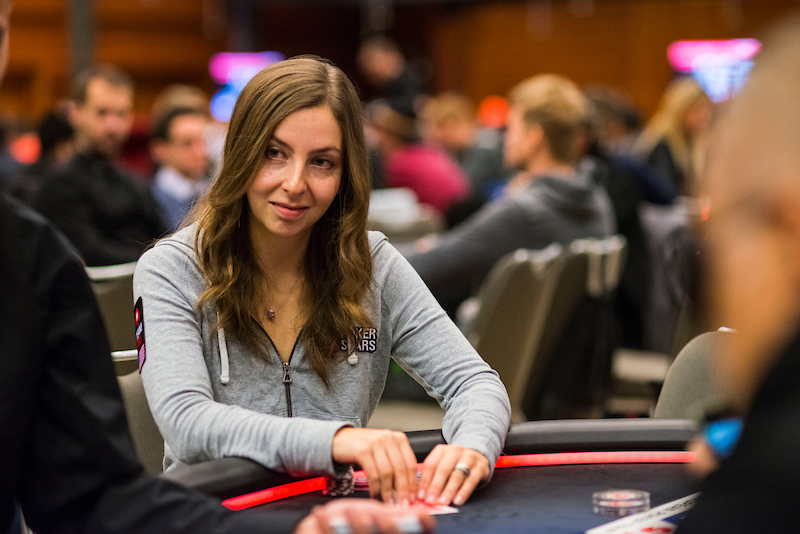 Maria Konnikova: Checking in, checking out
---
Given the action up to that point, another check-check and showdown looked likely. And yet, after more than a minute, that still hadn't happened. Konnikova stared forward at the board and sipped her coffee. Karakas kept his eyes cast downward, occasionally darting them toward his opponent and then back again. Finally he asked, "Did you check?"
"Oh yes, I checked right away!" Konnikova replied.
"The dealer didn't announce it so I didn't realize," said Karakas. He flipped over 7♣ 5♠ for a pair of sevens and took down the tiny pot.
Both players had been expecting big action to break out and it turned out there was none to be had. That's poker. Konnikova has 8,600 to Karakas's 26,000. –JK
5:15pm: Big slick no good for Slaieh
Level 5 – Blinds 200/400 (BB ante 400)
Rami Slaieh was short but found a great hand and spot to get his stack in. He probably thought he was in line for a triple up on showdown but it wasn't to be and he hit the rail.
The hand started with an 800 raise from Bharath Janardhan in the hijack. Slaieh was in the cutoff and made his move with his last 2,200 and he was called by Janardhan and Lambertus Adrianus de Haas in the big blind. The 8♥ 9♦ Q♠ flop was checked before Janardhan folded when De Haas led for 3,000 on the K♠ turn.
De Haas opened K♣ Q♥ for two pair which was ahead of Slaieh's A♣ K♦ . The river bricked and Slaieh went on his way. –MC
5:10pm: Schemion shoving
Level 5 – Blinds 200/400 (BB ante 400)
Ole Schemion entered the Main Event after the break, and wasted no time getting involved.
Picking up the action on a scary looking J♦ Q♣ K♣ 10♠ board, Schemion check-called a 1,400 bet from Murat Kilicsaymaz, bringing the 9♥ on the river and completing a straight on the board.
---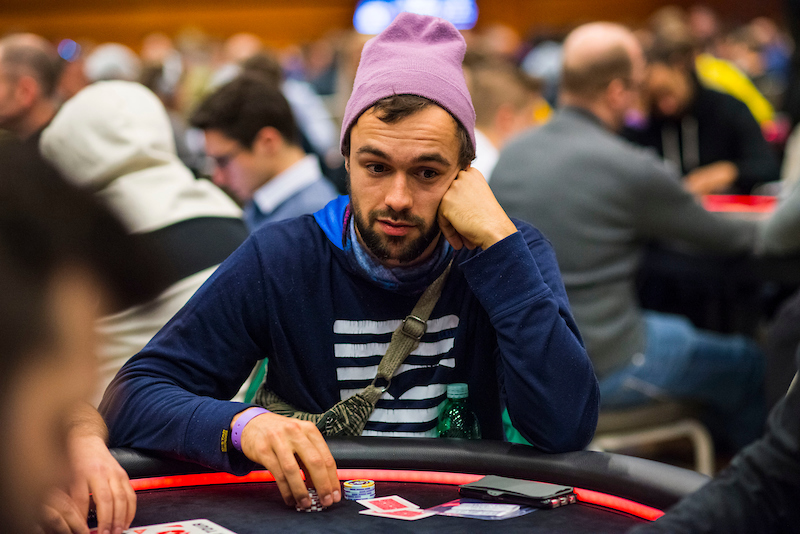 Ole Schemion: It's cold outside
---
Schemion then shoved to put Kilicsaymaz at risk, but he quickly folded, showing his 10♣ 10♦ for a set as he did. We'll never know whether Schemion had an ace, but we do know he has now has 27,000 after raking that one in. –JS
5pm: Boris Mondrus is latest Platinum Pass winner
Yesterday Boris Mondrus won the €1,000 EPT National title, which earned him €382,750 and a Platinum Pass to the PokerStars Players Championship in the Bahamas in January. Nice job, Boris.
---
5pm: The agony and the ecstasy
Level 5 – Blinds 200/400 (BB ante 400)
After several minutes of aimless wandering, suddenly I came upon a table where not only was the all-in triangle out, but no fewer than five players were still in the hand.
From the looks of things, it appeared Mihai Motocu had opened from under the gun, then Corentin Ropert had three-bet to 2,300 from the hijack seat. Three players had called the re-raise, including Rafal Nikiel on the button, and when the action got back to Motocu he'd pushed all in for 19,000 total.
Ropert thought a while then re-raised over that for 47,200, causing the three players in the middle to fold, with Nikiel going through a great deal of agony before doing so.
Motocu showed 10♦ 10♥ and Ropert 8♠ 8♥ , and Nikiel continued to express some agony as he let others know he'd folded pocket jacks.
The 6♥ 6♦ 4♥ flop and 6♠ turn didn't change the situation, but the 8♣ on the river, and now Motocu was the one agonzing as he'd been stacked by the river two-outer. Ropert is up around 70,000 now, and though reserved was clearly ecstatic about his good fortune.
"Thank you," said Nikiel to Ropert afterwards, his wide grin suggesting he no longer felt so bad about folding his jacks. –MH
4:55pm: Wheeler's in motion
Level 5 – Blinds 200/400 (BB ante 400)
Jason Wheeler will have bittersweet memories from Prague last year. Sure, he finished in second place and won €570K. But when you come so close to winning, disappointment is inevitable.
He's back for another crack this year though, and currently has 45,000, despite losing this small pot. Juerg Neuhaus opened his button and Wheeler defended the big blind to see a 10♠ 4♠ 3♦ flop. He check-called a 900 c-bet, bringing the 10♣ turn.
Wheeler now opted to steal the betting lead, and fired out 2,200. Neuhaus wasn't flustered, shoving his remaining 9,100 and getting Wheeler to fold. –JS
4:50pm: The Marquez of poker
Level 5 – Blinds 200/400 (BB ante 400)
Don't mess with with Ana Marquez. Matthieu Lamagnere just found that out to the cost of many chips.
He opened to 900 from early position and was called by Marquez and a player on the button. Lamagnere continued for 1,200 on a 3♥ J♣ 4♥ flop and was only called by Marquez. He fired another 4,200 on the 5♥ but was soon facing an all-in move from his opponent.
---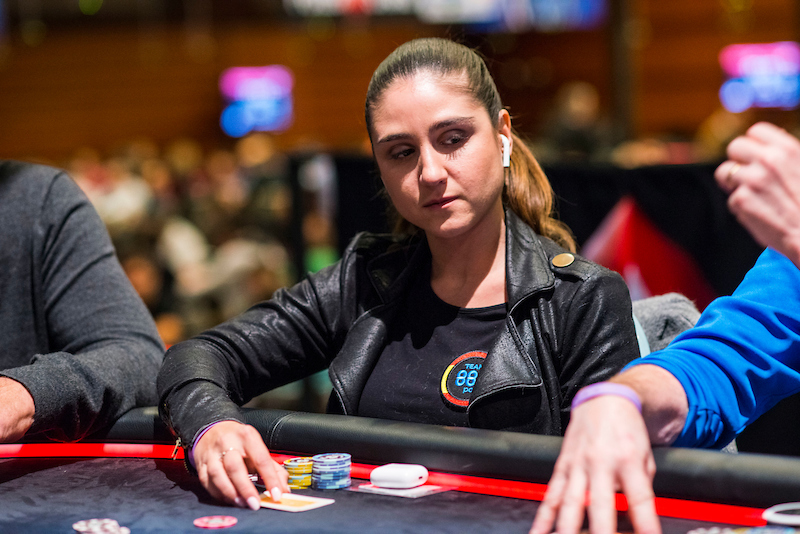 Ana Marquez has more than double starting stack
---
Lamagnere shook his head as he folded to preserve the 10,800 he had behind. That win put Marquez up to 68,000. –MC
4:20pm: Welcome back
Level 5 – Blinds 200/400 (BB ante 400)
Welcome back to Prague where we are heading into Level 5.
---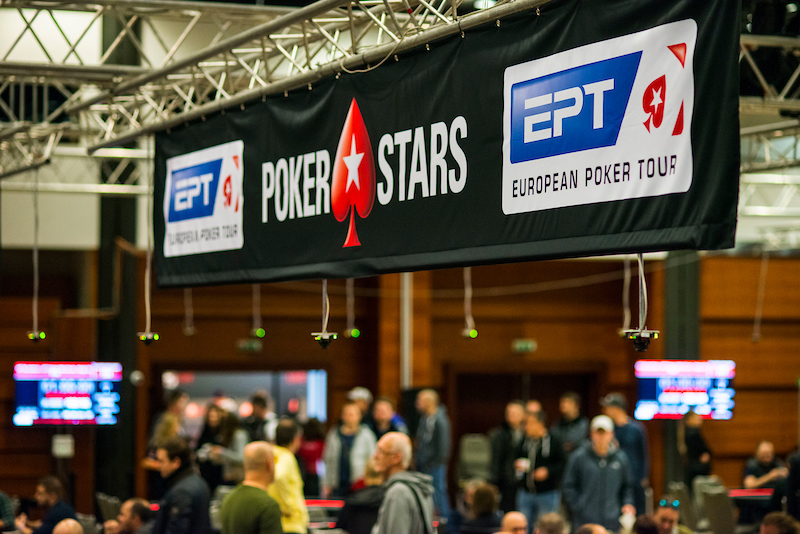 EPT Prague tournament room
---
4:25pm: Break time
That's the end of Level 4 and players are taking a second 20-minute break of the day.
4:20pm: A PokerStarsBlog exclusive
Level 4 – Blinds 100/300 (BB ante 300)
The first thing you learn on your very first day at PokerStars Blog University is to try not to stand behind players when they have cards*. You certainly don't want to give the impression you're trying to take a peek.
But sometimes you can't help but see what a player has, particularly when they hold their cards up in front of them while you're trying to count their chips.
Georgios Tsiligkaridis just gave the PokerStars Blog an exclusive look at his holding. And we're sure Antonio Buonanno would be pretty keen to find out what it was.
Tsiligkaridis kicked the hand off with a limp from early position, which was then three-bet to 1,000 by Natalie Po in the cutoff. Buonanno then decided to cold four bet to 3,000 on the button, which only Tsiligkaridis called.
The dealer spread a 2♥ J♥ K♣ flop, on which Tsiligkaridis "donk" led out for 3,000. Buonanno didn't take too long before folding.
Tsiligkaridis shook his head in disappointment, picked his cards up, and revealed…
He now has 40,000, while Buonanno has 33,000 and Po has 12,000.
*You also learn not to reveal cards that weren't exposed to everyone. –JS
4:18pm: Aguilera staying active
Level 4 – Blinds 100/300 (BB ante 300)
PokerStars qualifier Jose Aguilera is down from his starting stack over on Table 22, but he's staying active enough to turn that around if the right opportunity comes along. Exhibits A through D: these four pots in a single orbit.
First, Aguilera opened for 700 in the hijack seat and drew a call from Andy Black in the big blind. Black check-called 1,000 on the J♦ 5♣ A♣ flop and then both men checked the 2♣ flop. A bet of 800 from Black when the 9♣ river put a four-flush on the board was enough to convince Aguilera to fold.
Those losses came back to Aguilera on the next hand when he made it 6,000 to go after a raise to 1,000 and re-raise to 2,200 in front of him. Nobody wanted any of that.
On the third hand Aguilera opened for 600 under the gun and then he called when Stanislav Koleno made it 1,800 to go in the hijack seat. Aguilera check-called 1,500 on the 4♣ J♦ 5♠ flop before both men checked the 2♠ turn and 5♣ river. Aguilera's 9♥ 9♦ was plenty to take down the pot.
Aguilera squared off with Andy Black again, re-raising him to 3,000 from the big blind after Black opened for 700 in the cutoff. Aguilera fired 2,000 on the 3♠ 2♠ 4♦ to chase Black away.
Aguilera is now on 24,000. –JK
4:15pm: Konnikova almost all-in
Level 4 – Blinds 100/300 (BB ante 300)
You think to yourself, you might be ahead, but you still can't call. I'll just sit here for a while and see if something changes. It doesn't. I fold.
These are some of the thoughts I imaging went through Norberto Lopez's head as he tanked on the river when faced with a big bet from Maria Konnikova.
A total of 5,200 sat in the middle and after the both players checked the turn, the board rested as 8♣ Q♠ 6♥ 10♣ Q♦ . Konnikova had 14,000 chips to play with and led with 12,000 of them. Rodriguez took a few minutes before smiling and admitting defeat with a fold. –MC
4:10pm: Set of deuces bring Roy joy
Level 4 – Blinds 100/300 (BB ante 300)
With about 10 minutes to go in Level 4, Shaun Hegarty of Ireland has lost the last of his chips. Hegarty had king-jack on his last hand, having hit the board with those cards but not as hard as Jonathan Roy who had made a set of deuces with his 2-2 in the hole.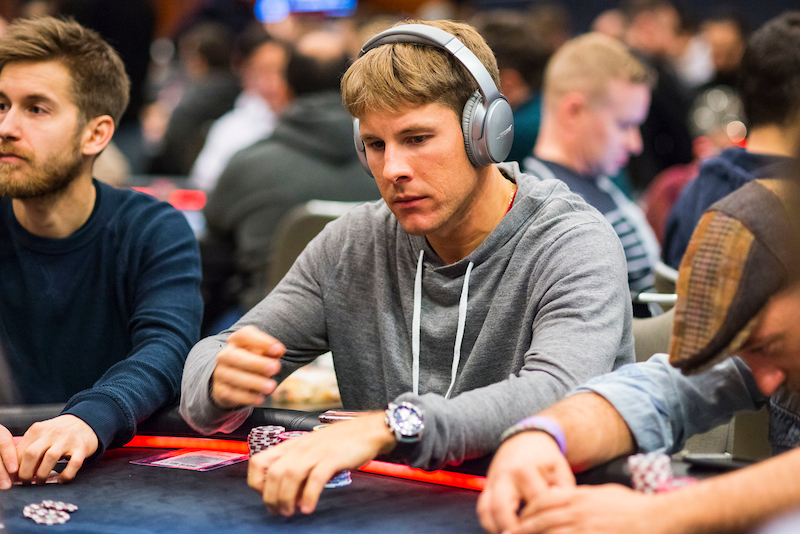 Jonathan Roy: Smallest set
Roy bumps up to 72,000 with that pot. –MH
4:05pm: Lukac earns knockout
Level 4 – Blinds 100/300 (BB ante 300)
Denis Timofeev was down to very little when Emil Lukac bet enough to put him all in on a 5♠ 3♥ 9♦ 10♦ 6♠ board. After some thought Timofeev called, and when Lukac showed K♥ 10♣ for tens that was good enough and Timofeev was felted.
---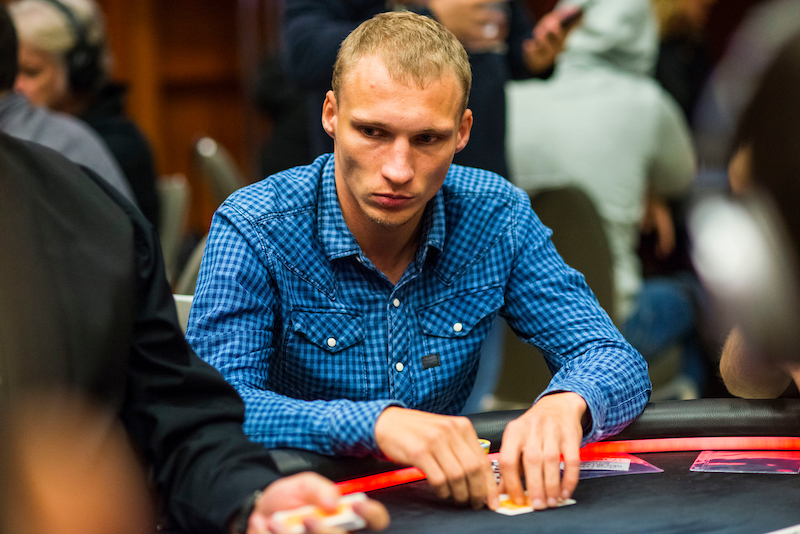 Emil Lukac: Building after a felting
---
Lukac has around 65,000 now. –MH
4:00pm: King wins it for Staples
Level 4 – Blinds 100/300 (BB ante 300)
Jaime Staples is already busy despite his late arrival.
He was one of three players who saw the flop of 8♣ Q♥ 9♠ .
Andreas Vlachos checked the small blind, and Staples did the same from the big. Georgios Karakousis bet 1,100 which was called for a 4♦ turn card. All three players checked that for the 6♥ river.
A bet of 2,000 from Vlachos this time, which Staples called. Karakousis folded.
K♣ Q♦ for Staples
8♥ 7♥ for Vlachos
The dealer mucked Vlachos's hand, causing him to leap up. He sat back down when he clocked the king. Staples is up to around where he started. – SB
3:50pm: Baumann hits to survive
Level 4 – Blinds 100/300 (BB ante 300)
Four out of five times, faced with the coup that just went down on Table 22, Gaelle Baumann is out of this poker tournament. However, this is the one in five.
Baumann got involved in a pre-flop raising battle with Konstantin Maslak. I arrived to see 8,000 on the table in front of Baumann on the button, but 33,000 in front of Maslak in the cutoff, which looked like a five or six-bet shove.
---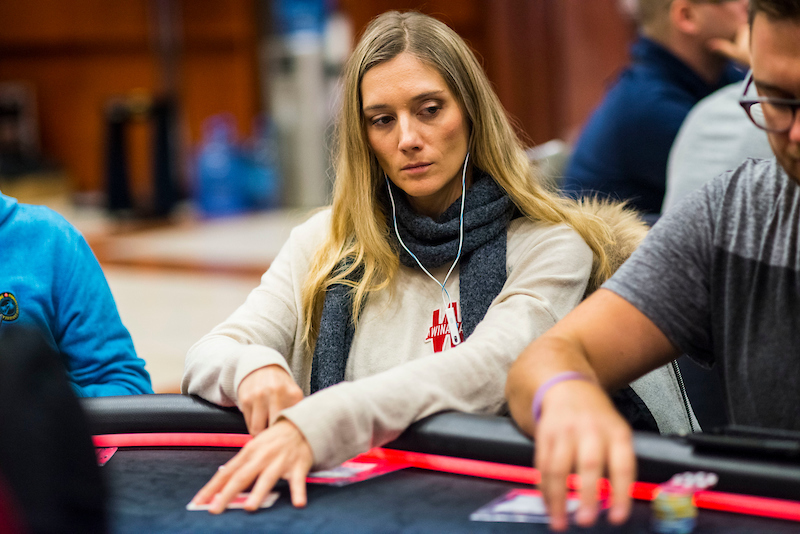 Gaelle Baumann: Hits to survive
---
Baumann agonised over her decision, but decided to call. And if her instincts had been telling her to fold, they'd have been right. Maslak had K♥ K♦ to Baumann's Q♣ Q♠ .
But the dealer was on Baumann's side and put the Q♦ on the flop. The rest of the board ran without a king and that meant a double of Baumann's 26,000 stack. Maslak is left with 14,000. — HS
3:40pm: Duly noted
Level 4 – Blinds 100/300 (BB ante 300)
Your faithful scribbler was making the rounds when a player stopped to ask for pen and paper. Always happy to oblige, I handed over the tools of my trade and waited patiently while he quickly scribbled a note.
As I waited, I imagined he must be passing a neighbor contact details. Or perhaps creating a short "to do" list for himself. Or maybe it was action from a recent hand he needed to record to review or share later. Or perhaps….
---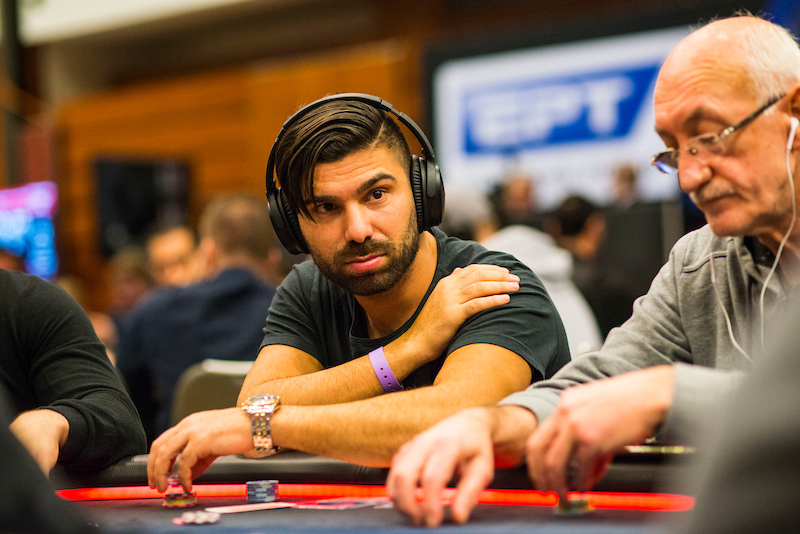 Serdar Demircan will win main event
---
My musings were interrupted as he handed back my pen. What's this? He's handing me the paper, too. I read:
"Serdar Demircan will win Main Event."
"Got it," grinned your humble scribbler, before scurrying back to the laptop. –MH
3:30pm: You can always try a hug
Level 4 – Blinds 100/200 (BB ante 200)
Laurence Bayley just got bluffed.
Or at least he's becoming increasingly sure he has. After losing a hand and quizzing his totally mum opponent, that sounds like the conclusion he has reached.
"You bluffed me? You bluffed me. Unbelievable," said Bayley. "Whatever," he added, feigning as though he no longer cared.
---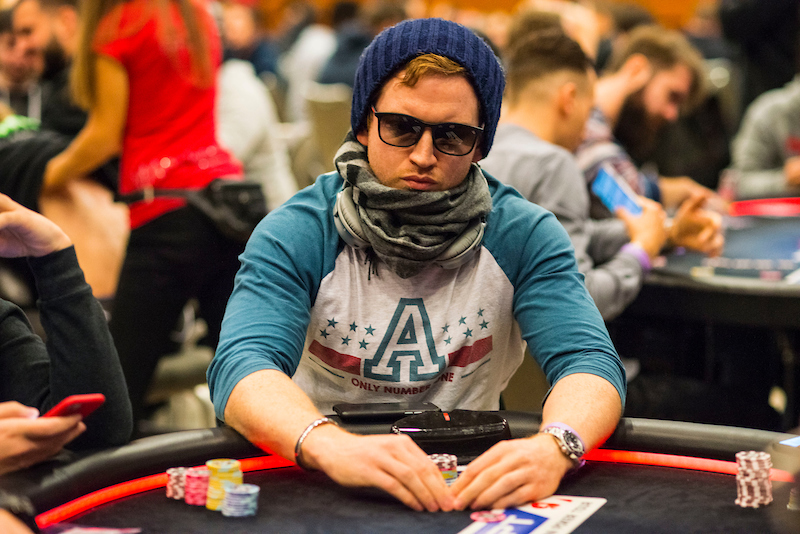 Laurence Bayley: Bluffed?
---
Ten seconds later, he cared again.
"You bluffed me, I'm sure," he said. Then he had an idea.
"If I give you a hug, will you tell me?"
Nope. That's not going to work, either. –MH
3:25pm: Five pocket pairs, two sets, one double-up
Level 4 – Blinds 100/200 (BB ante 200)
Dorin Agavriloae opened to 600 from mid-position and Maria Konnikova called from a couple of seats along. Then Norberto Lopez called from the cutoff and Fidan Zahiti said: "Let's join the party." He called, and Adrian Veghinas called in the big blind. So it was five of them to this flop: 4♠ 10♥ 8♥ .
Agavriloae bet 1,500 and Konnikova folded. But Lopez raised to 4,000 and both Zahiti and Veghinas let it go. Agavriloae almost instantly moved all-in for 11,500 total, and Lopez called in a flash too.
Agavriloae tabled his 10♠ 10♣ , which was top set, and Lopez showed his 4♥ 4♦ which was a set too, but smaller. After the Q♠ turn and 5♠ river, Agavriloae had a double.
The rest of the players began a discussion about what they had. Konnikova said that she had a pocket pair as well, but had to fold after Agavriloae bet into four people. "Luckily it wasn't eights," she added.
Zahiti said that he too had a pair, claiming it was sixes, and Veghinas joined the pocket pair party too, though there was no proof that any of them had it. The only thing we know for sure is that set over set gave the party cake to Agavriloae. — HS
3:20pm: Fashion report
Level 3 – Blinds 100/200 (BB ante 200)
Fashion-wise, it's a lot of the usual here today. You know, caps, hoodies, scarves, sunglasses, headphones. The occasional surgical mask. There are a few exceptions, though.
---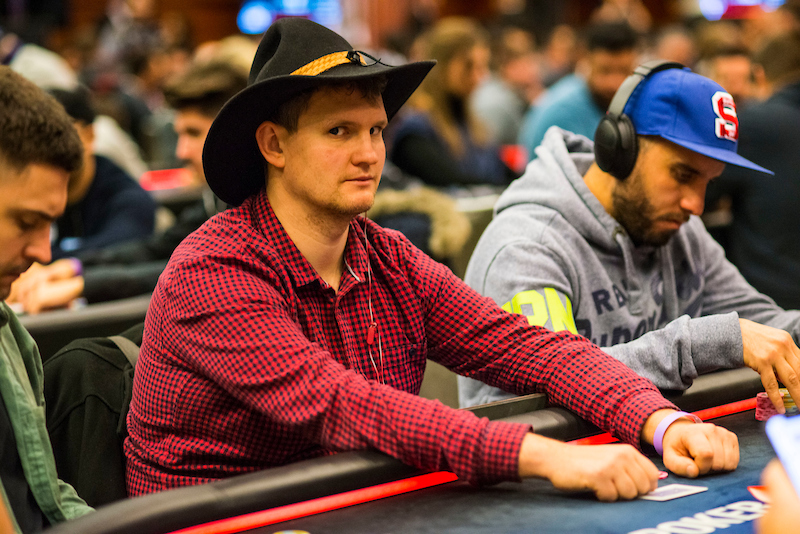 Antonin Duda: Wide brim
---
Rauno Tahvonen is sporting a headband with an impressive feather. Tobias Peters has a cap that reads "DOUBLE BELLY BUSTER," which makes us wonder what people might think that means outside of a poker room. And Antonin Duda is wearing a wide-brimmed black cowboy hat with a long sleeve red-checkered shirt, equally stylish both here and in a 19th-century saloon. –MH
3:10pm: Korotkov collects from Banicevic
Level 3 – Blinds 100/200 (BB ante 200)
Victor Korotkov just survived an all-in spot after getting his last 11,600 in on the river — well over the size of the pot — with the board showing Q♦ 3♣ 6♦ K♦ 2♠ and having to showdown a better hand than his opponent, Vlado Banicevic.
---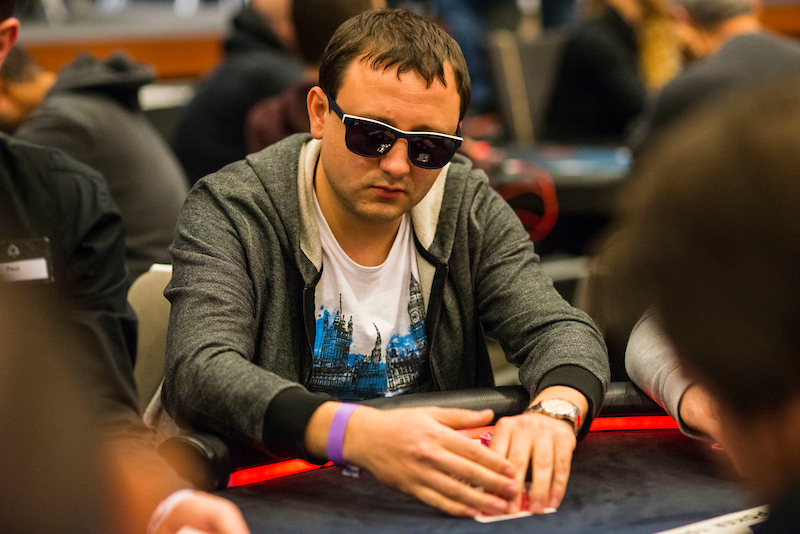 Victor Korotkov: At the double
---
That was something Korotkov could do, as he had 9♦ 8♦ for a diamond flush to beat Banicevic's A♦ K♠ . Korotkov gets back to the starting stack of 30,000, while Korotkov is back down to around 25,000. –MH
3pm: Ventura punishes squabbling duo
Level 3 – Blinds 100/200 (BB ante: 200)
Denys Timofeev and Jack Sinclair are leading the chatter on their table this afternoon, though it's not immediately clear what they're on about. It seems to be some kind of good-natured needle, but they're definitely playing the roles of antagonists, even if it is just for fun.
Timofeev will be in the big blind when Sinclair is on the button, so the prospect of the two of them playing pots is fairly high. And perhaps Pedro Ventura has noticed that, because he just managed to pick up a few chips from both of them.
---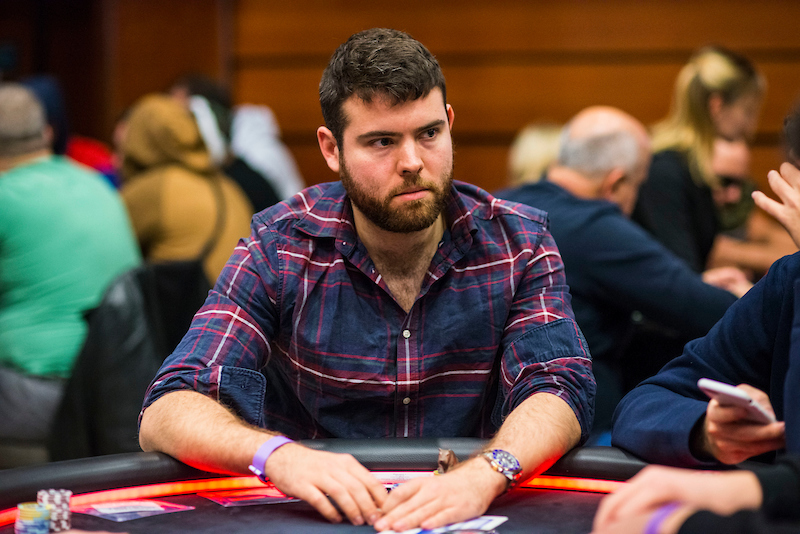 Jack Sinclair: Needle?
---
Sinclair folded his button, but raised when he was in the cutoff. He made it 500 to play. Timofeev then three-bet from the small blind, putting 2,000 out there, and it was easy to expect the decision to come quickly back to Sinclair.
However Ventura, in the big blind, took a moment over his decision and opted to put 5,400 forward as a four bet. Sinclair, the recent WSOPE champion, stared at Ventura, but was squeezed out, and Timofeev, who finished runner-up to Kenny Smaron in the PokerStars Championship Panama, let his hand go too. One for Ventura. — HS
2:50pm: Staples slips in
Level 3 – Blinds 100/200 (BB ante: 200)
The player numbers continue to tick reliably upward, with 577 now registered according to the tournament information board. One of the most recent arrivals is Team Online's Jaime Staples, who now joins Muskan Sethi, Maria Konnikova, Fatima Moreira de Melo and Jake Cody as Red Spade reps in the field. — HS
---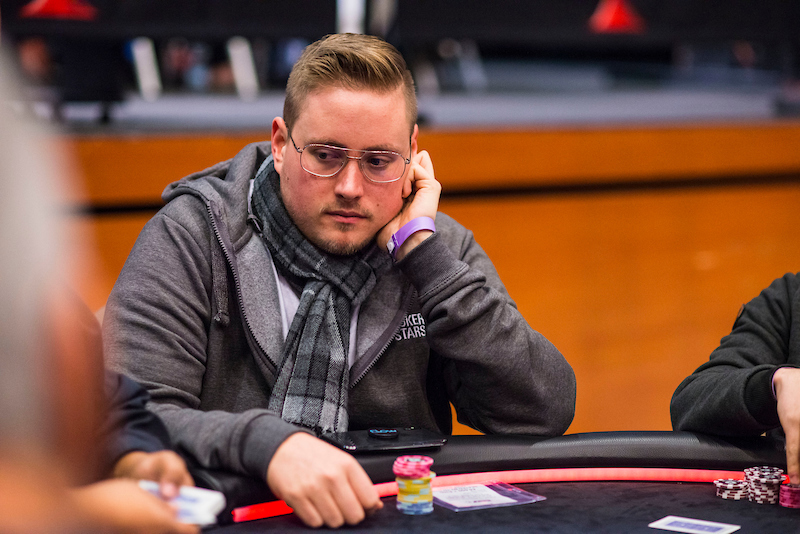 Here's Jaimie!
---
2:40pm: Muehloecker gets value from TPTK
Level 3 – Blinds 100/200 (BB ante 200)
With the board showing 2♦ 8♦ K♥ 10♠ , Andrey Zaichenko checked, Thomas Muehloecker bet 2,100 (about half-pot), and Zaichenko called quickly. The river was the 4♠ , and after Zaichenko checked again, Muehloecker bet 5,500, and once more Zaichenko called without hesitations.
---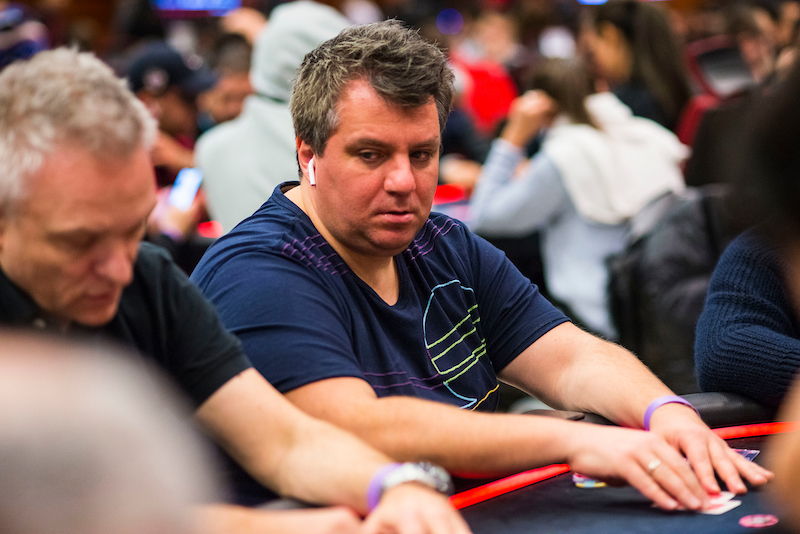 Andrey Zaichenko: On the slide
---
Muehloecker tabled A♣ K♦ for top pair, top kicker, and Zaichenko mucked.
---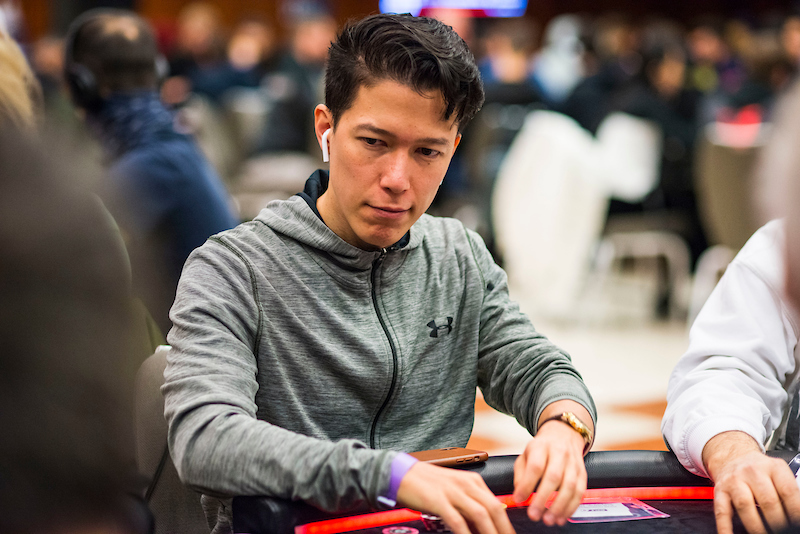 Thomas Muehloecker: On the up
---
Muehloecker bumps back up to 24,000 with that pot, while Zaichenko slips to 15,500. –MH
2:30pm: Back at it
Level 3 – Blinds 100/200 (BB ante 200)
Players are back in their seats with more trickling in as we type.
Right now standing in the short line to register and be seated are Cimbolas, Jean-Eric Schwippert, and 2018 World Series of Poker Europe Main Event champion Jack Sinclair. Meanwhile Gaelle Baumann is already seated along with the other 500-plus players who have already bought in today. –MH
2:10pm: Break time
That's the end of Level 2 and the first break of the day. We're closing in on 500 entries already. — HS
---
---
2pm: TT no good for TT
Level 2 – Blinds 100/100 (BB ante: 100)
Tsugunari Toma will head to the first scheduled break of the day with around 60,000 chips, which is basically what he has paid for. As noted, he was the first player to be knocked out and the first to re-enter. But he has built that second stack up to double its size–even if this next hand didn't go his way.
Adam Milewski opened the pot under the gun, and Toma called to his left. Then David Elyashar bumped it to 1,000 one seat around and both opponents called. The three of them pondered the 4♠ Q♦ 5♣ flop.
Both Milewski and Toma checked, which brought a bet of 2,000 from Elyashar. Only Toma stuck around for the Q♠ turn. Check, check. Then the 4♦ completed the board and Toma dug out a bet of 3,600.
Elyashar called quickly and Toma showed his 10♠ 10♥ . Elyashar's A♠ A♥ were never under threat. — HS
1:55pm: Sow and Haga looking good
Level 2 – Blinds 100/100 (BB ante 100)
Two players seem to be in control at table six. The first is Kalidou Sow, the other is Makoto Haga.
Haga is one of only two players from Japan in the field today. He's also the most immaculately dressed.
He wears a bowtie, a black velvet jacked, and a silk paisley scarf in the kind of purple that, from a distance, would pass him as a priest, stopping by after officiating an advent service.
---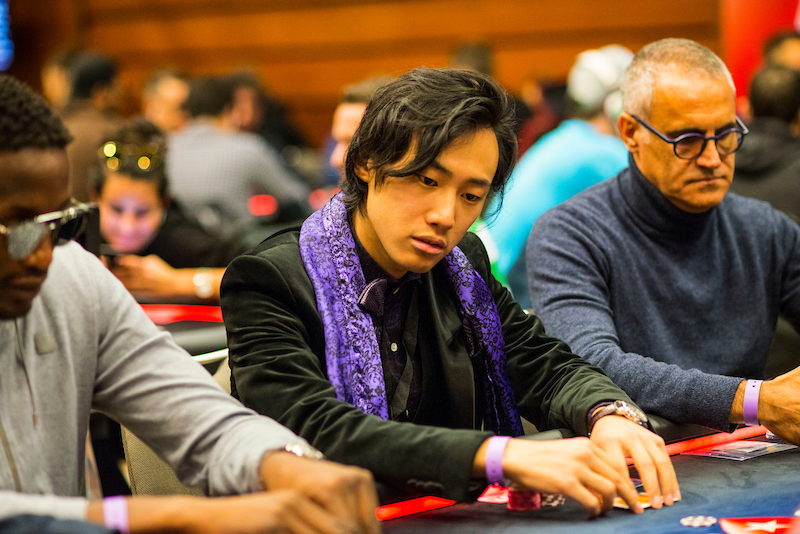 The immaculate Makoto Haga
---
But he doesn't really play like a priest (apologies to any poker playing clergy out there). He's getting involved with some early pots. As is Kalidou Sow.
Sow's presence at the table is more than sartorial. He jokes with everyone, from the dealer to his opponent.
James Bullimore opened a pot, betting 500, which Sow raised to 1,300 on the button. Lorenc Puka was in the big blind and called (Bullimore folded) and they saw a flop.
K♣ A♦ A♥
A pattern began of Puka checking to Sow, and then calling. It was 1,100 on the flop. Another 2,300 on the 4♠ turn, and then the river card 6♦ . Another check from Puka and another bet from Sow, 9,000 this time. No movement from Puka. Until he folded.
Sow wasted no time giving the dealer his cards. He's up to 42,000 now. And also looking good. – SB
1:40pm: More familiar faces
Level 2 – Blinds 100/100 (BB ante 100)
Let's add a few more familiar names to the list of participants — Dong Guo, Andrey Zaichenko, and Team PokerStars Pro Jake Cody.
---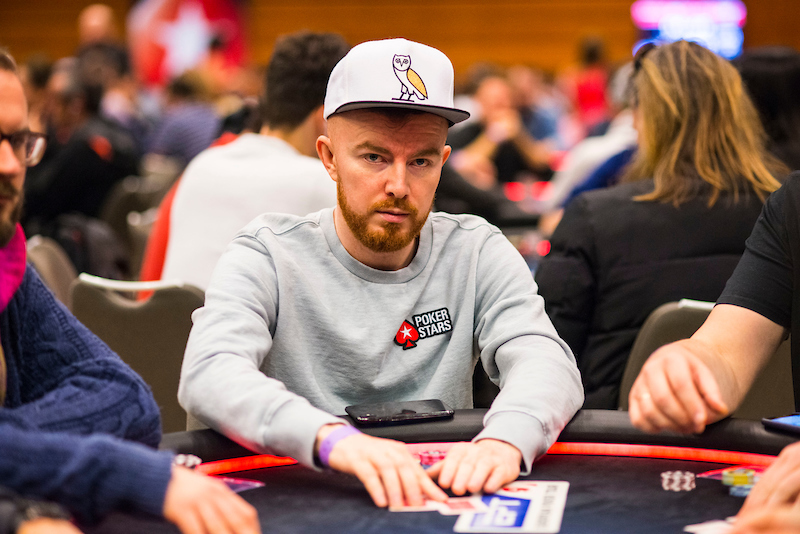 Jake Cody: Team Pro
---
Guo just final tabled the EPT Prague National High Roller, coming in eighth and adding to his career winnings of over $1.1 million. Zaichenko has a bevy of 'COOP titles to his credit, a High Roller victory here in Prague (in 2014), and over $3.2 million in live earnings. And Cody has $4.5 million in lifetime earnings including an EPT Main Event title in Deauville in 2010. –MH
1:30pm: Field gets larger, tougher
Level 2 – Blinds 100/100 (BB ante 100)
Some heavy hitters now involved here.
Martin Finger (with $7.6 million in career earnings), Thomas Muehloecker ($6.7 million), Ari Engel (almost $6 million), and Max Silver ($4.5 million) have all taken seats now, upping the overall quality of the field considerably. –MH
---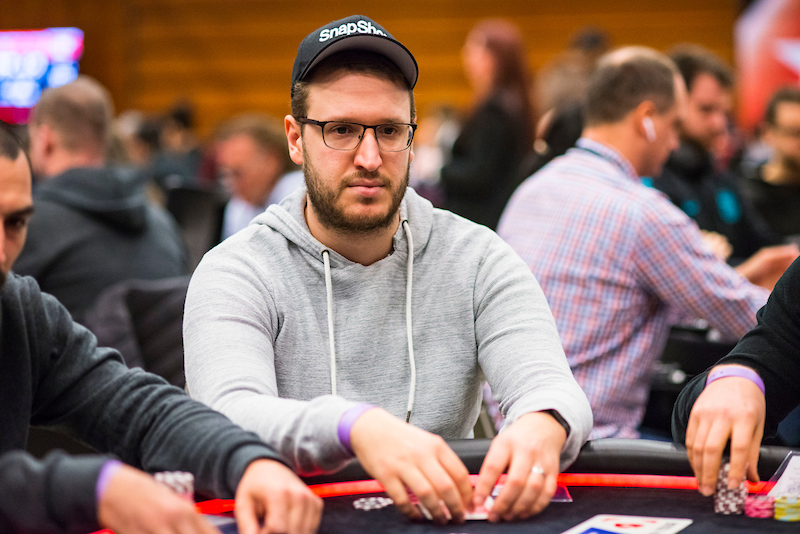 Silver seeking gold
---
1:15pm: Sethi takes a seat
Level 2 – Blinds 100/100 (BB ante 100)
Team PokerStars Pro Muskan Sethi has now joined the growing field. Representing India, Sethi first became known to the poker world following her appearance on the 2014 PokerStars TV show Shark Cage, after which she continued to pursue the game and eventually turned professional.
Later she was honored by the President of India with a "First Ladies" award celebrating her status as the country's first female poker pro. She was also appointed as India's Responsible Gaming Ambassador. Click to read more about Sethi's remarkable story. –MH
---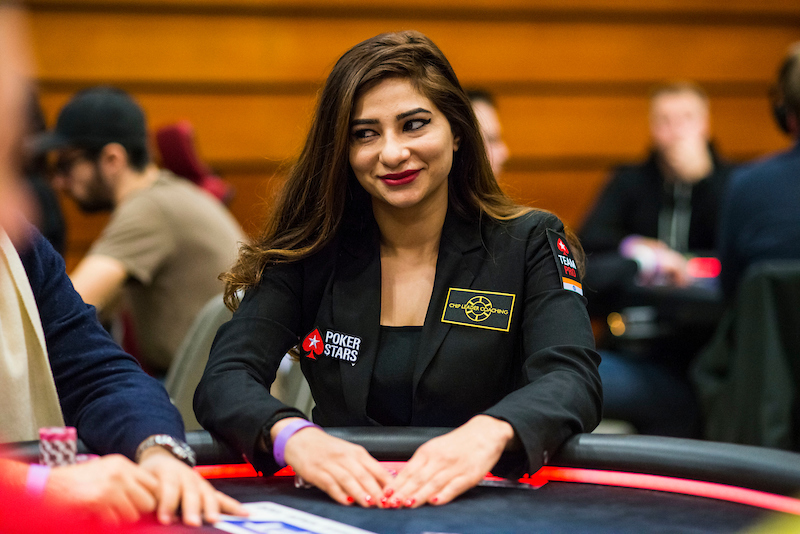 Muskan Sethi takes a seat
---
1:10pm: Black and Buonanno boosted
Level 2 – Blinds 100/100 (BB ante 100)
There's no shot clock in operation yet in the Main Event. It comes in when we get much closer to the money. But two hands just played out almost simultaneously that went all the way from start to finish, including showdown, in a matter of seconds. There were other spooky similarities too.
The first hand was between the former EPT Grand Final champion Antonio Buonanno and Andreas Vlachos, who was one seat to his left. It began with Buonanno opening to 400 from early position, to which Vlachos responded with a three-bet to 1,200. Buonanno was the only caller.
The flop was the J♦ 10♥ 10♦ and it went check (Buonanno), bet of 1,000, call, all lightning fast. The turn was the 6♣ and the pattern of check, bet, call repeated, with the sizing now 2,600.
Then they both checked the 9♠ river and Buonanno tabled his K♦ J♥ , which was better than the A♦ Q♦ Vlachos showed as he tossed his cards into the muck.
Right after, on another table, Andy Black opened to 200 from early position. Lars Tungel, on the button, made it 800 and Black called. The rest of the players weren't interested.
The flop brought the 3♥ 9♠ 8♠ and Black checked, but called Tungel's 1,100 continuation bet. That took them to the A♠ turn. Check, check.
The 7♥ fell on the river and Black stuck a big bet out there: 4,500 to be precise. Tungel called.
Black turned over his K♠ J♠ and Tungel was about to triumphantly flip over his cards, before the dealer said, "Flush." Tungel then noticed that he was indeed looking at an opponent with the nuts. His A♦ went face up into the muck.
All very hasty, all very crisp. Black king-jack beats A♦ twice. — HS
1:05pm: New Winter Series Schedule released
Have you seen the new Winter Series schedule yet?
Yesterday we released details of this year's Series, which starts on Sunday 23 December with the first of 60 events.
This year each event has four tiers of buy in (mirco, low, medium and high), adding up to 240 tournaments in total, with $40 million of guaranteed prize money.
Along the way there are high roller events, as well as micro events with buy-ins starting at $0.55. There are also plenty of ways to win tickets to Winter Series events.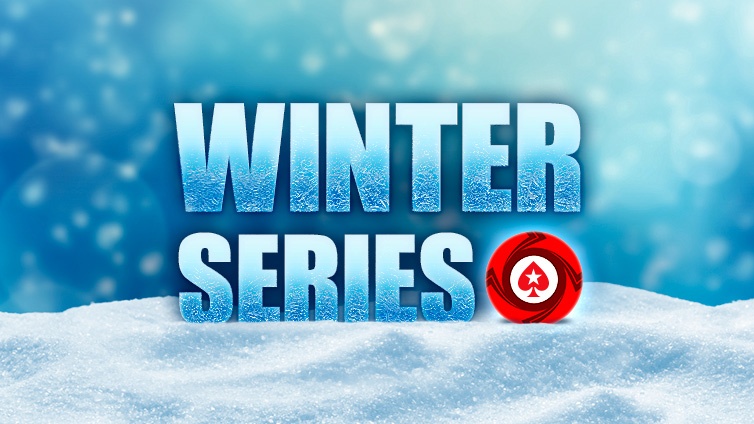 ---
Alongside Winter Series there will be another $45 million guaranteed in the regular tournament schedule on PokerStars, in everything from MTTs, Turbos, Zoom, Sit & Go's and Spin & Gos.
All of which should give you some welcome distractions over the holiday season.
For details of this year's schedule, go to the Winter Series homepage.
1pm: How much power can one beard have?
Level 1 – Blinds 100/100
Eduard Norel has a powerful beard. Or at least so said Michal Danka two seats to his right.
Danka wasn't up against Norel, but Jerry Odeen was.
Piecing together the action to this point, Norel had opened, Odeen had raised to 3,000 before Norel bumped things up some more to 8,500.
Odeen thought for a while, and eventually folded. He didn't look very happy about that, and writhed a little like he'd just had a telling off from his school teacher and was trying not to care.
"I regretted shaving the other day," said Danka, looking on. "The power is in the beard."
This gave Norel something to think about.
He told the story of having been the barber before flying to Prague, with the intention of having it shaved off.
But while the barber worked on his hair, Norel had second thoughts about losing the beard, that, while flecked with grey, does make him look distinguished.
The beard stayed. Even Odeen laughed at that.
Keep track of Norel during the course of the day. Let's find out just how powerful that beard really is. – SB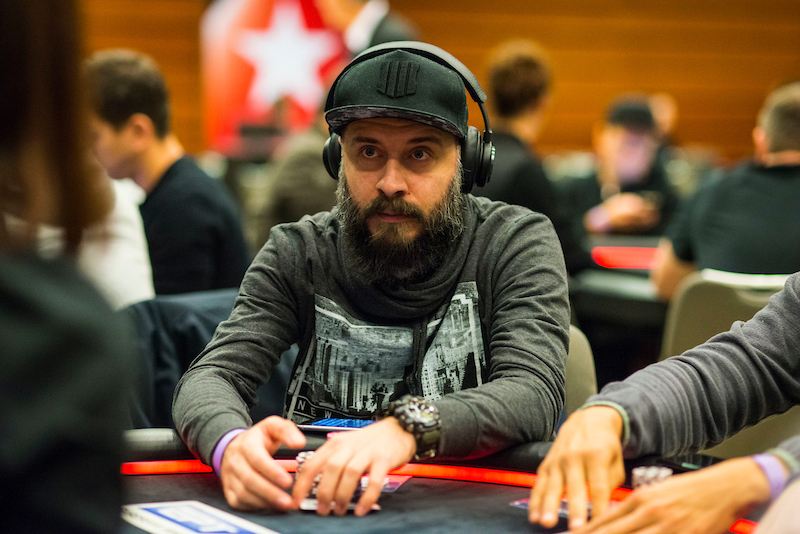 Norel, Norel… Norel, Norel…
---
12:55pm: Sow and Wheeler back to seek the big prize in Prague
Level 1 – Blinds 100/100
The goal of everyone here at the start is to be around to play the very last hand. The two players who realized that goal in this event last year in Prague are here today, trying to do it again.
Last year's winner Kalidou Sow sat down a short while ago (after busting on Day 1A), although it took a moment for chips to be brought to him. Sitting there without any, Sow told the table if someone could just give him one chip, he could get started, earning laughs all around.
Soon he got involved in a hand versus Maxim Panyak, calling bets on the flop and then river as the board completed 5♥ 3♣ 7♣ 9♣ 2♠ , then seeing Panyak turn over 8♥ 6♣ to take it down. No worries… Sow still has near the starting stack, which is way more than just one chip.
---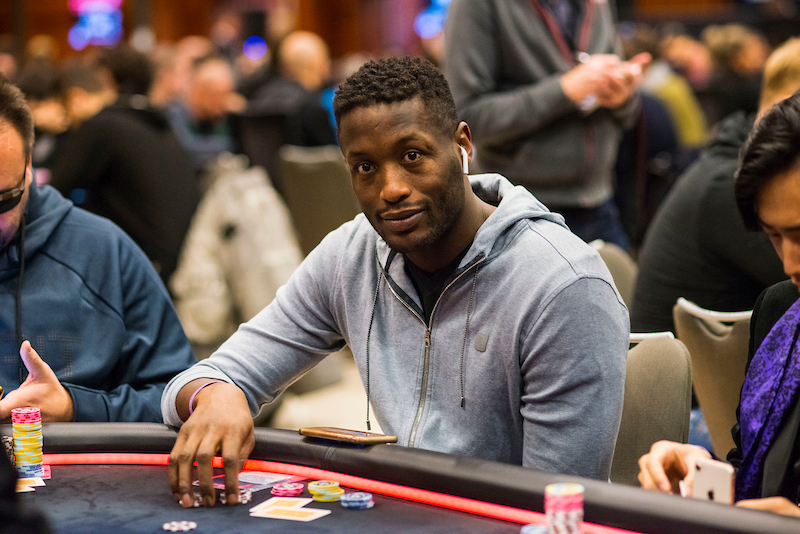 Kalidou Sow: Defending champion fires another bullet
---
Sow defeated Jason Wheeler heads-up last year, and he's at it again here today as well. Just now he faced a half-pot bet of 3,200 on the river from Sergey Lomakin with the board showing 8♣ 4♠ 8♦ 3♥ 8♥ and ultimately called, then mucked when Lomakin showed Q♣ Q♦ for eights full of queens.
Wheeler still has plenty to work with as well, and like Sow he knows what it takes to stick around all of the way to the end. –MH
12:50pm: Short day for Wozniak
Level 1 – Blinds 100/100
It's been a short day for Poland's Mateusz Wozniak. He won his entry via a live satellite, but his (first) chance has just gone up in smoke before the end of Level 1.
The hand began with an early-position open from Sandor Molnar, which was followed by Wozniak three-betting to 1,000. Action passed back around to Molnar who four-bet to 3,700. Wozniak called.
The 4♦ 2♣ 8♠ was the kind that doesn't appear to present any significant interest to players getting four bets in pre-flop and Molnar continued for 2,500. Wozniak called.
---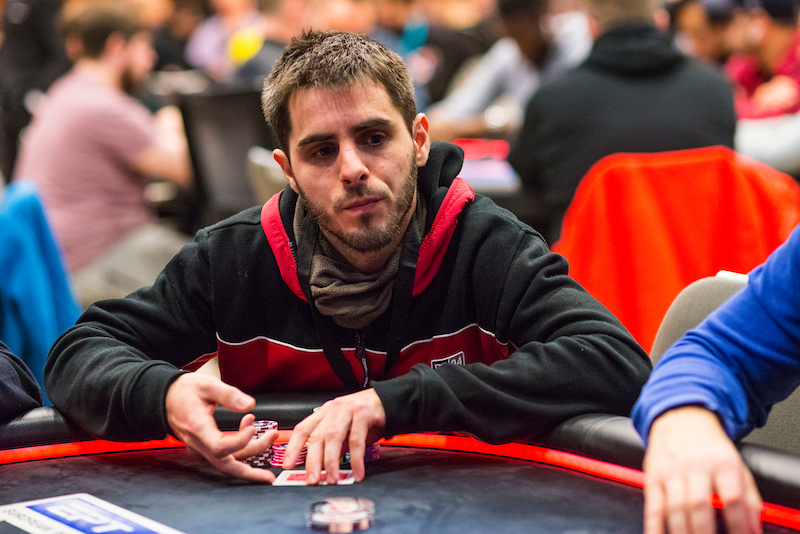 Sandor Molnar: Wins maximum with aces
---
The 8♦ fell on the turn and Molnar continued with the same story. He bet 8,000. Wozniak called again. That then brought another low card, but double-pairing the board. It was the 4♠ .
Molnar didn't wait too long before announcing he was all-in, pushing his 18,100 stack over the line. "I'm going to take a minute," Wozniak said, and withdrew into his mind palace.
After a little while, a table-mate called the clock and that brought a floor supervisor over. She gave Wozniak a 30-second countdown, and with one second left he tossed in the last of his chips. (He had 14,600 behind.)
Molnar tabled his A♥ A♦ and there was no way that Wozniak's J♥ J♠ were beating that.
Molnar all-but doubles up, while Wozniak will have to find another €5,000 if he wants to play on. — HS
12:40pm: Pecheux shoves, survives
Level 1 – Blinds 100/100
Erwann Pecheux just had an early bit of stress halfway through the first level.
In a hand versus Aku Joentausta, Pecheux saw his opponent make a big bet of 6,900 on the turn with the board showing A♠ 10♦ 8♠ 7♥ . Looking down at 9♦ 6♦ for the second-best possible straight, Pecheux raised all in for his last 13,800, and after a third player folded Joentausta thought a while before calling.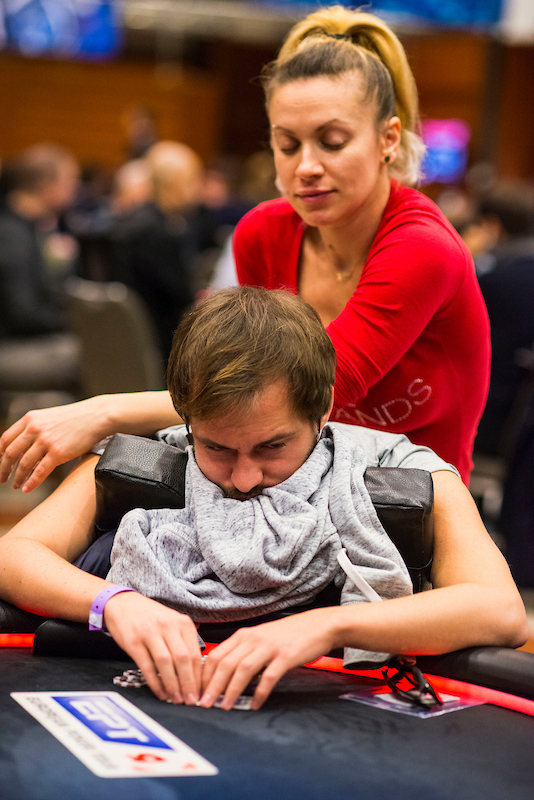 Erwann Pecheux: Relaxing after a scare
---
Pecheux was worried, but Joentausta tabled 10♣ 9♣ for tens and a straight draw. The river 9♠ sealed it for Pecheux, allowing him to breathe more easily.
"Jack-nine" he said as he exhaled, articulating what he was worrying Joentausta was going to turn over.
Pecheux hops up over 50,000 with that pot, while Joentausta slips to 16,000. –MH
12:35pm: Toma and ex-Toma
Level 1 – Blinds 100/100
What's not to love about Tsugunari Toma? Nothing, that's what. There's nothing not to love.
---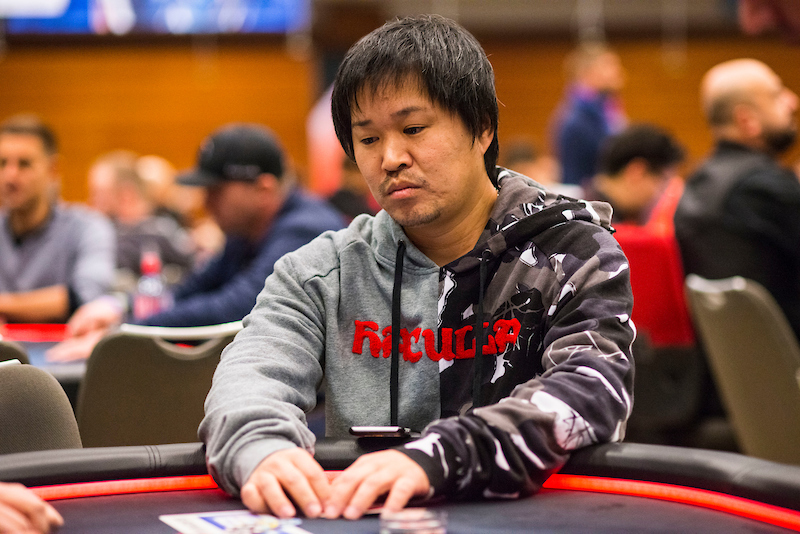 Tsugunari Toma: fan favorite
---
As reported earlier, Toma was the first player to be knocked out today, but he's re-entered, and is straight back into the action on his new table. Similarly, the player who seems to have taken his chips on Toma's previous table is also trying to dominate the early action. And why not?
Let's take a look at that table first, the one where the ghost of Toma sits. On it, Mustafa Jukovic limped from the cutoff and Victor Korotkov, whose 60,000 stack suggests he knocked out Toma, raised to 400. The blinds folded and Jukovic called.
The flop fell J♣ 6♦ 2♣ and Jukovic checked. Korotkov bet 500, Jukovic now check-raised to 1,500 and Korotkov was forced out of it. Jukovic seemed to have a plan for that hand and put it deftly into action.
As this was playing out, Toma himself was in a pot against Nusret Atmaca on a neighbouring table. They had put about 2,000 in the middle en route to a turn, with the board showing 9♣ Q♠ K♥ 10♠ . Atmaca checked and Toma bet 1,300. Atmaca called.
The river was the Q♥ making this board fairly menacing. Atmaca checked, Toma bet 3,500, and Atmaca didn't want to mess with Toma any more. He folded.
Wherever he goes, there's action. Wherever he leaves, there's action. That's Tsugunari Toma. — HS
12:20pm: Not Toma!
Level 1 – Blinds 100/100
We spotted Tsugunari Toma among those here at the start of play today. In fact, Toma was in his seat several minutes before the first hand was dealt. And just a few minutes after that, he was out of his seat, having already lost his starting stack.
He's already buying back in, though. More Toma to come. –MH
12:15pm: From Andreev to Zabrodskyy
Level 1 – Blinds 100/100
With play just starting, we are in full "early-arrivers-let's-see-who's-here-mode" as we traipse around the tournament area. See below for an initial survey of the room submitted by the intrepid "HS."
The Russian Andrey Andreev is among those mentioned below. His EPT career highlight was a fourth-place finish in the €25K High Roller at EPT11 Monte-Carlo where he earned a handsome €428,700.
---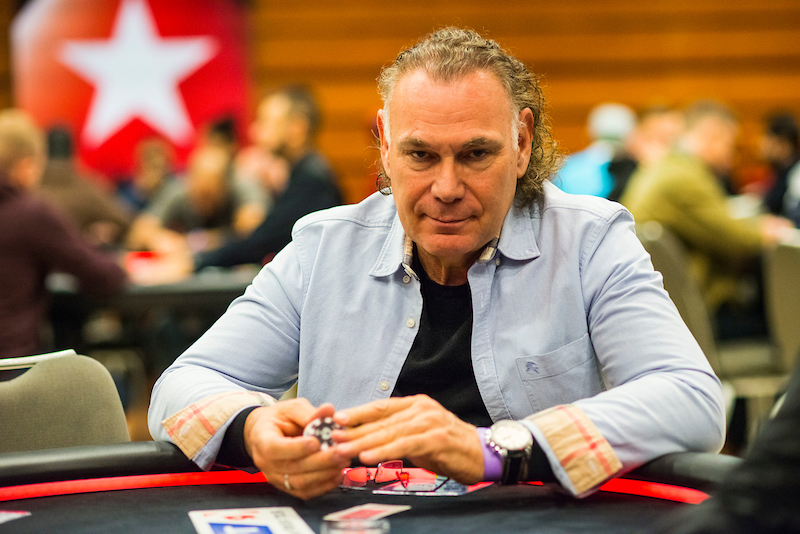 Andrey Andreev, first in the player list
---
Also at his table is the affable Ukrainian journalist Vasyl Zabrodskyy whom the PokerStars Blog has had a chance to meet at past events where among his accomplishments is a win in a €1,100 NL event at EPT Barcelona in August.
---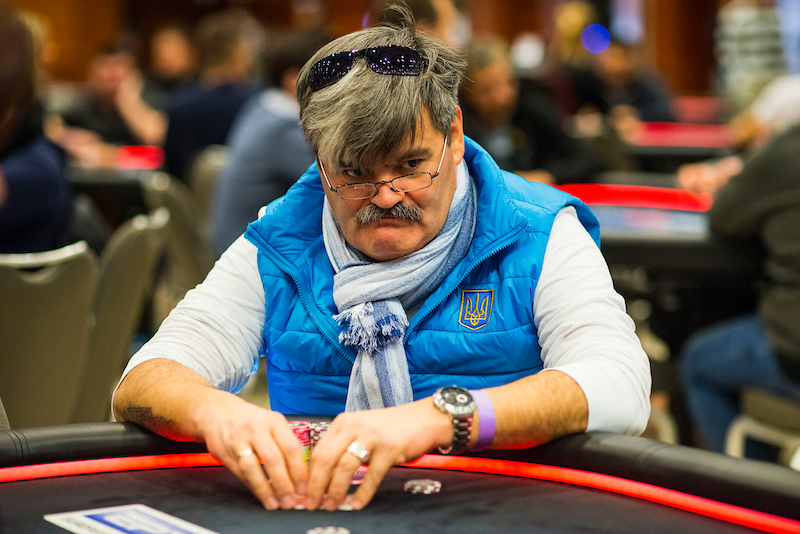 Last in the player list (but hardly least), Vasyl Zabrodskyy
---
Those two squared off in the first hand today, in fact, with Zabrodskyy defending his big blind against an Andreev open, check-calling after a 4♠ 8♥ 10♠ flop, then after the Q♣ checked through check-calling again after the Q♦ river. Andreev mucked his hand without showing on the end, Zabrodskyy showed his pocket fives, and the pair exchanged a chuckle.
Those two represent the top and bottom of our player list, alphabetically speaking. We'll see how everyone sorts themselves out chip-wise here as we go. –MH
12:05pm: Off they go
Level 1 – Blinds 100/100
Just like that, we're under way. Isn't Level 1 just your favourite level?
Big crowds are expected for today's hostilities, with the current player total already at close to 300. Among the players sitting down to play the very first hand were: Dong Guo, Andy Black, Dermot Blain, Tsugunari Toma, Fatima Moreira de Melo, Maria Konnikova, Pierre Calamusa, Andre Andreev, Leo Margets, Joe Mouawad, Antoine Labat and Harry Lodge. Jaime Staples is also in the room, although it looks like he is doing an interview first. — HS
---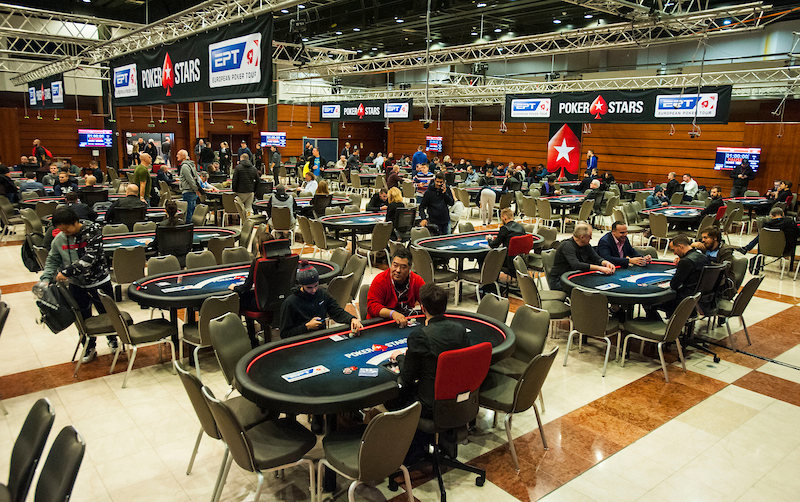 Calm before the storm
---
11am: More poker in Prague as players ready for Day 1B
It's a brisk, cool morning in Prague here in the Czech Republic, with temperatures just below freezing and cloudy skies. Meanwhile it is nice and warm inside the tournament room on the bottom floor of the Hilton Prague where the poker action will heat up once more when Day 1B of the €5,300 European Poker Tour Prague Main Event gets going at 12 noon.
---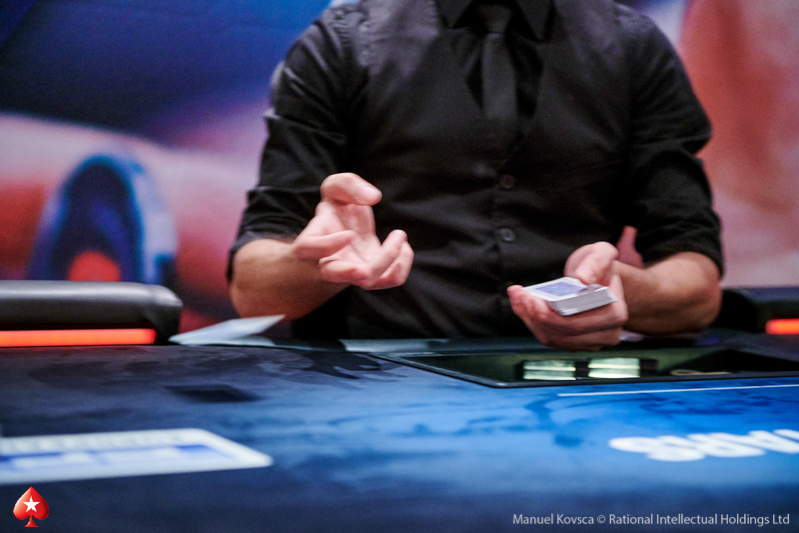 Let's play some cards
---
Yesterday's Day 1A saw 371 total entries (including 40 re-entries), with PokerStars qualifier John Saraliis setting the pace by spinning the 30,000-chip starting stack up to 297,400, the most of the 127 players advancing to tomorrow's Day 2.
Among the others building big stacks on Wednesday included EPT2 Baden Main Event champion Patrik Antonius (209,300), EPT12 Malta Main Event champion Niall Farrell (200,300), Wael Sarkis (197,100), Parker Talbot (191,900), and Gary Hasson (171,000). And after finishing runner-up in the €50,000 Super High Roller to Matthias Eibinger yesterday, Andras Nemeth joined the field mid-afternoon and ended the night with 165,200.
Like yesterday, the schedule today calls for 10 one-hour levels, with a 75-minute dinner break coming after Level 6. With play starting at 12 noon, that means the dinner bell should ring at approximately 6:40pm and the bags should come out around 12:30am.
This is a single re-entry event, meaning anyone busting today can immediately re-enter for another €5,300, or get back in the game any time prior to late registration closing down at the start of Day 2. Last year the Main Event here in Prague ultimately drew 855 entries who together built a €4,146,750 prize pool, €675,000 of which went to winner Kalidou Sow.
The field will no doubt be a big one today, and we'll be on the floor day and night providing all the updates. Stick close and we'll find out together who else takes part, and who emerges most favorably to begin a deep run to the next EPT Main Event title. –MH
---
Download the PokerStars LIVE! app with all tournament information. Available for IOS and Android.
PokerStars Blog reporting team on the €5,300 Main Event: Stephen Bartley, Marc Convey, Jason Kirk, Martin Harris, Jack Stanton, and Howard Swains. Photography by Joe Giron/PokerPhotoArchive and Neil Stoddart.
---
Back to Top
Study Poker with
Pokerstars Learn

, practice with the PokerStars app

Try our Free Scholars Leader Board to practice your new skills.
Quick Links
Learn
Practice
Chat with us
Watch and share