Nothing much happens for long periods of poker tournaments, but there are also several undoubted highlights. There's a spike of activity as registration closes, there's a frisson of excitement as the prize-money is announced, and it's practically a frenzy as the bubble bursts.
For anyone lucky enough to be at EPT Prague today, we got all three.
Yes, for the first time in quite a while, an EPT Main Event went from "registration open" to "in the money" without a sleep between the two. And it's not because this is a small tournament. Far from it. In fact, there were 1,174 entries of €5,000 apiece, creating a prize pool of nearly €5.7 million.
---
LATEST CHIP COUNTS | PAYOUTS TO DATE | SEAT DRAW
---
But after five 90-minute levels, we close tonight with 137 players, all of whom have already locked up a min-cash of €8,710 at least. We began at noon with 436 players but lost 299 in double-quick time. Then Pavel Veksler became the last player to leave empty handed, losing with queens to kings and then with K♥ J♥ to A♠ J♣ , with the latter hand improving to a flush for good measure. Veksler burst the cursed bubble, beginning fun time for everyone else.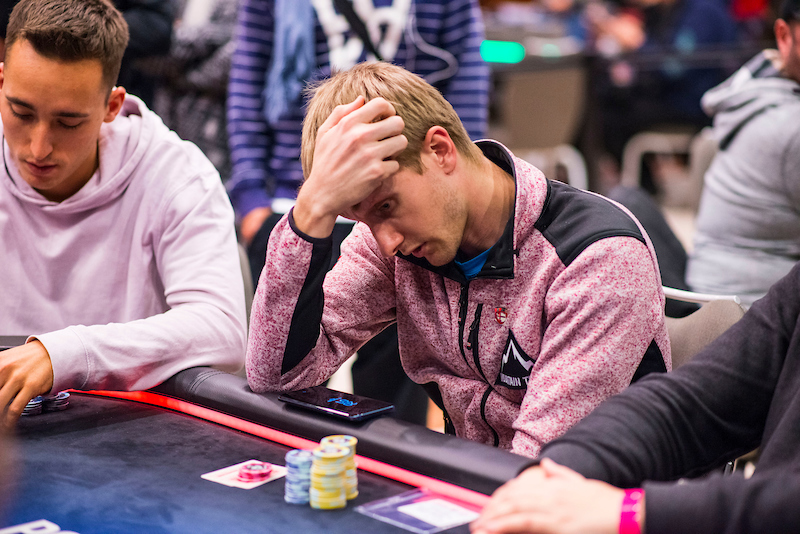 The last decision Pavel Veksler faced in this tournament
By that point, Natalie Teh was already well on the way to putting together a tournament leading stack. She finished the day with 780,000 in her bag, much of which came from a huge hand against Michael Schuh in which Teh's queens rivered a set to beat Schuh's aces. (It's fair to say, Schuh was displeased.)
---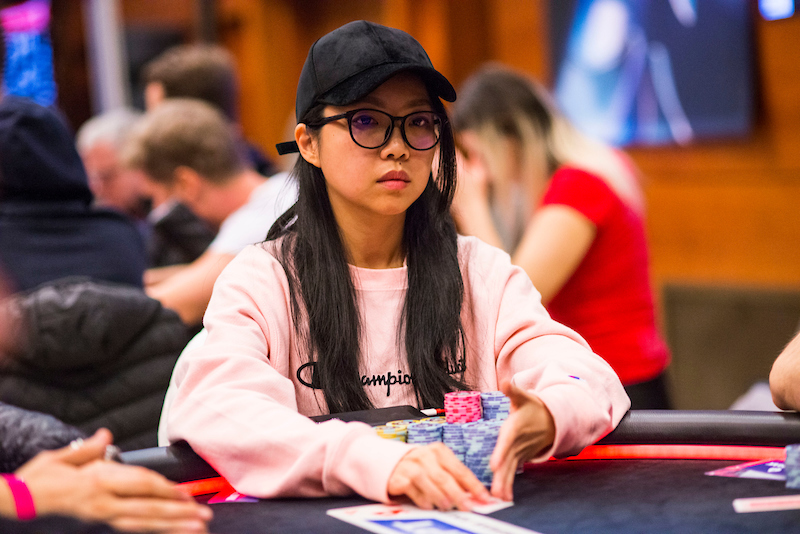 Natalie Teh: Soared to the summit
---
However Teh, who has already won a Platinum Pass to the PokerStars Players Championship in the Bahamas in January, is sharp enough to know that nothing should be taken for granted. There are still three days to go until we even reach the final table.
How Natalie Teh conquered the LivGor quiz to win a Platinum Pass.
Members of Team PokerStars Pro can tell you how turbulent tournaments of this nature can be. Both Muskan Sethi and Fatima Moreira de Melo had high hopes for their days today (see video below). But both were out before it was even dark outside. A similar fate befell the defending champion Kalidou Sow, high roller regulars Niall Farrell, Sam Greenwood, Pavel Plesuv, Luke Reeves and Daniel Dvoress, as well as Ari Engel, Joao Barbosa, Salvatore Bonavena, Jack Sinclair and Dario Sammartino among many others.
---
There are, as ever, a whole host of top-level contenders still involved in this tournament. The big stacks still involved include:
Parker Talbot: 773,000
Bechrakis Evangelos: 730,000
Anton Wigg: 708,500
Arthur Conan: 705,000
---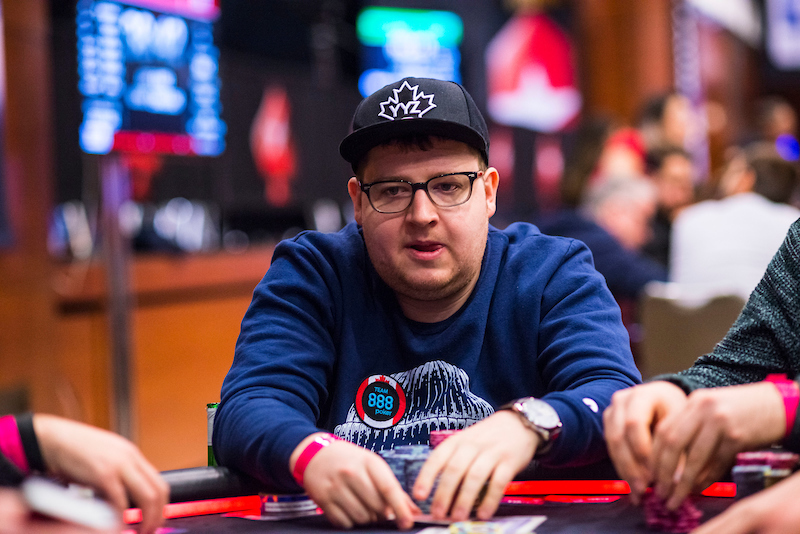 Parker Talbot: Second overnight
---
It's worth taking a look through all the day's blow-by-blow coverage below, which included more than the usual sprinkling of high drama. We saw some bent and buckled pocket aces (remember Schuh's "displeasure"? Yes, the cards suffered), while one or two others let their temper get the better of them. (The gory details are also below.)
---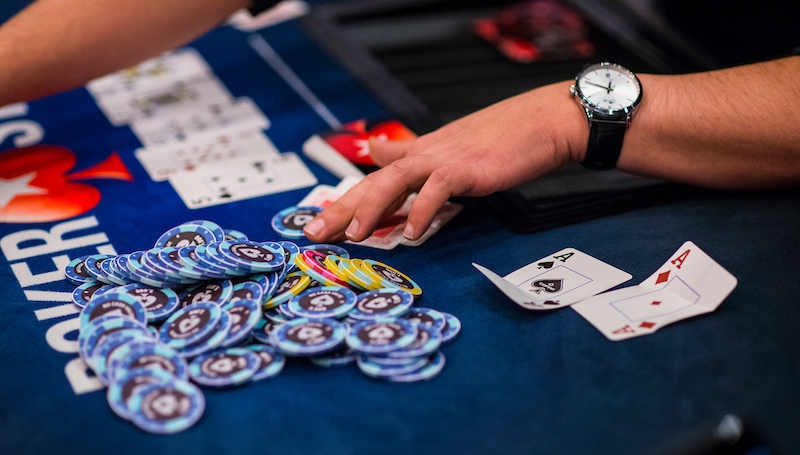 Michael Schuh's crumpled aces
---
Tomorrow we play another five 90 minute levels and the field will more than halve once again. Come back at noon for more of the same.
Photography by Joe Giron/PokerPhotoArchive
---
Day 2 coverage archive:
• PLAYERS: 137 (of 1,174)
• CHIP COUNTS | SEAT DRAW | PAYOUTS
• ALL EPT PRAGUE INFO | TOURNAMENT SCHEDULE
• DOWNLOAD POKERSTARS | Follow @PokerStarsBlog on Twitter
---
9pm: Beresford busts in brutal fashion
Level 15 – Blinds 2,000/4,000 (BB ante 4,000)
In the last hand of the night before the clock was paused, Conor Beresford got his chips in about good as he could.
There had been an open to 10,000 and two calls by the time it reached him in the small blind, and looking down at Q♠ Q♣ he moved all-in for 92,000. Two players folded, but Grzegorz Grochulski made the call on the button and flipped Q♥ J♣ .
The K♥ 8♣ 6♠ flop was safe for Beresford, but the 10♦ turn was the worst possible turn. The nail in Beresford's coffin was the A♠ on the river, giving Grochulski a straight.
Beresford could only smile and shake it off as he said his goodbyes, while Grochulski now sits with 560,000 with just a couple more hands left to play. –JS
8:55pm: Milewski avoids late elimination
Level 15 – Blinds 2,000/4,000 (BB ante 4,000)
With the end of the night approaching, Adam Milewski was far from guaranteed to proceed through to Day 3. He's still not guaranteed but he's one step closer after doubling through Danilo Velasevic. After Niklas Blomqvist opened for 8,000 in the cutoff seat, Milewski jammed with A♥ Q♣ on the button. Velasevic moved in himself in the small blind with 10♣ 10♥ , clearing Blomqvist out of the way, but the A♠ 4♦ 8♦ 6♠ J♦ board gave Milewski the win.
Milewski is now on 175,000, Velasevic on 140,000, and the final few hands of the night will soon be played. –JK
8:50pm: The fours are not with Liperis
Level 15 – Blinds 2,000/4,000 (BB ante 4,000)
Yiannis Liperis found a good squeeze spot to get his chips in but ran into a bigger pair and couldn't spike a two-outer needed to survive.
Guoliang Wei opened to to 9,000 and was called in one spot before Liperis made his move for his last 90,500. Wei was the only caller.
Wei: J♠ J♣
Liperis: 4♣ 4♠
The board ran 8♥ 2♣ 2♥ K♠ 2♦ to send Liperis on his way.
Wei probably has greater than 400,000 after the win but it was hard to tell as he has all his chips in three very tall stacks. One table mate commented how he loves how Wei stacks his chips. Us bloggers are 20-stack purists though and we I did a little victory dance inside when, on cue, one of those stacks slowly fell all over the table. –MC
8:45pm: Serdar Demircan is Mr. Hollywood
Level 15 – Blinds 2,000/4,000 (BB ante 4,000)
Yesterday early on Day 1B, Serdar Demercan asked to borrow my notepad and pen and I obliged, and he wrote a note that he handed back to me:
"Serdar Demircan will win Main Event."
With 150 players left, Demircan is still one of those for whom such an outcome is possible. Just now I spotted him appearing to be deep in the tank following a K♣ 7♦ K♠ flop.
As the seconds of the shot clock ticked down, his opponent seemed, well, ticked off.
"What is the decision?" he asked. "You need advice?"
That Demircan — usually gregarious (as evidenced by the note he gave me) — wasn't answering seemed notable, despite the fact there was only 50,000 in the middle. Finally he checked, and his opponent immediately checked behind.
The turn was the 5♦ , and this time Demircan took even longer. In fact, his opponent started counting with the clock as it neared zero: "Five… four… three…."
Demircan tossed in a time bank card. He thought some more. Finally he set out a bet of about half-pot. His opponent paused just a beat before folding his ten-high face up. Demircan broke into a wide grin and turned over his hand.
It was 6♣ 3♣ .
"I make Hollywood!" he laughed. "Come on, give it to me!" The table, including his opponent, couldn't help but laugh in response, even clapping a little.
"I use the time bank," added Demircan. "I am Mr. Hollywood!"
It was a good performance, going along with two days' worth of good performance at the tables, as Demircan has 395,000 now near the end of Day 2. (And he's already written an ending.) –MH
8:52pm: KO after KO after…
Level 15 – Blinds 2,000/4,000 (BB ante 4,000)
We're hearing "all in and call" every 10 seconds, or so it feels. Some secured cash will do that to a poker tournament.
We caught two: one double up, and one elimination.
Tomas Jozonis was all-in for 51,000 with J♣ J♥ against Souhayl Fjer's A♣ K♥ . There was no help for Fjer on the 7♦ 4♠ 4♣ 6♥ 8♣ board, and he dropped to 82,000 while Jozonis now has 110,000.
Over on another table, Hao Tan had called Laurent Michot's all-in with K♠ Q♣ and would need to hit against A♥ J♣ . The 8♣ J♠ 9♣ gave Tan a gutshot, and he hit it right away on the 10♠ turn. Michot needed a queen, but lady luck wasn't around on the 5♠ river.
Tan has 315,000 now. –JS
8:51pm: Bubble in moving pictures
Level 15 – Blinds 2,000/4,000 (BB ante 4,000)
It was a rough end to the tournament for Ukraine's Pavel Veksler. Here's how his elimination, which burst the Main Event bubble, went down:
---
8:50pm: Munoz mowed down
Level 15 – Blinds 2,000/4,000 (BB ante 4,000)
Ramon Miquel Munoz was in a less than enviable position with just 2,000 chips remaining under the gun, but he found a pretty good hand for the situation in K♥ Q♦ and committed to it. He even got calls from Christopher Andler in the small blind and Vlada Stojanovic in the big, giving him a chance to quintuple his stack if could win.
Then he watched the 6♥ 3♥ 3♣ flop come down and the bets start coming in from Andler and Stojanovic: 4,000, then a raise to 14,000 and a call. They both checked the 2♦ turn and Munoz made his pair on the Q♠ river. But after Andler bet and Stojanovic folded, Munoz got the bad news: Andler had flopped trips with his 7♠ 3♠ .
Adios, Señor Munoz. Andler is now on about 140,000. –JK
8:48pm: Good flop doubled Wongwichit
Level 15 – Blinds 2,000/4,000 (BB ante 4,000)
A double-up for Phachara Wongwichit of Australia.
It looked unlikely when his and Kent Roed's cards were turned over:
Wongwichit: 7♥ 5♥
Roed: J♣ J♣
But the flop was kind. It came A♦ 5♦ 5♠ 4♠ 4♥
Roed laughed to himself in a kind of benevolent way when he saw the fives, then he paid off Wongwichit.
Not much though. The Aussie is on just 41,000. – SB
8:47pm: Bedell bags a big pot
Level 15 – Blinds 2,000/4,000 (BB ante 4,000)
A bit of a cooler cost Raman Afanasenka his tournament life in hand versus Tom-Aksel Bedell.
A big pile of chips lay the middle by the time they had reached the turn with the board reading 3♠ 4♥ 4♦ 9♦ , and it was at that juncture that Afanasenka committed his last 100,000 or so. Call.
Afanasenka: Q♣ Q♠
Bedell: A♣ A♦
The river was the 5♥ and a very happy Bedell tided up his new found chips into neat piles worth 487,000. –MC
8:45pm: Everything's all right with Reichenstein
Level 15 – Blinds 2,000/4,000 (BB ante 4,000)
EPT13 Barcelona Main Event runner-up Uri Reichenstein has just found a double up. After some pre-flop raising he ended up all-in for 99,000 with Q♣ Q♦ against Jussi "calvin7v" Nevanlinna's A♦ 10♦ .
The dealer laid the 2♥ 3♥ 4♠ 9♦ 8♠ , keeping Reichenstein in front. He's up to 208,000, while Nevanlinna drops to 175,000. –JS
8:42pm: Karakousis knocked out
Level 15 – Blinds 2,000/4,000 (BB ante 4,000)
The Greek player Georgios Karakousis's tournament run has come to an end. All in for less than 20,000 with Q♣ 9♠ , Karakousis had to wait patiently while two opponents vied for a side pot as the board came an unhelpful 8♦ 2♣ A♥ 4♠ 4♥ . When one of the opponents tabled pocket eights for a full house, Karakousis headed for the cashier to receive his payout.
There are 153 players remaining. –MH
8:40pm: Talking chips
Level 15 – Blinds 2,000/4,000 (BB ante 4,000)
Amar Hadzic's table just broke, and he was sent over to an empty seat on Parker Talbot's table. Talbot commented on the big stack Hadzic was bringing over, and he responded.
"I just won a big pot," he said by way of explanation. "Kings versus aces. King came." He repositioned his stacks, representing about 535,000, and looked at Talbot's chips.
"Are you chip leader?" he asked. "At the table," said Talbot, looking at his 655,000. "Not the tournament, I don't think."
Actually Talbot is right up there challenging for the lead at the moment, right about even with Armin Mette at the top of the counts. We'll keep an eye on that situation, of course, as the last half-hour of the day plays out. –MH
8:35pm: Malm on his way to the rail
Level 15 – Blinds 2,000/4,000 (BB ante 4,000)
Christian Malm of Sweden is the latest faller.
He got his chips in, and may have thought – not unreasonably – that his A♥ K♦ had a chance. But Soren Warburg Nielsen had found A♠ A♦ .
Malm saw the funny side, while Nielsen was unmoved. The board ran out K♣ 10♥ 7♥ 7♠ 8♣ and Malm was on his way to the rail. Nielsen meanwhile is up to 75,000. – SB
8:30pm: The first bunch of min cashers
Level 15 – Blinds 2,000/4,000 (BB ante 4,000)
As ever, players are now flying out the door. Here are the first load of players picking up a min-cash from this tournament:
| POS | NAME | COUNTRY | PRIZE |
| --- | --- | --- | --- |
| 167 | Alexandre Levinski | Belgium | €8,710 |
| 168 | Salvatore Bonavena | Italy | €8,710 |
| 169 | Mammad Alakbarov | Azerbaijan | €8,710 |
| 170 | Arnaud Enselme | France | €8,710 |
| 171 | Denis Karakashi | Italy | €8,710 |
| 172 | Chrysi Phiniotis | Cyprus | €8,710 |
| 173 | Nicola Grieco | Italy | €8,710 |
| 174 | Andrey Zaichenko | Russia | €8,710 |
| 175 | Morten Klein | Norway | €8,710 |
8:25pm: Alakbarov folds a pair of blanks
Level 15 – Blinds 2,000/4,000 (BB ante 4,000)
After the bubble burst, the shot clocks went into use and with less than a level to go tonight each player was given just two time bank cards to use — small, rectangular cards printed blue on one side.
Soon after action folded to a short-stacked Mammad Alakbarov and when he looked down to see what he'd been dealt he was shocked.
Why? His cards were blank!
Why were they blank? He'd squeezed the two time bank cards.
He burst into laughter, and so did the table. His range was pretty wide given his short stack and the bubble just having burst, but not wide enough to play two blanks.
A short while later Alakbarov did call an all-in with something just a little better than the two blanks — 4♥ 2♣ . "My favorite hand," he grinned.
Alas for him he was up against 10♠ 10♥ , and five cards later — J♣ 10♦ K♦ K♥ 6♦ — Alakbarov was wishing the table well as he departed, richer by one min-cash plus a funny story. (And, given that run-out, he was playing the board anyhow with the four-deuce. Might as well have been the blanks.) –MH
8:20pm: Conan destroys Bonavena
Level 15 – Blinds 2,000/4,000 (BB ante 4,000)
Salvatore Bonavena won the Main Event here in Prague way back in Season 5. He won't be adding a repeat title this year, though. He got in with K♠ K♦ before the flop but Arthur Conan was ahead with A♠ A♥ . The board ran out 7♣ 9♥ 6♦ 8♠ 2♠ , sending Bonavena to the exit to claim his payout. Conan is now on about 460,000. –JK
8:10pm: Czuczor plays on
Level 15 – Blinds 2,000/4,000 (BB ante 4,000)
A double up for Marton Czuczor keeps his tournament alive.
He was all in with K♠ 6♥ against the Q♥ 10♣ of Hao Tian.
The board ran 3♥ 6♠ 2♥ J♥ 9♣ to double Czuczor, although his stack of around 30,000 is still on the short side. – SB
8:05pm: Come back Mr Klein, you've won some money
Level 15 – Blinds 2,000/4,000 (BB ante 4,000)
"Sir, come back!" shouted floor person Jola as she chased after Morten Klein who had just gotten unlucky to bust for a min cash.
Klein had moved all-in for 38,500 from the button and was called by Markus Durnegger in the big blind.
Durnegger: A♦ 2♣
Kelin: 7♣ 7♦
The board ran 9♦ 2♥ 4♥ K♣ A♠ to make Durnegger two pair. The German moved up to 403,000. –MC
8pm: Pavel Veksler bubbles the EPT Prague Main Event
Level 15 – Blinds 2,000/4,000 (BB ante 4,000)
Only 175 players remain, and that means they're all in the money.
A few pots ago during hand-for-hand play, Pavel Veksler and Mateusz Wozniak found themselves in a big pre-flop collision with pocket queens versus pocket kings. Wozniak ended up making quad kings (aka a saunter of cowboys, as we named that hand earlier this week) and doubled up.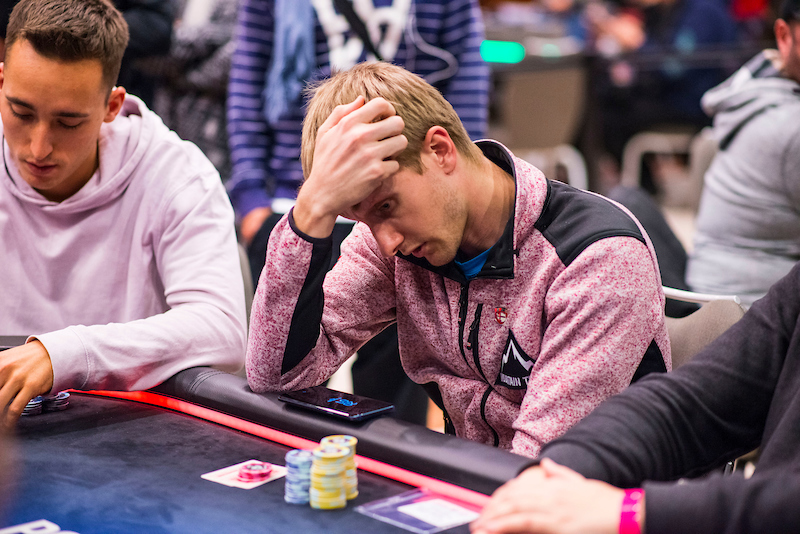 Tough decision for Pavel Veksler
Veksler lost 103,000 in that one, but the two would tangle again soon after. Picking up the action on a 5♠ J♠ 4♠ flop, Veksler check-called a bet of 15,000 to bring the 4♣ on the turn. The board was now flushy and straighty, so it wasn't a surprise to see some conservative play, on the stone bubble no less. Both checked.
The river was the 9♠ , putting four spades out there. Veksler checked a final time, letting Wozniak jam and put him to the test for his 122,000 stack.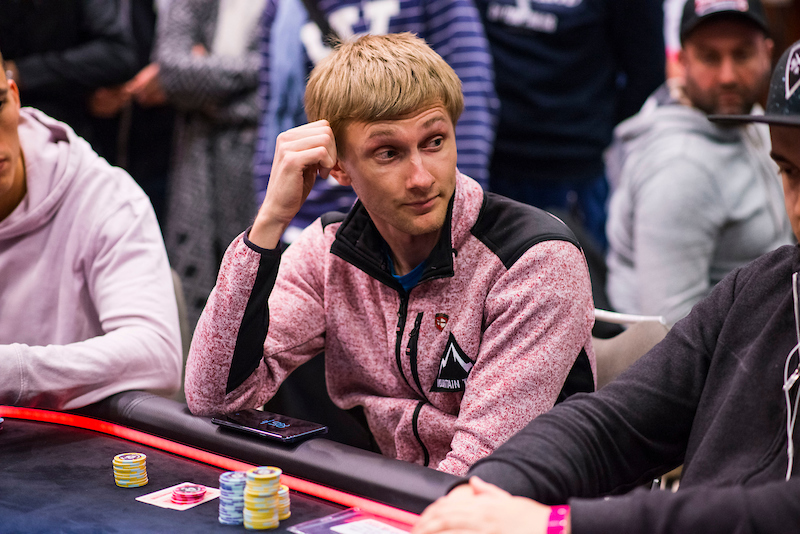 Any information?
He was thinking it over for a good couple of minutes, in which time a big crowd gathered. Eventually Veksler announced a call, and Wozniak revealed A♠ J♣ for the nut flush. Veksler flashed his hand while mucking, but it was turned over and seen to be the K♥ J♥ .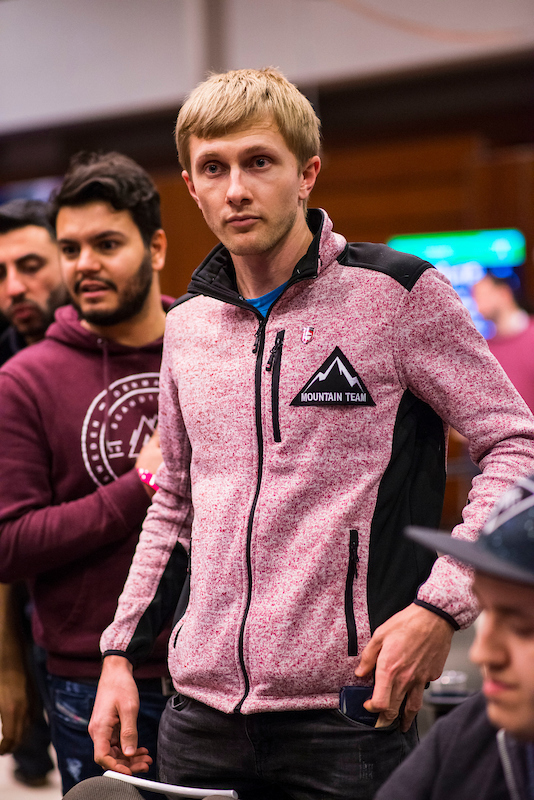 Time to go, Pavel
Veksler is the last player to leave with nothing, while Wozniak increases to 300,000. –JS
7:50pm: Big stacks on the bubble
Level 15 – Blinds 2,000/4,000 (BB ante 4,000)
During the hand-for-hand slowdown, I made a quick survey to see where the big stacks were, and here's what I found:
Armin Mette – 655,000
Natalie Teh – 640,000
Maciej Rogacki – 635,000
Daniel Wilson – 595,000
Jonathan Roy – 590,000
Anton Wigg – 585,000
Jasper Wetemans – 535,000
Dimitrios Michailidis – 505,000
Still one from the money. Stay tuned! –MH
7:45pm: Bubble up for Koplimaa
Level 15 – Blinds 2,000/4,000 (BB ante 4,000)
Markku Koplimaa was at risk on the bubble but managed to fade an opponent's flush draw to double up.
Tom-Aksel Bedell raised to 10,000 off the button and Koplimaa peeled from the big blind to see a 10♣ J♣ K♣ flop. Koplimaa only had 13,000 back and in they went in an old-school stop n go move. Call.
Koplimaa: K♥ J♠ for top two pair
Bedell: 2♣ 2♦ for pair of deuces and baby flush draw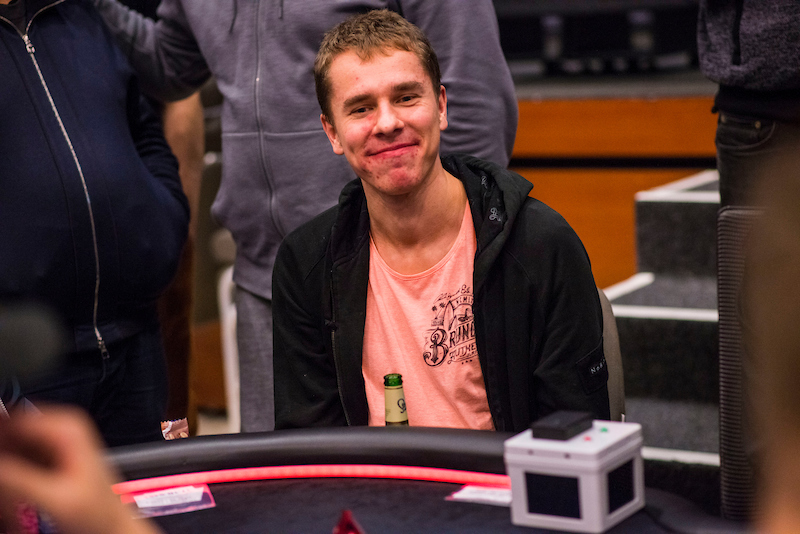 Markku Koplimaa: If ever a face said "bubble up"
The board ran out 7♥ and A♥ meaning bubble and hand for hand play will go on a while longer. –MC
7:42pm: Afanasenka takes from Liperis, twice
Level 15 – Blinds 2,000/4,000 (BB ante 4,000)
Raman Afanasenka has risen to just under 200,000 after winning two pots on the bounce versus Yiannis Liperis.
Liperis raised to 8,500 from second position but folded after Afanasenka three-bet all-in from the small blind.
Not to be put off, Liperis raised to 8,500 the very next hand and Afanasenka decided to call this time, in position on the button. Both players checked the Q♣ 4♠ A♠ flop before Liperis led for 10,000 on the 5♦ turn. Call.
Both players went back to checking on the 7♠ river and Liperis opened K♥ 7♥ and dropped to 120,000 after Afanasenka took the pot with his Q♦ 10♣ . –MC
7:40pm: One more elimination to go
Level 15 – Blinds 2,000/4,000 (BB ante 4,000)
We're now just one elimination away from the money after Valon Budima was sent to the rail. I showed up to the table with the board reading 7♦ 3♠ Q♥ and Budima at risk against Markus Durnegger. Budima's 2♣ 2♠ actually had the lead and needed to fade six outs to stay ahead of Durnegger's K♣ 9♥ . The Q♦ turn didn't change anything, but the K♦ river gave Durnegger a pair of kings and Budima his walking papers.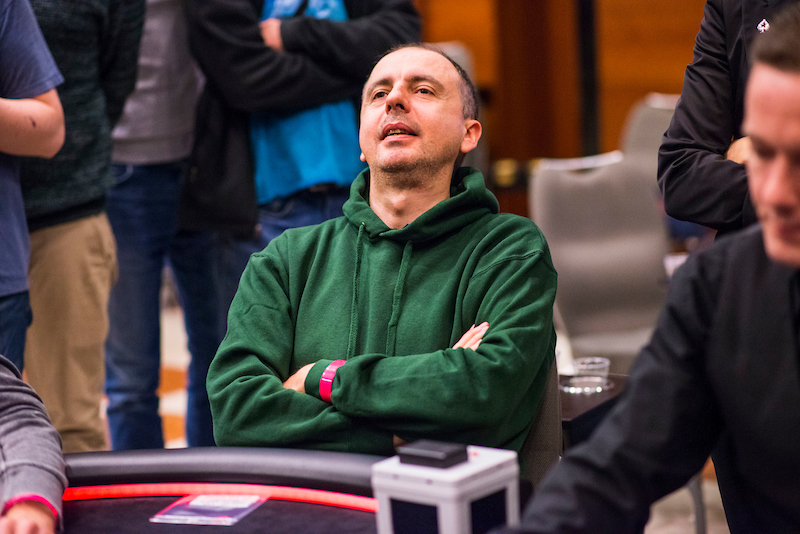 Valon Budima: So near and yet so far
Durnegger is now on 365,000. –JK
7:35pm: Mette felts Alonso, now 2 from the cash
Level 15 – Blinds 2,000/4,000 (BB ante 4,000)
They're back, and there's already been one knockout, meaning just two to go before the cash.
Javier Fernandez Alonso was the unfortunate victim, falling with A♣ K♦ versus Armin Mette's J♠ J♣ . There was an ace on the flop, but a jack, too, and the board of A♦ J♥ 7♣ 6♣ 5♦ ultimately meant the end of Alonso's run.
Mette's sitting pretty right now with 695,000 with 177 players left. –MH
7:10pm: Break time
That's the end of Level 14. There are 178 players remaining, which means we're three off the money. It will be bubble time when we return in 20 minutes!
7:05pm: Khoury's ace-king crushed
Level 14 – Blinds 1,500/3,000 (BB ante 3,000)
It's never fun to bust a poker tournament. It's even worse to bust just four spots from the cash. You know what also stinks? Picking up ace-king and running into an opponent with aces. And what about those times when you're all-in and flop the nut-flush draw only for it not to come. Oh, man, that's the worst.
Alas for Mazin Khoury, he just suffered all of that to end his EPT Prague Main Event run.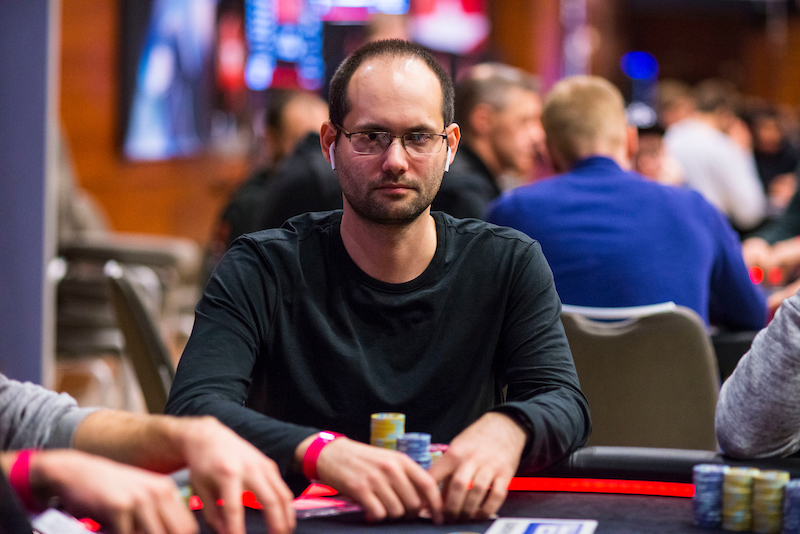 Mazin Khoury: No more
Looking down at A♦ K♠ , Khoury had raised to 6,500 when Andrea Ricci three-bet to 20,000 from the small blind. Action back on Khoury he made it 120,000 to go, leaving himself just 26,000 behind. Ricci then jammed and Khoury called, then the latter disappointedly saw he was up against A♣ A♠ .
The 2♦ 7♦ 5♦ flop gave Khoury that flush draw I mentioned before, then the A♥ turn and 3♥ river brought two red cards to tease him further. Merciless.
Khoury's out, and with the next break close Ricci has 335,000. –MH
7pm: Aces for local hero
Level 14 – Blinds 1,500/3,000 (BB ante 3,000)
Ondrej Vinklarek was known as the Chris Moorman of this fine land once upon a time due to his prowess at the online tables. He's most probably going to be able to use that prowess into the money after a cooler saw him double.
He and Amar Hadzic got into a pre-flop raising war that resulted in all the chips going in. Vinklarek was the player at risk with 107,500.
Vinklarek: A♠ A♦
Hadzic: K♣ K♠
The board ran 5♣ Q♣ J♣ [5♦ J♠ and Gadzic dropped to 342,500. –MC
6:55pm: The three faces of Patrik Antonius
Level 14 – Blinds 1,500/3,000 (BB ante 3,000)
Being in world-class Prague for a week and a half is already a pretty big treat, so I feel spoiled after having the rare opportunity to watch Patrik Antonius cycle through all three of the expressions he gives off at the poker table within the span of two minutes.
There was already a 6♥ Q♠ 5♣ flop and 30,000 chips in the middle when I showed up to see Antonius, in the small blind, square off with Timothy Adams in early position. Antonius check-called 6,500 there and then both players checked the 7♠ turn.
---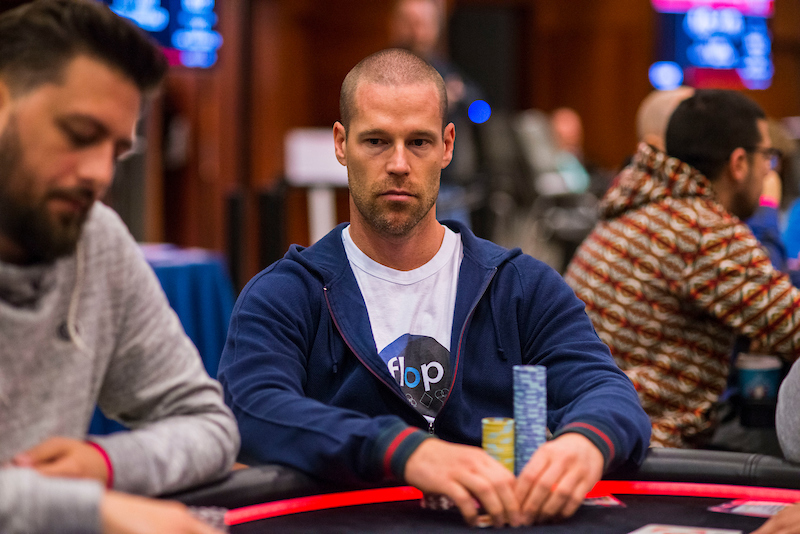 The notoriously expressionless visage of Patrik Antonius
---
Antonius led for 18,000 on the 2♣ river and Adams, after counting down the chips for a call, added another mess of blue chips to them for a raise to 70,000. That sent Antonius into the tank for a full two minutes. For most of it he was absolutely expressionless — his default mode, "The Patrik." Toward the end of that time the right corner of his mouth tilted upward in a half-grin — was Adams only applying pressure because of the impending bubble? Then he folded and the smile turned upside down into a half-frown: the third face of Patrik Antonius.
The Finnish legend is still on 305,000 after that fold, while Adams climbs to 285,000. –JK
6:53pm: The sharpest mind in the room
Level 14 – Blinds 1,500/3,000 (BB ante 3,000)
Our story of the day is Natalie Teh's rise up the chip-counts, a yarn that also features some crumpled pocket aces (see 6:20pm). Lest we forget, Teh is heading to the PokerStars Players Championship in the Bahamas in January having won her Platinum Pass by coming out top in Liv Boeree and Igor Kurganov's teasing quiz.
---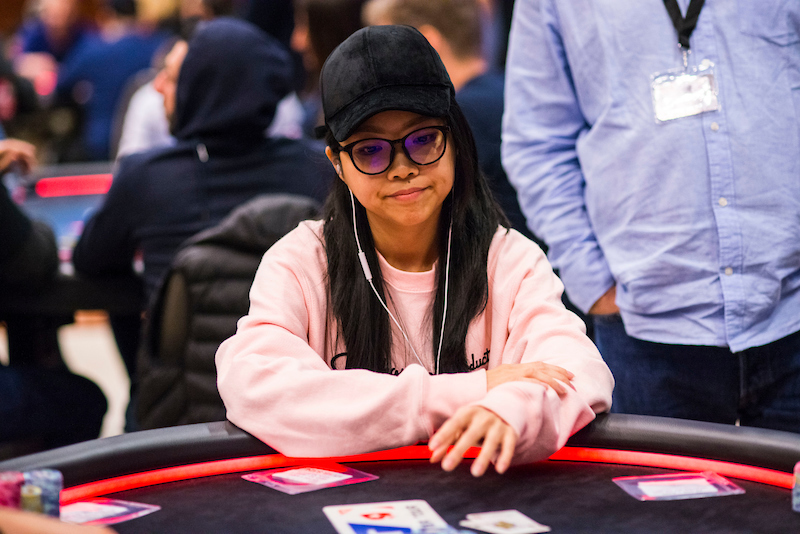 Natalie Teh: Platinum Pass for trivia
---
Read the full story of how Teh conquered the LivGor quiz.
6:50pm: Geraume gets Chmielewski
Level 14 – Blinds 1,500/3,000 (BB ante 3,000)
Marcin Chmielewski of Poland is out of chips. He'd had a nice hand with which to risk the last of his stack — J♣ J♥ — but alas for him the Frenchmen Eric Geraume had a better one with A♣ A♦ .
The board brought cards ranked as high as ten but no higher, coming 8♠ 9♠ 5♣ 8♣ 10♣ , and Chmielewski is out just a half-dozen spots shy of the cash.
Geraume is up to 352,000. –MH
6:45pm: Andler binks quads
Level 14 – Blinds 1,500/3,000 (BB ante 3,000)
"Yes baby!" called Christopher Andler, with such enthusiasm that we shimmied our tired feet over to take a look.
Turns out he'd got his last 55,000 all-in with J♠ J♣ , only to run into Andrea Iocco with Q♥ Q♦ . Both then flopped a set with the J♥ 3♥ Q♣ , giving Andler one out in the deck.
The 2♣ wasn't it. But as the headline to this post gives away, the J♦ river sure was.
Quads for Andler take him up to 120,000, while Iocco drops to 113,000. –JS
6:40pm: Early position action
Level 14 – Blinds 1,500/3,000 (BB ante 3,000)
It seemed as if Alexey Zakharov was just stalling when he took a long time over his decision, but that wasn't the case. He had a hand, went with it, and it paid dividends.
Joao Lopes De Oliveira opened to 6,500 from under the gun before Zakharov tank-three-bet all-in for 89,500 from the next seat. Danny Tang looked like he was going to get involved from one more seat along, but folded after a good stall, I mean tank. De Oliveira made a reluctant looking call when the action got back to him.
De Oliveira: J♥ J♠
Zakharov: Q♥ Q♠
The board ran a low 5♦ 7♥ 2♣ 4♠ 5♥ and De Oliveira dropped to 110,000. –MC
6:35pm: Talbot takes out Van Til
Level 14 – Blinds 1,500/3,000 (BB ante 3,000)
After Hao Tian opened for 7,500 from early position, it folded to Johan Van Til on the button who re-raised all in for his last 11,500. Action reached Parker Talbot in the big blind who after determining Tian could not re-raise again should Talbot just call (he couldn't), Tablot called the re-raise and Tian did as well.
---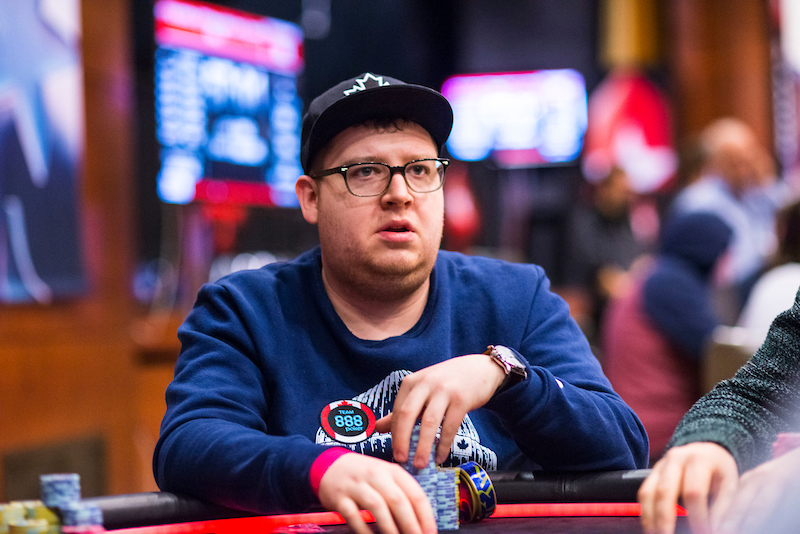 More for Parker Talbot
---
Talbot and Tian checked down the 2♥ 9♠ J♣ flop, 7♠ turn, and 2♠ river, then Talbot said "sixes" and Van Til nodded to indicate his tournament was over. He tabled his A♦ K♠ , Tian showed his A♥ Q♥ , and Talbot took the pot.
Talbot has about 415,000 at present, while Tian has a nice stack of 325,000 as well.
That knockout brings the total number of players left to 182 — just seven off the money now. –MH
6:30pm: Bad showing from Bendik
Level 14 – Blinds 1,500/3,000 (BB ante 3,000)
Getting knocked out of a tournament is not a good feeling. We all know that. But as poker players, fans, and reporters, we also know that if you can't control your temper when you lose, poker might not be the best game for you.
It's something Jan Bendik, the former EPT Grand Final winner, should probably know by now. But maybe not…
In a recent pot, Bendik opened to 7,000 on the button and Parker "tonkaaaa" Talbot called out of the big blind to see a 4♦ 3♠ 5♣ flop. Talbot opted to lead out instead of checking, making it 5,500 to go. Bendik instantly raised to 16,500, and Talbot stuck around.
The 2♦ hit the turn, putting four to a straight out there. Talbot once again decided to lead out instead of checking to the last aggressor, making it 14,000 to go. This time Bendik just called.
The 9♠ completed the board and Talbot fired 41,000, which Bendik didn't like one bit. He made the call though, and when Talbot showed 6♦ 9♥ for a six-high straight, Bendik mucked with anger and began muttering to himself.
---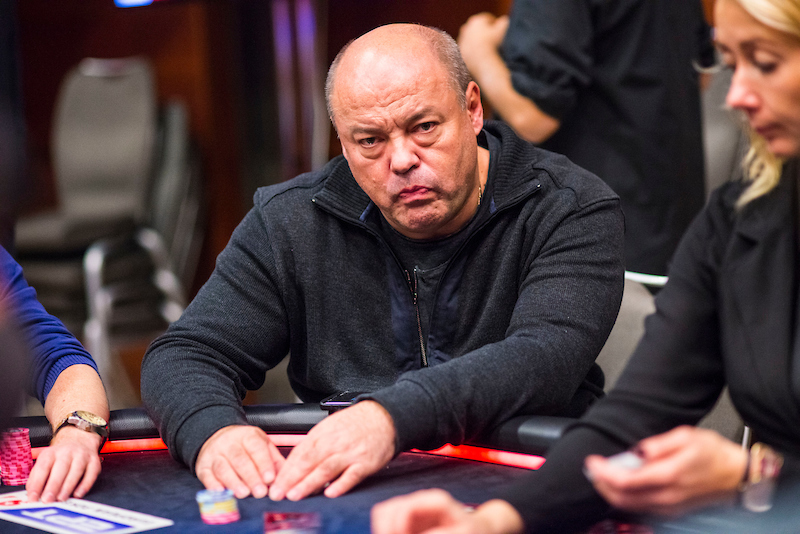 An angry Jan Bendik let his emotions get the better of him
---
Talbot was up to 440,000 after that one, while Bendik dropped down to 15,500. With no action in front of him, he got it all-in from the cutoff on the next hand. It folded to the big blind who called with K♠ Q♦ , up against Bendik's A♦ 10♦ .
The board ran out 5♣ Q♠ Q♣ A♥ 5♥ , and Bendik was eliminated. He stood up, threw his hand down towards the dealer, muttered something again, then stormed off.
The dealer intimated that Bendik's passing comment had been directed at her–she understood Slovak, in which these final words had been spoken. Players at the table wanted a translation, and another native speaker revealed that it had been a highly uncomplimentary–and unnecessary–slur.
Poker can be a stressful game, and emotions can run high. But we're just going to have to hope this was no more than a one-off. Outdraws are not a dealer's fault. Respect, please, for the tournament staff. –JS
6:26pm: Levelling period
Level 14 – Blinds 1,500/3,000 (BB ante 3,000)
The Main Event is 13 players away from the money and we're in that period where funny stuff happens. Short stacks stall, big stacks bully and medium stacks don't know where they are with marginal hands versus those bullies. But are they really bullying?
Mario Arrocha raised to 6,000 from under the gun and called after Jasper Wetemans three-bet to 20,000 from the hijack. The flop fanned 3♣ A♠ 7♥ and Wetemans continued for 15,000. Arrocha check-called and then faced a 27,000 bet on the 2♥ turn. He had 110,000 to play with and really looked like he wanted to call but ultimately released his hand, then continued to study Wetemans long after the hand was over. The Dutch pro is cruising on 365,000. –MC
6:25pm: Kaladurdevic check-raise earns value
Level 14 – Blinds 1,500/3,000 (BB ante 3,000)
A crafty river check-raise just netted Dejan Kaladurdevic some nice value on the river in a hand versus Slaven Popov.
The board showed J♥ 4♠ 9♥ 4♥ 5♣ and there was something like 45,000 in the middle when Kaladurdevic checked, then Popov made a decent-sized bet of 37,000. But Kaladurdevic came back with a raise to 130,000, and after a long time in the tank Popov finally called.
Kaladurdevic swiftly tabled J♦ J♣ for a full house, and Popov mucked and counted out the 100,000 he now has left. Meanwhile Kaladurdevic is up to 425,000 thanks to that one. –MH
6:20pm: Natalie Teh takes the lead at Michal Schuh's expense
Level 14 – Blinds 1,500/3,000 (BB ante 3,000)
We have a new chip leader thanks to a massive pot between Natalie Teh and Michal Schuh.
Teh opened for 6,500 under the gun and popped it back to 70,000 after Schuh three-bet to 20,000 in the hijack seat. Schuh called that bet and another 50,000 on the 5♠ 9♦ 6♣ flop.
---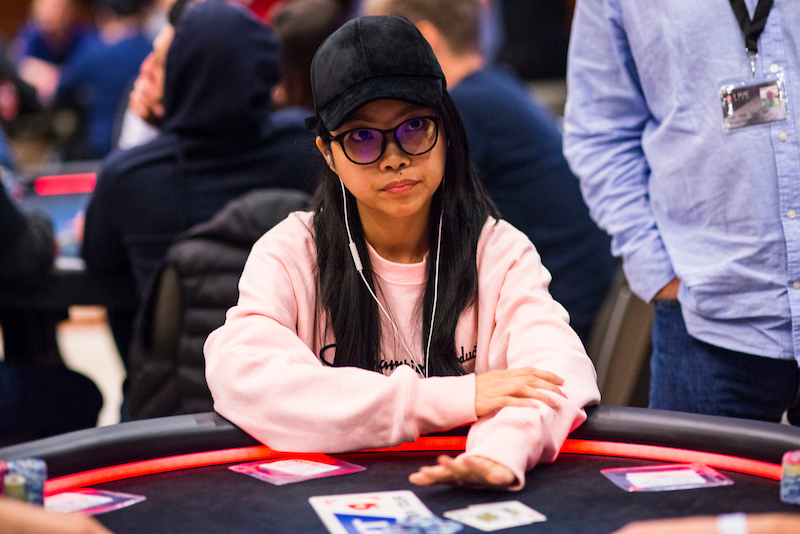 Natalie Teh: New chip leader
---
Teh checked the J♠ turn and Schuh, after some thought, bet 75,000. That sent Teh into the tank and after about three minutes of thought she opted to call, bringing the Q♠ on the river. She moved in almost immediately and Schuh snap-called — and that's where things got a little nasty.
"Of course," Schuh muttered as Po tabled her Q♥ Q♣ . She'd rivered a set of queens to top his A♠ A♥ . Schuh crumpled his cards and disgustedly threw them into the center of the table. "Of course!"
---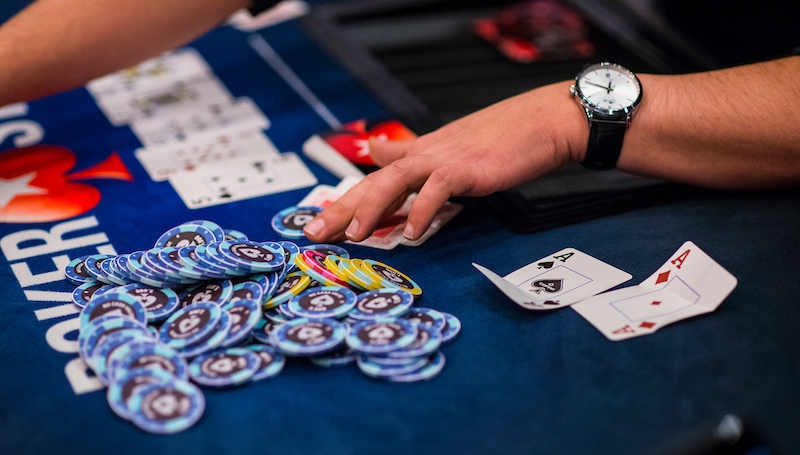 Michael Schuh's crumpled aces
---
He earned a one-round penalty for his outburst. When he returns he'll be working with 240,000 chips, while Teh climbs to the top of the leader board with 525,000. –JK
6:10pm: The accidental three-way all-in
Level 14 – Blinds 1,500/3,000 (BB ante 3,000)
Ramzey Idriss has a big stack, and just now he found himself in a three-way all-in situation in which he was putting his two opponents at risk. Still, he didn't necessarily want to be in that spot.
Idriss was in the big blind when Emil Patel had raised to 6,000 from under the gun. Next to act was Maxime Chilaud, sitting to the left of the dealer, who re-raised all in for 43,500. It folded back around to Idriss in the big blind who said "call" as he set out 6,000 chips to match Patel's raise. Alas for Idriss, he hadn't noticed the all-in from Chilaud, and so when he said "call" he meant only to call Patel's bet, not the bigger one.
---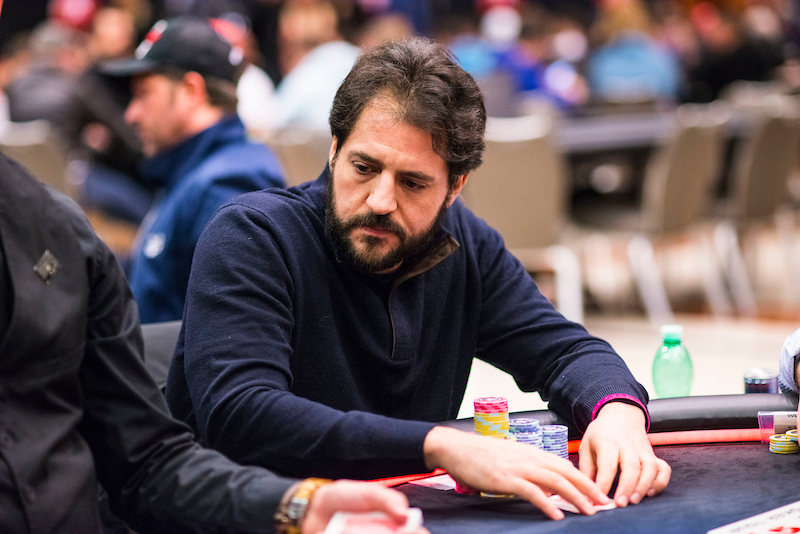 Ramzey Idriss: Accidental call
---
The floor was called and unfortunately for Idriss since he'd declared "call" he had to call the all-in, and he took it in stride. Patel then re-raised all in himself for 71,500, and with a look at the pot odds being offered Idriss called again, although as he turned over his K♥ Q♠ it was clear from his expression he'd rather not have accidentally gotten involved in what had become a three-way all-in.
The other players' hands didn't help, either — Patel had J♣ J♥ and Chilaud A♠ A♦ . The board came 3♠ 3♣ Q♦ 6♦ K♦ , which meant Patel was out, Idriss had gotten some back in from the side pot, and Chilaud tripled up.
Idriss still has a healthy 452,000 after all that, and Chilaud 135,000. –MH
6:05pm: Pot Lukyanov
Level 14 – Blinds 1,500/3,000 (BB ante 3,000)
Tomas Jozonis opened to 6,500 on the button, before Alexander Lukyanov pushed from the small blind. Over to Evangelos Bechrakis in the big blind, he moved all-in too, forcing Jozonis out and isolating Lukyanov's short stack.
Bechrakis had K♣ J♣ up against Lukyanov's A♥ Q♠ , and the 9♣ 4♦ 4♠ Q♦ 6♣ board paired the latter's queen. Lukyanov has doubled to 64,000, while Bechrakis is still very healthy with 360,000. –JS
6pm: Parlez-vous English?
Level 14 – Blinds 1,500/3,000 (BB ante 2,500)
Jiayu Ruan definitely knows the English for all-in, we cannot be sure on any other English words though.
He raised to 6,500 from the hijack and the action folded around to Souhayl Fjer in the big blind, who asked Ruan, "How much you playing?" He got no response and continued, "No English?" Not a flicker.
Fjer called and then announced all-in after the 6♥ J♥ 5♠ flop was delivered. Ruan heard that and flicked in a chip to call all-in for 33,500 before Fjer could push any chips forward.
Fjer: 7♥ 9♥ for a flush and straight draw
Ruan: J♣ 10♣ for top pair
The board ran out with the 2♦ and the 9♦ and Fjer dropped to 195,000. –MC
5:55pm: Peters trips upward
Level 14 – Blinds 1,500/3,000 (BB ante 3,000)
Dejan Kaladurdevic raised to 7,000 in the hijack seat and Tobias Peters called from the big blind. Both players checked the 4♥ 6♦ 3♥ flop, but Peters led for 8,500 on the 4♦ turn. Kaladurdevic thought for a few seconds and called, then bet 10,000 when Peters checked to him on the river. Peters called and announced, "Four." His trips with A♥ 4♣ had Kaladurdevic shaking his head as he mucked.
Kaladurdevic slips to 205,000, while Peters is now on 310,000. –JK
5:50pm: Flipping with Vieira
Level 14 – Blinds 1,500/3,000 (BB ante 3,000)
You can have a made hand. You can even flop top set. But as the saying goes, there's always a sweat.
Marcin Kraft had opened to 7,000 and was called by Sergei Bagirov before it folded to Joao Vieira in the big blind. He put in a three-bet squeeze to 23,500, and Kraft then moved all-in, getting a quick fold from Bagirov and a quicker call from Vieira.
Kraft had A♠ K♠ , and Vieira was all-in for his 66,500 stack with Q♦ Q♥ . He had a 53.5 percent chance of staying in this tournament as they headed to a flop.
---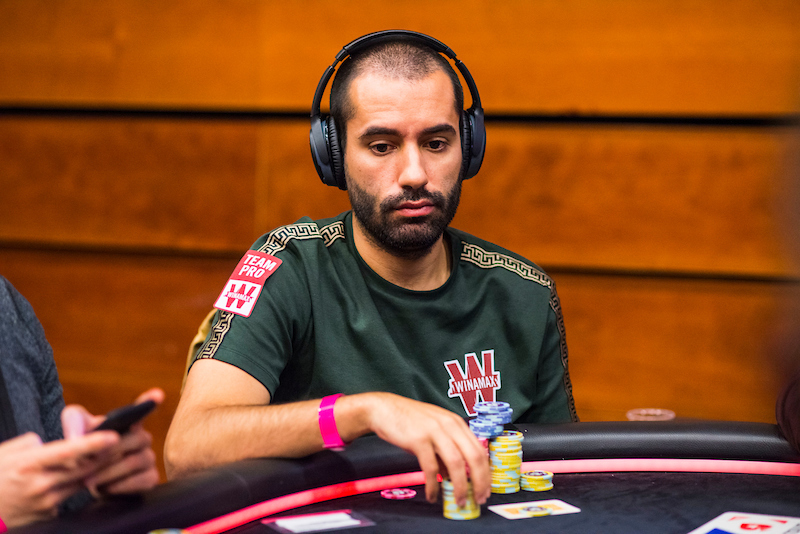 Joao Vieira: Queens keep him alive
---
It came 2♠ 4♥ Q♠ , giving Vieira top set and Kraft the nut flush draw. Vieira's chances improved to 73.5 percent, but he wasn't happy, grimacing as the dealer burned and turned. It's never easy, eh?
The 9♥ was safe for him though, and now he would be doubling up 84 percent of the time. Kraft couldn't find a spade on the 10♣ river, and 100 percent of the chips were shipping Vieira's way.
He's now playing 149,000, while Kraft is down to 57,000. –JS
5:45pm: Yankov knocks off Ladouceur
Level 14 – Blinds 1,500/3,000 (BB ante 3,000)
Marc-Andre Ladouceur has been eliminated after getting his last 70,000 or so all in pre-flop while playing from the big blind versus Krasimir Yankov in late position.
Ladouceur had Q♠ Q♥ and Yankov A♥ J♥ , and after the 9♥ 2♠ 7♥ flop the queens were still in front though Yankov had picked up a flush draw.
---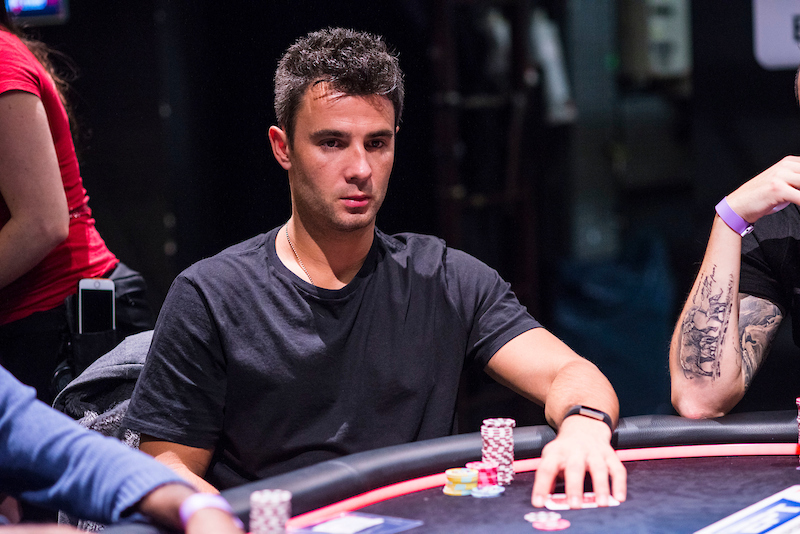 No more Marc-Andre Ladouceur
---
The 2♣ turn was still okay for Ladouceur, but the 4♥ river was not and he's out. Yankov now has about 340,000. –MH
5:40pm: Black stacked by Helppi
Level 14 – Blinds 1,500/3,000 (BB ante 3,000)
Down to his last 35,500, Andy Black returned from the break to find a hand with which to open-raise with all those chips from middle position, and it folded to Juha Helppi in the big blind. Helppi thought about 10 seconds or so, then made the call.
Helppi: K♠ 10♣
Black: A♣ 8♣
---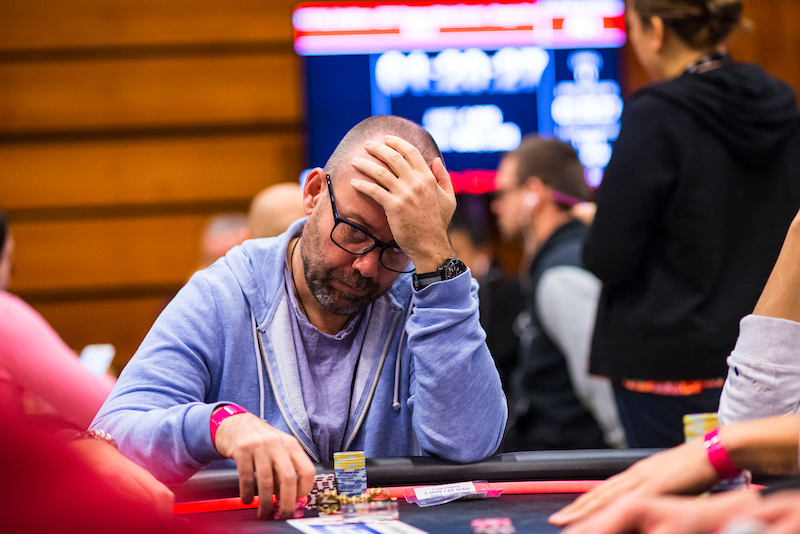 Andy Black: Stacked
---
The 2♦ 10♥ 7♣ flop paired Helppi's ten, and the 5♦ turn and 2♥ river gave him the pot. Black departs, while Helppi now has exactly 380,500. –MH
5:35pm: Bubble coming?
Level 14 – Blinds 1,500/3,000 (BB ante 3,000)
Off they go in Level 14 with 202 players left. Only 175 of them will be paid, so we may well reach the bubble period within the next 90-minute level of play. Whether it bursts is anyone's guess. — HS
5:20pm: Break time
That's the end of the level and players are taking another 20 minute break.
---
A stack at EPT Prague
---
5:15pm: Ferreira on fumes
Level 13 – Blinds 1,000/2,500 (BB ante 2,500)
Rui "RuiNF" Ferreira is down to just ten big blinds now, following this encounter with Dimitrios Michailidis.
Ferreira opened the pot to 5,500 and it folded to Michailidis in the small blind who made the call. The two went heads-up to the 5♦ 3♣ 6♠ flop, and interestingly Michailidis opted to donk lead for 2,500. Call.
The turn was the A♣ and now Michailidis quickly checked it, letting Ferreira take control of the betting once more. He fired 16,000 out there for a little under the size of the pot, and Michailidis instantly grabbed chips and raised to 35,000.
---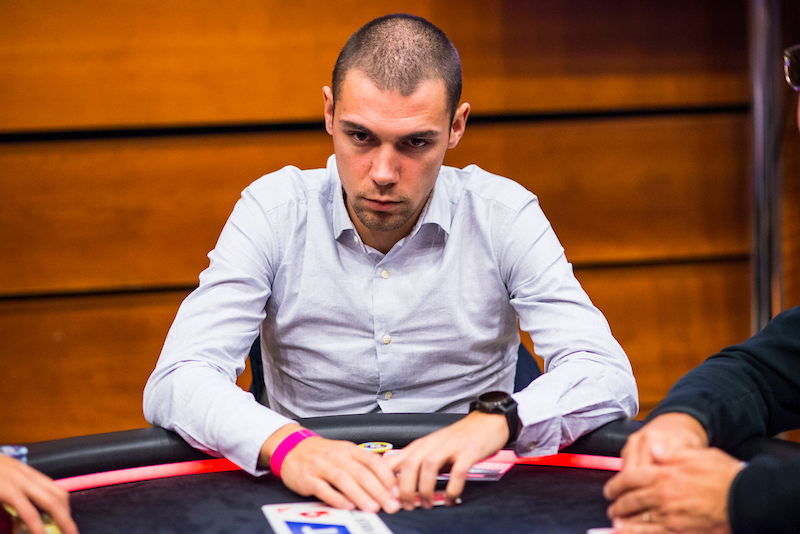 Rui Ferreira: Long way back from here
---
This gave Ferreira food for thought. The Portuguese pro, who is sat to the left of fellow countryman Joao Vieira, had 46,000 behind and had to call 19,000 to see a river. He decided that's what he'd do.
The river was the 9♥ and Michailidis shoved instantly. With just 27,000 left, Ferreira didn't seem to want to give up, but ultimately knew he had to. He mucked, and will need a spin when they return from the break.
Michailidis is up to 385,000 now. –JS
5:13pm: The check republic
Level 13 – Blinds 1,000/2,500 (BB ante 2,500)
French player Christophe Larquemin's stack is big enough that seeing him enter a pot was reason enough to see if anything developed. No such luck. He called on the button after a lojack-seat raise to 5,500 from Mateusz Wozniak and a hijack-seat call from Aku Joentausta, and then they all checked down every street of the 6♥ 6♠ 7♣ K♣ 6♣ board. Joentausta's full house with 5♠ 5♥ took down the pot just as the level was coming to a close.
Wozniak is now on 140,000; Joentausta 155,000; and Larquemin a whopping 380,000. –JK
5:12pm: A Mazin hand
Level 13 – Blinds 1,000/2,500 (BB ante 2,500)
Preflop raising saw Mazin Khoury ultimately calling an all-in push with his last 138,500 from Fazeel Munawar, with Khoury holding K♣ K♦ and Munawar J♠ J♣ .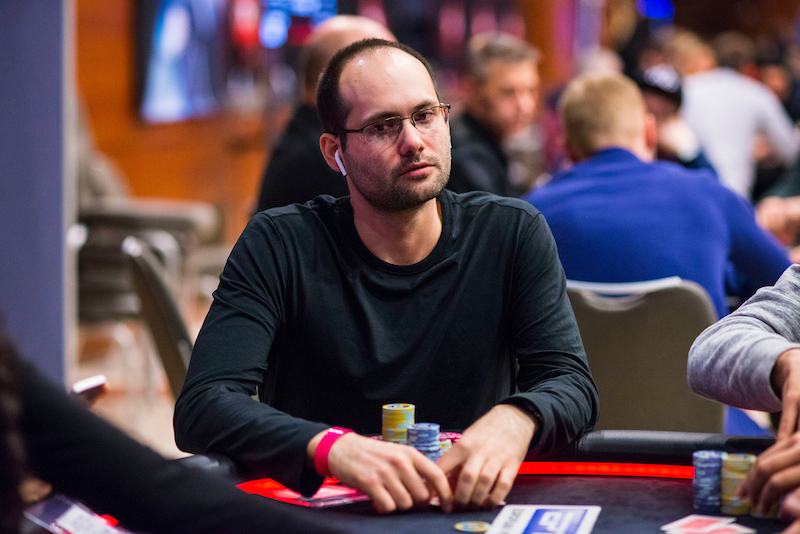 Mazin Khoury: Kings and a double
The board came nine-high — 4♥ 6♦ 9♠ 6♠ 9♥ — and Khoury earned the big double to push up over 280,000, while Munawar slips back to 175,000. –MH
5:11pm: Aakerlund downed in blind battle
Level 13 – Blinds 1,000/2,500 (BB ante 2,500)
Viktor Aakerlund has hit the rail after Finland's Jussi Nevanlinna flushed him away in a battle of the blinds. All the chips went in pre-flop, with Aakerlund the all-in player with 52,500 stack.
Aakerlund: A♣ 3♦
Nevanlinna: K♠ 10♦
The board ran A♠ 4♠ Q♠ 7♦ 5♠ to make Nevanlinna a four flush on the river. He moved up to 151,000. –MC
5:05pm: Arthur Conan's spoils
Level 13 – Blinds 1,000/2,500 (BB ante 2,500)
It seems like France's Arthur Conan has been crushing this event from the get go. Since first getting chips and entering our radar, we haven't seen him slip down the counts once.
Unfortunately for Jan-Eric Schwippert, he's slipped down so far that he's no longer on the list.
The German high roller opened to 6,000 in the cutoff before Conan three-bet to 20,000 on the button. Back to Schwippert, he made the call to see a 7♠ 2♥ J♥ flop, which he'd then check. Conan made a continuation bet of 15,500, which Schwippert then shoved over for around 70,000.
---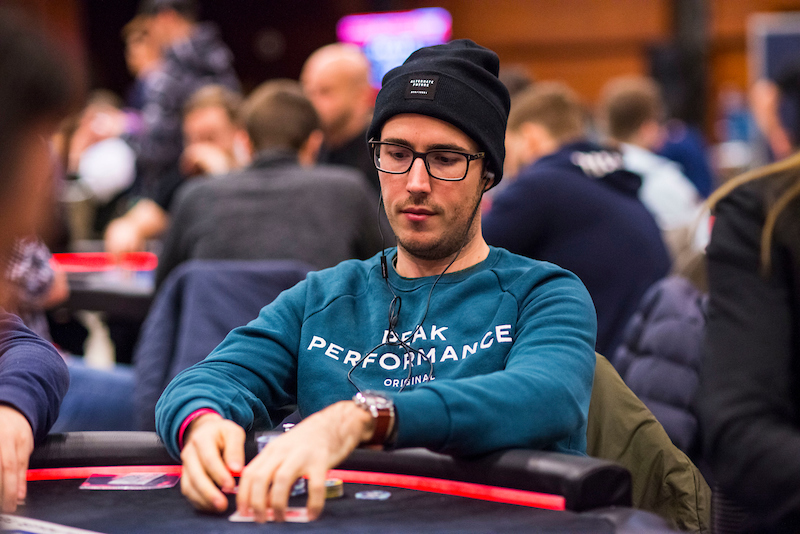 No more Jan-Eric Schwippert
---
Conan snap-called and revealed A♣ A♥ . It was a cooler for Schwippert who with K♠ K♣ would now need one of the two remaining cowboys to saddle up on the river. The 6♠ and 9♦ didn't help him, and Schwippert said his goodbyes.
With that, Conan the barbarian is up to 530,000. That's good for the current chip lead. –JS
5pm: Hearts keep Wozniak in the game
Level 13 – Blinds 1,000/2,500 (BB ante 2,500)
Aku Joentausta and Matuesz Wozniak just played a big pot in which Joentausta was all in and at risk. I came on it a little late, but I believe they'd gotten the chips in on the flop. The completed board ended up 2♥ 3♦ 6♥ A♦ 4♥ , which created some drama as Wozniak had A♠ 6♣ for two pair (made on the turn) while Joentausta had A♥ K♥ for a flush (made on the river.
Joentausta has 152,000 now, while Wozniak has 142,000. –MH
4:58pm: Suitedness suits Souaid
Level 13 – Blinds 1,000/2,500 (BB ante 2,500)
Karim Souaid had few chips and a hold'em hand in which the highest card was a three, but he open-raised all in nonetheless from the button and got one caller in Florian Vogel from the blinds.
Vogel had A♣ 9♦ . Meanwhile Souaid's hand was suited — 3♦ 2♦ — and it was a good thing as the board came 5♦ 10♦ K♣ 7♦ 4♠ to give him a diamond flush and keep him in the game.
Vogel has 215,000 now, while Souiad has 52,000 and can perhaps wait for higher cards before he plays again, at least for a little while. –MH
4:56pm: Vlachos straightens out Souaid
Level 13 – Blinds 1,000/2,500 (BB ante 2,500)
Andreas Vlachos opened for 6,000 in second position and nearly got through to take down the pot uncontested. Karim Souaid decided he couldn't let that happen and called from the big blind.
Both players checked the 6♦ 7♥ 9♣ flop and Souaid checked again on the 5♣ turn. Vlachos took the opportunity to fire 5,000 and Souaid called pretty quickly, only to check again on the 6♣ river. Vlachos bet 10,000 this time and Souaid looked like he was entertaining the thought of letting this one go, given his short stack, but he eventually tossed in the chips for a call. He mucked, though, when Vlachos turned over A♦ 8♥ for a nine-high straight.
That moves Vlachos up to 275,000, while Souaid has just 28,000 left. –JK
4:55pm: Jensen meets the Grim Reaper
Level 13 – Blinds 1,000/2,500 (BB ante 2,500)
"Look, you want to count that stack?" Fredrick Jensen joked, pointing at his stack worth 9,500.
"Now you've pointed it out, I feel like I have to hang around like the Grim Reaper to see your potential demise," I said.
Moments later, Jensen found a hand to go with from early position and he was called in two spots. The flop fell A♥ 7♣ K♣ and Vladimir Rosliakov isolated Jensen by moving all-in.
"That is not my kind of flop!" Jensen moaned as he opened Q♠ Q♦ . Rosliakov tabled A♦ 7♥ and survived the 6♦ turn and 9♦ river.
"Good luck guys and you were the Grim Reaper!" Jensen said to his table-mates and then me, before going on his way. –MC
4:50pm: Disciplined Delval
Level 13 – Blinds 1,000/2,500 (BB ante 2,500)
After Montenegro's Dejan Kaladurdevic open, it folded around to Frederic Delval of France who checked his hand — ace-queen — and chose to three-bet. But when Kaladurdevic decided to four-bet all-in, Delval thought a short while and made up his mind to let his hand go.
Afterwards Delval got Kaladurdevic to agree to show one card — an ace, and Delval showed his ace, too. Then Delval turned over his queen as well, but Kaladurdevic didn't follow suit and show his second card.
"Discipline," grinned Delval, pointing to himself, and his neighbor to his right agreed it was a disciplined fold. "I learned online. Ben-see-bee told me do to that." The Frenchman was referring to the famous online player "bencb789", winner of a couple of 'COOP titles and much more on PokerStars.
"He just told you?" asked someone. "Yes," grinned Delval. "He's right over there." No one fell for it, being disciplined themselves enough not to look.
Kaladurdevic has about 205,000, and thanks to his discipline Delval continues with 110,000. –MH
4:45pm: Hecklen hands to Haven
Level 13 – Blinds 1,000/2,500 (BB ante 2,500)
Henrik Hecklen and Duco Haven have very similar looks at the table. They both sit perfectly still, with both palms on the table, and both took almost identical amounts of time to think through their decisions in this hand.
Hecklen started it by opening to 5,500 from the lojack, which Haven then three-bet to 16,500 from the hijack. Everyone else folded and when it got back to Hecklen he matched it.
Haven continued for 19,000 on the 7♣ 7♠ 4♦ flop after it checked to him. It took Haven around ten seconds to bet, and ten seconds later Hecklen called.
The turn was the A♠ and both took around five seconds to check. Finally the river was the 3♦ and after around ten seconds Hecklen piled together 50,000 and slid it into the middle. Ten seconds later, Haven tossed in a call.
Hecklen flashed what looked to be K♦ J♦ for just king-high, while Haven had A♣ 9♣ for top pair and the win. He's up to 216,000 now, while Hecklen drops to 55,000. –JS
4:40pm: Pateychuk primed for deep run
Level 13 – Blinds 1,000/2,500 (BB ante 2,500)
"He's one of the best players I've come up against," Johnny Lodden once said of Andrey Pateychuk, at a point that the latter was on his way to claiming the EPT Sanremo title seven years ago.
The Russian pro has continued to do very well since then and has won more than $7 million online and live in his career. He's up to 252,000 chips here on day two after he flopped trips in a three-bet pot.
---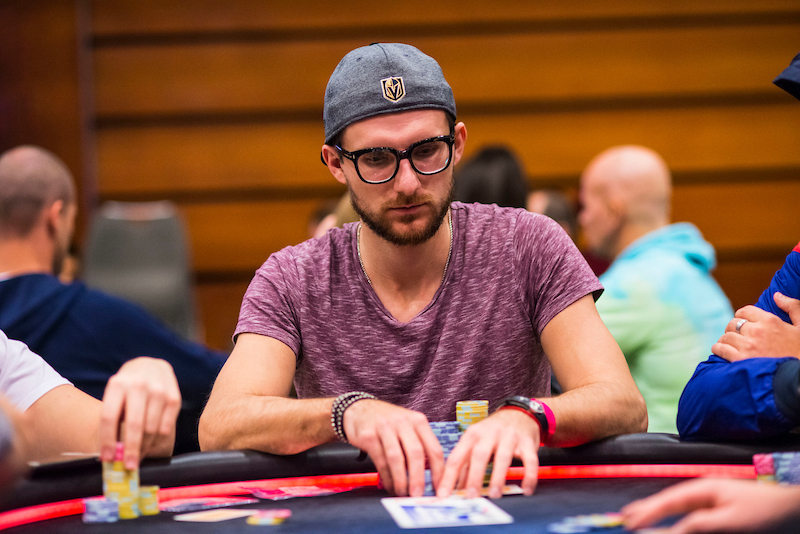 Andrey Pateychuk: One of the best
---
Raul Martinez opened from the cutoff and called after Pateychuk three-bet from the next seat. The board ran 5♦ 10♣ 10♦ Q♠ 3♦ with Martinez checking all three streets. Pateychuk bet 12,000 and 26,000 before he checked back the river. Martinez opened 9♦ 9♣ and lost out to Pateychuk's A♣ 10♥ . Martinez dropped to 68,000. –MC
4:35pm: Game prep with Sethi and Moreira de Melo
Level 13 – Blinds 1,000/2,500 (BB ante 2,500)
Both have now sadly departed the tournament area, but if you want to know what goes through the mind of a PokerStars ambassador as Day 2 of an EPT Main Event gets under way, here's Muskan Sethi and Fatima Moreira de Melo with some insight:
---
4:30pm: Game over for Arends
Level 13 – Blinds 1,000/2,500 (BB ante 2,500)
Someone just made the sad trombone sound over at Table 19. You know what we're talking about — think game shows, wrong guesses, big wheels spinning around and landing on devils, or zeroes or bankrupt. Whaa-whaaaa.
The sad trombone was a soundtrack for the last hand of Jans Arends, who was still smiling despite getting it all in with A♦ Q♥ versus Joao Lopes De Oliveira's A♣ K♥ , and the 4♥ 5♥ 9♣ 5♣ 3♥ board kept De Oliveira in front to win the pot and send Arends out. De Oliveira is at 120,000 now.
The game continues. –MH
4:25pm: Broskij builds, Schuh slips
Level 13 – Blinds 1,000/2,500 (BB ante 2,500)
Czech player Michal Schuh rocketed toward the top of the chip counts on our second level today (see 2:55pm update). He'd chipped up a bit more in the meantime, but Michiel Broskij just erased that progress.
Broskij opened for 5,500 on the button and Schuh called from the big blind to see a 7♣ 5♣ 8♠ flop. Both players checked and the turn was the 3♣ . Schuh took the lead this time, firing 9,000, and after a bit of thought Broskij decided to call.
---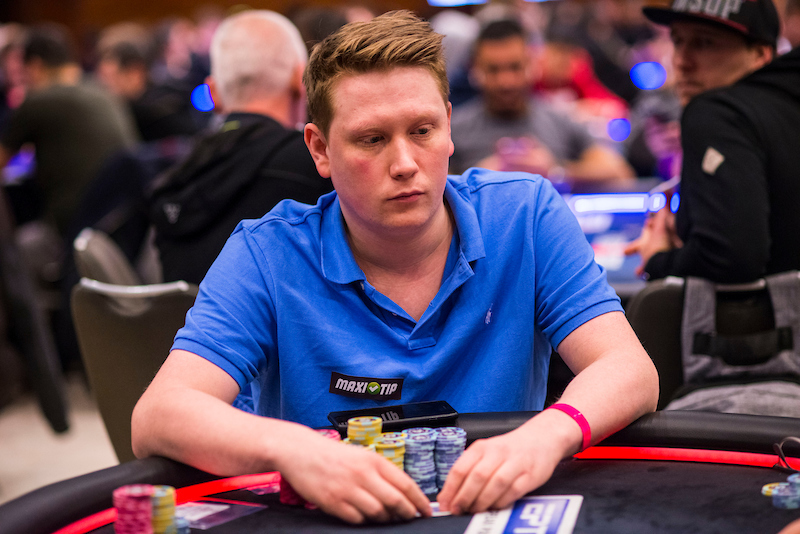 Michal Schuh: Huge up, small down
---
Schuh fired again for 14,000 on the river and Broskij called before Schuh's chips had even hit the table. Broskij tabled J♦ J♣ , more than enough to top Schuh's busted straight draw with 10♦ 9♠ . That moves Broskij up to 180,000, while Schuh slides back to 375,000. –JK
4:20pm: Stacks!
Level 13 – Blinds 1,000/2,500 (BB ante 2,500)
By our reckoning, here are the biggest stacks in the room:
| Name | Country | Chips |
| --- | --- | --- |
| Anton Wigg | Sweden | 470,000 |
| Parker Talbot | Canada | 438,000 |
| Carlos Branco | Portugal | 400,000 |
| Arthur Conan | France | 395,000 |
| Artem Kobylinskiy | Ukraine | 380,000 |
| Michal Schuh | Czech Republic | 370,000 |
---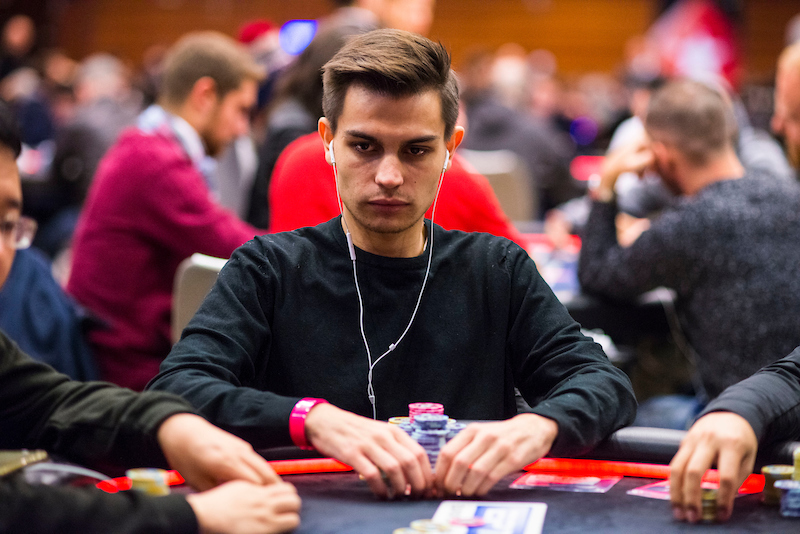 Arthur Conan: Still among the big stacks
---
We're updating the chip-count page with big stacks and well-known players as we progress. — HS
4:15pm: Flip your Wigg
Level 13 – Blinds 1,000/2,500 (BB ante 2,500)
Anton Wigg continues his charge up the counts, finishing the job on Florian Duta.
Duta's last hand was a flip — 9♥ 9♣ for Wigg, and A♥ K♠ for Duta — and the pair of nines held through the 7♣ 3♦ 7♥ 2♠ J♥ board to send Duta to the exit. Wigg now has 465,000. –MH
---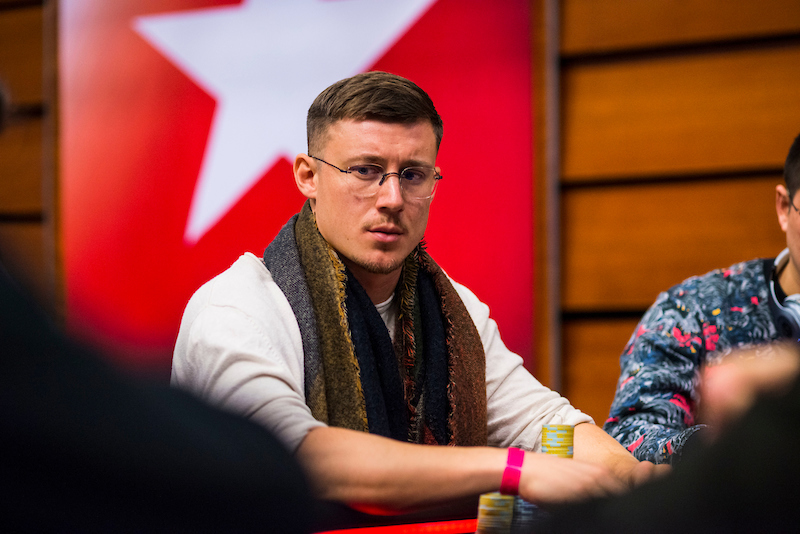 Anton Wigg: Tournament chip leader
---
4:05pm: Huge double for Wigg
Level 13 – Blinds 1,000/2,500 (BB ante 2,500)
Anton Wigg is now a real threat in this event after getting a double-plus, principally through Florian Duta, but with contribution too from Emil Patel and Armin Mette.
Mette began proceedings with a raise to 6,000 from UTG+1. Patel three-bet to cutoff to 20,000 and Duta then four-bet to 54,000 from the button. Wigg, in the big blind, found something he liked and five-bet shipped for 212,000.
Mette and Patel both scurried away, but Duta called with A♦ K♣ . That was his ammunition in the most classic of races, versus Wigg's Q♥ Q♣ . Duta needed to hit, but didn't. Wigg actually finished the hand with a set after the board ran 2♥ 5♣ 3♥ 6♣ Q♦ .
The former EPT Copehagen champion is now well stacked in this one too, while Duta has only 32,000 left. — HS
4pm: Yosifov races away
Level 13 – Blinds 1,000/2,500 (BB ante 2,500)
Dimitar Yosifov was in flip for his tournament life but Simon Pedersen is in good form and came out on top.
Pedersen opened to 5,500 from under the gun and called after Yosifov three-bet all-in for not much more from the small blind holding 9♠ 9♣ . Pedersen tabled A♥ K♥ and the board ran K♦ J♠ 7♠ 4♦ 3♦ to pair his king. He moved up to 320,000. –MC
3:55pm: Leknes takes out two
Level 13 – Blinds 1,000/2,500 (BB ante 2,500)
Soon after players returned from the break a big double-knockout occurred back in the corner of the tournament room, making Level 13 the unlucky one for both Max Lykov and Alexandre Reard.
It looked like a preflop all-in situation involving all of them, as Reard had 4♦ 4♣ , Lykov A♠ 2♦ , and Tobias Leknes 6♦ 6♥ . Leknes had both of the others covered, and he had the better hand as well after a 6♣ 10♥ 3♥ 8♣ 3♠ runout improved him to a full house.
"The Norwegian limit hold'em champion right here," quipped his neighbor Parker Talbot, helping identify Leknes for us. The pair have been talking mixed games today, and Leknes has a number of cashes in non-NL games on his poker résumé.
That's two more down, a total of 254 left in the event, and Leknes sitting on 155,000. –MH
3:50pm: And away they go again
Level 13 – Blinds 1,000/2,500 (BB ante 2,500)
Off they go again in Level 13. Some more faces in the field: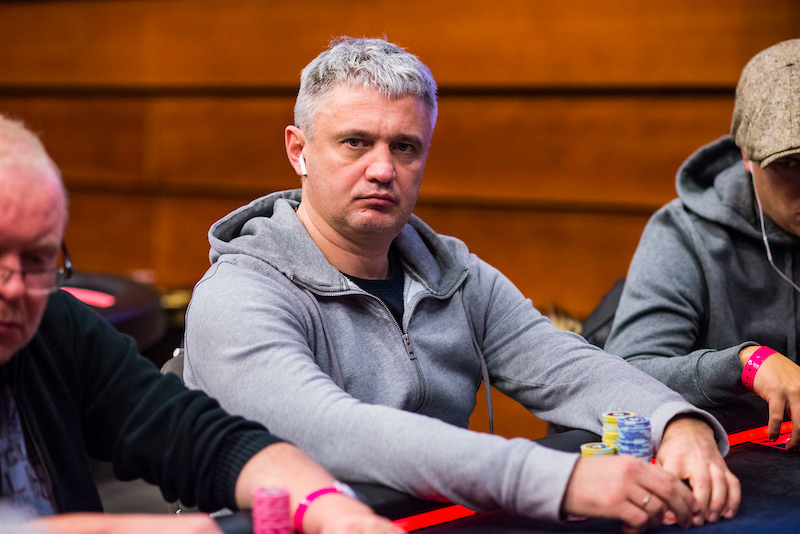 Leonid Bilokur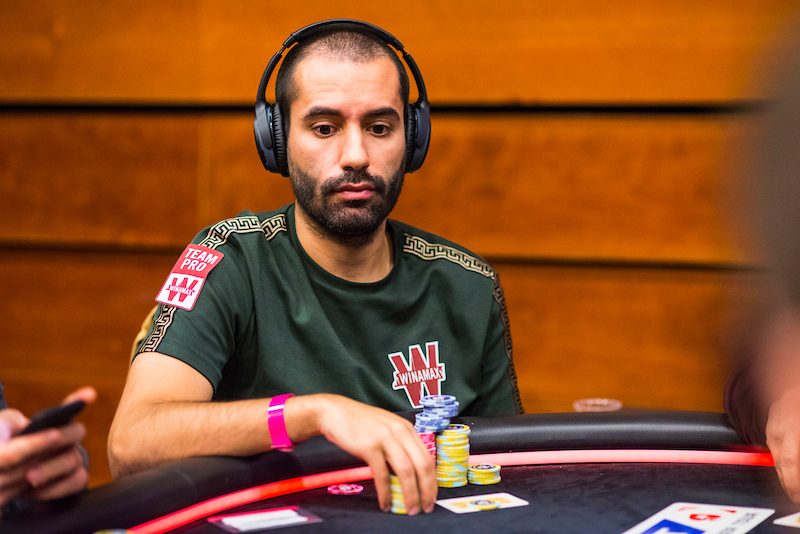 Joao Vieira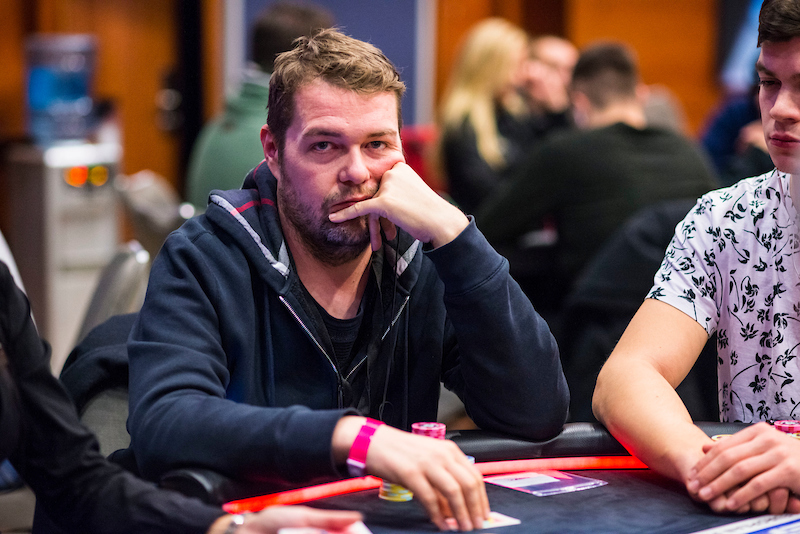 Jason Wheeler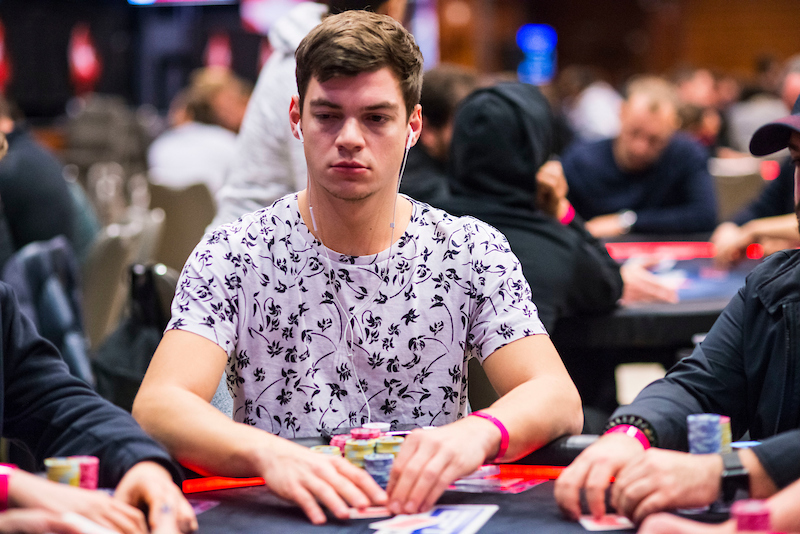 Paul Michaelis
---
3:31pm: Break time
That's the end of Level 12 and a 20-minute break.
3:30pm: Staskzo sunk
Level 12 – Blinds 1,000/2,000 (BB ante 2,000)
On a 7♥ 6♥ K♠ 4♠ board, Martin Staszko checked, Adrien Delmas went all in for 28,000, then after thinking a while Staszko called all in for less. Staszko had K♦ 9♣ but Delmas had him outkicked with K♥ Q♥ , and Delmas now has about 90,000. –MH
3:25pm: How do like them apples, Iglesias?
Level 12 – Blinds 1,000/2,000 (BB ante 2,000)
Timothy Adams has soared up to 260,000 without having to show down after a bit of power poker.
The Canadian high roller opened to 4,500 from under the gun and was called in two spots, including Miguel Seoane Iglesias in the big blind. The board rolled out 5♣ 9♥ 4♠ 8♠ 7♥ with Adams emptying the clip with bets of 9,000, 26,500 and 67,500. Iglesias was the only opponent to stick around past the flop but he too tank-folded on the river to drop to 200,000. –MC
3:23pm: Sereika pushes out Reichenstein
Level 12 – Blinds 1,000/2,000 (BB ante 2,000)
We well remember the poker face of Uri Reichenstein, second-place finisher in the EPT13 Barcelona Main Event in 2016 for more than €800K. He's here and just now raised to 4,500 from middle position, adopting his usual stoic pose after doing so.
It folded around to Karolis Sereika of Lithuania in the small blind who made it 11,600 to go, and when action returned to Reichenstein he four-bet to 37,500. Sereika sat quietly for a while, then announced he was all in and Reichenstein let his hand go right away.
Sereika surges further up the counts to 300,000 with that, with Reichenstein — looking the same whether winning or losing — now at 70,000. –MH
3:20pm: The fall of Kovalenko
Level 12 – Blinds 1,000/2,000 (BB ante 2,000)
With no action and only 26,000 in front of him, Jon Clark moved all-in in the hijack. It then folded to the big blind of Vladyslav Kovalenko, and he look pained. He wanted to call, or at least felt he should, but it was clear his hand wasn't the strongest.
He would indeed make the call, leaving himself with around 10,000 behind. His A♠ 9♥ was dominated by Clark's A♦ K♣ though, and the big slick improved to top pair after the 4♣ 3♦ K♥ 10♦ 7♣ runout.
We looked away for a second and when we turned back Kovalenko was all-in from the small blind with the 8♠ 2♠ against big blind Julien Buchaille's Q♥ 7♦ . Kovalenko found no help on the board, and just like that he was gone.
Clark is now on 48,000, while Buchaille has 61,000. –JS
3:15pm: Fatima falls in flip
Level 12 – Blinds 1,000/2,000 (BB ante 2,000)
We've just lost Fatima Moreira de Melo from this Main Event.
The PokerStars Team Pro opened to 4,500 from the cutoff before Kent Roed moved all-in on the button. It folded back to Fatima who called off her last 40,000 or so, and when the cards were flipped the hands were flipping: J♣ J♥ for Moreira de Melo, and A♣ Q♥ for Roed.
The Q♠ 9♣ 5♣ was a bad start for her, and although the 8♦ turn gave her four more outs she couldn't find one on the 7♣ river.
Moreira de Melo took a quick snap of the hand, then said her goodbyes. Roed is up to 132,000 now. –JS
3:10pm: Baby flush sees Pedersen rise to 300k
Level 12 – Blinds 1,000/2,000 (BB ante 2,000)
Simon Pedersen made the smallest flush he could, but that was good enough to see his stack rise to around 300,000.
Harout Ghazarian opened the pot with an under the gun raise to 4,500 and he was called by Makram Saber (cutoff) along with Pedersen in the big blind. All three checked the 10♦ Q♦ 4♣ flop before Pedersen led for 12,000 and 24,000 on the 3♦ turn and 6♥ river.
---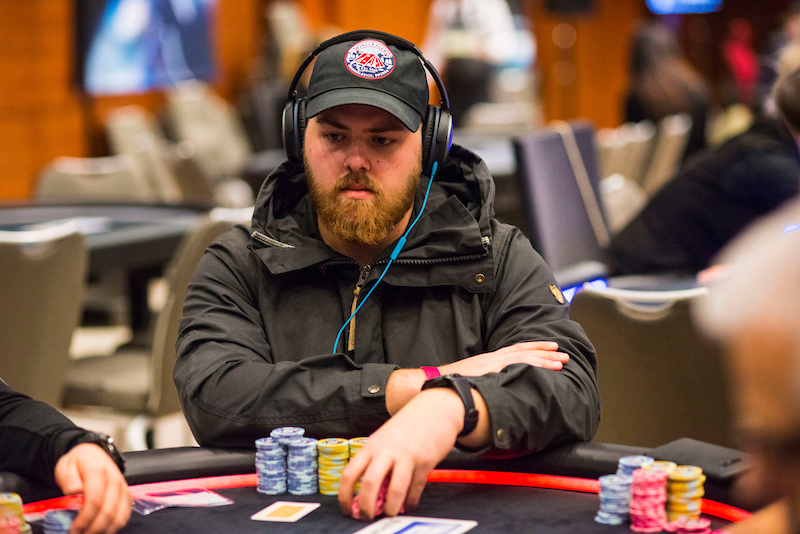 Simon Pedersen: Up to 300K
---
Ghazarian snap-bailed on the turn but Saber called both bets before mucking upon seeing Pedersen's 4♦ 2♦ . –MC
3:05pm: All the poker people…
Level 12 – Blinds 1,000/2,000 (BB ante 2,000)
…where do they all come from?
Well, our indefatigable media co-ordinators Alex Hernando and Jan Kores tell us that the 893 players here come from: France: 89, Germany: 55, Russia: 53, UK: 51, Italy: 46, Poland: 33, Spain: 31, Czech Republic: 30, Sweden: 30, Ukraine: 26, Romania: 25, Netherlands: 24, Portugal: 23, Finland: 22, China: 21, Israel: 21, Others: 313.
As a picture:
EPT Prague Main Event player nationalities
3pm: Kreft busts Bartos
Level 12 – Blinds 1,000/2,000 (BB ante 2,000)
The knockouts are coming quickly of late, with the field now down under 280.
Hungary's Gergely Bartos was the latest to fall when his A♦ 2♣ didn't work out against Marcin Kreft's 8♠ 8♥ , the 4♥ 6♠ J♣ Q♥ 7♣ board spelling the end for Bartos. Kreft moves up to 205,000. –MH
2:55pm: Schuh moving up
Level 12 – Blinds 1,000/2,000 (BB ante 2,000)
The Czech Republic's Michal Schuh is having a fine Day 2, having just added more chips to his ever-expanding stack after knocking out Luis Faria of Portugal.
Faria had put it all on the line with 7♥ 7♣ while Schuh took A♦ Q♥ to battle, and the latter hand prevailed thanks to a 8♥ J♣ Q♣ 2♦ 9♥ runout.
Put Schuh on 375,000. –MH
2:50pm: Fatima's finding a way
Level 12 – Blinds 1,000/2,000 (BB ante 2,000)
Fatima Moreira de Melo entered the day with roughly the same stack she held at the start of Day 1. She's managed to pick up a few more chips since then but with the rising stakes reducing her to fewer than 20 big blinds, she's definitely under pressure.
---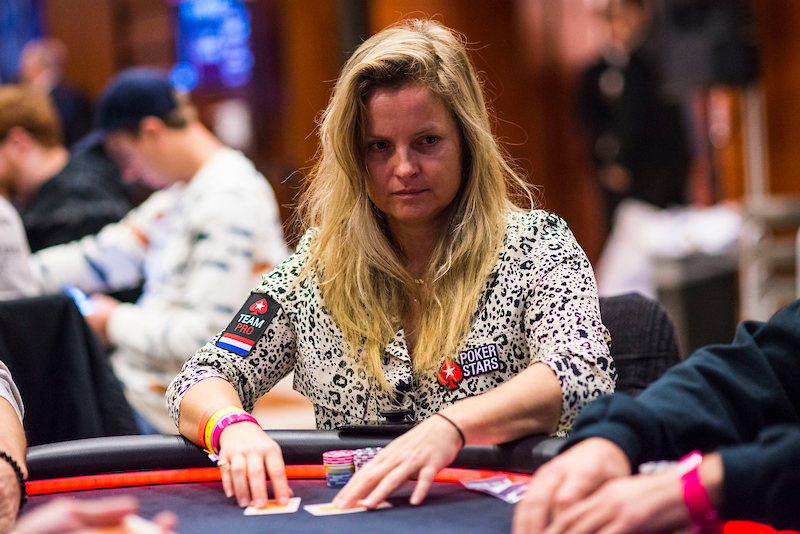 Fatima Moreira de Melo: Under pressure
---
Naturally, that means she's applying pressure of her own wherever possible, as she did a few moments ago against Victor Choupeaux. The Frenchman opened for 4,500 under the gun but declined to come along when Moreira de Melo jammed for 37,000 on the button, giving her the pot and a 25 percent increase in the value of her stack. Moreira de Melo now playing with 46,000 — still in the danger zone, but every little bit helps. –JK
2:45pm: Sethi's stack slips
Level 12 – Blinds 1,000/2,000 (BB ante 2,000)
After PokerStars Ambassador Muskan Sethi opened for 5,000 from under the gun, Olivier Ferrero three-bet all-in for his last 42,500 from a couple of seats over and it folded back to Sethi who thought just a beat before calling.
---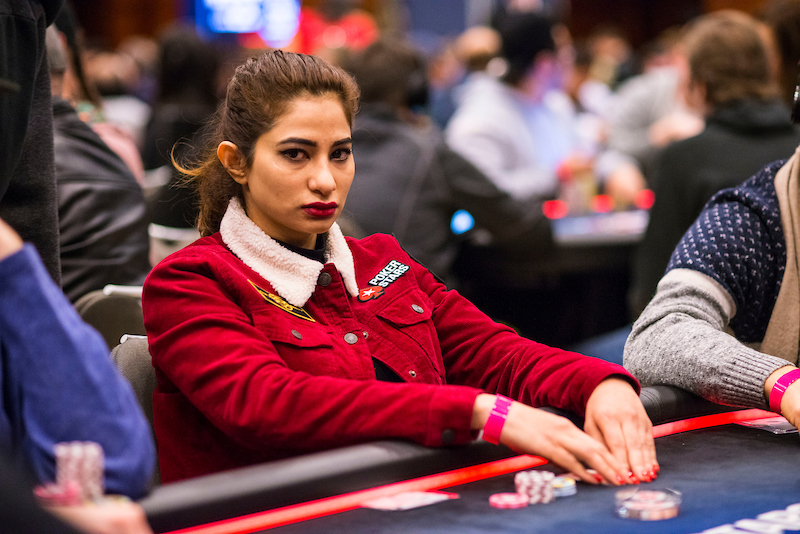 Muskan Sethi: Tough race to lose
---
Ferrero had 7♥ 7♠ and Sethi A♥ K♠ , and all the potential drama was defused quickly with the 7♦ 4♠ 10♣ flop giving Ferrero a set. The four on the turn sealed it, and Ferrero's up to 75,000 while Sethi slips to 38,000. –MH
2:40pm: Haircut to blame as Sammartino busts
Level 12 – Blinds 1,000/2,000 (BB ante 2,000)
"It was time for a change," Dario Sammartino said, commenting on his new haircut. It's a bit tighter than the styled quiff of the past. "Seven or eight years the same," he added.
But were all his skills in those locks? He busted immediately after the talk about the hair. He opened to 18,000 leaving himself just 7,000 behind. Emil Patel was in the button and called before the rest went in on a J♥ K♦ 8♠ flop.
---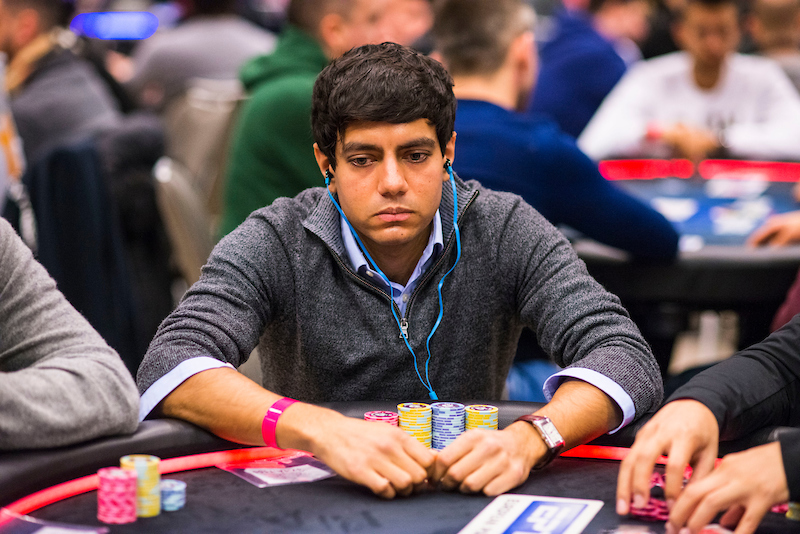 Emil Patel, shortly after busting Dario Sammartino
---
Sammartino opened 7♣ 7♥ but was behind to Patel's 10♣ 10♠ . The board ran out Q♠ 10♦ and Patel moved up to 165,000. –MC
2:35pm: Talbot trending upward
Level 12 – Blinds 1,000/2,000 (BB ante 2,000)
Parker Talbot ended Day 1A as one of the big stacks from that flight, and he's continued his upward climb so far here on Day 2.
---
Parker Talbot: Continuing a fine run
---
Parker is parked comfortably behind a stack of about 445,000 right now. –MH
2:30pm: Bedell bedevils De Oliveira
Level 12 – Blinds 1,000/2,000 (BB ante 2,000)
Tom-Aksel Bedell has more than doubled his stack since the beginning of the day, with a large chunk of that profit coming from a recent pot against Joao Lopes De Oliveira.
Bedell opened the action with a raise to 4,500 in the lojack seat. De Oliveira popped it to 16,500 after a caller in the cutoff, who folded after Bedell made the call. That brought a flop of J♥ 3♥ 10♦ , which both players checked.
Bedell took the lead on the A♦ turn with a bet of 17,000. De Oliveira thought for a bit and called. Bedell fired another 12,500 on the 2♣ river, and De Oliveira called immediately, only to toss his cards into the muck as soon as Bedell tabled 10♠ 10♥ for a flopped set of tens.
"Nice hand," De Oliveira said as Bedell dragged the pot. De Oliveira drops to 30,000 with the loss, while Bedell is now up to 155,000. –JK
---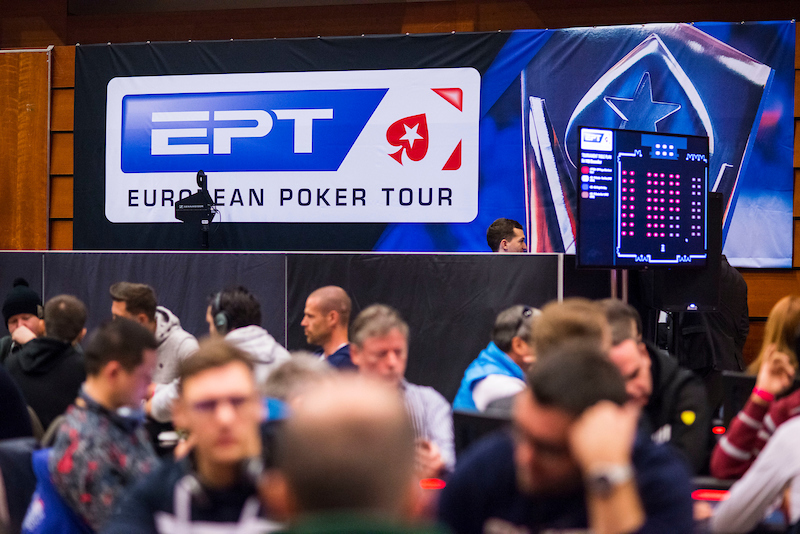 EPT Prague tournament room
---
2:25pm: Heinsdorf hits rail, Viachos vaults upward
Level 12 – Blinds 1,000/2,000 (BB ante 2,000)
Strike Tobias Heinsdorf off the chip counts, as he just lost the last of his stack in a preflop conflict with Andreas Vlachos. Heinsdorf's A♣ 10♥ failed him versus Viachos's Q♣ Q♦ , the 2♠ 5♠ 10♦ J♦ 7♦ board being an important accomplice in the pilfering of Heinsdorf's chips, and he's out.
Viachos is up around 165,000 now. –MH
2:20pm: Farrell departs
Level 12 – Blinds 1,000/2,000 (BB ante 2,000)
Niall Farrell couldn't come back from that skirmish against Georgios Tsiligkaridis, described below. He was last seen leaving the tournament room. Dietrich Fast is also MIA.
---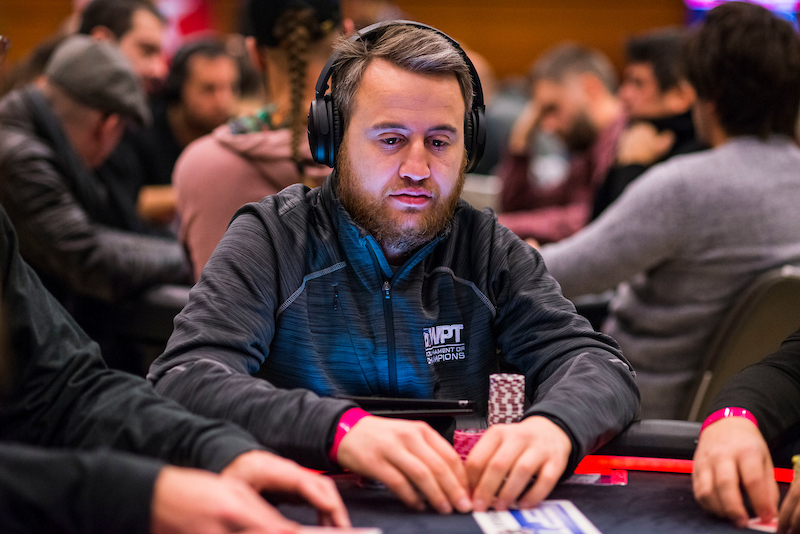 Dietrich Fast: No longer involved
---
2:15pm: Mooney eclipsed
Level 12 – Blinds 1,000/2,000 (BB ante 2,000)
I came late, but it looked like one of those blind-versus-blind, big-stack-versus-small type situations resulting in John Mooney all in with 8♥ 7♥ versus Mazin Khoury's A♠ 3♠ . Post-hand conversation between the two suggested as much, with Mooney quizzing Khoury about how he'd have played eight-seven suited in his spot.
In any case, the board brought a lot of royalty — K♠ 4♦ Q♣ Q♠ Q♥ — though none of those court cards helped Mooney and he's out. Khoury meanwhile has a nice-sized stack of 170,000 now. –MH
2:10pm: Farrell sees the funny side of nit-roll as stack gets quartered
Level 12 – Blinds 1,000/2,000 (BB ante 2,000)
I reckon Georgios Tsiligkaridis would have trouble deciding what to choose on a set menu in a restaurant. He just did what poker players call a "nit-roll" on Niall Farrell, who ended up losing the hand but saw the funny side of the situation.
---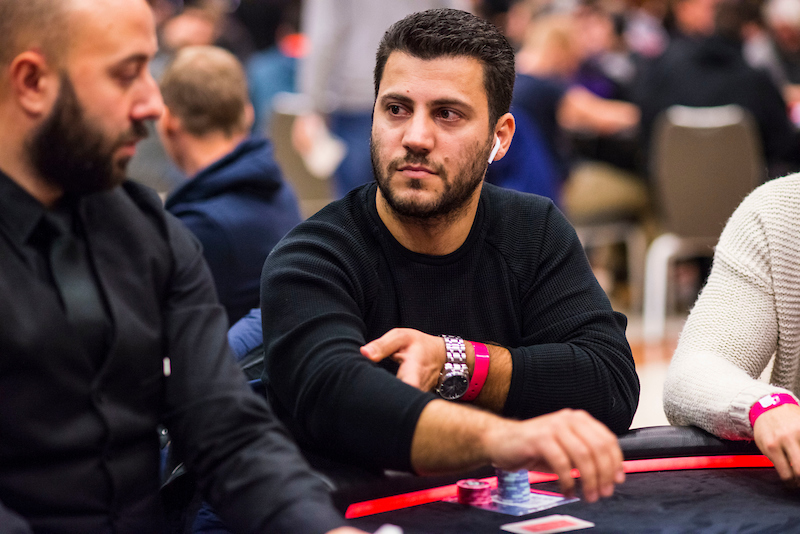 Georgios Tsiligkaridis: Ace-king (eventually) good
---
Tsiligkaridis opened to 2,000 from middle position before Farrell three-bet to 31,000 leaving himself just 16,000 or so behind. Tsiligkaridis went into a painful looking tank for several minutes and was visibly struggling to come to a decision on whether to commit his 37,000 stack. Eventually another table mate called the clock and that prompted Tsiligkaridis to do a mime version of "sod it!" as he stood up, slammed his chips in to the middle and opened A♣ K♦ .
Farrell was never going to fold for the extra few thousand and opened 4♠ 4♥ and said, "At least I'm live after all that."
---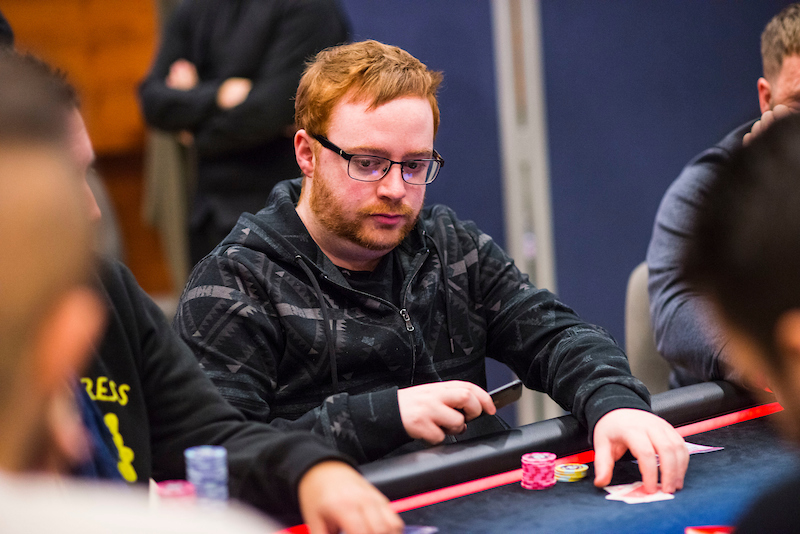 Niall Farrell: A contented loser
---
The board ran Q♠ A♠ 9♥ 3♠ 3♦ to double up the delighted Tsiligkaridis who cried a couple of yeses before thanking the dealer as if she'd just delivered his first-born son.
"Nice hand," said a laughing Farrell.
"Gamble, gamble!" said another laughing table mate. –MC
2pm: Itsenko KO's Pang
Level 12 – Blinds 1,000/2,000 (BB ante 2,000)
San Hon Pang returned from the break to a short stack, and after seeing Valeriy Itsenko raise from early position, Pang decided to re-raise almost all in, leaving himself just one yellow chip worth 1,000 behind.
It folded back to Itsenko who called, then they got Pang's last chip in after the J♥ 2♥ 4♣ flop. Pang had A♦ K♥ , but Itsenko's K♣ J♣ gave him a pair. The turn was the 2♦ and the river the J♠ , and Pang is out.
There are 335 players left from the 1,174-entry field. Remember, the top 175 get paid. –MH
1:35pm: 25K High Roller winner
Alongside the Main Event yesterday, there was a 25K single day high roller event taking place. Here's what happened.
1:25pm: Break time
That's the end of the level. Players are taking a 20-minute break.
1:20pm: Prize pool and payouts – just over €1 million for first
Level 11 – Blinds 800/1,600 (BB ante 1,600)
As Level 11 nears its end, the announcement went up regarding the prize pool and payouts. Here are the headlines…
The 1,174 total entries have created a €5,693,900 prize pool with the top 175 places paid. There's a €8,710 minimum cash, with a big €1.020 million first prize.
Once the cashes start happening, we'll be filling out the Main Event payouts page, so stick close. –MH
1:20pm: Adams adds 'em
Level 11 – Blinds 800/1,600 (BB ante 1,600)
Timothy Adams was one of the last-minute participants, jumping in here at the start of Day 2 just before late registration ended. The first 90-minute level is nearly done, and it appears Adams has gotten off to a good start, having now more than doubled the 30,000-chip starting stack.
Just now he put in a value bet of 14,000 or so on a 10♦ Q♠ J♠ 5♦ Q♥ board and after a short tank his opponent Maxime Maistriaux called. I say "value bet" because it most certainly earned Adams some value, as his Q♣ 7♠ for trip queens was best.
Adams has about 65,000 and Maistriaux about 55,000 with 10 minutes to go in Level 11. –MH
1:15pm: Nemeth again
Level 11 – Blinds 800/1,600 (BB ante 1,600)
Fresh from finishing second in the €50,000 Super High Roller event, Andras Nemeth hopped in the Main Event late on Day 1A and ran up a stack of 165,200 coming back today. But he has found the early going rough, and had about 95,000 at the start of a recent hand against Jie Xu.
---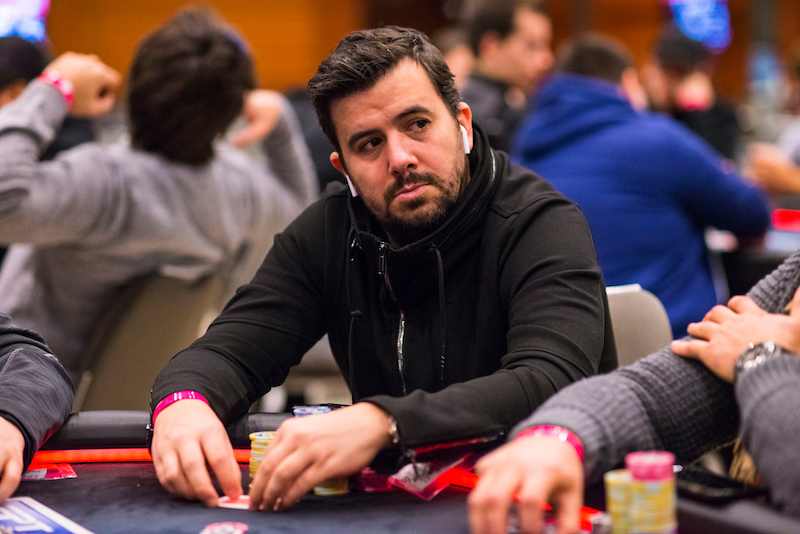 Andras Nemeth: Another day, another tournament
---
Nemeth opened to 3,500 and Xu three-bet his button, making it 13,000 to play. Nemeth called (no one else was interested) and they saw the 8♣ 6♣ 4♠ flop. It went check, check.
The turn was the 9♦ and Nemeth bet 20,000. Xu called, bringing the 2♥ on the river. Nemeth had a big stack in terms of its physical size, but he will have been keenly aware that it wasn't actually worth that much. He had only one 5,000-denomination chip, with the bulk of his stack comprised of 100s. He said he was all-in.
Xu clearly knew that this bet wasn't as huge as many shoves at this stage could be. He asked for a count and the dealer informed him it was around 62,000. Xu had more than that in what looked like a smaller stack, but he clearly felt his hand wasn't good enough.
Xu passed and Nemeth took the pot. He is back challenging once again with about 135,000. And he'll need it because Dietrich Fast, Jan-Erik Schwippert and Danny Tang are also on Table 30, which is one of the toughest in the room.– HS
1:10pm: Hecklen over Haven
Level 11 – Blinds 800/1,600 (BB ante 1,600)
Duco Haven had been in the tank for a while, and in fact had just started to dig out some chips from his stack when someone at the table called the clock.
As far as why he was in the tank, well, his opponent Henrik Hecklen had pushed all in for about 40,000 on the river with the board showing 9♦ Q♦ 4♥ 2♥ 5♥ and about 50,000 in the middle.
---
Henrik Hecklen: Aces good
---
Just as the countdown started, Haven went ahead and said he was calling, and when Hecklen turned over A♥ A♠ Haven wasn't too excited to show his hand, but he had to — A♣ K♦ .
Hecklen moves up around 130,000 after that exchange, while Haven dips to just under 60,000. –MH
1:05pm: Helppi all in against Loosli
Level 11 – Blinds 800/1,600 (BB ante 1,600)
A flop of J♦ A♥ 4♥ was on the board. Sylvain Loosli was in the small blind and had checked to Andy Black who had bet 6,000. The action was now on Juha Helppi, who called, sending things back to Loosli. He raised to 20,000.
This got a fold from Black but Helppi was not done.
---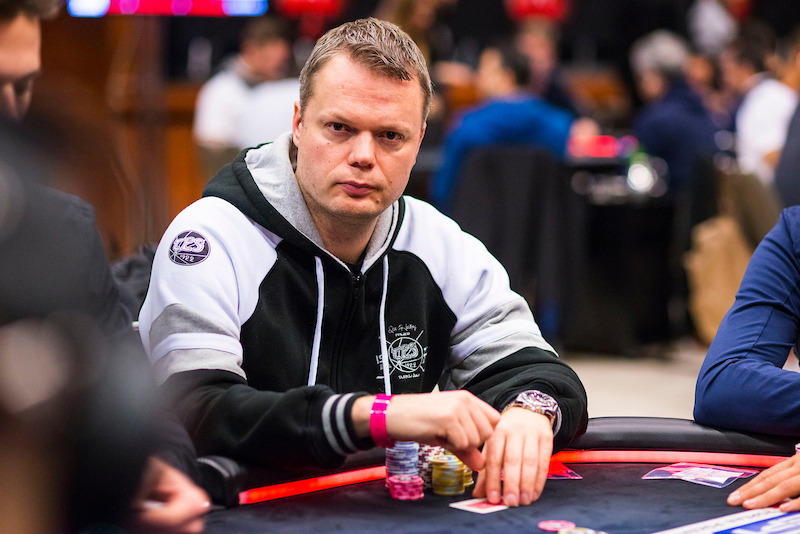 Juha Helppi: Shove gets it done
---
The Finn paused for a while, but then announced he was all in, for about 115,000. Loosli, headphones on but with one ear uncovered, moved some chips around, but folded. – SB
1pm: Stayin' alive
Level 11 – Blinds 800/1,600 (BB ante 1,600)
Two quick double-ups to report: Serbia's Marko Boskovic won with A♣ K♥ against Cornelis Van Gent, of Italy, who had J♣ J♠ . The money went in pre-flop but Boskovic turned a king.
Then David Elyashar squeezed full value out of his A♦ A♥ , with Marius Conan paying the 24,000 or so that it cost for Elyashar to be forced to reveal the bullets. Elyashar flopped a set actually but the money didn't go in until later. Elyashar told his table mates he thought he deserved an Oscar for the way in which he concealed his huge hand. He now has about 50,000 to play on. — HS
12:55pm: Tough draw
Level 11 – Blinds 800/1,600 (BB ante 1,600)
Vlada Stojanovic must have upset the someone in charge of the cosmos. He will have looked at the table draw this morning and discovered he was playing into Patrik Antonius, on his immediate left, and Frederik Jensen one seat further around. That devilish deity may have attempted to even things out for Stojanovic, however, sending him a pair of queens within the first hour of play, and helping him pick up a small pot.
---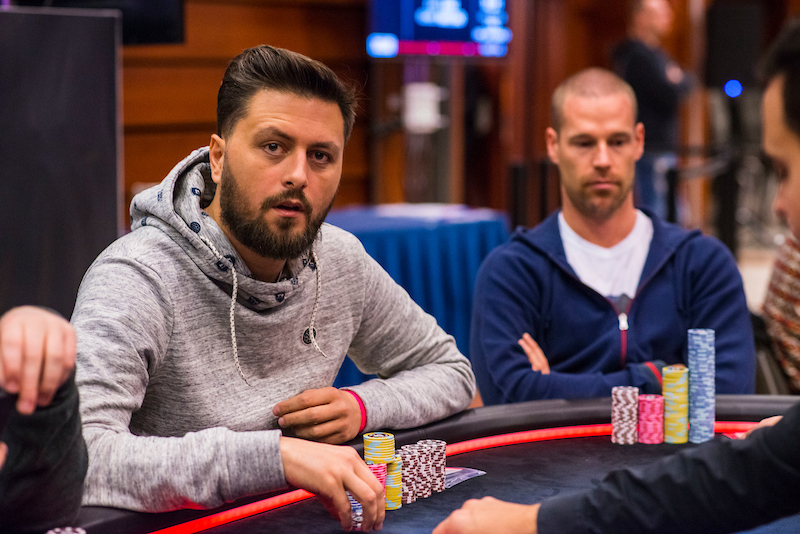 Vlada Stojanovic, left, with a menacing figure in the background
---
Stojanovic opened to 3,500 under the gun and although Antonius folded, Jensen three-bet to 10,000. Stojanovic called and the dealer put the 5♠ A♦ 2♠ on the flop. Stojanovic can't have liked the sight of that middle card and checked. Jensen bet 8,500 and Stojanovic called.
There was no further betting through the J♣ turn and 5♠ river and the queens were good at showdown. He now has about 150,000 but his table won't be breaking for at least another hour or so, so it's still going to be tricky with those former champions to his left. — HS
12:50pm: Laud down
Level 11 – Blinds 800/1,600 (BB ante 1,600)
Vambo Laud is out, having gotten all in with A♠ Q♦ versus Benjamin Chalot's J♣ J♠ before the flop, then being unable to find any way to improve from a 7♦ 10♥ 5♠ K♦ 4♠ board.
Chalot chips to 75,000 or so with that pot. –MH
12:45pm: Tough couple of hands for Andler
Level 11 – Blinds 800/1,600 (BB ante 1,600)
Christopher Andler got off to a fast start yesterday and ended the night with an above average stack of 84,100. Things aren't going quite as well in the first level of Day 2 for him. In fact he just endured one of those back-to-back hand sequences that sometimes serve to put a player back on his heels.
I arrived mid-hand during the first one, and it appeared he had gotten his opponent Grzegorz Reczko all in on a K♥ 7♥ 4♦ flop holding A♥ Q♥ for a flush draw versus Reczko's set of sevens with 7♦ 7♠ . The 5♦ turn and 3♠ river meant his Andler's plans had gotten Reczkoed, and the his opponent doubled to about 100,000.
---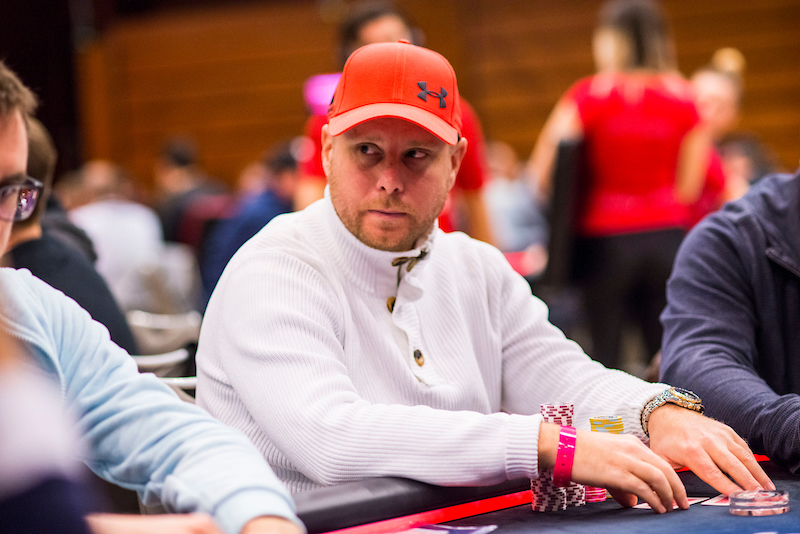 Christopher Andler: Early dip
---
In the next hand Andler opened, then Zhong Chen sitting one seat over went all in for about 14,000, and when action circled back around Andler called with A♦ K♠ versus Chen's 3♥ 3♣ . The board came 4♠ Q♠ 10♥ 7♣ 8♣ , and Andler lost a few more as Chen chipped to about 30,000.
Andler is on 60,000 or so now, looking to turn things back in a positive direction. –MH
12:40pm: Short day for Lehmanski
Level 11 – Blinds 800/1,600 (BB ante 1,600)
Maxi Lehmanski just entered at the start of the level about a half-hour ago. Alas for the German his day and tournament is already done.
After slipping to 23,900 in the early going, Lehmanski raised all in from middle position and awaited to see how others would respond. It folded to Swiss player Karim Souaid on the button who said he was calling, and after the blinds folded the players turned over their hands.
Lehmanski: 3♥ 3♦
Souaid: K♦ K♥
Bad news for Lehmanski, and the K♣ 9♣ 5♥ flop was even worse, giving Souaid a set and prompting Lehmanski to stand up. A queen on the turn made the river no matter, and Lehmanski is out. Souaid is up to 84,000 now. –MH
12:35pm: Popov not going anywhere
Level 11 – Blinds 800/1,600 (BB ante 1,600)
Slaven Popov just allowed himself a silent moment of celebration as he doubled up to keep his Main Event hopes alive.
He'd moved all in for 25,100 from the small blind after Dragos Trofimov opened on the button for 3,500. After Shakhabiddin Muradov folded the big blind Trofimov called.
Trofimov: 2♥ 2♠
Popov: A♣ 8♠
The board came 4♦ A♥ 9♦ K♥ 10♣
Cue that silent fist pump. Trofimov paid him off. – SB
12:30pm: The shove-fest
Level 11 – Blinds 800/1,600 (BB ante 1,600)
The tournament is eight-handed from today until its end, and they're busting at a rate of about one table every 10 minutes in the early Day 2 exchanges. Pete Chen was one of the new arrivals today, but he was out before 15 minutes had passed. The all-in triangles are doing a lot of work.
---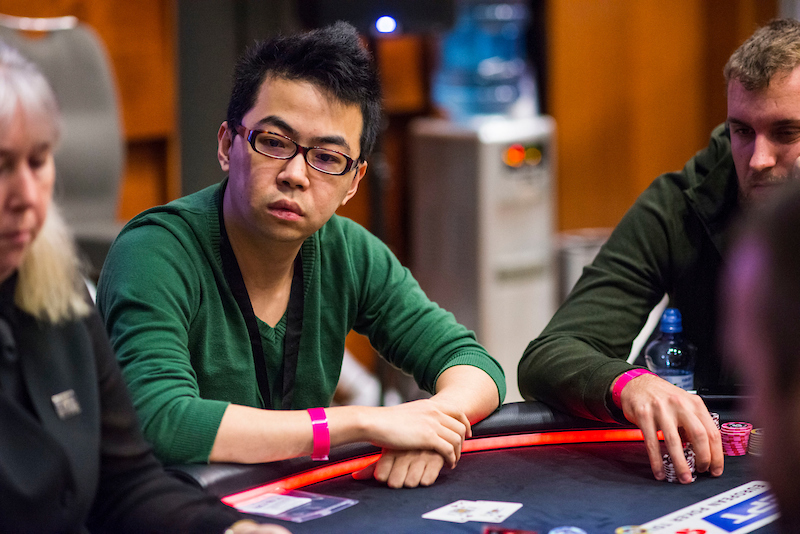 Pete Chen: In and out in a flash
---
In short order, I saw Phachara Wongwichit open to 3,500 from the cutoff, only to be immediately faced with a shove from Robin Hegele one seat around. Wongwichit folded and Hegele added some much-needed chips to the 26,000 he had.
Over on another table, San Hon Pang open shoved for about 20,000 and got folds from all his opponents. Then Ioannis Vogiatzoglou opened from the button, watched Robert Skopalik three-bet the big blind, before Vogiatzoglou jammed for about 40,000. Skopalik folded.
That's how it's going here so far. — HS
12:25pm: More newcomers
Level 11 – Blinds 800/1,600 (BB ante 1,600)
The full list of new entrants today is as follows:
Matti Konttinen
Oleksii Kovalchuk
Jasper Wetemans
Alan Rocamora Garcia
Simon Mattsson
Ari Engel
Pasi Sormunen
Maxi Lehmanski
Daniel Dvoress
Thomas Boivin
Fabrice Pastor
Daniyar Aubakirov
Aleksandr Nemtcov
Gen Nose
Pete Chen
Jakob Madsen
Tom Hall
Timothy Adams
---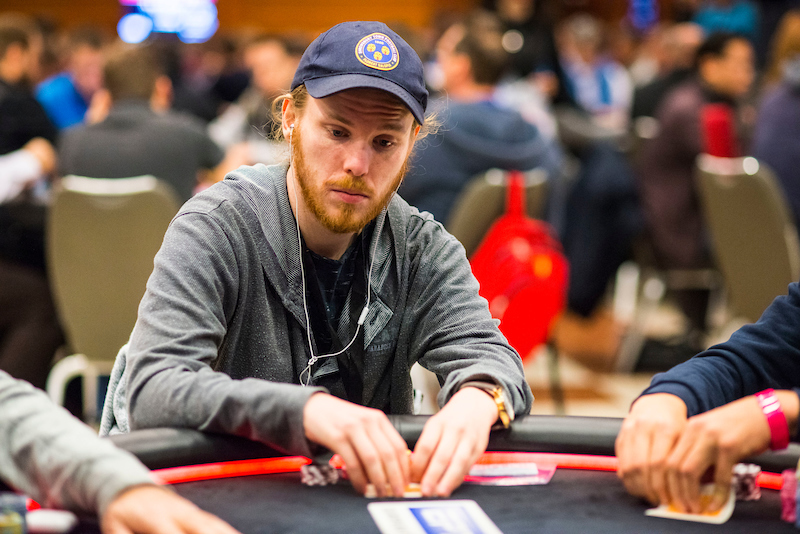 Tom Hall: Firing a second bullet today
---
The tournament board shows a total 1,174 entries, including 160 re-entries. At time of writing 420 players are left. — HS
12:20pm: Eights work for Odeen
Level 11 – Blinds 800/1,600 (BB ante 1,600)
Jerry Odeen of Sweden reraised all in with everything he had during the early going of the first level, and after thinking it over for a few seconds Said El Yousfi of Switzerland called the push.
Odeen had 8♥ 8♠ and needed the pair to hold versus Yousfi's A♦ K♥ . The flop came 4♠ 2♣ 10♦ followed by the 3♥ turn that added a wheel draw for Yousfi. But the Q♥ was a blank and Odeen doubled to a bit more than 70,000. Yousfi slips to 32,000. –MH
12:10pm: First-hand Fatima
Level 11 – Blinds 800/1,600 (BB ante 1,600)
The short stacks are shoving here to begin the day, and we've already heard a few screeches of chairs sliding backwards followed by similar-sounding cries of "seat open!"
---
Fatima Moreira De Melo: Among the early shovers
---
Team PokerStars Pro Fatima Moreira de Melo was one of those in the short-stack-shoving category, pushing all her chips in the middle on the first hand of the day. She received no callers, though, and remains in action. –MH
12:05pm: Adams, Dvoress, Kovalchuk among late entrants
Level 11 – Blinds 800/1,600 (BB ante 1,600)
Play has just begun, and right before the window closed on late registration several players jumped into the mix.
Timothy Adams, Daniel Dvoress, Ari Engel and Tom Hall (the latter two back for a second try) are all here for the start of Day 2. Maxi Lehmanski and Oleksii Kovalchuk are also among the new entries today.
---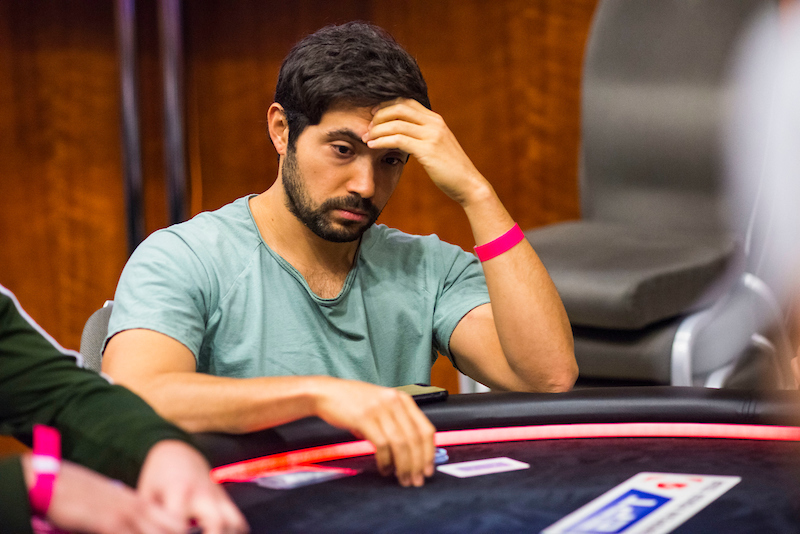 Timothy Adams: Who's this newbie?
---
It looks like about 18 have joined the fray, and it may be a couple more made it in right before the opening bell rang. Time to play some poker! –MH
---
Good day all and welcome back to the Casino Atrium at the Hilton Hotel in the capital of the Czech Republic where it's all eyes on the EPT Prague Main Event.
This €5,000 buy-in tournament still has five days to run, but it takes an important step at noon today. That's when registration closes, on both unique entries and re-entries, which means anyone losing their chips from this moment onward is on the lookout for alternative entertainment.
When the shutters fell yesterday, the end of Day 1B, the registration desk had recorded 785 entries for the day. With 371 having entered on Day 1A, the ledger showed a total 1,156 entries. There will likely be a handful of new players today, either entering for the first time or firing their second bullet, so we could get close to 1,200 for the tournament.
---
Fancy joining us on the EPT? Sign up for PokerStars and begin your journey. Click here to get an account.
---
Right now, 415 players still have chips, with John Sarailis's 297,400 leading the way. Sarailis was the boss of Day 1A, while yesterday's leader, Armin Mette, sits in second place overall with 280,000. Such is the nature of tournament poker, they should have no greater ambition than simply still being in the event by this time tomorrow. That's the hope for everyone.
---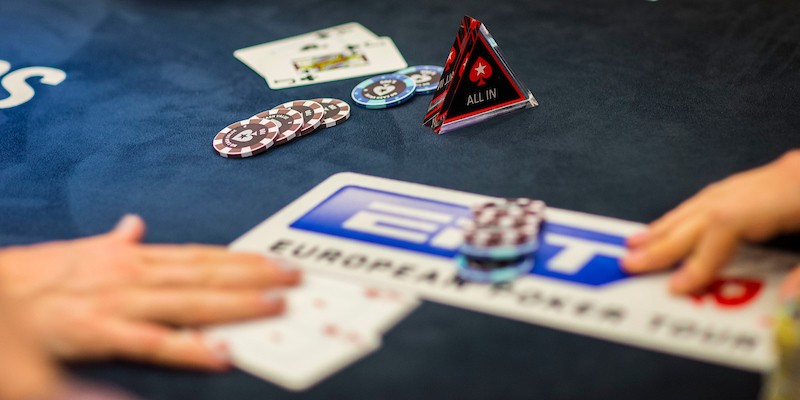 Plenty of these coming out today in Prague
---
Today we play five levels of 90 minutes each, with a 20-minute break at the end of each level. We'll bag up around 9.30pm. We'll be with you from start to finish, with all the information you need accessible via those links at the top of the page.
Let's play.
Download the PokerStars LIVE! app with all tournament information. Available for IOS and Android.
PokerStars Blog reporting team on the €5,300 Main Event: Stephen Bartley, Marc Convey, Jason Kirk, Martin Harris, Jack Stanton, and Howard Swains. Photography by Joe Giron/PokerPhotoArchive and Neil Stoddart.
Back to Top