The elite levels of poker are supposed to be a closed shop. Only a handful of the very best have any chance of winning. But this year, the door edged open and a 25-year-old Austrian named Matthias Eibinger squeezed in. And he looks like he might be here to stay.
At around 3.15pm today in the Chez Louis suite of Prague's Hilton Hotel, Eibinger won the €50,000 buy-in Super High Roller event of the European Poker Tour (EPT) Prague, earning €653,000. It took his career earnings close to $5 million–all the more remarkable because nearly all of that has come this calendar year.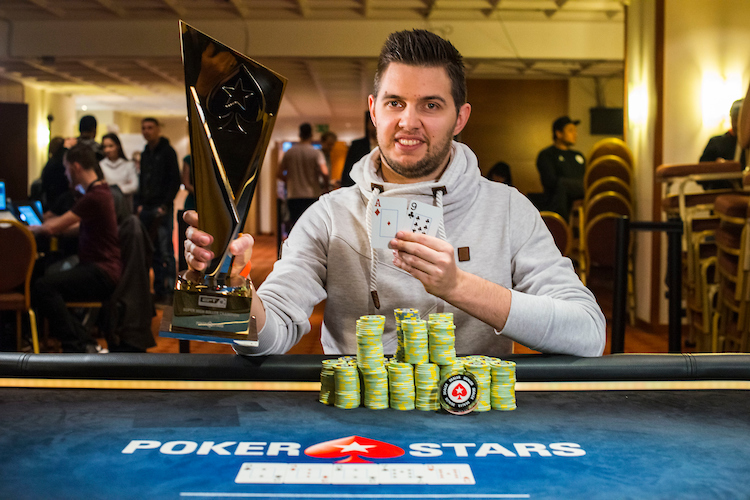 Matthias Eibinger: A new Super High Roller monster
Nobody on the EPT knew of Eibinger when he sat down in the Super High Roller event in Monte Carlo in April, but since then he's been sitting down in just about every major tournament across the world. This is his first outright win on European soil, but he has already sampled six and seven-figure wins in the US. (He also won more than €750,000 for third place in a €100,000 event in Barcelona this summer.)
"When I was first playing online and moved into the live scene, it was a very different game," Eibinger said of his entry to the live super high roller world. "I liked that aspect very much so I considered playing more of those. Travelling around, I really enjoy it. And with the high rollers I find there is a very good atmosphere. I think it's a very good environment lately and I want to keep doing that."
---
He did it the hard way today. Coming into the last day with the overwhelming lead, he ended up doubling up a succession of opponents, including Hungary's Andras "probirs" Nemeth. And he was on the ropes himself by the time it was just the two of them left from the four who returned overnight, needing to hit a number of last-gasp cards.
Right at the death, he spiked a nine on the river when his A♦ 9♦ was dominated by Nemeth's A♣ 10♠ . Nemeth simply looked on silently, aghast, and wandered away. He takes €451,350.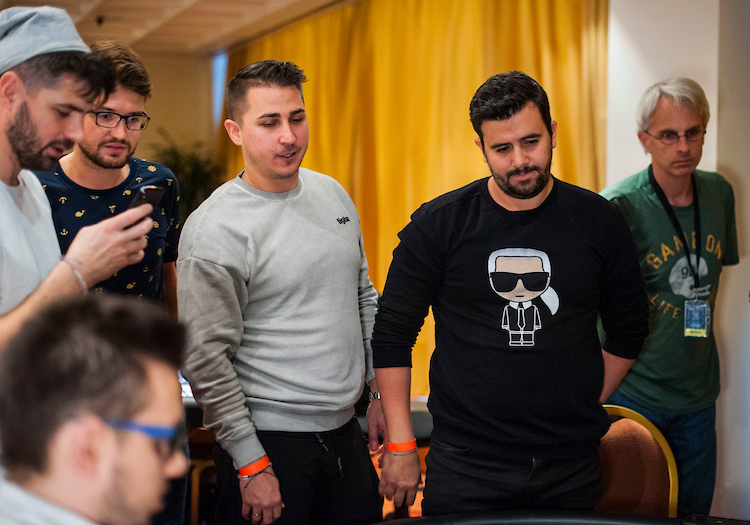 So close for Andras Nemeth
After playing down to a final four last night, today's last day was always likely to be a hasty affair. We might have lost our first player within three hands after Nemeth got the last of his chips in, but he doubled up with A♣ K♥ against Eibinger's A♠ 5♠ and stayed alive.
That put Pavel Plesuv under the most pressure, but he had legitimate hopes that he too could double back into contention when he took his own dominant ace up against Nemeth's inferior holding. This time, however, A♠ K♦ couldn't beat A♥ 10♦ when a ten flopped. Plesuv entered this tournament at the last possible moment, and departed a little over 24 hours later with €220,870 to his name.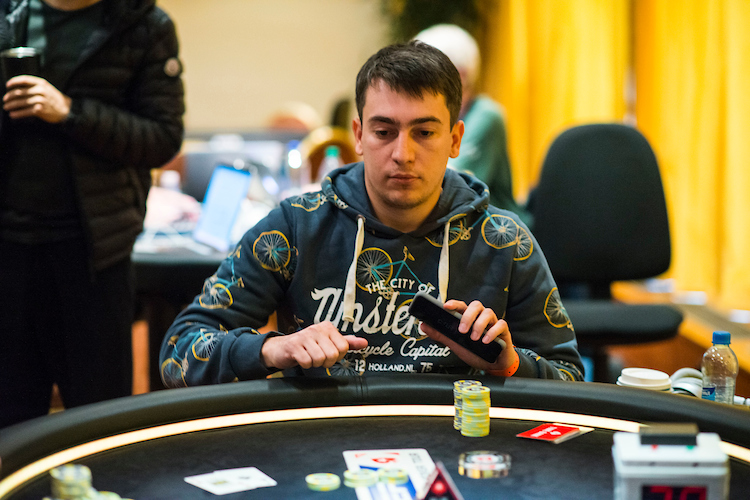 Pavel Plesuv: First man down
Until this week, most of Liang Xu's recorded poker tournament results had come in Macau, and even seasoned tournament reporters had to go searching for his name when he rocked up in Prague to play this one. He was unfamiliar, and in the rarefied environs of Super High Roller tournaments, that is not often the case.
But Xu took the very first opportunity to lodge his face in reporters' minds with a near-perfect showing against tough opposition. He eventually hit the rail in third place today, winning €288,090. He also got unlucky on his elimination hand when he made a decent call with Q♣ 8♣ and was up against Nemeth's 9♠ 8♠ . Xu called for a queen; Nemeth called for a nine. Nemeth's prayers were answered.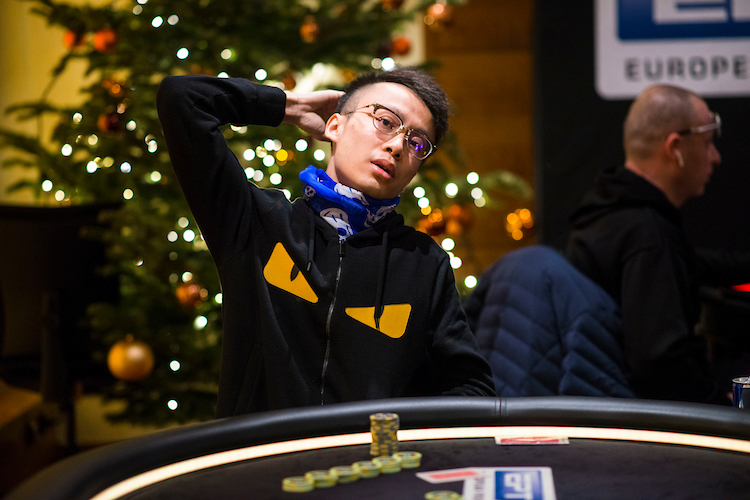 Liang Xu: Right decision, wrong result
The tournament reached its heads up stage in Level 18 and, in fairness, the fact that it would be Eibinger and Nemeth still standing had been telegraphed for two days. One or the other had been chip leader for roughly 16 of those 18 hours.
They had also spent a lot of time in one another's company, with various random table draws seemingly intent on keeping them together. It meant that when they agreed to talk numbers after everyone else had departed, they were well positioned to determine their true equity in any deal. Perhaps surprisingly, they couldn't come to a resolution. That left the full €653,000 on the table for the winner, with the runner up prepared for €200,000 less. Nemeth had a big lead, with 6.775 million to Eibinger's 3.225 million, but still plenty of big blinds between them.
There is enormous skill in heads-up poker, but it is notoriously difficult to discern from the sidelines. All that spectators tend to see are the big double ups, which often seem to depend entirely on two big hands going up against one another, or a bluff getting picked off.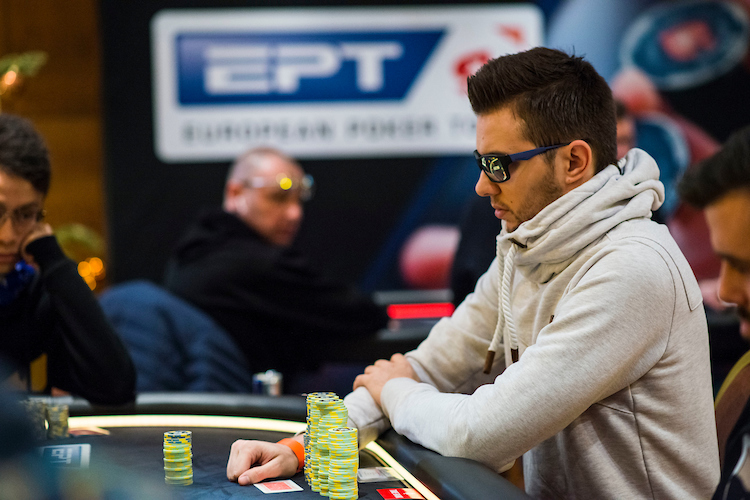 Matthias Eibinger: Never say die
This particular heads-up battle had both, multiple times. It began with Eibinger putting himself on the ropes when he missed both straight and flush draws but stabbed anyway, leaving Nemeth to pick him off with second pair. That failed bluff and shrewd call left Nemeth with a huge lead.
However, Eibinger battled back with a series of double ups and took the lead when he spiked an ace when he needed it most: his A♦ 2♣ was otherwise in trouble against Nemeth's 8♣ 8♠ . Then Nemeth battled back into the lead, before Eibinger pulled off his doubling trick one more time, turning two pair with Q♣ 7♥ to consolidate the lead over Nemeth's J♣ 7♣ .
The best way to learn the specifics of all this is to scan through our blow-by-blow coverage of the final stages, which were delightfully chaotic.
Nemeth will have some justification if he looks back on this event as one that got away. Or, more rightly, one that got taken away by a cruel run of cards. That final hand, with Eibinger hitting the three-outer on the river, was the crushing blow, but Nemeth has shown once again how brilliant a competitor he is.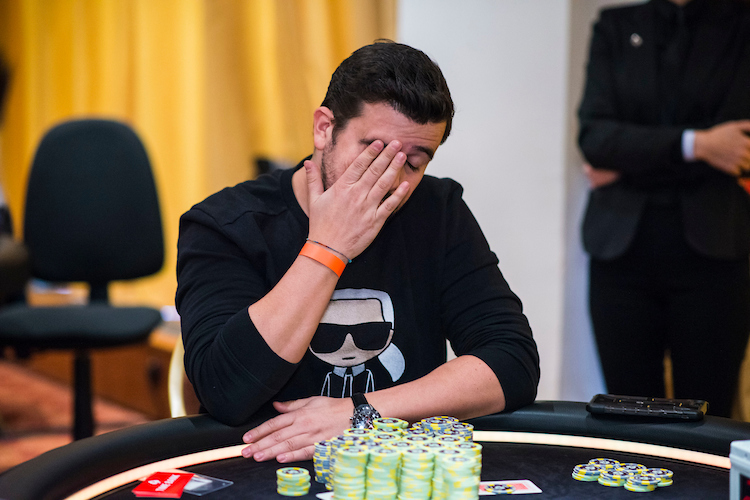 Andras Nemeth gets a rough deal
The Main Event begins today, and there will be another high roller tournament later in the festival. But Eibinger may well hop on a plane to Las Vegas for a $300,000 buy-in event happening there next week. When he does, he won't be the mystery man anymore. Everybody should know his name.
EPT Prague Super High Roller
Dates: 10-12 December, 2018
Entries: 40 (including 10 re-entries)
Prize pool: €1,920,600
| Position | Name | Country | Prize |
| --- | --- | --- | --- |
| 1 | Matthias Eibinger | Germany | €653,000 |
| 2 | Andras Nemeth | Hungary | €451,350 |
| 3 | Liang Xu | China | €288,090 |
| 4 | Pavel Plesuv | Moldova | €220,870 |
| 5 | Luc Greenwood | Canada | €172,850 |
| 6 | Charlie Carrel | UK | €134,440 |
Photography by Joe Giron/PokerPhotoArchive
Back to Top
Study Poker with
Pokerstars Learn

, practice with the PokerStars app

Try our Free Scholars Leader Board to practice your new skills.
Quick Links
Learn
Practice
Chat with us
Watch and share