Play one hand on PokerStars between now and April 14, and you could win anything from freeroll to a $100 Spin and Go tickets…
It's part of what we call Spin of the Day, which must have the lowest barrier to entry of any PokerStars promotion.
All you need to do is log into your PokerStars account and play one hand of poker.
---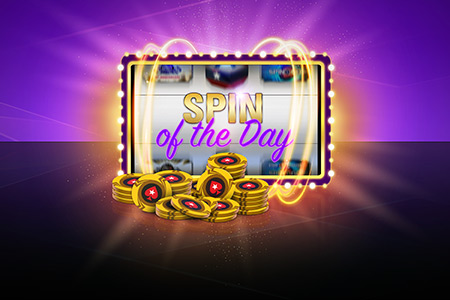 Play just one hand to earn a free Spin of the Day. You could win freeroll or Spin & Go tickets worth up to $100. Play today and every day until April 14
---
No deposit. No minimum requirement. Just play a single hand of poker. Do that, and you'll automatically be given a Spin of the Day ticket.
That's when the fun starts (if the hand you just played didn't live up to expectations).
How it works
The Spin of the Day ticket entitles you to one free bonus spin. You'll see it in a pop-up window, so you can't miss it.
You can use this ticket immediately or up to 12 hours later. You'll find it in your Stars menu. Just be sure to use it before then, otherwise the ticket expires.
And you'll want to use it. Because when you use your spin great things can happen.
Great prizes to be won
For instance, you could win entry into one of five freerolls taking place every day on PokerStars.
Daily freerolls
$5,000 = 14:00 ET (Turbo)
$2,500 = 10:00 ET and 16:00 ET (Hyper)
$1,000 = 12:00 ET and 18:00 ET (Hyper)
Or, you could win Spin and Go tickets worth anywhere between $0.25 and $100 (and from there who knows?).
Make the spare minutes you have more exciting
That gives you a good reason to fill those unused minutes you have every day.
It might make your morning commute a little more interesting, or the wait for the bus home.
And what better way to fill idle minutes as the kettle boils, or before the microwave pings?
Spin of the Day starts today on PokerStars
So, to recap: That's an excuse to get a small poker buzz every day, at a point of the day usually spent staring out the window, and doing something more productive with your screen time.
It starts today on PokerStars. Earn a free Spin a Day every day between now and Sunday April 14.
It might not be life changing money, but it could be commute changing money. Or tea break changing money. Or waiting in line at the cash register changing money.
You get the idea.
Back to Top