Hao Qi Xie has bagged the chip lead with 141 remaining of 376 runners. Xie turned a 20,000 starting stack into a very impressive 218,000, following eight hours of play here at the Landing Casino, Jeju Island.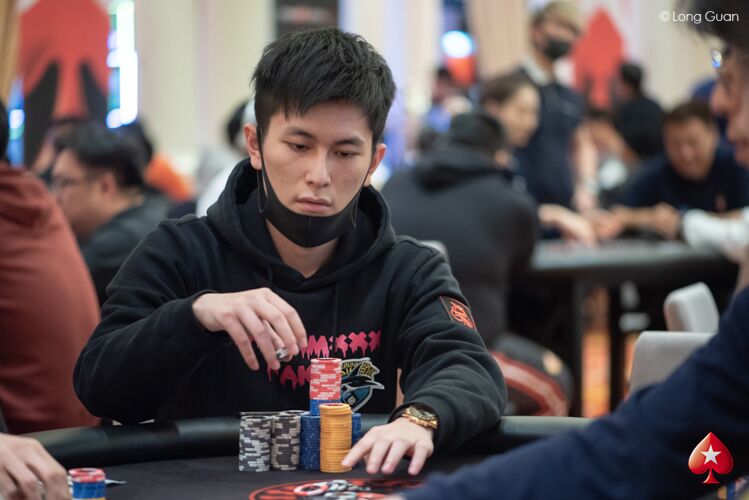 Hao Qi Xie
There was a 90,000-chip gap between Xie and the next closest contender, Chun Kong Kwok (128,800). Qiang Xu (126,100) completed the top three.
It became clear that Xie was pulling away from the field by the time the last break took place. He wasn't about to let the grass grow under his feet though and continued to get involved in plenty of pots, dominating his table right until the end and extending his lead.
There were a number of former Red Dragon Champions in the field. Some fared better than others with Qiu Ming Qin (92,900), Alan Lau (66,700) and Bold Buyanjargal (39,600) all making it through.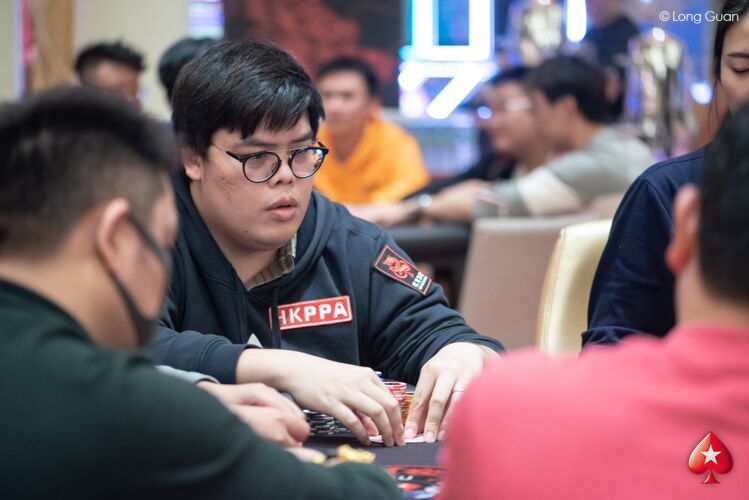 Victor Chong was among the other familiar names who bagged up at the end. Chong won a flip with A♥ K♥ against Q♠ Q♥ in one of the last hands of the day, connecting with the K♦ J♦ 3♥ 9♠ 2♣ board to save him from hitting the rail. Chong will return with 115,800. Justin Chan (87,700), Sumit Sapra (87,000) and Celine Li (80,700) also had good runs today.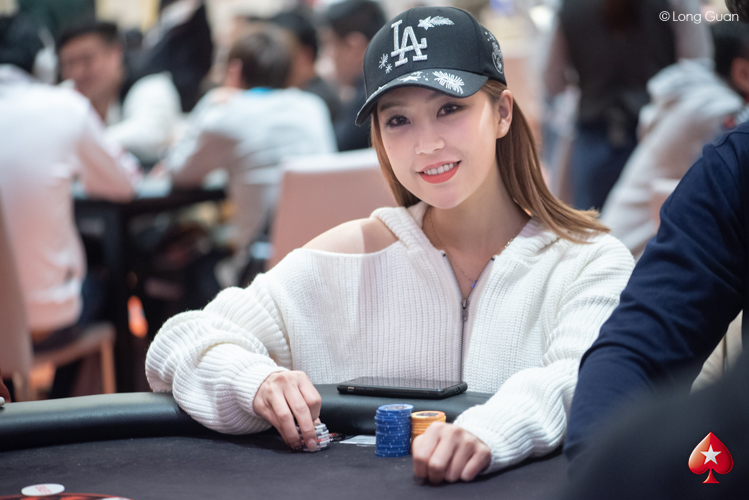 Celine Xiaoling Li
There were some notables who didn't make it through. Raghav Bansal started off well but ran A♥ Q♥ into A♦ K♥ late in the day and was unable to recover. Pete Chen, Kunal Patni and Bin Sun were also some of the unfortunates to hit the rail.
Bin Sun
Day 1B takes place tomorrow at 6pm and players with chips left at the end of 12 levels will join Xie – and all of today's survivors – on Friday 7th December for Day 2. Late registration is open until the end of Level 6 (around 22:20pm). What we can confirm is that we are already three-quarters of the way to hitting the ₩1,000,000,000 guarantee.
For the full Day 1A survivors list, click here.
---
10:45pm: Day 1 concludes
Level 12: Blinds 800/1,600 (ante 200)
The Jeju Red Dragon 2018: Main Event Day 1A has drawn to a close. Stay tuned for a full wrap with the day's highlights and final numbers confirmed.
10:30pm: Xie remains unstoppable
Level 12: Blinds 800/1,600 (ante 200)
Hao Qi Xie continues to dominate at his table, he has just taken out another opponent after getting it all-in blind versus blind. Action folded to Xie who opened around 6,000 into his opponent who had about 22,000 left. After some deliberation, the big blind moved all-in and Xie made a quick call.
Xie was a long way ahead with K♥ Q♠ to his opponent's Q♦ 9♥ and the 7♣ 2♦ J♥ 5♣ A♠ kept it so. Xie has around 175,000 now.
10:20pm: Final seven hands
Level 12: Blinds 800/1,600 (ante 200)
The floor has announced there will be seven more hands before play concludes for the night. Hao Qi Xie has been confirmed as the current chip leader but will anyone else over-take him in the last few minutes?
10:10pm: Park takes from Wong
Level 12: Blinds 800/1,600 (ante 200)
The two players were blind versus blind just now and it turned into a signifiant pot, that left Christopher Young Park in good shape and undoing most of Won's work thus far.
The Q♦ 6♦ 9♥ flop was out and Park bet 2,000, which Wong peeled. It came 3♦ on the turn and Park check-raised Wong's 4,200 bet to 12,500.
The final card was a 5♣ and Park made a larger sizing of 16,000, which Wong quickly called. Park turned over 8♥ 7♦ and Wong mucked on seeing the rivered gutshot. He is down to 29,000, less than 20 big blinds but it is good news for Park who is now playing with 87,000.
9:50pm: Big stacks starting to make their presence known
Level 11: Blinds 600/1,200 (ante 100)
We are heading toward the last level of the day and some of the big stacks have started to emerge:
Hao Qi Xie – 150,000
Ziming Chen – 136,600
Qiang Xu – 105,000
9:40pm: Last level of the day
Level 12: Blinds 600/1,200 (ante 100)
Starting stack is worth around 16 big blinds now and therefore, it is likely we will see a string of bustouts before the clock is paused.
9:20pm: Wong chipping up nicely
Level 11: Blinds 500/1,000 (ante 100)
Carson Wong has been busy. At last count he had almost quadrupled his starting stack of 20,000 into 76,000. With a little over an hour to go before the end of the day, he is looking in good shape to make it through to Day 2.
Carson Wong
8:55pm: Platinum pass winner in the running
Level 10: Blinds 500/1,000 (ante 100)
Sumit Sapra was lucky enough to get his hands on a coveted platinum pass in April this year. Four were given away in total at APPT Korea and one of those was presented to the winner of a flipout tournament. Flipout tournaments are becoming increasingly popular in Asia normally feature a forced all-in for each player and then the winner of each table progresses to take part in a sit 'n go final table. This time though the flipout format played right to the end. In the end, Sapra won the final hand against Team PokerStars Pro Randy Lew to win a $30,000 package, which will take him to the PSPC in the Bahamas in January.
Right now, Sapra is sat on the same table as Qwok Chung Lai and has 31,000 in chips. Lai has 27,000.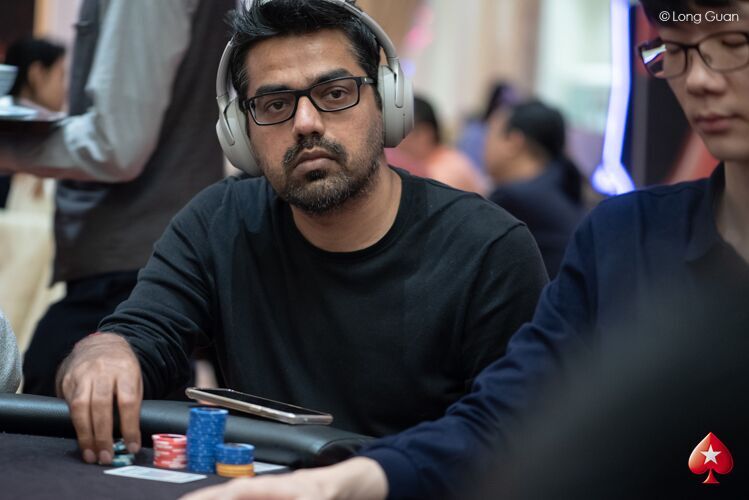 Sumit Sapra
8:30pm: Three more levels to go
Level 10: Blinds 500/1,000 (ante 100)
Play will conclude for the day at the end of Level 12, meaning there are two more hours of play for our remaining players to survive in order to make it through to Day 2.
8:20pm: Final break of the day
Level 9: Blinds 400/800 (ante 100)
Another three levels have played out and players will be taking a short recess now.
8:10pm: Some counts
Level 9: Blinds 400/800 (ante 100)
The end of the level and the final break is just around the corner. Here are a few counts:
Viktor Jensen – 60,000
Alan Lau – 47,500
Victor Chong – 35,000
Chi Ying Tsai – 28,200
Xun Lu – 20,700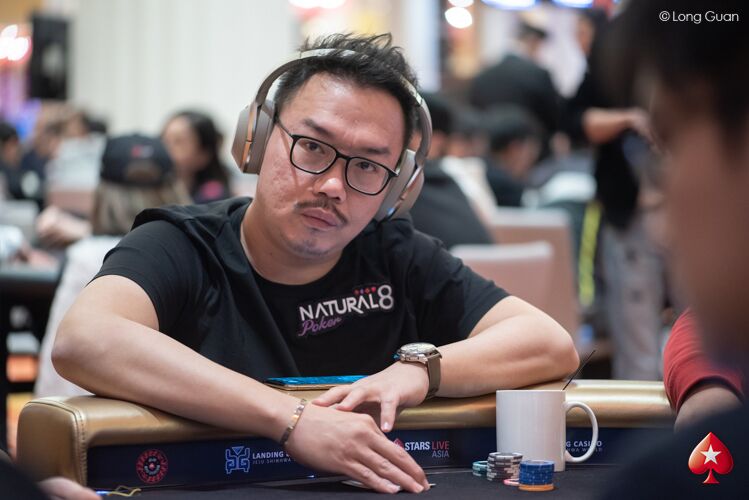 Victor Chong
7:55pm: A third of the field down
Level 9: Blinds 400/800 (ante 100)
There are 240 left of 376 starters, so a little over one-third of registrants know they will not make it through to Day 2. That leaves two-thirds whose hopes are very much alive.
7:35pm: Bansal wins big with high card
Level 8: Blinds 300/600 (ante 100)
There were a lot of chips in the middle (around 20,000) when we arrived at the table and all the community cards were out.
5♠ 10♣ 6♣ 2♦ 8♥
There was no betting on this street and Bansal turned over A♥ K♥ for a high card. Yi Shi was the other player in the hand and he looked disappointed when he saw the strength of Bansal's hand, then mucked. "You had ace-queen of clubs?" Bansal asked him and Shi shrugged in response.
Bansal is now sitting on a very healthy 45,500.
7:20pm: Xun Lu doubles in a premium hand clash
Level 8: Blinds 300/600 (ante 100)
All the money went in preflop and it was no surprise given the strength of the holdings.
Xun Lu: K♥ K♣
Ya Ji Ren: A♦ K♠
Lu had the advantage and held on the 7♣ Q♥ 10♠ 3♦ 2♥ board. The double has put him up to 23,500, whilst Ren drops to 31,500.
7:10pm: Chip counts
Level 8: Blinds 300/600 (ante 100)
Huahuan Feng is still having some difficulty, Justin Chan remains steady and Liang Song and Xiaoling Li are climbing up the ranks.
Xiaoling Li – 40,000
Liang Song – 29,500
Justin Chan – 24,000
Huahuan Feng – 10,000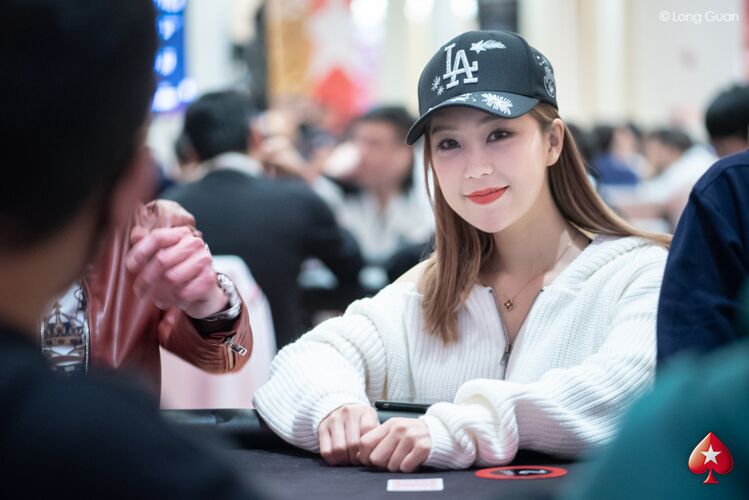 Xiaoling Li
6:55pm: Lau continues to build
Level 7: Blinds 250/500 (ante 75)
Alan Lau has been chipping away. The most recent chips came in a fairly small pot that Lau took down on the river.
Lau had defended the big blind to a 1,200 cutoff open and the flop came 7♦ K♠ K♥ . Lau check-called the 1,200 continuation and the turn was a J♣ . This time the action went check-check and after the dealer placed a 5♥ on the river, Lau paused before putting 1,100 over the line.
It was enough to get a quick fold and Lau added the chips to his stack, bringing him up to 48,700.
6:40pm: Day 1A draws a field of 376
Level 7: Blinds 250/500 (ante 75)
The Jeju Red Dragon 2018: Main Event has already attracted 376 hopefuls. With registration open for six levels tomorrow during Day 1B, there is still plenty of time to get down to the Landing Casino and take part in the flagship event.
6:25pm: We are back
Level 7: Blinds 250/500 (ante 75)
Registration has closed for the Main Event now that players are back to play some more poker. We will bring you the numbers for the day so far as soon as they have been confirmed.
6:15pm: Break time
Level 6: Blinds 200/400 (ante 50)
Which means we are halfway through the day and play will resume in 10 minutes. Don't go away.
6pm: A steady stream of contenders
Level 6: Blinds 200/400 (ante 50)
There are now 318 left of 375 entries so far and counting. The tournament is three-quarters of the way to reaching it's guarantee, with ₩750,000,000 collected so far.
5:50pm: More chip updates
Level 6: Blinds 200/400 (ante 50)
So far many of the biggest names in the comp are struggling to get off the mark. Liang Song (17,800), "Derx" Lai (11,300) and Qui Ming Qin are all below the 20,000 starting stack.
There is still plenty of play left though so this could all change at any time.
5:15pm: Feng and Tsai take a seat
Level 5: Blinds 150/300 (ante 25)
Huahuan Feng has joined the field. Fresh off his 2nd place result in yesterday's High Roller, Feng is back at the tables and has dropped to 13,500.
Another recent entry is Taiwan's Chi Ying Tsai. Tsai finished 4th in the Baby Dragon event a couple of days ago and will no doubt hope to make it a little further this time. So far she is not far off what she started with and has 18,200.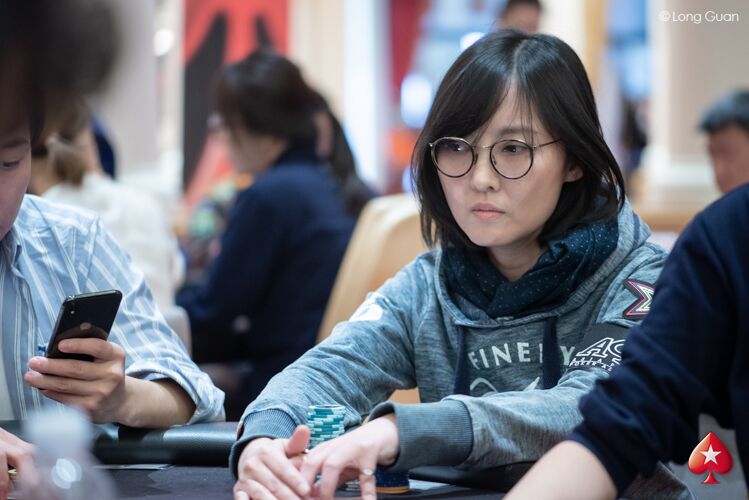 Chi Ying Tsai
4:50pm: Chip counts
Level 4: Blinds 100/200 (ante 25)
With a couple of hours of play under their belts, here's how a few of our notables are doing:
Jian Biao Zhong – 32,700
Kunal Patni – 14,000
Justin Chan – 16,500
Xing Zhou – 31,500
4:35pm: Alan Lau off to a flying start
Level 4: Blinds 100/200 (ante 25)
The field has just gotten tougher, with Asian Player of the Year 2017, Alan Lau, entering the fray. Lau has amassed over $1.5 million throughout his poker career and his biggest cash was when he won the ACOP Macau 2017 Main Event for $692,066.
Lau is already chipping up well with 36,900 in front of him and is certainly one to watch.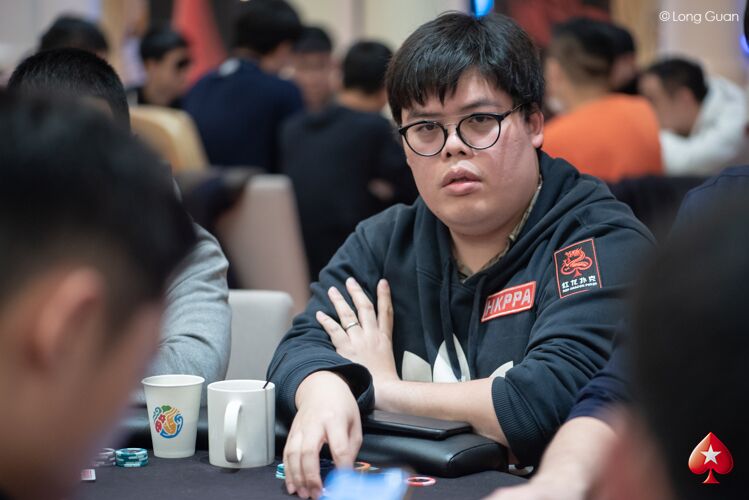 Alan Lau
4:15pm: Level 4 gets underway
Level 4: Blinds 100/200 (ante 25)
The break is over and Level 4 is underway. There is now an ante in play.
4:05pm: On a break
Level 3: Blinds 100/200
Three levels down, 21 more to go and that means players are taking their first 10-minute break now.
3:55pm: The numbers so far
Level 3: Blinds 100/200
On the last level before the break, we can confirm that the field has risen to 321 runners. Late registration is open until approximately 18:20pm (the end of Level 6) so there is every possibility we will hit the ₩1,000,000,000 guarantee today, when we reach 500 registrations. Not to mention that there is also Day 1B taking place tomorrow.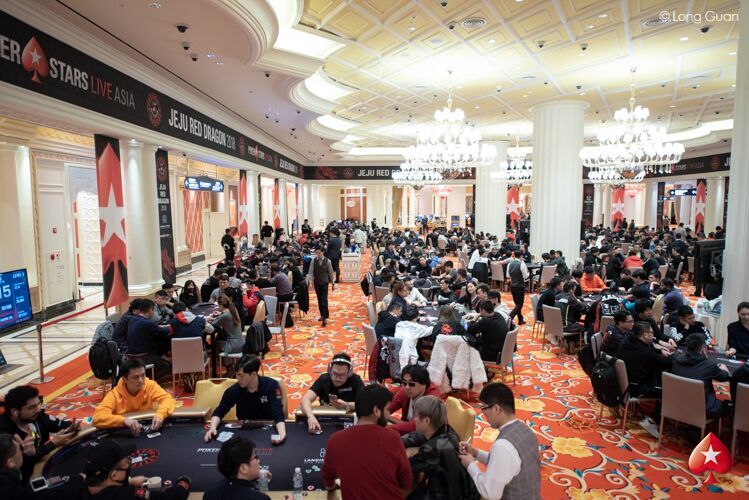 The card room at the Landing Casino is filling up
3:20pm: Chip updates
Level 2: Blinds 50/100
Raghav Bansal just won a pot after opening to 250 in early position. He got two callers, Zarvan Tumboli peeled behind on the button and Victor Chong defended his big blind.
The 8♥ 2♠ 7♥ flop saw a check from Chong and a continuaton of 400 from Bansal. Tumboli let it go and Chong called. On the 4♦ turn, Chong checked again and Bansal barrelled 1000 into the pot. It was enough to prompt Chong to fold and Bansal took the pot.
Raghav Bansal – 26,700
Victor Chong – 16,600
Zarvan Tumboli – 15,100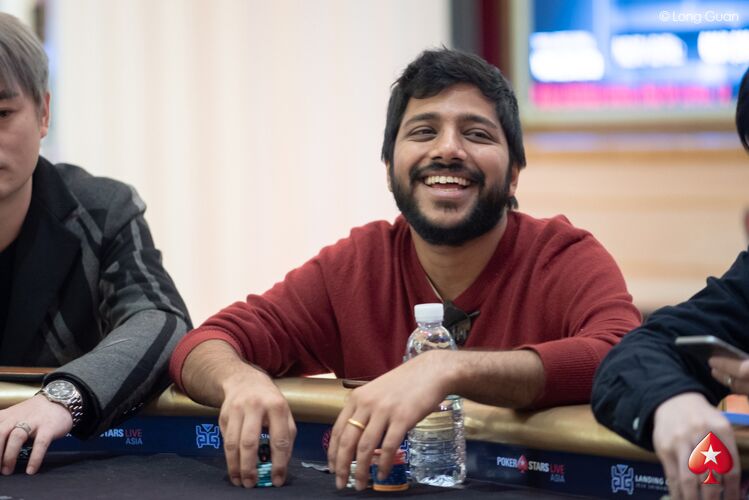 Raghav Bansal
3pm: Some more notables
Level 2: Blinds 50/100
Qui Ming Qin, Red Dragon 2017 Champ is in the house. Sparrow Cheung has been spotted scouting the room, though it is not clear yet whether he will play today or Day 1B tomorrow. Cheung is not only the president of the Hong Kong PPA but is also holds the world record for the most cashes in one year (2017).
Richard Lim, Kwok Chung Lai, Liang Song, Ben Lai, Justin Chan and Jian Biao Zhong are also in the field.
2:40pm: Table 26 is one to watch
Level 1: Blinds 25/50
There are four familiar names all sat down on Table 26. In seat 1 is Victor Chong, who is 8th on Malaysia's all-time money list with over $750,000 in lifetime tournament cashes. A couple of seats to his left is Raghav Bansal, 4th on India's all tme money. Bansal is nearing the seven-figure mark, with almost $1 million in earnings and in seat 8 is Zarvan Tumboli, another Indian poker pro who has more than $110,000 in results.
This is definitely a table to keep an eye on.
2:20pm: Early birds
Level 1: Blinds 25/50
With about a dozen or so tables on the go already, it's not surprising that there are a number of early bird notables in the crowd.
Newly crowned Megastack Champion Bin Sun is here. Winning ₩28,000,000 just yesterday, he is already back at the tables, hoping to continue his good run at the Red Dragon series.
The January 2014 Red Dragon Main Event Champion Bold Buyanjargal has taken a seat too. He finished 2nd in the Knock-out tournament earlier in the week. Losing heads up to Chen An Lin.
Xing Zhou, 2012 APPT ACOP Main Event Champion has joined the action.
Kunal Patni, currently on 7th on India's all-time money list is here. Patni secured the biggest score of his career at the beginning of the year, finishing 2nd in a WPT Berlin Deepstack.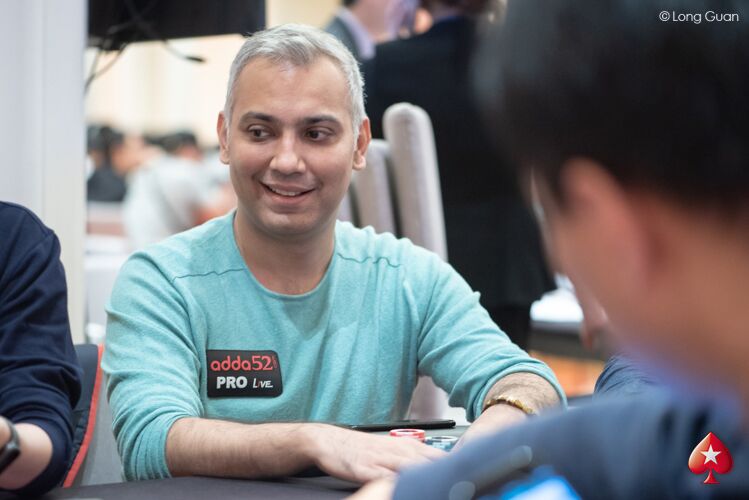 Kunal Patni
2:05pm: Cards are in the air
Level 1: Blinds 25/50
We are off the mark. Five days of Red Dragon Main Event action are upon us.
---
It's here. The Red Dragon 2018 will kickoff today at the Landing Casino in Jeju. The five-day Main Event is the flagship event of the series and is expected to draw a big crowd. So much so, that there are two Day 1s, followed by Days 2 and 3 and the Final, which will take place this Sunday 9th December.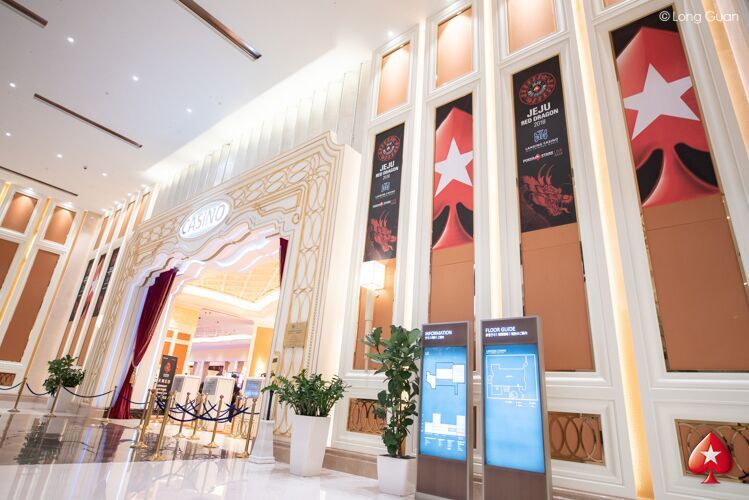 Landing Casino, Jeju
The tournament buy-in is ₩2,200,000 (~US$2,000) and there is a guarantee of ₩1,000,000 (~US$900,000). This will buy players a stack of 20,000 chips, with blinds starting at 25/50.
The tournament begins at 2pm, with 12 40-minute levels on the schedule. Thats eight hours of poker and eight hours of live coverage to go with it. There is no dinner break today, instead there will be a 10-minute break every 2 hours, so we expect the clock to pause around 10:30pm tonight. Then we do it all again tomorrow.
Once the Day 1s have wrapped up, it's on to Day 2 on Friday. The clock will increase to an hour, which is the same for Day 3 on Saturday. Sunday's final will have a 75-minute clock.
Join us back here shortly, once the tournament is underway for live updates from start to finish.
Back to Top
Study Poker with
Pokerstars Learn

, practice with the PokerStars app

Try our Free Scholars Leader Board to practice your new skills.
Quick Links
Learn
Practice
Chat with us
Watch and share