The road to a major poker title is never anything but bumpy. It can be perilous. It can be congested. It can be full of switchbacks, hairpins and other harem scarem drivers. But for a man named Nicolas Dumont, it proved to be all in a week's work at the PokerStars and Monte-Carlo®Casino European Poker Tour Main Event.
Dumont is a 31-year-old Frenchman, who is more accustomed than most to navigating a safe course through dangerous roads. By day, Dumont is a driving instructor, who makes most of his salary sitting alongside learner drivers amid the chaos of Paris. But maybe he'll be taking the back-seat of the limousine when he heads away from the Monte Carlo Bay Hotel & Casino tonight. This recreational poker player is also the champion of the EPT Main Event and €712,000 richer after beating a field of 574 others.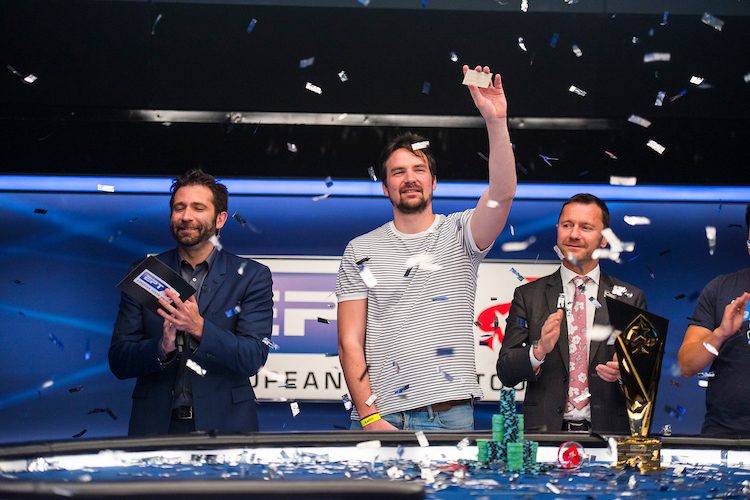 Nicolas Dumont: Champion!
Dumont is also the owner of a coveted Platinum Pass to the PokerStars Players Championship to be held in the Bahamas next January. Today he faced what for many would be a tortuous journey through a final table filled with the game's most talented players. But he threw them aside, like trash from a driver's window.
He beat Honglin Jiang, a 31-year-old financier from New Zealand, heads-up, after the two of them had dispensed with representatives from the very cream of poker's crop. Reputations stood for nothing as Dumont closed on a famous win.
"I feel great," Dumont said. "It's my first EPT, my first win. What can I say? It's crazy."
He then offered thanks to the friend who bought him into the event, via Facetime. He hadn't even intended to play. Miraculous.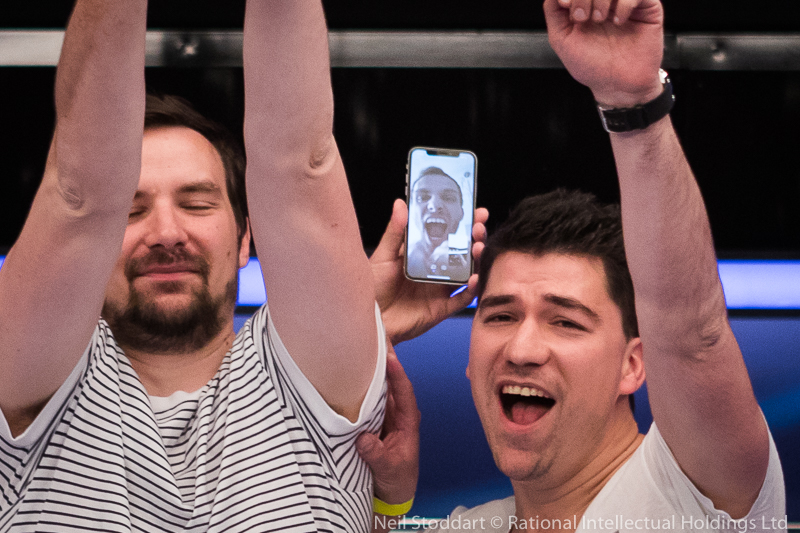 Nicolas Dumont and his Facetime friend
As the skies drew darker late last night, play inside the Salle des Etoiles grew more lethargic, meaning organisers called it off with eight players still left. But the tournament clock had continued to tick through those leaden stages, leaving a lot of players but not that many big blinds between them when they reconvened for the final day.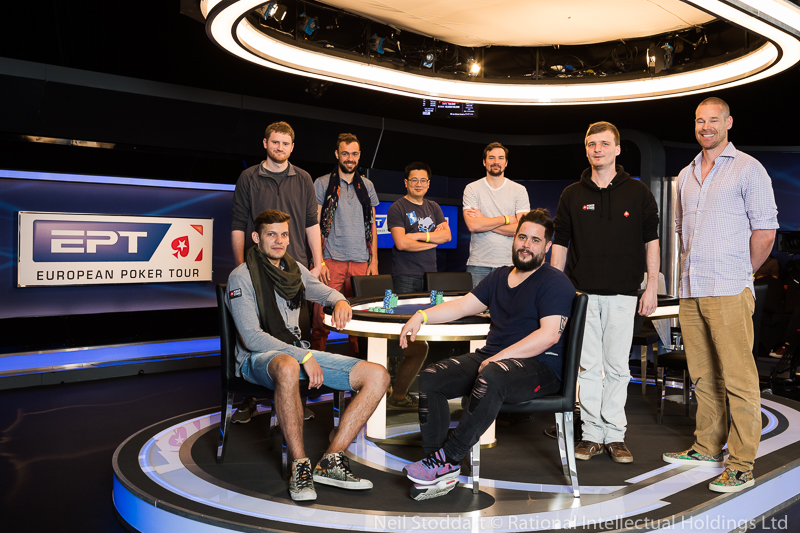 EPT Monte Carlo final table (standing l-r): David Peters, Ole Schemion, Honglin Jiang, Nicolas Dumont, Krisztian Gyorgyi, Patrik Antonius. (Seated l-r): Tomas Jozonis, Javier Fernandez
We certainly didn't have to wait long until the first elimination. Ole Schemion, whose career successes in Monte Carlo have already earned him around $4 million, was the returning short stack today. He got his last 1.6 million in as a three-bet squeeze over both David Peters and Patrik Antonius, but while Peters shied away, Antonius called with A♥ J♥ . This was the first hand of the day.
---
Fancy joining us on the EPT? Sign up for PokerStars and begin your journey. Click here to get an account.
---
Schemion's K♦ Q♦ was live, but it missed. After winning €513,000 in the Super High Roller at the start of the festivities this trip, Schemion left this final with €68,300 for eighth.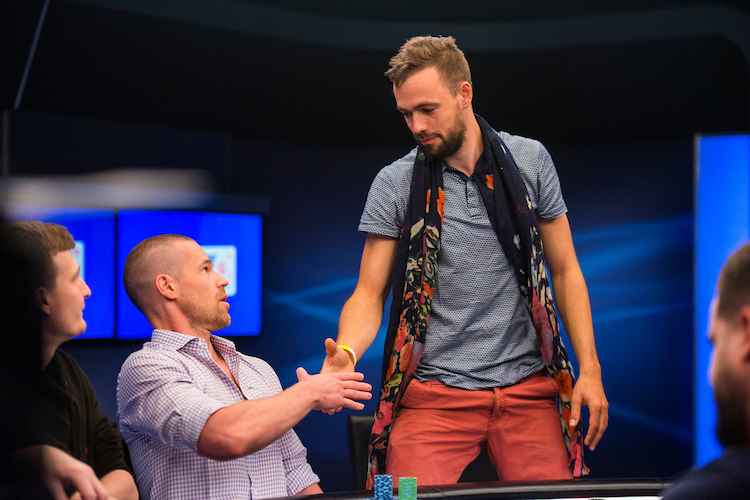 Auf Wiedersehen, Ole
Antonius's boost gave him a bit of breathing space, but the pressure soon weighed heavily on Javier Fernandez, of Spain. Fernandez lost a big flip to the Spin & Go qualifier Krisztian Gyorgyi on the second hand of the final day's play (it was Q♠ Q♣ v A♠ K♦ ) and was not able to recover.
Ferandez got the last of his chips in with A♦ 4♠ and smacked into Tomas Jozonis's A♣ 10♠ , which was never in danger. Fernandez took €99,900 for seventh, leaving everyone else guaranteed a six-figure payday.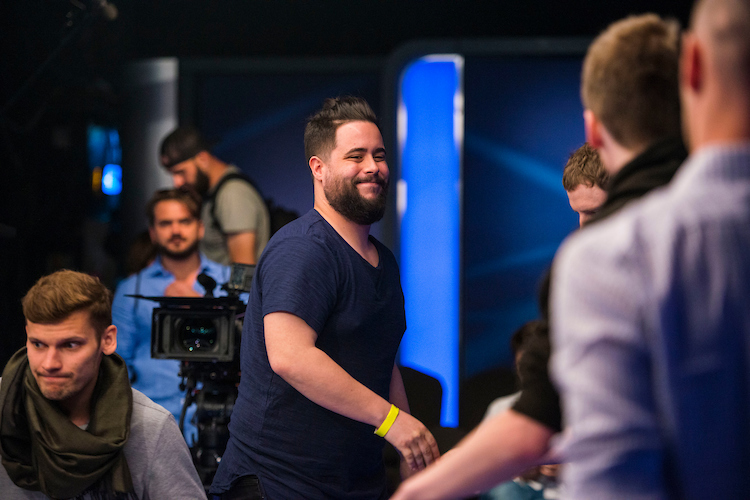 Javier Fernandez: Adios
Dumont, the overnight leader, hadn't needed to get involved in too many of these early skirmishes. It suited him if his short-stacked opponents did battle only with one another. But then he managed to find pocket kings in a hand against Antonius and extracted ample value when he flopped a set and rivered quads. It put Dumont even further ahead and left Antonius with work to do.
The flying Finn, who is one of the undisputed greats of modern poker, has been on a sensational recent run since returning to live tournaments towards the end of last year. Today's appearance, 4,111 days since he first took a seat at an EPT final, underlined exactly how good, and how durable, Antonius's skills are.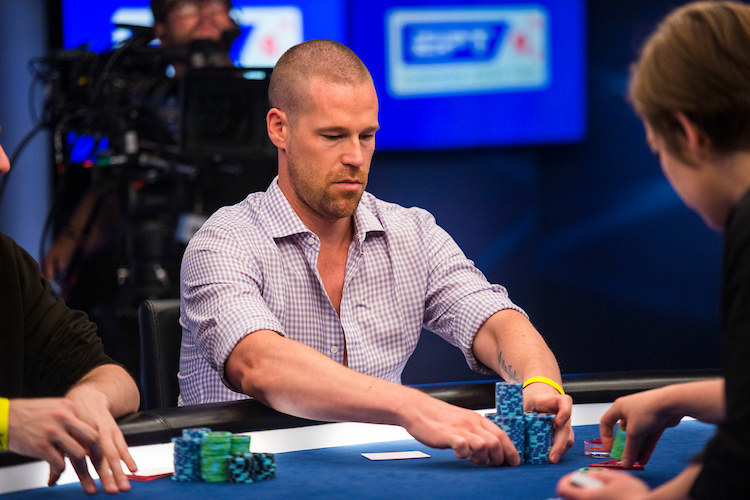 A welcome return for Patrik Antonius
But even he couldn't secure the seemingly impossible double EPT Main Event victory, and ended up perishing today in sixth place. He dwindled to a short stack, pushed it in with K♦ Q♣ , but got a call from Dumont's A♦ 8♦ . There was no outdraw, and Antonius had to settle for €139,050.
"I cannot complain," Antonius said. "There's going to be other chances for sure in the future to win events like this. It was a nice tournament, six days of playing. I tried my best and I'm happy the way I played…I don't feel like I could have done much more."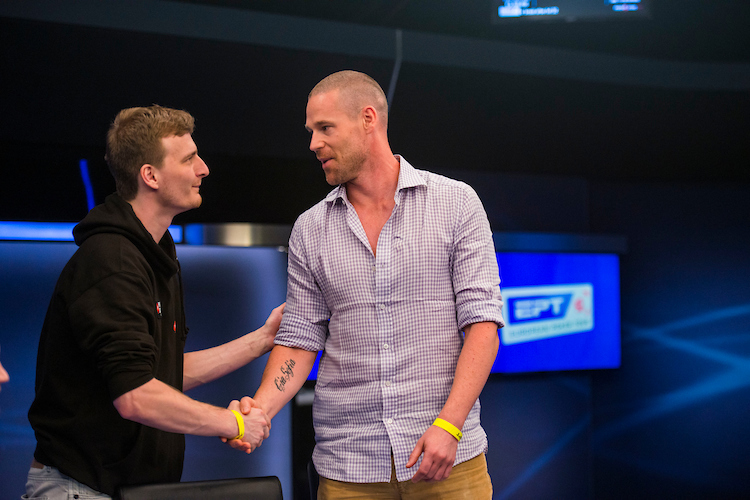 Patrik Antonius says goodbye to Gyorgyi
On his way out, Antonius made special mention of Gyorgyi, whose adrenaline-fuelled exploits had elevated this final table from a run-of-the-mill affair to one of the most exciting in recent memory. Yesterday's enormous move with seven-deuce offsuit will be replayed time and again. That kind of thing is pretty much unheard of among qualifiers to major events, who have a tendency to tighten up under the glare of the studio lights. Not Gyorgyi: he seized his chance to be a superstar with both hands–and went roaring around the tournament room with it.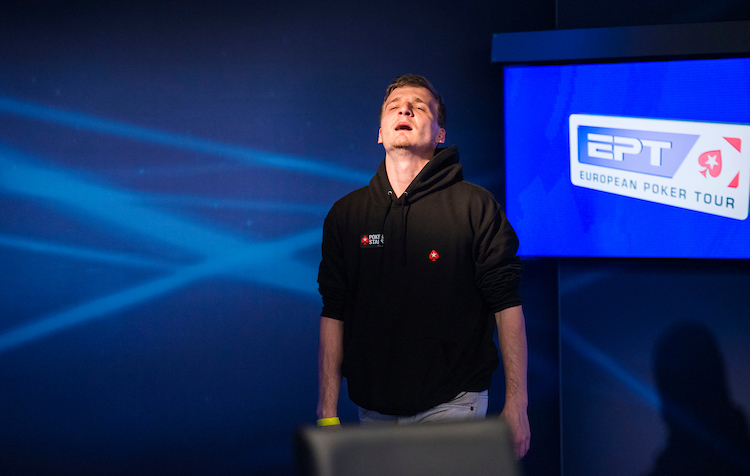 Krisztian Gyorgyi's lifeforce drains away
He could not, however, go all the way to the title. With A♥ K♠ , he did nothing wrong in getting it in against Jiang's 4♥ 4♣ . But Jiang flopped a set and the one-man fireworks display was finally extinguished. Gyorgyi took €184,000…and promised to return in Barcelona for another stab at the title.
Our next man out was Peters. There is simply no better tournament player in the world than this man from Ohio, and he plays absolutely every hand perfectly, in every situation. He had been the tournament big stack on Days 2 and 3, and had done everything right. And when circumstances conspired against him, leaving him short, he gave a masterclass in short-stack play too.
Why isn't he the champion? Well, despite successfully navigating the choppy waters of the first levels at this final table, he then found J♠ J♣ and Dumont opening a pot ahead of him. Peters got it in, but Dumont had Q♠ Q♥ and there was nothing from the dealer to stop the best hand winning.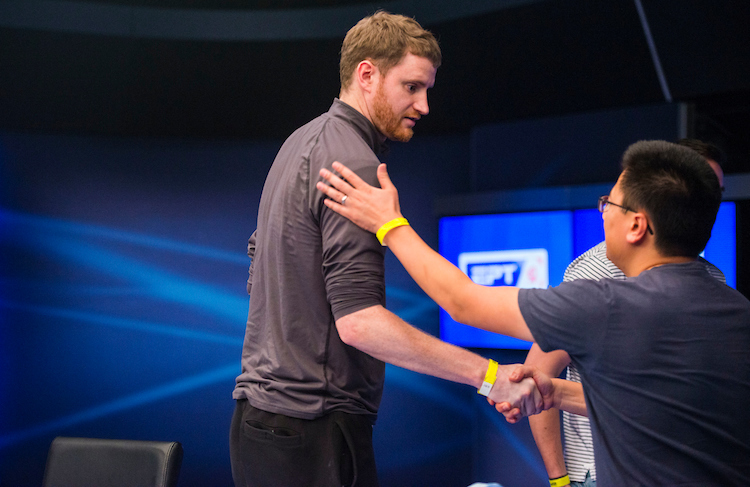 David Peters leaves the Main Event in fourth
Peters already has a Platinum Pass for January's PSPC in the Bahamas–he won it in a random draw–so he won't be suffering any FOMO regarding that particular prize. But Peters would dearly like an EPT title having knocked on the door so many times. He won €232,000 this time, and will surely be back again.
If Peters' elimination hand is best described as a cooler, then the one that all but accounted for Jozonis in third is a deep freeze. Aiming to become the first EPT champion from Lithuania, Jozonis had barely put a foot wrong for six days. He had made some awesome folds when he had to, and has punished any hesitancy among his opponents when it's been his turn to be the aggressor. It's relentless excellence like this that can prompt opponents to make five-bet shoves with A♣ 2♣ and smash into your pocket queens.
Such was the set-up in an enormous pot three-handed, but Jozonis could only watch in horror (stoic, silent horror, but horror nonetheless) as the dealer put three clubs on the board and gave Jiang a flush. It left Jozonis with about eight big blinds, a spot from which he couldn't come back. He managed one double, but then lost with A♣ 6♥ to Jiang's A♠ 10♠ .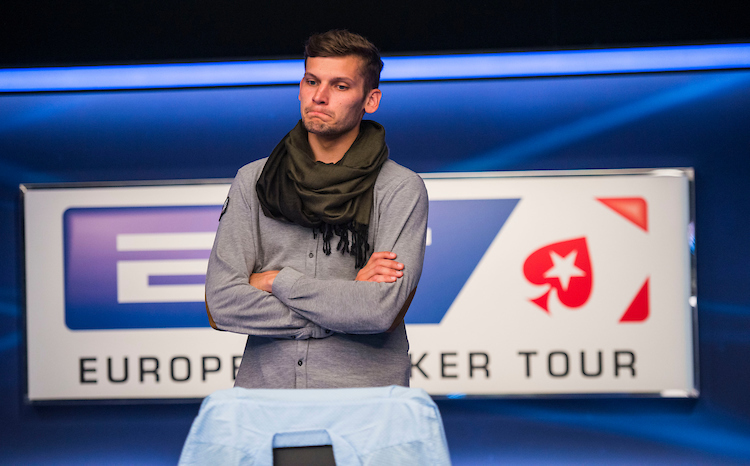 Tomas Jozonis: Bounced
Jozonis once had aspirations to be a professional volleyball player, but the exceptional talents he showed in this tournament this week suggest that he may have made the correct career choice. Volleyball's loss is poker's gain.
Having flown almost entirely under the radar for long periods of this tournament, even towards the very deep stages, Jiang had peeked his head above the parapet at exactly the right time. He opened up his game considerably when the situation allowed it today, and he found himself the chip leader when they went heads-up. His 13.4 million stack was ahead of Dumont's 9.835 million.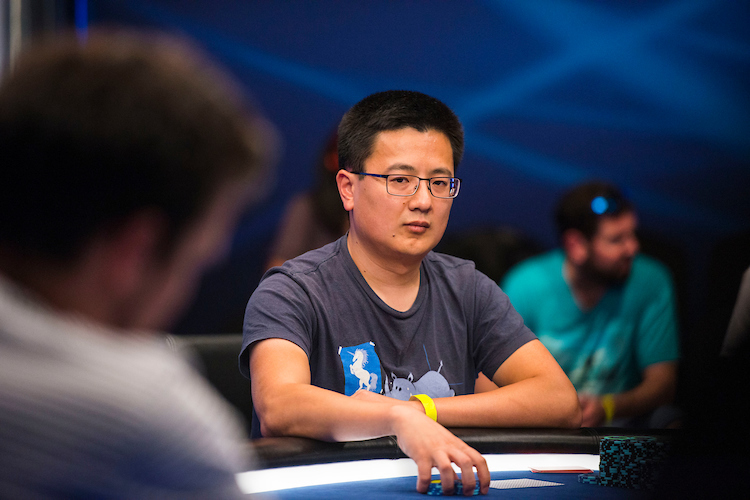 Honglin Jiang: Perfectly timed performance, until the very end
It maybe wasn't the heads-up battle that the purists had been expecting: a Parisian driving instructor vs. a banker, originating in New Zealand but now in London. However, you can say this for them: they got it done. Although Dumont was the smaller stack, he won a series of pots to get them about even. And then they got everything in pre-flop with Dumont holding Q♦ Q♥ to Jiang's 6♥ 6♦ .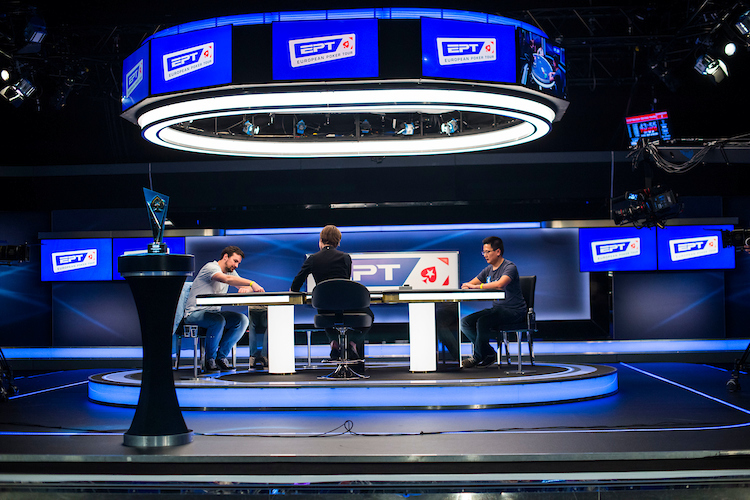 A brief heads up between Nicolas Dumont & Honglin Jiang
Railed by his sister Sosia, a previous High Roller winner at the PokerStars Championship Macau event last year, Jiang had marginally the smaller stack. He needed to hit a six to survive.
But it wasn't to be as the board ran 10♦ K♣ 3♦ 8♥ 3♠ and that was the final roadblock shifted for Dumont. It's now a green light for him all the way to the PSPC next year. (Read the blow-by-blow account of how it played out.)
Nicolas Dumont waits for the dealer to seal his win
PokerStars and Monte-Carlo©Casino EPT Main Event
Dates: April 28 – May 6, 2018
Buy-in: €5,300
Entries: 777 (inc 201 re-entries; 2 no-shows)
Prize pool: €3,768,450
| POS | NAME | COUNTRY | PRIZE |
| --- | --- | --- | --- |
| 1 | Nicolas Dumont | France | €712,000 |
| 2 | Honglin Jiang | New Zealand | €434,000 |
| 3 | Tomas Jozonis | Lithuania | €308,000 |
| 4 | David Peters | United States | €232,000 |
| 5 | Krisztian Gyorgyi | Hungary | €184,000 |
| 6 | Patrik Antonius | Finland | €139,050 |
| 7 | Javier Fernandez | Spain | €99,900 |
| 8 | Ole Schemion | Germany | €68,300 |
Back to Top