The answer wasn't Sven, and that was vexing for Joshua McLaggan. He'd been up all night studying for an exam at University of Glasgow. Shortly after 5am, he looked at the PokerStars Blog, and he realized the code had hit the front page. A couple of days earlier, he'd seen mention of some code breaking competition, and he was good at that sort of thing.
Here's how he ended up winning it faster than anybody thought possible.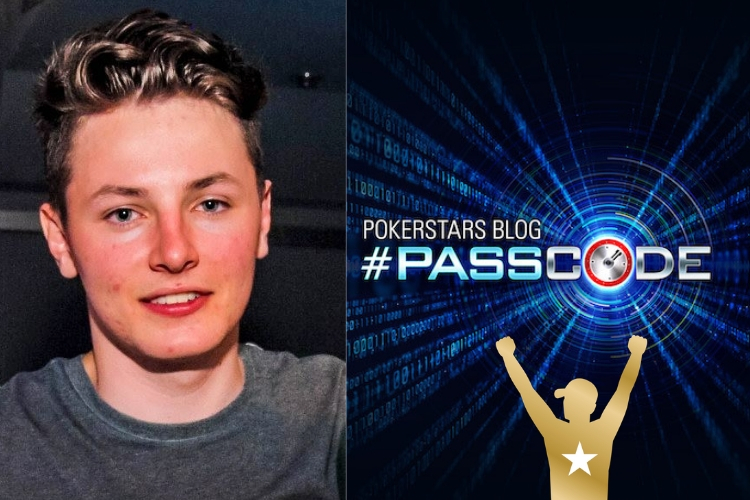 THE CODE BREAKER
"I've always loved problem solving puzzles like this one, and while at school I actually competed in some problem solving competitions," he said. He was on a team of four that made the UK finals. "I was one of only 22 students in the UK to gain full marks."
He wasn't bragging. He was just good. He's studying mathematics in Glasgow, and by his own admission, he's not really a big poker player. He plays, but nowhere near the high altitude stuff of the $25,000 PokerStars Players No-Limit Hold'em Championship.
"My only poker experience is playing online poker at the micro stakes. I might occasionally take a punt at an $11 tournament but most of my volume is a lot lower than that," McLaggan said. "I did once satellite into the Sunday Million from some Stars Coins, but that was a short-lived venture into the high stakes."
But now, after breaking initial code, sussing out five of the six answers, and taking his exam, McLaggan was staring at the screen and a message that told him his first answers were incorrect. This is what he'd submitted.
Seat 1: NATHAN MANUEL
Seat 2: FILIPPO FILARDO
Seat 3: SVEN MCDERMOTT
Seat 4: HUAYI "ALICE" ZHENG
Seat 5: RONALD MICI
Seat 6: BAS HAAMERS
At this point, you should know that no one else had come close to getting the correct answer. Even the few who broke the initial code had fallen for several red herrings and submitted answers like NICOLAS CAGE, OPRAH, SLASH, and DANNY TORRANCE (yes, the little boy from The Shining). McLaggan had avoided all of those, and he was so sure of five of the six, he knew that he had Seat 3 wrong.
THE CODE
#PASScode was a–in retrospect too simple–monoalphabetic substitution cipher. The clubs and spades were the 26 letters of the alphabet in order, beginning with the A♣ and ending with K♠ . The diamonds and hearts were numbers 1-26 but in reverse order, the K♥ being 1 and A♦ serving as 26. McLaggan made quick work of it.
It was almost no time before he'd followed some coded instructions and tweeted out a message…but he had one letter wrong. He'd typed "loose pants."
It took him some time to realize his mistake. When he did, at 2:53am ET and just before 8am, he got the coded message correct, including posting a required photo.
@PokerStarsBlog I am wearing moose pants #passcode pic.twitter.com/47Fs2A3Ar2

— DDACSGEY (@Demdldurr) December 7, 2018
He knew he was far ahead of the pack of two or three others who were chasing him, and he was told he'd have to wait for a response to his message. So, he went to take his test.
"I think it went quite well," he said. "I definitely passed it."
Before that point, McLaggan's code-breaking work revealed:
SEAT 1:
1/8thofabyte
SpanishrosebreederPedro
__ ReMiFaSolLaTi __
SaulHudson
44nickcage26
SEAT 2:
ForatasteofyourwhiskeyI'llgiveyousomeadvice
Seinfeldknowsgoodrestaurants
chickenrestaurantnameMMXXIatgmailfullstopcom
SEAT 3:
"IfIwasadrunkard,ItellyouwhatIwoulddo"
GoogleOprahandPokerStarsBlog
andgettoworkin'onsomething
SEAT 4:
Tweet
Iamwearingmoosepants
andaphotoDonRickles
Tellnoonewhyyouaredoingit
Awaitinstructions
SEAT 5:
Soundcloud
Wehaveanaccountthere
DannyTorrancewouldloveit
SEAT 6:
UpdatetheUniformRomeoLimaabove
Soitlookslike
BravoLimaOscarGolfSaulHudsonCapitalSierra.JuliettPapaGolf
And where everybody else wasn't looking deeper into the words, McLaggan had figured out what it all meant and how to achieve what he needed to.
And when he finally returned from his exam, he had a message that read this:
---
– …. . / .–. . .-. … — -. / .. -. / … . .- – / ..-. — ..- .-. / .. … / -.. .- .-.. .-.. .- … / .- .-.. .. -.-. .
---
It took him zero time to know that translated to : THE PERSON IN SEAT FOUR IS DALLAS ALICE
The problem was he, too, had fallen for a red herring.
THE SVEN PROBLEM
A personal aside: #PASScode was my 14-year-old's idea. He and my nine-year-old were completely ineligible to win Platinum Passes for obvious reasons, but they were also more excited about them than ineligible people usually are. Dinner conversations often turned to new ways PokerStars could award them. There were a great many, but in the end, we settled on #PASScode due to my older son's love for war history and the codes used during WWII. (The nine-year-old ended up getting involved, too, but you to had break the Seat 5 code questions to hear that.)
So, after taking a few weeks to put this thing together and expecting it to last for at least a week, I was both shocked and more than a little cranky that some kid in Scotland seemed to be cracking it with computer-speed.
So, when he finally sent in his first set of answers, I literally yelped with joy to see he had fallen for the Sven red herring.
"He took the bait," I screamed aloud. "Pun intended!"
See, the clues on Seat 3 led McLaggan to this post on the PokerStars Blog. It made sense at first that the answer would be "SVEN MCDERMOTT."
It was at this point that I thought other people in the world might have a chance, because if McLaggan hadn't figured out it wasn't Sven, he hadn't figured out that he was still two steps away from having any idea what the real answer was.
This offered me some cold comfort and allowed me to send him a message that he was wrong. Twenty minutes later, he tried again and substituted the name JULIEN PEROUSE. Wrong again, bucko.
And then 18 minutes later, he figured it out.
I had no choice but to tell him he'd won.
NOW…THE HARD PART
McLaggan says he is going to have to "10x my poker skill somehow, as I'll really need it."
He spends most of his time watching football, up to ten matches a week. He's a Dundee United fan.
"I used to play a decent amount while at school, but I haven't played football in months at the moment," he said. "In my spare time, I love hanging out with friends, playing video games, or playing poker online. I also love watching poker on Twitch. No future plans whatsoever, I have no idea what my plan is after university."
Right now, his future includes playing the PSPC, a $25,000 no-limit-hold'em freezeout that could make him a multimillionaire.
McLaggan had tried to win some freerolls and Fintan & Spraggy's Platinum Pass Adventure comp, but to no avail. So, after he'd won, he started telling his friends.
"I told my friend Ciaran who plays poker online regularly and knew all about the PSPC, and he really thought I was making it up," McLaggan said.
McLaggan is in the business of doing unbelievable things. He cracks codes and follows clues at the speed of light. He books himself a seat in the wildest poker tournament of the year. And now he has a chance to take the next unbelievable step and run it all up to become a poker millionaire. If this week is believable, anything is.
"My flatmates can't believe it, and neither can I to be honest," McLaggan said.
Believe it, kid. We'll see you in a few weeks.
---
And yes, we've not yet revealed everything about how he came to the right answers just in case some folks want to try to follow along. If you figured it out, let us know on Twitter at @PokerStarsBlog.
Back to Top