Day 1 of the High Roller event at this year's London Festival has now drawn to a close at the Hippodrome Casino in London's West End.
We had a field of 164 hopefuls, of which 22 were re-entries. Each of them with hopes, not only of lifting the coveted trophy, but also of bagging a Platinum Pass, worth $30,000, to the inaugural PokerStars Players Championship, which will be taking place at the Atlantis Resort in the Bahamas in January 2018. Now we are down to 47 left, all looking to scoop a share of the £318,160 prize pool.
The field was a varied one, with professional players, recreational players and everyone in between coming through the doors today. Amongst the familiar faces were Luke Schwartz, Chris Moorman, Chris Brammer, Orpen Kisacikoglu, Sergey Lebedev and Paul Newey, plus PokerStars Team Pro's only representative today, Jake Cody. Sadly for Cody, despite firing two bullets into the event, he didn't make it through to Day 2. We expect to see him back tomorrow though as the Main Event kicks off.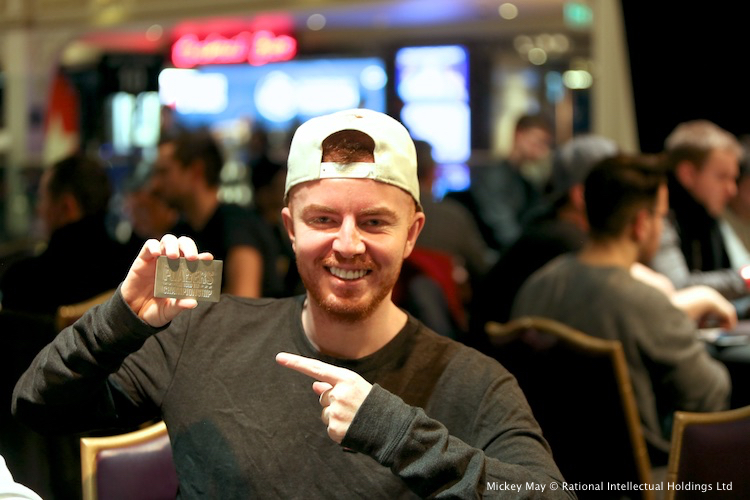 Cody had Platinum Pass hopes
Kelly Saxby and Chris Gordon, both PokerStars Live at the Hippodrome Sponsored Players, also made it down but Gordon didn't make it through the day's play and Saxby joined him on the rail during the last level.
Today has been all about Lars Bonding (318,500) and Jonathan Wong (315,600) who finished today at the top of the field. It looked like Wong would finish up as our chip leader today, until a huge stoppage-time hand for Bonding changed all that. The hand involved a full house for Bonding and you can scroll down to 1:40am for the full details.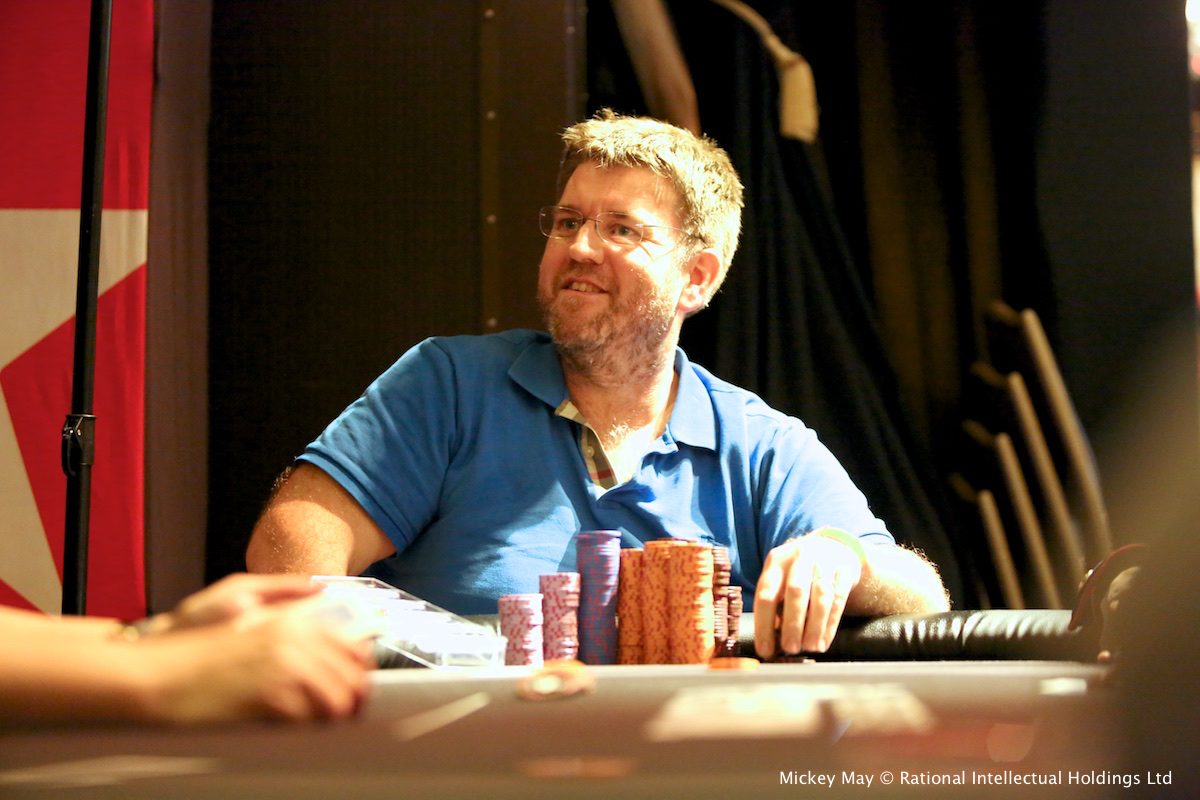 Great end for Bonding
Luke Schwartz, (110,000), Fraser MacIntyre (131,200), Sergey Lebedev (94,700), Orpen Kisacikoglu (68,700), Evangelos Bechhrakis (180,700) and David Barriocanal (201,700) are still in contention too. To view all overnight chip counts click here, and you can check the seat draw here.
But possibly the star of the blog today has been Andrey Andreev, a man who has dominated the live feed unlike any other player today. A man who has garnered a reputation as someone who doesn't like to fold and who, as a result, has been at the centre of so much of today's action. He returns tomorrow with 106,800 chips and if today is anything to go by, he will certainly continue to entertain and surprise us all.
Be sure not to miss it and join us here again tomorrow at 2pm for the conclusion of this High Roller, plus Main Event live coverage which kicks off at 12pm. –LY
---
Day 1 coverage archive

• PLAYERS: 47 (of 164, including 22 re-entries)
• CHIPS | SEAT DRAW | PRIZES AND PAYOUTS
• ALL POKERSTARS FESTIVAL LONDON INFO | TOURNAMENT SCHEDULE
• DOWNLOAD POKERSTARS
• Follow @PokerStarsBlog on Twitter
---
1:48am: Done for the night
Day 1 is in the books, and it's Lars Bonding who has bagged the chip lead. We'll be back with a full recap shortly. –JS
1:40am: Lars with a late night surge
Level 12: Blinds 1,000/2,000 (ante 300)
Lars Bonding may well end the day as the chip leader, as he just won a huge pot against Dan Wilson. The action to the turn of a Q♦ 9♣ Q♠ 3♦ turn is unknown, but at this point Wilson checked, Bonding bet 7,500, Wilson raised to 27,500 and Bonding called.
The river was the 5♥ and Wilson thought for a long time before shoving all-in for what looked to be around 80,000. Bonding snap called and Wilson knew the jig was up. He showed K♣ J♣ and Bonding opened 9♦ 9♠ for a flopped full house. The Danish player, who has over $1.9M in lifetime earnings, looks to have somewhere around 300,000 now, although it's hard to tell exactly as he's still stacking chips. –NW
1:30am: Last five hands
Level 12: Blinds 1,000/2,000 (ante 300)
We're almost done for the day. The clock has been paused, and there's just five more hands left to play before the bags are brought out.
Declan Connolly and Konstantin Farber couldn't survive the day. –JS
1:25am: The end of Day 1 looms
Level 12: Blinds 1,000/2,000 (ante 300)
We are now inside the last half an hour of play in the High Roller and there are still 55 hopefuls in with a shot when play recommences tomorrow.
Raul Martinez Gallego, Luigi De Carli and Giuseppe Zarbo, (who couldn't keep the momentum going from his most recent double up), are the latest casualties to hit the rail along with PokerStars Live at the Hippodrome Sponsored Player Kelly Saxby. -LY
1:20am: Late night news
Level 12: Blinds 1,000/2,000 (ante 300)
Down to just 6,900 Giuseppe Zarbo shoved all-in from the cutoff and he got immediate action from Hong Wang, who flat called from the button. Neophytos Neophytou then shoved all-in for 90,000 from the small blind and Wang went into the tank. He stayed there for so long that the clock was called and he eventually mucked. Zarbo showed J♣ 9♦ and he was drawing live against Neophytou's A♥ K♥ .
Not for long though as a 5♥ A♣ 4♣ flop gave Neophytou a huge lead and he held on the 3♣ 10♥ turn and river to eliminate Zarbo. Just 55 players remain now. –NW
1:10am: Latest casualties
Level 12: Blinds 1,000/2,000 (ante 300)
Paul Newey, Mathew Frankland, Patrick Clarke, Marco Fontanella, Gianluca Trebbi, Mercedes Osti, Terence Jordon, Arturs Samarins, David Calzada, and Raul Manzanares Lozano are all now out.
The remaining 58 players have now entered the final level of the night. –JS
1:05am: Wong takes the lead
Level 11: Blinds 800/1,600 (ante 200)
Jonathan Wong seems likely to be our chip leader right now, having just eliminated two opponents in one hand.
We didn't catch the betting action, but ultimately Usman Siddique was all in with the A♦ 9♠ , Gianluca Trebbi was all in with the J♦ 9♦ , and Wong called with the K♥ 10♦ having them both covered.
The board ran out Q♠ 3♥ Q♥ 10♣ 5♠ pairing Wong's ten and securing him the double KO. Wong now sits with 267,000. –JS
1am: Lebedev collects from Routier
Level 11: Blinds 800/1,600 (ante 200)
Picking up the action on an A♣ 7♠ 10♦ flop, Jeremy Routier checked it to Sergey Lebedev who led for 2,500. Routier called to see the J♠ turn, on which he'd check call another bet, this time 5,500.
The K♠ was a seemingly scary river card; one that got another check from Routier. Lebedev opted to play it safe and check back his K♥ K♣ , which was good against Routier's 7♥ 8♣ .
Routier dips to 112,000, while Lebedev climbs to 85,000. –JS
12:55am: High Roller champ to win almost £74,000
Level 11: Blinds 800/1,600 (ante 200)
It might be late in the day here – or more precisely early in the morning – but the players have just had some news that would awaken even the slovenliest cardsmith. The prize pool has just been announced and these are the headlines.
1st: £73,990 + $30,000 PSPC Platinum Pass
2nd: £50,110
3rd: £33,410
4th: £27,360
5th: £21,950
A total of 23 places will be paid with a min-cash worth £3,690.
Take a look at the full prizes and payouts here. –NW
12:50am: Straw that broke Kamel's back
Level 11: Blinds 800/1,600 (ante 200)
Another one bites the dust, this time Tamer Kamel.
He open shoved for his last 14,500 and it folded around to Yiannis Liperis in the big blind who made the call with his 6♥ 6♦ . His pair was currently in front but flipping versus Kamel's K♠ J♠ , and the latter would take the lead after a 3♦ 9♦ K♦ flop.
It was a scary one though. Any diamond or six would seal Kamel's fate. The 4♥ turn was safe, but alas the Q♦ river saw him eliminated.
Liperis is up to 43,000 after that one, having recently tripled up. –JS
12:40am: The field continues to thin
Level 11: Blinds 800/1600 (ante 200)
We seem to have arrived at that point in the day where we can't write up the details of eliminations fast enough.
We have just lost a string of players in the last half a level or so…
Chris Brammer, Firas Nassar, Georgios Karakousis, Damien Le Goff, Oliver Price, Kayhan Mokri Roshanfekr, Andreas Olympios, Christopher Kyriacou, Harry Lodge and Ian Hunter are all out and we are down to just 69 players left. –LY
12:35am: Frankland goes up and Kyriacou goes home
Level 10: Blinds 600/1200 (ante 200)
Mathew Frankland has doubled after calling a four-bet all in from Nicholas Giuseppe Di Paolo. Frankland squeezed from the small blind after a late position open and a flat and Di Paolo set him all in.
J♥ 10♠ 9♣ 4♦ 8♠
Frankland A♦ A♠
Di Paolo A♣ 8♦
Nothing untoward happened and the monster favourite pre, took it down. Frankland has surpassed the 100,000 mark now, whilst Di Paulo drops to around 45,000. -LY
12:30am: Castelluccio catches
Level 10: Blinds 600/1,200 (ante 200)
Sergio Castelluccio just spiked a very important card indeed. It saved his tournament life.
After Richard Manion opened to 2,500, Castelluccio three-bet to 6,200. It quickly folded back to Manion who quickly shoved and Castelluccio quickly called for his last 34,900. This was some fast action.
Castelluccio – A♦ K♦
Manion – K♥ K♣
Castelluccio needed an ace, and he'd one on the turn of the 7♠ J♦ 6♦ A♣ 10♣ to stay alive. He's up to 73,000 now, while Manion is still healthy with 105,000. –JS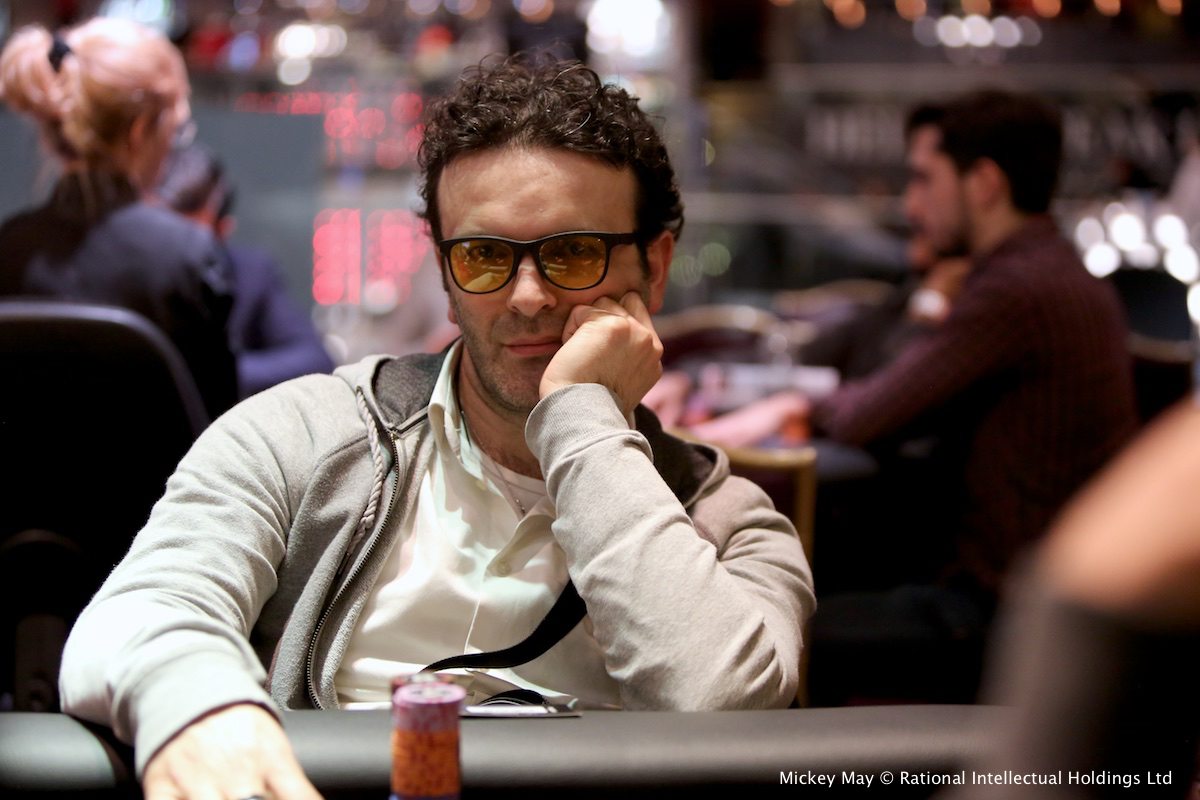 Sergio Castelluccio
12:25am: Triple up for Liperis
Level 10: Blinds 600/1,200 (ante 200)
I arrived at the table to see that Yiannis Liperis was all-in and that he'd been called in two spots. A complete board of 4♣ 9♦ 2♥ Q♣ 9♠ was on the felt and both active players checked the river to showdown. Liperis showed pocket queens for a full house. That was going to be pretty hard to beat, and so it proved. David Laka showed pocket sevens, no good here Sir and whilst Nicholas Giuseppe Di Paolo had Laka beat, his pocket eights might have been two napkins for all the good they did him. Liperis took the pot and is back up to 42,000. –NW
12:20am: Cody gone for good
Level 10: Blinds 600/1,200 (ante 200)
Jake Cody, the sole representative of PokerStars Team Pro in today's High Roller field, has just been eliminated for a second and final time.
Joining Cody on the rail are Alin Copos, Jakob Madsen, Daniel Vicente, Jerome L'Hostis, Jack Maskill, Edouard Mignon, Robert Schiffbauer, Philippe Barouk, and Julien Sitbon. –JS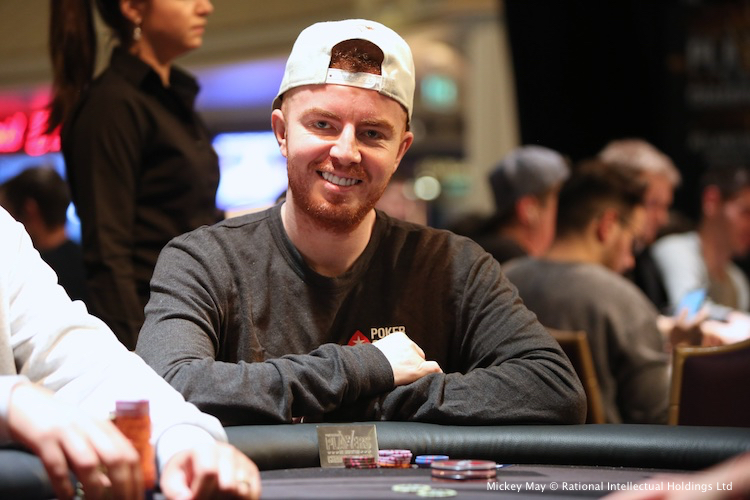 Cody, back when he had chips
12:10am: Benso out to Kisacikoglu
Level 10: Blinds 600/1200 (ante 200)
Sergio Benso got his remaining 5,500 chips in over a 2,700 open by Sergey Lebedev and an 8,500 three-bet by Orpen Kisacikoglu. When Lebedev called, it was three-handed to the flop.
6♥ A♦ 3♥ and Lebedev and Kisacikoglu both checked. The 2♦ turn and 6♠ river saw no more betting and the cards were turned over.
Benso K♥ J♥
Kisacikoglu 10♦ 10♥
Lebedev 7♦ 7♥
Kisacikoglu's pocket tens won and we say goodbye to Benso. -LY
12:05am: Table five, staying alive
Level 10: Blinds 600/1,200 (ante 200)
Two all-in shoves in a row on table five, but no takers meant that Usman Siddique and Harry Lodge picked up much needed chips without going to showdown. In the first hand Edouard Mignon opened to 2,500 from early position and Siddique shoved from the small blind for 21,300 total. It was too rich for Mignon's blood and he released his hand.
On the next shuffle Stefan Dimitrov made it 7,000 to play. It's not clear if this was a misclick or not. He raised using 2x 1k chips and 1x 5k chip, so it's possible he mistook a 5k chip, for one worth 500. This seemed to be something Harry Lodge was factoring into his decision when the action reached him in the small blind. Misclick or otherwise, Lodge was willing to risk his stack and he moved all-in for 28,400. That was enough to get rid of Dimitrov and Lodge took the pot.
Edit: We spoke to Harry Lodge and he confirmed that it was a misclick from his opponent. –NW
11:55pm: Andreev reduces the Price
Level 10: Blinds 600/1,200 (ante 200)
The ever-active Andrey Andreev made a 3x open to 3,600 from middle position, which John Mooney called in the cutoff. Action folded to Oliver Price in the big blind, and he raised the stakes to 11,200. Andreev called quickly, while Mooney thought for a moment before letting it go.
Heads up to the flop, it fell A♣ J♦ 10♦ and went check check. The turn was the 9♠ , and when Price checked a second time Andreev instantly led for 15,000. Price had a think before letting his hand go.
Andreev turned over the A♥ 9♥ for a turned two pair, and Price tapped the table, dropping to 15,000.
We'd only be guessing at Andreev's stack size, as his chips are currently split into seemingly random piles. If we had to guess though, we'd say it's around 90,000. –JS
11:45pm: We go again
Level 10: Blinds 600/1,200 (ante 200)
The players are back in their seats for the final three levels of the night. 93 of 142 players remain and the average stack is a lick under 53,000. –NW
11:25pm: Take a break
Level 9: Blinds 500/1,000 (ante 100)
That's it for level nine and it also means the players are taking a 20-minute breather. See you on the other side. –NW
11:20pm: Laka lands one
Level 9: Blinds 500/1,000 (ante 100)
Before 2017 David Laka had only cashed for $24,099 in live tournaments. In 2017 he picked up $1,215,519 in cashes. Yeah, it was a good year. His 2018 isn't going too badly and he just took a chunk out of Nicholas Giuseppe Di Paolo's stack in a hand that played out down the streets.
It was Laka who opened the pot, he made it 2,000 to go from the hijack and Di Paolo called from the small blind. On the 2♦ 4♥ A♠ flop Di Paolo led for 1,100, Laka raised it up to 2,800 and Di Paolo stuck around. There was no shifting him on the 5♠ turn either as he check-called Laka's second barrel, this time 5,200 was the bet. The 6♠ river completed the board and, when checked to, Laka shoved for 29,700. Di Paolo didn't like the situation, but he called and saw the bad news as Laka opened J♠ 7♠ for a rivered flush. Di Paolo didn't want to show his hand but rules are rules and the dealer showed his [6x][4x] – two pair – to the table. –NW
11:15pm: The Departed
Level 9: Blinds 500/1,000 (ante 100)
Jamie O'Connor, Nguyen Khoa Le, Matous Houzvicek, James Rann, and Nikolaus Teichert are the latest players to fall. Kfir Ivgi is out too, having fired two bullets.
They're down to 93. –JS
11:10pm: No action for Andreev
Level 9: Blinds 500/1,000 (ante 100)
Despite his hyper aggressive play today, Andrey Andreev still gets some respect when shoving under the gun. He put in all of his 28,500, but it folded all the way around and he could only show his Q♣ Q♠ with a sigh. –JS
11:05pm: End of the road for Woodcock
Level 9: Blinds 500/1,000 (ante 100)
With re-entry now closed, Arron Woodcock's tournament has officially come to an end.
It almost didn't though. After he shoved on the button for his last 13,000 or so, Jeremy Routier went into the tank in the big blind. He thought for a good while, but eventually the decision to call popped into his head with a lightbulb above it and he slammed down a call, turning over the A♠ 2♦ .
That was ahead of Woodcock's Q♠ 9♠ , but with two live cards he had a shot. Not after the board ran out 8♦ 7♦ 4♥ 3♠ 3♦ though.
Woodcock's out, Routier is up to 62,000. –JS
10:55pm: Olympios mounts a comeback
Level 9: Blinds 500/1,000 (ante 100)
Boy was this a fun run out, well maybe not for Giuseppe Zarbo, but he didn't seem too perturbed about doubling up Andreas Olympios. Partly that's down to Olympios shoving for just 5,500 and partly it's down to Zarbo getting it in with the worst of it.
Olympios shoved from early position with A♠ 8♠ and Zarbo called from late position with A♣ 5♥ . So Olympios was a solid favourite, but the 2♠ 3♠ 4♥ flop was gin for Zarbo as he flopped a straight. His opponent still had plenty of outs though and Olympios playfully wagged a finger in a manner that suggested he knew the flush was coming. It didn't arrive on the 10♥ turn, but the 9♠ river kept him alive. –NW
10:50pm: It's a lock out
Level 9: Blinds 500/1,000 (ante 100)
We've just moved into Level 9 which, which means late-registration has now closed. There's no reprieve now if you bust out. –JS
10:45pm: Newey collects from Andreev
Level 8: Blinds 400/800 (ante 100)
If there's one thing we've learned about Andrey Andreev today, it's that this man isn't interested in folding.
In this latest hand, he limped under the gun and then called Paul Newey's 1,800 raise, as did the big blind player. The flop came 8♥ 8♦ A♠ and Newey continued for 1,600 which Andreev called again. The big blind folded, so it was heads up to the 4♥ turn. Check check.
The 9♠ completed the board and Andreev now led out, but only for 1,500. Newey made the call with his K♠ K♦ , and that was ahead of Andreev's 9♦ 3♦ .
Newey is up to 47,400 after that one. –JS
10:35pm: Price's in, Brammer's back
Level 8: Blinds 400/800 (ante 100)
Oliver Price has fired his first bullet into this tournament and finds himself on a table with Luke Schwartz, Andrey Andreev, Paul Newey, and chip leader Evangelos Bechhrakis. Price's biggest career cash came back at EPT Deauville when he finished third for €271,200.
Oh, and Christopher Brammer – who took down his first bracelet last summer at the WSOP – is back in on his second attempt. –JS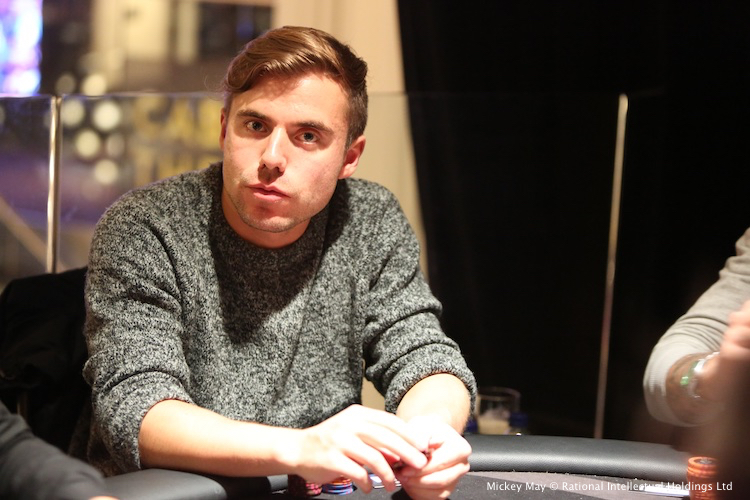 Oliver Price
10:25pm: Down but not out
Level 8: Blinds 400/800 (ante 100)
There's bad news and good news for the following players. The bad news is that they're all out of the Main Event. The good news is that as long as this is the first time they've been knocked out of the tournament then they still have 20 minutes to buy back in. So, we may see some of Christopher Yong, Darren Hill, David Kahan, Steven Warburton, Komil Khamidov, Michael Kane, Peter Jaksland, Christopher Kyriacou, Xingyun Yu, Andrew Hulme, Nicolau Villa Lobos, Katie Lindsay and Chris Brammer again this evening. –NW
10:17pm: No more, man
Level 8: Blinds 400/800 (ante 100)
Chris Moorman has just busted his second bullet. No luck in this one, but we're sure you'll see him again this week in the £990 Main Event. –JS
10:15pm: Bechhrakis racking up more chips
Level 8: Blinds 400/800 (ante 100)
We just told you how Evangelos Bechhrakis is the tournament chip leader currently. Well, now he's even more so, as he's just taken down a massive pot.
We missed the early action, but before any flop was dealt a player was all in on the button for around 13,000, which Andrey Andreev and Bechhrakis had both matched. The two created a side pot instantly on the K♦ 7♠ 3♥ flop, with Andreev check-calling 13,000.
The turn was the K♣ , and the action was the same. Andreev checked, Bechhrakis bet 13,000, and Andreev called again.
Then to the river card, it came the 2♦ , and it would be another 13,000 bet from Bechhrakis when it checked to him. Andreev called a final time, and looked disgusted when Bechhrakis turned over the J♣ J♥ . Andreev showed the A♥ 7♦ for second pair on the board, while the all-in player had just A♠ J♦ and was out.
Bechhrakis is now up to around 170,000 – still good for the lead – while Andreev drops to 70,000.
In the very next hand, Luke Schwartz opened only for Andreev to three-bet to a massive 25,000.
"Wow, you must have a strong hand," said Schwartz. "Ace king?" he added, but we're not sure if that's what he held, or what he though Andreev had. Schwartz folded, and Andreev picked up the small pot showing the K♥ K♦ .
Schwartz is on 22,000 currently. –JS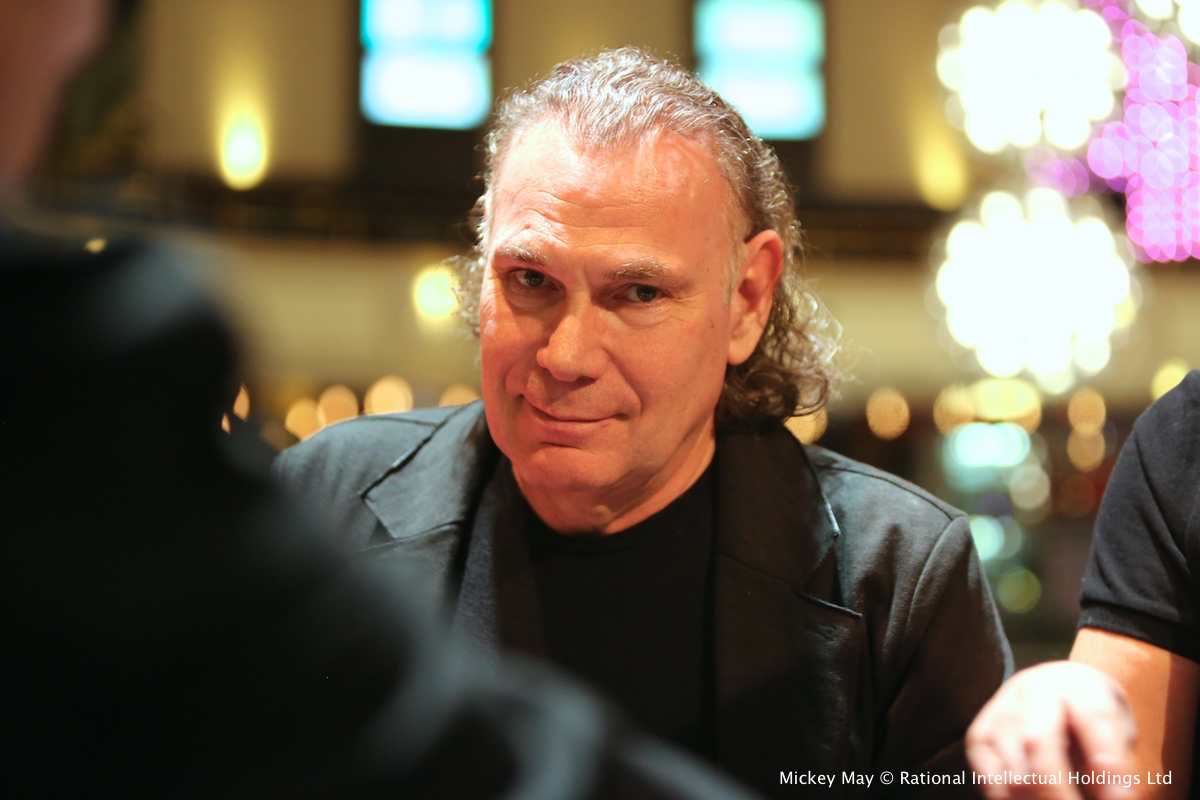 Andrey Andreev
10:10pm: A couple of small hands
Level 7: Blinds 300/600 (ante 100)
With not much more than half an hour left of late registration, some of the shorter stacks will be looking for an opportunity to get it in and either double or re-enter. One player was Peter Jaksland who got his last 3,800 in and couldn't find a double.
But over on another table, there was a different scenario and it involved Philippe Barouk. He defended his small blind versus a button open from Daniel Vicente.
The flop came 6♥ A♦ 2♣ . Barouk checked to Vicente who continued for 1,800 and Barouk peeled.
It was a similar story on the J♣ turn, with Barouk check-calling the 5,700 barrel. Vicente didn't fire on the 7♥ river and we will never know whether a third barrel would've done the trick and pushed Barouk off bottom pair with 2♦ 3♣ . –LY
10:05pm: Siddique's sitting
Level 7: Blinds 300/600 (ante 100)
Back in April 2016, Usman Suddique took down the final UKIPT London event here at the Hippodrome for £84,100. Since then his poker career has gone from strength to strength, including a PokerStars Championship Barcelona Main Event final table (fifth for €252,000).
He's on the hunt again in the Hippodrome, but was just put to the test early by Stefan Dimitrov. There was around 20,000 in the middle by the end of the [7a]6♣ 4♠ K♥ 9♥ board, and Dimitrov had moved all in on Siddique for his last 10,000. Siddique had that covered by double, but was in the tank for quite some time before eventually letting is hand go.
He's dropped to 20,000 pretty quickly, while Dimitrov is back to starting stack. –JS
9:55pm: Stacking them high
Level 8: Blinds 400/800 (ante 100)
What's a good stack at this stage? Well, the average is 36,590, almost 46 big blinds, so even some of those players with a below average stack have more than enough to play with. But, there are some players in the field who could lose an average stack and still have double the average stack. Yep, the chip leaders have got a lot of chips.
Leading the way with 136,000 is Evangelos Bechhrakis, next in line is Florian-Dimitrie Duta with 114,000, and Jon Wong is breathing down his neck with 112,000. At present they are the only players to have broken the 100,000 chip mark. –NW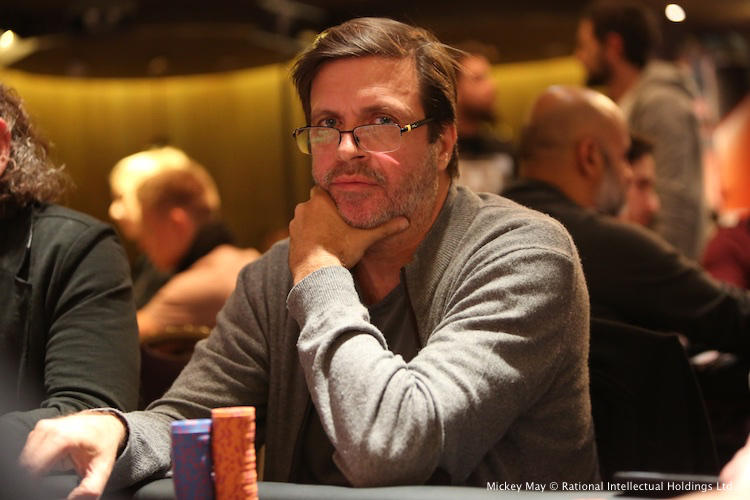 Bechhrakis has the biggest stack
9:45pm: Wong busts Gomez
Level 7: Blinds 300/600 (ante 100)
It kicked off with an open to 1,300 from Alvaro Gomez, who was called behind by one player, before Jonathan Wong squeezed to 4,700. Back to Gomez and he moved all in for around 15,000 chips. Only Wong fancied it, making the call and turning over K♦ K♣ . Gomez was a long way behind with Q♠ 10♥ as the duo went to the flop.
It came 5♣ 2♥ Q♦ and having picked up a pair, Gomez was looking for another queen or a ten to stay alive.
His pair didn't improve on the A♦ turn or the J♥ river and he made his way to the door, as Wong scooped the pot. Wong now has well in excess of 100,000 to play with. Very nice indeed. –LY
9:35pm: Players in need of a re-entry
Level 7: Blinds 300/600 (ante 100)
The tournament screens still show 132 players of 142 total entries. Those who will now need to fire a second bullet include Alvaro Gomez, Joost Schippers, Boris Sumskevicius, Patrice Brandt, and Marc Klausen. –JS
9:30pm: Cody out then in
Level 7: Blinds 300/600 (ante 100)
Just before the dinner break Jake Cody lost a race to bust his first bullet in this event. He had jacks and lost to the big slick of Florian-Dimitrie Duta. That pot boosted Duta to just over 100,000. As for Cody, he's got a fresh stack of 30,000 to spin up as he's bought back in. –NW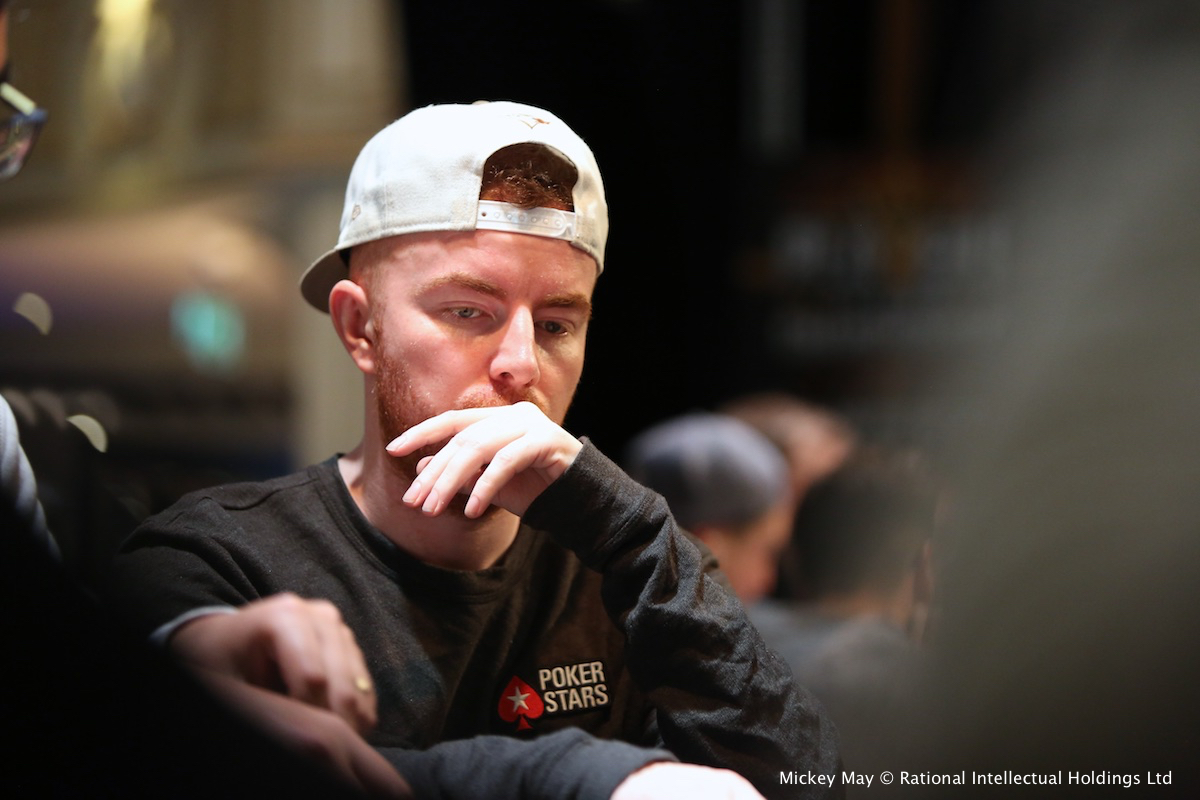 Cody's back for bullet #2
8:25pm: Dinner time
They're all off on a 60-minute dinner break, so we'll take one too. You do the same, and we'll meet back here in an hour, yeah? –JS
8:20pm: Bending the laws of probability
Level 6: Blinds 250/500 (ante 75)
Poker's unwritten rules of luck number 719: If you hold pocket kings an ace is 50% more likely to appear among the community cards.
We jest of course but let's join Ben Morrison in the tank. He had, you guessed it, pocket kings and he'd bet the river of a 9♣ 8♣ 3♦ A♥ 7♦ board. His bet was 2,000 into what looked to be a pot of 7,500. His opponent – Marc Klausen – had check-raised to 8,500 total. Sick spot huh? Morrision took his time, this was a literal head scratcher and eventually made the call. Klausen could only muster 5♣ 3♥ and Morrison, who'd already doubled his stack, is up to around 80,000. –NW
8:15pm: Rules are not made to be broken
Level 6: Blinds 250/500 (ante 75)
Sometimes enforcing the rules is not a popular job and this was seemingly one of those occasions.
Going back to the beginning, (well back to the flop anyway), and Q♦ K♥ Q♣ had been dealt. Andrey Andreev had checked to John Mooney, who bet 5,000 and Andreev made the call.
The Q♠ turn and Q♥ river both went check-check and Andreev showed 2♠ 2♥ only to see Mooney turn over A♥ K♦ …for the nuts.
A couple of the other players at the table asked the dealer whether he had to bet the nuts in position and the the floor was called. Meanwhile Mooney apologised for the situation, describing himself as a "novice" but unfortunately for him the rulebook still stood and he was given a one orbit penalty.
The ruling may be seen as overly harsh when applied to an unsuspecting player and it seemed one or two the other players at the table felt so in this instance. –LY
8:05pm: Full flush
Level 6: Blinds 250/500 (ante 75)
One of the UK poker scene's most recognisable, and often controversial, figures is Luke Schwartz.
Good news for us, then. He's just taken his seat in this High Roller.
Schwartz's last cash at a PokerStars event came back in April 2017 at the PokerStars Championship Monte Carlo Main Event. He doesn't play much tournament poker these days, but when there's a Platinum Pass on the line, all the big names come out to play. –JS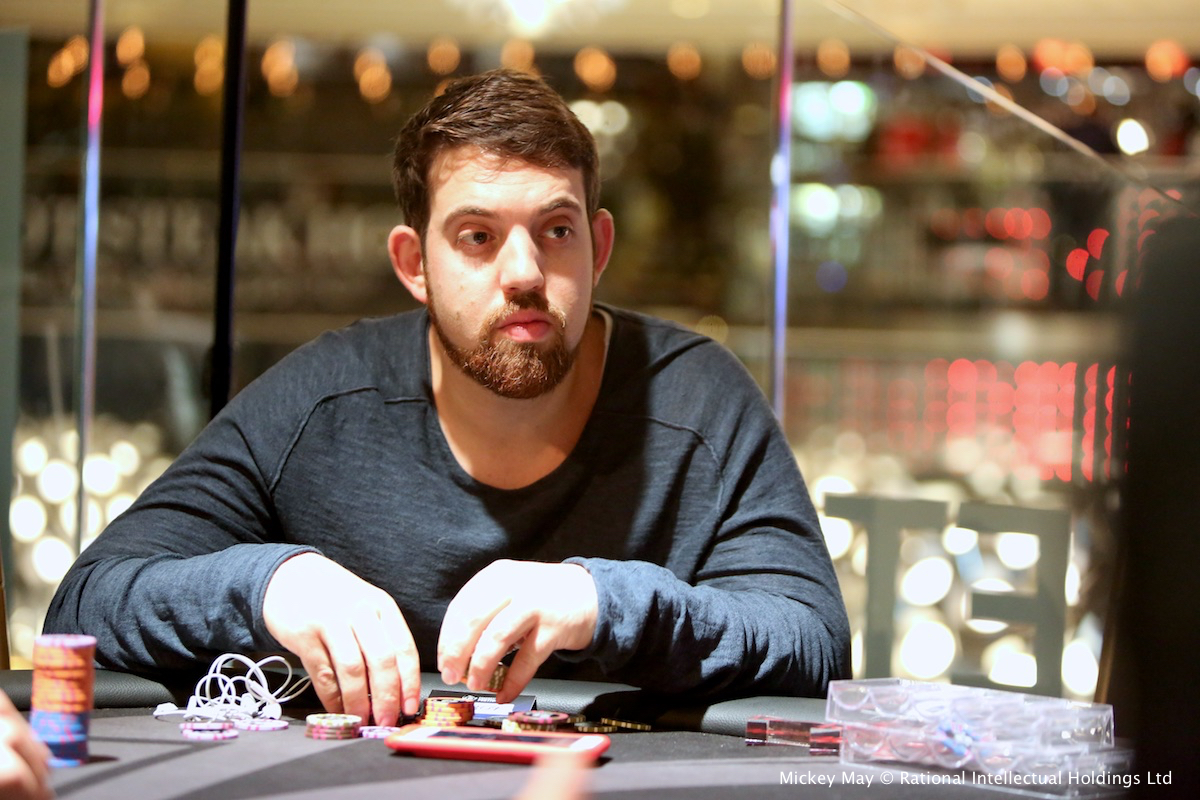 Schwartz and all
7:55pm: Saxby's three threes
Level 6: Blinds 250/500 (ante 75)
Before the blinds went up, Kelly Saxby picked up a nice pot from Christopher Brammer, most likely due to a fortunate river card.
Orpen Kisacikoglu opened to 900 in the cutoff, and Brammer called on the button. Over to Saxby, she defended her big blind and it went three ways to the J♥ 5♥ 7♦ flop. Saxby checked it, and Kisacikoglu opted not to c-bet too. That let Brammer in for a 1,500 stab, which only Saxby called.
The turn was the 3♦ and it would go check check to the 3♣ river, pairing the board. Incase you missed the headline of this post, that card improved Saxby's hand, and she led the river for 3,000. Brammer thought for a few moments before making the call, but would muck when he saw Saxby turn over the 6♠ 3♥ for a flopped gutshot which hit runner-runner trips.
She's up to 36,000 now, while Brammer's stack has dipped to 21,000. –JS
7:50pm: Gordon gone (for now)
Level 6: Blinds 250/500 (ante 75)
The chips continue to fly here in London with players being sent tumbling out the tournament at a tumultuous rate of knots. Chris Gordon is among the latest batch of exits, as are: Lauri Niskanen, Gianluca Trebbi, Bed Stevens, Xiaoyang Luo and Alejandro Perez Torres.
This event is a single re-entry event so we may not have seen the last of any of those players. –NW
7:45pm: More tournament wins than we've had hot dinners
Level 5: Blinds 200/400 (ante 75)
Two very familiar faces in the poker world have now taken their seats. But while they're not on the same table in the poker room, they were on the same table not too long ago.
Let me explain. PokerStars Team Pro Jake Cody is now out in the field, chasing the dream of a Platinum Pass like everyone else:
This is what it's all about!' #PlatinumPass #PSFLondon pic.twitter.com/jASQHHm9nt

— Jake Cody (@JakeCody) January 23, 2018
Meanwhile, Chris Moorman – online poker's all-time winningest player – has also taken his seat.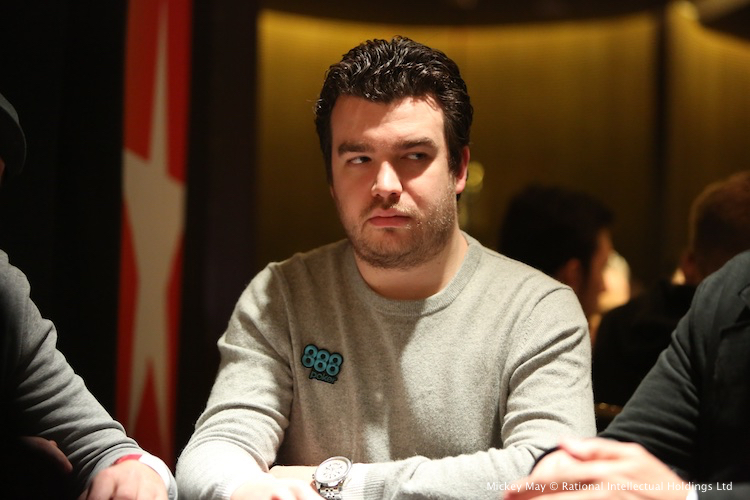 Chris Moorman
We've been informed that the two had an early dinner together (along with Moorman's wife and fellow runner in this tournament Katie Lindsey) before arriving at the Hippodrome. Will it prove to have been a lucky meal for the three of them? –JS
7:40pm: Brandt triples
Level 5: Blinds 200/400 (ante 50)
Patrice Brandt was down to his last 7,500 chips, just a quarter of the chips he started the day off with. Needless to say he was looking for an opportunity to get it in. Sat in the hijack, he made his move, only to find a caller on his immediate left. When it came to Matthew Frankland on the big blind, he moved all in over the top for 46,000 and he and Brandt were now heads up.
Brandt K♠ 10♠
Frankland Q♣ Q♦
It was Brandt who needed to hit to stay in the game and he found it early on the 10♣ K♥ 6♣ flop.
Now it was Frankland who needed help but neither the 3♦ turn or the 8♣ river obliged. Brandt will breathe a sigh of relief as he now has almost 25,000 in front. Frankland still has a healthy 39,000, which is above average. LY
7:35pm: A hearty set-up
Level 5: Blinds 200/400 (ante 50)
When the flop comes 2♥ 4♥ 3♣ and one player has 3♦ 3♥ and the other holds 7♥ 6♥ you don't need me to fill in the blanks. Thomas Winstone – who was the man with the set – and Eric Le Goff committed their chips and turned their cards over. The 6♦ 4♦ turn and river didn't improve Le Goff, he had the shorter stack of the two and sent his final 14,800 the way of Winstone before departing. –NW
7:20pm: Shouts and murmurs
Level 5: Blinds 200/400 (ante 75)
Here's a quick run through of what we saw on our latest venture around the tables:
1. Kelly Saxby was tangling with Russian high roller reg Sergey Lebedev. The PokerStars Live at the Hippodrome sponsored player opened to 1,000 from middle position, and when it folded to Lebedev in the cutoff he made it 2,700 to go. Back to Saxby, she called, but would check-fold to a 4,500 c-bet on the 5♦ J♣ 8♣ flop.
2. Spanish high roller Sergi Reixach has been felted by his fellow Spaniard Servando Perez. We missed the hand, but Perez now sits with 42,000.
3. Mihaita Croitoru, Jeremy Nicolas, and Mikko Hirvonen have also all been eliminated. Hirvonen won't be back, as that was his second bullet. –JS
7:10pm: Vicente victorious
Level 4: Blinds 150/300 (ante 25)
These high rollers aren't hanging around! During the opening levels of play it can sometimes be hard to stumble on a significant pot of any kind, but the pace of play today has, from the off, been frantic. Here's one example. Philippe Barouk opened to 650 from under-the-gun and was shown no respect as he picked up four callers. The pre-flop action reached Daniel Vicente, he didn't call, instead he bumped the price of poker up to 3,400. Barouk snap called and everyone else folded.
So, it was heads-up to a 10♦ 4♣ 6♦ flop, on which Vicente fired out 4,500. Call from Barouk. The K♠ fell on fourth street and Vicente moved all-in for what looked like 16,000. Barouk didn't need long to make up his mind to fold and Vicente took the pot. –NW
7:05pm: Torner doubles through Lindsey
Level 4: Blinds 150/300 (ante 50)
Action was on the turn, with the board reading J♦ 8♣ 2♦ 7♥ . Katie Lindsey had bet 1,800 and was facing a three-bet all in from Jordi Torner who had 9,550 total.
Lindsey paused before calling and spun over J♥ 9♥ but she needed to hit versus Torner's Q♦ J♠ and only a nine or a ten would do.
The K♦ river bricked and Torner secured the double. Though Lindsey's stack has been dented, the poker agent still has around 20,000 to play with. –LY
7pm: The link between poker and astrophysics
Level 4: Blinds 150/300 (ante 50)
In two words, it's Dan Wilson.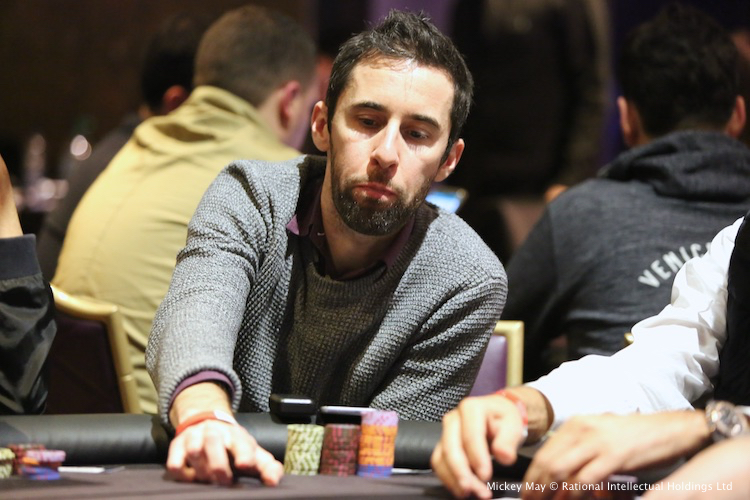 Wilson: doctor of astrophysics, player of poker
Currently ranked second in Ireland's online poker rankings, Wilson is both a successful poker pro and has a PhD in astrophysics. Known online as NukeTheFish, he just took down a nice pot to kick off Level 4.
Action folded to him in the small blind, and with just Servando Perez behind him Wilson made it 1,000 to go. Perez defended, and the two went heads up to a 10♠ 2♦ 8♠ flop. Wilson continued for 1,200, and then things got interesting when Perez popped it up to 2,800. Wilson took a moment, but then called.
The dealer burned and turned the 3♦ and Wilson checked it. Perez continued down the betting road with 3,600, and Wilson took his time before matching it. When the 2♠ completed the board (as well as any flush draws), Wilson went into thinking mode. He leaned forward and glanced at Perez's stack, before leaning back only to do the same again twenty seconds later.
Wilson ultimately opted to lead out for 10,000, presumably repping either a flush or a full house. Did he have the goods? We'll never know, as that bet got Perez to fold.
Wilson is up to 36,500 now, while Perez dips to 21,500. –JS
6:50pm: McIntyre already at the bar
Level 4: Blinds 150/300 (ante 50)
Fraser McIntyre is a fixture on the UK poker circuit and we've had the pleasure of a few after work drinks with the affable Scotsman. He was runner-up to Max Silver in the PokerStars Festival Dublin High Roller back in September but is already eyeing up the bar here in London. Fear not MacIntyre fans, your man still has chips, but due to the popularity of this tournament there are now a couple of tables in use outside of the main confines of the poker room, in the bar area of The Hippodrome Casino . As well as MacIntyre we spotted Hary Lodge, Steve Warburton and Joe Hindry at the 'outer' tables. –NW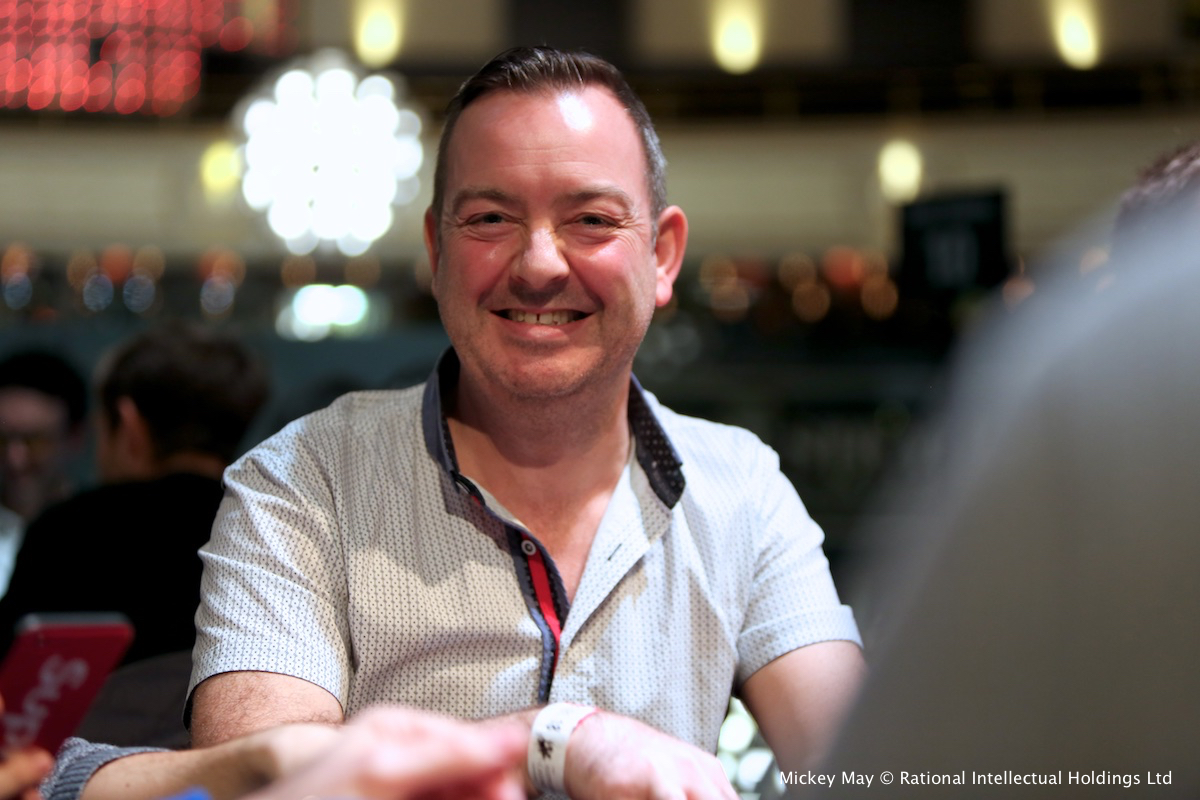 No drinks yet for Macintyre
6:40pm: It's all go!
Level 4: Blinds 150/300 (ante 50)
There have been a string of hopefuls hit the rail in the moments leading up to, and following, the break.
Kfir Ivgi, Nguyen Khoa Le, Duncan McLellan, Toby Wilkins, Benjamin Saada and Tobias Hariefeld have all succumbed their first bullet and will need to use their re-entry if they want a shot at the title and the PokerStars Players Championship package. –LY
6:35pm: Another first for Brammer?
Level 4: Blinds 150/300 (ante 50)
The number of runners in this event continues to trend upwards and Chris Brammer entered the fray shortly after the start of level four. A WSOP bracelet winner, and former online number one ranked tournament player, Brammer was also the UKIPT leader board winner was back in Season One of that tour. Stay with us to see if he can add another first to his resume and pick up a Platinum Pass in London. –NW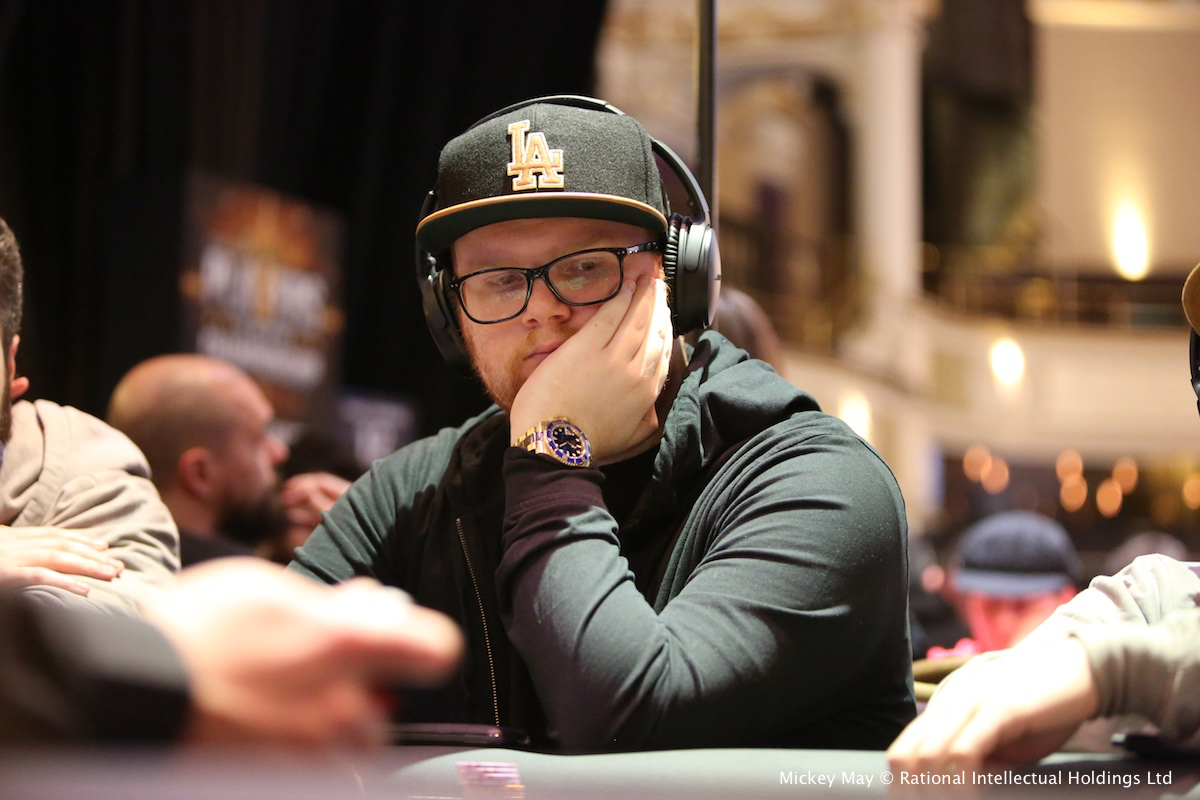 Christopher Brammer
6:25pm: Back to work
Level 4: Blinds 150/300 (ante 50)
Action has resumed with 122 players and counting. Fraser MacIntyre and Michael Kane are now among them. –JS
6:05pm: Break time
Players have gone on a 20-minute break. Join us back here at 6:25pm. –JS
6:04pm: First bullet down
Level 3: Blinds 100/200 (ante 25)
Three more players have busted their first bullet: Mikko Hirvonen, Gang Wang and Carlos Sanchez.
They'll need to contribute another £2,200 to the prize pool if they want to take a new seat in this one. –JS
6pm: Morrison motoring along
Level 3: Blinds 100/200 (ante 25)
I joined the action to see that a decent sized pot between Ben Morrison (big blind) and Raul Martinez Requena (cutoff) was already in progress. The two players had reached the turn of a 10♣ 3♥ J♥ 4♠ board. Morrison bet 3,300, call from Martinez Requena. The A♣ fell on the river, was this a scare card? Not as far as Morrison was concerned, he didn't cool his jets, instead he fired out a bet of 11,200, which was a slight overbet of the pot. Martinez Requena went deep into the tank, but he eventually folded. After that win Morrison is up to 47,000 from a starting stack of 30,000. –NW
5:50pm: Another elimination
Level 3: Blinds 100/200 (ante 25)
Ian Hunter was the latest casualty in our High Roller Event and it was at the hands of Daniel Barriocanal. The Spaniard has notched up around 60,000 following Hunter's exit. With late registration still open and 1 re-entry available, we could still see Hunter return if he fancies playing his second bullet. -LY
5:45pm: New faces
Level 3: Blinds 100/200 (ante 25)
Players are flooding in and taking their seats all the time, bringing the total entries up to 112 at the time of writing. Among those new faces are Sergey Lebedev, Andrew Hulme, Sergi Reixach, Jamie O'Connor, Kfir Ivgi, and Steve Warburton. –JS
5:40pm: Newey chipping up
Level 3: Blinds 100/200 (ante 25)
Philippe Souki came in for a raise to 500 from the cutoff, only to be three-bet to 1,700 by Paul Newey in the small blind. Back to Souki, he came along to see a 10♣ 6♦ 7♥ flop.
Newey led straight out for 2,300, but Souki didn't budge just yet, bringing the Q♣ on the turn. This time both checked and the river was the 7♦ . Newey paused, but then resumed his aggression for 7,500. That got a fold from Souki, bringing his stack down to 21,000, while Newey is up to 35,000. –JS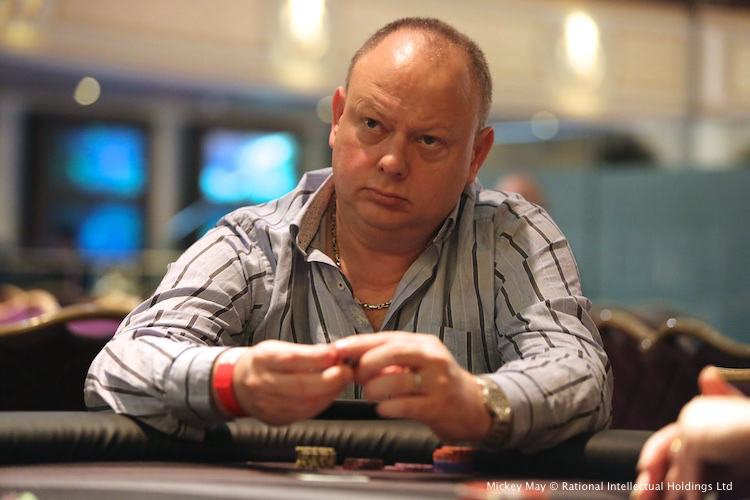 Paul Newey
5:20pm: Double for Barouk
Level 2: Blinds 75/150
Philippe Barouk was all in on the river for a total of 10,800 chips on a board reading J♥ 5♦ 7♦ 9♣ 3♠ .
It was up to Mikko Ilari Hirvonen to decide whether or not to call and ultimately he did. He showed K♥ K♠ but Barouk had turned the nuts with 10♣ 8♣ and we all know there's no beating that. Barouk netted the much needed double up, whilst Hirvonen dropped to around 13,000. -LY
5:15pm: Early double up for Mooney
Level 2: Blinds 75/150
Doubing up your stack in only the second level of play? That's a dream start that John Mooney is currently enjoying.
We didn't see the hand play out, but we did catch the aftermath. With a 7♥ 8♣ 6♠ J♥ 6♣ board out there and all of Mooney's chips in the middle (bar one 25 chip), Toby Wilkins announced "I have a pair" before showing red pocket tens. That was no good though as Mooney showed the A♣ A♥ .
"All I was worried about was pocket jacks," said Mooney as he raked in a new stack of 60,000.
"Yeah, I thought you had an overpair and that I could get you off it," said Wilkins, who drops to just 6,000. –JS
5:10pm: One for Schiffbauer
Level 2: Blinds 75/150
Stefan Dimitrov made it 350 to go on the button after it folded to him, and Robbie Schiffbauer defended his big blind to see an 8♥ 9♠ A♠ flop. Both checked it, and then Schiffbauer led for 450 on the J♥ turn. Call.
The dealer completed the board with the A♣ , and Schiffbauer continued for 1,100. Dimitrov took a minute to think it over before calling, only to muck when Schiffbauer showed the Q♥ 10♣ for a straight. –JS
5:05pm: Double Duncan
Level 2: Blinds 75/150
Flash back to late October/early November 2013. David Cameron is in office, Eminem is top of the charts, the News of the World phone hacking trial has just begun at the Old Bailey and a major storm damages southern England, with a gust of 99mph recorded on the Isle of Wight.
Meanwhile on another island a different storm is brewing. PokerStars is hosting its first large scale tournament on the Isle of Man. The £1,100 Main Event attracts the great and the good, with pros such as Daniel Negreanu in attendance. He exits early but Fatima Moreira de Melo reaches the final table and then reaches heads-up play. Standing in her way is Duncan McLellan, a 49-year-old builder from Corby. The final table is live streamed and McLellan builds a reputation for fearless, gutsy play.
He takes the title playing a high variance style and it wouldn't be the last we'd hear of him on the UKIPT. Seven months later he did the double when he claimed a second UKIPT Main Event title, this time in Nottingham. It was fairy tale stuff. We haven't seen too much of McLellan on the PokerStars circuit over the last couple of years, but he's here today and taking a shot at another PokerStars title. He's got Mat Frankland and Ben Morrison for company presently. –NW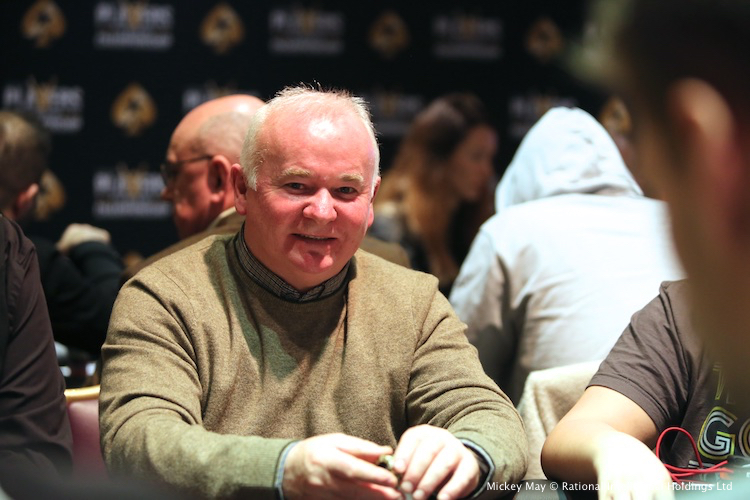 Duncan Mclellan
4:55pm: Pocket rockets for Moss
Level 2: Blinds 75/150
There was already a pile of chips in the middle and action was on the river when the blogging team arrived on the scene.
The board read 3♦ 9♥ K♥ 5♠ 4♦ and Julien Sitbon was facing a bet of 12,500 by Alistair Moss and he was having a hard time deciding what to do.
He took a couple of minutes to think before reluctantly making the call and evidently it was the wrong choice with Moss tabling A♣ A♠ and Sitbon's hole cards not offering anything better. Moss's pocket rockets do the trick and boost him well beyond the 30,000 starting stack. -LY
4:50pm: First bust out!
Level 2: Blinds 75/150
Well that didn't take long! We've already had our first elimination and re-entry (both the same person, obviously).
Andrey Andreev — whose aggressive early play we told you about not long ago — busted his first bullet at the beginning of Level 2, and is now back in for another £2,200. –JS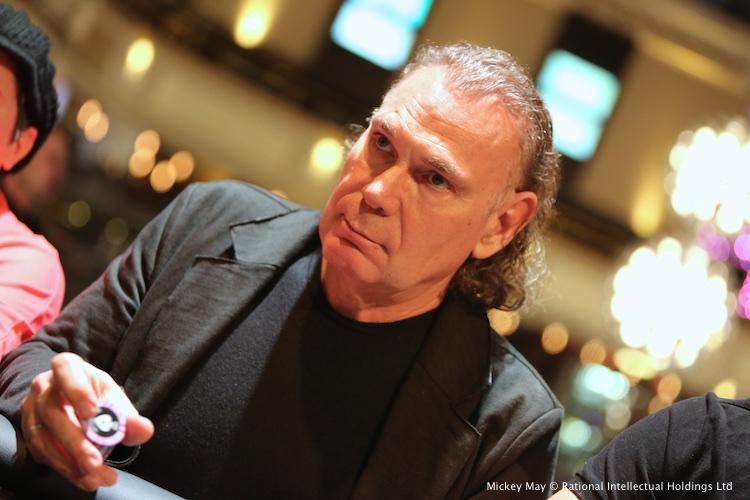 Andrey Andreev
4:45pm: Four-handed preflop action
Level 1: Blinds 50/100
Table 1 had four players all keen to see a flop and they were all sat in a row. Christopher Gordon (cutoff), John Mooney (button), Giuseppe Zarbo (small blind) and Daniel Vicente (big blind) all paid 1,150 to see the first of the community cards, though it is unclear how the betting had gone prior to my arrival at the table.
4♦ K♠ 2♣ came on the flop and after two checks in the blinds, Gordon made it 1,800 to go further. Despite the promise of a hefty early pot, everyone else got of the way pretty sharpish and it is a decent scoop for Gordon as we near the end of the first level. –LY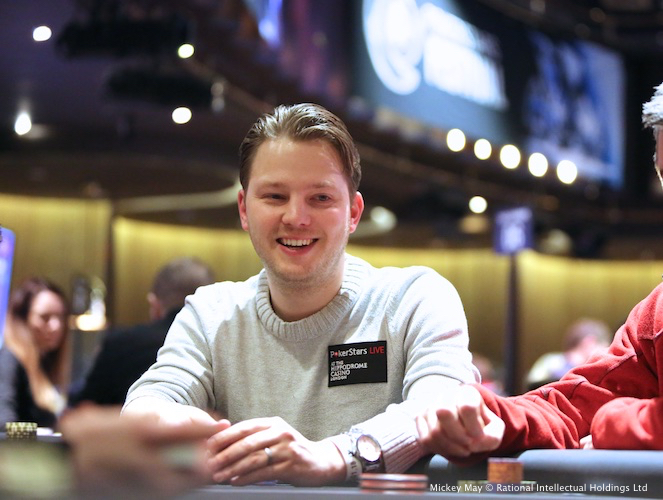 Chris Gordon
4:40pm: Andreev getting busy
Level 1: Blinds 50/100
Russia's Andrey Andreev is no stranger to big PokerStars live events. He'll also not afraid to get his chips in the mix early. Like, all of his chips.
PokerStars Live at the Hippodrome sponsored player Kelly Saxby had opened from early position, and when it folded around to Andreev in the small blind he shoved his entire starting stack! Saxby let it go, and Andreev revealed he had a pocket pair.
He was involved in the next hand too. Action folded to Harry Lodge in the cutoff and he limped, which brought a button raise to 400 from Andreev. The big blind Jerome L'Hostis called as did Lodge, and the three saw a 10♣ 10♠ 8♠ flop, which checked around.
On the 9♦ turn L'Hostis led out for 900 and that got calls from both players, resulting in a river card: the 7♥ . There'd be no more betting though, and L'Hostis took it down with his 7♦ 6♠ , which had turned a straight. –JS
4:35pm: London grinders
Level 1: Blinds 50/100
Earlier this week Jake Cody, who calls London home, said of the festival. "It's not often I get to roll out of my own bed to go and play a big PokerStars event with friends." Plenty of Londoners agreed, as even at this early stage in proceedings there are a lot of well known local players in the field.
Christopher Yong was in his seat for the first hand of the day, he's won two events in this very card room, having taken down a UKIPT Series event and the Autumn Classic in 2015. Both of those events had £275 buy-ins, but he also adept when the buy-in rises, with a fifth place finish in the UKIPT Main Event here in January 2015 and a second place finish in a WPT High Roller in Nottingham, proof that he can mix it in these sorts of events.
As can Mat Frankland and Jamie Sykes. They bowled into the room a few minutes after the start of the tournament and greeted Phillipe Souki with a handshake apiece. Between them they've racked up $1.15 million in live tournament cashes. No Jake Cody in the field yet, but Chris Gordon and Kelly Saxby are representing PokerStars Live at the Hippodrome.
Whoever wins that Platinum Pass is going to have earned it. –NW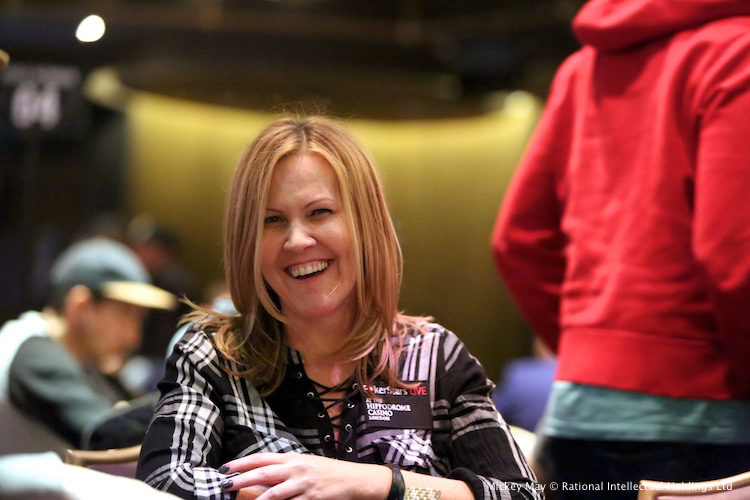 Kelly Saxby
4:25pm: The first arrivals
Level 1: Blinds 50/100
So, who's here?
Among the 42 players now registered, the first familiar faces we clocked among the crowd were those of UK businessman turned pro Paul Newey and his assistant/good poker player in his own right, Robbie Schiffbauer.
Newey is a regular in these kind of events, so it wasn't much of a surprise to see him. But Schiffbauer told us upon arrival that while he doesn't usually play these High Rollers, he's here to try and bag himself a Platinum Pass.
On the same table we've also got Super High Roller regular Orpen Kisacikoglu, and PokerStars Championship Prague Main Event fifth-place finisher Harry Lodge.
Lodge banked €196,000 for that result, while Kisacikoglu is still fresh from his final table in the $50K High Roller at the PCA just over a week ago (he finished sixth for $158,420, and then went on the cash the Main Event too). –JS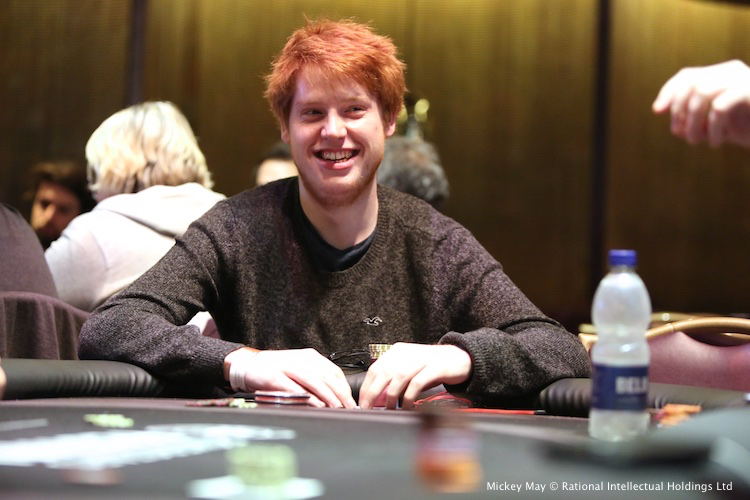 Harry Lodge
4:15pm: Satellite to the High Roller underway
Level 1: Blinds 50/100
There is a satellite to the High Roller, which is running as we speak. With over £21,000 in the prize pool, 110 players will fight it out for one of the 9 seats up for grabs.
That will boost the High Roller field, which is already up to 42 runners. With over six hours of late registration available, time will tell whether we will see last year's total eclipsed. –LY
4:04pm: Cards in the air
Level 1: Blinds 50/100
And they're off. As Level 1 begins, there are 29 players registered with some familiar faces in the building. We'll be back with some names shortly. –JS
3:30pm: Welcome to the big smoke
It's been a week and a half since the PokerStars Blog has been able to bring you any live tournament action. That's far too long, don't you agree?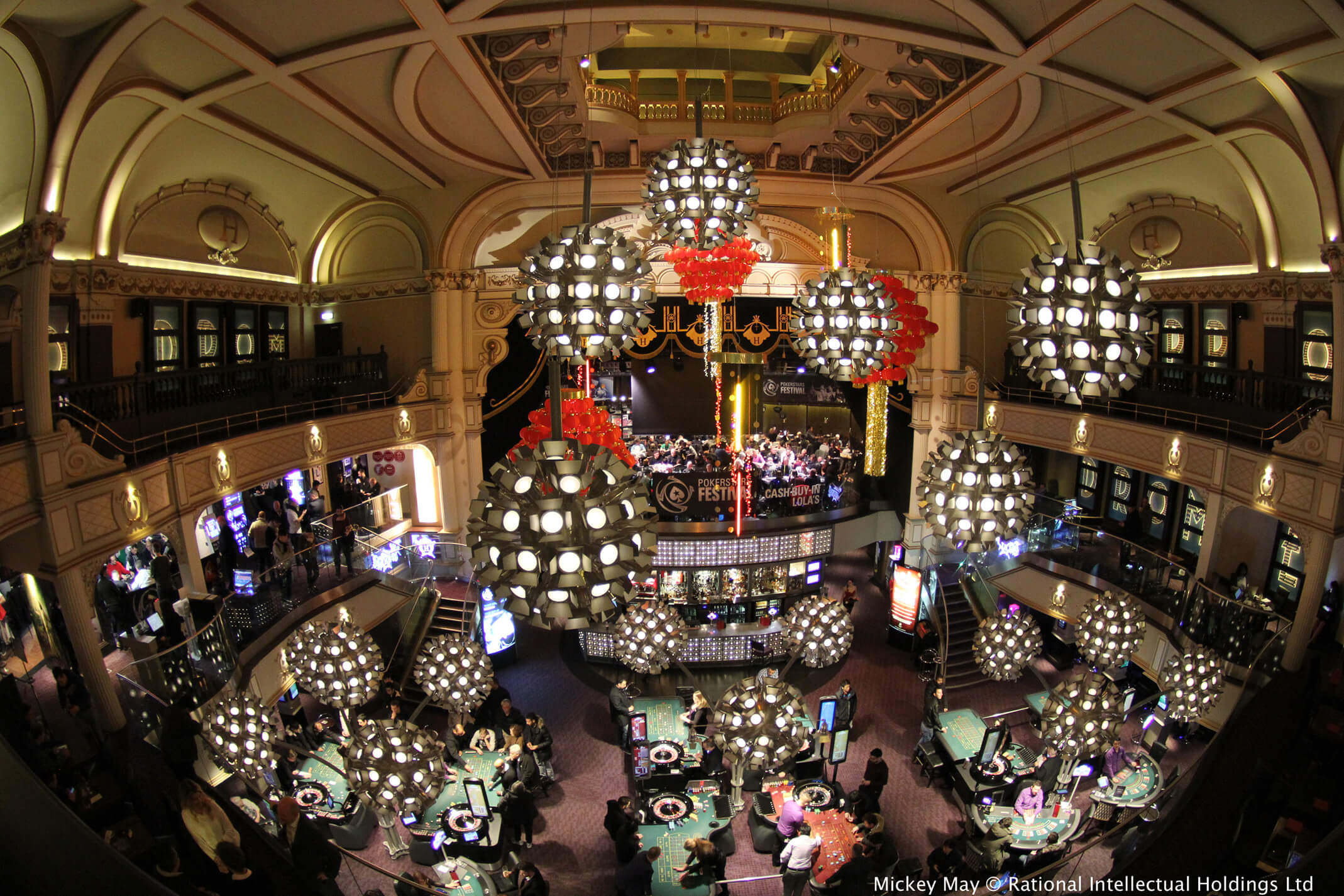 London's Hippodrome Casino
After the success that was the PCA, we're now in the big smoke at the home of poker in London – the Hippodrome Casino in the heart of Leicester Square – to bring you week-long coverage from the PokerStars Festival London 2018. Over the course of the Festival, we'll be bringing you live updates from the £990 Main Event (which kicks off tomorrow), as well as side event news. Today, though, we'll be covering the £2,200 Single Re-entry High Roller.
If you can get to the Hippodrome to play this week, it's certainly worth it. Not only will the winners of the High Roller, Main Event and £330 London Cup (27-28 Jan) bank the first-place cash prizes; they'll also win a coveted Platinum Pass to the 2019 PokerStars Players Championship at next year's PCA worth a massive $30,000.
Yep, you read that right. The winner of a £330 tournament will win a $30,000 Platinum Pass.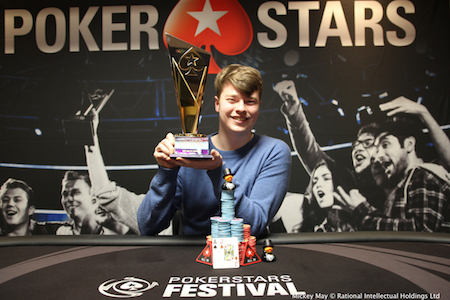 Last year's High Roller champ Joe Johnson
High Roller action kicks off at 4pm today with an as-yet-unconfirmed amount of 40-minute levels, and it's sure to be a popular event. Last year's edition got 178 entrants (including 12 re-entries), and local cash game grinder Joe Johnson took it down for £59,912 after a heads-up deal with Enzo Del Piero. Johnson got in the event having won £4,000 worth of tournament credit through a freeroll he'd entered using his Hippodrome loyalty points; not a bad spin up.
Players are arriving as I type, so there's nothing left to do now but sit back, bookmark this page, and stay tuned for all of today's updates from Day 1 of the £2,200 High Roller. –JS
PokerStars Blog reporting team on the £2,200 High Roller: Lisa Yiasemides, Nick Wright and Jack Stanton. Photography by Mickey May.
---
Opening a PokerStars account is easy. Click here to get an account in minutes.
---
Back to Top
Study Poker with
Pokerstars Learn

, practice with the PokerStars app

Try our Free Scholars Leader Board to practice your new skills.
Quick Links
Learn
Practice
Chat with us
Watch and share