So, who will win the £500,000 guaranteed PokerStars Festival London Main Event title, the cash spoils and the $30,000 PSPC Platinum Pass? We won't find out the answer to that question until Sunday night (or maybe Monday morning) but the journey for some of the hopefuls began today at The Hippodrome Casino here in London's West End.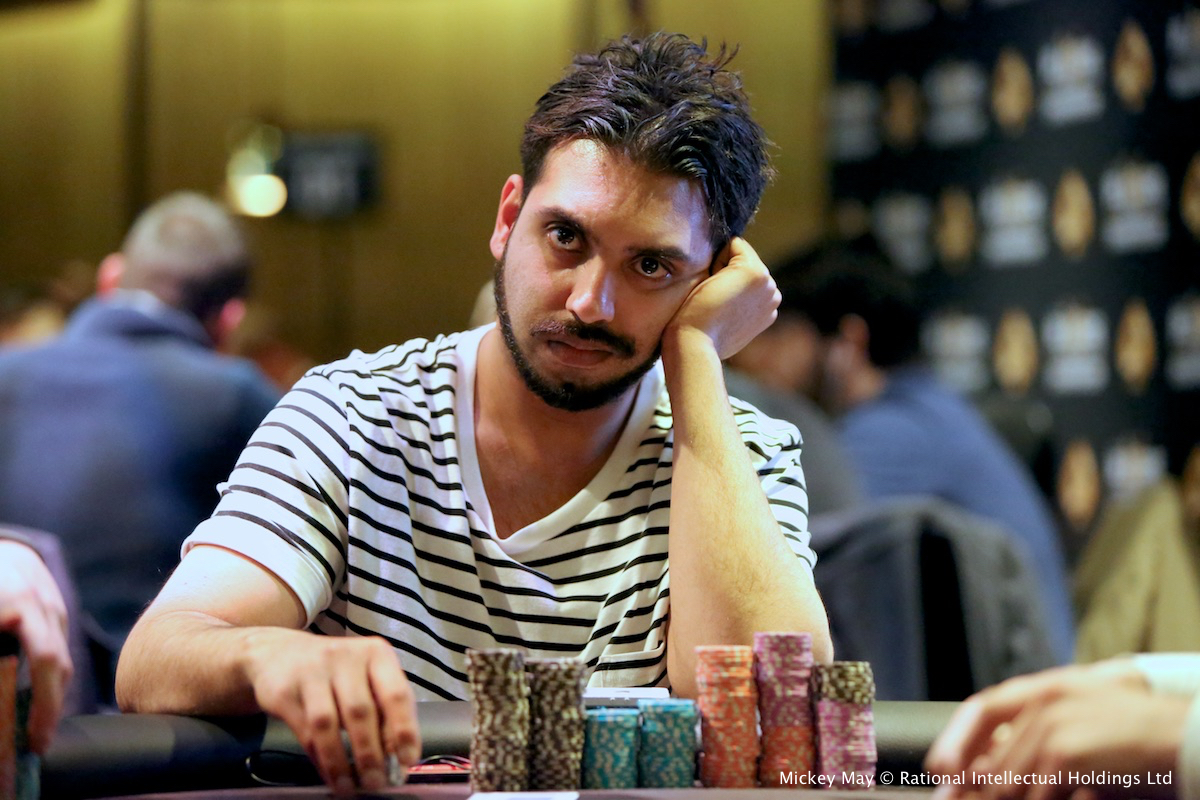 Karan Dewan – Day 1A chip leader
Almost 150 players decided to start their quest for the title today and by ends play it was Karan Dewan who found himself top of the pile. He spun his 30,000 starting stack into an impressive 273,000. He always seemed to have a big stack and he first came to our attention today when he eliminated Will Kassouf in a set over sit situation. Kassouf tried his best to talk him into folding – there was a possible flush on board – but Dewan managed to block out the noise and make the call. Eliminating Kassouf is a proven way to stop his stream of chatter at the poker table.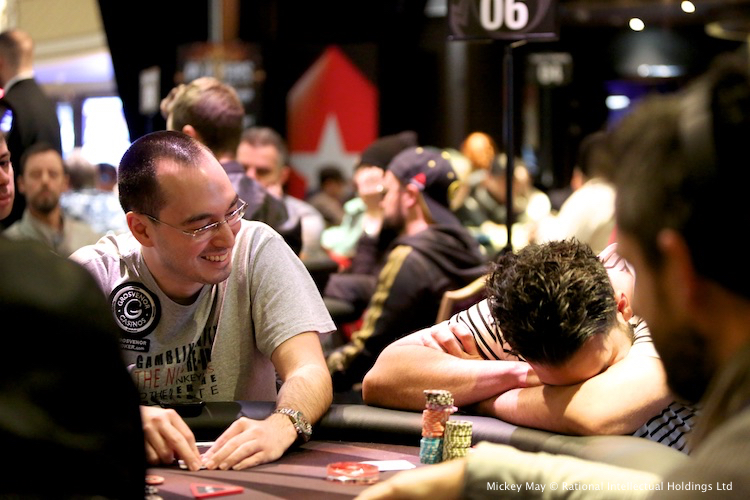 A familiar sight at the poker table when you're next to Kassouf!
Other players who enjoyed a profitable day include: Declan Connolly (240,000) Mitch Johnson (224,000), Toby Wilkins (215,700) and Madlena Trifonova (202,600).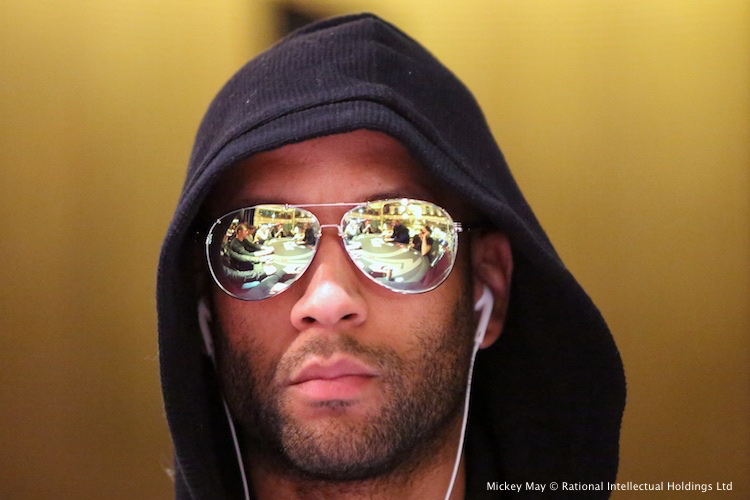 Jimmy Kébé
One of the stories of the day was that of professional footballer Jimmy Kébé. The ex-Reading winger is without a club at the moment. He's a keen poker player and has accumulated over $46,000 of live tournament winnings so far. The Mali internatonal was fleet of foot early on as he raced into the chip lead and was the first player to amass a 100K stack. There was no early bath and he will return for Day 2 with 166,800.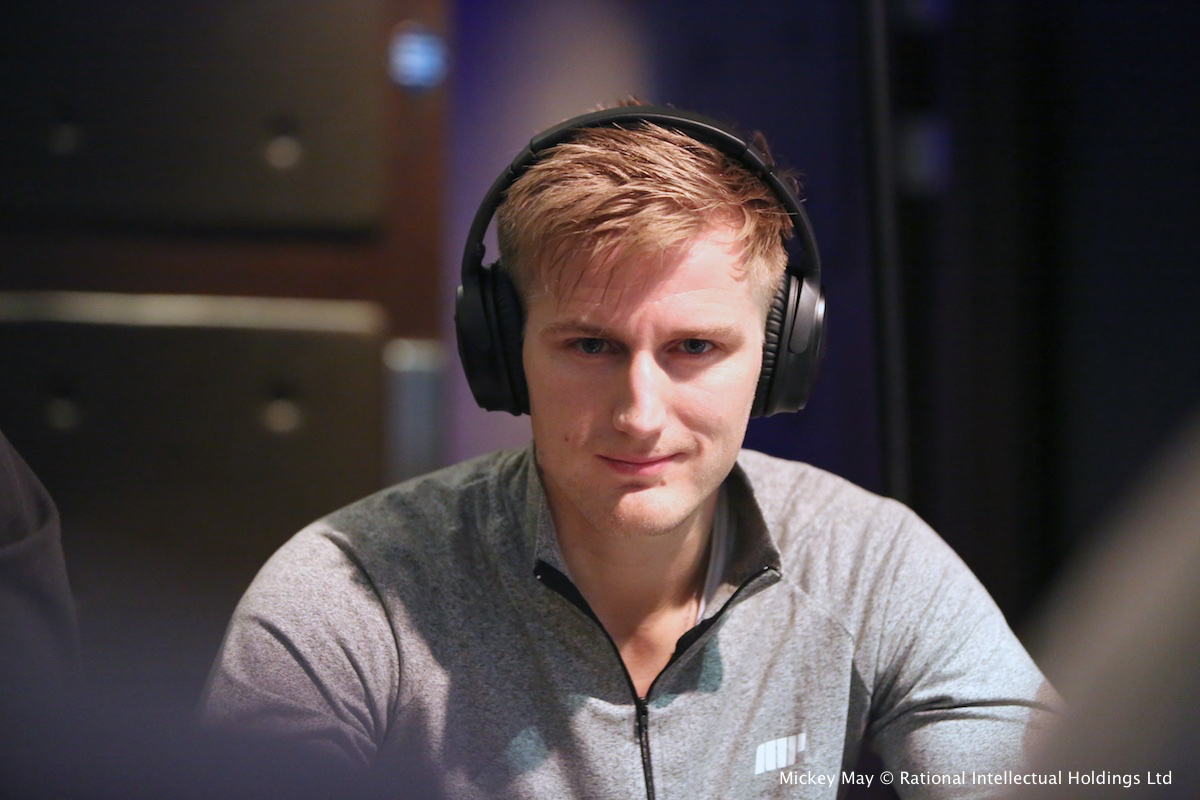 James Rann
There were numerous familiar faces at the felt today, including players who'd earlier been eliminated on Day 2 of the High Roller. Yiannis Liperis (154,400), James Rann (58,200) and Philippe Souki (34,500) will be back as will WSOP bracelet winner Nikolaus Teichert (102,400).
Others were not so fortunate and the likes of Steve Warburton, Chris Brammer, Michael Kane and the aforementioned Kassouf will have to fire a second-bullet at this event in the coming days if they want that Platinum Pass.
It looks as if 46 players have advanced to Day 2. They'll return at noon on Saturday to continue their Main Event journey. Our Main Event journey resumes at noon tomorrow for Day 1B, see you then but for now goodnight. –NW
---
Day 1A coverage archive
• CLICK TO REFRESH FOR LATEST UPDATES
• PLAYERS: 40 of 149
• ALL POKERSTARS FESTIVAL LONDON INFO | TOURNAMENT SCHEDULE
• DOWNLOAD POKERSTARS
• HIGH ROLLER COVERAGE
• Follow @PokerStarsBlog on Twitter
---
10:45pm: That's a wrap
Level 12: Blinds 1000/2000 (ante 300)
Day 1A is done. A recap of the day including details of the chip leader is coming your way shortly. –NW
10:30pm: Last 6 hands to be played out
Level 12: Blinds 1000/2000 (ante 300)
The tournament director has done the draw for the number of hands each table will play before we call it a night. There will be six more.
Unfortunately for a few of the field, they have fallen at the last… Andreas Olympios, John Duggan, Jan Bednar and Lautaro Guerra will all have to re-enter if they want to continue their Main Event journey. -LY
10:20pm: Clock is called
Level 12: Blinds 1000/2000 (ante 300)
With 5♦ 2♠ K♦ 9♥ already out. Mehdi Delaviz had just shy of 45,000 chips and a red triangle in front of him.
The man with a decision to make was Kfir Igvi. Whilst debating the right course of action, Delaviz called the clock. The floor was called and the countdown began.
Igvi asked Delaviz whether he would show if he folded and Delaviz answered that he would. There were still 30 seconds left to think but we were inside the last ten before Igvi made the pass.
True to his word, Delaviz showed two pair with K♥ 2♥ . Igvi mucked but said that he folded a king, so if that were true, he made the correct decision. -LY
10:10pm:
Level 12: Blinds 1000/2000 (ante 300)
Following an early position open to 4,300, action folded to Philip Patrick who upped it to 11,000. Matthew Stancer was sat in the big blind and cold four-bet to 25,000.
With the initial raiser (and everyone else) hastily getting out the way, Patrick smooth called and the pair saw a flop.
3♠ J♠ 6♥
With around 48,000 left, Stancer shoved it all into a pot of about 60,000 and Patrick called.
Stancer K♥ K♣
Patrick 7♠ 4♠
Stancer was looking to dodge a spade or a five to secure the double. The dealer put a 10♦ on the turn and Stancer was still good but a 5♥ turn gave Patrick the straight. As Stancer heads out, Patrick wins the 150,000 plus pot. -LY
10pm: The final countdown
Level 12: Blinds 1,000/2,000 ante 300
The blinds are up again and we're now into the final 45-minute level of the night. Sadly for Arron Woodcock, Vimal Patel, Tim Fox, Jose Auslander, Sameer Singh, David Bogdan, Christopher Yong, Jamie O'Connor, Catherine Hanna, Hamid Bouteldja, Carlos Sanchez and Artur Palaj their final level was level 11 as they're all out. –NW
9:45pm: Saved by the river
Level 11: Blinds 800/1600 (ante 200)
There had been a limp from under the gun and Toby Wilkins upped it to 5,000 in early position. Carlos Sanchez was sat on his left and he three-bet to 14,000 and with everyone else moving aside, Wilkins four-bet jammed all in. It was an easy call for Sanchez, who snapped and turned over K♠ K♥ and it was Wilkins who needed to hit with his 9♥ 9♣ .
J♥ 8♠ 4♥ came on the flop and Wilkins had a runner runner straight draw to add to his options. The J♠ turn shut that down, though it needn't have mattered when the 9♦ was dealt on the river. A lucky dodge for Wilkins who has doubled into a six-figure stack. Meanwhile Sanchez is left with some work to do as he has only 27,000 left. -LY
9:35pm: Classic race alert
Level 11: Blinds 800/1,600 ante 200
Raise, three-bet shove, call is how the action went between Philippe Souki and Stanislav Ivanov. The former held A♥ K♣ and the latter pocket queens. The 6♦ Q♠ 5♣ flop all but locked up the hand for Ivanov and he held on the K♥ 4♦ turn and river. Ivanov was all-in for 55,800 and Souki is now down to 13,400. –NW
9:25pm: More players fall
Level 11: Blinds 800/1600 (ante 200)
With starting stack worth less than 20 big blinds now, we have been expecting some of the smaller stacks to be making a move. That could explain the constant trickle of casualties we have seen in the last 15 minutes or so.
Jamie Scott Hook, Pedro Timiraos Paz, Reida Bouhazama, Dimitrios Ballas, Vasile-Claudiu Dragomir, Ian Hunter, Jonathan Hautot, George Balfour, Senul Karahasan, Angelo Milioto and Yulia Zakirova have all failed to make Day 2.
We now have 61 of 149 left and have an hour of play left. -LY
9:15pm: Johnson doubles into the chip lead
Level 10: Blinds 600/1,200 ante 200
Huge doesn't do this pot justice. It began with a raise to 2,600 from Mitch Johnson from early position, he was called in one spot and Raul Manzanares then three-bet to 11,000 from the cutoff. Back on Johnson he slid out a 4-bet to 26,600 and Manzanares was the only caller.
So at this stage there was already the equivalent of an average stack in the pot and that was added to on the 9♥ 3♦ 6♥ flop, on which Johnson bet 14,700 and Manzanares called. The K♣ fell on the turn and Johnson announced that he was all-in for 46,500.. Manzanares didn't like it but he called off with A♥ K♠ . Johnson had him drawing dead though as he held K♦ K♥ . The meaningless 2♣ completed the board and Johnson secured a huge double up.
After that hand he's now playing around 181,000, whilst Manzanares still has 70,000. –NW
9:05pm: Loukouras in a tough spot
Level 10: Blinds 600/1200 (ante 200)
We arrived at the table, with some significant action taking place. Antonios Loukouras was under pressure, having already put 6,000 in the middle on a 3♣ 5♥ 2♣ flop and was facing two all ins – one from Orly Yavin and a rejam by Matthew Stancer. After mulling it over for a while, Loukouras decided to pass and Yavin and Stancer turned their cards on their backs.
Yavin Q♥ Q♠
Stancer 3♦ 3♥
Stancer's set was a long way ahead at this point and Yavin was looking to a queen to change that. The turn and river were the 9♣ and J♣ and as Yavin was leaving, Loukouras didn't look pleased about the runout. "Flush?" asked another player on the table. "Jacks" he replied. No doubt Stancer is pleased he made the fold, or he'd be out too. Instead he is sat with 100,000 or so in front. -LY
9pm: Hunter can't kill his prey
Level 9: Blinds 500/1,000 ante 100
A banging double for Artur Palaj, who got the better of Ian Hunter in an all-in pre-flop encounter. Palaj shoved for 15,400 with A♦ 8♣ and Hunter gave him a spin with A♠ 10♦ . But domination nation turned into domination rotation on the 8♠ Q♥ Q♣ flop. The J♥ 7♥ turn and river kept Palaj in front and he doubled up. –NW
8:50pm: Schuman, Souki and Trifonova
Level 9: Blinds 500/1,000 ante 100
Table six has an interesting look to it at the moment as it contains a UKIPT champion and two players who entered the High Roller, but are now trying their luck in the Main Event. The UKIPT champion in question is Jonathan Schuman. He won his title in Marbella in June 2016 and Marbella is his home from home. That first home is London, so its no surprise to see the property developer in the field today. He's playing a stack of 28,000 at the moment.
That's significantly less than Philippe Souki, he tried his luck in the High Roller and, although he made Day 2, he busted before the money. He's got 76,000 at the moment. That's a decent stack for sure but he trails Madlena Trifonova by some distance. Like Souki, she played the High Roller. Her Main Event adventure is going far better, she's playing 130,000 which is more than double the average stack. –NW
8:40pm: Bust outs
Level 10: Blinds 600/1200 (ante 200)
There have been several eliminations before and after the break. Steven Warburton, Gianluca Trebbi, Tom Givony, David Ball, Salvando Eugenio Perez, Daniel Vicente, Arkadi A. Kilman, Thomas Winstone and Thomas Winstone are all out.
Sam Ho, our London Festival Deepstack winner has also exited the field. If he fancies another go at winning a double at this festival, he can use his re-entry in one of the three remaining flights, as could any of the others mentioned above. There is also a satellite to the Main Event running as we speak and we wouldn't be surprised if some of today's players are trying their luck in it. -LY
8:30pm: Food has been eaten
Level 10: Blinds 600/1200 (ante 200)
Well we assume that's what the players used their 60 minute break for…
Now it's time for the 85 remaining players (of 149 starters) to play out the last two hours of the day. -LY
7:25pm: Dinner time
Level 9: Blinds 500/1000 (ante 100)
Level 9 is rounding up to a close, with just a minute to go before players can go and get themselves a well-deserved feed.
We'll see you back here in an hour, when we resume for the last three levels of the day. -LY
7:20pm: Souki takes from Daly
Level 9: Blinds 500/1000 (ante 100)
Phillippe Souki had opened the betting preflop and found a couple of callers behind.
On the 3♠ 8♠ 4♦ flop, his continuation bet was only called by Reuben Daly. The 7♣ turn saw a change of pace from Souki, who opted to check this time. Daly took the opportunity to set him all in, only to have Souki snap him off.
souki 8♣ 8♥
Daly K♣ 5♣
Up against top set, Daly needed to hit his gutshot but the 4♣ river filled up Souki's hand and he ended up with a house. -LY
7:15pm: Sick hand!
Level 9: Blinds 500/1,000 ante 100
Wow! Here's an online hand in the live arena and if you were in The Hippodrome Casino a few minutes ago you might have felt the temperature drop as we just had the ultimate cooler. Three players moved all their chips into the middle pre-flop and it was soon clear why.
Christopher Berggren: Q♥ Q♦
Mehdi Delaviz: K♦ K♥
Vigo Gonzalez: A♦ A♣
Yeah, pretty special. A J♣ 6♦ 3♠ A♥ 8♣ run out meant that Gonzalez's aces held up. Berggren was the shortest stack of the three and he was eliminated, whilst Delaviz had to send 45,300 of his stack to Gonzalez. –NW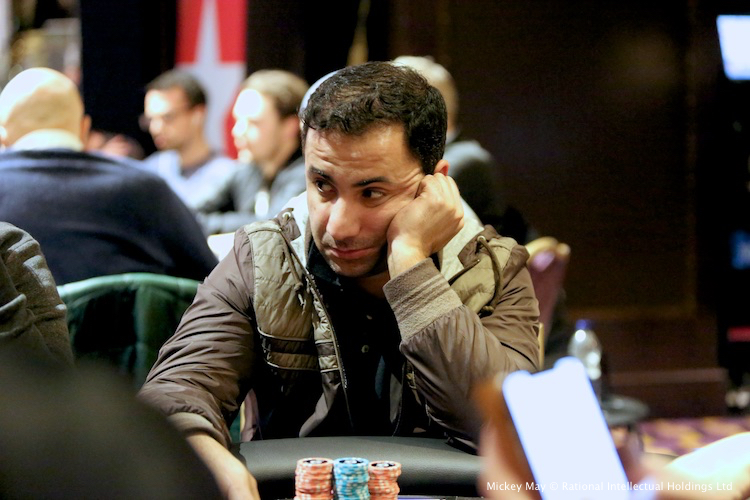 Mehdi Delaviz
7:10pm: Three-way all in
Level 9: Blinds 500/1000 (ante 100)
The cards were on their backs as the blogging team arrived at the table.
It was apparant that Kayhan Mokri and Tomas Lazauskas's tournament lives were on the line and that Declan Connolly was the one who could potentially knock them both out.
Mokri 8♠ 7♠
Lazauskas J♣ J♦
Connolly A♣ 10♠
Both Connolly and Mokri were looking to hit as the dealer laid out the flop, J♥ 7♦ 4♠ but with a jack in the window, both players were drawing extremely thin to Lazauskas's top set.
The 10♦ turn brought a gutshot for Mokri and a faint glimmer of hope, whilst simultaneously blocking Connolly out of the hand. The 6♠ river was safe for Lazauskas though and he scooped the lot and has about 58,000 to play with, well above the 43,000 average. -LY
7pm: Jacks leave Morris on his back
Level 9: Blinds 500/1,000 ante 100
"How much is it?" asked Senul Karahasan. He'd already committed 2,000 to the pot but was now faced with an all-in shove from Naaman Morris. The dealer counted down the chips and informed Karahasan that Morris was all-in for 10,800 in total. It seemed cheap enough to Karahasan as he made the call.
Morris: J♠ J♦
Karahasan: K♣ J♣
Although Morris was all-in, Karahasan also stood up as the dealer delivered the community cards. A A♠ 4♦ 3♣ K♦ 9♠ run out favoured Karahasan and Morris was eliminated. He's been joined on the rail by: Konstantin Farber, Stavros Kalfas, Israel Avraham, Nathan Webb, Jack Barnsdale, Eric Le Goff
Samuel Marchant, Sum Yip, Reza Rezaei Zadeh, Darren Pearce, Joachim Haraldstad and Daniele Monfalconi. –NW
6:40pm: Smyth out
Level 8: Blinds 400/800 (ante 100)
It was a classic scenario that brought Conor Smyth's Day 1A hopes to an end. He had moved all in for 16,000 and he found a caller in Darren Pearce, who had isolated over the top. With everyone else out the way, the two turned their cards over.
Smyth A♦ Q♥
Pearce A♣ K♥
It didn't look good for Smyth as they went to the flop and it came 4♠ K♦ 10♠ . Though Pearce had hit his king, Smyth had increased his outs by one, as any jack would give him a broadway straight.
The 7♠ turn and A♥ river were safe for Pearce and he finished with top two pair, whilst we say goodbye to Smyth. -LY
6:35pm: Chip leaders
Level 8: Blinds 400/800 ante 100
We're well over the halfway point on Day 1A now and some serious stacks are starting to be built. The average is currently 43,800 but there are a few six-figure stacks dotted around the field. The current chip bosses are:
Mehdi Delaviz – 139,000
Igor D'Ursel – 128,000
Jimmy Kebe – 124,000
Karan Dewan – 101,000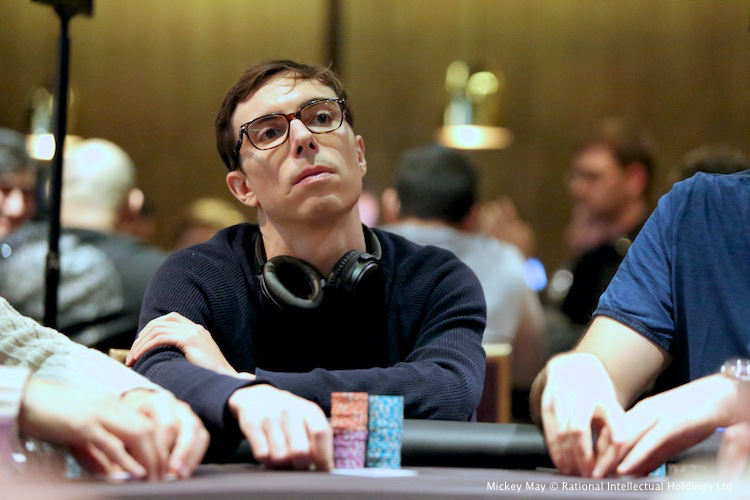 Igor D'Ursel
6:20pm: Quick, be quick
Level 8: Blinds 400/800 ante 100
There's just 15 minutes left in level seven and that means there are just 15 minutes left in which to register for Day 1A of the Main Event. If you do that then simply by taking your seat you'll have outlasted the 47 players who've busted out so far today.
6:10pm: More fallers
Level 8: Blinds 400/800 ante 100
Bad news for fans of Gang Wang, Trevor Pearson, Michael Kane, Harry Charalambous, Thomas Winstone, Lorenc Boci and Itamar Turgeman. They've all been knocked out during level seven of the Main Event. We might see them tomorrow for Day 1B or on Friday for 1C or 1D though. –NW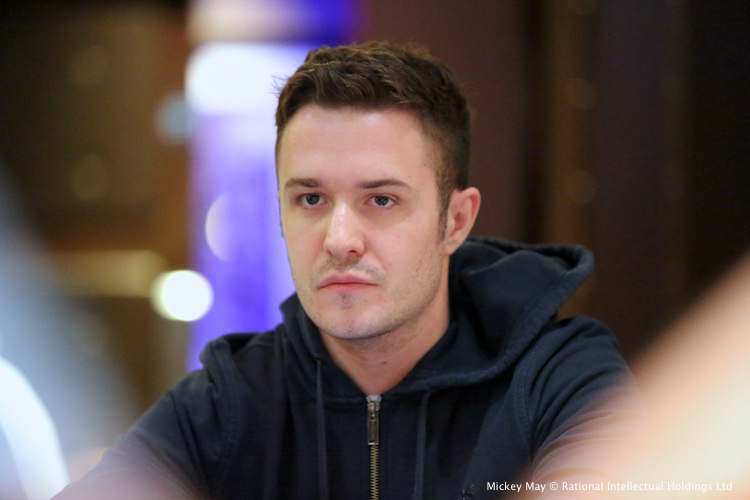 Michael Kane
6:05pm: Nasty river
Level 8: Blinds 400/800 ante 100
Ignotas Vaindras was all-in and at risk with Q♦ 10♦ and looking to out race Patrik Hansen's big slick. It was looking good for Vaindras as he turned a queen to take the lead, but an ace on the river sent him tumbling out of the tournament.
108 of 147 entries remain. –NW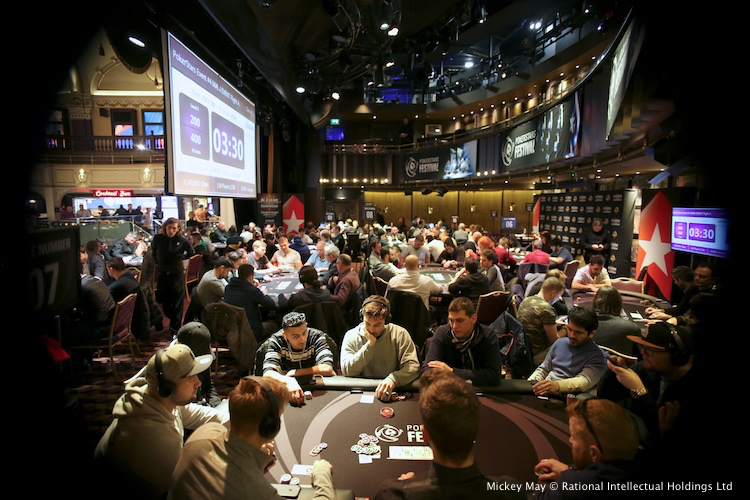 Day 1A action at The Hippodrome Casino
6:00pm: A couple of noteworthy hands
Level 7: Blinds 300/600 (ante 100)
Yulia Zakirova just doubled with A♠ 9♥ . She moved all in on her big blind over a cutoff open and got it in good versus Kfir Igvi's A♦ 5♣ .She now has 40,000 chips, with is above the average of 36,000.
On another table, Se Jin Hwang made the correct call on the river and very happy he looked about it too.
The board was 3♠ 7♦ 8♠ 5♥ 8♦ and he was facing a bet of 16,500 into a pot that looked to be 35,000. His 9♥ 9♠ was good enough, with his opponent mucking and he has added a very nice chunk to his stack. -LY
5:50pm: A classic…chop
Level 7: Blinds 300/600 ante 75
I joined the action to see a raise of 2,000 in front of Ryan Dansie, he'd picked up two callers and the action was now on Deniss Vinogradovs, who was in the big blind. Dansie paused a few beats and then moved all-in for 32,000. That saw off the two middle men, but Vinogradovs wanted a count. Having received one, he called and it was time for a showdown:
Dansie: A♠ K♦
Vinogradovs: A♥ K♣
The 4♦ 5♦ 5♣ 6♥ 8♦ run out meant there was no bad beat tale for either to dine out on. Chop it up. –NW
5:40pm: A few eliminations
Level 7: Blinds 300/600 (ante 100)
Sergio Benso, Alexandros Drosakis and Michael Schaaf have all been seen heading out of the cardroom. There are still three flights and one re-entry available to them (and all our other casualties today), so there is still all to play for, including the $30,000 package to the PokerStars Players Championship that will be taken home by the winner of the Main Event. -LY
5:35pm: Meanwhile in the High Roller…
Level 7: Blinds 300/600 ante 75
They're on the stone bubble in the £2,200 High Roller, our colleague Jack Stanton has the coverage of that one right here.
Mitch Johnson is one of the players who made Day 2 of that event, but he busted short of the money and has now hopped into the Main Event. –NW
5:25pm: Pairs, pairs and more pairs
Level 7: Blinds 300/600 (ante 100)
Table 1 is not messing around. Not only have players just arrived back after the break but we have just seen two all in and call situations in back to back hands.
First Mehdi Delaviz's aces hold on a jack high flop versus ace jack. No surprises there.
Then Marc Ruddle's Q♠ Q♥ hold against Eric Le Goff's 9♠ 9♦ , giving him a much needed double. -LY
5:20pm: We're back
Level 7: Blinds 300/600 (ante 100)
Players have sat down for three more levels, after which they will enjoy a dinner break. We have 146 registered so far and registration for this flight will remain open for just over an hour. -LY
5:00pm: Coverage of PokerStars Championship Cash Challenge on Channel 4 tonight
Poker fans in the UK can stay awake even longer tonight after the conclusions of events at the PokerStars Festival London, with Episode 3 of the PokerStars Championship Cash Challenge on Channel 4 this evening.
For details of what it's all about, how to watch, and how to catch up on previous episodes, click here.
4:50pm: Break time
Level 6: Blinds 250/500 (ante 75)
That's it for the moment but come back in twenty minutes, when we return for more coverage of the Main Event Day 1A. -LY
4:45pm: Double for Mokri
Level 6: Blinds 250/500 (ante 75)
We are nearing the end of Level 6 now and players are due their second break of the day.
Before they do so, there's still time for a hand or two more and Mokri has decided to make full use of his chips in this particular one.
The flop was 5♠ 6♦ 2♠ and he made it 2,300 to continue. Michael Schaaf peeled, taking them to the turn.
It was a 5♦ , pairing the middle card and Mokri decided to hang about no longer, going all in for 10,250. Schaaf seemed undecided as to whether call or fold was the best option and he chose the former.
Mokri 8♣ 8♦
Schaaf A♦ 7♦
Schaaf was looking for an ace, seven or diamond to win the pot but the river came K♣ and Mokri took it. -LY
4:35pm: Houzvicek doubles
Level 6: Blinds 250/500 (ante 75)
It was a hand that was part outdraw, part cooler and that was only taking into account the river action, which is when we arrived at the table.
Lucas Simonato Citron and Matous Houzvicek were facing a 9♠ 3♦ 8♣ 5♥ K♠ board. Citron had bet 8,000 and Houzvicek had gone all in over the top for a total of 26,025.
Citron did make the call but his two pair 9♣ 8♥ couldn't match up to top set K♣ K♠ , which Houzvicek had hit on the river. -LY
4:25pm: Clay coolered
Level 6: Blinds 250/500 ante 50
It wasn't Dean Clay's day. He kindly told us about his demise in the Main Event. "I just got coolered," he began. He went on to tell us that at the very end of Level 5 he was in the big blind with A♥ Q♥ and was facing a raise to 1,600 from Tim Fox. "I just called," he told us. "The flop came Ace-Queen-Nine and we both checked. The turn was the 3♣ and I bet 2,000. He shoved for about 20,000 and I called."
The bad news for Clay was that his opponent had pocket nines. "It's tough to get away, I block aces and queens," mused Clay. Work commitments mean Clay probably won't be back for another shot at the Main Event, but he intends to play the PokerStars Festival Cup on Saturday. –NW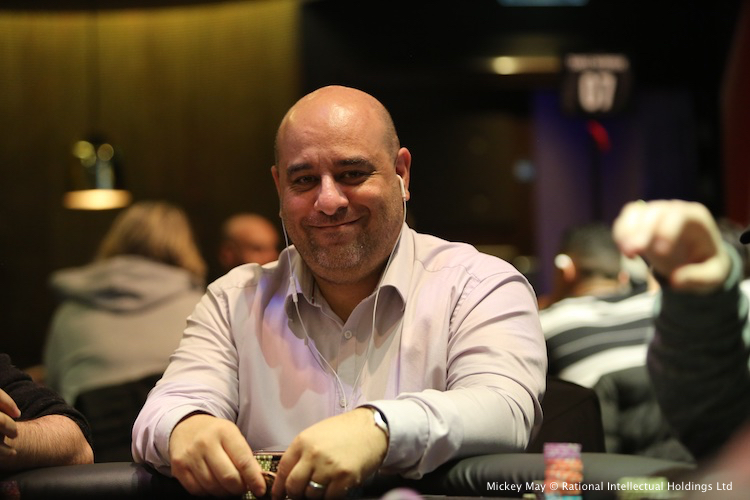 Dean Clay
4:15pm: A couple of eliminations
Level 6: Blinds 250/500 (ante 75)
There haven't been many bustouts in our Main Event Day 1A flight so far, with less than 10 players hitting the rail of the 140 entries. Blinds have gone up to 250/500 now, so that could start to change.
We have just seen two make their way to the door. Victor V. Ilyukhin and John Lucarotti haven't had success today but as this is a single re-entry event, we may not have seen the last of them. -LY
4:00pm: What do you think Patrick had?
Level 5: Blinds 200/400 (ante 50)
It appeared that Philip Patrick limped under the gun, as when there had been a 1,600 raise and a flat behind, he took the opportunity to raise it up to 3,700.
The initial raiser folded but he found a caller in Andrew Abernathy, who had flatted the button and off they went to the flop.
It was a drawey Q♦ 10♦ K♣ and Patrick continued for 4,500, which Abernathy called. The 8♥ turn saw another bet from Patrick, this time 7,400. This bet committed Abernathy, who had about 11,000 behind and after claiming that he thought Patrick had some of his outs, he showed J♣ J♥ as he folded.
Patrick didn't seem happy about this state of affairs, shaking his head when he saw the pocket jacks and mucking his hand at the same time. It does beg the question though…what did he have in the hole? -LY
3:55pm: Kebe's stack makes for good reading
Level 5: Blinds 200/400 ante 50
Jimmy Kébé is amongst the chip leaders, with the professional footballer currently curating a stack of just over 100,000. The French born Mali international is best known for his time at Reading, where he made 175 appearences, scoring 29 goals. Poker's a serious hobby for Kébé and he's racked up over $46,000 of tournament earnings in the live arena. –NW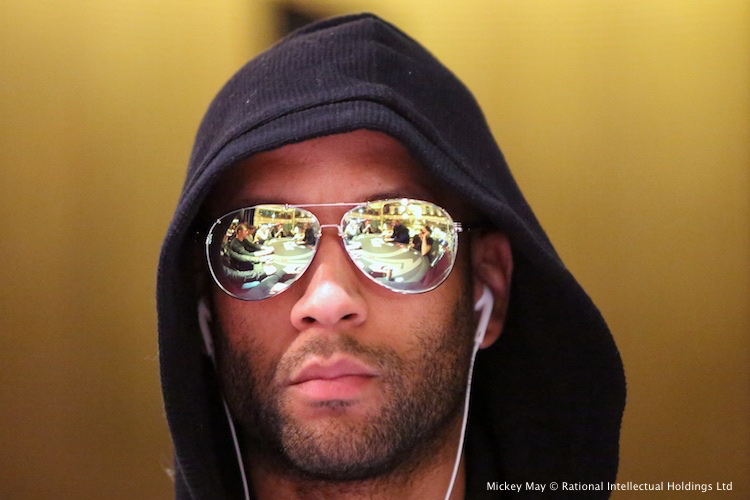 Jimmy Kébé
3:45pm: No Lovelock for Aces
Level 5: Blinds 200/400 ante 50
Getting any premium hand cracked hurts, but with aces it stings that much more. Just ask Colin Lovelock. He departed when his aces were cracked by pocket fives on a 5-6-7 flop. Ouch.
Victor Ilyukhin (Senior) is also out. –NW
3:35pm: Osti exits
Level 5: Blinds 200/400 (ante 50)
Mercedes Osti, Lucas Simonato Citron and Matous Houzvicek were all staring at the 6♦ 3♥ 9♣ flop and Citron had checked to Houzvicek who bet 2,125. This was called by both Osti and Citron, taking the trio to the turn.
It was a 4♠ and this is where the action hotted up. Once again Citron checked and Houzvicek barrelled for around 6,000. Osti promptly put her last 3,425 over the line. With the action back on Citron, he moved all in over the top for a total of 26,000. This was enough to cover Houzvicek and after some deliberation, he elected to fold.
Citron 5♠ 7♦
Osti A♥ K♠
Unfortunately for Osti, she was drawing dead and she already had her coat on when the 3♣ river was dealt. It's good news for Citron though, the Brazilian qualifier is building a nice stack. -LY
3:25pm: Sick set over set spot for Kassouf
Level 5: Blinds 200/400 ante 50
Will Kassouf was all-in and going through his speech repertoire as Karan Dewan considered what to do. Kassouf had shoved for 18,400 on the river of a J♥ Q♦ 7♥ 9♦ 6♥ board and his opponent was in the tank. "What have you got? Be honest," asked Kassouf. "I've got top-set and I'm thinking about folding," said Dewan who already had a healthy stack in front of him.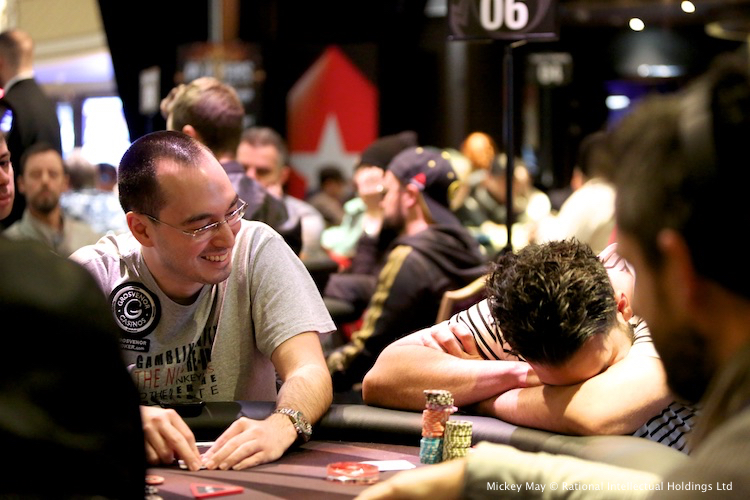 The look of a man thinking about folding top set
"I don't believe you've got top set, you're not that strong," said Kassouf. "If you've got top set and you fold I'll buy you a drink," continued Kassouf. "Waitress to table three please," joked Kassouf as Dewan continue to tank. "I call," said Dewan. First to show was Kassouf and he opened 9♣ 9♥ for a turned set, Dewan had told the truth as he opened Q♣ Q♥ . "Sick turn card," said Kassouf before saying to Dewan. "You can't fold that, not with your stack," to which Dewan replied. "I really thought you might have the flush."
With that Kassouf was on his way but, as this is single re-entry event, we may well see Kassouf in a subsequent flight. As for Dewan, he's up to 118,000 after that win, which looks good for the chip lead. –NW
3:10pm: Farber takes from Nikolaidi
Level 4: Blinds 150/300 (ante 50)
Online qualifier Konstantin Farber has just won a significant pot versus Irina Nikolaidi.
Action was on the turn and the board read A♦ Q♣ 7♥ 9♠ . Nikolaidi checked and Farber bet 3,100, which Nikolaidi peeled.
The 3♥ river was a brick and appeared to change nothing and perhaps Nikolaidi thought so too, as she check-called Farber's bet of 8,000. Farber turned over 7♦ 7♠ . The flopped set was good and Nikolaidi sent her cards into the muck. -LY
3pm: 128 and climbing
Level 4: Blinds 150/300 (ante 50)
We're up to 128 players now in the Main Event, with Michael Kane one of the new notables we've spied in the field.
It's been a sedate start to the day, with just two exits so far. Martin Romanec is the latest player to bust. –NW
2:55pm: Difficult decision for Bateson
Level 4: Blinds 150/300 (ante 50)
Justin Bateson started off the action with a 900 raise and was called in two spots, by Joachim Haraldstad on the button and Yunus Emre Ozgenc
in the big blind.
The flop was 7♦ 4♠ K♠ and when checked to, Bateson continued for 1,400. Only Haraldstad wanted to go any further and a K♥ was dealt on the turn, pairing the top card. This time both players checked.
Finally the dealer put a 8♠ out on the river, which brought a potential flush into the mix. Again Bateson checked and Haraldstad made it 6,900 for Bateson to see his cards. He clearly didn't like his spot at all but he decided to make the call all the same.
Bateson A♥ K♦
Haraldstad A♠ Q♣
It turned out to be the right call and Bateson adds over 10,000 to his stack. -LY
2:50pm: High Roller action
Level 4: Blinds 150/300 (ante 50)
Whilst the Main Event is still in the early stages, Day 2 of the High Roller got started a little under an hour ago. You can follow coverage of that event – where the winner will get a Platinum Pass – right here.
2:20pm: Take a break
Level 3: Blinds 100/200 (ante 25)
Level three is over, there's a 20 minute break before the start of level four. See you then. –NW
2:15pm: Hansen and Delaviz get tangled
Level 3: Blinds 100/200 (ante 25)
The flop was dealt and two players had cards in front of them by the time the blogging team arrived at the table.
9♣ 9♦ 6♥
Mehdi Delaviz had a bet of 6,500 in front of him and the pot had approximately 3,000 in it. He was facing an all in from Jasper Hansen and with his tournament life on the line, he needed some time to think about it.
whilst Delaviz was in the tank, another player, Pinky, told us what had happened up to that point. According to him, there had been an open from Delaviz and a three-bet from Hansen, which was flatted before the flop came out. Delaviz had opted to lead the flop for 6,500 but this, we were told, was a misclick.
Back to the action and Delaviz decided to make the call The cards were turned on their backs and revealed…
Hansen 9♥ 7♥
Delaviz Q♠ Q♦
Delaviz was drawing extremely thin, with only the last two queens to hit.
The Q♣ turn obliged him and Hansen was now looking for the case nine. The 5♣ wasn't it though and Delaviz is up to around 60,000, whilst Hansen drops to around 16,000. -LY
2:10pm: Ilykhin drags one
Level 3: Blinds 100/200 ante 25
Victor Ilyukhin is one of the notable names in the field today. His best result at The Hippodrome Casino came back in January 2015 when he finished second in the High Roller, collecting £32,070. He's had a string of other notable results too and I recently saw him win a reasonable sized pot.
He opened to 450 from the hijack and picked up calls from Gary Bluston and Dean Clay. On the 8♣ A♥ 4♣ flop the action checked to Clay and he bet 600. Both opponents called and the 9♥ fell on the turn. No one bet and the 8♦ completed the board. Ilyukhin checked, Bluston bet 1,100 and Clay swiftly folded. Back on Ilyukhin he tanked and then called. Bluston showed A♠ 5♠ , Ilyukhin opened A♦ J♥ and Bluston tapped the table to signify the nicely played hand from Ilykhin. –NW
1:55pm: Kassouf arrives
Level 3: Blinds 100/200 (ante 25)
Registrations have exceeded the 100 mark (111 and counting) and there is still almost 5 hours of late registration left.
Despite that number of people, there is a unusually calm and quiet atmosphere in the room. That could all be about to change though, as we have just spied Will Kassouf taking his seat. -LY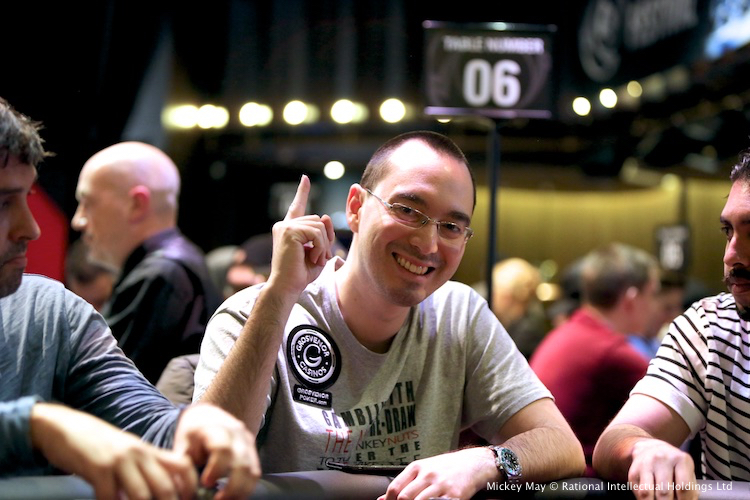 Will Kassouf
1:45pm: Having a Ball
Level 3: Blinds 100/200 ante 25
We've lost a player, and predictably it took a classic cooler for that to happen. It was aces against kings, with the money going in on a king high flop. David Kahan had aces and didn't hit the turn or river and he's out. David Ball was the player with the kings and he's off to a flier in the Main Event. –NW
1:30pm: Brammer dents Mercedes
Level 2: Blinds 75/150
We're not talking about a car crash here, but a poker hand between Chris Brammer and Mercedes Osti. The clash began with a raise to 400 from Osti. Brammer, who was in position, three-bet to 1,200 and Osti smooth called. Both players checked the J♠ 7♠ 9♥ flop and the 8♦ fell on the turn. Osti led for 1,100 and Brammer smooth called. On the 6♦ river Osti reverted to checking, Brammer piled up a bet of what looked to be around 8,500 and Osti quickly released her hand. –NW
Good start for Brammer
1:10pm: Is there a bad time to have the nuts?
Level 2: Blinds 75/150
Right now we have 97 players registered to the Main Event Day 1A. They are spread over 12 tables and the card room has a healthy hustle and bustle to it.
It may take a while before we see one of the all in triangles in action though as players are so deep-stacked. The nut full house just made it to showdown but as blinds are still so small, the pot was not a tournament or even a Day 1 defining one. Still, a pot won is still a help no matter how small, right? -LY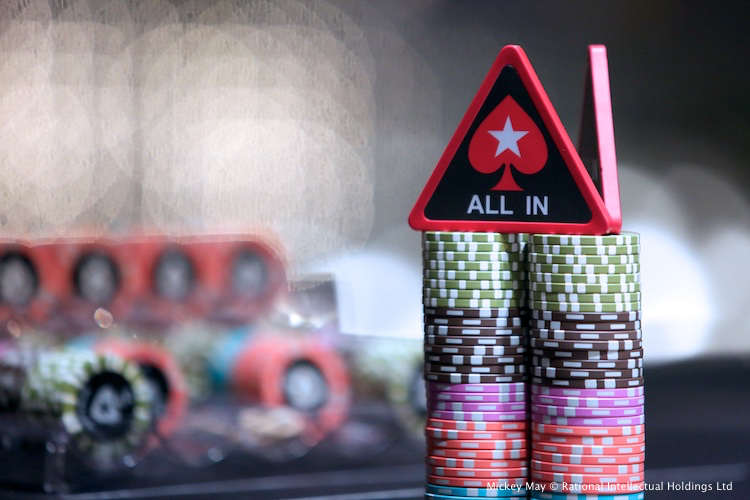 Who'll be the first player to use one of these?
1pm: Everyone sitting tight
Level 2: Blinds 75/150
With 300 big blinds to start with, it might not sound that surprising that there were zero eliminations during the opening level. However, we've covered a lot of tournaments where players have suffered early exits. No cold decks yet though and the 92 players who've entered so far all remain with chips and a chair. –NW
12:45pm: Don't forget the T&C's
Level 1: Blinds 50/100
Alongside cards being dealt and chips being bet, players are also filling out PokerStars Live Terms and Conditions forms. It's always good to get the paperwork sorted. -LY
12:35pm: The early birds
Level 1: Blinds 50/100
It's early days in the Main Event but there are plenty of players settling in for what they hope will be a long day of poker. Dean Clay is a regular fixture on the poker circuit, with Luton and London his usual haunts. He cashed in a MegaStack event here back in October and also two UKIPT Main Events in this city. His biggest live scores have come elsewhere, so he'll be hoping to set that to rights this week.
Another familiar face in the field is Andrew Abernethy, he's a player we've covered at a number of PokerStars events down the years. We sweated the bubble with him at EPT Dublin in 2016 – where he cashed for €10,270. That year was a good one for Abernethy as he also collected cashes at the EPT Grand Final and EPT Barcelona.
His latest cash is still fresh in the memory as he was one of 66 players who picked up a return on investment in the PokerStars Festival London Super Deep Stack. Abernathy finished 39th, winning £330.
That event played to a finish yesterday and the final four brokered a deal to even out the prize pool. Sam Ho emerged victorious and collected £8,925 for the win. Ho, is another of the players trying their luck on Day 1A. –NW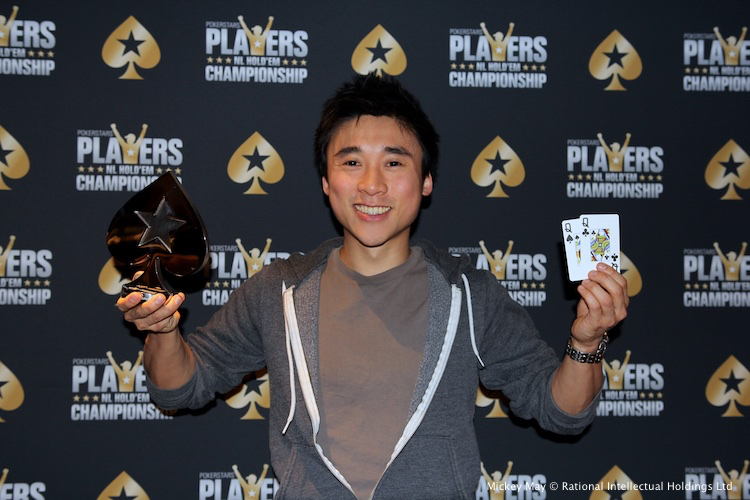 Sam Ho – PokerStars Festival London Super Deep Stack champion
12:20pm: Players get warmed up
Level 1: Blinds 50/100
Typically the first level or two of the day are somewhat slower paced as players get warmed up.
Table 7 seems to be warming up faster than average, with a bunch of small and medium sized pots taking place and featuring multi-way action. We have already seen one player squeeze from the blinds, only to find themselves facing a four-bet (they folded).
The next hand went to the river but a third barrel from the preflop agressor prevented us from seeing a showdown.
It will be interesting to see as the day progresses, whether this early meta will have a bearing on future hands…our guess is that it will but stay tuned to find out. -LY
12:05pm: Shuffle up and deal
Level 1: Blinds 50/100
Cards are in the air. –NW
11:45am: Day 1A soon underway
While yesterday we were focusing on Day 1 of the £2,200 High Roller, today we'll be splitting our attention between the final day of that tournament, and the first in this £990 Main Event.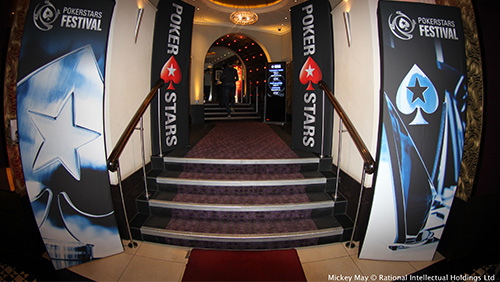 Get yourself down to The Hippodrome
There are some similarities between the two events. Sure, they'll both be full of talented players and some great characters. But the most important of which is that the winner of each will get themselves a Platinum Pass worth $30,000 that'll see them head to the Bahamas in January 2019. There, they'll be freerolling in a $25K for a share of an $8 million plus prize pool and a $1 million plus first-place prize.
Today's Day 1A is only the first of four starting flights for this tournament, taking place at London's Hippodrome Casino in Leicester Square. Tomorrow we'll have Day 1B, and then on Friday we've got Day 1C and Day 1D flights, both of which have 30-minute levels. If you're thinking of heading down to play, check the schedule here.
Last year this tournament attracted 778 players, who added another 166 re-entries, building a prize pool of £824,112. The champ was Rehman Kassam, a 23-year-old law student from London, who beat Daniel Harwood heads up to win £89,320. This year's event is expected to be just as big.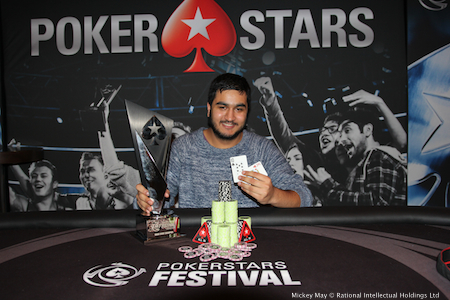 Last year's winner, Rehman Kassam
The action kicks off at 12pm today, with 12 45-minute levels scheduled. Players begin with a 30,000 starting stack and blinds kick off at 50/100.
Later at 2pm, we'll also be bringing you the conclusion of the High Roller, as we'll be crowning a winner and giving away the first Platinum Pass on UK soil tonight. Until then, keep hitting that refresh button. –JS
PokerStars Blog reporting team on the £990 Main Event: Nick Wright and Lisa Yiasemides. Photography by Mickey May.
---
Opening a PokerStars account is easy. Click here to get an account in minutes.
---
Back to Top