What's 15 minutes really? A quick smoke break? Half an episode of Eastenders? The time it takes you to whip up a lean meal?
Yeah, 15 minutes isn't really that long a time. Take 15 minutes off the levels in a poker tournament though, and it makes a massive difference. This faster Day 1C session flew by with all-ins and calls all over the shop, creating bust-outs aplenty.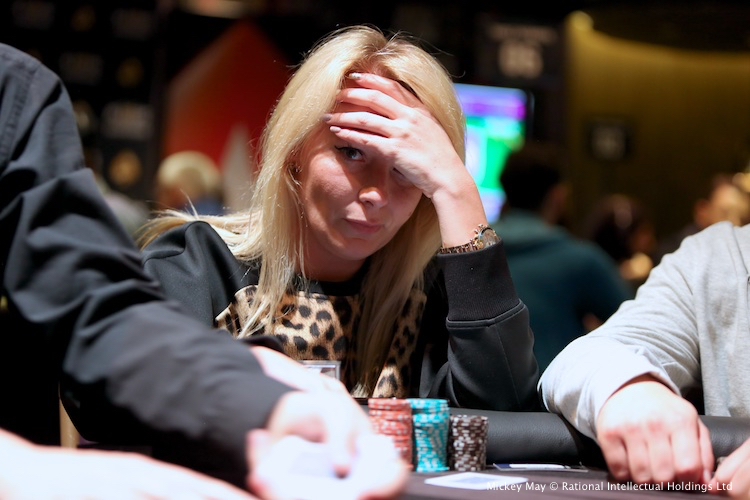 Irena Macesovic – Overall chip leader right now
It was a busy day in The Hippodrome Casino this afternoon, with 239 hopefuls hoping to make it through the 12 30-minute levels. Only around 93 would survive though, and the person who bagged the most was Irena Macesovic. She went on a heater in the last two levels, winning a huge pot against former chip leader Xavier Laplace when her A♣ 6♣ flopped two pair to beat Laplace's A♦ J♠ ; and then eliminating Katie Lindsey with pocket tens versus pocket sevens. She ends the day with 310,000 – which makes her the overall chip leader right now for Day 2.
Other big stacks and notables who made it through this round include Andrew Wilson (192,400), last night's Platinum Pass/High Roller winner Dragos Tromifov (56,800), Chris Moorman (98,900), PokerStars Live at the Hippodrome players Kelly Saxby (62,500) and Chris Gordon (264,000), Alex Goulder (90,200), Michael Kane (71,000), and the Blog's own Dan Jones (20,800).
Check out all of the end-of-day chip counts here.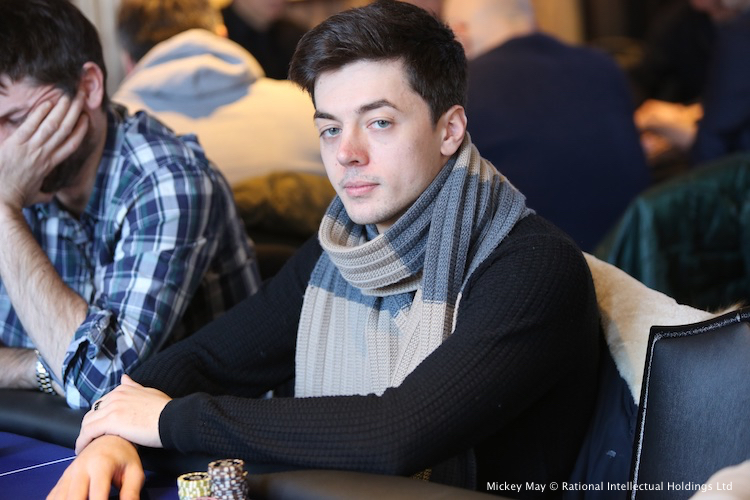 Platinum Pass and High Roller winner Dragos Trofimov
Of course, where there are survivors there must be casualties. Some of those included two-time UKIPT winner Duncan McLellan and UKIPT regular Thomas Ward, as well as Paul Newey, Robbie Schiffbauer, and Alex Lynskey.
We also had two former Rugby Union pros in Andrew Goode and James Simpson-Daniel. Coincidentally, the two drew seats right next to each other, but neither would make it through the day.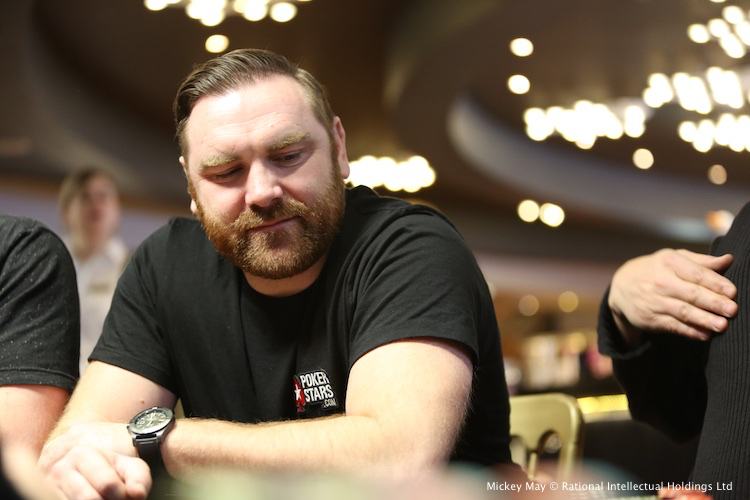 Andy Goode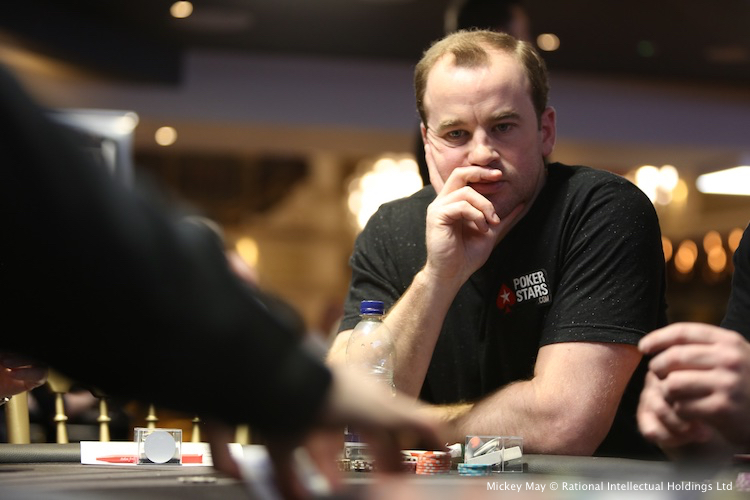 James Simpson-Daniel
The action was super-fast paced today, so summarising it wouldn't do it justice. Instead we recommend scrolling down and checking out the blow-by-blow coverage.
And we're not done yet. Day 1D began at 6pm tonight and is currently in full swing. Head over to our Day 1D coverage and stick with us through the night. –JS
---
Day 1C coverage archive

• PLAYERS: 110 (of 239)
• CHIPS
• ALL POKERSTARS FESTIVAL LONDON INFO | TOURNAMENT SCHEDULE
• DOWNLOAD POKERSTARS
• Follow @PokerStarsBlog on Twitter
---
6:45pm: Play has ended
That's it – Day 1C is done. Short wrap coming soon. –JS
6:40pm: Six more hands
Level 12: Blinds 1000/2000 (ante 300)
Just six hands to go before this flight is done. –JS
6:30pm: Laudicina falls to Blanchandin
Level 12: Blinds 1000/2000 (ante 300)
The 9♣ 10♣ A♦ flop was out and Alexandra Laudicina had a red triangle in front of her. She was the all in player in a hand against Tony Blanchandin.
Blanchandin 9♥ 9♦
Laudicina A♥ Q♠
Laudicina didn't look happy when she saw Blanchadin's holding and we don't blame her… she needed something really special to happen now in order to make it to Day 2.
It was all over for her on the 5♦ turn, with the 4♦ river making no difference. Blanchadin's set triumphs and pushes his stack upwards of 130,000. –LY
6:20pm: Tirnovean calls three streets
Level 11: Blinds 800/1600 (ante 200)
Play was on the flop and the board was 10♥ A♥ J♥ , giving a flushing board. Thorsten Walk had position on Paul Tirnovean and he certainly tried to wield it to his advantage. First he bet 3,000 and Tirnovean check-called.
On the 8♦ turn, he made it 5,500 to proceed and once again Tirnovean came along. Finally there was a 5♦ river and when Tirnovean checked, Walk had another stab, making it 10,500 this time. Tirnovean needed more time to think about this one but after a couple of minutes in the tank, he decided he wanted to go to showdown.
Tirnovean K♦ J♣
Walk Q♣ 10♣
There wasn't a heart in sight but there was a pair for each and Tirnovean had the better one from the off, so he takes the pot. –LY
6:18pm: Penultimate level bust-outs
Level 11: Blinds 800/1,600 ante 200
Wave goodbye to this lot:
Nicos Nicolaou, Mark Wagstaff, Massimo Schiralli, Andrea Serrao, David Attew, Samir Tageldin, Domenico Micillo, Riccardo Durso, Hak-Mann Lee, Fabian Wahlers, Nguyen Khoa Le, Boris Sumskevicius, Ryan Hemmel, Hong Wang, Maria Kozak, Alexander Johnson, Bryn Larkman, and Fabio Sperling. –JS
6:10pm: Macesovic drags a big pot
Level 11: Blinds 800/1,600 ante 200
An intriguing pot just played out between Irena Macesovic and Xavier Laplace. It started with a raise to 3,500 from Macesovic from the hijack, the small blind called and Laplace then three-bet to 11,200 from the big blind. Macesovic was the only caller.
The flop fell A♠ 8♠ 6♥ , Laplace bet 13,000, Macesovic click-raised to 26,000 and after a bit of head nodding Laplace made the call. The turn was the 10♣ and Laplace quickly checked it to Macesovic. She cut down her remaining chips and then bet 31,200. On this street Laplace needed more time. He didn't exactly keep a poker face as he agonised over the decision. He hand his hands on the back of his neck and was clearly in a tough spot, nonetheless he called. The river was the 3♣ and both players elected to check. Macesovic showed A♣ 6♣ and she had the A♦ J♠ of Laplace beat. –NW
6:05pm: Mannion on a mission
Level 11: Blinds 800/1,600 (ante 200)
Ross Mannion has just found a crucial double up in the closing stages of the day.
After Alexandra Laudicina opened to 3,700 from the UTG+1 seat, it folded around to Mannion in the big blind. He jammed for 19,900 which Laudicina snap-called with her A♥ K♣ . It was a flip, with Mannion holding the 4♣ 4♠ .
The 10♦ 5♥ 9♣ flop kept the fours in front, and Mannion must have been praying for low cards. The Q♠ turn wasn't one, giving Laudicina a gutshot, but the 6♦ river was safe.
He's up to around 40,000 now while Laudicina is still healthy with around 65,000. –JS
6pm: One room
Level 11: Blinds 800/1,600 (ante 200)
For the first time today the entire Day 1C flight is now situated in the same room. The Blog's own Dan Jones was on the last table to break in the outer rooms, but he's now moved his roughly 40,000 stack into the main room along with his tablemates. –JS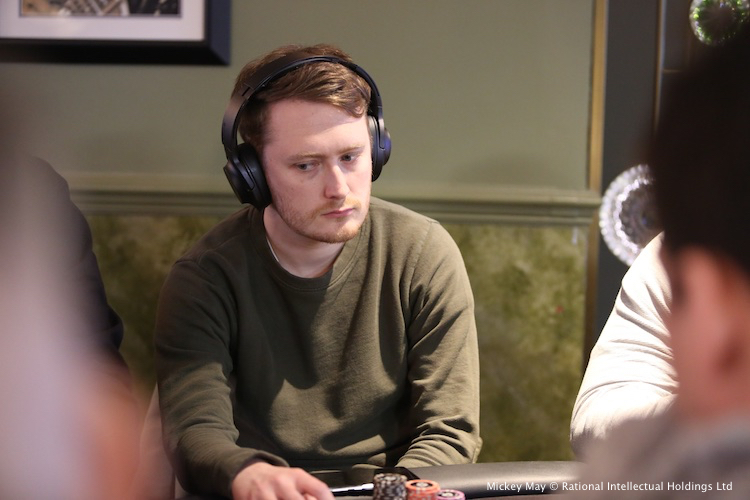 Dan Jones
5:50pm: Two more levels (in this flight at least)
Level 11: Blinds 800/1,600 (ante 200)
We've moved into Level 11 which means this lot have just one more hour of play before their chips get bagged.
However, right now (well, in 10 minutes) Day 1D is about to kick off. It never stops at The Hippodrome! You'll find the Day 1D coverage right here. –JS
5:45pm: Belksy busts
Level 10: Blinds 600/1,200 (ante 200)
Avihiai Smagda shoved from middle position for 15,500, and it folded over to Ilana Belsky on the button. She had pretty much the exact same chip count, and moved all in too. When the blinds folded, the hands were flipped.
Smagda – A♥ Q♣
Belksy – A♦ 9♦
Unfortunately for Belsky her hand was dominated, and couldn't improve on the 6♥ 3♠ K♥ Q♦ 10♦ runout. She's out, and Smagda now sits with around 33,000. –JS
5:40pm: Goodwin scoops a nice pot
Level 10: Blinds 600/1200 (ante 200)
The flop was out and it was a very draw-heavy J♠ 8♠ 10♥ . Sometimes boards like this are played tentatively – this was not one of those times.
PokerStars Live at the Hippodrome Sponsored Player Chris Gordon had checked and Viktor Einarsson bet 5,500. Calum Goodwin flatted on the button and Gordon squeezed to 16,500. Einarsson didn't want to give up the pot just yet and he peeled, only to see Goodwin shove the lot. It was a total of 55,000, so almost 40,000 more for Gordon or Einarsson. They both decided it was too much and Gordon adds a decent chunk to his stack, taking him up to 88,000. –LY
5:35pm: Gordon and Saxby both still grinding
Level 10: Blinds 600/1,200 ante 200
It's bullet number two for Chris Gordon and Kelly Saxby today and both of the PokerStars Live at The Hippodrome Sponsored Players are still going strong. It's Gordon who's got the upper hand at the moment, he's playing 91,000 to Saxby's 45,000. However, when the latter saw me counting her chip stack she ecstatically said. "Above starting stack!" It's the little victories.–NW
5:30pm: Bechrakis near trebles up
Level 10: Blinds 600/1,200 ante 200
Three-way all-in alert! Evangelos Bechrakis opened from early position and was smooth called by Joseph Field. Next to act was Waheed Ashraf, he shoved for 16,800 and Bechrakis then shoved over the top for 19,200 total. Field crunched some numbers and then he called, he was the covering stack.
Bechrakis: K♣ K♦
Ashraf: J♥ J♠
Field: 4♣ 4♦
The 5♥ 6♣ Q♠ 9♣ 6♠ run out meant the kings held up and Ashraf was eliminated. "Nice hand buddy," he said to Bechrakis as he exited. –NW
5:25pm: The departed
Level 10: Blinds 600/1,200 (ante 200)
If you're rooting for any of this lot, we've got some bad news for you. They're outta here:
Ege Can Tekin, Kevin Barden, Joshua Akers, Albert Sapiano, Viktor Ilyukhin, Jesse Chambers, Aleksandar Spadijer, James O'Brien, Serina Svindland, Anders Henningsson, Dan Wilson, Charles Laczny, Carlos Correia, Javier Fernandez Alonso, Darie Ilie, Ian Hunter, Andrew Miles, Ha Bao Trung Le, Slobodan Ruzicic, Alexey Sergeev, Augustin Ratiu, Ben Fitzgerald, Florian Ferroni, Jack Hardcastle. –JS
5:15pm: All in pre?
Level 9: Blinds 500/1000 (ante 100)
There was some confusion at the centre of this hand and we're not just talking about the blogging team, there was confusion amongst the players too.
First off Ilana Belsky set the ball rolling with a 2,200 open from under-the-gun. Lorenzo Savoja flatted on the button, before Ryan Hemmel jammed his last 10,000 or so from the button.
With action back on Belsky, she raised enough to cover Savoja, or so she thought. It turned out that her bet wasn't quite enough and when Savoja called, he still had a couple of chips left behind. "I could still fold" Belsky joked as the dealer spread a flop of J♦ 4♦ 6♣ .
But she didn't, setting Savoja all in (for real this time).
Savoja A♣ A♠
Belsky K♦ Q♦
Hemmel K♠ J♠
Savoja had the best of it with the overpair but Belsky had all the diamonds at her disposal, whilst Hemmel had picked up a pair of jacks that could improve too.
The turn was the K♣ , which sent Hemmel ahead with two pair and everything was still to play for on the river. It was a 3♥ brick though, which meant Hemmel scooped the 37,000 main pot, Savoja took the 56,000 side pot and Belsky is left with 20,000. Phew. –LY
5:10pm: Rollercoaster double for Bloechlinger
Level 9: Blinds 500/1000 ante 100
Down to just 8,000 Maureen Bloechlinger moved all-in pre-flop with K♥ K♦ and found a call from Daniel Skipper, who had A♦ 8♦ . The flop fell 4♥ 7♦ A♣ with the ace in the window prompting some murmours from the table. The K♠ turn created even more noise and Bloechlinger held on the J♠ river. She's up to 18,000 now. –NW
5:05pm: Newey takes a Walk
Level 9: Blinds 500/1,000 (ante 100)
Thorsten Walk made it 2,500 under the gun and it folded around to Paul Newey in the big blind. The flop came 4♦ 9♥ 3♦ and Walk continued when it checked to him for 3,500. Call.
The turn was the 5♦ putting three diamonds out there. Newey checked again, but was forced to fold when Walk barrelled for 10,000. That took Walk up to 50,000 and left Newey with 39,000.
However, he'd lose it all just a couple of hands later. We didn't see the action, but Newey just told Robbie Schiffbauer he went broke when he flopped a flush with the J♥ 10♥ and got all his money in only to find his opponent had the A♥ 9♥ . –JS
4:55pm: Sidhu sits down
Level 8: Blinds 400/800 ante 100
Late-registration into this flight is now shut and Kully Sidhu was the last player to take his seat. He's sat to the direct right of Chris Gordon and Paul Newey is also at that table. His presence at that table will make everyone's job just that little bit harder. Sidhu has almost $2.5M in live tournament earnings with a €640,000 score for a runner-up finish in the EPT12 Barcelona €10,000 High Roller his biggest career score to date. –NW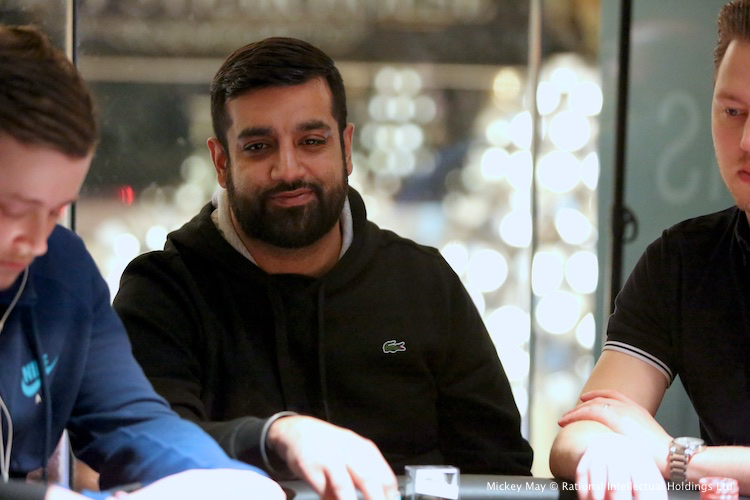 Kully Sidhu
4:30pm: Break time
Level 8: Blinds 400/800 (ante 100)
The second and final break is underway. When players return, they will play their final four levels. Back in twenty. –LY
4:25pm: A monster pot for Laplace
Level 8: Blinds 400/800 (ante 100)
There were chips and cards all over the place by the time the blogging team got to the table.
The flop had been dealt and it read Q♦ J♣ 8♦ . Marc Franks had moved all in for 28,000 and Xavier Laplace called. He didn't notice that Mickael Tadesse still had cards in front and so exposed his hand, which was Q♥ J♠ .
This floor was called and the tournament director ruled that Laplace must keep his cards exposed and that he would face a penalty once the hand had played out.
This gave Tadesse crucial additional information and after thinking for a minute or so, he shoved over the top for 37,000. Laplace threw in 9,000 more chips and Franks and Tadesse turned their cards on their backs.
Franks 10♥ 9♠
Tadesse A♦ 5♦
It was top two pair, versus made straight, versus flush draw. We didn't have to wait long to see all that change, with the dealer placing a J♦ and giving Laplace a full house. A delighted Laplace cried out "yes" before the inconseqential 6♣ river was dealt.
The tournament director reminded Laplace that he had a one orbit penalty but it didn't look like anything could dampen his spirits at this point, with around 133,000 to play with, he currently holds the chiplead. –LY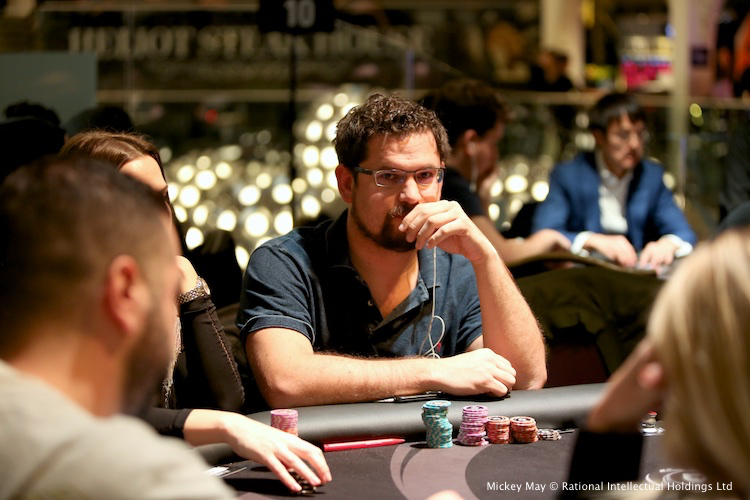 Xavier Laplace
4:20pm: Chip leaders and chip zeros
Level 7: Blinds 300/600 (ante 100)
As we approach the end of Level 8, the three biggest stacks we can see right now belong to:
Xavier Laplace – 133,000
Jack Roos – 130,000
Joseph Field – 120,000
Laplace won a huge hand which you'll soon be able to read about.
At the other end of the spectrum, this lot have a stack size of 0*:
Two-time UKIPT winner Duncan McLellan, Roberto Sellitto, Marco Fontanella, Krishna Nagaraju, Iiro Johannes Peltoniemi, James Sathiakir, Mikhail Drozdov, Metodi Georgiev, Jason Chamberlain, Robert Buky, Lewis Day, Matthew Stancer, Simon Taberham, Brandon Shiels, Stefan Dimitrov, Quentin Dellis, Sylvain Mazza, Neophytos Neophytou, and Elie Ibrahim.
*ie. they're out. –JS
4:15pm: Bad timing
Level 8: Blinds 400/800 ante 100
Bluffing into top set is never a good look and it just cost Roberto Sellitto his tournament life. He raised it up to 1,600 and called after Philipp Kuschnir had three-bet to 4,600. The flop fell 7♥ 9♣ 5♦ , Sellitto checked, Kuschnir c-bet 3,600 and Sellitto made a quick call. The 2♣ fell on fourth street and again Sellitto checked.
There was no slowing down from Kuschnir, he bet 6,600 and this time Sellitto check-raised all-in for just over 24,000. Kucshnir snap called and showed 9♠ 9♦ and Sellitto was drawing dead with A♥ 2♥ . The Q♠ completed the board and Sellitto was on his way. After that hand Kuschnir is up to roughly 72,000. –NW
4:02pm: Get those re-entries in quick
Level 8: Blinds 400/800 ante 100
We're into Level 8, which is the last level players can re-enter. If anyone busts their first bullet and doesn't fancy coming back in with 30 big blinds, they can hold off until 6pm and enter the Day 1D flight instead. –JS
3:55pm: It's never easy
Level 7: Blinds 300/600 ante 100
We're seeing lots of all-in pre-flop pots now and Marco Del Pino just tangled with Iiro Johannes Peltoniemi in one such example. Del Pino was all-in for 11,725 with A♣ Q♥ and looking to get there against his opponent's pocket tens.
The A♥ K♣ J♠ flop gave him the lead, but also meant that Del Pino didn't want to hit his kicker and Peltoniemi didn't want to hit a set. The 8♥ K♥ turn and river saw Del Pino's hand hold and he survived. –NW
3:52pm: It's a double up for Murgia
Level 7: Blinds 300/600 (ante 100)
Alexandre Francois Murgia has just secured a double up and it came at the expense of Anders Henningsson. Both players had hit big by the turn, on a 5♠ 7♥ A♦ J♣ board, which is when the two got it in.
Henningsson A♣ J♥
Murgia 7♠ 7♦
Henningsson's top two pair was drawing thin against Murgia's set and the 5♦ river was no help. Henningsson counted out 41,050 to pass over and Murgia has at least 85,000 in front now. –LY
3:50pm: Yerby falls to Rusu
Level 7: Blinds 300/600 (ante 100)
After Alexandru Rusu opened to 1,500 and got one caller, Jay Yerby peeked down at the Q♦ K♦ and moved all in for 7,825. Back to Rusu, he made the call and the other caller folded.
Rusu turned over the 8♣ 7♣ – not what you'd expect someone to call off a a third of their stack with – but he must have known something as it hit a pair on the 4♦ 5♥ J♠ 8♦ 5♣ board.
Yerby said goodbye, and Rusu now sits with 27,000. –JS
3:40pm: Aces over nines
Level 7: Blinds 300/600 (ante 100)
It was aces in the hole for Christopher Kyriacou and after an open, he found himself in the ideal spot…facing an all in from Steve Watts. Not such an ideal spot for Watts though, as this is his second entry into the Main Event and it was his tournament life on the line.
The 5♦ 3♣ Q♣ 4♦ 7♣ board didn't change anything and it's a nice addition to Kyriacou's stack, who moves up to around 60,000. –LY
3:35pm: Take a deep breath
Level 7: Blinds 300/600 (ante 100)
More eliminations to tell you about. Quite a few actually!
This lot are out:
Formwe rugby pro Andrew Goode, Elliott Hayes, Paul Muehlthaler, Mark Shepherd, Manuel Bardon, Steven Cole, Firas Nassar, Josef Snedberg, Marc Brazier, William Picot, Jogvan Kristiansson Glerfoss, Christodoulos Adamou, Alejandro Perez Torres, Vamshi Vandanapu, Adam Cowley, Sandiep Singh Khosa, Marian Strachinescu, Steve Watts, David SandfordM Angel Delgado, Tudor Ragalie, and Thomas Ward. –JS
3:25pm: Moorman reads it right
Level 6: Blinds 250/500 (ante 75)
While we're used to reading Chris Moorman (his books at least), in this hand it was Moorman's reading skills that were being tested.
Anthony Bonan limped from the lojack and Duncan McLellan called from the small blind. Moorman checked his big blind option and the three went to an A♣ Q♥ 3♠ flop, which checked to Bonan. He tossed in a 1,000 chip, and only Moorman would match the bet.
The dealer burned and turned the 10♥ and Moorman checked it over again. Bonan continued for 2,500 which got another call, bringing the J♦ on the river.
There was four to a straight out there now, and Moorman checked a final time. Bonan counted out some chips and made it 6,000 (he actually tried to make it 6,500, but it was a string bet). Moorman had a think for around twenty seconds before making the call. Bonan tapped the table and mucked his hand, meaning Moorman didn't even have to show.
He's up to 52,000 now, while Bonan drops to 16,000. –JS
3:20pm: Tillstrand takes from Brkic
Level 6: Blinds 250/500 (ante 75)
Samir Nasser Tageldin kicked things off with an open to 1,600. He found two callers; Carl Tillstrand, who flatted behind and Nenad Brkic who peeled in the big blind.
The flop ran out A♠ 9♣ 2♣ and following a check from Brkic, Tageldin continued for 2,300. When Tillstrand called, Brkic upped it to 7,500. This was enough to push off Tageldin but Tillstrand wasn't going anywhere just yet.
The turn was a 7♣ and this time both players opted to check. The river came 10♥ and Brkic set 4,000 in over the line. When Tillstrand called, he turned over A♦ 10♠ . The river had saved him, as up to that point he had been trailing to Brkic's A♣ K♦ . –LY
3:10pm: Simpson-Daniel busts in sick spot
Level 6: Blinds 250/500 ante 75
We're one rugby international down as James Simpson-Daniel has been sent for an early bath after losing a sick hand against Jack Hardcastle. It was Simpson-Daniel who started the action, he made it 1,200 to go from under-the-gun+1 and picked up calls from Hardcastle and Arkadi Kilman.
All three players checked the 4♦ A♥ 9♣ flop and the K♥ landed on the turn. First to act, Simpson-Daniel came out firing for 3,000 and Hardcastle was the only caller. The 10♦ completed the board and Simpson-Daniel bet again. This time the price of poker was 4,000 and Hardcastle remained deep in thought before making his move. He raised enough to set Simpson-Daniel all-in – the ex-Gloucester winger had a further 15,050 behind – and Simpson-Daniel went into the tank. He thought for about 20 seconds, checking his remaining stack as he did so, before nodding and committing his chips. Hardcastle turned over Q♥ J♥ for the nuts and Simpson-Daniel showed that he'd been ahead to the river with A♠ K♣ . He wished the table good luck as he left, Andy Goode, who was sat to his direct left is still in, he's got 8,450. –NW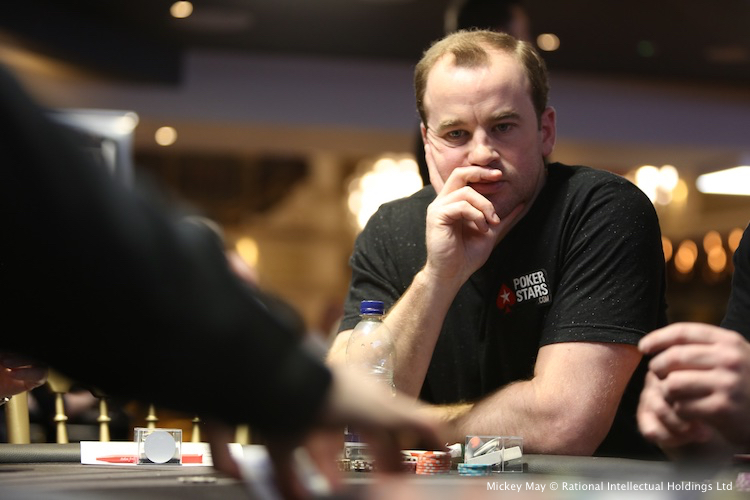 James Simpson-Daniel
2:55pm: Double KO for Lindsay
Level 5: Blinds 200/400 (ante 75)
Katie Lindsay has just felted two players in one foul swoop.
Jordi Torner was short-stacked and all-in with the Q♠ J♦ , Tuomo Niskanen was all-in with the K♦ J♣ , and they both trailed Lindsay's A♠ Q♥ . The board ran out 3♣ A♦ 2♠ 3♦ 8♦ pairing Lindsay's ace, and eliminating the other two.
She's up to around 55,000 now. –JS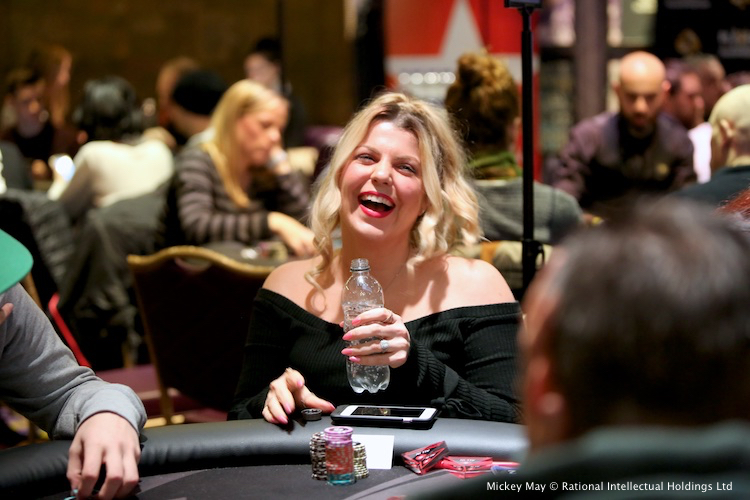 Katie Lindsay
2:50pm: It's all go
Level 5: Blinds 200/400 (ante 50)
There were all ins all over the place on table 1 just now. First off we saw a three-way all in between Alex Lynskey, Michal Lubas and Georgios Phiniotis.
Phiniotis 9♥ 9♦
Lynskey K♠ J♣
Lubas K♦ J♥
With Lynskey and Lubas taking some of eachother's outs, Phiniotis was ahead. The board came A♣ 5♦ Q♥ 5♣ Q♦ and Phiniotis's pair was still good. He had both players covered too, giving him a double knock-out. We have to say goodbye to Lynskey and Lubas, who were both on their second entry.
Immediately after, there was another all in situation and it was a classic cooler for Ilie Januszewski, whose Q♠ Q♣ were dominated by Robert Schiffbauer's A♠ A♦ .
The board didn't improve Januszewski's hand and as he was the all in player, he leaves the cardroom for now but still has a one re-entry that he could use for Day 1D, so we may not have seen the last of him just yet. –LY
2:45pm: Checking in with the Platinum Pass winner
Level 5: Blinds 200/400 (ante 75)
We just took the stroll up the Alma's Room here at the Hippodrome to see how last night's Platinum Pass winner Dragos Trofimov is getting on. Not much to report; he's still around starting stack.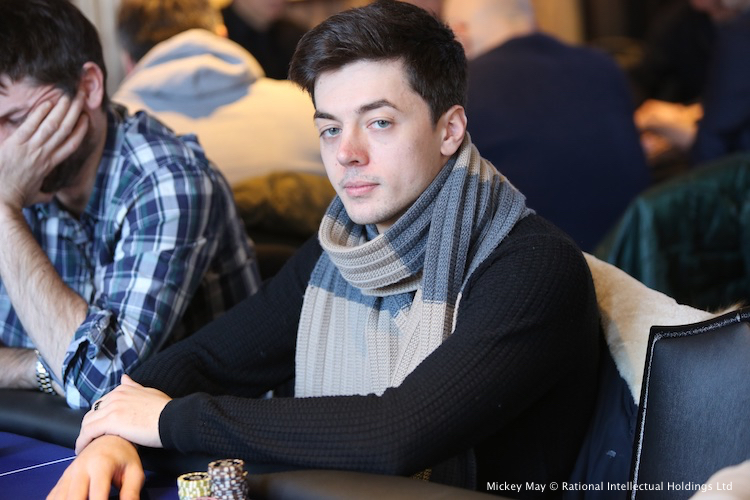 Dragos Trofimov
We did catch a couple of hands on his table though. First, Riccardo Durso doubled through Sylvain Mazza with the J♣ 9♣ versus A♦ K♦ . Durso hit a flush to bring his chips up to 33,000, and drop Mazza to 13,500.
He'd get a few chips back in the next hand though. Durso limped under the gun which got two callers (including Mazza), before David Sandford squeezed it up to 2,500. Only Mazza called, and the two saw a J♣ 2♣ 6♣ flop, which checked through.
The turn was the A♠ , and Sandford led for 3,500 when it checked to him. Mazza didn't budge though, and the 10♥ completed the board. Check check.
"Jack," announced Mazza. "You have a jack?" asked Sandford a little surprised, before he mucked.
That brings Mazza back up to around 20,000, while Sandford has 36,000. –JS
2:40pm: The fallen
Level 5: Blinds 200/400 (ante 50)
With the faster blind structures today, the bust-outs are coming in thicker and faster.
Deniss Vinogradovs, Ilie Januszewski, Otto Castle, Cody Wagner, Evaldas Aniulis, Dimitros Angelakos, Samuel Mika, Pavlos Benakis, Alex Lynskey, and Michal Lubas are all out. –JS
2:30pm: Moorman meet McLellan
Level 5: Blinds 200/400 (ante 50)
One is the winningest online tournament player of all time, the other is a two-time UKIPT tournament champion. Today, they are sat side by side. It's fair to say that Chris Moorman and Duncan McLellan have fairly different playing styles, so it'll be interesting to see if they tangle in any pots today. It's Moorman who has position, could that prove crucial? –NW
2:22pm: Action resumes…but first
Level 4: Blinds 150/300 (ante 50)
Players have re-taken their seats, but before the cards got back in the air there was a quick announcement and video presentation about the Platinum Pass the winner of this event will receive. –JS
2:02pm: Break time
Take a 20-minute break and then join us back here. –JS
1:55pm: Busted!
Level 4: Blinds 150/300 (ante 50)
No, I'm not talking about the boyband.
Giuseppe Langmann, Mohammed Ifzail, Samy Ouellani, Stephen O'Keeffe, Kevin Steward, and Petrus Schouten are all out though, so perhaps they could form a band instead.
1:50pm: Lynskey's aces cracked
Level 4: Blinds 150/300 (ante 50)
Ouch. A bit of bad luck has seen Australia's Alex Lynskey's stack fall to just 5,000.
His pocket aces were cracked by Raffaele Losito's pocket sixes, which had flopped a six. Losito is up to 39,000 now. –JS
1:45pm: Goulder's building
Level 4: Blinds 150/300 (ante 50)
Viktorija Goulder has got off to a great start in the Main Event, having more than doubled her stack.
In her latest pot, she opened from early position and picked up four callers, including Katie Lindsay and Jordi Torner (who finished third in yesterday's High Roller), in the small and big blind. They all saw a K♠ Q♠ J♣ flop which checked around.
The turn was the 6♣ and when it checked to Goulder she made a delayed c-bet of 3,500. Only Torner called, bringing the 8♠ on the river. Both opted to check it down, and Goulder took it down with her A♥ K♣ for top pair. Torner showed the 10♠ 5♥ for a busted up-and-down straight draw.
He's down to 15,000, while Goulder is up to 62,000. –JS
1:35pm: Another early exit for Andreev
Level 3: Blinds 100/200 (ante 25)
Andrey Andreev was the first player to bust Tuesday's High Roller Day 1 (he'd ultimately cash it on his second bullet though), and the first player to be eliminated yesterday in the Main Event Day 1B. Sadly for Andreev, he's made it three early exits this week.
Picking up the action on a pretty looking Q♣ Q♦ Q♥ flop, four players checked to the 9♦ turn. Andreev checked the cutoff, and the player on the button led for 1,600. Dan Jones called from the small blind, and Alexandru Rusu folded his big blind.
The 4♠ then completed the board, and it checked to Jones. He took over the betting lead making it 2,600, and Andreev called all-in for his less than 2,000. The button folded.
Jones turned over the J♦ J♣ for queens full of jacks, and Andreev didn't like what he saw. He through his 3♠ 3♦ into the muck (showing it as he did), and made a swift departure.
A nice start for Jones then, who's up to around 45,000 now. –JS
1:25pm: Early showers
Level 3: Blinds 100/200 (ante 25)
Marcin Chielewski, Christos Betsis and Giuseppe Caridi will ALL need to find another way to spend their afternoons, as all three have been eliminated early on here today. If they haven't already played another flight, they'll be able to take another shot in tonight's Day 1D which kicks off at 6pm. –JS
1:15pm: Husband and wife
Level 3: Blinds 100/200 (ante 25)
On one table, Chris Moorman opened from early position and it folded around to the big blind who called. They saw a 9♦ 4♥ 4♦ flop, and Moorman took it down with a 450 c-bet when it checked to him.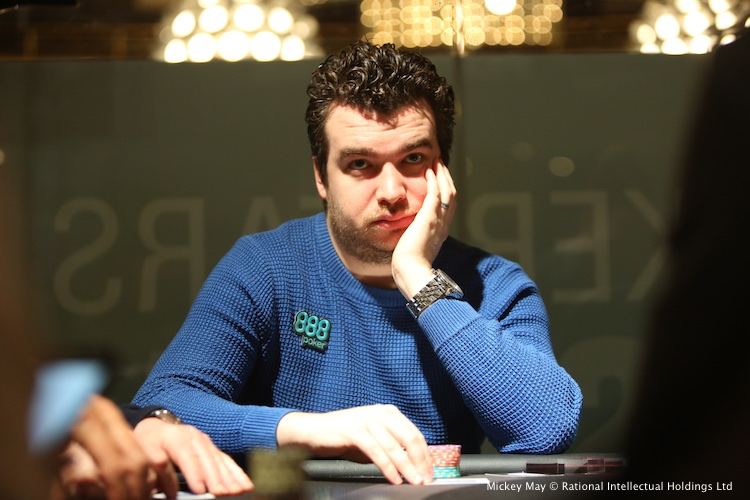 Chris Moorman
We then turned around and saw Katie Lindsay (who happens to be Moorman's wife) in a more interesting pot herself. There was a 2♦ 7♦ 9♦ flop out there, and Lindsay led out from the small blind seat for 1,500. Touomo Antti Niskanen was on the button and popped it up to 5,100, only for Lindsay to come back over the top to 16,500!
Niskanen made a quick fold, and Lindsay took it down. –JS
12:55pm: Valeri vanquished
Level 2: Blinds 75/150
That player who busted at the beginning of Level 2? We can now confirm it was Marco Valeri. That means that Jogvan Kristiansson Glerfoss – the man who took Valeri's chips – is an early chip leader.
This just in: We've had another elimination. Local regular Terry Jordon is out. –JS
12:45pm: Second level action
Level 2: Blinds 75/150
Y'know, when the blinds are small and players are still getting comfortable in their chairs let alone at their poker tables, it's not always easy to find some exciting early pots.
Today is no exception. We saw Michael Kane open the button to 350 when it folded to him, and retired rugby pro James Simpson-Daniel made the call from the small blind. They went to a K♣ 8♥ 3♦ , and Simpson-Daniel checked it to the raiser. Kane took it down with a c-bet.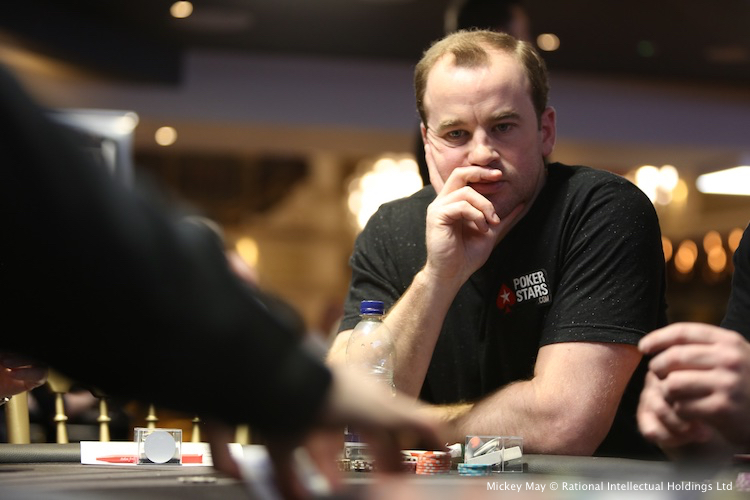 James Simpson-Daniel
There has been a bust-out though; sadly we just didn't catch it. We'll be able to tell you the name of the unfortunate soul soon, as players are still flooding in and our list of names is being updated constantly.
I can tell you that both Chris 'the winningest online tournament player in history' Moorman and UKIPT3 London champ Thomas Ward are in the mix today, as is Katie Lindsey. PokerStars Blog's own Dan Jones is also playing, as he won a package for this event. –JS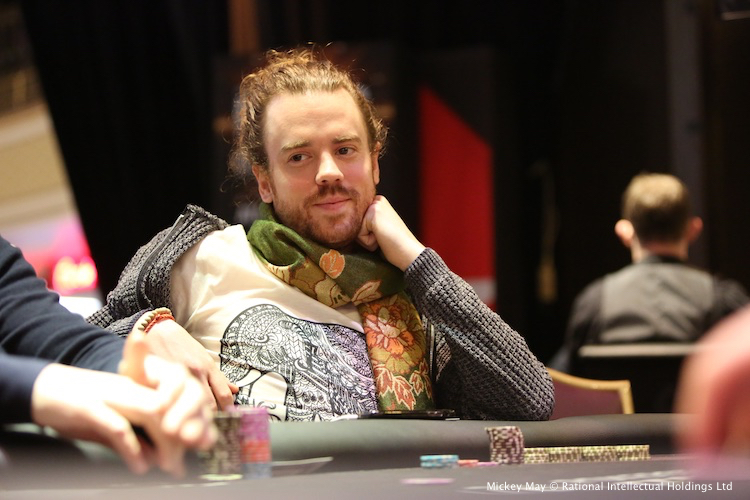 Thomas Ward
12:25pm: More names for the list
Level 1: Blinds 50/100
The most recent Platinum Pass winner, Dragos Trofimov, has now officially taken his seat in this Main Event. Joining him are PokerStars Live at the Hippodrome sponsored-players Kelly Saxby and Chris Gordon, both of whom are taken another shot having played and busted yesterday.
We've also got yesterday's High Roller final tablist Evangelos Bechrakis, Hong Wang, Guy Taylor, and the ever-entertaining Andrey Andreev – also firing his second bullet into this tournament. –JS
12:20pm: Rugby Union reunion
Level 1: Blinds 50/100
Out on a table by the bar, you'll find two former Rugby Union players. But Andy Goode and James Simpson-Daniel aren't just at The Hippodrome for a pint; they're here to play, and funnily enough the two have drawn seats right next to each other!
Goode spent most of his career playing for Leicester Tigers, and played for England 17 times during his 18 years as a professional. Simpson-Daniel spent the entirety of his career at Gloucester Rugby, as well as making 10 appearances for England. –JS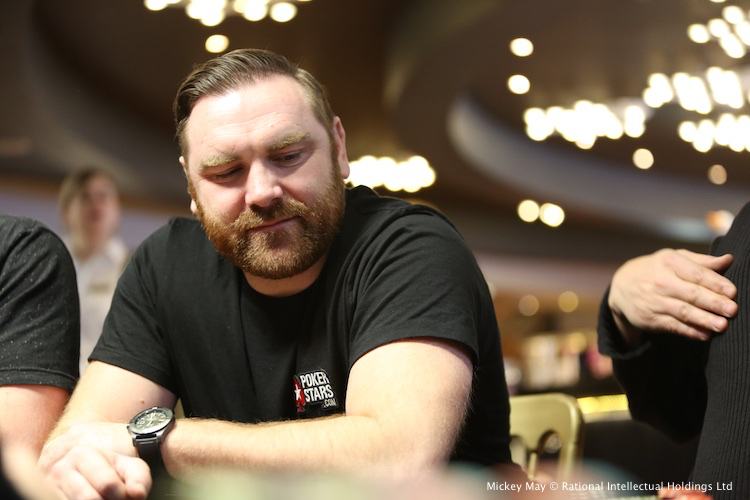 Andy Goode
12:07pm: Early birds
Level 1: Blinds 50/100
A quick scan around the main room and we've seen a few familiar faces. Some of those sat down at the beginning of play include two-time UKIPT champ Duncan McLellan, as well as Paul Newey, Robbie Schiffbauer, Dan Wilson, and Ilana Belsky. Yesterday's High Roller champ and Platinum Pass winner Dragos Trofimov is also in the building, but hasn't taken a seat just yet. –JS
12:02pm: Shuffle up and deal
Level 1: Blinds 50/100
Cards are in the air here on Day 1C, with 143 players showing on the screen and dozens more still lining up to take their seats. –JS
10:30am: Speeding things up on 1C
Ready for another round?
After yesterday's jam-packed Day 1B session, we're gearing up to go all over again. Today will see the speedier Day 1C and Day 1D flights at the Hippodrome Casino in Leicester Square, with 1C kicking off at 12pm, and 1D beginning at 6pm. Both flights will have 12 30-minute levels (instead of 45 minutes), and the PokerStars Blog will be with you through both bringing you exclusive live updates.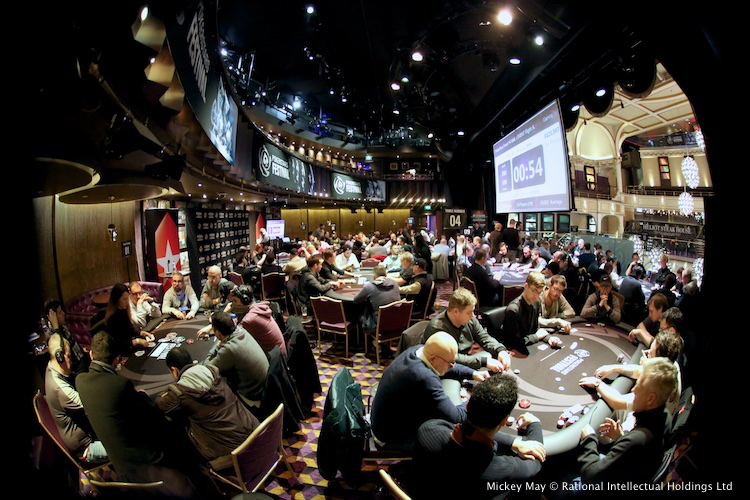 Expect another busy poker room today
This page is all about 1C. Yesterday we saw 280 players take a seat, and when the chip bags were brought out just 80 remained, led by Stylianos Nykteridis (264,600), Fraser MacIntyre (262,300), and Robert Scott (227,300). Team Pro Jake Cody made it through with a top 10 stack too (173,100). They're all behind the chipleader from Day 1A though, as Karan Dewan bagged up 273,000 in his session.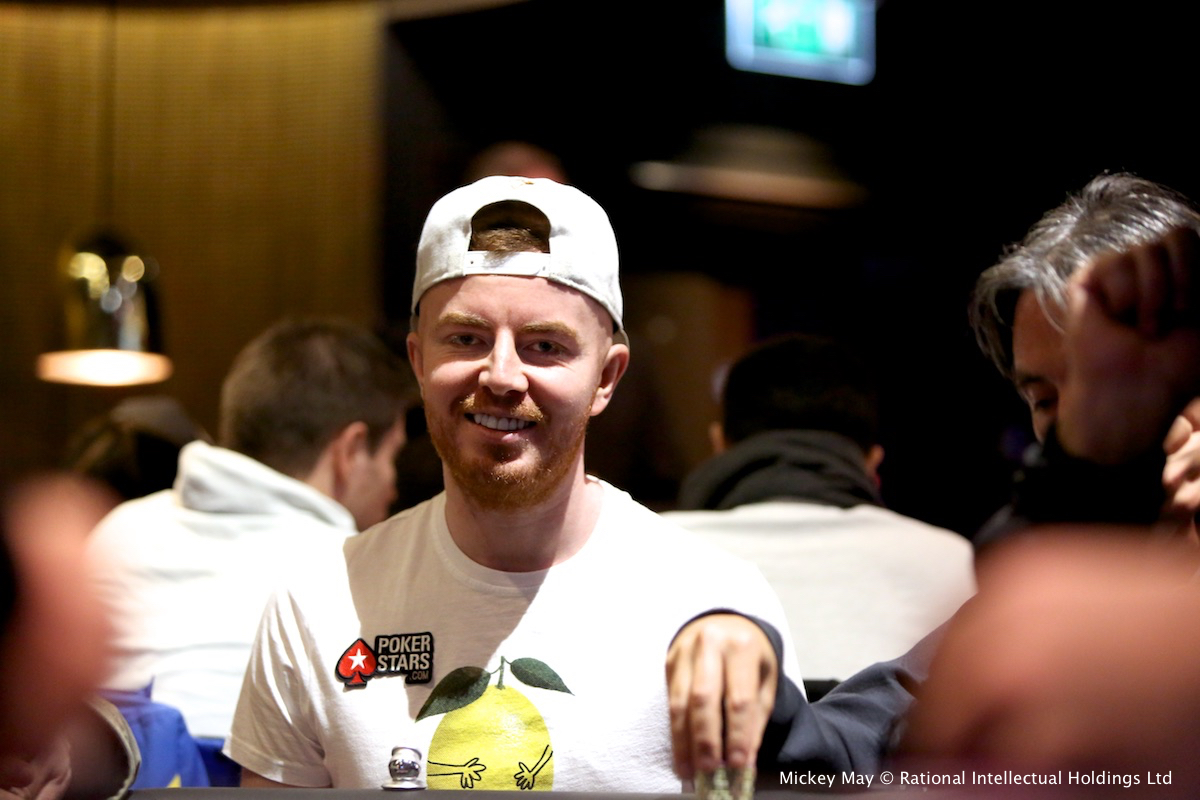 Cody had a good session yesterday
Expect plenty of pros, qualifiers, and weekend warriors to be out in force today, plus anyone who has fired a bullet into Day 1A or 1B has the opportunity to try again in today's flights. This is a single re-entry £990 Main Event, after all.
Make sure you join us here at 12pm when the action gets underway. –JS
PokerStars Blog reporting team on the £990 Main Event: Jack Stanton, Nick Wright and Lisa Yiasemides. Photography by Mickey May.
---
Opening a PokerStars account is easy. Click here to get an account in minutes.
---
Back to Top