Luo takes charge of 2018 Red Dragon in Macau
If history was to be believed, the MPC Red Dragon Day 1B was always likely to produce a bumper field…and so it proved. We were impressed by yesterday's showing of 280 players for Day 1A but today's 349-strong contingent handily eclipsed that. Hundreds of players from around the globe homed in on PokerStars Live at The City of Dreams to take their place at the felt and fight for the trophy, as well as that sweet added value of an additional US$30,000 Platinum Pass PokerStars will be awarding the winner.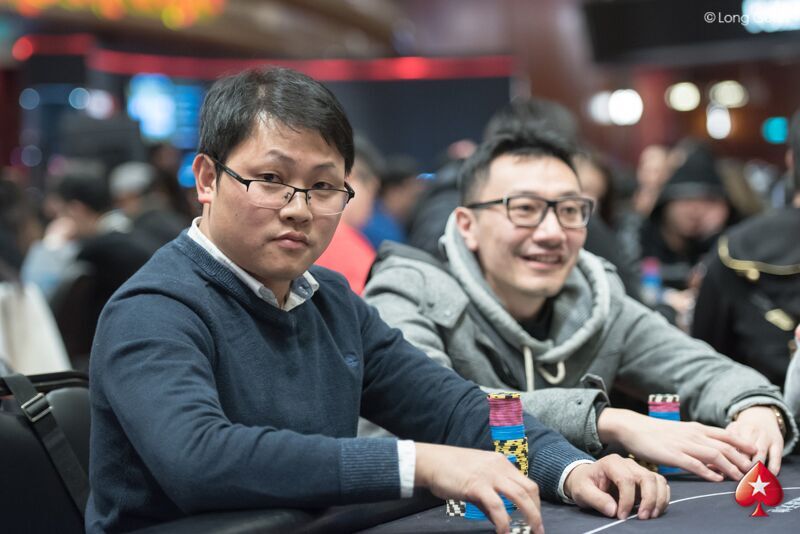 Linaqin Luo – the man is all business.
It was a fun day full of keen poker players, bidding to outplay each other at the felt. Bluffs, re-bluffs and big moves abounded – you'd have an easier time finding a nit on Vin Diesel's head than here at the Red Dragon. After twelve incendiary levels, there were just 120 players left standing and it was Chinese businessman Lianqin Luo who stood at the summit. His 181,200 marked him out as the overall leader of both opening days of the Red Dragon Main Event. His dominant position was briefly threatened by a late surge from Pei Yeng Deng, who ultimately fell short having accumulated his own fulsome stack of 172,800 – good for 2nd place in the counts.
The day opened with great promise – a number of star names scattered liberally throughout the field. Ex-Premier League footballer Anthony Gardner was one of those though the day was tough going for Gardner, who bagged up slightly less than his starting stack(16,100) at the close of play. "I just got no hands!" he told us. He'll be back working hard to spin that up on Day 2.
Another big star joining us was Team PokerStars Pro Celina Lin, who has fond memories of this Red Dragon tournament, having won it on two previous occasions in 2009 and 2012. Unfortunately, for once a deep run eluded Lin, the day ending explosively as her hopes of a unique Red Dragon treble were dashed in the final few moments of the day.
Earlier on, we spoke to Lin about the Platinum Pass packages being handed out by PokerStars during the MPC events. She talked to us about the additional value both here and across the APPT schedule in March, where another four packages are being handed out.
You can watch the video of that interview below:
Qiuming Qiu was another illustrious name looking for Red Dragon glory. Qiu joined the field as the returning champion, having won the 2017 iteration of the Red Dragon but he couldn't match his performance from last year, crashing out midway through the day.
All in all, Day 1B was everything we hoped and expected – big pots, big names and great fun. If we thought today's field had the casino close to capacity, we are reliably informed that tomorrow will be – to quote informed locals – "crazy." Day 1C tends to be the busiest of the three opening days so we fully expect the drama to be ratcheted up to new and even more exciting levels. Exactly how that is possible we aren't quite sure but with a slew of fresh talent, a guarantee of a number of big name pros and the possibility of an even bigger field, we know it will be a day you won't want to miss.
The play starts at the later time of 7pm and as usual we'll be back to cover all the action as it happens. Join us then as the road to the Red Dragon champion continues!
To view the end of day chip counts, click here.
Day 1B Coverage Archive
• PLAYERS: 129 (of 349)
• END OF DAY 1A CHIP COUNTS
• ALL MPC INFO | DOWNLOAD POKERSTARS
• Follow @PokerStarsBlog on Twitter

---
10:45pm: End of Day 1B
Level 12: Blinds 800/1600 (ante 200)
Play has concluded for Day 1B of the Macau Poker Cup 28 Red Dragon Main Event.
Players are currently in the process of bagging and tagging their chips. The tournament board currently reads 129 players remaining but there will likely be a few more eliminations that have yet to be tabulated.
Lianqin Luo looks to be our Day 1b chip leader with 182,200 but stay tuned for a complete recap and a more detailed look at the chip leaders.
10:40pm: Late exit for Celina Lin
Level 12: Blinds 800/1600 (ante 200)
Team PokerStars Pro Celina Lin had been running on fumes for the last few levels and decided to make a stand in the last few hands of the day rather than coasting into Day 2 with a short stack.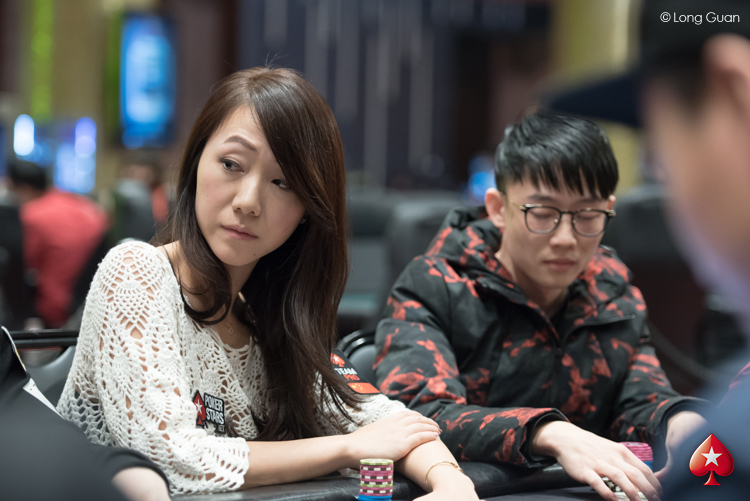 Celina Lin
In her final hand Lin open-shoved for about 13,000 from late position and the small blind decided to look her up.
Lin had J♥ 10♣ but she was in tough against A♦ Q♣ .
The flop was not what the PokerStars Pro wanted to see as it came A♥ 6♥ 4♣ . The board then bricked 10♠ and then 4♥ to eliminate Lin. The two-time Red Dragon winner will not make it three this time around.
10:35pm: Six more hands
Level 12: Blinds 800/1600 (ante 200)
We've reached the final portion of the evening. Organizers just paused the clock and announced there will be six more hands before play is called for the evening. –AC
10:25pm: Yip's Tip is to win flip!
Level 12: Blinds 800/1,600 (ante 200)
Byrone Yip just raised the button with A-K, facing a big shove from the small blind for most of his 30,000 ish stack. He decided he wasn't folding, made the call and found himself up against jacks for his tournament life with a 70,000+ pot in the making.
The board ran out Yip-friendly, coming K♠ 10♠ 9♥ 5♠ 10♥ leaving Yip a fair bit closer to the chip leaders at this stage and laughing jovially with his table. –RS
9:55pm: Hanyang Li gets caught
Level 12: Blinds 800/1600 (ante 200)
A few posts ago we told you about a hand where Hanyang Li benefited from non-stop aggression but this time around it got her into trouble.
Li opened a pot for 3,500 from UTG and the opponent on her left called but everyone else got out of the way.
The flop came 9♦ 8♥ 5♦ and Li checked but her opponent pushed 3,000 into the pot. Li called and the turn came K♣ .
This time around Li was the aggressor and fired 8,000 into the pot. Her opponent called and the board finished with the 10♥ on the river.
Finally Li pushed a heap of yellow chips into the middle worth a total of 15,000. That sent her opponent into the tank but he eventually emerged with a crying call and seemed convinced she had him beat.
Instead Li showed a modest A♥ 10♣ , which her opponent easily beat with 9♣ 9♠ in the hole.
It was a significant blow to Li but her 100,000 stack is still plenty compared to the rest of the field. –AC
9:43pm: Bullets hasten Istomin demise
Level 11: Blinds 600/1,200 (ante 200)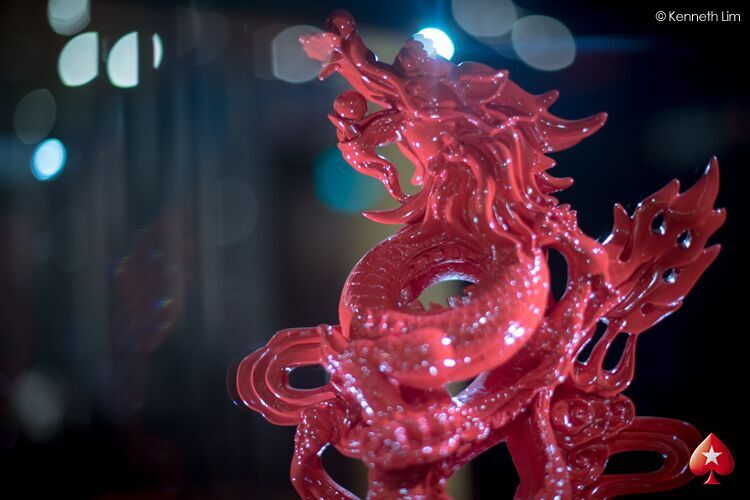 Everyone wants a pet dragon.
Aleksei Istomin won't be holding the Red Dragon trophy aloft in four days' time. He lost most of his stack running ace-jack into aces and was left with a paltry 800 chips which went in the next hand on the button. Both blinds completed and come the river of the checked-down 10♠ 6♠ 2♦ 3♣ K♥ board, Istomin showed Q♦ 7♦ which was no good versus the small blind,who'd spiked a pair with J♠ 6♣ .
His elimination leaves 145 left from the intial 349 as we close in on the final level of the day. –RS
9:20pm: Yang and Yang
Level 10: Blinds 500/1,000 (ante 100)
No Ying in sight for this hand as two players called Yang faced off at the felt. Yang Ye was the player whose tournament was on the line, short and in the big blind, he faced a raise for most of his stack from Yilin Yang in the small blind.
We think she may have raised blind because when Ye reluctantly put all his chips over the line and she called the rest, she seemed genuinely surprised to have found pocket queens, letting out a little yelp of excitement!
Ye looked ready to go as he turned over 9♣ 2♠ and although he picked up a bit of equity on the turn of the J♥ 5♦ 7♣ 6♠ 4♣ board, the river failed to comply and he was left saying his goodbyes and planning the rest of his night in Macau.
We're sure he can find some entertaining diversions amongst the colourful sprawl of high end restaurants, luxury shops and gaming tables throughout the building and beyond. Enjoy yourself!
Yilin Yang meanwhile moves to 25,000. –RS
9:15pm: Hanyang Li snares a monster pot with no showdown
Level 10: Blinds 500/1000 (ante 100)
Hanyang Li and Tianlong Guo just got into a raising war and, in the end, Guo blinked first.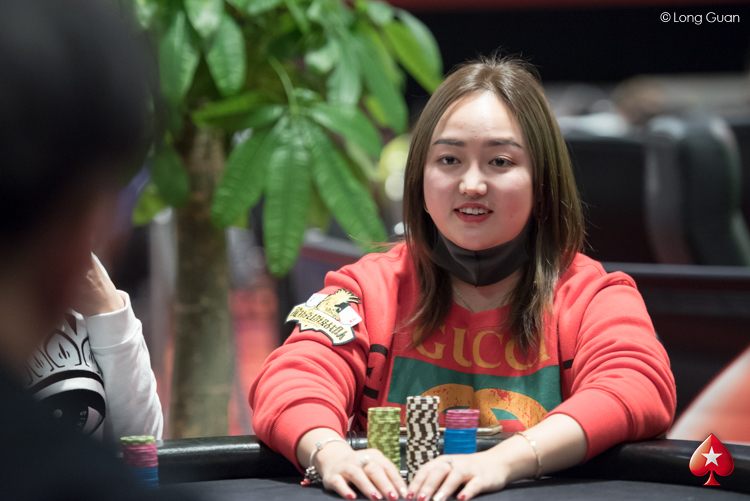 Hanyang Li
Guo opened the pot for 2,500 UTG but Li 3-bet to just over 5,000. Guo called and the flop came J♦ 9♠ 5♣ . Guo checked and Li bet 5,000, which Guo called.
The dealer flipped over the 10♦ turn and once again Guo checked and Li proceeded to fire 13,000 into the pot. That got yet another call from Guo and the river fell 3♠ .
For the last time Guo checked and Li brought out the big guns with a triple barrel bet of 25,000.
Guo thought for a long time and at one point even counted out a call in chips but in the end decided to throw his hand into the muck.
Li soared to over 120,000 chips after the hand and the rest of the table was left to ponder what each player might have had. –AC
9:10pm: Finally! Chi makes his flush
Level 10: Blinds 500/1,000 (100 ante)
Qiao Chi and Clarence Oh Chung Seng got in a friendly bout of verbal jousting during a preflop all-in encounter.
Chi was the player at risk after moving all-in for 12,200 from early position and he was called by Seng in the small blind.
Seng: Q♠ Q♦
Chi: A♥ Q♥
As the flop fell 8♥ J♠ 3♥ Chi was shouting for the A♣ and Seng was crying for his hand to hold. Chi then switched to calling for a heart as the turn came as 7♥ . "Finally!" yelled Chi as the J♥ river brought the flush to crack Seng's kings.
"You're so lucky!" commented Seng as he paid his debts. –MC
8:55pm: Rainbow Stack, Rainbow Jing
Level 8: Blinds 500/1,000 (ante 100)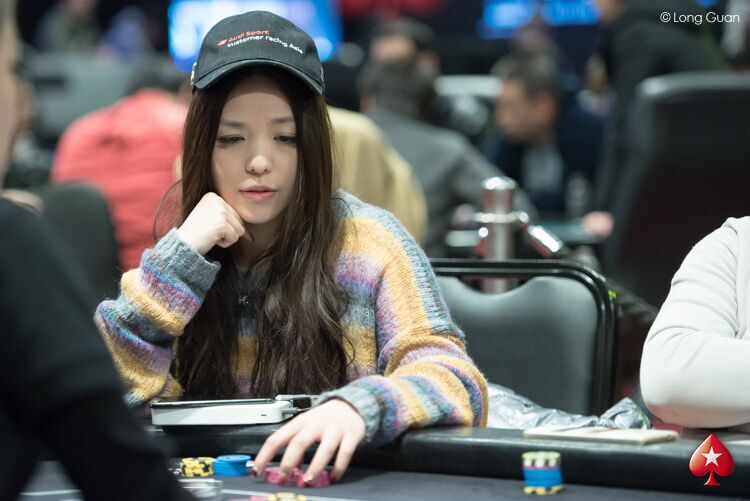 Chen running through her full spectrum of moves.
Jing Chen has been grinding away with great success so far today, her colourful rainbow sweater close to matching her stack which is comprised of many chips of all denominations.
As we counted her stack, she bolstered it yet further, limping UTG before frightening off all opposition post-flop with a bet of 1,600 on the K♣ 8♣ 4♦ board. With that hand she moves to over 40,000 and one step closer to that pot of gold we assume she is chasing! –RS
8:35pm: Last break, sprint for the finish
Level 9: Blinds 400/800 (ante 100)
Players just headed out on their last 15-minute break of the day and the end is in sight. All the players who make it through the final three levels of play will qualify for Day 2. It's clutch time, folks.
8:30pm: Ye-ha, sixes are good
Level 9: Blinds 400/800 (ante 100)
Yi Ye won the last hand at table 24 before it was broken into the field.
He was on the button and call an early position raise from Shengyong Wang. The flop fanned Q♥ 3♥ 2♥ and Wang continued for 3,200. Ye scratched his head, checked his cards, and made the call. He called an additional 5,500 on the 2♣ turn before he snap checked behind on the 3♠ river.
Wang opened a busted flush draw with A♥ 8♣ and dropped to 25,000 after Ye tabled his 6♥ 6♦ to rise to 57,000. –MC
8:15pm: Anthony Gardner gets lucky, doubles up
Level 9: Blinds 400/800 (ante 100)
You have to be lucky to be good. It's a statement that's doubly true in poker.
Former footballer Anthony Gardner just got a bit of luck from the poker gods.
Gardner open-shoved for 15,875 from mid-position and the player on his direct left re-shoved all-in for twice that amount. Everyone else folded and Gardner's tournament life was on the line.
Gardner was going to need some help as his A♠ Q♥ was crushed by his opponent's K♦ K♥ .
Fortunately for Gardner he didn't have to wait long as the flop came A♥ 6♣ 5♥ . The turn came 7♣ and finally the board finished with the A♣ to really drive the point home.
Gardner doubled up to over 32,000 thanks to the trip aces and is back in the thick of it. –AC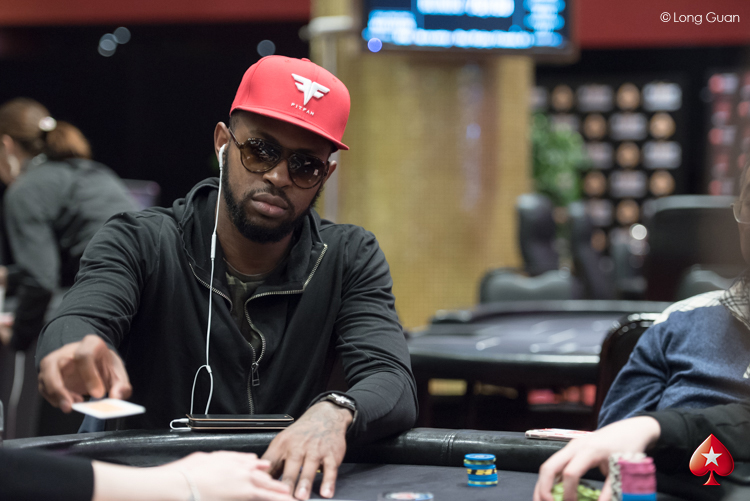 Anthony Gardner not folding out of the tournament just yet.
8:07pm: Yan Huang'ed
Level 9: Blinds 400/800 (ante 100)
Zhuang Yan just tasted the bitter steel of the variance sword as it cut him from the player's roster – his K♠ 9♦ failing to connect with a board of 6♣ 3♠ 2♣ 10♠ 6♦ versus Wensheng Huang's pocket sevens. It's a tough ask to win a tournament without getting the run of a few of those coin flips. Yan's time with us is over in the Red Dragon, but Huang has just given his chances of still being in with a shout when we return for Day 2 a huge boost. –RS
7:58pm: Hwang Wang'ed
Level 8: Blinds 300/600 (ante 100)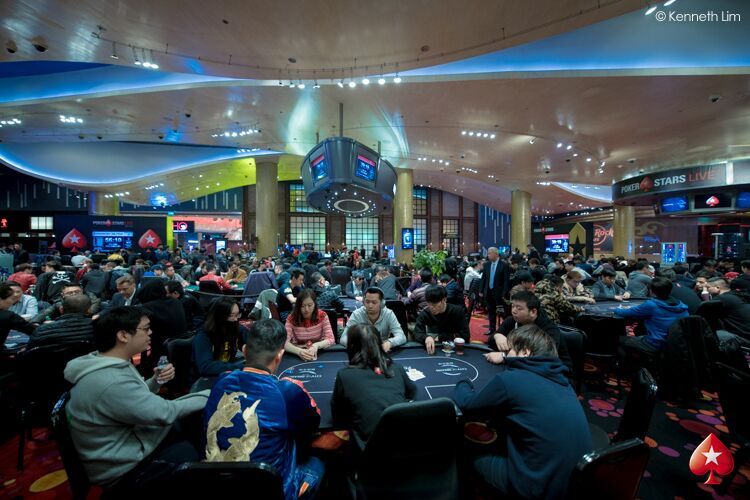 The blinds are whittling down the field
Binrui Wang and Jun Ho Hwang just faced off in a monster pot with a fortune of chips scattered in the middle – it looked like around 30,000 in total.
Hwang held A♠ K♦ and Wang pocket threes. The board drew a series of gasps from the rest of the table, coming A♣ 5♥ 3♦ to give Wang a crucial set (eventually) and by the Q♥ turn Hwang was already drawing dead. The 10♠ arrived on the river much to no one's interest – Hwang already packing and Wang already stacking (up his 36,000 chips)… — RS
7:48pm: Wenqing dethroned
Level 8: Blinds 300/600 (ante 100)
Wenqing Caiwen's day is done, at least as far as the Red Dragon Main Event goes. He lost a huge pot with K-Q on a Q-J-T board versus pocket jacks and left with a few shreds of hope, he moved all-in on the button for his last 800 in an unopened pot.
Both blinds looked him up and En Zhang eventually showed down an ace on an ace high board – Caiwen mucking to concede the pot and signify defeat. The field shrinks incrementally smaller… –RS
7:35pm: Registration tops out at 349 for Day 1B
Level 8: Blinds 300/600 (ante 100)
We have a final player count for Day 1B of the MPC28 Red Dragon and it appears that 349 players have officially entered the competition.
That's a sizable boost from Day 1A, which attracted 280 runners. Either way we're on track for a huge Day 1C and a massive overall prize pool.
Also of note is that there are three former Red Dragon champions in the field. Celina Lin (who's actually won it twice), Wing Cheong Chong and reigning champ Qiuming Qin. –AC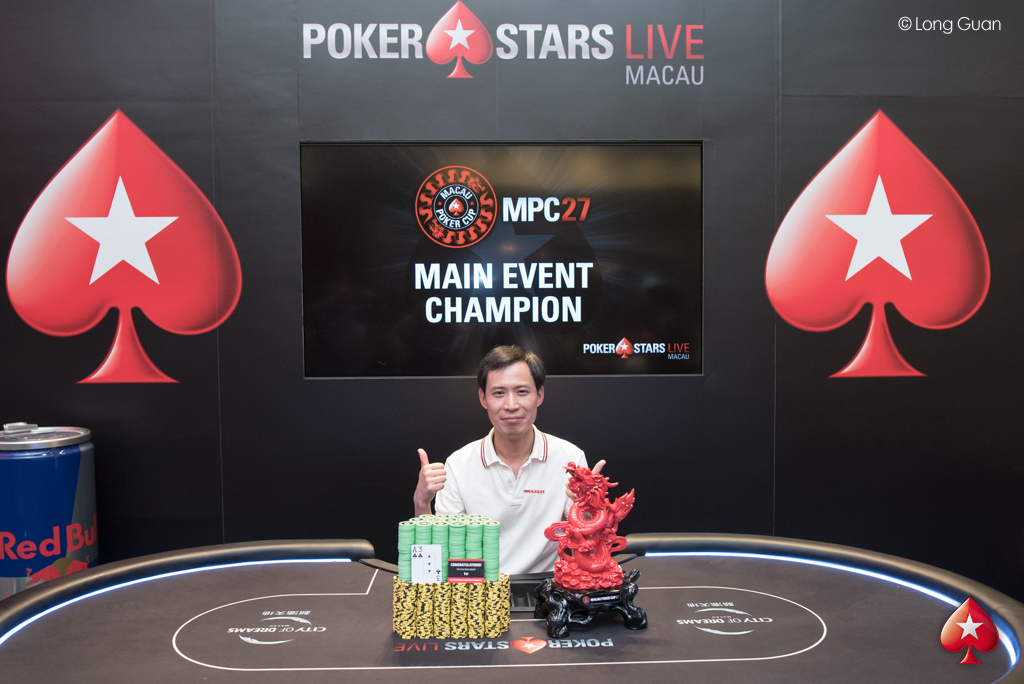 Qiuming Qin looking for a repeat of his own.
7:25pm: Lei Gao goes ballistic thanks to triple up
Level 8: Blinds 300/600 (ante 100)
The relative quiet of the poker room was just shattered by a triumphant exclamation of, "Yeah, yeah, yeeeeeeeeah!" from the midst of the room.
We hurried over to the table and found Lei Gao cheering enthusiastically at the centre of a very cluttered table that included three sets of cards and a complete board. Not to mention a huge collection of chips.
It was easy to see what happened the moment you looked at the table:
Lei Gao: 9♣ 7♣
Opponent 1: A♦ 10♦
Opponent 2: K♦ J♦
Board: J♣ 6♣ 6♥ Q♦ 8♣
Sometimes the old 9-7 suited gets you there on the river. With the massive hand Gao avoided elimination and tripled up to a very healthy stack of 48,000.
Yeah! –AC
7:15pm: He-Man doesn't have the power
Level 7: Blinds 250/500 (75 ante)
Zhiao He was super short-stacked (1,750) and found a great spot to get his stack in, but it ended in defeat for him.
The hand started with a Xingyu Xie under-gun-limp before the button raised to 1,300. He was in the big blind and made his move before Xie tank-raised to 3,300 to successfully isolate him.
He: 7♣ 7♦
Xie: A♠ Q♥
The board ran a Skeletor friendly A♣ Q♣ J♥ 8♣ Q♠ and He made a quick exit. –MC
7:02pm: Life Essard for Tarik
Level 7: Blinds 250/500 (ante 75)
Chaoyun Zhu just sent Tarik Essard packing and the Dutchman's exit can't have been fun.
Zhu raised to 1,100 from early position and Essard moved all-in for his final 7,500 or so. Zhu tanked for some time, twiddling his chips and considering before finally flicking in the additional 6,000 and turning up J♣ 10♣ .
Zhu was marginally ahead with A♣ 5♥ though the hands aren't far off a straight flip in equity terms and Zhu was the man whom the poker gods favoured on this occasion – turning 49% equity into 100% of the chips as the board peeled off to give him the nuts – 9♦ 7♠ 4♠ 8♣ 2♥ . Essard couldn't do anything about it, picking up his coat and melting into the shadows whilst Zhu is on the march – up to 36,500. — RS
6:45pm: Baby Dragon runner-up finisher enters play
Level 7: Blinds 250/500 (ante 75)
Philippine pro Mike Takayama is officially one of the late entrants in today's proceedings.
Takayama put on absolute display of power poker at the final table of the Baby Dragon earlier this week but ultimately fell just short of the grand prize finishing runner-up.
Takayama missed out on a $30,000 Platinum Package to the 2019 PokerStars Players Championship.
Perhaps the near miss will give Takayama a little extra motivation to take down the Red Dragon, which will offer an even bigger first-place prize and another $30,000 Platinum Package.
Takayama is off to a hot start in the Red Dragon as he's already up to 54,000 chips. –AC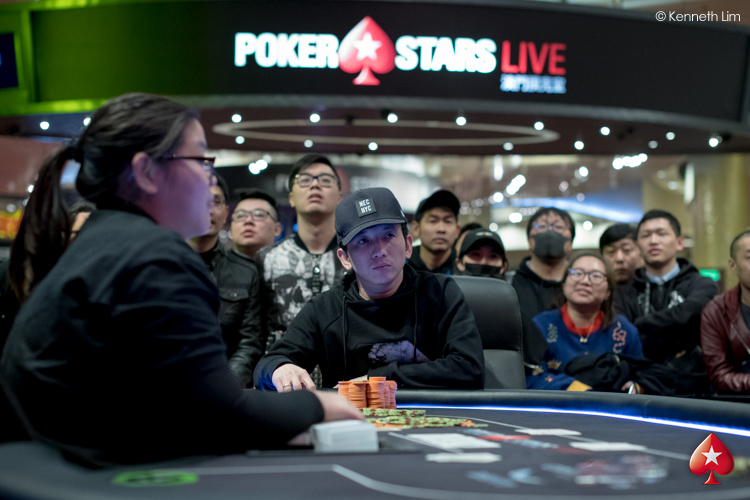 Mike Takayama
6:25pm: Another break, registration closes
Level 6: Blinds 200/400 (ante 50)
We're officially through Level 6, which means registration has officially come to a close. The tournament board currently reads 343 players but we wouldn't be surprised if a few more slid in that aren't currently listed. We'll have an official count momentarily.
Either way blinds are going up and the bustouts are likely to start coming fast and furious style in the next level.
6:15pm: Aces no good for Hong Yang Bian
Level 6: Blinds 200/400 (ante 50)
Hong Yang Bian has been one of the highlights of the early stages of Day 1B with her larger-than-life fur-trimmed jacket, blonde hair and big stack but her chances in this one just took a serious hit.
We joined the action on the turn of a Q♣ 5♦ 4♣ K♦ board with a large stack of chips already in the middle.
Bian checked but her opponent bet 4,300. Hong thought for a second but then said all-in and placed her huge stack of yellow 5,000 chips in the middle.
Bian started to slide the rest of her lower domination chips into the middle but the rest of the table laughed and said there was no need. She was momentarily confused and repeated that she was all-in.
At this point Bian looked up and realized she had her opponent covered by a significant margin and instantly understood what the table was trying to tell her.
Regardless her opponent called and flipped over 5♣ 5♠ for the set. Bian could only shake her head as a meaningless 4♦ peeled off the river.
With that hand Bian dropped to under 10,000 chips and will likely have to make a move soon if she wants reclaim her former glory. –AC
6:04pm: Shuto's Plan Kai-boshed
Level 6: Blinds 200/400 (ante 75)
Kai Shuto just raised to 800 from early position, called in one spot before Liang Fu applied some pre-flop pressure, three-betting to 2,400.
Shuto found a call, the middle player didn't feel like being the meat in the sandwich and folded to leave Shuto and Fu heads up.
Shuto check-called Fu's first 3,000 bullet on the Q♠ 10♠ 2♦ flop but decided she'd shown too much strength when she fired a second 6,000 bullet on the brick 3♦ turn and laid his hand down – his stack reduced to 24,000. Fu meanwhile rises to a handsome 33,500. — RS
5:45pm: Four-bet all-in scares off Celina Lin
Level 6: Blinds 200/400 (ante 50)
Celina Lin's radar just picked up something but she'll have to wait for another day to find out if her read was on.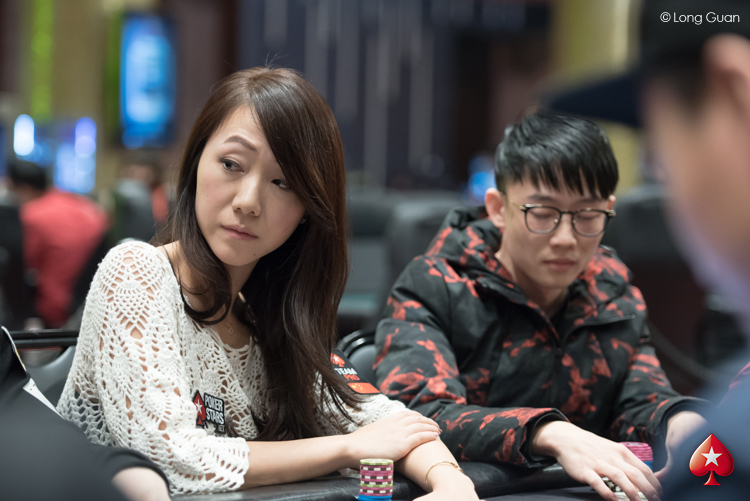 Celina Lin
In the hand a player in late position opened for 1,000 and Lin three-bet to 2,600. The player thought for a minute but then went all-in for around 15,000.
Lin folded almost immediately. The PokerStars Team Pro jokingly ribbed the other player after the hand.
"What did you have there, 6-7?" she asked.
"Something like that," said the player as he flashed a smile.
Lin dropped down to about 14,000 after the hand but she's still in the hunt. –AC
5:37pm: The dragon grows
Level 6: Blinds 200/400 (ante 50)
Day 1B was always likely to provide us with a bumper field and so it is proving. We're now up to 343 entries and the number just keeps growing. Registration will end at the close of this level but the field looks likely to get very close to the 350 mark.
Whoever manages to take down this giant-sized Red Dragon field will have a mighty hoard of gold awaiting them. Whether they choose to take it to a cave and sit on it like a real dragon or not is entirely at their discretion… — RS
5:18pm: Double Dragon Chen
Level 5: Blinds 150/300 (ante 50)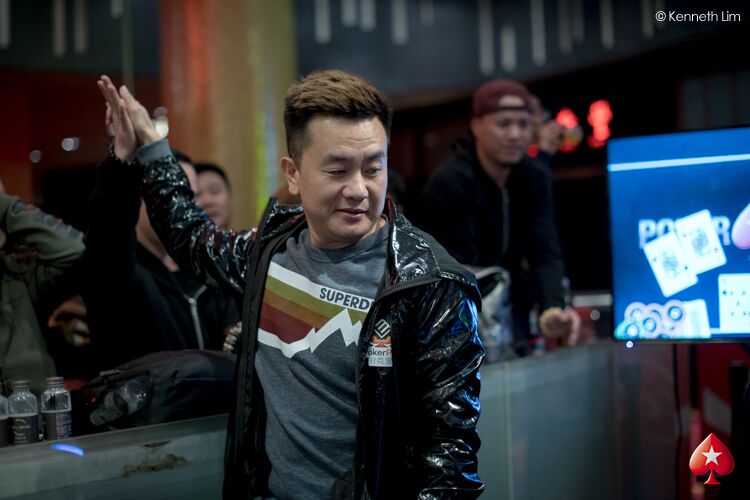 Chen's crushing in Macau this week.
Guangcheng Chen is back, after his heroics in the Baby Dragon where he finished just short of the title in third for HK$457,000.
He's going great guns in the larger Dragon format too, recently eliminating a tablemate with pocket kings to move above 40,000 and give himself every chance of another deep run. Buoyed by confidence after final tabling the baby dragon, Chen is likely to make a formidable opponent as the day progresses. –RS
4:50pm: Anthony Gardner Picks Up a Small One
Level 4: Blinds 100/200
Former footballer Anthony Gardner is keeping pace with the rest of the field on Day 1b thanks to a recent hand.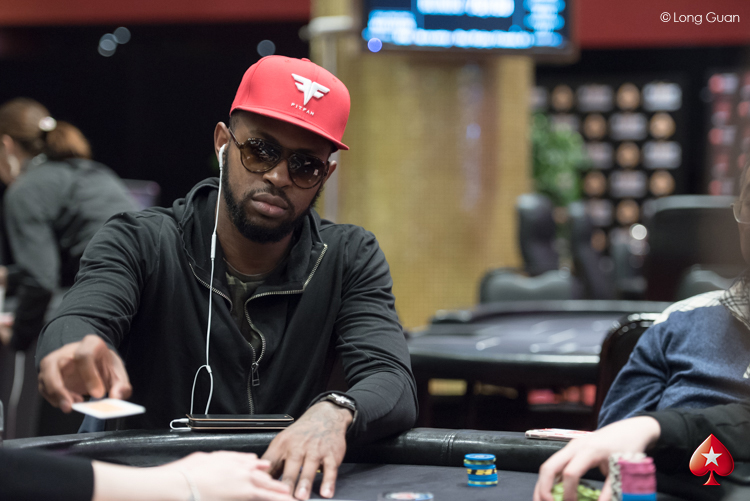 Anthony Gardner
Gardner opened for 600 from the cutoff and found callers in the button and the small blind.
The flop came A♥ J♥ 4♦ and the small blind and Gardner checked but the player on the button fired 1,100. That chased the small blind out of the hand but Gardner opted to come along for the ride.
The turn came 5♠ and bother players checked, which brought the 8♣ river. Once again both players checked and Gardner revealed A♦ 3♦ , which was enough to scoop the pot.
The former centre back is just slightly above the average stack of 21,000. –AC
4:23pm: Celina Lin, the Dragon slayer
Level 4: Blinds 100/200 (ante 50)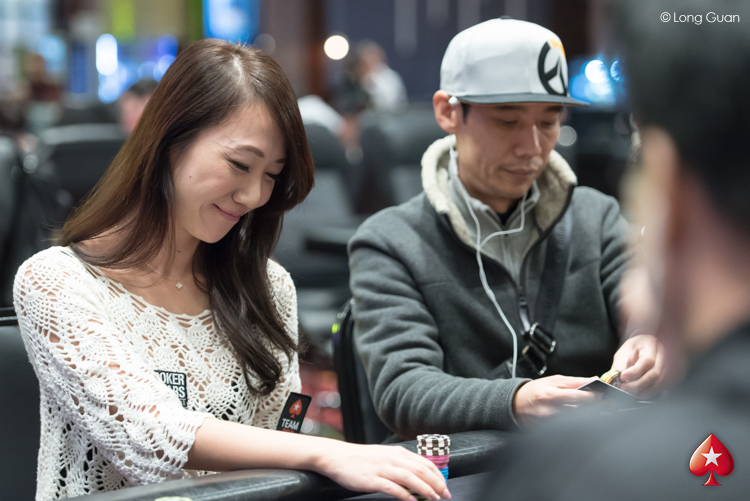 Team PokerStars Pro Celina Lin
Joining us today in the field is one of the true stars to have come through the Red Dragon series here in Macau and that is Team PokerStars Pro Celina Lin.
Lin has a incredible record in Macau with 42 final table appearances and nine tournament wins, including two wins in this very event, having bested the field in both the 2009 and the 2012 Red Dragon. With a total of US$937,000 in tournament winnings, there are few who can match her sterling list of achievements and we pity the players who draw her at their table if they have designs on a deep run. It will have just got a whole lot more difficult!
We're hoping to have a few words with Celina later and gather her thoughts about the event so stay tuned. –RS
4:15pm: Ace on the river topples Guo Dong
Level 4: Blinds 100/200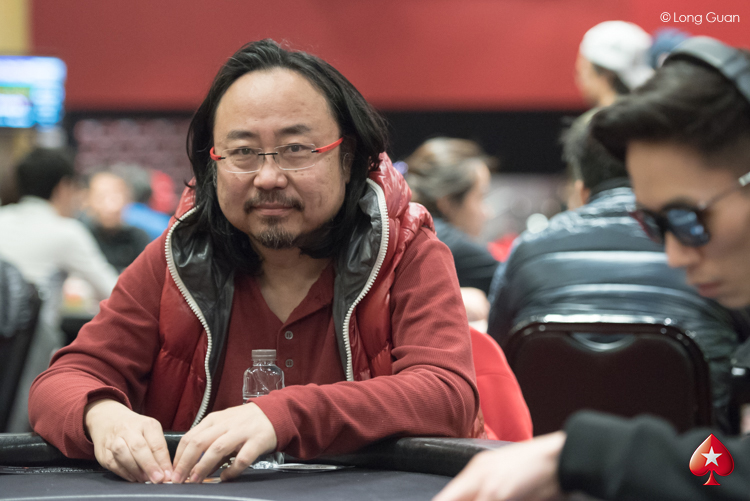 No more Dong Guo
One of the biggest names in the field today has been sent to the rail after a particularly nasty river.
We joined the action on the turn of a J♠ 3♥ 6♣ 2♣ board. Guo Dong had just fired 5,100 into an already substantial pot.
Dong's opponent thought for a 30 seconds or so but eventually decided to make the call.
The river fell A♥ and Dong immediately shoved his last 4,000 chips in the middle. Dong's opponent snap called and tabled A♠ J♦ .
Dong could only laugh as he flipped over J♣ 3♣ that had been crushed by the river. The Beijing native took the beat well and headed for the exit. –AC
3:45pm: Break time
Level 3: Blinds 75/150
Players are heading out for their first of several 15-minute breaks throughout the day. We're already up to 315 players and with registration not scheduled to close until Level 6 there's plenty of time for the field to get much bigger.
3:35pm: Field swells to 289 runners and counting
Level 3: Blinds 75/150
We told you today was going to be a big one.
With nearly 300 players now registered for Day 1B the field just continues to get bigger and bigger as the day progresses. We've yet to reach the first break of the day and we've seen an extra hundred players wander into the poker room. There's no telling what number we end at today.
Notables in the field thus far include Team PokerStars Pro Celina Lin, former footballer Anthony Gardner, Dong Guo, Juicy Li, Tarik Essard, Dong Woo Lee, Arseniy Sudilovskiym, Hwigan Park, Jae Wook Shin and Joong Hoon Eum.
3:26pm: Park Life
Level 3: Blinds 75/150
Hwigon Park just saw a chunk of his stack evaporate. We caught him shoving the river of a 6♣ 3♠ A♠ 5♥ Q♠ board for around 17,000 (although the other player in the hand had far fewer chips than this.) His opponent, who for now will remain unnamed until we have a little more information, tanked for her remaining stack of 8,000 before making the call with pocket sixes for third set.
Park turned over what looked like top pair turned into a bluff…A♣ 4♣ and conceded the pot. That hand left him with just over 10,000 left with which to make a recovery. –RS
3:15pm: Former footballer Anthony Gardner takes shot at Red Dragon
Level 2: Blinds 50/100
Sports and poker have always been a winning pair and former footballer Anthony Gardner is the latest athlete to trade the pitch for the felt.
Garnder, who played for Port Vale, Tottenham Hotspur, Everton, Hull City and Crystal Palace during his footballing career, made waves in the poker world last spring when he took down a £100,000 guaranteed event in Nottingham for £20,550.
The former centre back has played in poker tournaments around the world including Prague, Marrakech and more but he's yet to record a cash in Macau. The Red Dragon would certainly be a good one to add to his poker resume.
Regardless it never hurts to have a former sports star in the field. –AC
3pm: Vermilion bovine provides you with feathered flight limbs
Level 2: Blinds 50/100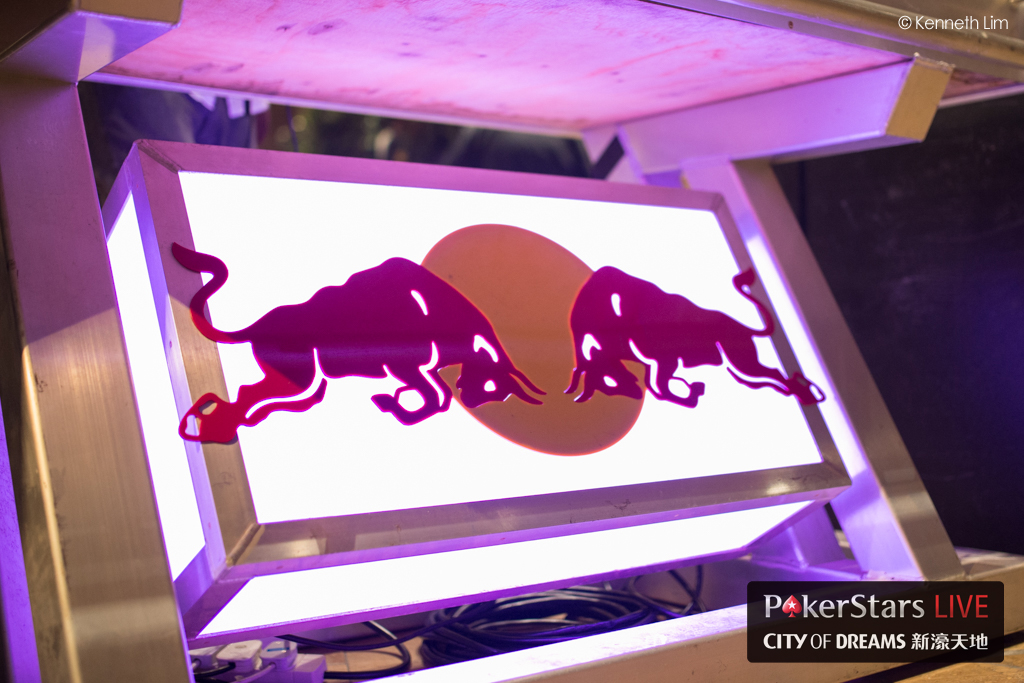 Head to head action.
There are numerous small fridges peppered throughout the cardroom, stocked full of cans of Red Bull, who are the exclusive energy drink provider for PokerStars LIVE Macau. Any players who feel their energy levels flagging can crack open a can to get them back on track. –RS
2:45pm: Ding dong
Level 1: Blinds 25/50
Yayun Ding ended the first level of the day with a big river shove, that got through.
She was UTG+1 and battling her neighbour who was in the hijack on the short-handed table. Her 3,800 turn bet was called and the board rested as J♦ 7♥ 5♣ 8♠ 6♣ . Ding closed one eye as she focused on the board, then went into the tank for a couple of minutes.
It's as if she was mustering up the courage to do something and then she did: quick as a flash she moved all-in for 13,500. Her opponent had 11,825 and it obviously wasn't what he wanted to see as his shoulders slumped before he tossed his cards into the muck. –MC
2:25pm: King Dong enters the fray
Level 1: Blinds 25/50
One of China's most successful poker players of all time is in the field today looking to build a huge stack.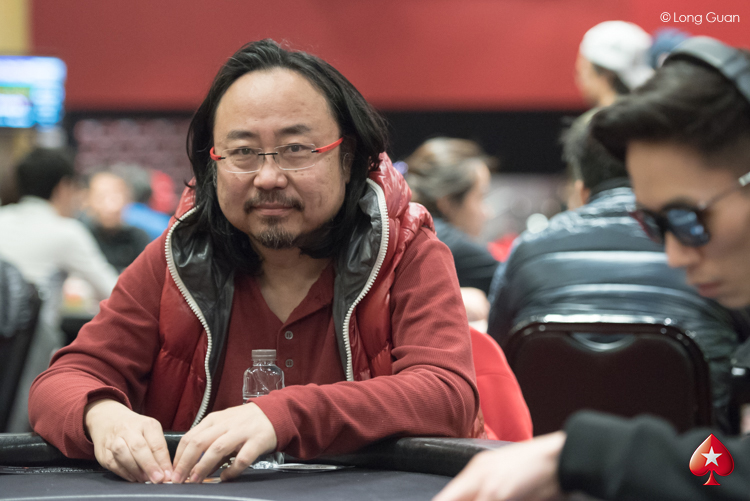 Dong Guo
Guo Dong has raked in hundreds of thousands of dollars playing Macau events over the years with over $1m in total lifetime winnings. Interestingly despite winning APPT and APT events Dong has never closed out a Macau Poker Cup event. The Beijing native came close last February at Macau Poker Cup 26 when he finished runner-up to Alan Lau.
Perhaps this will be the tournament where Guo Dong finally gets a fabled Red Dragon trophy to add to his rather impressive list of accomplishments. You've got to think Dong would also jump to play the massive $25,000 buy-in PokerStars Players Championship next year. –AC
2:15pm: The floodgates open
Level 1: Blinds 25/50
We're poised for a big Day 1B at the MPC28 Red Dragon with that alluring $30,000 Platinum Package added to first place. Who will join this exclusive roster?
The last Red Dragon Main Event attracted 388 players on Day 1B so we're expecting some big numbers as players chase a huge first-place prize and a seat into one of the most value-added tournaments ever in the 2019 $25,000 buy-in PokerStars Players Championship.
In the last Day 1B Spain's Jesus Espinosa Fernandez grabbed the overnight chip lead with 206,500 chips so we'll see if anyone can top that number today.
We're already up to 200 players so it's safe to we're due for a big one here at the PokerStars LIVE Macau Poker Room at the City of Dreams. –AC
2:12pm: Platinum Pass added value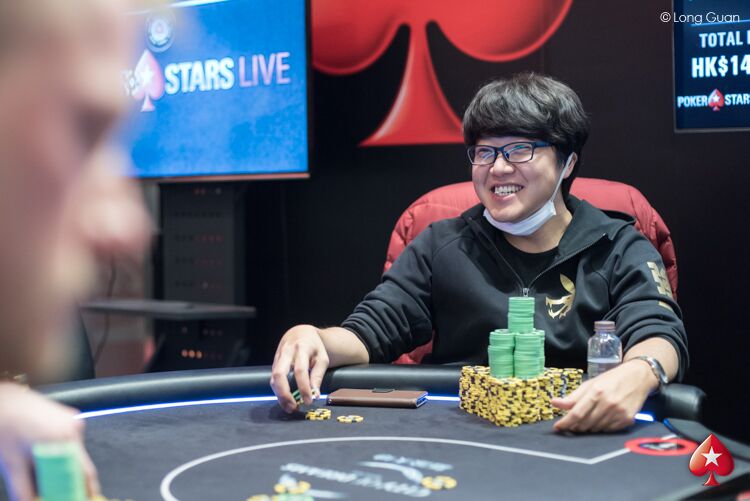 The Platinum Pass. Small but powerful.
Don't forget the extra value PokerStars have shuffled into the mix for the tournament. The winner will walk away with not just the first place prize money and trophy but one of the much sought after Platinum Passes, which will guarantee his entry to next year's US$25,000 PCA event along with accommodation and expenses. A nice additional bonus if the players need any extra incentive to pull out their best poker moves. — RS
2:10pm: Meet the team, featuring Mark Blake
The first person to feature in our series of interviews is the main man himself, Mark Blake who, for the past two years, had been the PokerStars Head of Live Events, Asia Pacific. Check out the interview below, we hope you enjoy.
2:05pm: Shuffle up and deal!
Level 1: Blinds 25/50
Cards are in the air for the second of three starting flights. Good luck to all players!
The Red Dragon dream continues – Day 1B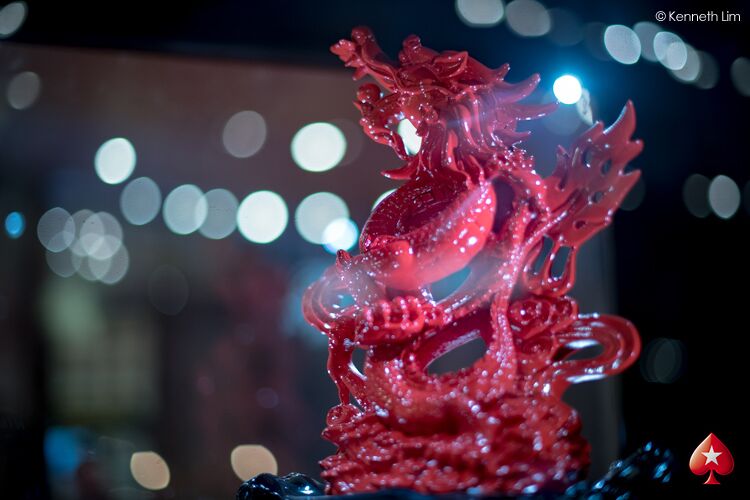 We're back at The PokerStars Live card-room at the City of Dreams, Macau ready for Day 1B of the HK$13,500 + 1,500 to commence. This is the second of the three starting days of the HK$13,500 + 1,500 Red Dragon Main Event and we anticipate a cracker. The opulent environ of the City of Dreams is a worthy locale for this prestigious event with numerous attractive design features, not least of which is the giant golden dog in the lobby welcoming fresh arrivals. Given its impressive dimensions, we hope it's house-trained. I wouldn't like to see the size of the pooper scooper that has to clean up after that enormous canine.
Back to the poker, yesterday we saw 280 excited poker players descend on the card room to take part, with Chunhui Ji the man who led the 90 survivors at the close of play, bagging up an impressive 171,800 chips. We'll see if anyone can topple him from the head of the chip counts once today has played to a finish.
The Main Event should be great fun, but there are also several other events playing out simultaneously, including the HK$100,000 single day high roller at 1:00PM local time(one re-entry allowed),the HK$15,000 PLO Day 2 Final at 3:00PM and the HK$5,000 NLH Day 1 at 9:00PM.
All in all we have a packed day of poker ahead and you can peruse the full schedule of events at your leisure by clicking here.
We look forward to how the day unfolds when the action commences at 2pm. Good luck to all the participants! –RS
PokerStars Blog reporting team at the MPC: Marc Convey, Arthur Crowson and Rod Stirzaker. Photography by Long Guan of Kenneth Lim Photography. Videos by Alex Pinkett of 23 Digital
Back to Top
Study Poker with
Pokerstars Learn

, practice with the PokerStars app

Try our Free Scholars Leader Board to practice your new skills.
Quick Links
Learn
Practice
Chat with us
Watch and share