Registration hasn't closed. Keep that in mind as you read this. Registration is still open until noon Monday.
You want to know how big this tournament is? PokerStars bought a lot more swag bags than anyone thought would be necessary. They bought 1,000 of them.
It's not enough.
This $25,000 buy-in tournament has more than 1,000 entries.
Read that again. We'll wait.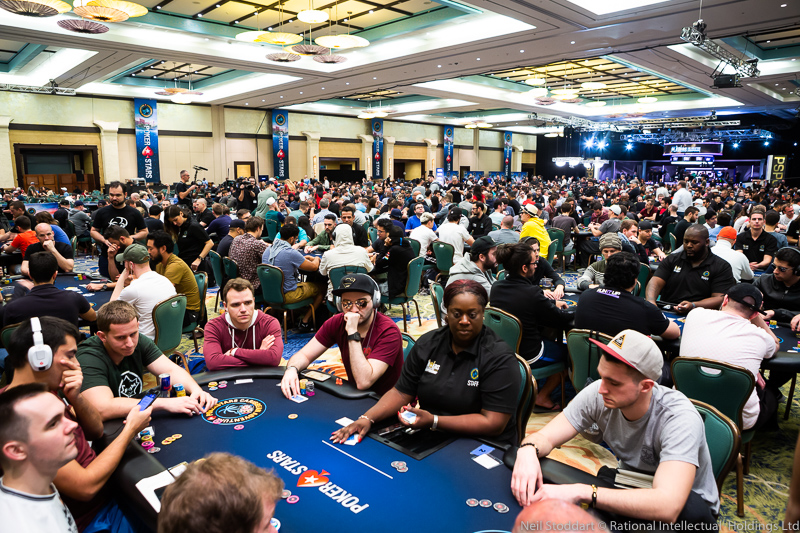 A packed PSPC tournament room
The folks behind the PokerStars Players No-Limit Hold'em Championship always believed this would be the biggest $25,000 poker tourney in history. They just didn't know how big it would be. As early as noon today, there were still questions about how big it would be.
How big is it? Well, even if you took away the 320 Platinum Passes (read: 320 entries) to this event, it would still be the biggest $25,000 buy-in tourney in history.
With the $1 million PokerStars is adding to first place, the overall prize pool of this event is guaranteed to eclipse $25 million. The final table will be full of soon-to-be millionaires. The winner stands to walk away with $5 million. No PokerStars event has ever paid a winner this much money. It's history-making on Day 1 before the registration desk closes up. It's hard to overstate just how epic this is.
It's tempting to wax forever on how we've never seen anything like this and how the collective gratitude of the 320 Platinum Pass winner could power the island. But first, we need to give an early round of applause to Talal Shakerchi.
Talal Shakerchi ended the day with 425,300 in chips, a massive run-up from the 60,000 with which he started the day. He's leading the field. Read below to see who is chasing him.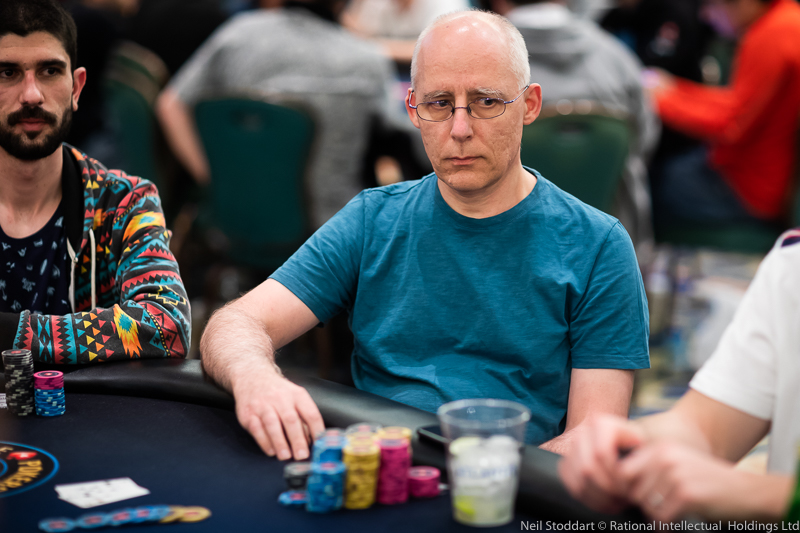 Talal Shakerchi
The only cloud on an otherwise ridiculously sunny day is the fact that we had to watch the dream end for so many of the hopeful Platinum Pass members. Over the course of the day, we said goodbye to:
Maria Konnikova, the writer turned poker champion
Arlie Shaban, the Twitch streamer who performed 12 Labors to get his pass
Luke Vrabel, the World Poker Finals winner
Damon Ferrante, the inspirational poker playing philanthropist
Ronald Mici, the Bronx bomber who won the Foxwoods Moneymaker Tour Event
Jeremy Hilsercop, the man whose WSOP Christmas present went crazy and turned into a PSPC seat
Matt Kiefer, the emotional fun-loving blogger,
Joshua McLaggen, the man who broke the PokerStars Blog's #Passcode
It's sincerely sad to watch this dream go dark for those folks. We've come to care about them. Now, we can only wait to see what they do next.
Other notables who hit the beach today: Paul Pierce, Sergio Garcia, and Tony Hawk.
Rather than wallow in that stuff, we now turn our attention to Day 2, a day that will prove to be much more tense as we start to tear through the field in earnest.
Here are some selected chip counts. We'll post the rest here as soon as the tournament staff makes them available.
Talal Shakherchi – 425,300
Dan O'Brien – 301,200
Kristen Bicknell – 279,000
Donato Salvatore – 252,700
Dylan Wilkerson – 244,300
Andrew Pantling – 230,000
Scott Margereson – 221,600
Christopher Putz – 207,000 (Platinum Pass)
Kelvin Kerber – 204,700 (Platinum Pass)
Ori Kossonogi – 204,300 (Platinum Pass)
Mikhail Shalamov – 180,500
Pedro Padilha – 169,900
Andrejz Siemieniak – 162,700 (Platinum Pass)
Atanas Pavlov – 159,600 (Platinum Pass)
Vlad Tatu – 159,000 (Platinum Pass)
Dan Shak – 151,600
Mustapha Kanit – 150,700
Christoph Vogelsang – 146,800
Mihai Manole – 130,500 (Platinum Pass)
Blair Armstrong-Payne – 127,000 (Platinum Pass)
Sandhy Sitepu – 122,600 (Platinum Pass)
Celina Lin – 116,900
Patrik Antonius – 113,300
Jorge Aristizabal – 111,200 (Platinum Pass)
Caio Calmon – 108,000 (Platinum Pass)
Natalie Teh – 107,100 (Platinum Pass)
Jan Kot – 106,200 (Platinum Pass)
Fintan Gavin – 97,700 (Platinum Pass)
Alex Irwin – 96,000 (Platinum Pass)
Chris Moneymaker – 94,200
Cliff Josephy – 89,900
Michael Soyza – 86,900 (Platinum Pass)
Kevin Martin – 83,300
James Chen – 81,600 (Platinum Pass)
Aditya Agarwal – 80,600
Lex Veldhuis – 80,300
Justin Bonomo – 78,200
Kevin Mathers – 75,900 (Platinum Pass)
James Somerville – 75,000
Bruce Buffer – 71,100 (Platinum Pass)
Steven-Michael Jost – 69,800 (Platinum Pass)
David Peters – 66,500 (Platinum Pass)
Ermo Kosk – 63,500
Alin Grasu – 61,600 (Platinum Pass)
Joao Barbosa – 59,500 (Platinum Pass)
Jake Cody – 57,500
Linda Johnson – 57,100 (Platinum Pass)
Andres Risquez – 55,500 (Platinum Pass)
Bill Perkins – 54,900
Jacqueline Burkhart – 54,300 (Platinum Pass)
Tyson Apostol – 45,800 (Platinum Pass)
Ben Spragg – 43,200
Nikhil Segel – 40,200 (Platinum Pass)
Aleeyah Jadavji – 37,400 (Platinum Pass)
Jennifer Carter – 29,600 (Platinum Pass)
Phil Hellmuth – 29,300
Roman Shusta – 28,800 (Platinum Pass)
Leo Margets – 28,500
Fintan Hand – 28,500 (Platinum Pass)
Bas Haamers – 28,100 (Platinum Pass)
Daniel Dvoress – 26,800
Fatima Moreira de Melo – 23,900
Arhtur Jun – 15,500 (Platinum Pass)
Dwyer Monaghan – 9,000 (Platinum Pass)
Play resumes at 12pm tomorrow when more than 700 of the initial 1,014 come back to battle for millions. Join us for live coverage then.
You can read back through the entire day of celebrations, Paul Pierce dancing, and everything from the PSPC, below.
---

• PLAYERS: 756 (of 1,014 tbc)
• WATCH THE POKERSTARS.TV LIVE STREAM
• PLAYER LIST | PAYOUTS | STRUCTURE
• GET TO KNOW THE PLATINUM PASS WINNERS
• ALL PSPC REPORTS | ALL PSPC INFO
• FULL PCA TOURNAMENT SCHEDULE
• DOWNLOAD POKERSTARS | Follow @PokerStarsBlog on Twitter
• BRAZIL/PORTUGAL | FRANCE | GERMANY | ITALY | LATAM | RUSSIA | SPAIN
---
9:20pm: Day 1 concludes
They've crossed the Day 1 finish line and the bags have come out. Full recap of an exciting day coming shortly! — MH
9:15pm: Three more hands
Level 8 – Blinds 500/1,000 (BB ante 1,000)
The tournament clock has been paused and the announcement made — each table will play three more hands, and that'll do it for Day 1. — MH
9:12pm: Brutal bustout for Toke Jensen
Level 8 – Blinds 500/1,000 (BB ante 1,000)
Toke Jensen's Platinum Pass experience is over. He was missing from his seat when I dropped back by his table, so I asked Sam Grafton, who'd been on his left, what had happened.
"He busted in brutal fashion," Grafton told me. It appears that Jensen flopped a set of treys on a queen-high board and jammed for his last 43,000 over the top of a 4,000 bet and a raise to 10,000. His opponent called with K-K and then turned a third king for a bigger set.
This was just Jensen's second live tournament ever. What an experience. — JK
9:10pm: McLaggan's tens no good
Level 8 – Blinds 500/1,000 (BB ante 1,000)
Alas, #PASScode winner Joshua McLaggan's PSPC ended about 20 minutes before the end of play.
He moved all-in with pocket tens, and found a caller in none other than Patrik Antonius, who had spent much of the day in the seat immediately to McLaggan's left.
McLaggan: T♣T♦
Antonius: A♠K♠
The board ran out K♣7♥J♥9♠A♦ but not without calls for cards that would help out Mclaggan. None came.
Some players bust and leave in total silence. Not Mclaggan, who left amid handshakes and compliments. An early departure, but a great performance. — SB
9:06pm: Liv and Igor depart
Level 8 – Blinds 500/1,000 (BB ante 1,000)
We just lost Liv Boeree and Igor Kurganov in quick succession.
Boeree was already at Kurganov's rail when we arrived, having been eliminated just a few seconds prior. Kurganov would then open-jam for 8,700 under the gun, and was flatted by Platinum Pass winner Saulo Sabioni. Nicholas Chouity then shoved over the top for around 50,000, and when it got back to Sabioni he snap-called.
"Oh no!" cried Kurganov when Sabioni revealed A♦A♣. "How do you have that hand?"
Chouity wasn't pleased either with his J♥J♦, while Kurganov was in worse shape with A♠4♠.
The case ace hit the flop, and the rest of the board was no help for anyone. Both Kurganov and Chouity exited, taking Sabioni up to 135,000. — JS
9pm: Unexpected news
Level 8 – Blinds 500/1,000 (BB ante 1,000)
When I woke up this morning, I never thought I would be telling you all that Tom-askel Bedell, Caufman Talley, Sean Waloszczyk, Timur Margolin, Markus Kuhnen, Chin Wei Lim, Maxi Lehmanski, Lothar Reitz, Ryan D'Angelo, Eoghan O'Dea, Aaron Duczak, Michael David Dyer, Giuliano Bendinelli, Gary Joseph Thompson, Jordan Cristos, Juan Pardo, Darren Brennan, George Pappas, Nirath Rean, Enrico Camosci, Marcelo Horta, Timothey Miles, Ami Alibay, Stoyan Obreshkov, James Romero, Ema Zajmovic, Vitalii Avanesyan, Uri Reichenstein, and Pedro Gonzalez would all get knocked out near the end of play on Day 1.
Expect the unexpected, I guess. — MH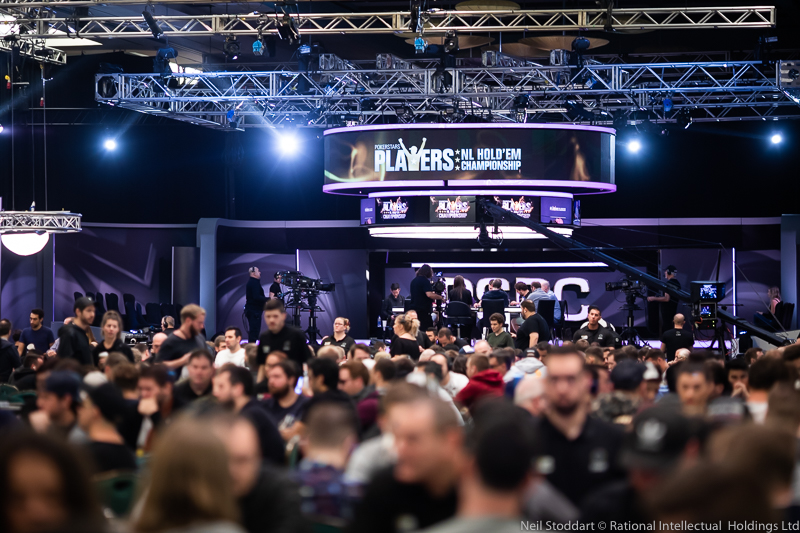 Day 1 nears its end
---
8:52pm: Pierce ain't heartbroken
Level 8 – Blinds 500/1,000 (BB ante 1,000)
As you may have just seen on the live stream, Paul Pierce has been eliminated.
When offering our condolences as he exited, Pierce replied:
"I ain't heartbroken. I had fun!"
It certainly sounded like it. And we won't forget those dance moves anytime soon. — JS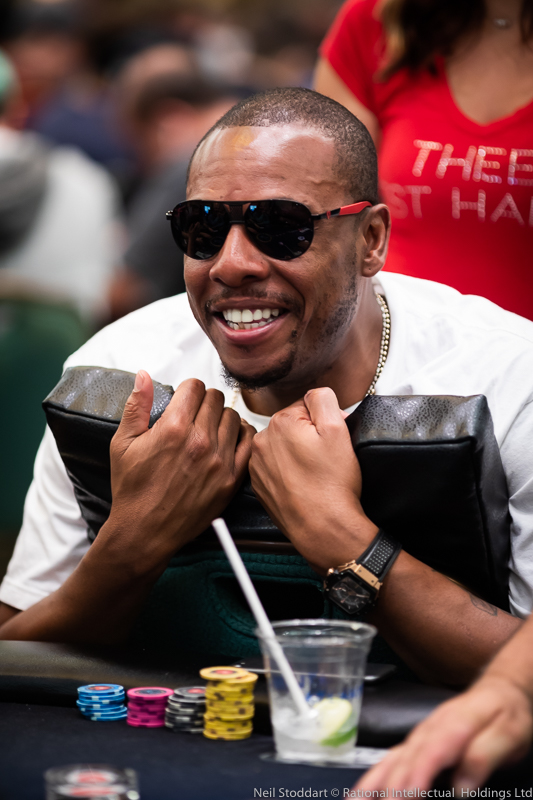 Pierce ain't disappointed, truth be told
---
8:50pm: Suppe picks up a big one, sacks Coleman
Level 8 – Blinds 500/1,000 (BB ante 1,000)
Ray Suppe won his Platinum Pass after a grueling heads-up match at the WinStar Casino in Thackerville, Oklahoma. Now he's in the Bahamas, wearing the same "Chin-Chillin" t-shirt and he almost doubled up to about 140,000.
All the chips went in during a preflop raising war against Maxx Coleman. Suppe started things off with a raise from middle position and then Coleman made it 9,000 from the cutoff. Action folded back around to Suppe and he four-bet it up to 22,000. Coleman thought for a bit and then moved all-in for nearly 60,000.
Suppe thought as well and counted out his stack. He barely had Coleman covered. Suppe called and turned over J♥J♦ for a flip against Coleman's A♠K♦.
The Q♦Q♣4♣T♣8♠ board brought a few face cards, but none of the ones that Coleman needed to survive. Coleman hit the rail while Suppe nearly doubled to 140,000.
"I'm gonna say this," Suppe said. "I wish it was your chips I was taking."
He pointed at Dustin Dirksen.
"You've been taking my chips all day," Suppe said.
Dirksen and the table laughed while Suppe racked up his chips. He definitely has enough to try now. — AV
8:49pm: Shakerchi folds into the lead
Level 8 – Blinds 500/1,000 (BB ante 1,000)
Sometimes hands start and look like thrillers. Right up to that point when everyone folds.
This hand started with a raise from Talal Shakerchi to 2,200 from late position. Sean Winter, sitting next to him in the cut off, then raised to 6,500, which James Chen called form the button. The flop came K♥5♥A♣. Shakerchi checked to Winter, who pushed forward a blue chip worth 5,000. Chen then put out two blue chips, for a raise to 10,000.
Which is where the folding started.
It was a good-sized pot for Chen, who now has 80,000, to Winter's 26,000. But shortly after this hand Shakerchi won another pot. He was already on about 300,000 at that point. He now has 360,000. — SB
8:48pm: Konnikova KO'd
Level 8 – Blinds 500/1,000 (BB ante 1,000)
Maria Konnikova was on the short side just a short while ago, and recently lost the last of her stack here at the start of the last level. — MH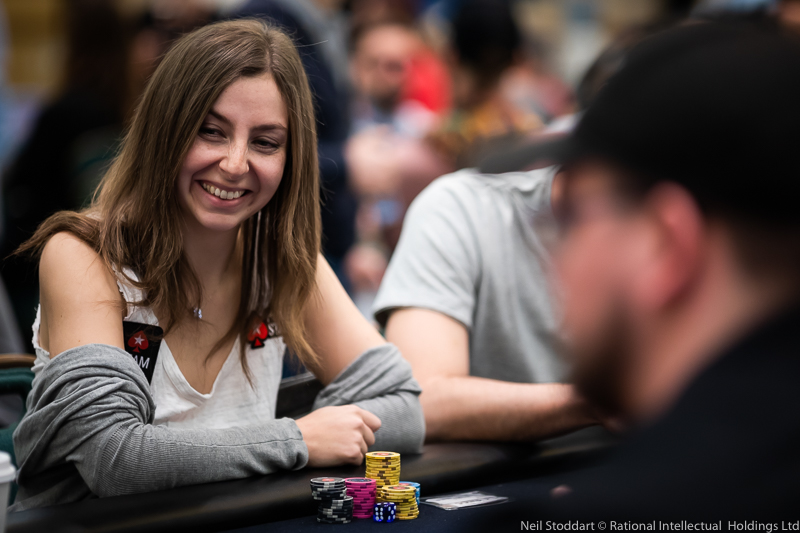 Konnikova out
---
8:44pm: LOL
Level 8 – Blinds 500/1,000 (BB ante 1,000)
Thai Ha was looking for a spot to get his chips in. And it must have been desperate, because his stack had been whittled down to only 4,800. However, given the chance to get them in first, in mid-position, he did what he had to do with K♣Q♦ and only Maxi Lehmanski, in the big blind, called.
This was a mandatory call from Lehmanski, rather than anything determined by his holding. In fact, he had 7♠3♠ and that wasn't very good. It was even worse for Lehmanski after the board ran T♥K♥J♥2♦2♠. But that was, finally, a double for Ha.
Ha Ha, you might say. Or LOL. — HS
8:42pm: Negreanu news
Level 8 – Blinds 500/1,000 (BB ante 1,000)
Guys. You might want to sit down for this. I've got bad news.
We've just lost Daniel Negreanu from the PSPC.
After Joshua Kay opened, Negreanu shipped it all-in with A♥K♠ and was called by Kay with Q♠Q♥. The board ran K♥2♥Q♦6♦5♣ giving Kay a set, and sending Negreanu out the door.
"I'm not kidding, every time I was in the big blind I had ace-king!" said Negreanu. Alas, it all came down to a flip of a coin. — JS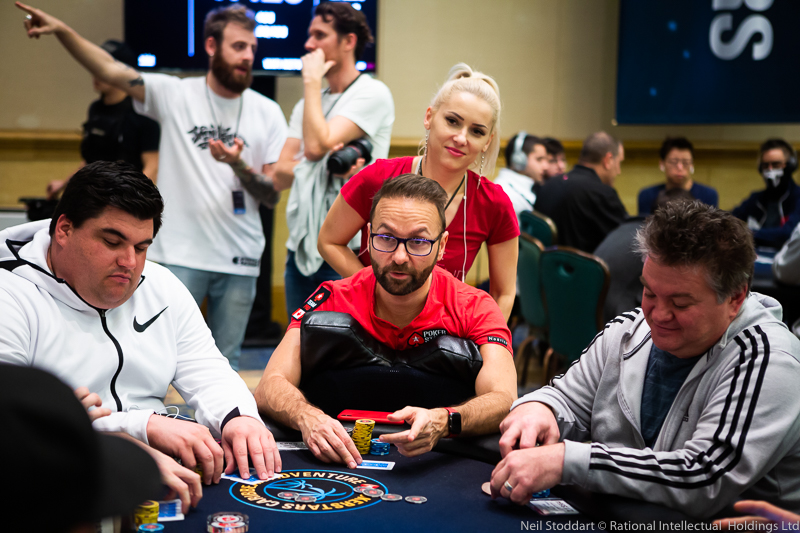 Negreanu no more
---
8:38pm: Spraggy still spraggin'
Level 8 – Blinds 500/1,000 (BB ante 1,000)
It's a tough haul, but Ben Spragg is still going here on the last level of the night.
Spraggy just opened for 2,500 under the gun and got one late-position caller in Russell Crane. Spraggy check-called 3,000 on the 4♠9♠J♣ flop and then they both checked down the 2♥ turn and 2♠ river. "Ace-high," said Spraggy. Crane waited, then mucked his hand when Spraggy turned over A♣K♠.
With that, Spraggy moves up to 40,000. — JK
8:30pm: The latest to leave early
Level 8 – Blinds 500/1,000 (BB ante 1,000)
More bustouts to share. Neither Abdelhakim Zoufri, Sam Chartier, Maik Wenzel, Guillaume Nolet, Arthur White, Shyngis Satubayev, Kristo Klaassen, Christopher Frank, Joe Serock, nor Souprayenmestry Jean will be winning the PokerStars Players Championship, as all have lost the last of their stacks. — MH
8:29pm: Bicknell cracks Margereson's aces
Level 7 – Blinds 400/800 (BB ante 800)
Scott Margereson and Kristen Bicknell both have big stacks and tangled in a hand just now that ended with one cracking the aces of the other.
On the 9♣5♥K♣9♥ turn with about 30,000 in the middle, both players had checked. The on the J♣ river Bicknell checked, Margereson made a hefty bet (relatively speaking) of about 24,000, and Bicknell quickly called.
Margereson had A♠A♠, but Bicknell had rivered a flush with 8♣7♣ to win the pot. They chuckled afterward when Margereson noted the quickness of the call.
Both can chuckle, as Margereson has 236,000 now and Bicknell 192,000 with the last level approaching. — MH
8:26pm: Nothing to write home about
Level 7 – Blinds 400/800 (BB ante 800)
I just dropped by Mikolaj Syp's table to see how things were going. "Nothing to write home about," he said — he's still at 48,000. Not bad for the self-proclaimed "biggest underdog in sports."
Here are a few more Platinum Pass winner chip counts for you:
Alex Foxen — 65,000
Adrian Nica — 44,000
Toin Voncken — 38,000
Vasile Merisescu — 35,000
They all have work to do with another hour and a half to go here on Day 1. — JK
8:25pm: Dance like you're The Truth
Level 7 – Blinds 400/800 (BB ante 800)
No matter what happens tonight, we'll always have this hand between Paul Pierce and Mustafa Kanit. — BW
8:23pm: Thompson trying to make something happen
Level 7 – Blinds 400/800 (BB ante 800)
Race car driver and Platinum Pass winner Gary Thompson is trying to make something happen right now but his table won't cooperate. He just opened a pot for 1,800 in the hijack seat and nobody called. Then he opened the next pot for 1,800 in middle position and got two callers in position, both of whom folded when Thompson led for 2,200 on the A♥8♣4♠ flop.
Thompson is still looking for something to break his way at 24,000. — JK
8:21pm: Gujral gets caught
Level 7 – Blinds 400/800 (BB ante 800)
Ramandeep Gujral got his Platinum Pass by finishing atop the Global Poker League for India and now he's in the last few levels of the day with about 95,000. Gujral had a bit more than that but recently lost some to Pablo Brito.
Brito started things off with and under-the-gun raise to 1,600. Gujral called from the cutoff and Gjergj Sinishtaj called from the big blind. All three players checked the 8♦6♦3♣ flop and the Q♠ came on the turn. Gujral bet 2,400, Sinishtaj folded and Brito called.
The 7♣ completed the board and Gujral fired again, this time for 4,000. Brito thought for a bit and eventually threw in chips for a call. Gujral turned over A♣J♣ for ace high and Brito took down the pot with Q♣T♣ for a pair of queens.
Gujral is now at about 95,000. — AV
8:19pm: Shakerchi raids a lot
Level 7 – Blinds 400/800 (BB ante 800)
Many businessmen and women play high stakes poker. And many pros will tell you that's exactly what keeps the high roller poker economy thriving.
Talal Shakerchi doesn't fit into that category though. Oh sure, he's a hedge-fund manager worth hundreds of millions. But he's been around this game competing with the world's best for a long time; both in the live Super High Rollers, and online under the name "raidalot" (where he won the 2016 $10K SCOOP Main for $1.46 million).
Right now it's Shakerchi's stack that's thriving. He's up to 270,000 after this last pot.
Martin Lourido opened to 1,600 and Shakerchi flatted on the button, which brought James Chen out of the big blind. The three went to a 7♦J♠K♥ flop, and it checked to Shakerchi. He seized the betting lead and made it 2,600, and only Lourido called.
The 4♠ hit the turn, and when Lourido checked Shakerchi continued for 6,500. That was enough to get a fold, dropping Lourido down to 86,000. — JS
8:15pm: A sampling of Platinum Pass stacks
Level 7 – Blinds 400/800 (BB ante 800)
A short sampling of Platinum Pass winners' stacks for you here during the night's penultimate level.
Joey Ingram has steady accumulated all day and now sits with about 115,000. Bruce Buffer is maintaining his 75,000 as well.
Linda Johnson has about 58,000 right now — just under the starting stack — while Asif Warris and Kenny Tran are both hovering around 52,000.
Aleeyah Jadavji was moved from a table with Davidi Kitai, Rainer Kempe, and Amit Makhija to join another where Shaun Deeb, Kenny Tran, Maria Ho are among those seated. That's where she's battling with around 40,000 at present.
Meanwhile both Maria Konnikova (28,000) and Jennifer Shahade (21,000) have slipped recently and look to spin their stacks back up before night's end. — MH
8:13pm: Fernandez doubles
Level 7 – Blinds 400/800 (BB ante 800)
Leo Fernandez had his opponent beaten two ways. The Argentinian Team Pro had A♥3♥ and the full board ran 5♦4♠2♣9♥5♥. That means Fernandez flopped a straight and rivered an unnecessary flush to beat an offsuit ace-ten.
---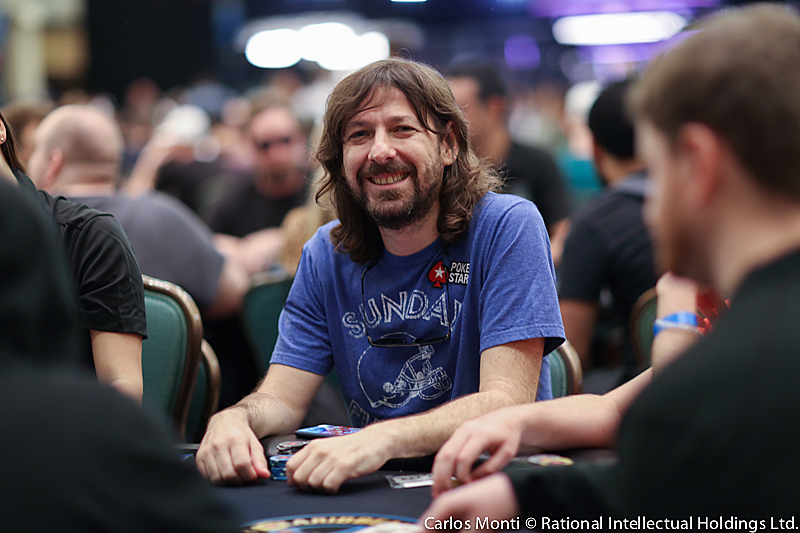 Doubling: Leo Fernandez
---
All the other details are missing, I'm afraid, because dealer was already counting out Fernandez's chips (36,100) and scooping the cards away when I arrived. But you can put Fernandez up to around 80,000 at the moment as Level 7 enters its final stages. — HS
8:10pm: Recent eliminations
Level 7 – Blinds 400/800 (BB ante 800)
The cull continues. In the last few minutes we've lost Tenzin Chakdor, Ramon Munoz, Carlos Branco, Andreas Eiler, Richard Steeve, Niall Farrell, Justin Liberto, and Ryan Laplante. — BW
---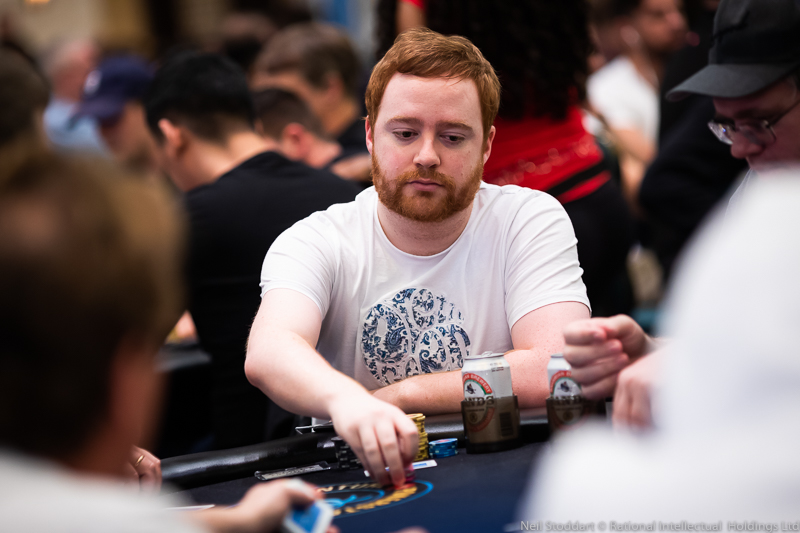 Niall Farrell among the latest fallers
---
8:08pm: Chatting with Tom Chiarella
Level 7 – Blinds 400/800 (BB ante 800)
I just dropped by to check on one of our Platinum Pass winners, Tom Chiarella, and he says he's having a great time. He's been up and down multiple times today and it's been quite an experience.
"I haven't really played in three years, so I'm not used to the emotional rollercoaster," he told me.
First he raised with A-K and called when Victor Ramdin jammed with A-J, only to see Ramdin catch the card he needed to stay alive. That took Chiarella down to around 22,000. But then he slowplayed a full house and got Luke Vrabel to overcommit when he rivered trips. (Vrabel exited at Ramdin's hand shortly afterward.) That boosted him back over 50,000.
"I'm having a great time. All these people are friendly. I told my wife I just want to be here tomorrow," Chiarella said. "I'm not ready to leave yet." Good goal! — JK
8:05pm: Mathis flexes on Dattani
Level 7 – Blinds 400/800 (BB ante 800)
Quick update on former Alabama football player and NFL Super Bowl winner Evan Mathis: his biceps are as big as my head and I feel inadequate in every way.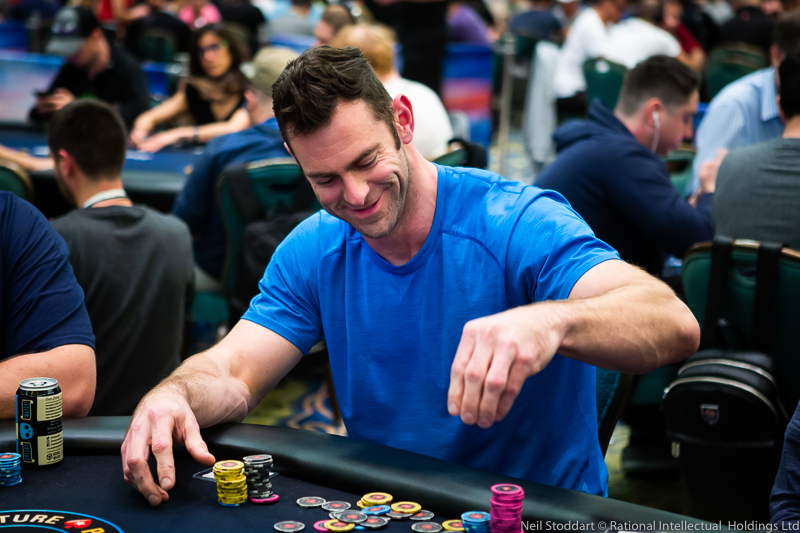 Biceps the size of a man's head: Evan Mathis
---
Also, he just doubled up through Michel Dattani. Mathis is back to around 60,000 and looking good to head into tomorrow night's Alabama-Clemson game with a seat here in the PSPC. — BW
8pm: Gavin's gift of the gab
Level 7 – Blinds 400/800 (BB ante 800)
The best thing about asking Fintan Gavin how it's going? He'll actually tell you. In detail.
Last time we checked in with the Platinum Pass winner, Gavin had just 12,000. A lot has changed since then.
First he told us about how Jack Salter had pushed him off a massive draw. "Do you know this guy?" he said jokingly, pointing Salter's way.
"I had an overpair, to be fair," Salter laughed.
"Then I opened to 2,100 with pocket queens and 20K behind, and this guy [Elio Fox] flatted with pocket eights," Gavin continued. "It then folds to that guy [fellow Platinum Pass winner Karim Rebei] and he three-bet to 7,500.
"I then jammed, he [Fox] folded, and he [Rebei] calls with king-nine. The board's a raggedy one with no king or nine, but here's the thing: there was an eight on the turn!"
Gavin's on 45,000 now, while Rebei has 50,000. — JS
7:57pm: Betting on a sure thing
Level 7 – Blinds 400/800 (BB ante 800)
Right now there's a discussion at the table of James Gilbert and Christian Harder about performing under pressure. The conversation was prompted by the conclusion of the Chicago Bears-Philadelphia Eagles game just now, an ending which managed to divert the attention of some away from the poker, if only momentarily.
With the Eagles up 16-15, the Bears kicker had a short field goal try at the end to win it, but his kick hit the upright and Philadelphia prevailed. Gilbert actually had the game streaming on his laptop about 10 seconds in advance of what was showing on the big screen, and so Gilbert — clearly rooting for the Eagles — was celebrating the finish ahead of everyone else.
Another player saw the sneak preview as well, and had a smart idea before the kick was shown on the big screen.
"A thousand bucks says he misses it!"
Alas, no one called that bet during the few seconds available to do so. Perhaps the pressure was too great. — MH
7:56pm: Gross felts Lam, videos it for posterity
Level 7 – Blinds 400/800 (BB ante 800)
Jeff Gross's many fans should check out on his various social channels in a few minutes as he just knocked out Simon Lam and Go Pro-ed the hand from start to finish. This was a fairly standard spot with an amusing-ish run-out: Lam's J♣J♦ ended up rivering a set, but that last jack gave Gross's A♦K♥ a Broadway straight. The full board was Q♣T♣6♦9♦J♥.
Lam is a seasoned enough campaigner to see immediately that the jack was no good for him. (There was no accidental celebration.) Gross boosts his stack to around 90,000 with the knockout, adding Lam's final 25,000-ish.
The Go Pro camera went back beneath the table, ready to deployed whenever something else interesting occurs. — HS
7:55pm: Championship Week for Evan Mathis
Level 7 – Blinds 400/800 (BB ante 800)
Tomorrow night, the University of Alabama will play Clemson University for the national championship. Tonight here in the Bahamas, we have a former four-year Crimson Tide lineman in our midst.
'Bama boy Evan Mathis (the same who won the Super Bowl with the Denver Broncos) is using every bit of his 6'5″ frame to guard his chips. We're afraid to get close enough to count them. In any case, we figure he'll be watching the championship tomorrow night and hopes to be doing it from a seat here in the Players Championship. –BW
7:52pm: More for Seymour
Level 7 – Blinds 400/800 (BB ante 800)
While NBA legend Paul Pierce is dancing his way through Day 1 up on the feature table (you can tune in to that live stream here), NFL Super Bowl winner Richard Seymour is repping the retired athletes out on the floor. He just took down a nice pot, with a tricky click-back on the river.
The 4♥5♦4♣ flop had been checked by Platinum Pass winner Hristivoje Pavlovic and Seymour, before Michael Del Vecchio led for 3,000. Both players called to bring the J♥ turn, and when it checked to Del Vecchio again he fired 7,500. That shook off Pavlovic, but Seymour wasn't looking to fold.
He wasn't looking to call either. After a minute of contemplation, Seymour tossed in three blue 5,000 chips, min-raising it up to 15,000. That certainly gave Del Vecchio food for thought.
He'd eventually fold, tapping the table and telling Seymour he had a pair. Seymour didn't show, and now sits with 53,000, while Del Vecchio is on 60,000, and Pavlovic has 40,000.
Last year Seymour finished third in the $25,000 High Roller right here at the Atlantis for a $376K score – his largest to date. — JS
7:50pm: Latest eliminations
Level 7 – Blinds 400/800 (BB ante 800)
Among the most recent players to bust: Arlie Shaban, Mathias Maasberg, Koray Aldemir, Vinicius Pinheiro, Renan Bruschi, Andre Dos Santos, Nipun Java, Antoine Saout, Luke Vrabel, Samir Akhoullou, Chengbei Li, Ian Hunter, and Daniel Ott. — SB
7:49pm: Manual labor
Level 7 – Blinds 400/800 (BB ante 800)
Fintan Hand just dropped a pot defending his big blind against a button raise from Alexandre Reard.
The Frenchman made it 1,800 on the button and then bet 1,600 when Fintan checked on the 4♦5♣2♠ flop. Fintan called, they both checked the Q♠ turn, and the 9♠ came on the river.
Fintan thought it over for a bit and then bet 4,000. Reard called quickly and tabled 9♥2♥ for nines and deuces, more than enough to top Fintan's ace-high with A♥7♣.
Fintan is still on 48,000. — JK
7:47pm: Ha seeking solace in the schedule
Level 7 – Blinds 400/800 (BB ante 800)
No one really wants to be checking out the full tournament schedule before Day 1 of the event you're in has actually finished, but that's how Thai Ha is filling his time between hands. Ha has only 11,500 chips at the moment, which is 14 big blinds, and so is trying to figure out what to play next should he not be able to cling on with that.
It's a far cry from this time last year, when Ha became one of the first players to secure a Platinum Pass in a Day 2 flip-out. That was a brilliant frenzy of excitement (see video below), but it's all a bit more sedate right now. Ha hasn't managed to get anything going.
---
---
But the silver lining is that he's perusing a rather packed schedule. Have a look yourself if you don't believe me. He should be able to find something to play — starting with those 14 big blinds. — HS
7:45pm: Arlie Shaban busts
Level 7 – Blinds 400/800 (BB ante 800)
Few players endured as much as Arlie Shaban to win their way to the PSPC. Alas, the Canadian will not be going any further than Day 1.
Shaban was seen heading to the rail a short while ago. We'll get an update on the how later tonight. — SB
7:43pm: Vrabel out
Level 7 – Blinds 400/800 (BB ante 800)
Platinum Pass winner Luke Vrabel was down to just 11,600 and got it in with 3♣3♠ from the cutoff. Victor Ramdin was on the small blind with A♦6♥ and put Vrabel at risk.
An A♣ came on the window of a A♣J♦J♠ board and crushed Vrabel's hope of a double up. A 2♣ and a J♣ completed the board as well as Vrabel's PSPC run. — AV
7:40pm: Kruk truckin'
Level 7 – Blinds 400/800 (BB ante 800)
Chris Kruk is down from his starting stack but still in decent shape with 48,000 after winning a small pot. He opened for 1,800 in second position and picked up calls from Matt Waxman in the hijack seat and Yiming Liu in the cutoff. They all checked down the entire A♠7♥6♥A♣Q♣ board and Kruk won with A♥8♥ for trip aces.
Waxman showed the 7♦. "I was going to bet the flop and turn but then I thought, 'I'm getting check-raised,'" he said.
"I'm the worst," said Kruk.
"I only would've called every bet if you'd barreled," Waxman replied with a laugh. — JK
7:35pm: Platinum still shining, O' Brien crushing
Level 7 – Blinds 400/5800 (BB ante 800)
As we return for the last two levels of the day, we've checked in with several Platinum Pass holders and how they are doing.
Nathan Manuel: 15,000
Mike Page: 80,000
Damon Ferrante: 48,000
Joshua McLaggen: 39,000
Ronald Mici: 37,900
Thai Ha: 26,000
---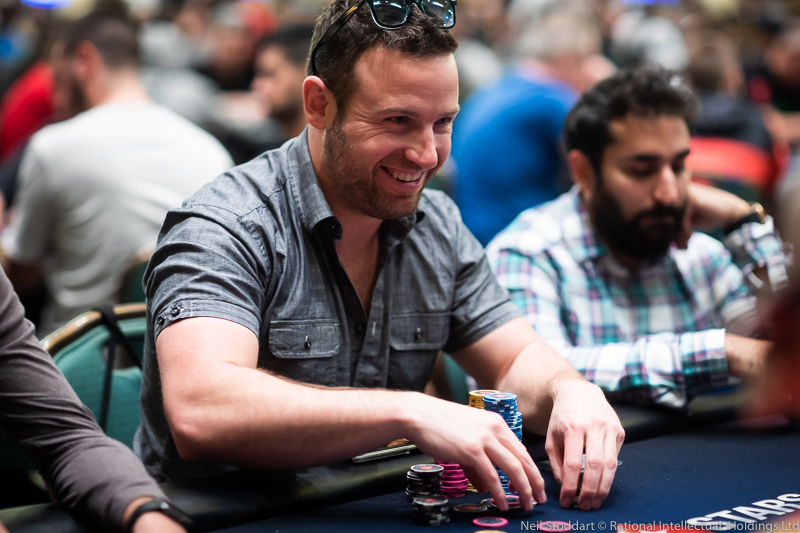 Chip leader: Dan O'Brien
---
Meanwhile in big chip land, Dario Sammartino is sitting around 200,000, and it looks like Dan O'Brien looks to be in the 300,000 range. — BW
7:30pm: Mokhtari rolls with the punches
Level 7 – Blinds 400/800 (BB ante 800)
We got to know Jahngir "John" Mokhtari's winning smile a few months ago when he won his Platinum Pass at Lucky Chances Casino in California at one of the "Moneymaker Tour" stops. A fan favorite, the elderly Californian thrilled the crowd there when he won the event.
I just had a chance to meet and talk to Mokhtari during the last break, and he had the same smile he had after winning that event despite the fact he'd just taken a bit of a gut punch, having lost chips right before the break.
"I just got unlucky, actually… two bad hands, one after the other." In one he ran into a full house, and in the other a loose opponent happened to flop a straight and got value for it.
"He's been bluffing with nothing… king-five! But that time, he had something," Mokhtari explained. "That's the way it goes with poker," he shrugged.
"But everything else has been going good," he added, his thoughts turning toward how he might rectify things once play resumes.
Originally from Iran, Mokhtari listed fellow Iranian Antonio "The Magician" Esfandiari as a favorite at the time of his win at Lucky Chances. Perhaps a little run-good magic will turn his way during the night's last levels. –MH
7:07pm: Norm's Mac-gone-ald
Level 6 – Blinds 300/600 (BB ante 600)
Norm Macdonald spent most of this day in tough spot after tough spot, facing a table that included the likes of Joe Cada, Blair Hinkle, and Poker Hall of Famer Jennifer Harman.
By the end of Level 4 he'd been reduced to just 22,000 chips, meaning he had to hang on tight and wait for a good spot — or as good as he could find against tough competition. He still had 20 big blinds the last time I checked on him, but just before the break he was eliminated from the tournament.
That's not it here in the Bahamas for Norm, though. He's headlining a comedy show here on Tuesday night. And he's following Joe Stapleton, which means he's basically a lock to kill. –JK
7:06pm: Pavlov with chips
Level 6 – Blinds 300/600 (BB ante 600)
Shortly before the break, Daniel Dvoress turned a set of queens and scored a double up. The Super High Roller regular now has about 50,000 — and his sweatshirt, which reads "UNEMPLOYED", is not yet prophetic.
The biggest stack at the table, however, belongs to Atanas Pavlov, our Platinum Pass winner from Bulgaria. Pavlov, who won his Platinum Pass as he took down the Megastack event at the London last year, has 147,000 and had only one word when asked whether he was enjoying himself: "Certainly."
---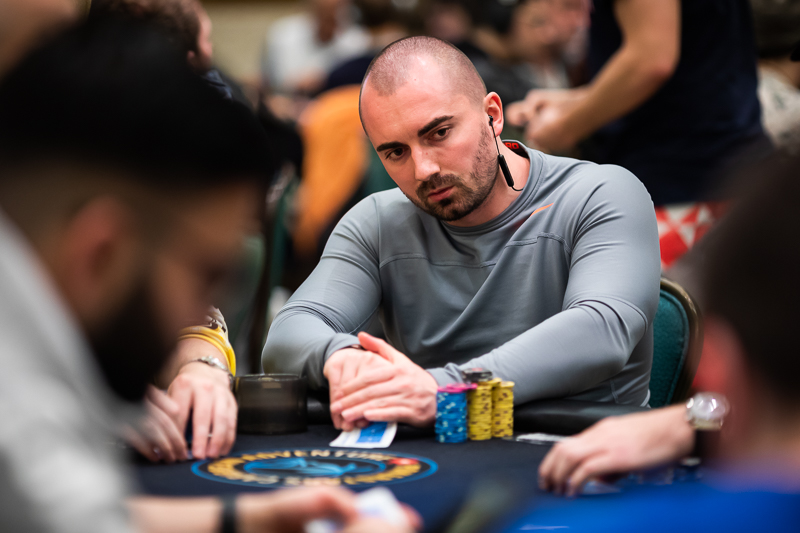 Atanas Pavlov
---
He explained that he had won multiple small pots from everyone at the table, rather than one huge skirmish. That's pretty good going seeing as he also had Dvoress, Nick Schulman, JC Alvarado and John Racener for company at the start of the day. Schulman and Racener are confirmed eliminated, while Alvarado has moved away. But Pavlov is sitting tight and looking good for Day 2. — HS
7:05pm: Kotelnikov collects big one as Adams slips
Level 6 – Blinds 300/600 (BB ante 600)
With about 15 minutes left in Level 6 I was walking by Table 64 when I stepped on a banana peel. I kept my balance, averting becoming a comedy cliché. That served as an entirely incongruous prelude to the hand I was about to witness between the Russian Andrey Kotelnikov and Timothy Adams of Canada.
After an Adams open from early position, Kotelnikov three-bet to 4,000 from the button, then Adams made it 13,200 to go and Kotelnikov called. The flop came 6♠2♦4♣, and with both players acting very deliberately, Adams bet 8,500 and Kotelnikov called.
The turn was the Q♦. Adams sat quietly, motioned for Kotelnikov to show his remaining stack, then bet 23,500. Kotelnikov took a while, rechecking his cards before calling the bet. Now the pot was over 80,000, which was more than what either player had left behind. There was also now about 10 minutes left in the level.
The river was the J♠. Adams paused a while, then checked, and after sitting quietly for a minute Kotelnikov bet 30,000. Adams went deep into the tank — long enough for the break to arrive and the other players to start leaving — then after another minute finally tossed out a chip to call
Kotelnikov immediately tabled Q♠Q♣ to show he'd turned top set, and Adams mucked. Talk about drama!
Kotelnikov is way up around 200,000 after that hand and has the biggest stack I've seen so far today, while Adams slips (pun intended) to about 21,000. –MH
7:02pm: Break time counts
Level 6 – Blinds 300/600 (BB ante 600)
Platinum Pass winner Fintan Gavin will need some help when he returns from the break. He'll have just 12,000 waiting for him.
Still, that's more than twice as much as Steve O'Dwyer, currently holding 5,400. That's dwarfed by his fellow high roller, Kristen Bicknell, sat opposite with 162,000.
While I've got you, here's one more: Stephen Chidwick has 75,000. –JS
7:00pm: Recently departed
Level 6 – Blinds 300/600 (BB ante 600)
As we end the sixth level of the day, here are some folks we lost: Ben Lab, Tony Hawk, Carlo Rodriguez, Adrian Mateos, and Hank Sitton.
6:59pm: When it Rayans it pours
Level 6 – Blinds 300/600 (BB ante 600)
Rayan Chamas's tournament has come to an end, running his A♦K♦ into Goran Mandic's K♠K♥. The Q♣2♠9♠7♦6♦ board kept the cowboys in front, and Chamas said his goodbyes.
Mandic is up to 90,000 now. –JS
6:58pm: Kean can lose, but not for long
Level 6 – Blinds 300/600 (BB ante 600)
Allan Kean, who's up to about 200,000, is capable of losing a hand. There was a chunky pot on the river of a T♠Q♦8♦9♦J♠ board and Kean bet 15,000. Kean got called and the UK Platinum Pass winner showed two pair with Q♣9♥.
But Enrico Camosci showed a straight with K♠J♦ and took down the pot.
No worries though, Kean got some of those back the next hand. He raised to 3,000 from the button and Georgios Karakousis called. The flop came 2♣7♠J♥ and Kean bet 6,000 when checked to. The Q♠ came on the turn and Kean fired again, this time for 12,000. Karakousis folded and Kean is now back up to 200,000. –AV
6:57pm: Spraggy on the rollercoaster
Level 6 – Blinds 300/600 (BB ante 600)
It's been quite a day for Ben "Spraggy" Spragg. "We were almost out!" he said as I walked up to his table a few minutes ago. This was his rundown of the hand that cost him all but 25 big blinds of his stack:
Rollercoaster. River trips in a very good spot for us. He has 66 on KJ46K runout. Down to 15k. Next hand resolve 25bb with 99 and called by 77. We hold! 34k at t600. #pca2019 #PSPC

— Benj Spragg (@spraggy) January 6, 2019
No need to worry, though. A few hands later he picked up pocket nines and jammed over the top of a raise and a call. The raiser called with his pocket sevens but couldn't ctach either of his two outs, giving Spraggy the double to 32,000. –JK
6:46pm: Can he crack the Antonius Code
Level 6 – Blinds 300/600 (BB ante 600)
Our sole member of the field, Joshua McLaggen, the man who cracked #PASScode just looked to his left and saw the next puzzle he's got to figure out…how to deal with having Patrik Antonius on his left for the rest of the night. Sitting with 60 big blinds, McLaggen is still feeling fine.
---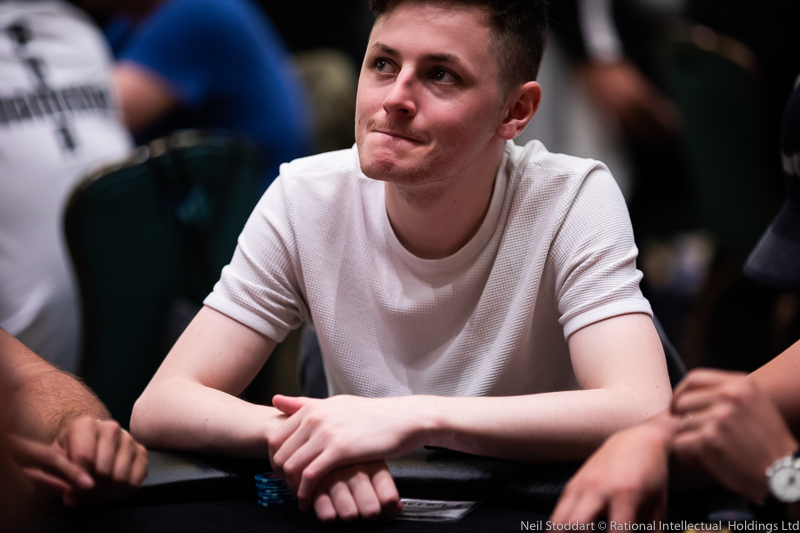 Thinking: Joshua Mclaggan
---
"We got this still," he said.
6:46pm: A handful of chip counts
Level 6 – Blinds 300/600 (BB ante 600)
It's not all doom and gloom, despite the list of bust-outs lengthening by the minute. Here's a quick run-down of some chip-counts in front of some Platinum Pass winners:
Atanas Pavlov: 147,000
Vlad Tatu: 135,000
David Peters: 115,000
Jan Kot: 95,000
Stian Ustad: 91,000
Piotr Nurzynski: 93,000
Shaun Lennon: 80,000
James Chen: 73,000
Ermo Kosk: 58,000
Dwyer Monaghan: 56,000
Lin Wu: 45,000
Thai Ha: 33,000
6:48pm: Brennan takes one from Satubayev
Level 6 – Blinds 300/600 (BB ante 600)
Darren Brennan had 55,000 chips as I strolled past his table earlier. And then he had about 66,000 because he played a pot at that precise moment.
The member of Team Ireland opened his button to 1,200 and found only Shyngis Satubayev willing to call in the big blind.
The dealer offered them the 5♥4♥T♥ flop and Satubayev checked. Brennan bet 1,300 and Satabayev called.
The Q♥ brought another check from Satabayev and another bet from Brennan. He put 3,500 out there. Satabayev had seen enough. He folded.
At time of writing, Satubayev is one of two players from Kazakhstan to enter this event. Meanwhile, Brennan is one of a 19-strong Irish contingent. — HS
6:47pm: Steve in O'Dwyer straits
Level 6 – Blinds 300/600 (BB ante 600)
Steve O'Dwyer has slipped to short-stacked status here in Level 6 after losing a pot to Platinum Pass winner Pedro Gonzalez.
I arrived on the 3♠Q♦6♠ where it appeared O'Dwyer had pushed all in for his last 23,000 or so from the blinds, a bet representing about the size of the pot. One opponent folded, but Gonzalez was quick to call and he tabled K♣Q♣ for top pair of queens. That was better than O'Dwyer's A♠K♦, but there were still two cards to come.
The T♦ turn gave O'Dwyer straight possibilities to go with his ace outs. But the river was the 8♦ and Gonzalez took the pot.
O'Dwyer had the most chips beforehand, meaning he keeps his seat though with just about 5,500 now. Meanwhile Gonzalez has chipped back up over the 60,000 starting stack. — MH
6:46pm: Alice is headed back to Dallas
Level 6 – Blinds 300/600 (BB ante 600)
Alice Zheng's tournament just came to an end after tangling in two pots with her fellow Platinum Pass winner David Peters.
I showed up for the end of the first pot, with the board reading K♣6♥4♠4♥2♠ and somewhere around 30,000 chips in the pot. Zheng (big blind) checked and Peters (button), after some thought, checked behind; his J♣J♦ was good against Alice's A♠3♠.
On the next hand Peters opened for 1,300 in the cutoff and Zheng jammed for her last 14,600 in the small blind. Peters called with A♥K♦, which had Alice's K♦Q♦ dominated, and the bigger hand held up to eliminate the LIPS Championship Platinum Pass winner from contention. –JK
6:45pm: Burkhart's pair gets beat
Level 6 – Blinds 300/600 (BB ante 600)
There were a lot of pairs this hand. Each player held one and the board had two of its own.
Jacqueline Burkhart started things off with a raise to 1,500 from the hijack and Raul Manzanares called from the cutoff. The rest of the table got out of the way and the flop came 6♦3♦3♥. Burkhart bet 2,200 and Manzanares called, bringing the 6♠ on the turn.
The board now had two pairs and both players had overpairs. Burkhart had 7♠7♦ and checked while Manzanares bet 3,500 with 8♣8♥. Burkhart called and the A♣ completed the board.
Both players checked that card and turned over their hands. Manzanares took down the pot while Burkhart dipped to about starting stack. –AV
6:42pm: Is that good
Level 6 – Blinds 300/600 (BB ante 600)
Hey, Neville Costa, in this hand with Uri Reichenstein, when did you start liking your hand.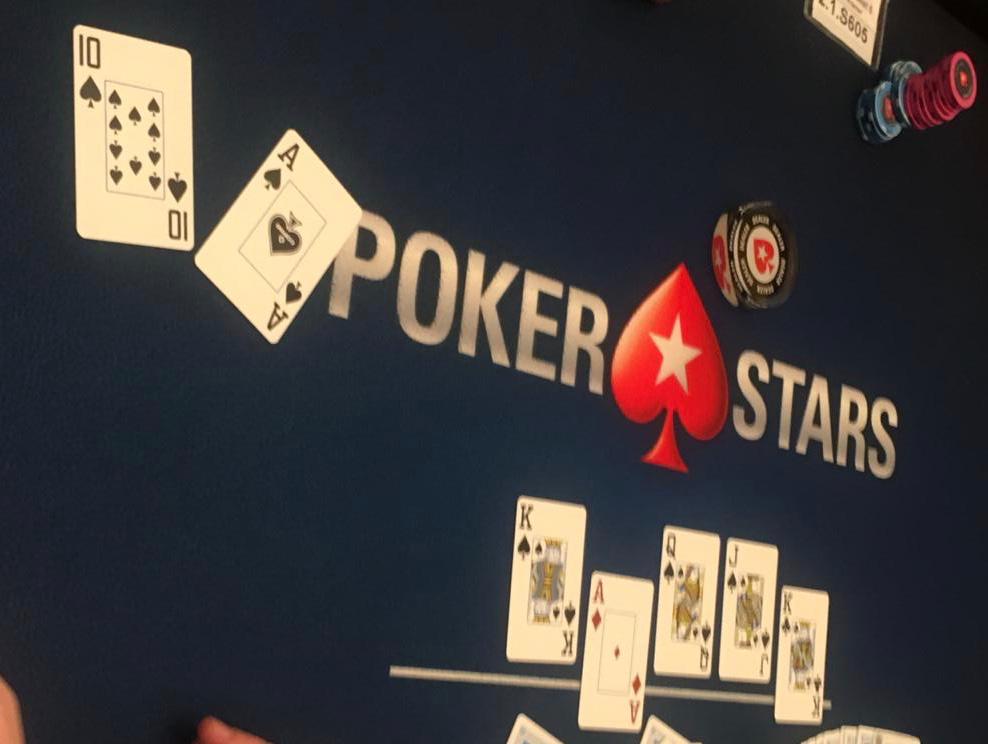 ---
6:33pm: Recent eliminations
Level 6 – Blinds 300/600 (BB ante 600)
It's beach time for Felipe Ramos, Scott Seiver Nick Schulman, and these, the Platinum Pass holders we know to be kaput:
Christian Martin
Cao Siyou
Matt Kiefer
Christopher Michael Andler
Andrejz Tomasz Siemieniak
Vivek Singh
Aneesh Gopinathan
Sumit Sapra
Christian Martin
Andre Akkari
Ecktor Lopes
Felipe Lombardi
Mindaugas Povilaitis
Wah Meng Tan
Ignatius Meng
Tomas Steponavicius
Sergio Garcia
Huayi "Alice" Zheng
Rogerio Pereira
Wilson Lim
Jeremy Hilsercop
Stijn Van Den Meersschaut
Pyter van der Leij
Stepan Nikishin
Evgenii Sboev
6:28pm: Thompson still looking for an opportunity to pass
Level 6 – Blinds 300/600 (BB ante 600)
Gary Thompson, who won his Platinum Pass in the APPT Manila Saturday SuperStack, is taking a break from his career as a race driver to play this tournament. He's toward the back of the pack at the moment after dropping a pot to Kunimaro Kojo, who called his button raise to 1,400 in the big blind. Kojo check-called 1,100 on the K♦Q♦Q♥ flop and then check-raised the J♠ turn after Thompson bet 4,100, chasing the race driver off the pot.
Thompson is currently hanging on with 24,000. –JK
6:27pm: Armstrong-Payne, Altman pained
Level 6 – Blinds 300/600 (BB ante 600)
We came to Platinum Pass winner Blair Armstrong-Payne's table to check in on his progress (the All-In Shootout winner is doing rather well with 77,000). But we stayed to see Brian Altman's painful elimination.
Brian Altman open-jammed for his last 7,300 under the gun, and was called in one spot. Altman had A♦K♣ up against A♥T♥ and was in good shape, until the board took a turn for the worse. By the river it read 3♦A♣5♠T♣5♥ and Altman's two pair with fives couldn't beat top two. –JS
6:24pm: The First Lady of Poker faring well
Level 6 – Blinds 300/600 (BB ante 600)
There are few Poker Hall of Famers are taking part in this historic event. Erik Seidel, Daniel Negreanu, John Juanda, and Jennifer Harman are all playing, with Phil Hellmuth due to arrive at some point as well.
---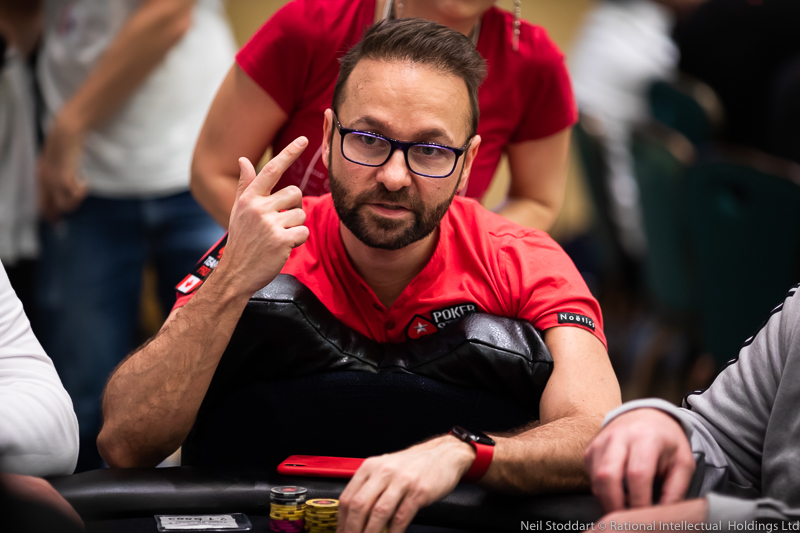 Daniel Negreanu
---
Another member of that exclusive club, Linda Johnson, has been here from the start. Johnson found out she'd been awarded an entry along with Kevin "Kevmath" Mathers just a couple of weeks ago. The WSOP bracelet winner, tournament organizer, former CardPlayer magazine publisher, and longtime ambassador of the game earned her well deserved "First Lady of Poker" nickname from Mike Sexton, and both her induction into the Poker Hall of Fame in 2011 and her receipt of the Platinum Pass were lauded by the poker community.
Johnson has done just fine through the first five-plus levels today, having chipped up to around 80,000 to this point. We'll be talking to her shortly to get a first-hand report on how her day has been going. — MH
6:23pm: Akkari to the rail
Level 6 – Blinds 300/600 (BB ante 600)
Andre Akkari is out. He shoved with his last 4,000 with A♠T♠ against a pair of nines.
The board ran 9♣8♣4♦Q♦T♥. All over for Andre. – SB
6:21pm: Survivor mode
Level 6 – Blinds 300/600 (BB ante 600)
Tyson Apostol is close to full Survivor mode. Having been up a short while ago, he's now down to 22,000 and has work to do.
Elsewhere Jennifer Carter is holding steady, up to nearly 20,000. She's also had her second table change of the day and now sits to the right of Arlie Shaban.
On the subject of Arlie, he's down to 36,000 after a hand against Joseph Couden.
Elsewhere Christian Martin, who won his Platinum Pass thanks to Fintan Hand and Ben Spragg, is among the latest fallers. – SB
6:13pm: Schemion shows down a winner (again)
Level 6 – Blinds 300/600 (BB ante 600)
Ole Schemion is one of those players who when he makes an more-than-pot-sized river bet, he could have literally anything.
That's the thought that ran through your humble scribbler's jingle-brain just now when he saw Schemion bet 13,200 into a pot of about 10,000 with the board showing 5♦T♥K♠6♥9♥. His opponent Jose Montes ran through the possibilities, finally deciding Schemion might have something less what whatever Montes himself had. But when he called Schemion showed 5♥4♥ for a backdoored flush, and Montes mucked.
Both players are sitting right at around 85,000 at present. — MH
6:11pm: Mercier takes from Greenberg
Level 6 – Blinds 300/600 (BB ante 600)
With the board showing 7♠8♣2♥K♦, Lawrence Greenberg of Massachusetts fired a bet of 6,000 (a little over half-pot) and Jason Mercier of Florida called. Both checked the 4♣ river, and after Greenberg showed he'd been semi-bluffing with T♥9♠, Mercier showed T♣T♦, and the latter took the pot.
"Nice hand, Jason," said Greenberg afterwards. He still has 80,000, while Mercier is now sporting a bigger stack to go with his bigger beard, having chipped up to 72,000. — MH
pm: It's a Raid
Level 6 – Blinds 300/600 (BB ante 600)
Platinum Pass winner Mirko Raid is sitting two spots to Stephen Chidwick's left. If you're going to have him at your table, that's the spot you want. If it were the other way around, Raid might not be on 95,000 like he is at the moment. And that count comes after losing a pot to Brian Yoon. Raid bet 1,500 on the K♠4♥J♠ flop on that one, which Yoon called. They both checked the 6♠ turn and then Yoon took it down with a bet of 5,500 on the 4♦ river. –JK
6:09pm: Fintan falling
Level 6 – Blinds 300/600 (BB ante 600)
Just got a quick update from Fintan Hand — he's down to 52,000. "Lost a decent one to Mike Watson," he said. No details beyond that, but who needs details when the subject of your update is wearing such a swanky suit? –JK
6:10pm: ONE THOUSAND
Level 6 – Blinds 300/600 (BB ante 600)
The big board that tells us how huge this thing is just flipped to four digits. We have a field of at least 1,000 players!–BW
6pm: Level up
Level 6 – Blinds 300/600 (BB ante 600)
Another level, another set of blinds, another Kevmath hat. Level 6 features 300/600 blinds and a fancy red hat.
Level 6 hat

Chips: 94,900
Blinds: 300/600 BBA 600
Cookies purchased by table chip leader
Not a lot of fun hands, but I did biy my first beer of the tournament. May I make that last to the next break. pic.twitter.com/g9vmiSv4og

— Kevin Mathers @ Atlantis (@Kevmath) January 6, 2019
5:56pm: Max pain for Chakdor
Level 5 – Blinds 200/400 (BB ante 400)
"I love swings!" Tenzin Chakdor told us when he won his Platinum Pass in an all-in shootout for NJCOOP players in New Jersey. "Max Pain Or Pleasure!" Good thing he loves all the extremes, because he's been on a downswing today at a table featuring both Timothy Adams and Lex Veldhuis.
With about 15,000 chips left, Chakdor is looking for any way back into the game that he can possibly find. He called an early-position raise by Adams but folded — along with Adams and Yen Han Chen — when Andrey Kotelnikov bet on the button on the Q♠J♣6♥. Then he called a Veldhuis raise and folded to Lex's bet on the Q♠J♣6♥ flop. But he got some chips back when he successfully check-raised Kotelnikov on a J♥7♥5♦ flop. –JK
5:55pm: All jacks accounted for
Level 5 – Blinds 200/500 (BB ante 500)
Walking by Ben Lamb and Mukul Pahuja's table just now, both were involved in a hand in which three treys had flopped, and after the turn made the board 3♠3♣3♦A♦ both had contributed enough to build the pot up to 35,000.
The Q♠ river brought two checks, though, and when Pahuja showed J♣J♥, Lamb tabled his J♦J♠ in such a way as to mix them with Pahuja's, leaving all the jacks in a pile together as the pair chopped the pot.
Pahuja has 56,000 now, Lamb 45,000. –MH
5:50pm: Couples that win Platinum Passes together, play enormous $25Ks together
Level 5 – Blinds 200/500 (BB ante 500)
That adage can really only apply to Malaysia's Michael Soyza and Natalie Teh.
The poker power couple won their Platinum Passes at different stages throughout the year. Soyza took down the APPT Korea Main Event, while Teh outworked a lot of smart people to win the LivGor quiz.
Soyza has become a staple of the high roller world this year. Teh is no poker newbie though; she's got $182K in career earnings with cashes dating back to 2011. Right now she's doing the better of the two, with 75,000 to Soyza's 46,000. –JS
5:45pm: End of the road for Povilaitis
Level 5 – Blinds 200/500 (BB ante 500)
The end didn't come quickly for Mindaugas Povilaitis. Instead it took two hands. But he only managed to delay the inevitable. The damage was done in a hand against Saya Ono.
The board read T♣A♠7♦K♥5♥ when Ono moved all-in. Povilaitis had a decision. He had A♣Q♣. That was good for top pair, but would it beat Ono. He had to find out.
The news wasn't good: A♦K♣ for Ono.
Povilaitis tossed in his cards and grabbed his bag. But there was still the matter of numbers. Who covered whom?
Thinking he was out, Povilaitis watched the dealer throw him a yellow chip. Then three more black ones. Not a lot, but 1,300 to shove with on the next hand when he found K♠2♣.
Two players then shoved after him, which would have done him some good, had his cards held up. They didn't.
On a board of Q♥9♥8♣2♣6♥ Nelson Resendiz turned over A♣K♥ while Christopher Andler had the winner with A♦9♦. Either way Povilaitis, whose Platinum Pass story had begun last April, was out. – SB
5:43pm: Kiefer kicked…booted…gone
Level 5 – Blinds 200/500 (BB ante 500)
Everyone who has played poker knows this story, but it sucks to have to deal with it on Day 1…especially if you are Vlogger in Paradise Platinum Pass winner Matt Keifer. He reports the following: "Got kicked in the balls over and over, finally guy bets, I shove with ace-king with 20 BB, he snap calls with ace-queen. You know how it ends." While it's not the story he will want to tell on his vlog, it's the one he has right now. Go get some beach time in, Matt. We'll see you again.–BW
5:40pm: Seymour gets got by Kot
Level 5 – Blinds 200/500 (BB ante 500)
Here's a hand pitting a Platinum Pass winner versus an opponent who has won three Super Bowls.
The latter is of course Richard Seymour, the retired NFL defensive lineman who has made himself an accomplished poker player post-career. We see him here in the Bahamas every January, usually when the NFL playoffs are happening to remind us of his remarkable past.
Meanwhile Jan Kot of Poland is one of the 300-plus Platinum Pass winners here, having won his via a Monthly Sunday Cashers AISO event.
The hand started with Seymour raising to 1,200 from the hijack seat and Kot calling from the button. The flop came 2♠3♦Q♣, and Seymour check-called a bet of 1,300 from Kot. The turn was the A♦. Seymour checked again, Kot bet 4,500, and Seymour called.
The river was the 8♥. Seymour checked a third time, and Kot fired 13,000. Seymour thought a while, his hand on the felt before him for a while not unlike a defensive lineman poised to move during a long snap count. Finally he called, and when Kot turned over 3♠3♣ for a set, Seymour showed he'd been cautious with A♠Q♠ for two pair.
Put Kot up around 95,000 now, while Seymour slips to 19,000. –MH
5:35pm: Han Sam Kim takes some off Watson
Level 5 – Blinds 200/500 (BB ante 500)
Platinum Pass winner Han Sam Kim just took bit off Mike Watson. The board read Q♣2♠7♦T♦ and Kim bet 3,000 into pot of 6,500. Watson called and the 2♦ came on the river.
Kim bet again, the same amount, and Watson called. Kim turned over A♣7♣ for a pair of sevens and Watson mucked. Kim is now back to about starting stack with 65,000. –AV
5:33pm: Kojo can't call
Level 5 – Blinds 200/500 (BB ante 500)
Kunimaro Kojo topped the Japan Poker Tour leader board to win his Platinum Pass and now he's in the Bahamas with a number of face masks.
Kojo started the day off with a surgical-looking white one, but now he's switched to a black fabric one. He also lost a few chips. Kojo was heads-up against Lars Kamphues that hand and there was about 8,500 in the pot and a Q♦A♦9♠ flop on the board. Kamphues best 4,500 and Kojo called, bringing a J♣ on the turn.
The Q♠ completed the board and Kojo checked. Kamphues made it 14,600 and Kojo thought for a bit, then he folded.
Kojo is now down to 38,000. –AV
5:30pm: Sboev Sbusto
Level 5 – Blinds 200/500 (BB ante 500)
Eugeny "GrekSboev" Sboev, the first Russian Platinum Pass winner, has busted from tournament. Our Russian colleague is Andrei Maksin is seeking details of the bustout.
What we can tell you is that he won his Platinum Pass in the EPT Open in Sochi in an all-in shootout. He is here with family first — he said he's excited to play against professionals, but is treating this like a holiday. He now has a lot of time to explore the Bahamas. — HS
5:25pm: Kean's got the knowledge
Level 5 – Blinds 200/500 (BB ante 500)
Allan Kean is doing work here today that couldn't be more different from his former day job.
As a retired taxi driver from the UK, 68-year-old Kean is used to taking people where they want to go. But as a Platinum Pass winner now here in the Bahamas, he's hoping to drop people off, one by one, sans chips.
Kean's up to a massive 188,000 right now. Pretty amazing considering he only started playing poker four years ago.
---
---
Even more amazing is that he's amassed his stack on a table featuring Andre Akkari, Sam Grafton, and Roger Teska.
Kean won his Platinum Pass during the PSL Cash Game promotion at the Hippodrome in London in November. –JS
5:21pm: Populating the rail
Level 5 – Blinds 200/500 (BB ante 500)
Pedro Marques, Eli Ross, Wah Tan and Pier Van Der Leij are all now out. — HS
5:20pm: You make the call
Level 5 – Blinds 200/500 (BB ante 500)
So…is Jake Cody right or is Kenny Hallaert right about how the pros should treat the Platinum Pass holders here? You make the call and tell us on Twitter: PokerStarsBlog–BW
Don't really see a problem with his attire, speed of play should be the only issue. I also don't think pro's should be required to 'entertain' just be themselves and keep the action flowing https://t.co/5GYPr9Vqm6

— Jake Cody (@JakeCody) January 6, 2019
5:18pm: Vagner vanquished
Level 5 – Blinds 200/500 (BB ante 500)
News from our Brazilian colleague Sergio Prado: Vagner Schroeder, a Platinum Pass winner from down there in samba-land, has been knocked out.
Vagner won his pass through Andre Akkari's "Inagame League" promotion, ranking highest through 12 rounds of play at Akkari's home-game on PokerStars. Vagner is 22 years old, and lives in a city in Brazil that has only 7,000 habitants. This trip to the Bahamas is the first time that he has ever left his state in Brazil, and the first time he has ever traveled by plane.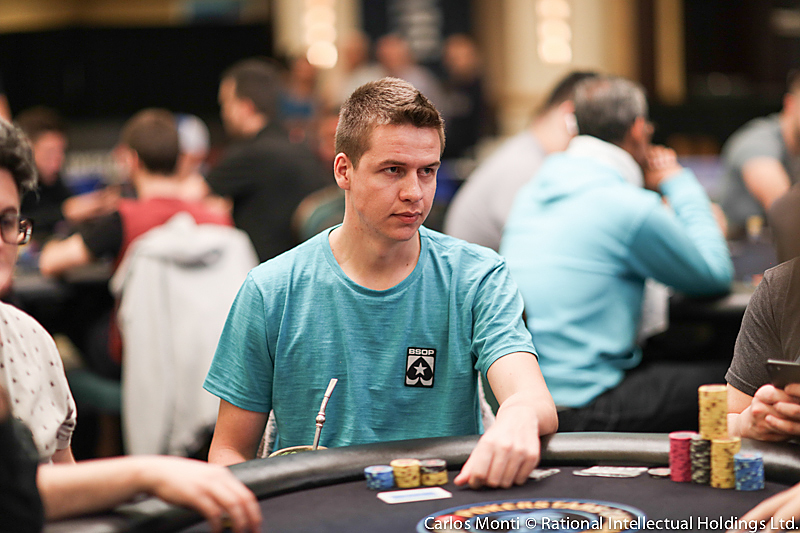 Vagner Schroeder: Akkari's horse departs
---
His elimination here came when he lost almost all his stack with a king high flush against the nut flush. Then in his final hand, a player raised to 1,000, another player called and Vagner shoved for 7,700. He was called by one player that showed A♣Q♥ against Vagner's K♥J♠. Board was 6♠7♠2♣8♣Q♦. — HS
5:15pm: Carter on the up
Level 5 – Blinds 200/500 (BB ante 500)
A small reprieve for Jennifer Carter.
Down to around 12,000 at the break, she's now back up to around 18,000 after shoving all-in behind a bet from a player at the other end of the table. He wasn't going to mess around, and folded.
The knitted hat is also coming along nicely. – SB
5:12pm: A win for Irwin
Level 5 – Blinds 200/500 (BB ante 500)
Platinum Pass winner Alex Irwin's stack is back up around the 90,000 mark after this latest pot versus Patrick Tardif. There was an 8♣2♥T♦ flop next to a 7,400 pot out there when we arrived, and Tardif had checked. Irwin led for 7,000, and Tardif was forced into the tank.
He riffled his chips, glanced up at Irwin, then back to the board. He was giving him a look that screamed: "Really?"
Tardif let it go, showing the T♥ for top pair. Irwin then put him out his misery. He showed A♣A♦.
"I appreciate it," said Tardif, who is now down to 21,000. At the same table is Dan O'Brien, sitting very pretty with a 195,000 stack. –JS
5:10pm: More gone
Level 5 – Blinds 200/500 (BB ante 500)
John Racener, Ivan Deyra, Jofrey Puaux and Georgios Vrakas are all out. — HS
5:05pm: The Ballad of Jim and Tom
Level 5 – Blinds 200/400 (BB ante 400)
At first glance, Jim Martinsson and Tom Chiarella don't have that much in common. One is a grandfather from Sweden, the other a former professor and freelance writer from the U.S. But both Platinum Pass winners are enjoying a crazy experience here in the Bahamas.
Martinsson is on about 50,000 as we resume play on Level 5. "I haven't had many good hands," he told me. "I had J-J once and caught a jack on the flop. My opponent bet and I raised, but I think it was too much. It was one of my first hands in almost four hours!"
Chiarella has just a bit less right now at 47,000. He just missed out on winning an EPT Monte Carlo Main Event package earlier — his table was selected for the draw, but he lost out when Thi Xoa Nguyen drew the high card. Chiarella told me was as far down as 23,000 earlier on. "The table caught on that I won my Pass so they started pushing at me," he said. But pushing back a bit allowed him to begin stacking back up. –JK
5:03pm: Somerville in his comfort zone
Level 5 – Blinds 200/500 (BB ante 500)
Jason Somerville has been up on the main stage for the first four levels today, which means he's been on camera. Which is where the Twitch star often is, of course. He's also one of the players in this field who has experience playing high buy-in events such as this one, and so is definitely in his comfort zone.
---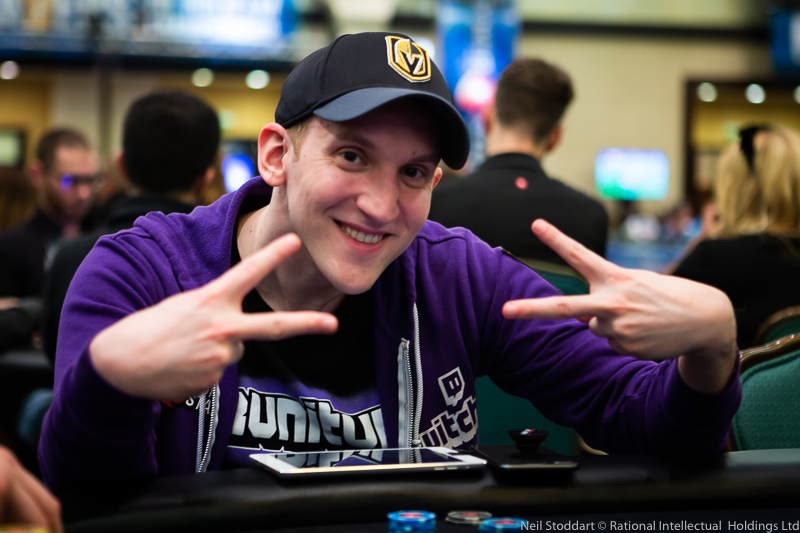 The Jason Somerville Comfort Zone
---
Of course, as those who know Jason or have watched his stream well know, he's often in his comfort zone, no matter where he is.
"Everything is good… peaceful, just chillin'," he began when asked how his day is going so far. "I've played a lot of these high-stakes tourneys before, so it's another day in the office for me."
Talking about the "mix of pros and fresh players" in this event, Somerville noted he'd thought perhaps the atmosphere might be a bit more chatty such as at the WSOP Main Event, but it hasn't been that way so far at his table.
"My table is very quiet. I've gotten the vibe not that everyone is scared, but you know… it's a little nerve-wracking for a lot of these guys!"
Of course, that's all just fine for the gregarious Somerville, who can be quiet, too, when needed.
"It's all fine… been hanging out, watching football, life is good… Day 1."
How many chips does Somerville have now? "80… 90…?" he said with a shrug, indicating he's built up the starting stack to close to the 90,000-chip range. "Not really worrying about it."
Spoken like a person right in his comfort zone. –MH
5pm: Once more to the breach
Level 5 – Blinds 200/500 (BB ante 500)
Play is under way again. — HS
4:55pm: One Toke over the line
Level 5 – Blinds 200/500 (BB ante 500)
I got the chance to catch up with Toke Gerding Jensen, who won his Platinum Pass in a special episode of Stapes v. Superfan. He's been on the secondary featured table today and just finished up with that. He'd been above his starting stack for most of the day but lost a big pot for half his stack just before the end of the level.
"I tried to get a bluff through right at the end," he told me. "There were four cards to a straight on the board and I decided, I don't think he has the nuts. I don't think he has A-J so he's going to have a hard time calling with just a jack. So I decided to raise 2.8x of his bet on the river. He called with J-T for the middle straight. I wouldn't have called in his shoes, but he got the read, I guess."
"It kind of annoyed me," he said with a chuckle. "A bad way to end the session, I guess, but I'm having fun in there. I feel like I'm playing good poker and the bluff made sense for me."
Toke is coming back with about 30,000 chips after that loss, but in good spirits nonetheless. –JK
4:40pm: Break time
They've reached the end of the level and the second break of the day, and players are off once more for another 20 minutes to recollect themselves. The big board is showing 977 players have entered so far, with the total continuing to climb. –MH
4:39pm: Nothing grim about Grimason's game
Level 4 – Blinds 200/400 (BB ante 400)
We're starting to lose a few of our Platinum Pass winners at this stage, but one whose tournament is going strong is Andrew Grimason. He locked up his Platinum Pass by taking down the Mammoth Dublin High Roller back in June.
"Yeah it's going well," he just told us in between hands. "I flopped a full house with pocket kings on a king-jack-jack board. A guy picked the wrong time to bluff!"
Grimason is on 92,000 now. — JS
4:37pm: Foxen rockin'
Level 4 – Blinds 200/400 (BB ante 400)
Alex Foxen is enjoying himself today, especially after the last pot he took down. I showed up with about 30,000 chips in the middle and Renan Bruschi having checked to Foxen on the river of a 5♣8♣6♥5♠K♦ board. Foxen jammed and put Bruschi to a decision, which eventually became a fold.
Foxen is now on a very healthy 90,000. — JK
4:35pm: Former PCA champ dunzo
Level 4 – Blinds 200/400 (BB ante 400)
Bad day for one-time PCA Main Event champion Harrison Gimbel. Before the second break of the day, Gimbel has been eliminated. This level, we also said goodbye to Vagner Schroeder and Platinum Pass winner Stijn Pie Van Den Meersschaut. — BW
4:30pm: Burkhart boated
Level 4 – Blinds 200/400 (BB ante 400)
Jacqueline Burkhart was skirting the six-digit chip mark, but recently ran her trips into a full house.
The boat didn't do too much damage though. Burkhart's stack dipped from 96,000 to 76,000. — AV
4:29pm: Sapra sliced
Level 4 – Blinds 200/400 (BB ante 400)
Sumit Sapra's race is run. One of only three Indian Platinum Pass holders has hit the rail approaching the mid-point of Day 1. — HS
4:27pm: High hopes, half a stack for Hawk
Level 4 – Blinds 200/400 (BB ante 400)
There were a lot of players on the 4♥Q♠2♦ flop. Tony Hawk was one of them and had limped in from under the gun. Maybe everyone just wanted to play a hand with the skating legend.
Maybe the raise after and multiple callers made the odds too good. There was about 8,400 in the pot after all the calling was done.
Things slowed down a bit after that though. All five players checked the flop and the 6♥ came on the turn. Then Gino Cardenia bet 3,100 and only Hawk called.
The 8♥ completed the board and Cardenia fired off 5,100. Hawk called again and turned over Q♣J♥ for a pair of queens, but Cardenia had rivered two pair with 8♠6♠.
"High hopes," Hawk said.
Hawk is now at about half starting stack with 34,000. — AV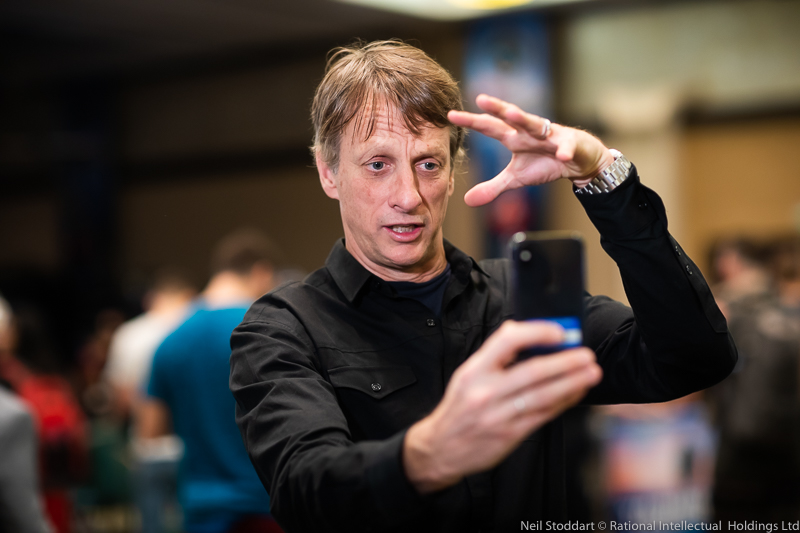 Hawk: Hopes high, stack less so
---
4:24pm: Takayama's time to shine
Level 4 – Blinds 200/400 (BB ante 400)
Platinum Pass winner Mike Takayama had a year he'll never forget in 2018.
It all kicked off in January with a $100K runner-up score in the Macau Baby Dragon. A week or so later, Takayama took down the opening event of the Manila Super Series. A couple of days later he won the Main Event too, plus the Platinum Pass that brought him here to the Bahamas.
But things didn't stop there. Takayama has enjoyed a seemingly never-ending streak of firsts and seconds, none more special than winning his first World Series of Poker Bracelet in Las Vegas. Victory in that $1K Super Turbo Bounty was worth almost $200K to Takayama.
The last tournament of 2018 that he played (a High Roller at December's Manila Super Series), he won. And so far today it seems his streak isn't over.
Takayama is sitting comfortably with 115,000 right now, almost double the starting stack less than halfway through the day. — JS
4:22pm: Norm hasn't found his form — yet
Level 4 – Blinds 200/400 (BB ante 400)
Norm Macdonald is down to about half the chips he started with today. Given that he's at a table with Joe Cada, Jennifer Harman, and Blair Hinkle, that's probably about par for the course.
The first hand I watched a few moments ago saw Norm move all-in from the big blind over the top of a late-position raise from Daniel Wilson. Wilson quickly folded to give Norm the pot.
The hand that followed saw Hinkle raise to 1,000 under the gun and pick up calls from Norm (on the button) and both blinds. Everyone checked the K♥8♥T♣ flop, and both Norm and Harman (in the big blind) called Hinkle's 3,000 bet on the 6♥ turn. Everyone checked the 4♠ river and Hinkle took it down with A♠K♦.
Norm then opened the next hand for 1,500 in the cutoff and Hinkle called in the big blind. They both checked the 8♠3♠5♦ flop and Hinkle took it down with a bet of 2,000 on the 8♥ turn. –JK
4:20pm: More eliminations
Level 4 – Blinds 200/400 (BB ante 400)
A few more knockouts to report here in Level 4. Add Jian Yang, Benny Glaser, Dietrich Fast, Jonathan Jaffe, and Pavel Ignatov to the list of eliminations. — MH
4:15pm: Just because it's a dream doesn't mean it's unicorns and rainbows
Level 4- Blinds 200/400 (BB ante 400)
Jeremy Hilsercop has been living the dream for two weeks. He got a WSOP Christmas present from his wife. He got a free trip and seat to the PSPC. But he also got saddled with a not-so-easy starting table featuring Christoph Vogelsang, Niall Farrell, and Kevin Mathers. And now, we're sad to report, he's bust.
He conceded he'd made a bad read pre-flop in a big hand, and it went south from there. Nevertheless, he's now had his first taste of big money poker. He's going out to enjoy the beach with wife, Randi, and then start practicing for the WSOP. Thanks for letting us enjoy the ride with you. — BW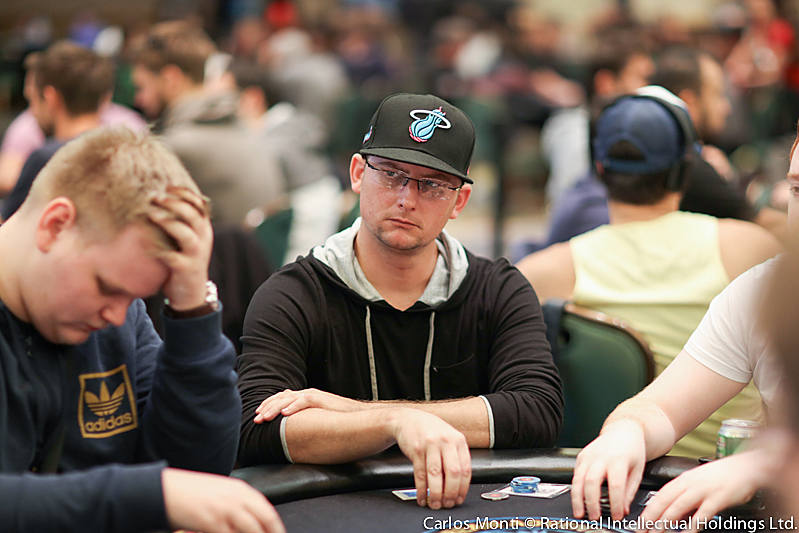 Hilsercop out
---
4:12pm: Panzica departs
Level 4 – Blinds 200/400 (BB ante 400)
The latest PSPC casualty is Sam Panzica, whose stack now sits in front of Zhuang Ruan.
We missed the toing and froing, but Panzica had a short stack all-in with K♣9♦ versus Ruan's T♣T♦, which held after the 2♠Q♠4♠4♥A♠ runout.
Ruan's up to 72,000. — JS
4:10pm: Chen chipping up, chipping down
Level 4 – Blinds 200/400 (BB ante 400)
James Chen is one of those Platinum Pass winners cut from the same cloth as David Peters. He is a legit high roller these days regardless of the credit-card shaped shards of precious metal he has in his possession. He would have been playing this event even if he hadn't shipped the APPT Macau High Roller last year.
Chen had built his stack close to 100,000 earlier today, but is now back down to around 80,000. He just went into the tank for at least three or four minutes when faced with the prospect of potentially knocking out Georgios Vrakas, but opted to fold.
All I saw of this hand was the flop of T♦4♦8♣ sitting beside a pot of only about 5,000. But somehow Chen had then got 6,100 more in and Vrakas had his entire 20,900 out there. (This may have been a bet, raise, shove, or something even more wacky.)
Anyhow, Chen thought for a good long time before opting to throw his cards away. But 80,000 is just fine still for this stage. (Talal Shakerchi is the table captain, with around 100,000.) — HS
4:08pm: Kruk's bucks
Level 4 – Blinds 200/400 (BB ante 400)
Christopher Kruk is right about where he started the day. It's probably safe to assume that at least a few of the hands he's played today went something like the one I just saw, where he opened to 1,000 in second position. Caufman Talley called behind him and then bet 1,200 when Kruk checked the 7♦A♣6♥ flop. Kruk then check-raise to 3,500 and took down the pot.
Kruk is on 62,000 right now. — JK
4:05pm: Shaban down to 40K
Level 4 – Blinds 200/400 (BB ante 400)
Arlie Shaban just took a hit.
He opened in the cut off for 900. Jose Ferreira was in the button next to him and called. Nikhil Segel did the same in the small blind. They saw the flop come T♦5♦4♠. Segel checked to Arlie who bet 1,100. Ferreira called, leaving Segel to drop out.
The turn came 9♥. Another 3,500 from Shaban, who watched Ferreira call again. The river card was the T♥. Shaban made it 8,000 this time. Ferreira shifted in his seat then leaned forward a bit. Then he called.
Shaban had 7♣6♣ for a straight draw. Ferreira had the winner with K♥T♠. After that, Shaban drops to around 40,000, while Ferreira moves up to around 120,000. — SB
4:02pm: Froze out: Recent eliminations
Level 4 – Blinds 200/400 (BB ante 400)
You might have heard… this isn't one of those crazy re-entry tourneys. This is a stone-cold freeze-out. So, it sort of sucks to be these folks who have busted before Level 4: Justin Ouimette, James Tolbert, Gil Morgenstern, Lei Chen, Bryn Kenney, Evgenii Sboev, Luid Dono, Lucas Reeves, Michael Addamo, and Eric Berger. — BW
4pm: Alvan and the chipstacks
Level 4 – Blinds 200/400 (BB ante 400)
One Platinum Pass winner we've yet to mention is Alvan Zheng, winner of the Macau Red Dragon back in February 2018. He was drawn onto one heck of a tough table, featuring John Juanda, Chris Moneymaker, Scott Clements, and recent EPT Prague Main Event winner Paul Michaelis, but Zheng is handling everything just fine.
In a recent pot, Michaelis opened to 1,000 on the button with no action in front of him, and Zheng defended his big blind to see a Q♥6♣T♦ flop. Both checked, just as they would on the 9♠ turn.
The K♠ finished off the board, and when Michaelis checked a third time Zheng led for 2,000. Michaelis folded quickly, and Zheng is up to 72,000 now. — JS
3:55pm: You gave a Platinum Pass to whooooo? To Randy Lewwwwwww
Level 4- Blinds 200/400 (BB ante 400)
Here's the thing about Randy Lew: he tried really hard. Player liaison Garry Gates started calling Lew the Charlie Brown of the PSPC, because every time Lew got close to a pass, Lucy yanked away the football and Lew ended up on his figurative ass.
So, funny enough… today PokerStars had one last Platinum Pass to give away. It was a random draw of people who bought in directly…a sort of thanks for being willing to buy-in for all this cash. And who wins? Randy Effing* Lew. (* Not his real middle name, as far as we know). So, enjoy the free roll, Randy. And watch out for Lucy. She's still out there. — BW
Randy gets to kick the ball after all
---
3:50pm: Morgenstern hits the rail
Level 4 – Blinds 200/400 (BB ante 400)
Gil Morgenstern is out. He lost with A♠K♥ to Frank Kassela's J♣J♠ when they got it all in pre-flop. There were actually four players who voluntarily invested as Kassela's early-position open picked up a call from players in the cutoff and on the button (the latter was Kitty Kuo), but they skedaddled out of it when Morgenstern shipped for about 13,000 from the small blind and Kassela snap-called.
The board was dry and Morgenstern departed early. — HS
3:48pm: Chiarella can't chase Concepcion
Level 4 – Blinds 200/400 (BB ante 400)
I just witnessed a clash of Platinum Pass winners on Table 4, one that left Jonathan Concepcion better off than Tom Chiarella.
Concepcion opened for 800 in middle position and Chiarella, sitting in the lojack seat, was his only caller. They both checked the Q♣3♦J♠ flop and Concepcion check-called 2,300 on the K♦ turn, bringing the 7♥ on the river.
Concepcion checked one more time there and Chiarella didn't take long before forcefully placing a single 5,000 chip in the middle. Concepcion thought it over for a few seconds and called, showing A♣Q♥ for a pair of queens after Chiarella showed he was bluffing with A♥8♥.
Chiarella slips to 36,000 with that loss, while Concepcion climbs to 70,000. — JK
3:46pm: #PASScode cracker remains uncrackable
Level 4 – Blinds 200/400 (BB ante 400)
Joshua McLaggan, the man who cracked the PokerStars Blog's #PASScode to win a Platinum Pass, is taking advantage of the slow structure here and exploiting his big hands.
Within the last few minutes, he worked his stack up to 75,000 after getting two streets of action from Dan O'Brien with pocket aces. — BW
3:43pm: Luke loses a pair
Level 3 – Blinds 100/300 (BB ante 300)
Luke Vrabel just lost a pair of pots, back-to-back.
Thomas Chiarella started the first off with a standard raise to 600 and Vrabel called. Brian Sherrier then three-bet it up to 1,600 and Chiarella folded. Vrabel called and the flop came T♥5♣6♠.
There was a round of checks and the 7♦ came on the turn. Vrabel bet 1,700 when checked to and Sherrier called.
An 8♥ completed the board and Vrabel bet 3,500. Sherrier thought for a little bit and then called.
"You got it," Vrabel said, and turned over ace high with A♣3♣. Sherrier showed a pair of sixes with 6♦4♦ and took down the pot.
Vrabel got chips in the following hand as well. There was an A♦2♥7♣ flop on the board and 2,000 in the pot. This time Vrabel was in early position and up against Jonathan Concepcion.
Each player put in 500 and the 6♦ came on the turn. Vrabel then upped the bet to 2,200. Concepcion called and the 5♥ came on the river. This time Vrabel bumped it up to 7,000. Concepcion thought, but came to the same conclusion as before: call.
Vrabel turned over K♣T♣ and Concepcion took it down with A♣T♥. –AV
3:40pm: Schulman pushes off Ingram
Level 3 – Blinds 100/300 (BB ante 300)
It's only here in the Bahamas that we see a lot of the names we're reporting on here today. Nick Schulman? He's a Las Vegas cash game guy who rarely travels to play tournaments. Joey Ingram? He doesn't even play no-limit hold'em, let alone tournaments.
These two are on the same table and just tangled in a pot which saw Schulman take down a nice pot. He kicked it off, opening to 700 from the UTG+1 seat, and was called by John Racener in the hijack. It then folded to Ingram in the big blind and he came along.
The 4♥K♣J♥ flop was checked through to the 5♠ turn, on which Ingram seized the betting lead for 1,500. Schulman stuck around, but Racener dropped out of the race before the 8♥.
There were now three hearts on the board, and Ingram fired a second time for 5,500. Schulman grabbed some chips and gave them a shuffle, before picking out 18,000 and raising it up. Ingram didn't take too long to lay it down.
He's on 66,000 now, while that pot takes Schulman up to 40,000. — JS
3:35pm: It's gotta be the suit
Level 3 – Blinds 100/300 (BB ante 300)
"Back down to 75,000," Fintan Hand told me a moment ago. "Got caught bluffing."
I asked the obvious question. "What was your opponent thinking?"
"Can't fold to a man in this suit apparently." — JK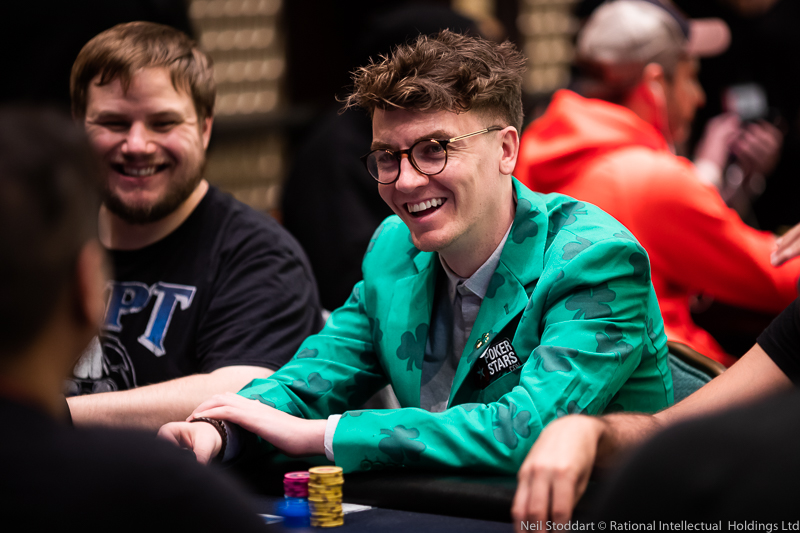 Fintan Hand
---
3:31pm: Double pass
Level 3 – Blinds 100/300 (BB ante 300)
Platinum Pass winner Quentin De Solere just doubled up through another receiver of the coveted package, Christopher Andler.
We arrived after what could only be described as a "pre-flop raising war" (that's what we say when we missed the action anyway) ending with De Solere all-in with A♠A♥ against Andler's A♣K♣.
The 9♠6♠3♥K♥9♣ paired Andler but kept De Solere in front, doubling his stack to 64,000. Andler is down to 38,000 now. — JS
3:29pm: Three more players leave the PSPC
Level 3 – Blinds 100/300 (BB ante 300)
David "Chino" Rheem, Alexander Greenblatt and Oliver Weis are each now out.
3:26pm: Third time, two pair, first win
Level 3 – Blinds 100/300 (BB ante 300)
It's been rough sledding to this point for Platinum Pass winner Tomas Steponavicius, the Lithuanian who won his entry in an ICE Challenge All-In Shootout.
Just now he was involved in a smallish four-way pot that got checked around after the 8♠A♠4♣ flop. The turn was the J♣ and it checked Steponavicius on the button who bet 1,000 with only Martin Kus staying in from the big blind. The river was the K♠ and both players checked, and when Steponavicius showed K♦J♣ for two pair that beat Kus's A♦7♣ for aces.
"Third time two pair," said Steponavicius as he collected the small pot. "First win."
He has about 20,000 right now. — MH
3:23pm: Voncken holding tight
Level 3 – Blinds 100/300 (BB ante 300)
Platinum Pass winner Toin Voncken is down to 50,000 from his 60,000-chip starting stack, but that's not putting a damper on his spirits.
"Nothing much happening over here," he told me when I stopped by to check on him a few minutes ago. "I've had some good cards, but some bad flops. I have plenty of time though!"
He's right — with a structure this slow, the only players who don't have time are the ones who've already hit the rail. — JK
3:19pm: Lucky hat
Level 3 – Blinds 100/300 (BB ante 300)
Kevin "Kevmath" Mathers has a hat for every level of the day. Level 3 brought a green WSOP hat with a four-leaf clover. It also brought Kevmath some luck in the form of quads.
---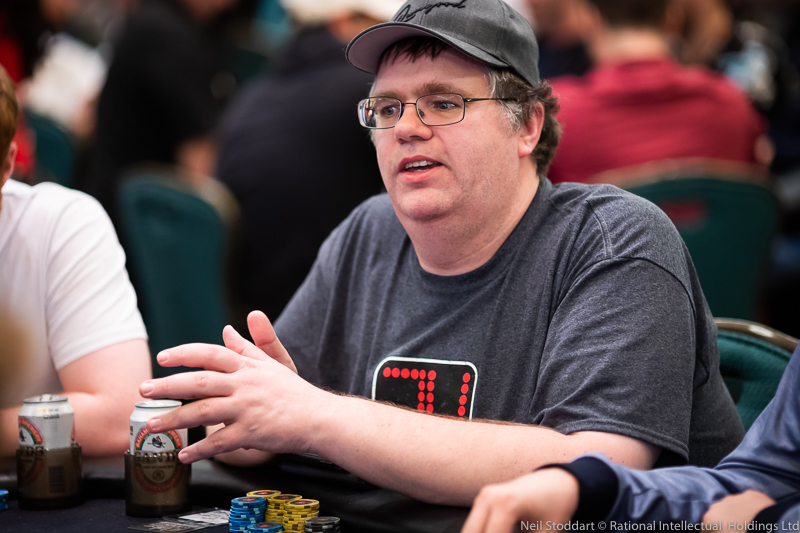 Kevin Mathers
---
We weren't there to see the action, but of course the king of Twitter has the details:
Flop trips, river quads up to 102,400 early in Level 3.

— Kevin Mathers @ Atlantis (@Kevmath) January 6, 2019
–AV
3:17pm: Sharad the unshakeable
Level 3 – Blinds 100/300 (BB ante 300)
No one is shaking Sharad Rao, the Diwali Rush Freeroll Platinum Pass winner, not even Gus Hansen.
Hansen recently got seated at Rao's table and raised to 900 when action folded to his button. The small blind got out of the way, but Rao called.
Both players checked the 6♠A♦4♠ flop and then the 4♦ came on the turn. Rao bet 3,000 and Hansen thought for a bit, but folded. — AV
3:15pm: Sapra sticks around
Level 3 – Blinds 100/300 (BB ante 300)
As far as we can tell, the full contingent of Platinum Pass winners remains in this tournament, with none having yet be consigned to the rail. But Sumit Sapra was recently pretty close to elimination, requiring his top pair to hold up against Shyam Srinivasan's open-ender.
They got 3,200 chips in each pre-flop, with Sapra's early-position open three-bet by Srinivasan in the big blind. Sapra called taking them to the Q♣7♥5♣ flop.
At this stage, Sapra had less than 13,000 in his stack, while Srinivasan had more than 100,000. (Srinivasan has been to a major final table in this room, finishing sixth at the PCA Main Event in 2014.) Sapra pushed it in — 12,800 total — and Srinivasan called.
Sapra's Q♠T♠ was ahead of Srinivasan's 8♠6♠ but any four or nine would change that. However the J♣ turn and 6♦ river presented no fears for Sapra, and he secures a double up.
Sapra won his passage here in a flip-out tournament at APPT Korea last March, but he's a well-travelled pro and will now be looking to profit after dodging an early bullet. He has 31,000 now, while Srinivasan remains healthy on 100,000.– HS
3:10pm: The Megastack man's in town
Level 3 – Blinds 100/300 (BB ante 300)
Back in November 2017, when Fintan Gavin won the €170 Galway MegaStack for €9,000, the PSPC hadn't even been announced yet. Imagine that: a world before the PSPC!
By January 2018, we all knew that more than 300 people around the world would be winning a $30,000 package. We also knew that the winner of that month's MegaStack in Ulster would be among the first recipients.
So what did Gavin do? He went and won that one too, banking €19,060 and booking his trip to the Bahamas.
Gavin walked right into a tough table draw today though, sat among the likes of Jack Salter, Lucas Reeves, and Elio Fox, the latter of whom just gave Gavin a spot of bother.
Gavin limped the small blind before Fox made it 1,200 to go out of the big. When Gavin called the dealer spread a 6♠7♦9♠ flop, on which Gavin opted to lead out for 1,300. Fox didn't budge though, and the 4♠ hit the felt. Gavin continued for 2,000, and was again called.
The T♣ completed the board, and put four to a straight out there. Undeterred, Gavin fired a third time for 3,500, only to be raised to 18,500 by Fox. That was enough to get a fold.
Gavin's just below starting stack now with 58,000, while Fox is off to a flyer with 93,000. –JS
3:04pm: Talbot pushes, collects
Level 3 – Blinds 100/300 (BB ante 300)
It seems like just yesterday we were watching the Canadian Parker Talbot push his way to the final table in the European Poker Tour Prague Main Event where he ultimately finished sixth to earn a career-high score worth just over $203K.
Just now Talbot was pushing again — his chips, that is — in a hand versus Preben Stokkan of Norway. With the board showing 4♦2♥3♥8♠7♥, Stokkan had checked and Talbot had responded by shoving all in for 35,000 — about a pot-sized bet.
Stokkan thought long enough to have the clocked called on him and then counted down to zero, making his hand dead. He keeps his 40,000 or so, while Talbot bumps up over 70,000. — MH
3:03pm: The pedigree of Peters
Level 3 – Blinds 100/300 (BB ante 300)
No one is going to deny that the Platinum Pass idea was aimed squarely at poker's millions of recreational players. Everyone under the Red Spade banner wanted to see a horde of poker hobbyists doing battle with the game's undisputed titans — and to do so for stakes that would keep the sharks interested.
For the most part, we can consider it job done. As the total number ticks towards 1,000, a high proportion of players are in their first ever $25,000 tournament, with many having likely never played much more than a $5K. About 250 of them are in for free, clasping their Platinum Passes like they're keys to the city.
But this is not the first rodeo for a handful of Platinum Pass holders. One of the undisputed highlights of last year's PCA was the moment a random draw on Day 2 picked out David Peters' name as a wildcard Platinum Pass winner. Peters has been at the very top of the game for getting on for a decade, and would have been an absolute lock to play this event whether or not he had the precious pass of metal. He's also one of only about 10 percent of the field for whom victory here would not be better than their entire poker earnings to date. Any cash here will push Peters' earnings very close to $30 million, and possibly far beyond.
At time of writing, Peters is sitting with his 60,000 starting stack still, but like a well-conditioned engine, he will no doubt begin purring very soon. — HS
3:01pm: Free subs to PokerStars Twitch!
Level 3 – Blinds 100/300 (BB ante 300)
If you were hoping to subscribe to our PokerStars Twitch channel, now's the time. During the PSPC, we'll be giving away 1,000 free subscriptions and the sweet, sweet emotes that go with them. Keep an eye out on the channel for subscription giveaways. And, if you don't get a free one, you should know that you can subscribe for $5, $10, or $25. Oh, and all subscription money will go back to the Twitch community in the form of free rolls and other giveaways. Ready to be part of our crowd. Head to Twitch now and sign up — BW
2:59pm: Nitis and day
Level 3 – Blinds 100/300 (BB ante 300)
Nitis Udornpim won his Platinum Pass on the Moneymaker PSPC Tour at Live! Casino in Maryland, and he did it in unique fashion: by paying his heads-up opponent $2,200 and a beer to end the tournament on the spot.
Now that he's here in the Bahamas, Nitis is buying pots from his opponents. I just saw him open to 700 under the gun and pick up three callers (in the cutoff and both blinds). But when he fired 1,500 on the A♠K♠9♣ flop, nobody wanted to play along.
Nitis is now on 65,000. — JK
2:57pm: Two more eliminations
Level 3 – Blinds 100/300 (BB ante 300)
Faraz Jaka and Justin Ligeri are now on the rail.
2:52pm: Buffer smoothly moves into new level
Level 3 – Blinds 100/300 (BB ante 300)
Look up the word "buffer" and you'll find it means "a person or thing that reduces a shock or that forms a barrier between incompatible or antagonistic people or things." In other words, when the going gets rough, a buffer will smooth things out.
Bruce Buffer delivered the tried-and-true poker directive to "Shuffle up and deal!" a couple of hours ago, employing his tried-and-true announcing style as he has for countless UFC bouts in the past.
---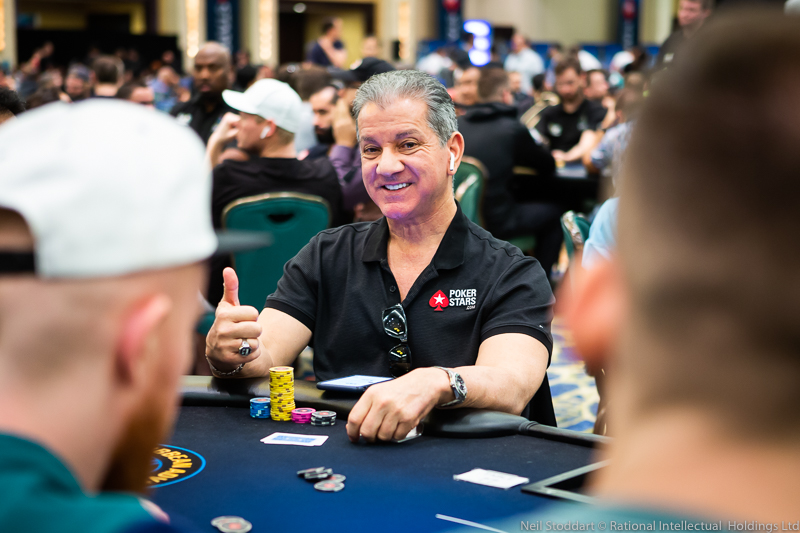 Bruce Buffer
---
After two levels of poker Buffer spun the 60,000 starting stack up to 78,000, an impressive feat given a table draw that includes Nick Petrangelo (a former No. 1-ranked tournament player in the world on the Global Poker Index), Jack Cody (an EPT Main Event champion), and Justin Bonomo (who earned over $25 million in tournaments last year alone).
"Some decent players at this table," said your humble scribbler to Buffer during the break with some deliberately employed understatement.
"I can beat 'em," answered Buffer without skipping a beat. "You have to be confident," he continued with a grin. "It's like a fight… they're all human. They bleed just like we do."
Many of us would probably find these opponents incompatible or antagonistic when it came to our efforts to succeed. Not Buffer. He's always ready to rumble. — MH
2:49pm: Play the Mini PSPC for $25!
Level 3 – Blinds 100/300 (BB ante 300)
If you're not here with us and want a taste of the action, don't miss the $25 Mini PSPC with $8,000 added beginning at 3pm ET and mirroring the PSPC here with long levels and multi-day play. Head to the PokerStars lobby now to get in. — BW
2:45pm: Dreams coming true
Level 3 – Blinds 100/300 (BB ante 300)
We just caught up with Platinum Pass winner and Team Ireland member Alex Irwin on the break to find out how he's getting on. Very well, it turns out.
"I've got just under 90,000 right now," he told us. "No major hands. I flopped a straight, but the board by the river meant I couldn't do much."
Irwin's a fun-loving chatty guy, and already knows everyone at his table. But unlike some of our greener Platinum Pass winners, he knows a lot about poker too, winning his pass by winning the €330 PokerStars Festival Marbella Poker cup for €44,000. Now he's repping Team Ireland in his custom made PSPC shirt.
"All my dreams are coming true right now," Irwin said. "Even if I bust out next level, I'm here in the Bahamas for 13 days. Amazing. I'm happy to make the effort and wear the shirt."
Right then, captain of Team Ireland Fintan Hand walked past on his way back to his table. He's certainly made an effort too, rocking his green clover suit. — JS
2:45pm: Another elimination
Level 3 – Blinds 100/300 (BB ante 300)
Another player out. They're a rare group right now but Julian Stuer is among them. He heads for the rail. — SB
2:42pm: Turning the Page from the WSOP to the PSPC
Level 3 – Blinds 100/300 (BB ante 300)
Mike Page is a gamer in the most literal sense of the word. It's not been too long since he spent half his day grinding the pro gamer circuit. We caught up with him at the WSOP this summer as he and fellow Platinum Pass holder Thai Ha went deep in a WSOP event. Now, both men are here and competing in the biggest $25K tourney in history.Many thanks to Matt and Alex from Vancine for putting this together.–BW
2:40pm: Enjoying Jadavji
Level 3 – Blinds 100/300 (BB ante 300)
"I am having so much fun."
So said Aleeyah Jadavji when I checked in on her during the first break. Jadavji, you might recall, earned one of the last Platinum Passes in December after being nominated by fellow poker media and selected to win the entry.
When I happened by her table earlier, I was wondering a little about what she had won — after all, she'd gotten herself a seat in this $25,000 tournament at a table with Amit Makhija, Rainer Kempe, and Davidi Kitai. Some fun!
She's already tangled a couple of times with Kitai, including having to make a big fold against him after the board brought two pairs and the Belgian kept betting. "He was just blasting," said Jadavji with a chuckle as she explained her fold.
In other situation she'd picked up a huge draw in a five-way pot and pot odds forced her to stick around to the river before the draw bricked out.
That was part of what saw her dip below the starting stack during the first two levels, but there's been zero decline so far of her enjoyment of the proceedings. I'll admit I'm enjoying being on the sideline watching her, too — more than I think I would sitting in her seat. — MH
2:35pm: It's a hat
As we reported earlier (1:15pm) Jennifer Carter is knitting in between hands.
"It's a hat," she said at the break. "It keeps me occupied."
She admitted to a few pre-match nerves, but she's seen them off by playing a few hands. — SB
2:30pm: Never before seen
Another first for this event. There's a queue for the men's bathroom.
No skipping the last few minutes of the break to get a head start. There are no hands cheap enough to miss. — SB
2:26pm: Break time
Level 2 – Blinds 100/200 (BB ante 200)
Players are on a 20 minute break.
2:25pm: Steven Jost still getting used to fame
Level 2 – Blinds 100/200 (BB ante 200)
Steven Jost was hungover when he won his Platinum Pass here at the PCA last year. The immediate fame was off-putting for him. Fast forward a year..and he ends up on the featured table to start the PSPC. How's he handling it? He's up to 80,000 from his 60,000 starting stack. So…not bad. –BW
2:24pm: Syp still standing
Level 2 – Blinds 100/200 (BB ante 200)
Mikolai Syp referred to himself as "the biggest underdog in sports" when he won his Platinum Pass watching a PokerStars Live stream early last year. He'd never stepped foot in a casino up to that point. "My excitement has given way to terror," he said at the prospect of facing down a thousand players in the biggest $25,000 tournament in poker history.
So how did the first two levels go for him today? "A little up, a little down," he told me on the first break — not many hands worth playing so far. "I still hold to everything I originally said, though!"
He's on 55,000 as we prepare to return to play. –JK
2:24pm: Not Ablott he could do
Level 2 – Blinds 100/200 (BB ante 200)
When James Ablott sat down to play the £440 buy-in Genting Poker Series Main Event back in March 2018, he had no idea that nine months later he'd be swapping the cold streets of Luton for Paradise Island.
Six-handed at that Genting final table, the players agreed to a six-way chop leaving only the $30,000 Platinum Pass package for the winner. Ablott took it down for £14,940 ($20,720), and secured his seat in the PSPC.
That pretty much brings you up to speed with Ablott's story, so now let's bring you up to speed with chip stack.
Ablott just opened a pot and was called by Vineet Pahuja on the button. Heads-up to the A♣6♦Q♣ flop, Ablott continued for 700 and Pahuja stuck around to see the J♦ river. Ablott didn't slow down, firing 2,500 and getting another call from Pahuja.
The K♥ was an interesting river. There were now four to a straight on board, and Ablott opted for a check. Pahuja led out for 6,300 and Ablott called quickly. He'd muck though when Pahuja revealed T♣9♣ for a flush draw that turned into a straight after the turn and river.
Ablott's still got 50,000 after that one, while Pahuja increases to 68,000. –JS
2:22pm: Monaghan calms the nerves
Level 2 – Blinds 100/200 (BB ante 200)
Dwyer Monaghan said he was feeling "not as nervous as he expected" when he sat down in this tournament at noon, despite this being his first live tournament outside of his native Ireland.
But if he is still feeling any nerves, he's certainly not showing them. Monaghan is definitely among the most active players out there on Table 75. (Fellow Platinum Pass winners Jan Kot, Hristivoje Pavlovic and Jose Pitarch Civera are also at that table.)
Monaghan just played back-to-back pots and though the net result was roughly break even, he is demonstrating a clear willingness to play the game he knows well.
In the first pot, Pavlovic opened to 600 under the gun and Monaghan called one seat over. Alexandru Baron also came along for the ride. After the 2♣Q♦Q♥ flop, Pavlovic bet 600 and only Monaghan called. That then took them to the 5♣ river. Pavlovic checked, Monaghan bet 1,500 and took it.
On the next hand, Monaghan opened to 500 but was then faced with a 2,000 three-bet from Christian Almiron. Monaghan called, but check-folded the 5♣J♦Q♦ flop when Almiron continued for 1,500. — HS
2:21pm: Fintan gets paid
Level 2 – Blinds 100/200 (BB ante 200)
Fintan Hand has enjoyed two strong levels to start the PSPC, and he's finishing the second one in style — and not just because of his flashy shamrock suit coat.
I just arrived at Fintan's table to find about 9,000 chips in the pot, a 5♠4♠Q♦6♣K♠ board already dealt and fellow Platinum Pass winner Mihai Manole, in early position, checking to Fintan in the cutoff. He thought it over and bet 5,300. Manole then took his time and finally made the call, only to muck when Fintan showed down 6♦6♠ for a turned set of sixes.
That bumps Fintan up to around 92,000 chips, while Manole slips to 35,000. –JK
2:19pm: Delacombaz taking some
Level 2 – Blinds 100/200 (BB ante 200)
Christian Delacombaz has a black cowboy hat, a small black gargoyle card protector and a shiny Platinum Pass.
He's borderline invincible.
He also recently took down a pot. Chanracy Khun started that hand off with a raise to 500 from the button and Delacombaz three-bet it up to 1,500 from the small blind. Khun called and then called again after Delacombaz bet 1,800 on the Q♦6♠T♣ flop.
The 4♠ came on the turn and Delacombaz upped the bet to 2,700. Khun called and then both players checked after the J♥ completed the board.
Delacombaz triumphantly and quickly flipped over Q♣9♣ and Khun mucked. Delacombaz is now up to nearly 70,000. –AV
2:18pm: Agonizing over an all-in
Level 2 – Blinds 100/200 (BB ante 200)
At some point in a tournament everyone faces a choice for their chips. But when it comes in level 2 of the biggest $25K event ever held, it's a little tougher than usual.
This was what Erwann Pecheux was going through a short time ago. He was looking at a board of T♠3♠J♣5♥K♠. He was also looking at the all-in triangle in front of Dustin Dirksen.
He was silent, but his face was yelling "&*#@!"
To call would have cost Pecheux all his chips. To fold would be to never know. In fact, he insisted.
"If I fold, don't show," he said, which was funnier than he got credit for.
A few beats passed before he did so. He did it at speed too. As if he didn't trust his reflexes not to do something silly and involuntary at the crucial moment.
He consoled himself with the fact he was still in the tournament with 33,000. Dirksen had on a big grin. – SB
2:15pm: Play the PSPC, get a free seat to EPT Monte Carlo
Level 2 – Blinds 100/200 (BB ante 200)
That's how it turned out for Thi Xoa Nguyen who won a random draw of PSPC entrants today. At the beginning of Level 2, TD Mike Ward drew her table from the dozens here, and then she won the highcard flip among her fellow PSPC players. So, she when she's done here, she can start planning her EPT Monte Carlo campaign.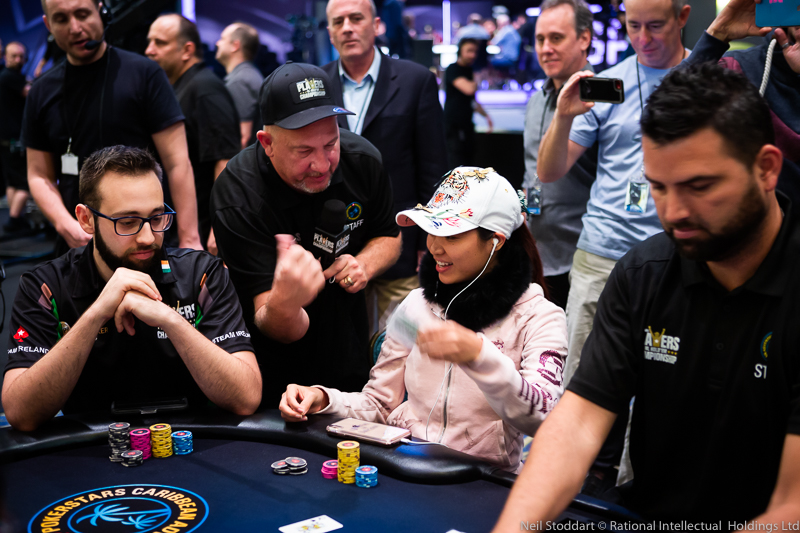 Mike Ward awards Thi Xoa Nguyen an EPT Monte Carlo package.
---
2:13pm: Yockey and Serock both flop sets, Yockey's is best
Level 2 – Blinds 100/200 (BB ante 200)
The board showed J♦3♦9♥T♦T♠, and with around 20,000 in the pot Joe Serock had checked and Bryce Yockey went all in for just a little more than what was in the middle.
Serock tanked, then called the shove, and Yockey tabled 9♣9♠ to show he'd flopped a set of nines that had improved to a full house on the river. Serock had to show his hand — 3♣3♥ for a lesser boat — and now he's down arond 7,000 while Yockey is back up over the 60,000-chip starting stack with the first break of the day approaching. –MH
2:12pm: More eliminations
Level 2 – Blinds 100/200 (BB ante 200)
As we make it toward the end of level 2, we're forced to bid goodbye to Randall Emmett and Danny Tang. Good thing they have more than a week of tournaments left to play here.
2:08pm: Garcia gone
Level 2 – Blinds 100/200 (BB ante 200)
Sergio Garcia has left us, in large part because David Yan took most of his stack in a big hand that saw a lot of action following a J♦9♠Q♠ flop.
That's when I arrived. The preflop pot wasn't that big actually, but by then Garcia had 25,000 in front of him, and Yan had raised all in to about 46,000. Garcia tanked for a while before finally calling, then saw with some disappointment Yan flip over Q♣Q♦ for a set of queens.
---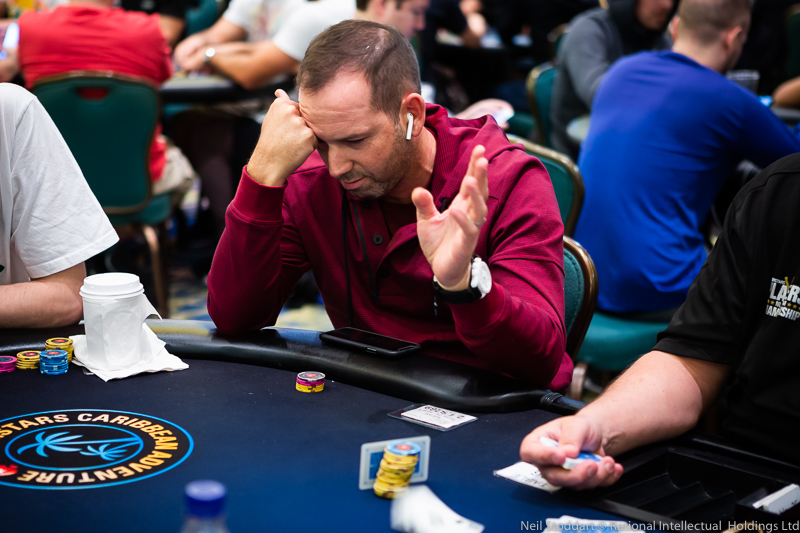 Early faller: Sergio Garcia
---
Garcia showed his A♠A♥, talking out loud about how the best starting hand in hold'em had turned into a bad finisher, and indeed after the 5♣ turn and 4♠ river the pot went Yan's way, pushing him up around 105,000.
Down to just 3,600 after that one, Garcia was knocked out shortly thereafter. In fact, it was Yan again who took the last of Garcia's chips, once more flopping a set with pocket tens after Garcia got all in behind king-queen, thereby forcing the golf pro to join the short list of early eliminations. –MH
2:10pm: Chidwick doing what Chidwick does
Level 2 – Blinds 100/200 (BB ante 200)
Here's an interesting question for everyone currently playing the PSPC, and feel to play along at home: If you could have picked one player to guarantee they would not be at your table today, who would you have picked?
If you answered Stephen Chidwick, you're right. Of course, you also could have named about 400 other crushers, but even in a room full of beasts Chidwick is among the crème de la crème.
Therefore, it came as absolutely no surprise whatsoever to arrive at Chidwick's table and see him playing–and ultimately winning–a big pot. There was a 7♦2♣6♠J♦ board already out when we arrived, plus a pot of roughly 13,000. Chidwick led for 9,000 into his sole opponent, Rayan Chamas, and was called, bringing the 2♦ river.
There was three-to-a-flush out there now, and Chidwick weighed his options before announcing all-in for 45,000. Chamas didn't take too long to fold to the overbet, taking his stack down to 37,500.
Chidwick, who won his Platinum Pass in an online satellite, is up to 76,000 now. –JS
2:05pm: North of 900
Level 2 – Blinds 100/200 (BB ante 200)
Check that ticker at the top. We have just moved over the 900 player mark…with 22 hours left to register!
2pm: Norm-core
Level 2 – Blinds 100/200 (BB ante 200)
A sharp observer will notice we haven't mentioned Norm Macdonald yet today. The comedy legend and poker enthusiast is most definitely in the house, sitting at Table 72 in his Montreal Canadiens cap. He's just not playing many hands at the moment.
Maybe likely is that he's just not picking up any hands worth playing. He definitely had at least one worth playing earlier, but it must not have gone his way because he's on 42,000 chips at the moment.
Maybe it has something to do with the fact that comics don't generally get up in the morning; if you ever see a comic in the morning, there's a good chance that he's still awake from the night before.
Or maybe he's just saving all his energy for following Joe Stapleton on stage tomorrow night. Yeah, that's the ticket. –JK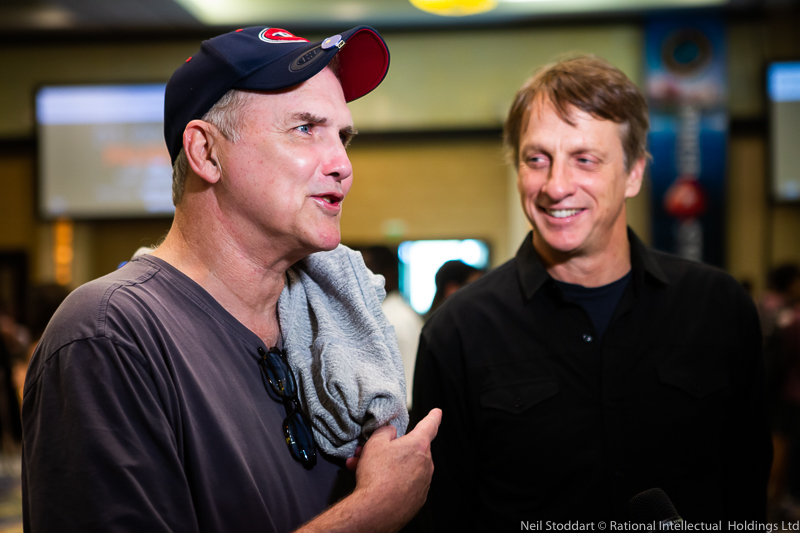 Norm McDonald and Tony Hawk at the PSPC
---
1:59pm: Ironic? Or not so much
Level 2 – Blinds 100/200 (BB ante 200)
Platinum Pass winner Cao Siyou is wearing a lemon-coloured hoodie bearing the slogan "No New Friends". It may be a reference to the DJ Khaled single, or it may be a reference to what Urban Dictionary defines as "a phrase used to show cohesiveness amongst friends and an aversion to new 'fair weather friends'. Popularly used as a hashtag."
He clearly likes the slogan, though, as he also has it emblazoned on what Americans call a "fanny pack" — a phrase Brits will snigger at — and Brits call a "bum-bag" — a phrase that will raise a smile among Americans. He's wearing the bum-pack(?) slung across his shoulder at the moment, screwing with all conventions.
One thing is certain, however: should Siyou make a deep run in this tournament, he'll end up with plenty of new friends. At time of writing, 904 players have now registered for this one, which means an absolutely whopping prize pool is guaranteed. — HS
2:09pm: Rao on the rise, takes some off Trofimov
Level 2 – Blinds 100/200 (BB ante 200)
Sharad Rao freerolled his way to the PSPC thanks to the PokerStars Diwali Rush series and now he's chipping up.
He got a chunk of those chips off another Platinum Pass winner, the Moldovan chemistry student Dragos Trofimov.
There was a K♣4♦9♣Q♠ board and a few thousand in the pot. Rao was in the small blind and bet 2,600. Trofimov called and the 3♠ completed the board. Rao bet 13,000 and Trofimov thought for a bit.
Trofimov announced the call and Rao slowly turned over one card: K♦. Then he flipped over the 3♦. Trofimov peeked as cards one more time and threw them in the muck. Then he paid Rao, who's now up to about 90,000. –AV
1:56pm: A Klaasen act
Level 2 – Blinds 100/200 (BB ante 200)
Kristo Klaasen moves up to 67,000 after a couple of pots in succession. It was the first of them that was worth the most.
Klaasen, who won his Platinum Pass in a flip out during the EPT Open in Sochi, three bet on the button to 2,100 after Alexis Urli opened for 600. Urli called for the flop: Q♣4♠7♥
---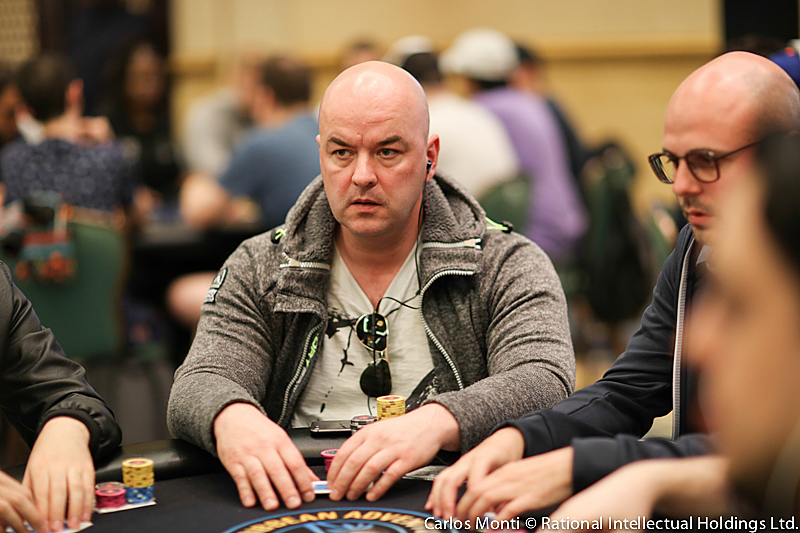 Kristo Klaasen
---
Urli checked to Klaasen who bet another 1,600. Urli called for the K♥, then called again when Klaasen bet 1,700.
That brought the J♦ river card. Check, check.
Q♦T♣ for Urli (pair of queens)
A♠K♣ for Klaasen (pair of kings)
A good start for the Estonian. – SB
1:50pm: This ain't checkers
Level 2 – Blinds 100/200 (BB ante 200)
Warren Sheaves is no slouch when it comes to poker. He won the WSOP Global Casino Championship last year and is well known in and around the southeast region as a tough customer. Turns out, he's pretty good at chess too. Just not, by his own admission, as good as Jennifer Shahade. Nevertheless, he won Shahade's Platinum Pass Adventure contest to create a poker-chess fusion game this year, guaranteeing him a seat in the PSPC. That contest required he make a video. So, he got a buddy to help him out…a guy who doesn't play poker. Get this: as a thank you, Sheaves gifted his friend 50% of whatever Sheaves wins this week. FIFTY PERCENT! –BW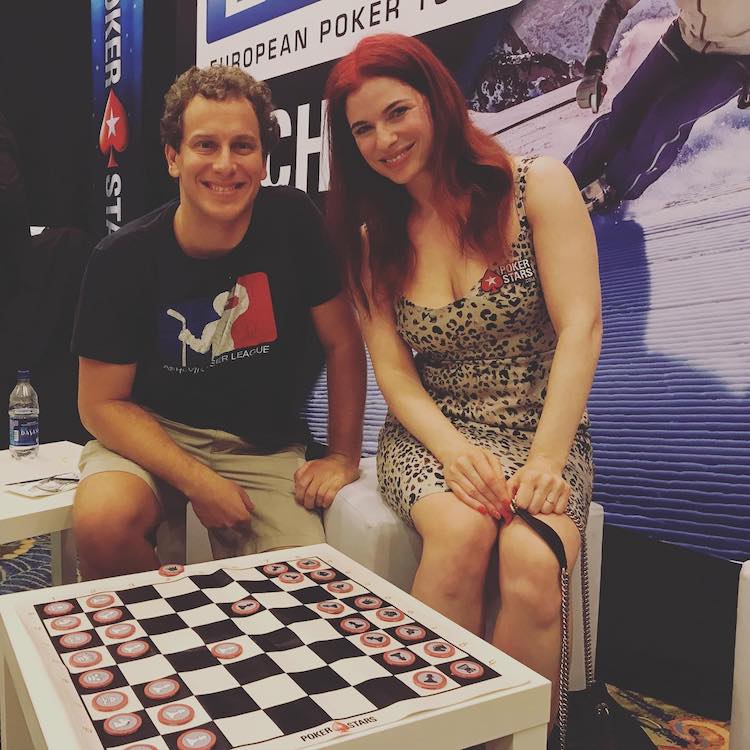 Warren Sheaves and Jennifer Shahade
---
1:45pm: A very warm Winter
Level 2 – Blinds 100/200 (BB ante 200)
Canada's Philip Elliot seemed destined to eventually take down a Winter Series event when he first picked his PokerStars online screen name, "freezeplay".
His win came in one the largest events of the 2017/2018 series, the $2,100 High Main Event, banking a massive $363,177 score and locking up his Platinum Pass all the way back in January.
Here we are one year later, and Elliot has switched up the Winter Series for the warmth of the Bahamas. He'll no doubt be hoping he runs hot.
His cards are protected by a white chess king, but it's his chips he'll really need to keep an eye on, with the likes of Peter Jetten and Maxi Lehmanski on his table. –JS
1:40pm: Konnikova returns
Level 2 – Blinds 100/200 (BB ante 200)
Best-selling author Maria Konnikova won her Platinum Pass just about one year ago by taking down the PokerStars Caribbean Adventure National Championship, besting a field of 290 to win a nearly $85,000 first prize. https://www.pokerstarsblog.com/pca-2018-konnikova-and-seidel-aim-for-ma-169889 That victory inaugurated what turned out to be an extremely successful 2018 at the tables for the writer, as she'd earn nearly a quarter million in tournament winnings over the course of the year.
Sitting near the front of the spacious tournament room, just now Konnikova was in a three-way hand in which she made a big flop bet with the board showing 6♥T♦9♦ and both of her opponents stepped aside.
Konnikova collected the chips — just a few feet away from the spot where she collected the last of the chips in that PCA National — and now has about 70,000. –MH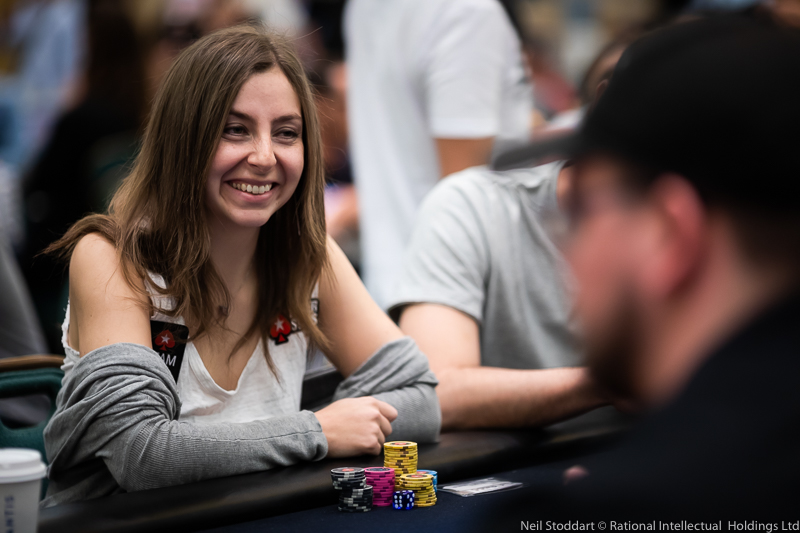 Maria Konnikova
---
1:35pm: Flipping angles
Level 2 – Blinds 100/200 (BB ante 200)
Angles are generally frowned upon in poker, but when measured in degrees, angles can propel you to stardom in other sports.
Today we have a legendary angle flipper, Tony Hawk.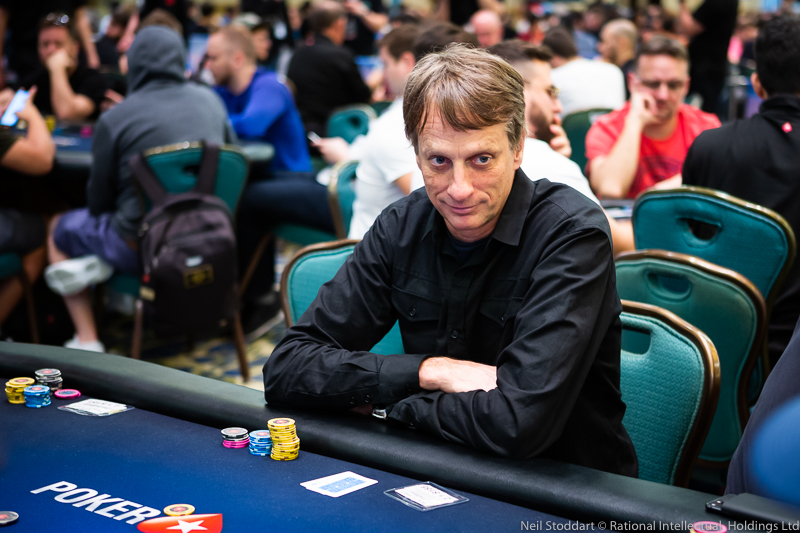 Eyes of a Hawk
---
If you were alive last millenium, or at the beginning of this one, you probably know the name. Back in 1999, Hawk became the first skateboarder to complete a 900:
Hawk became a skating legend and a line of videogames were named after him. Now 50, Hawk isn't flipping much, but he's trying his hand at one of the world's largest poker tournaments. Hawk recently sat down at his table and has been a bit more cautious.
He's limped in preflop some hands, but folded to raises. Maybe he's waiting though, and soon he'll pop out a legendary move that will change poker forever. There can even be a new line of videogames, Tony Hawk's Pro Poker. — AV
1:25pm: Stay fresh
Level 2 – Blinds 100/200 (BB ante 200)
The PSPC is an endurance test, a pokeresque marathon with millions at the end. That's why it's important to stay fresh.
Sometimes that means a new hat every level:
Level 2 hat:

Chips: 57,800
Pocket pairs: 3
Hands won with pocket pairs: 1
Hands I was dealt J-4: 3
Hands played with Vogelsang: 1
Table draw winner of an EPT Monte Carlo Package: 1
Players: 871, plus 40 reserved pic.twitter.com/ZTkFr9saSj

— Kevin Mathers @ Atlantis (@Kevmath) January 6, 2019
–AV
1:15pm: Carter sticking to her knitting
Level 2 – Blinds 100/200 (BB ante 200)
When Jennifer Carter won her Platinum Pass, she mentioned her two favourite past times were poker, and knitting. In fact she works in a yarn shop back in Toronto.
She also said we'd probably find her knitting at the table. True to form Carter is doing just that. That's both past times at the same time. What a day. – SB
1:10pm: Alice had it until the river
Level 1 – Blinds 100/200 (BB ante 200)
"Dallas" Alice Zheng won her Platinum Pass in the LIPS Championship at the Orleans in Las Vegas last year, but she just lost a pot to Justin Ligeri here at the Atlantis in the Bahamas.
I showed up to Alice's table with the board already reading T♣9♠J♣2♠ and a few thousand chips in the pot. Ligeri checked and after some calculation Alice bet 4,000. Ligeri thought briefly and called, bringing the Q♦ on the river. Ligeri checked again, Alice bet 4,000 again, and Ligeri called again.
Alice turned up Q♣8♣ for a turned queen-high straight. That would've been good if the river hadn't been dealt; isntead, Ligeri's king-high straight with K♦9♦ took the pot.
Zheng is now on 51,500. –JK
1:05pm: Value for Van Der Leij
Level 1 – Blinds 100/200 (BB ante 200)
Platinum Pass winner Pyter Van Der Leij (an ICE Challenge All-In Shootout winner) just picked up a few chips in a three-pot involving himself and a couple of tough opponents, Anthony Zinno and Joe Kuether.
I caught up with the action on the flop, seeing that each player had committed 2,600 in a reraised-pot situation. All checked the 6♥9♠8♥ flop, and after the A♦ fell it checked to Van Der Leij on the button who bet 4,000 and only Keuther in middle position called.
The river was the 6♠ and after Kuether checked, Van Der Leij bet 6,000 and Keuther called again. Van Der Leij showed A♠8♣ for two pair, and that earned him the pot to push him up over 80,000. –MH
1:03pm: Tireless Manuel well-rested and ready for battle
Level 1 – Blinds 100/200 (BB ante 200)
Nathan Manuel spent 2017 on a worldwide conquest to win a Platinum Pass. He entered competitions and tournaments everywhere and became a fan favorite whenever he tried. He finally won it at the Run It Up Reno Main Event and reserved his seat for this week. Today, Manuel is feeling strong. He stayed away from the bars last night. He took a melatonin. He got some sleep. Hit the gym. Had a light breakfast. He is, in a word, ready. And if you doubt that, check out this Team Platinum profile of the man behind the mission. –BW
1pm: One word at a time
Level 1 – Blinds 100/200 (BB ante 200)
Poker is a lot like writing. There are any number of setbacks, but you can only reach your goal by grinding it out, one word, one hand at a time. Jacqueline Burkhart knows about both, it was her writing that won her a Platinum Pass to make it here to the PCA.
Burkhart recently lost a big-ish pot, but then won a few chips back the following hand. One step at a time. In the first hand Andrew Wilson raised to 600 from middle position and Burkhart re-raised to 1,800. Action folded back around to Wilson and he called. The flop came down 2♣K♦J♦ and Burkhart bet 1,200 when checked to. Wilson called and the 7♣ came on the turn.
Both players checked that hand and the T♦ completed the board. Burkhart bet again, this time for 2,200. Wilson fired back this time though and raised to 14,000.
Burkhart quickly folded but got a few back from Matous Houzvicek the following hand. She raised to 600 that hand and Houzvicek called from the big blind. He checked the A♣K♥T♦ flop and Burkhart made it 500 to go. Houzvicek called and the turn brought the 3♠. Burkhart bet 1,200 when checked to and Houzvicek called.
The 9♠ completed the board and then a pair of checks completed the action. Houzvicek showed a pair of aces with A♠2♥, but Burkhart showed aces with a better kicker with A♦Q♣. –AV
12:55pm: Here's "The Truth": there ain't no party like a Paul Pierce party
Level 1 – Blinds 100/200 (BB ante 200)
Poker tournaments don't usually have music playing over the speakers during play (the sound of thousands of chips ruffling tends to do for background noise). But off in the distance we could hear some hip hop.
The guy playing it on his phone was very recognisable indeed.
Recently retired Boston Celtics legend Paul Pierce is out in the field, and while The Truth's stack remains at 60,000, he's been busy DJ-ing for his tablemates.
Pierce turned to his neighbour, Joep Raemaekers, before asking him: "You know this rapper right here?"
Raemaekers admitted he didn't. And nobody at the table offered a guess either.
"It's 2Pac, man!"
The music continued as Raemaekers opened to 1,700 under the gun. Pierce folded one seat over.
"What genres do you like then?" he asked Raemaekers. "Rock? Country?"
But Raemaekers was too busy being called by Platinum Pass winner Alfonso Oliver in the big blind to reply. The dealer spread a Q♥9♦Q♠ flop, on which Raemaekers continued for 500 when it checked to him. Oliver then bumped it up to 1,700, which was called.
The 4♦ turn hit the turn and Oliver fired out 3,900. Raemaekers laid it down, and the music conversation continued. Another Platinum Pass winner, Kalidou Sow (also at the table), suggested French rap as his favourite.
We'll let you know if Pierce switches up the music styles. Oh, and if he scoops some pots, too. –JS
Pierce is in tune
---
12:50pm: Behind the screen to behind the table
Level 1 – Blinds 100/200 (BB ante 200)
If you know poker, you probably know him.
Chances are you haven't seen him at a table though. You've most likely seen his tweets, his posts and his larger-than-life online presence.
We're talking, of course, about Kevin "Kevmath" Mathers, the Twitter poker legend. If the poker gods did exist, Kevmath would definitely qualify as some kind of sub-deity, a half-god forced to live among us mortals.
Today, you can see him among the group of mortals fighting for the PokerStars Players Championship title. He won his way here with a Platinum Pass and he's decked out in one of his many hats:
I brought 8 hats with me (not counting future purchases), hoping to break out a different one each level today #hatsformyhead pic.twitter.com/6ES3lvhKP5

— Kevin Mathers @ Atlantis (@Kevmath) January 6, 2019
And is wearing this shirt:
Day 1 PSPC shirt, if I was feeling really confident I'd wear it tomorrow #shotclock pic.twitter.com/GW06wcQuqe

— Kevin Mathers @ Atlantis (@Kevmath) January 6, 2019
Even when he's playing, he's working hard on keeping the poker community updated.
30 minutes into the PSPC update:

Chips: 56,400
Players: 805 (plus 66 reserved)
Pocket pairs: 2
All in confrontations at table: 1
Bracelet winners at table: 2
Super High Roller Bowl winners at the table: 1
Free bottles of water collected: 2

— Kevin Mathers @ Atlantis (@Kevmath) January 6, 2019
But today his focus has shifted and we'll be updating you about Kevmath's journey. –AV
12:52pm: A win is a win (however small)
Level 1 – Blinds 100/200 (BB ante 200)
Mindaugas Povilaitis opened a Stars Rewards Chest early last year and found a ticket to April's Stars Rewards PSPC freeroll.
---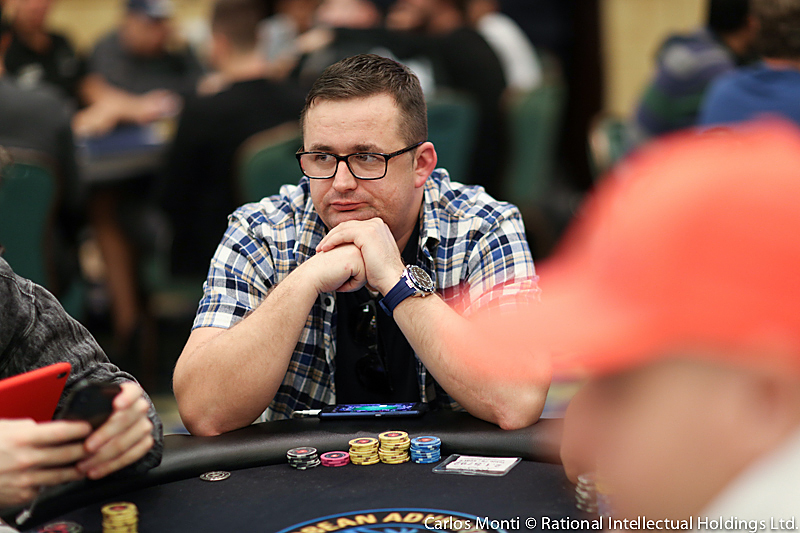 Mindaugas Povilaitis
---
Without wishing to give away what happened next, he won his way to the PSPC with a Platinum Pass, which now seats him on Table 79, where he just won the smallest of pots. But a win is a win, and he's happy about it. – SB
12:48pm: A tournament of champions
Level 1 – Blinds 100/200 (BB ante 200)
You've already heard how this event has attracted many of tournament poker's top players, so it's no surprise during the early rounds walking around the tables to have encountered a number of World Series of Poker Main Event champions already.
So far I've see John Cynn (2018), Joe McKeehen (2015), Martin Jacobson (2014), and Ryan Riess (2013), and Chris Moneymaker (2003).
---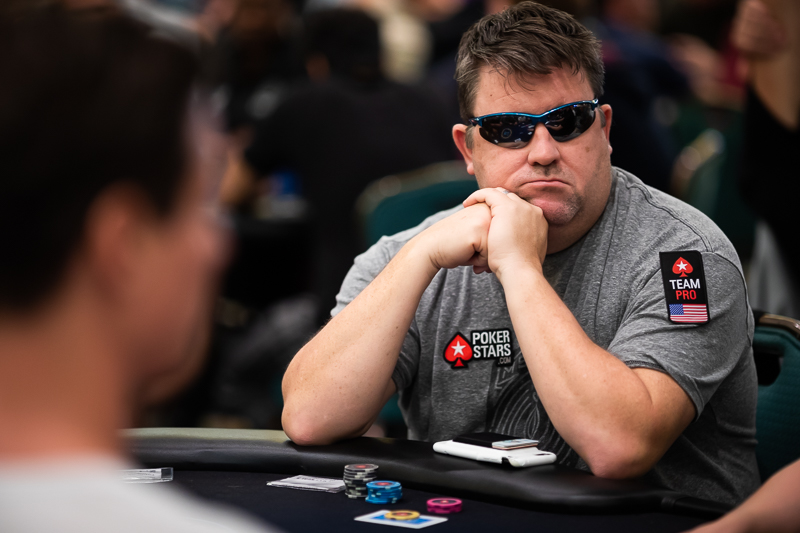 Chris Moneymaker
---
We know Phil Hellmuth (1989) will be playing as well, though unsurprisingly will be arriving late. –MH
12:45pm: Man down!
Level 1 – Blinds 100/200 (BB ante 200)
Kamali Hamidreza. Remember the name. He came to the Bahamas with the same dream as everybody else, but his was the first to be crushed. Hamidreza became the first player to be knocked out of this event, losing his full 60,000 stack within the first 20 minutes of play. — HS
---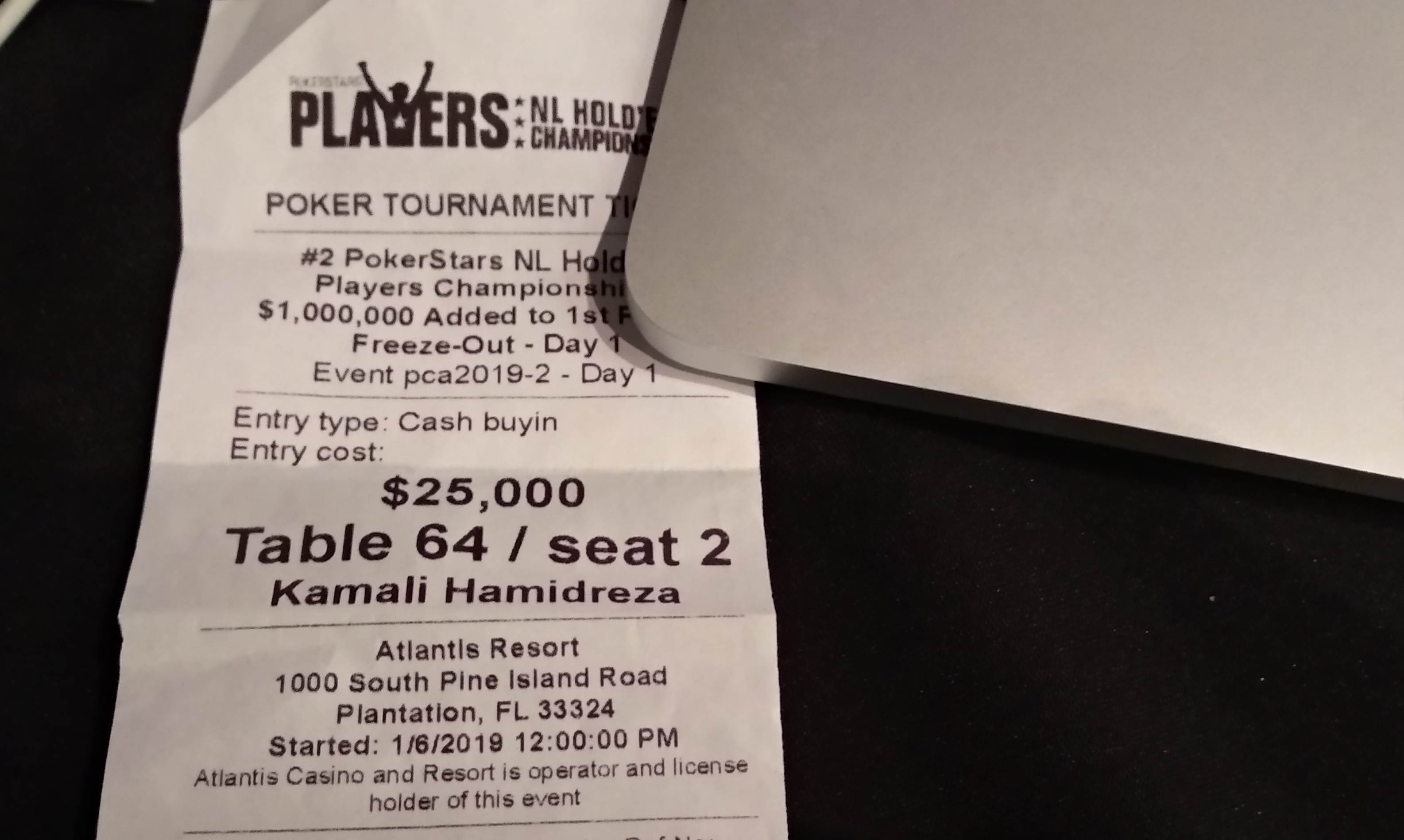 Kamali Hamidreza's entry ticket is with us. It should be with him
---
12:40pm: Neeme takes an early hit
Level 1 – Blinds 100/200 (BB ante 200)
Max Silver is getting a massage at Table 80. His tablemate Scott Seiver is complimenting me on my Ween shirt. And Andrew Neeme is shaking his head after making what must have been a big fold on the river.
The hand began with Carlos Chadha, who raised to 500 under the gun. The action folded around to Neeme in the big blind, where he made it 1,700 to go. Chadha thought it over for a brief bit and then bumped it further to 5,400. Neeme called and the flop was 8♥K♣Q♣. Neeme check-called 3,700 there and another 10,000 on the 5♥ turn, which brought the 6♥ on the river.
Neeme checked again and this time Chadha bet 18,000, sending Neeme deep into the tank. He considered the action so far and his options for close to three minutes. He cut out the chips for what would have been a call, then checked how much he'd have left if he lost. And in the end he reluctantly folded his hand.
That leaves Neeme with around 41,000 chips to Chadha's 79,000. –JK
12:35pm: Riddle me this
Level 1 – Blinds 100/200 (BB ante 200)
We couldn't help but notice a guy enter the poker room earlier who, from a distance, seemed to be dressed up as "The Riddler" from Batman. Upon closer inspection, it's PokerStars Team Online's Fintan Hand, wearing a bright green Irish clover suit. Keep your eyes peeled on the stream and you'll no doubt clock him at some point.
Hand just took down an early pot, opening under the gun to 600. It folded around to Platinum Pass winner Mihai Manole on the button, who would be Hand's only caller. The two saw a 7♦T♠A♣ flop which they checked, leading to the 6♦ turn. Hand checked again, and then called Manole's 1,000 bet.
The 4♥ completed the board and Hand checked a final time. Manole gave it some though but opted to check back, mucking when Hand showed A♠9♠ for top pair. –JS
12:33pm: Merry Christmas Mihai Manole
Level 1 – Blinds 100/200 (BB ante 200)
Mihai Manole became the first ever Platinum Pass winner back in December 2017. He finished on the bubble on EPT Prague, and won a flip against Andrejz Siemieniak (which turned into two Platinum Passes.)
---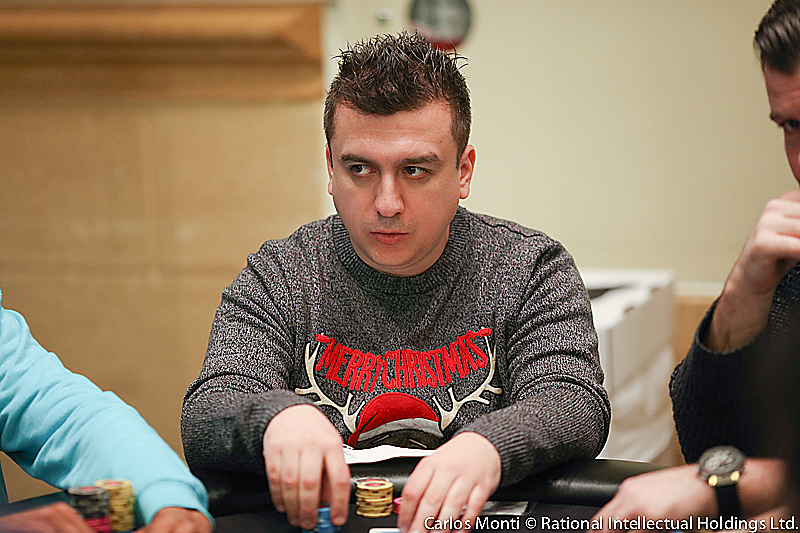 Mihai Manole: Merry Christmas!
---
He's on table 6 today, wearing the same sweater he wore back than. It's easy to spot. It has a reindeer face on it and reads "Merry Christmas". – SB
12:30pm: Our guy in the field
Level 1 – Blinds 100/200 (BB ante 200)
This year, the PokerStars Blog had one Platinum Pass to give away. We created a coded message and a series of almost impossible clues to follow. We predicted it would take two weeks to get a winner. Joshua McLaggan did it in seven hours (including a break to take a math exam). It was disappointing for us at first. "You made that very clear," he told us before the start of play. Now that we're over the disappointment, we're fully on Team Josh. In addition to our support, he's got his dad sweating him on the rail with a GoPro camera. Do it for the Blog, Josh! –BW
12:28pm: A few familiar foes
Level 1 – Blinds 100/200 (BB ante 200)
Table 78 is another one of those super fascinating areas of the tournament, with Daniel Dvoress, Joey Ingram, Nick Schulman, JC Alvarado and John Racener all seated there. Ingram is a Platinum Pass winner, as noted below, but so is Atanas Pavlov, immediately to Schulman's right. You get into tournaments like this to play against the best and Pavlov, the Megastack winner at the Hippodrome, London, will need to do just that this afternoon. — HS
12:25pm: Table Platinum
Level 1 – Blinds 100/200 (BB ante 200)
At other poker stops, we often kick off our coverage telling you about "tables of death". They're the ones filled with elite poker talent of the Super High Roller variety.
But this event is a little different. All of those superstars are here of course, but right now our eyes are peeled for Platinum Pass winners, four of which happen to be sat over on Table 13.
We've got Ireland's Alex Irwin. On his right there's the Netherlands' Bas Haamers. Two seats over is Hungary's Janos Bakacs. And rounding out the group is the young man who cracked PokerStars Blog's code, Joshua McLaggan.
They've got tough company, with Nacho Barbero and Dan O'Brien also sharing the felt. –JS
12:20pm: Signs point to first for Damon Ferrante
Level 1 – Blinds 100/200 (BB ante 200)
Platinum Pass winner Damon Ferrante is reading the tea leaves…or in this case PSPC receipts, and he's liking what he's seeing. Team Platinum's king of positivity showed up today to see he had drawn Table 1, Seat 1. "Gotta be a good sign, right?" he said, before turning to more serious matters.
Ferrante is a constant philanthropist who donates a lot of his winnings to charity. When he learned that Team Blog had a Platinum Pass last longer running (and learning I had him on my team) vowed to win it for me…as long as I donate half of my winnings to charity.
A quick handshake we sealed the deal. Learn more about Ferrante's health battles and charitable giving. –BW
12:15pm: The luck of the draw
Level 1 – Blinds 100/200 (BB ante 200)
Typically in poker the phrase "luck of the draw" refers to the cards a player receives. However, in a tournament as unique as this one, given the extreme variety of player backgrounds of those involved, the luck of one's seat draw is going to be an important factor for many.
Checking out the seat draws of a few Platinum Pass winners, Jordan Matthews (a Daniel Negreanu PPA Giveaway winner) has taken his place just to the left of 2018 World Series of Poker Main Event champion John Cynn.
Carlo Rodriguez (who got his pass in a Seminole Hard Rock SHRPO drawing) also might be tangling with some elite tournament talent, as Adrian Mateos is lurking just a couple of seats away.
And Joey Ingram (whose pass came as a Christmas gift in relation to the "12 Labors of Arlie") hasn't appeared quite yet, although it looks like he's due to sit to the left of Daniel Dvoress, with Nick Schulman and John Racener also due to sit at his table. –MH
12:12pm: Tyson Apostol. Amatuer survivor
Level 1 – Blinds 100/200 (BB ante 200)
Tyson Apostol is clear on his status at the start of the PSPC. In fact, he has it written on his shirt.
"Just in case you didn't know," he said to a nearby camera, revealing the word "Amateur" in big letters. We'll see if it fools anyone. – SB
12:10pm: Team Ireland present and correct
Level 1 – Blinds 100/200 (BB ante 200)
Darren Brennan, a member of Team Ireland here at the PSPC, was in his seat early this afternoon. Actually, it was still this morning when Brennan sat down, at around 11.50am. He said he's feeling pretty confident, and why wouldn't he be? He won his Platinum Pass by beating a field of 821 players at the Megastack event in Dublin. "What a freeroll. What an opportunity," Brennan said. He's not wrong. — HS
12:05pm: Shuffle up and deal!
Level 1 – Blinds 100/200 (BB ante 200)
After a year-plus of big announcements related to this event, the biggest of all was just delivered. With a long career announcing UFC events, Bruce Buffer was a top choice to get things started here today.
"ARE YOU READY?" asked Buffer upon receiving the microphone before describing the event as "the ultimate David and Goliath battle."
---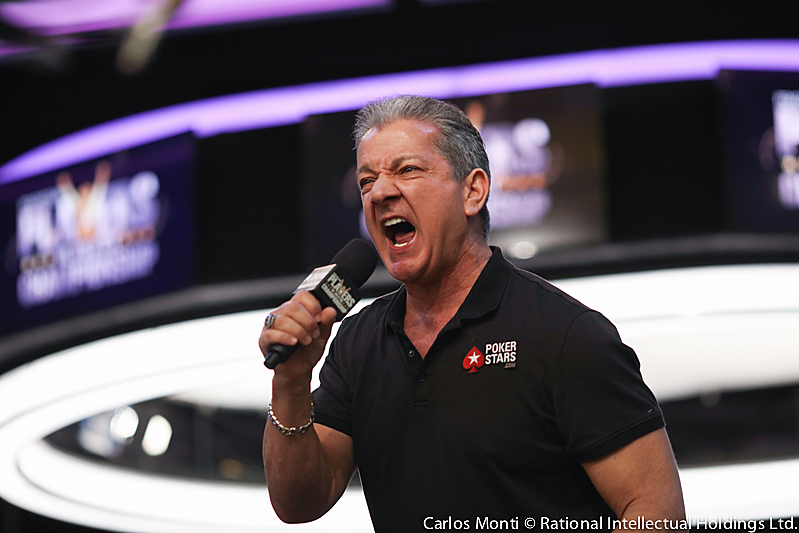 Bruce Buffer: Shuffle up and deal!
---
"AND NOW… THIS is the moment you've all been waiting for! IT'S TIME!!! Let's… SHUFFLE UP AND DEAL!"
And with that, cards are in the air.
After making the announcement, Buffer took his seat at a different sort of Octagon — his starting table, where he'll be fighting against Justin Bonomo, Nick Petrangelo, and Jake Cody among other combatants. –MH
The most extraordinary week
Good afternoon everyone and welcome from wherever you are to the start of an extraordinary week. After more than a year of planning, during which anticipation has reached fever pitch, the PokerStars Players Championship (PSPC) is about to get under way.
---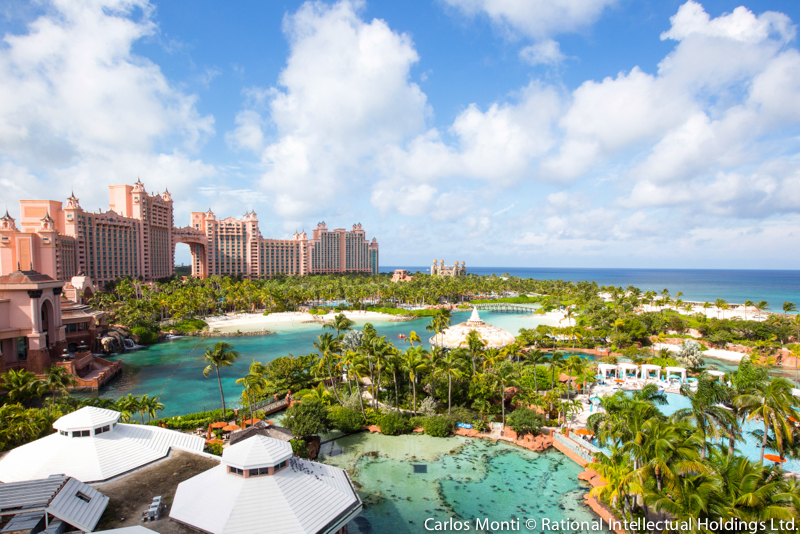 The Atlantis Resort, Paradise Island
---
We are all here in the Atlantis Resort, on Paradise Island in the Bahamas, for the start of poker's most eagerly awaited event. This proves to be a poker tournament like no other. The buy-in is $25,000 and several hundred players are likely to enter in traditional fashion. However, over the past year, 320 poker enthusiasts have earned themselves Platinum Passes to the event: free tickets to take part in a tournament whose prize pool is set to push $20 million. Some of them have won their passes in tournaments; others have seen their pass fall into their lap from the heavens. All have remarkable stories already, and are now aiming to write the most compelling chapter of all.
---
GET TO KNOW THE PLATINUM PASS WINNERS
---
Over the coming five days, we will be following the tournament every step of the way, with an unapologetic bias towards those Platinum Pass holders. It's certain that many of them will score themselves a huge payday, and we'll be here to bring full details of their progress. Don't forget, PokerStars is adding $1 million to the first-place prize, and someone has to win it.
---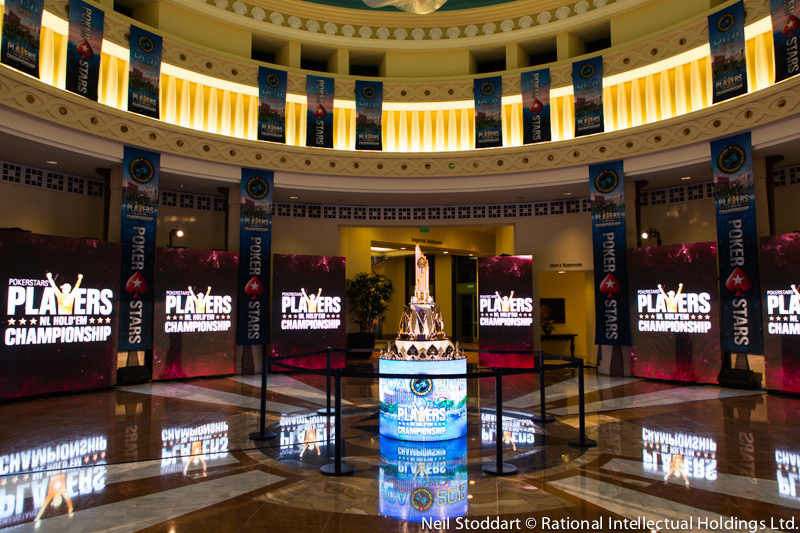 The PSPC trophy awaits its owner
---
Many of the competitors got to know one another last night at a player's reception, but it'll be business time when the tournament staff instruct their dealers to shuffle up and deal at 12pm.
Day 1 essentials
Play begins: 12pm (registration open until Day 2)
Starting stack: 60,000
Starting blinds: 100/200 (BB ante: 200)
Important note: This is a FREEZEOUT tournament. No re-entry allowed
Plan: Eight 60-minute levels
Breaks: 20 minutes after levels 2&4; 30 minutes after Level 6
Play ends: 9.10pm approx
---
Download the PokerStars LIVE! app with all tournament information. Available for IOS and Android.
PokerStars Blog reporting team at the PSPC: Stephen Bartley, Martin Harris, Jason Kirk, Jack Stanton, Howard Swains, Alex Villegas and Brad Willis. Photography by Carlos Monti and Neil Stoddart.
Back to Top