As the World Cup rolls around, you'll no doubt be looking forward to everything great that comes with a major tournament. Watching football on big screens outside is a must, as is finding a cohort of Colombian or Icelandic or Iranian fans in your home city who become your best mates within the space of an evening cheering on their team. However, this ignores the other perk of tournament season: living out your dream of your country lifting the trophy through the medium of video games.
We've all dreamt of leading our home nation to glory with the help of a player unfairly overlooked in real life (for me it's been all about building an England team around Ravel Morrison), or controlling the player who scores the winner in the final with a beautifully finessed finish, but there's obviously a big difference between the real thing and the version we play from the comfort of our home. Even now, with games becoming increasingly realistic.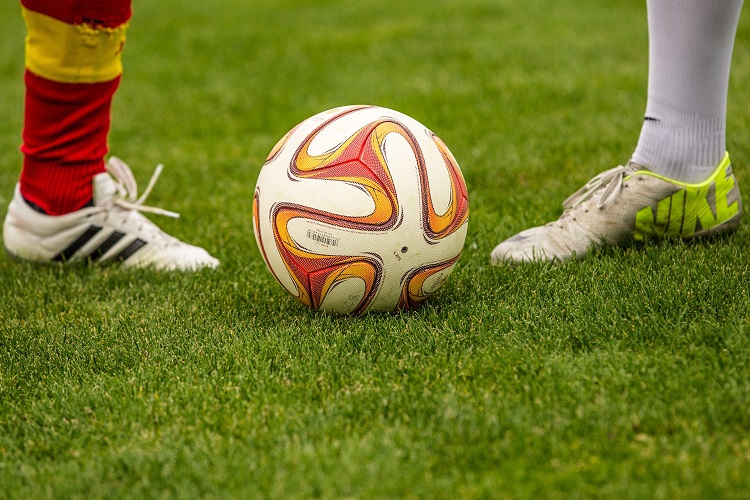 It's kick-off time
Here, we've picked out 10 of the most important ways in which real-life football differs from its virtual equivalent.
—
Perfect Referees
Hands up if you've appealed an offside call during a game of Fifa or Pro Evolution Soccer before realising the game is programmed to get these calls right 100% of the time. All of you? That's what I thought. Still, from the reaction to the introduction of VAR, it seems the 'correct' call isn't the most important thing for a fair few of us.
Creative Commentary
Some of football's most iconic moments have been boosted no end by spur-of-the-moment commentary. Martin Tyler's 'Agüerooooooo' moment is an obvious example, while you've also got Peter Drury's spontaneous blending of his entire knowledge of Greek and Roman history after Kostas Manolas' goal against Barcelona, not to mention the phenomenal anti-chemistry between Mark Lawrenson and Guy Mowbray in 2010.
However, when you've had a months-long process to prep your commentary, it can produce some real gems, including the return of the sort of language you'd never hear on a real televised game.
Off the wall
Speak to any football fan who also dabbles in gaming and they're likely to have fond memories of the short-sided indoor football mode in 90s games. Think it's tough to settle on a 23-man World Cup squad? Try picking your best five players, based on their ability to zip about the pitch and play passes off the wall to perfectly find a teammate. More recent games might be much more realistic in replicating 'real' football, but sometimes you don't want reality, you want fun.
Penalty crapshoots
Ever bought a new game and placed a penalty in the corner at the first attempt? No, you haven't, because it's LITERALLY IMPOSSIBLE. That's not a comment on any individual game, either. One of the advantages of real-life football is the presence of real humans who can control their limbs and kick the ball where they're aiming it, whereas the act of taking penalties on a game relies on said player being competent and you, the gamer, having a clue what you're doing. There's always an exception to prove the rule, though, and that comes in the form of the 2006 Switzerland World Cup team who couldn't score a goal in 90 minutes of regulation football, or 30 minutes of extra time, nor in a penalty shootout. That really takes some doing, though you're probably asking for it if your first taker has part of the woodwork as part of his name.
The best of the best… sort of
We're long past the days of cheat codes in video games, but the closest thing we have right now is the chance to play matches with World XIs. Want Ronaldo and Messi together up front? Tough, you're stuck with something like Álvaro Morata and Carlos Vela, because… reasons. But still, it's a chance for an all-star game which you don't get in real life (save for Andrea Pirlo's testimonial). People have been calling for the World Cup to introduce a wildcard team, made out of players whose countries didn't qualify for Russia, and frankly who are we to tell them that's a bad idea?
Not just a man's game
In regular football, the word dinosaur generally refers to an old-school manager stuck in his ways. In this version of Pro Evolution Soccer, it returns to its classic meaning of 'prehistoric reptile-like animal'. When we talk about the restrictions of televised football, we never stop to consider how we're limited to watching humans play the game, but maybe we need to broaden our horizons.
'Goalkeeper' is just a suggestion
Generally speaking, if you see a goalkeeper a good distance outside his area in real life then something has gone horribly wrong. At best, their team is losing in the last minute and they've gone up for a corner; at worst, they're looking back forlornly as the ball sails over their head and into the goal. The problem with bringing a goalkeeper out in real life is the small matter of actions having consequences. In a game, though, feel free to go wild.
No handball
We like to think of this element as an example of developers giving footballers far more credit than they deserve, treating them like model pros who would never do anything to cheat on purpose. In this alternate universe, England doesn't hate Diego Maradona and Ghana beat Uruguay in the 2010 World Cup, and the world probably looks very different.
Of course, the easiest way to prevent handballs is to create a football game where the players don't even have hands…
Run forever
An underrated part of real football comes from seeing supreme athletes struggle to keep going after 90 or 120 minutes on the pitch – especially during a summer tournament where (a) there are several games in a short space of time and (b) it gets pretty hot, what with it being the middle of summer. More recent games have made advances when it comes to mimicking real-life stamina, but there used to be a time when you could run flat-out for ages and still have the energy levels of a regular player after five minutes of a game or N'Golo Kanté after 85.
• 8 tackles attempted
• 8 tackles won
• 4 interceptions

"He's the Messi of winning the ball back!"

Water covers 71% of the earth's surface…they say N'Golo Kanté covers the rest pic.twitter.com/6okvdqG6lp

— Football on BT Sport (@btsportfootball) March 15, 2018
Jinking runs that actually jink
Ever watch a game of football and think "what this needs is more right-angles"? What do you mean 'No'? Sure, making the most of your physical capabilities is fun, but what if you could only move in a finite number of directions and at a finite number of angles? If nothing else it's a great leveller, as I'm sure you'll agree after watching this Sensible World of Soccer clip.
Back to Top