The winners of all 183 events in the 2018 Spring Championship of Online Poker achieved something special, picking up both nice paydays and all-time poker memories. Of course, one of those 183 events stands a notch higher than the rest, with the winner earning a permanent spot in the poker world's collective memory, too — the $10,300 buy-in "High" version of the three-day SCOOP Main Event, and this year Tankanza of Austria overcoming all to claim the title, a Platinum Pass, and a massive $1,133,160.03 first prize.
The field was star-studded, the final table highly competitive, and heads-up play a long, long winding roller coaster. Two hours into heads-up a deal was considered, but when Tankanza's opponent wanted a little more than what was being proposed, Tankanza wasn't interested in that.
"No tanks," was the reply.
Almost two hours after that, Tankanza had won. Here's the story of how it happened.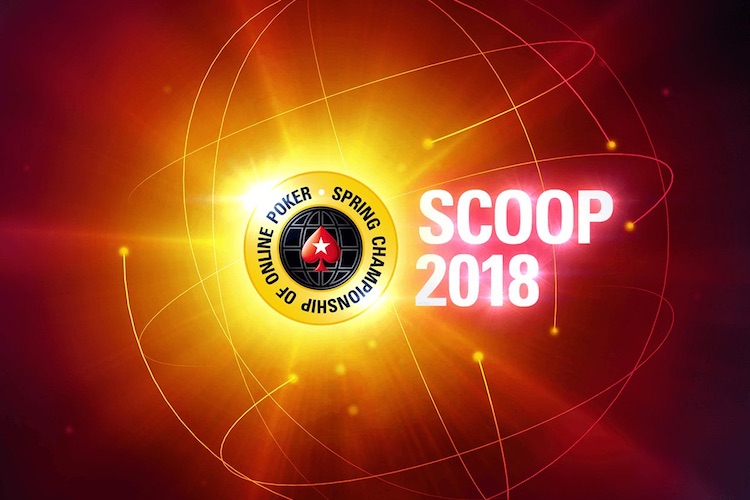 Day 1: From 654 to 79
Six hours' worth of late registration gave players plenty of time on Sunday to join the fun. It also gave those who busted during that period opportunities to re-enter, and a number did just that.
By the time the virtual window closed there were 654 total entries, comprised of 486 uniques and 168 re-entries. That meant a $6.54 million prize pool, well over the event's $5M guarantee. The top 80 places paid, with that cool $1,133,160.03 first prize scheduled to go to the winner.
After a day of exciting action the bubble burst in dramatic fashion just before play was paused on Sunday night, with the final Team PokerStars Pro in the event being the unfortunate last one to be eliminated shy of the cash.
Down to a little less than 15 big blinds, Leo Fernandez picked up A♥ J♣ and reraise-shoved over an open by BiggestFish, but when it folded back around BiggestFish called with A♦ Q♣ , and the better hand held to send Fernandez out in 81st.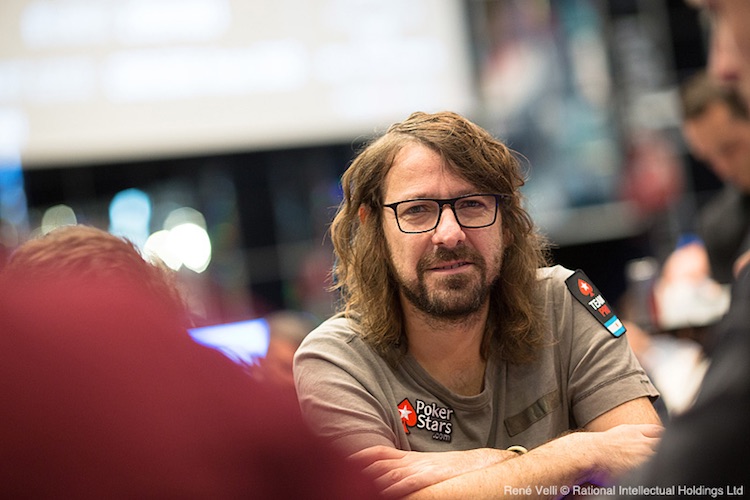 Team PokerStars Pro Leo Fernandez
Right after that Jussi "calvin7v" Nevanlinna became the first casher of the tournament by finishing in 80th after getting all his chips in the middle preflop with 9♠ 9♣ versus Chun Lei "SamRostan" Zhou's K♦ K♠ . The flop came 4♠ 7♠ 6♠ , then the 9♥ turn suddenly gave Nevanlinna a set and hope for survival. But the 2♠ completed the board to make a better flush for Zhou, and Nevanlinna was the first min-casher for $22,975.67.
With 79 players remaining, Christopher "Apotheosis92" Kruk was the one sitting atop the counts that first night having built up a stack of more than 6.8 million, although there was still a lot of poker to be played — and a lot of top-flight players still with chips, too.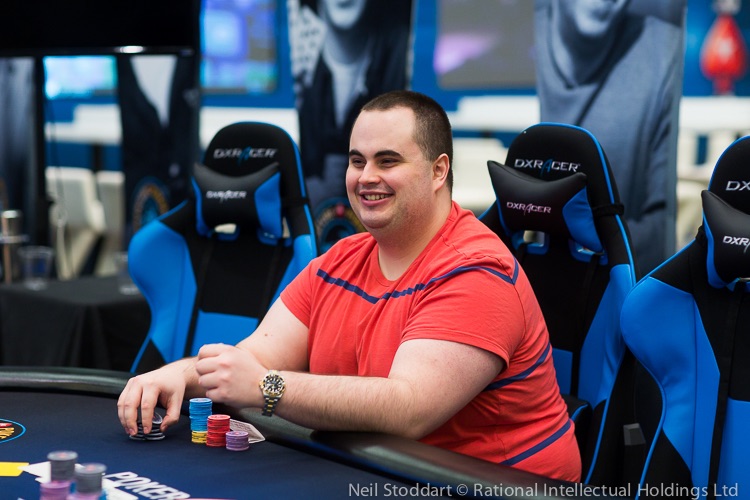 Christopher "Apotheosis92" Kruk
Day 2: From 79 to 18
Monday's schedule called for the tournament to play down to the final 18 players, gathered around the tournament's final two tables. It didn't take that long for such whittling down to complete, finishing by the early evening on Monday, during which time Christopher "Apotheosis92" Kruk was among those hitting the rail when he fell in 28th place ($37,260.04).
Yifan "Julia Zhang" Zhang was next out in 27th (also for $37,260.04), followed by the_djemba (26th), Chun Lei "SamRostan" Zhou (25th), Christopher "lissi stinkt" Frank (24th), Rachid Ben "SkaiWalkurrr" Cherif (23rd), DANMERRRRRRR (22nd), Mongano (21st), Jon "apestyles" Van Fleet (20th), and vovanmillion (19th), each of whom earned $48,138.97 for surviving nearly two days against some of tournament poker's best.
Speaking of, there was a lot of talent among 18 players remaining, with Finland's makeboifin enjoying the overnight chip lead just ahead of Chris "Big Huni" Hunichen playing from Costa Rica.
Day 3: From 18 to 1
The first hour saw four fall — MrMaximize (18th, $48,138.97), KumariOy (17th, $61,599.60), Gary "quiditbear" Hasson (16th, $61,599.60), and fr0zZy (15th, $61,599.60). Meanwhile Thomas "WushuTM" Muehloecker catapulted into the chip lead, moving up over 32 million and more than 10 million clear of Chris "Big Huni" Hunichen still in second position.
Soon after the day's first break Cmon_Gasquet (14th, $61,599.60) went out, followed shortly thereafter by Ivan "Negriin" Luca (13th, $78,822.69). A half-hour later Daniel "GotURead" Reijmer was eliminated (12th, $78,822.69), then start-of-day chip leader makeboifin was knocked out (11th, $78,822.69) to fall shy of the final table.
The final table bubble lasted for a while. A short-stacked caaaaamel shoved once and wasn't called. A little later mikki696's reraise-shoved with pocket aces on a queen-high flop was called by Yngve "Sykoen" Steen who had top pair with king-queen, and the aces held.
They moved into the day's third hour, and Tankanza also survived a preflop all-in with ace-queen versus nailuj90's pocket sixes when the board brought Tankanza top two pair. Finally Yngve "Sykoen" Steen ran pocket nines into chip leader's Thomas "WushuTM" Muehloecker pocket kings to go out in 10th ($78,922.69), and the final table was set. It was quite a three-day run for Steen who also finished 18th in the "Medium" version of the SCOOP Main Event.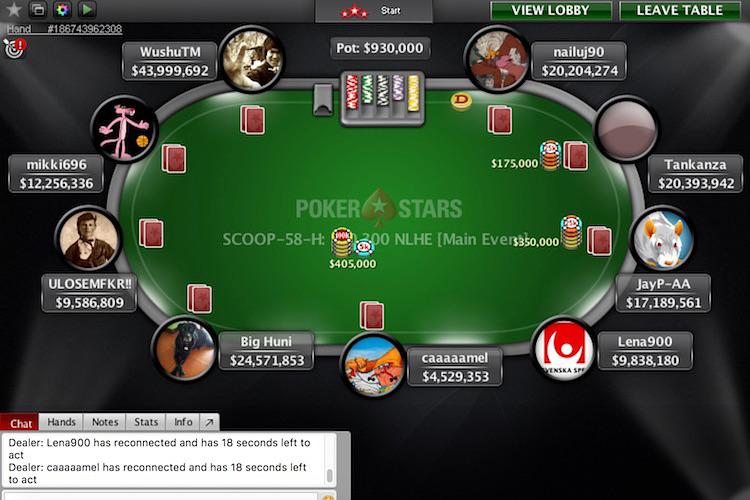 Seat 1: nailuj90 (Austria) — 20,249,274
Seat 2: Tankanza (Austria) — 20,613,942
Seat 3: JayP-AA (United Kingdom) — 17,584,561
Seat 4: Niklas "Lena900" Åstedt (Sweden) — 9,883,180
Seat 5: caaaaamel (Austria) — 4,574,353
Seat 6: Chris "Big Huni" Hunichen (Costa Rica) — 24,616,853
Seat 7: ULOSEMFKR!! (Estonia) — 9,631,809
Seat 8: mikki696 (Austria) — 12,301,336
Seat 9: Thomas "WushuTM" Muehloecker (Austria) — 44,044,692
While Muehloecker — owner of two career COOP titles already and one of five (!) players from Austria at the final table — enjoyed a big chip lead to start the final table, nailuj90 had earned a big boost on the last hand of hand-for-hand play after doubling through Niklas "Lena900" Åstedt. The pair got all in on the river with the board showing Q♣ 4♥ 5♥ 9♦ Q♥ , with that river card making a flush for Åstedt who had A♥ 2♥ and a full house for nailuj90 who held Q♦ 9♠ .
All nine made it to the day's four-hour mark, and they'd all make it a half-hour more before two knockouts came in two straight hands.
The first of the two saw nailuj90 raise 2.5x from the hijack, JayP-AA three-bet all in for just over 9.27 million (about 18.5 big blinds), and nailuj90 call. JayP-AA had A♣ 10♥ and nailuj90 A♥ K♣ , and after a 4♦ J♥ 5♣ 6♠ 2♦ runout JayP-AA was out in ninth. JayP-AA was no doubt disappointed, but even going out first at this final table meant a six-figure score.
The next hand went very similarly, with nailuj90 again raising 2.5x from middle position, one-time SCOOP winner caaaaamel three-betting to just over 3.05 million (6 BBs) from the small blind, and nailuj90 calling. caaaaamel had A♠ J♥ , but nailuj90 had A♣ K♦ again, and five cards later — 5♣ 8♠ 9♣ A♦ 9♦ — caaaaamel was on the rail in eighth, and nailuj90 had pushed up into the chip lead ahead of Muehloecker.
About 10 minutes later, Chris "Big Huni" Hunichen min-raised to 1.2 million from under the gun, Niklas "Lena900" Åstedt called from the big blind, and the flop came 5♦ 5♣ 4♦ . Åstedt checked, Hunichen bet just over 1.12 million, then Åstedt check-raised to about 2.87 million. That prompted an all-in push from Hunichen, and Åstedt called with the almost 11 million behind.
Åstedt had trips with 6♣ 5♠ while Hunichen had a flush draw with A♦ 2♦ . The 7♦ turn then completed the draw, and after the 10♠ river Åstedt had fallen in seventh.
Thus ended a great SCOOP for Åstedt who won two SCOOP titles this year (his career second and third), in Event #25-H ($530+R NLHE) and Event #39-H ($1,050 NLO8, 6-Max), and who like Yngve "Sykoen" Steen also made the final day of the "Medium" Main Event today where he finished 15th!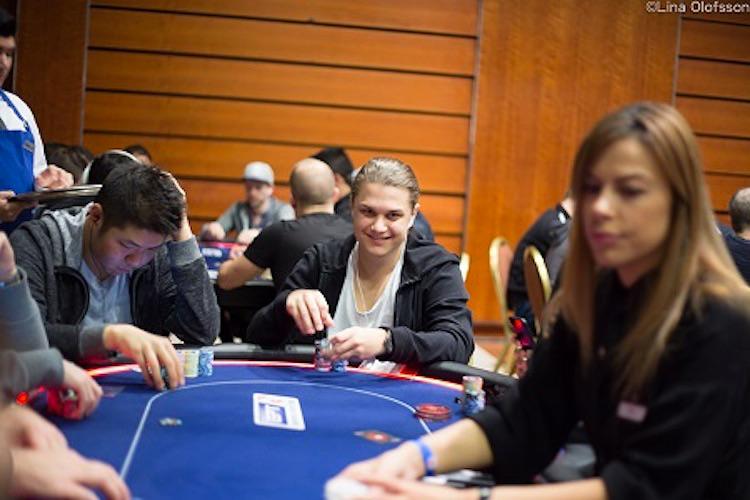 Niklas "Lena900" Åstedt
Not long after that knockout, they were close to the five-hour mark when Thomas "WushuTM" Muehloecker raised a little over 2x to 1,272,000 from the cutoff, then Tankanza three-bet to 4,156,698 from the small blind. Muehloecker then four-bet to 8,744,000, Tankanza shoved, and Muehloecker called to put his entire stack of about 25.2 million at risk.
Tankanza: A♦ A♥
WushuTM: K♠ K♣
A rough final table cooler for Muehlocker, and after the community cards came 9♣ 9♥ 7♠ 8♥ 2♠ , Muehloecker was suddenly out in sixth, albeit with a nice almost quarter-million dollar consolation prize.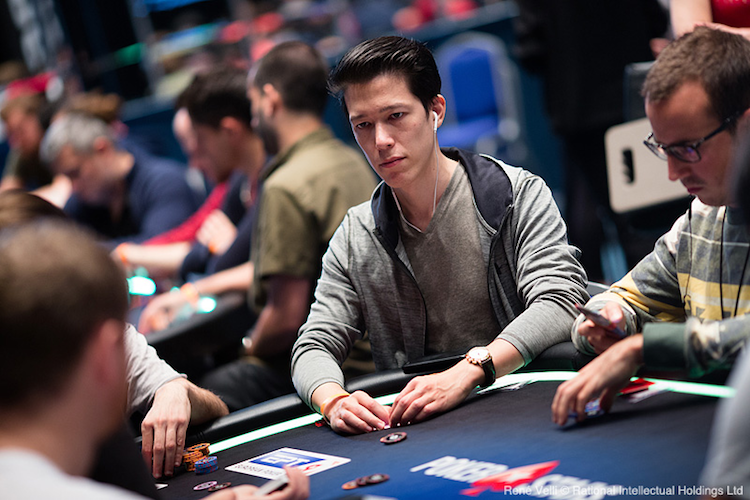 Thomas "WushuTM" Muehloecker
Not long after that Chris "Big Huni" Hunichen was min-raising to 1.2 million again, this time from the button, and ULOSEMFKR!! responded with a three-bet to 4.2 million from the small blind. When it folded back to Hunichen he shoved, and ULOSEMFKR!! called with the just over 13.6 million behind.
ULOSEMFKR!! had J♠ J♦ and appeared in good shape to double versus Hunichen's 7♠ 7♥ . But the flop came 7♣ Q♣ 9♦ to give the "Big Huni" a big set of sevens. The turn was the 8♣ and river the 5♠ , and ULOSEMFKR!! was done in fifth.
While Hunichen and Tankanza were battling for the chip lead, mikki696 (winner of a WCOOP before) had become the short stack, and after making a big 6x open from under the gun watched nailuj90 reraise from the button, then mikki696 called all in for a couple of big blinds more.
mikki696 had an ace with A♠ 8♦ , but to survive would need to pair it versus nailuj90's K♦ K♣ . The board came 9♠ 2♦ 7♣ K♥ 2♠ which meant by the turn mikki696 was drawing dead to finish in fourth.
The final trio marched onward, with their stacks getting closer to each other as Tankanza, nailuj90, and Chris "Big Huni" Hunichen all hovered around 50-60 million chips — all super deep at the 350,000/700,000/87,500 level.
Gradually Tankanza enjoyed some separation from the other two, eventually pushing upward to more than 125 million while nailuj90 and Hunichen each fell back below 30 million.
Eventually — about an hour and 15 minutes after three-handed play started — Hunichen was down to just over 10.9 million (just over 12 big blinds) after losing a preflop all-in with king-queen versus nailju90's pocket deuces. That's when Hunichen he open-pushed from the button, then watched nailuj90 reraise-shove from the small blind and Tankanza fold.
Hunichen had A♥ 2♦ but had run into nailuj90's A♦ 10♥ . The board came 7♥ A♣ 4♣ , then Q♥ , then J♣ , meaning the kickers played and Hunichen was out in third, coming just a couple spots shy of adding a SCOOP title to the WCOOP he already owns — plus a monster cash worth $618K-plus.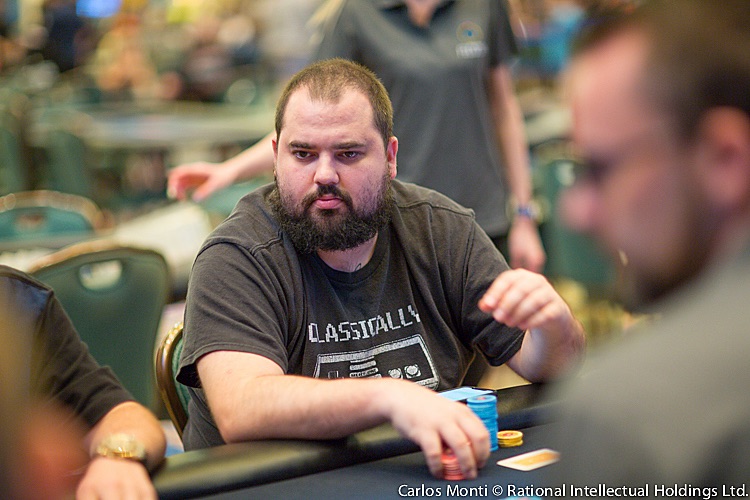 Chris "Big Huni" Hunichen
Even with that pot nailuj90 was looking uphill at Tankanza's big stack to start heads-up play, with just over 37.7 million versus the latter's 125.7 million. But it would be a long way still before a winner would be determined.
Tankanza — owner of one WCOOP title — kept the chip edge for the first hour and 15 minutes of heads-up, with nailuj90 closing the gap but never quite taking the lead. Then came a big pot in which nailju90 led all three postflop streets before backing into a runner-runner straight, and after collecting a river value bet had gained the chip lead.
The two Austrians crossed the day's eight-hour mark, and before long nailju90 had chipped all of the way up to 140 million while Tankanza slipped to about 25 million (just over 20 BBs). From there, though, Tankanza began gradually working the stack back up, and after a half-hour had retaken the lead. Then with Tankanza up to just over 94.5 and nailuj90 at just under 70 million, the pair agreed to pause the tournament and talk about a possible deal to see about reducing the more than $295K gulf between first- and second-place prize money.
ICM numbers were produced, leaving $130,800 for which to play — $932,837.62 for Tankanza and $906,996.22 for nailju90. Some chat ensued:
Tankanza: i think it's ok…
nailuj90: 910k and we have a deal? still a lot left anyway
Tankanza: i think that is correct
HostRicardoC [Commentator]: Should I calculate the new figures with 910k for nailuj90?
Tankanza: why shuld i give up $?
Tankanza: no tanks
nailuj90: ok lets play, glgl
Tankanza: ok np gl
HostRicardoC [Commentator]: No deal then
Tankanza's upward trend continued, and by the day's nine-hour mark Tankanza had 101.8 million to nailuj90's 61.7 million. Onward they trudged, with Tankanza maintaining the advantage as they began their fourth hour of heads-up play. nailuj90 would come back again, though, and they'd trade the lead back and forth before nailuj90 won successive pots to move up over 120 million.
They reached the 1M/2M/250K level, meaning there were just under 82 big blinds in play, and soon the chip swung back Tankanza's way. Finally, just 10 minutes shy of four hours' worth of heads-up, the final hand took place.
Down to about 29.8 million or close to 15 big blinds, nailuj90 open-pushed all in and Tankanza was quick with the call. Both players had been dealt aces, but Tankanza's A♥ Q♣ dominated nailju90's A♦ 6♠ . The community cards were swiftly delivered…
Flop… 4♦ 2♦ K♥ .
Turn… J♦ .
River… 10♠ !
nailuj90's hand never improved, Tankanza ended with a straight, and it was all over! Tankanza had won!
Congratulations to all the deep-runners and final tablists, and especially to Tankanza for taking the title and earning a huge seven-figure score. And don't forget — like the other winners of today's SCOOP Main Events, Tankanza also wins a coveted Platinum Pass good for the $25,000 entry into the 2019 PokerStars Players No-Limit Hold'em Championship plus travel to the Bahamas and accommodations while there.
SCOOP-58-H ($10,300 NLHE [Main Event]) results
Entries: 654
Total prize pool: $6,540,000
Places paid: 80
1. Tankanza (Austria) $1,133,160.03
2. nailuj90 (Austria) $837,473.81
3. Chris "Big Huni" Hunichen (Costa Rica) $618,943.63
4. mikki696 (Austria) $457,436.37
5. ULOSEMFKR!! (Estonia) $338,072.87
6. Thomas "WushuTM" Muehloecker (Austria) $249,856.12
7. Niklas "Lena900" Åstedt (Sweden) $184,658.86
8. caaaaamel (Austria) $136,474.10
9. JayP-AA (United Kingdom) $100,862.49
---
Ready to sign up for PokerStars and go for your own SCOOP title?
Click here to get a PokerStars account.
Back to Top
Study Poker with
Pokerstars Learn

, practice with the PokerStars app

Try our Free Scholars Leader Board to practice your new skills.
Quick Links
Learn
Practice
Chat with us
Watch and share