Jian Chen played poker for the first time just 15 months ago and today he won the APPT Macau Asia Open, HK$575,700 and a PokerStars Platinum Pass.
Chen says he loves poker because it helps him make friends and that he can't believe he'll be competing in one of the biggest poker tournaments in history next year in the Bahamas.
"Winning the Players Championship is my next poker goal so I'll have to keep getting better to be able to win," Chen said.
Today Chen beat a field of 494 players to pocket the HK$575,700 first-place prize and the Platinum Pass worth US$30,000.
---
---
This year PokerStars is giving away 300 Platinum Passes, each of which includes a $25,000 buy-in to the PokerStars Players Championship and $5,000 to cover travel and expenses. PokerStars is also adding $1 million to first place in the PSPC.
The passes are being awarded through tournaments like the one Chen won today, raffles, freerolls and tons of other promotions. If you're playing at a PokerStars live event or online you never know when you might have a chance to pick one up.
A 42-year-old who works in advertising, Chen personally eliminated the majority of his final-table opponents and caught a few big river cards to do it.
The biggest hand of the final table happened when two other players found themselves all-in against Chen before the flop. Chen held ace-ten against pocket kings and pocket jacks and spiked an ace on the river for the double elimination and a massive chip lead he rode all the way to victory.
'Poker helps me meet people and make friends'
Prior to last year Chen had never played poker but he said that at the time he was getting bored with baccarat and computer games and wanted to find something more exciting.
"One year and three months ago I walked into the casino and saw the poker table and started to play," he said. "After I played a few times I saw that this was a game that could train your mind and also help you meet people. That's what made me fall in love with poker."
Chen said that at the time he spent a lot of time at home playing computer games and that he didn't find it very fulfilling.
"I was afraid if I kept playing computer games I would become a lonely person," he said. "After I started playing poker I met a lot of friends. I've become a more social and outgoing person."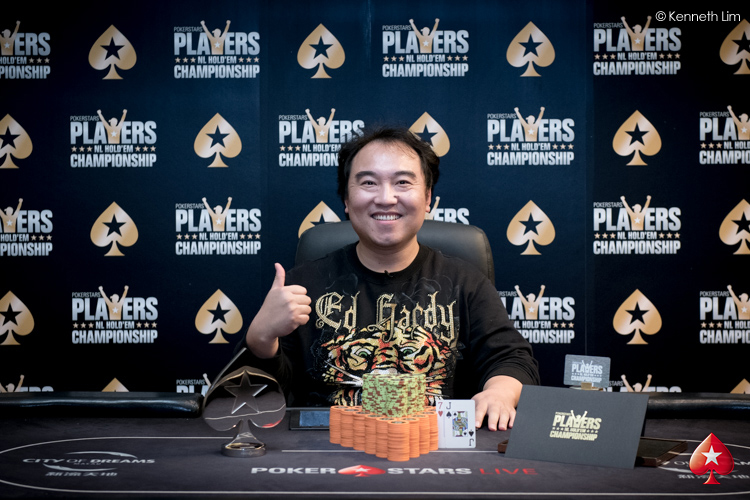 Jian Chen: Latest Platinum Pass winner
Chen also explained that even though the money he won tonight is great, it's the respect and recognition from other poker players that's most important to him. He said he's happy that when he gets to the Bahamas, other players will know he won his way into the tournament by playing well.
"Now that I've won this championship and the Platinum Pass I feel very happy and I feel more confident about my poker game," said Chen.
"I'm very excited to be going to the Bahamas. Thank you PokerStars for this prize."
And depending on how things go for Chen at the PSPC, we might see a lot more of him on the felt.
"If there's a chance, I'd love to become a full-time poker player."
Back to Top
Study Poker with
Pokerstars Learn

, practice with the PokerStars app

Try our Free Scholars Leader Board to practice your new skills.
Quick Links
Learn
Practice
Chat with us
Watch and share