12u55 had played for more than a decade without a cash of more than $4,000. Then last October, he burst through that barrier with a $35,000+ win in the Sunday Grand. That might have done for another ten years, but it was just a step on the upward trajectory of 12u55's career.
Tonight 12u55 topped that previous best in style, cruising through a 6,400-player field with an above-average stack before striking a four-way deal and then mounting a heads-up comeback to win this week's Sunday Million.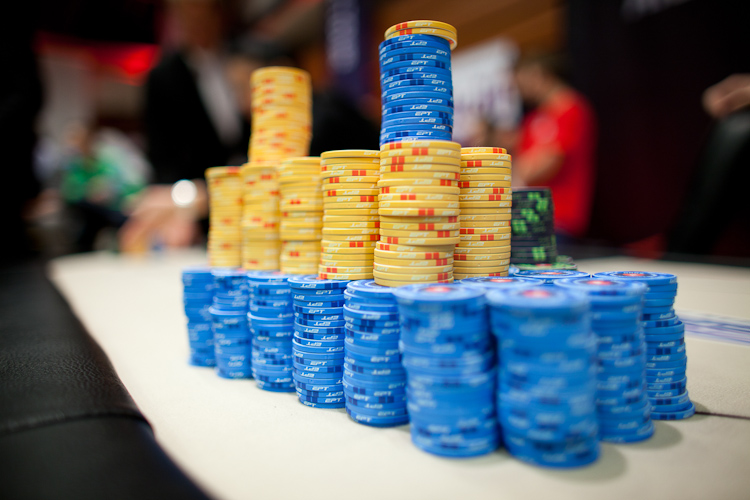 Looking back now, the first 12 hours of this week's tournament can be read as half a day of foreshadowing. 12u55 jumped above the average stack when there were still thousands of players remaining and first moved to within sight of the lead with about 250 players left. The lead became 12u55's with 127 players remaining. The Canadian didn't hold onto it uninterrupted but managed to reclaim it repeatedly as the field shrank to 40 players, then 20, and then 18.
12u55 returned to the lead once more one spot short of the final table. After min-raising with pocket aces and getting a call from vinip81 in the big blind, 12u55 made top set on the 2♦ A♥ 10♣ . vinip81 called 12u55's bets after the flop and the 9♥ turn before leading out after the A♦ river and then calling all-in when 12u55 raised. vinip81's aces and tens with 10♠ 8♠ was no good, sending the German player to the rail in tenth.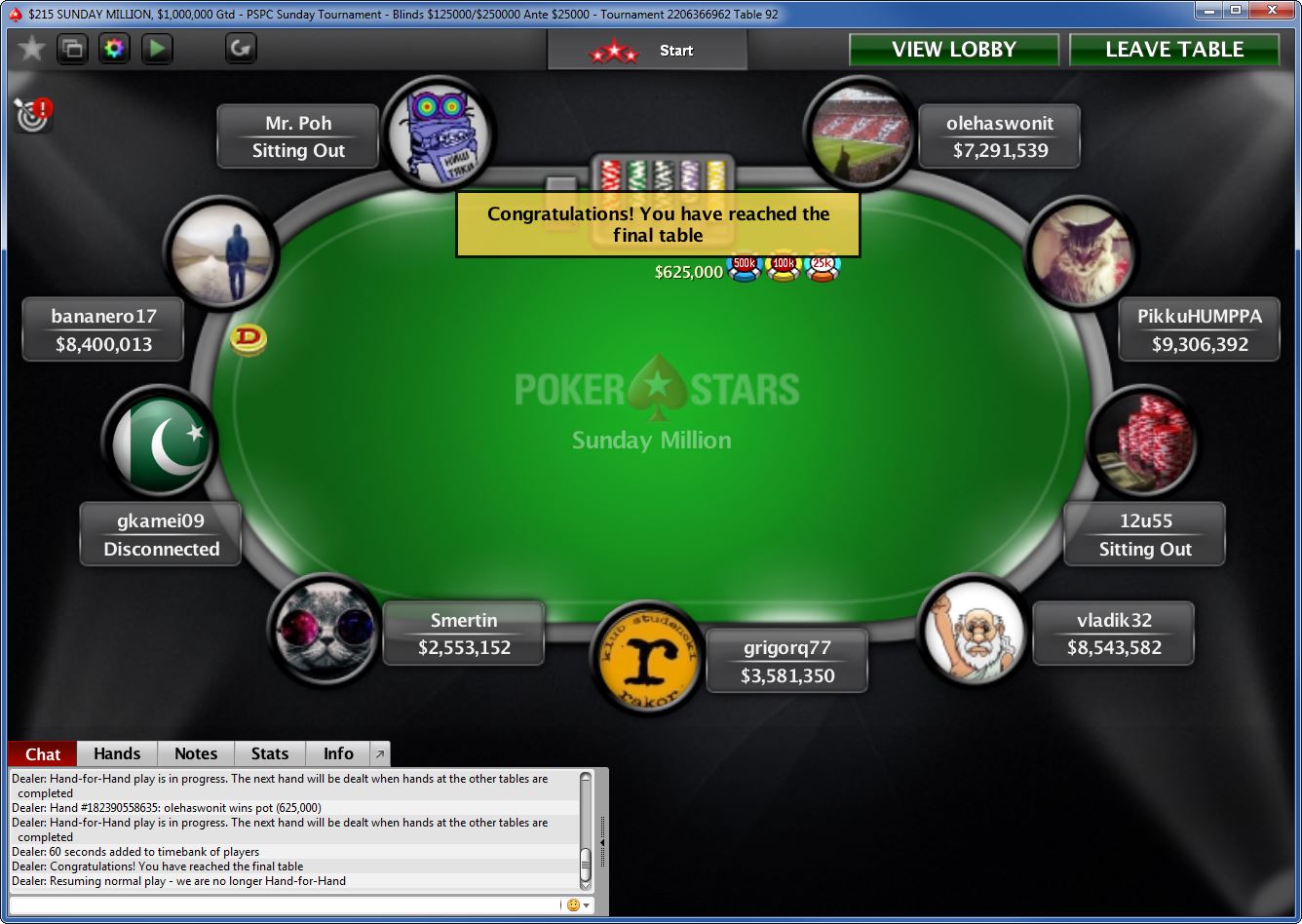 "The 12u55 Show" begins
Seat 1: olehaswonit (7,291,539 in chips)
Seat 2: PikkuHUMPPA (9,306,392 in chips) past Super Tuesday champ, second Sunday Million final this year
Seat 3: 12u55 (17,759,637 in chips) past Sunday Grand NLHE champ
Seat 4: vladik32 (8,543,582 in chips) finished fourth in the 12/18/2016 Sunday Million
Seat 5: grigorq77 (3,581,350 in chips) past $55 Sunday Marathon runner-up & Sunday Warm-Up finalist
Seat 6: Smertin (2,553,152 in chips) TCOOP 2013 HORSE champ
Seat 7: Luis Gustavo "gkamei09" Kamei (4,675,039 in chips) took third in the 7/17/2016 Sunday Million
Seat 8: bananero17 (8,400,013 in chips) MicroMillions 5 winner
Seat 9: Mr. Poh (1,579,296 in chips)
It took 50 minutes for the first elimination, thanks in large part to Smertin's ability to survive all-in situations. The Swiss player won two pots after getting in ahead before the flop, won another after getting in ahead after the flop, and split another three-way pot. It wasn't until Smertin opened the action all-in with K♠ K♥ in the hijack seat that things went south. olehaswonit called with A♦ A♥ in the big blind and stayed ahead through the river to bust Smertin in ninth.
That knockout cleared the way for another four in the next ten minutes.
olehaswonit scored a second consecutive knockout on the following hand thanks to a friendly flop. The British player opened all-in with A♦ 3♦ the small blind and then made trip treys on the flop to beat PikkuHUMPPA's A♠ 9♦ , ending the Finnish player's second Sunday Million final of 2018 in eighth.
After dropping a handful of chips over the first hour of play, 12u55 finally got some positive action three hands after PikkuHUMPPA's departure, calling in the cutoff seat with A♣ Q♠ after bananero17 open-shoved for six big blinds with 7♣ 7♥ in early position. An ace on the flop was enough to sink bananero17 in seventh.
Four hands later Mr.Poh called all-in for less than a big blind with pocket nines; vladik32 flopped two pairs with A♠ 8♣ in the big blind and then turned a full house to end Mr. Poh's tournament in sixth.
Five minutes later, Luis Gustavo "gkamei09" Kamei was the only player left with less than 11 million chips. He opened all-in with pocket fours, vladik32 called with A♠ Q♠ and flopped a queen, and two streets later gkamei09 was out in fifth.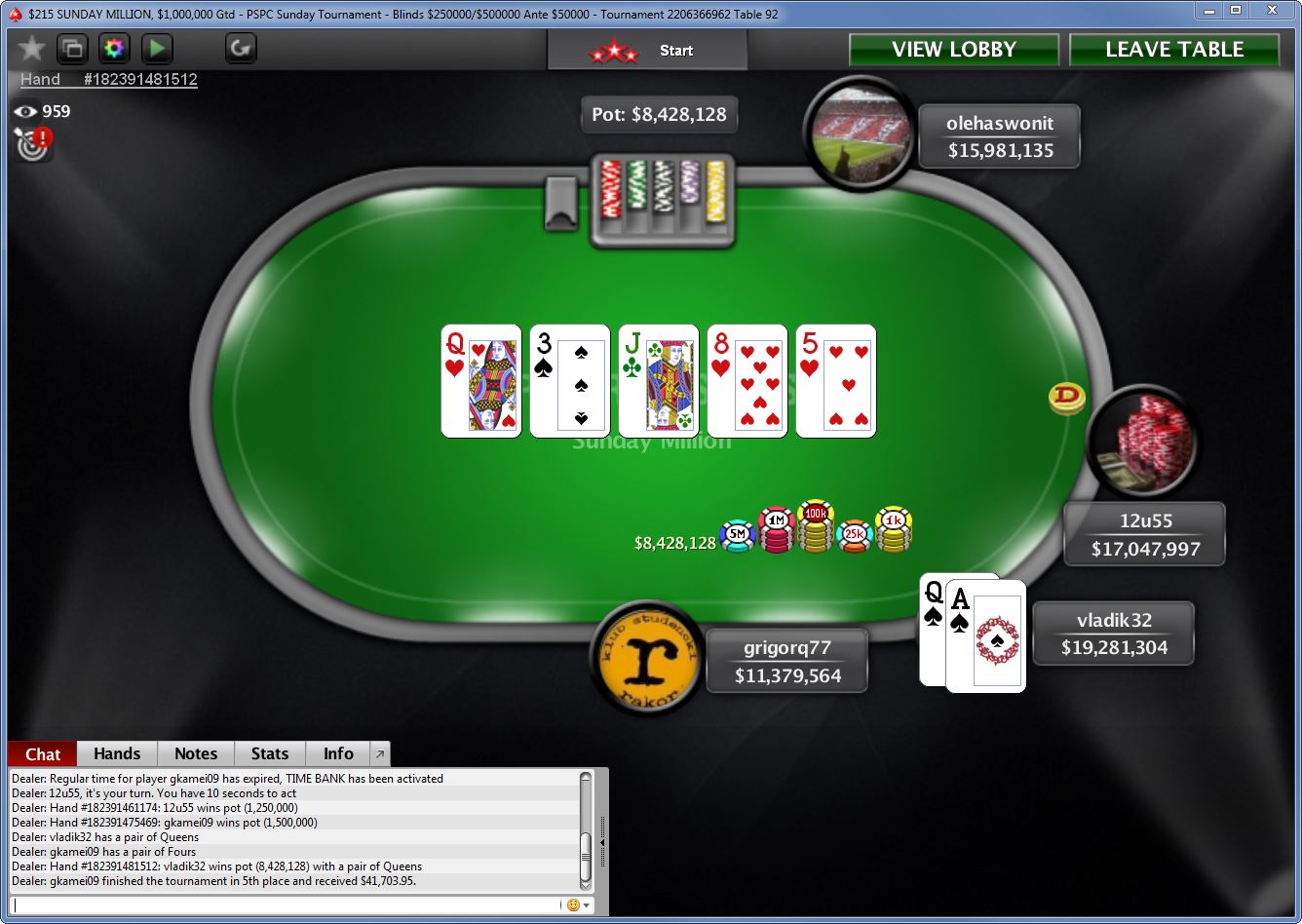 Time for a deal
With exactly an hour of final table poker in the books, and everybody's stack now sitting between 23 and 34 big blinds, the remaining four players agreed to look over numbers for a deal. It took only seven minutes to satisfy them all and get the game back on with everybody guaranteed better than the scheduled third-place prize.
Just two pots in the next ten minutes went to showdown. The second started when olehaswonit raised to 1.1 million chips with A♣ J♥ in the cutoff. 12u55 re-raised with A♦ K♠ . olehaswonit called, then check-raised all-in after 12u55 bet the 10♠ 4♦ 4♠ flop. Both players still had a pair of fours by the river so 12u55 won on kickers, sending olehaswonit to the rail in fourth.
Another ten minutes passed before vladik32 opened all-in on the button with K♦ 10♣ and grigorq called with pocket queens. A king on the flop and another on the turn kept the Greek player in the game, but grigorq made up for the loss two minutes later by flopping a queen with Q♣ 10♣ to top 12u55's pocket eights. Then grigorq got revenge on vladik32 another ten minutes after that when the two of them got in a raising war before the flop. grigorq77 had the advantage with 8♣ 8♥ against 7♦ 7♠ and it held up on the 6♠ 10♥ 6♥ 10♠ 3♠ board to eliminate vladik32 in third.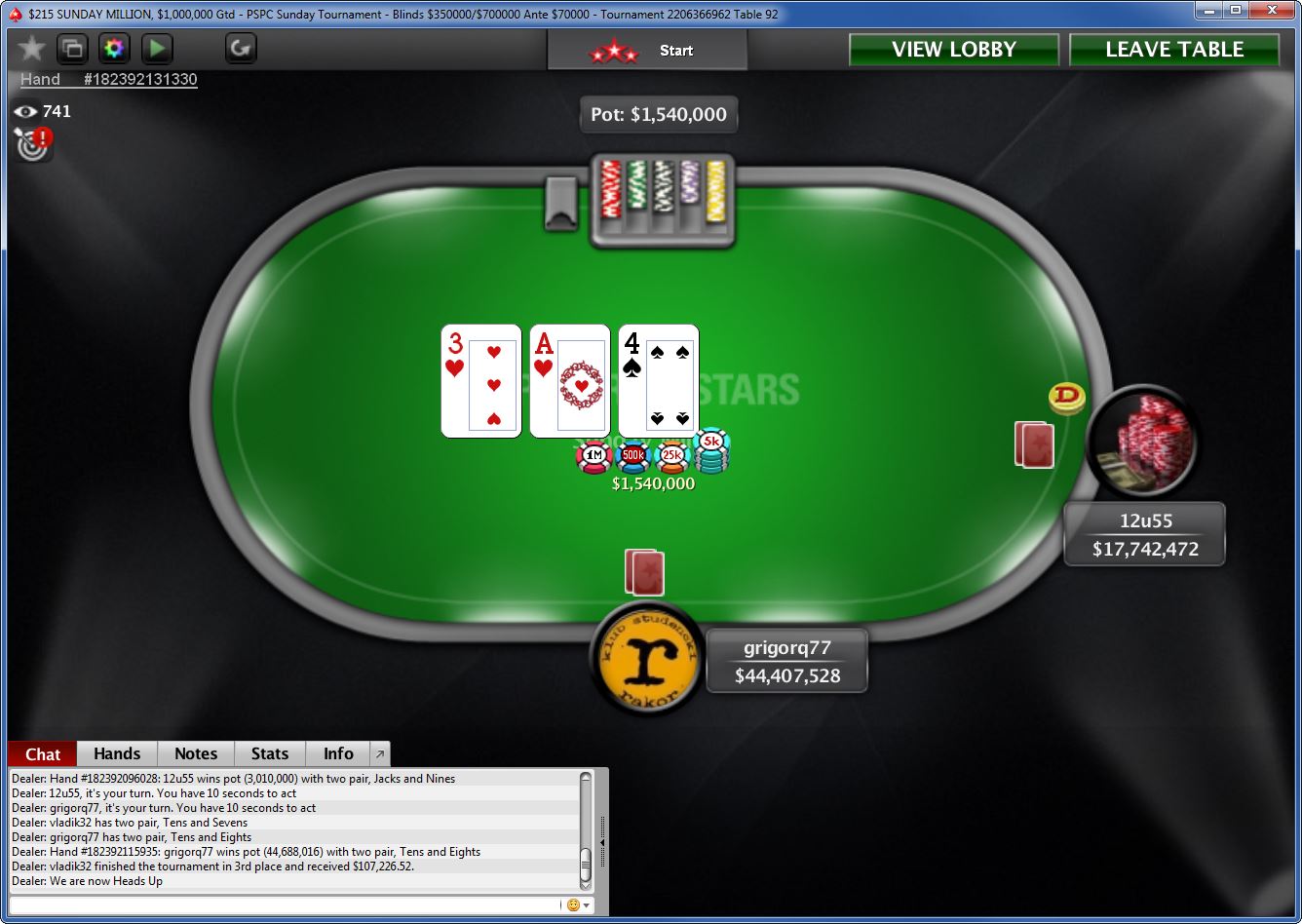 Heads-up for $25K and the title
Winning that pot gave grigorq77 the lead with 63 big blinds to the 25 held by 12u55. The Pole maintained that stack for the first 30 minutes before two crucial losses set 12u55 on the path to victory.
12u55 took over the lead after raising out of position before the flop with 9♠ 9♥ . grigorq77, who had originally limped in with A♦ 5♦ , called the raise and then bet 1.8 million chips when 12u55 checked the J♥ 8♣ 7♥ flop. 12u55 called that bet and then check-called 4.6 million more after the 6♠ turn, bringing the K♣ on the river. 12u55 checked once more, grigorq77 moved all-in with ace-high, and 12u55 called to with the 39.8-million chip pot.
Out of position on the next hand, grigorq77 checked after 12u55 limped in on the button with 10♦ 6♠ and the two saw a 3♣ 5♥ 4♦ flop. The Polish player check-called 900,000 there, 2.9 million after the K♥ turn, and 6.4 million more after the 2♠ river, only to muck when 12u55 turned over a six-high straight for the win.
grigorq77 doubled back up to 25.4 million chips on the following hand, but that was only regaining the ground that had just been lost – and making up any more ground than that proved too difficult. By the time 12u55 called with 4♦ 4♥ after grigorq77 jammed with A♠ K♦ 15 minutes later, the Polish player had only made up one extra big blind's worth of chips. The fours held up on the 3♦ 8♠ 2♥ 7♥ 6♥ to end any hopes of a comeback and seal the title and winner's cash up for 12u55.
Congratulations to 12u55 for following through on a strong all-around performance by taking down the title. Congratulations also to the other three players who shared in the deal.
Sunday Million ($215 NL Hold'em) results
Entrants: 6,369 (5,149 entries, 1,220 re-entries)
Prize pool: $1,273,800
Places paid: 1,160
1. 12u55 (Canada) $129,761.58*
2. grigorq (Poland) $92,764.08*
3. vladik32 (Greece) $107,226.52*
4. olehaswonit (United Kingdom) $106,983.53*
5. Luis Gustavo "gkamei09" Kamei (Brazil) $41,703.95
6. Mr. Poh (Russia) $29,266.57
7. bananero17 (Uruguay) $20,538.36
8. PikkuHUMPPA (Finland) $14,413.17
9. Smertin (Switzerland) $10,114.73
* denotes results of a four-way deal leaving $25,476 for the winner
---
Break your own personal records in next week's Sunday Million. Click here to open your PokerStars account today.
---
Back to Top