Winning the Sunday Million is no easy feat even in the best of circumstances. caddyjust66 didn't start with those — one big blind ahead of the short stack as the final table began, facing a table filled with past COOP and Sunday Major winners — but none of it mattered in the end. The Romanian navigated all the hazards the Million had to offer and earned this week's title and a whopping $143,707.90 prize.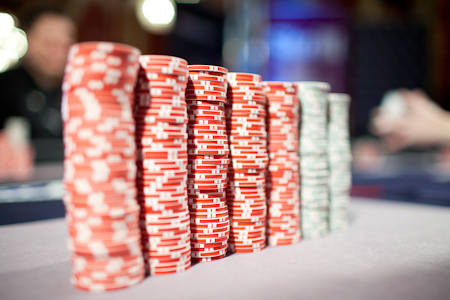 The upswing at the end was a huge turnaround given how the rest of the tournament had gone. caddyjust66 made it through the first nine hours with an average-sized stack before fading toward the back of the pack with the final table looming. Things went much differently for Brazil's gabsdrogba, who first took over the chip lead with nine tables left and would hold it for much of the rest of the tournament after that.
gabsdrogba was ahead of the pack when BöserStuhl moved in from the small blind on a steal with A♥ 8♦ and ran into Gabse92's 8♠ 8♣ in the big. A pair of tens on the board didn't change anything and BöserStuhl left in 10th, giving us our final table.
Seat 1: CipiV (8,011,301 in chips) past $11 Mini Sunday Kickoff winner
Seat 2: Gabse92 (10,558,135 in chips)
Seat 3: needdollarz (7,802,362 in chips) past Sunday Warm-Up & Sunday Million champ
Seat 4: Pthelegend (4,162,443 in chips) four-time COOP finalist
Seat 5: gabsdrogba (9,521,428 in chips) SCOOP-Medium winner in 2018
Seat 6: Camari (4,318,880 in chips) past Sunday Million finalist
Seat 7: TanTanSWE (1,745,668 in chips) regular finalist in big PokerStars tourneys
Seat 8: Yuri "theNERDguy" Martins (5,080,981 in chips) past WCOOP PLO/8 champ
Seat 9: caddyjust66 (1,978,802 in chips)
where some finals have lots of coin flips and races, this one was all about dominated hands for more than an hour. The knockouts started early when Pthelegend open-shoved with 10♠ 10♥ in the hijack seat and gabsdrogba called with A♠ A♦ in the cutoff. No tens on the board meant Pthelegend was out in ninth. Five hands later TanTanSWE did the same with K♦ Q♥ UTG+1 and ran into caddyjust66's K♣ K♠ in the hijack. One queen came, but not a second, and TanTanSWE was gone in eighth.
The theme of domination continued 15 minutes later when Camari shoved for 1.65 million over the top of Gabse92's 845,650-chip under-the-gun opener, only to find out Gabse92's A♠ J♣ had the edge over A♥ 10♠ ; no tens on the board meant Camari was out in seventh. Then it carried on further when theNERDguy min-raised with J♦ J♥ in the lojack seat and then moved all-in for 4.75 million when CipiV three-bet from the cutoff. CipiV called with A♠ A♥ and flopped a set to bring theNERDguy's tournament to an end in sixth.
A win for 12.1 million chips with a rivered gutshot straight closed out the first hour of final table play with gabsdrogba in the lead at 18 million, good for 60 big blinds. CipiV was in second with 42 BB, just ahead of needdollarz's 39 BB, while caddyjust66 and Gabse92 were both trailing and looking for a way to get back into the game. Gabse92 tried to steal from the small blind with K♦ 8♦ just a few minutes after returning from the break but needdollarz was waiting with K♣ 10♥ in the big. The Q♠ J♥ Q♣ K♠ A♦ gave needdollarz a Broadway straight to eliminate Gabse92 in fifth.
caddyjust66 looked likely to be the next out. Even after stealing four pots the Romanian player was still trailing the field with 9.5 million chips. Then caddyjust66 got to see a cheap flop with 7♣ 5♣ in the big blind, flopped a straight draw, called a small bet, and turned the nuts. needdollarz, who had min-raised on the button and made top pair with A♦ J♠ on the J♦ 6♥ 8♥ board, called when caddyjust66 check-raised all-in and was left with just under five big blinds when the 7♠ river closed out caddyjust66's 19.1-million-chip win.
needdollarz avoided elimination on the following hand, making a pair of eights with J♦ 8♦ to beat gabsdrogba's A♣ K♠ , and then did so again with A♥ Q♠ five hands later, making aces and queens on the river to avoid CipiV's flush draw with 8♦ 7♦ . A few more steals after that moved needdollarz ahead of CipiV and set up a showdown between them when CipiV three-bet all-in from the small blind with 10♠ 9♠ over gabsdrogba's 770,000-chip opener. needdollarz isolated with A♦ K♠ , turned top pair, and dodged CipiV's open-ended straight draw to win with kings on a 8♣ J♠ 4♥ K♥ 5♠ board, sending CipiV to the rail in fourth.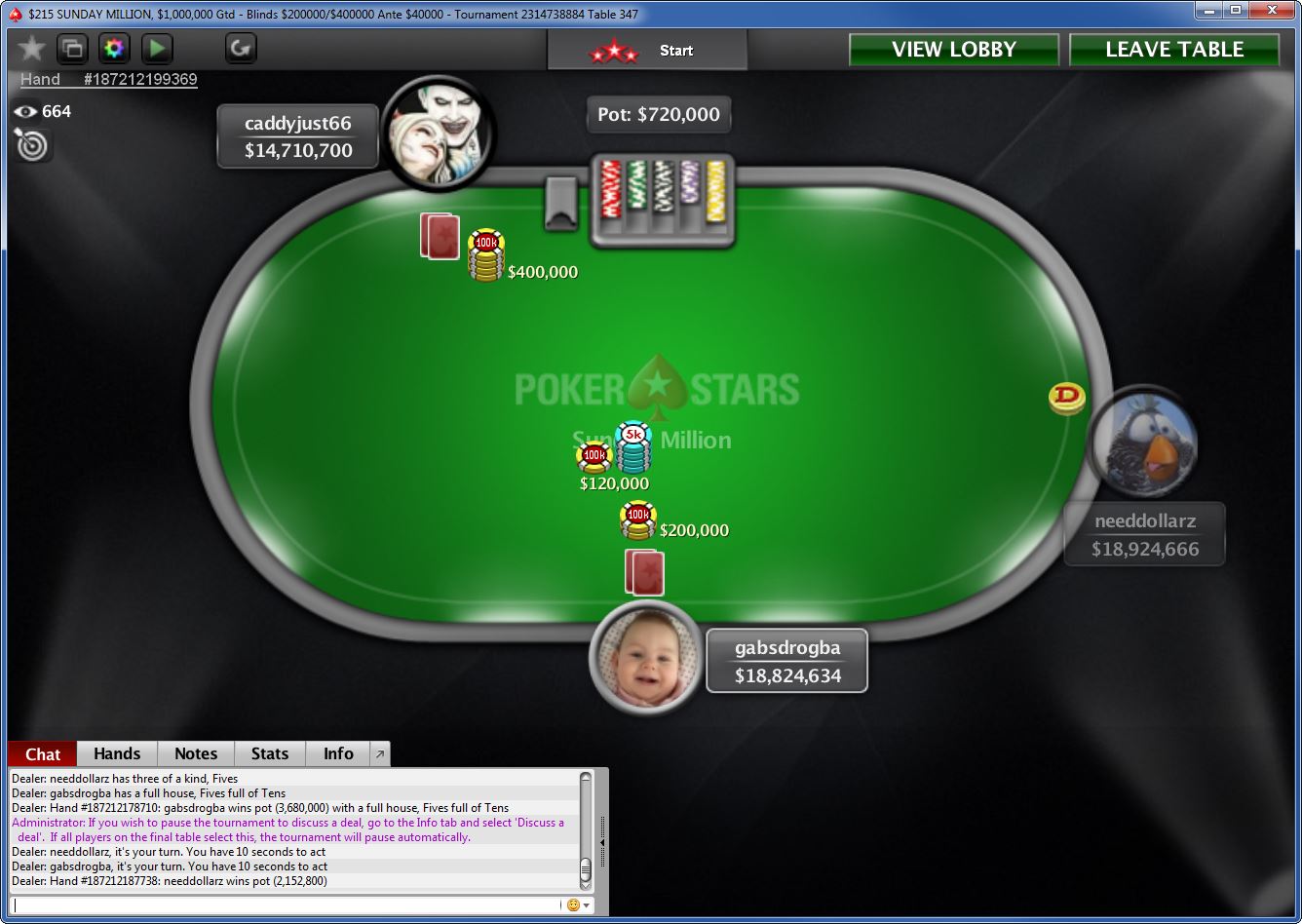 The beginning of an hour of three-handed play
That left just three players to fight for the title: a past Sunday Million & Sunday Warm-Up champ, a SCOOP 2018 winner, and an unheralded Romanian who'd started the final table next-to-last in chips. The stacks were deep — needdollarz led the way with 59 big blinds to caddyjust66's 50 and gabsdrogba's 43 — and that led to an hour-long standoff between the trio.
The first turning point came when caddyjust66 opened for a small raise on the button with A♥ Q♥ and then shoved for 12.5 million over the top of gabsdrogba's three-bet. gabsdrogba called with A♣ 10♦ and kickers played when the board gave each player trip kings. That dropped gabsdrogba to 21 big blinds and put caddyjust66 in the lead with 51.
Those same two players clashed 45 minutes later in another monster pot and the result was the same as before. gabsdrogba limped in from the small blind with A♦ K♦ and then led on every street — 700,000 on the K♣ 9♣ 10♥ flop, 2.1 million on the 4♦ turn, and 5.4 million on the 10♠ river. caddyjust66 called each one and then showed 10♦ 5♣ for trip tens, good for an 18-million-chip pot.
gabsdrogba was left hurting but made up for it on the next orbit. First the Brazilian doubled up with A♣ J♣ against needdollarz's 10♦ 10♥ , moving less than a big blind ahead of needdollarz in the chip counts. On the next hand needdollarz limped from the small blind and then led on every street after gabsdrogba checked in the big: 700,000 on the 10♣ A♣ Q♠ flop, 2.01 million on the 2♠ turn, and all-in for 7 million on the 7♠ river. gabsdrogba called them all and turned over 10♥ 8♦ for a mere pair of tens, good enough to top K♣ 2♦ and end needdollarz's quest for a second title in third place.
After that hour and six minutes of three-handed play, a quick heads-up duel followed. caddyjust66 won a crucial 18.9-million-chip pot without a showdown on the second hand, giving the Romanian a 3-to-1 lead over gabsdrogba from the start. From there caddyjust66 played keep-away before stealing from the button with J♥ 3♠ and getting an all-in call for 6.5 million from gabsdrogba in the big blind with K♥ Q♥ . gabsdrogba had 70-percent equity before the flop and 91-percent after it came 6♦ 9♦ Q♣ . Then the A♦ turn and 5♦ river combined to make caddyjust66 a diamond flush, bringing caddyjust66's remarkable title run to an end.
caddyjust66 strung together the perfect combination of big starting hands and disguised post-flop monsters, resulting in a major tournament title and a six-figure score. Congratulations on the big win!
6-3-18 Sunday Million ($215 NL Hold'em) results
Entrants: 5,318 (4,237 entries, 1,081 re-entries)
Total prize pool: $1,063,600
Places paid: 944
1. caddyjust66 (Romania) $143,707.90
2. gabsdrogba (Brazil) $100,847.14
3. needdollarz (Russia) $70,774.41
4. CipiV (Romania) $49,665.12
5. Gabse92 (Germany) $34,853.53
6. Yuri "theNERDguy" Martins (Brazil) $24,459.18
7. Camari (Norway) $17,164.69
8. TanTanSWE (Sweden) $12,045.69
9. Pthelegend (Canada) $8,458.38
---
Play next week's Sunday Million. Win big money. Click here to open your PokerStars account today.
---
Back to Top