Here's a simple formula for winning the Sunday Million: bring the chip lead to the final table and ride it to the win.
Fabio "FLBonatto" Bonatto managed to pull off the first part, with two key wins on the final table bubble. The second part proved much more difficult. But the Brazilian got the job done, walking away with the title and a career-best cash.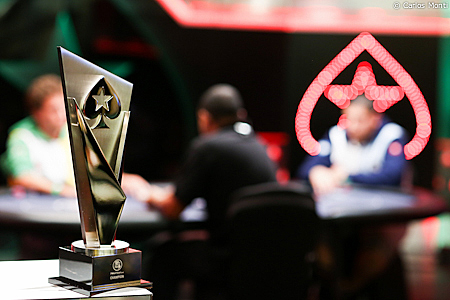 FLBonatto spent much of the tournament with an average stack. The journey from six tables to two saw the Brazilian slip toward the back of the pack. But two wins on the final table bubble — first with A♣ K♣ against alushi6's 10♠ 10♦ , then with K♦ Q♠ against Kobasteris's 8♠ 8♥ — moved FLBonatto into the lead.
Fifteen minutes later NisT_777 sent Bryan "Brryann" Ruiter out in tenth place. He called in the big blind with A♣ 10♥ to top the former Sunday Warm-Up and WCOOP champ Ruiter's J♣ 7♥ . That set up the final table:
FLBonatto's incoming chip lead wouldn't last long
Seat 1: Fabio "FLBonatto" Bonatto (14,412,419 in chips) past SCOOP-Medium champ
Seat 2: NisT_777 (8,605,106 in chips)
Seat 3: Arunas "BalticMoose" Sapitavicius (11,387,638 in chips)
Seat 4: 69sBigLick (6,906,034 in chips) past Sunday Warm-Up champ
Seat 5: grecu2006 (3,909,004 in chips) $1.6 million in PokerStars cashes
Seat 6: sub230212 (10,361,991 in chips)
Seat 7: Kobasteris (2,471,609 in chips) $1.7 million in PokerStars cashes
Seat 8: MrLuckDragon (4,308,162 in chips)
Seat 9: 7DonCool7 (1,698,037 in chips) past Super Tuesday finalist
It took 20 minutes to get our first knockout.
MrLuckDragon opened the action all-in for 1.19 million with A♠ Q♦ . 7DonCool7 called in the small blind with 8♦ 8♠ , which held up on a nine-high board to bounce MrLuckDragon in ninth.
Ten hands were played before Kobasteris fell in nearly identical circumstances. The Lithuanian jammed with K♦ Q♦ but failed to pair up against NisT_777, whose 10♠ 10♥ in the small blind took the 5.77-million-chip pot. That eliminated Kobasteris in eighth.
The short stacks fared better for the next 30 minutes, both in terms of their results and in getting in with the best of it. That pattern wouldn't break until Malta's 69sBigLick check-raised with a draw into 7DonCool7's top pair. 69sBigLick got it in with 9♣ 6♣ on a 8♠ A♥ 7♠ flop and 7DonCool7 snap-called with A♠ 5♦ . No fives or tens on the turn and river meant 69sBigLick finished in seventh.
Three minutes later NisT_777, who'd dropped to about 15 big blinds after a series of losses, min-raised under the gun with A♣ A♦ to try to get some action. That led to FLBonatto calling in the big blind with 7♥ 6♣ for middle pair and a gutshot draw that filled in on the river. FLBonatto took the pot and NisT_777 took sixth.
Two hands later the biggest pot of the tournament played out.
sub230212 opened for an even million under the gun and grecu2006 called in the big blind to take the K♥ 6♥ 3♦ flop. grecu2006 check-raised all-in for 5.77 million holding 5♥ 4♥ for a combination straight-and-flush draw. That was good for about 40-percent equity against sub230212's set of kings with K♣ K♠ . grecu2006 picked up more outs with the 4♠ on the turn but the 9♦ river was no help at all and the Romanian exited in fifth.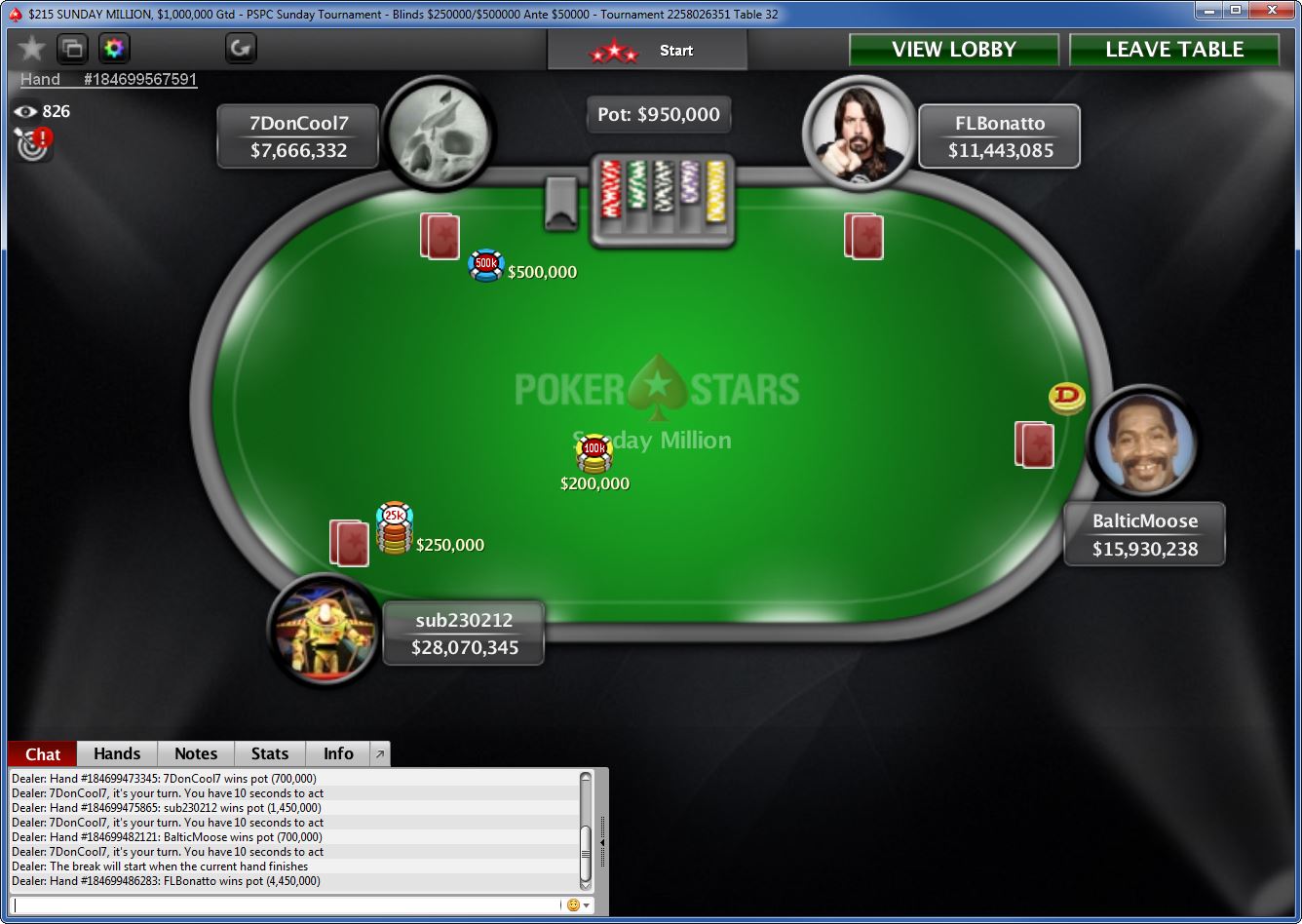 Moments before FLBonatto surged back into the chip lead
Winning that 13.9-million-chip pot gave sub230212 the edge over FLBonatto, 24 million to 19.8 million. Two losses to sub230212 and BalticMoose dropped FLBonatto out of contention for the lead as the break arrived. FLBonatto finally slipped back into fourth place when 7DonCool7's A♦ 2♣ held up against BalticMoose. That got the German back into the game.
Then FLBonatto picked up K♠ K♥ in the small blind and called all-in when 7DonCool7 open-shoved with A♠ J♥ on the button. That meant winning the 26.9-million-chip pot and leaving 7DonCool7 with less than two antes. Two hands later 7DonCool7 quietly left in third place. The table nearly dropped another player within the next few hands but BalticMoose survived with pocket nines against FLBonatto's A♠ Q♥ to keep the table a trio.
sub230212 kept up the pressure and piled up chips for another ten minutes before they decided to talk over a deal. Holding more than half the chips in play, sub230212 wanted an extra $5,000 over ICM from both opponents — even with more than $25,000 left on the table for the winner. That was too much of an ask and the deal talks fell apart. It was also sub230212's last and best chance at the title.
sub230212 began bleeding chips immediately. First a small-blind reraise of BalticMoose's button opener was met with an all-in bet. That saw sub230212 surrender without a flop. Six hands later BalticMoose opened on the button again, this time with a min-raise to 1.2 million, and called when sub230212 bumped the bet to an even 3 million. Both players checked the flop. BalticMoose then called bets of 2.2 million on the turn and 3.7 million on the river of the K♣ 5♠ 2♦ 7♥ Q♥ board, showing down K♥ 8♥ for top pair to beat sub230212's busted straight draw with A♥ 3♦ .
BalticMoose lost three hands later with 3♥ 3♦ to FLBonatto's K♣ K♥ , moving the Brazilian into the lead with more chips than the others combined.
Six minutes later BalticMoose moved back in front after calling all-in with J♦ J♣ from the big blind following FLBonatto's all-in shove from the small blind with A♥ 9♥ . Through it all sub230212's stack continued to dwindle. Eventually sub230212 open-shoved with A♥ 2♦ on the button and BalticMoose called with A♦ 7♥ in the big blind. Neither player improved from there and sub230212, whose previous best PokerStars cash was for $2,346, was out in third with a new career-best score.
That knockout gave BalticMoose a lead of about 12 big blinds as half an hour of heads-up play began.
BalticMoose won the first big pot after opening on the button with A♣ 9♠ and calling FLBonatto's out-of-position reraise to make aces and sixes on the 6♠ 6♣ A♦ flop. Both players checked there, and FLBonatto check-called 4.8 million on the 2♠ turn before doing the same for 7.1 million after the K♥ river. FLBonatto's 10♠ 10♥ were no good and the match was on.
Minutes later BalticMoose looked to have FLBonatto dead to rights, having called with A♠ Q♦ in the big blind after FLBonatto open-shoved with A♥ 5♦ on the button. But the board ran out 2♠ K♥ 2♦ 4♠ 3♠ to give FLBonatto a wheel straight and the lead by about eight big blinds. That edge held for ten more minutes until a pre-flop raising war led BalticMoose all-in with A♠ J♥ against FLBonatto's 2♥ 2♠ . The 2♦ Q♦ 5♣ 5♠ 3♣ board made deuces full of fives and finally put FLBonatto over the top of a long and winding final table.
Congratulations to BalticMoose, who settled for second place after a hard-fought battle, and to FLBonatto for persevering and coming out on top!
Sunday Million ($215 NL Hold'em) results
Entries: 6,406 (5,133 entries, 1,273 re-entries)
Prize pool: $1,281,200
Places paid: 1,160
1. Fabio "FLBonatto" Bonatto (Brazil) $172,955.07
2. Arunas "BalticMoose" Sapitavicius (Lithuania) $121,370.12
3. sub230212 (Austria) $85,173.66
4. 7DonCool7 (Germany) $59,772.20
5. grecu2006 (Romania) $41,946.23
6. NisT_777 (Russia) $29,436.59
7. 69sBigLick (Malta) $20,657.68
8. Kobasteris (Lithuania) $14,496.90
9. MrLuckDragon (Russia) $10,173.49
---
The Sunday Million Anniversary Take 2 is coming up in three weeks, with a $10 million guaranteed prize pool and $1 million guaranteed to first place! Click here to open your PokerStars account today.
---
Back to Top