Hungary's Akameo entered this week's Sunday Million final with the chip lead and ended it with all the chips. But the two hours of poker between those moments – and the 11 hours that preceded them – were anything but easy.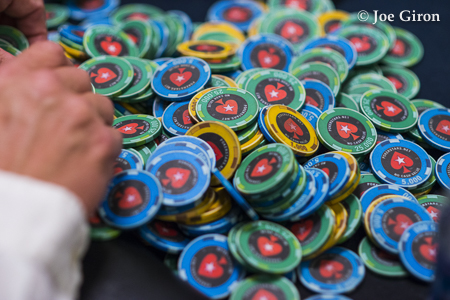 That lead proved to be more of a buffer than a platform for playing offense after one of the short stacks took out four of the others in the early going. Once the table was four-handed Akameo turned things around, first with a pair of kings, and then again with pocket queens to take out the upstart a half-hour later. From there it was a short dash to a heads-up deal and a coin-flip that ended in victory.
The field cracked 6,000 entries for the fifth straight week. Akameo spent much of the day wading through the masses with an average-sized stack before finally picking up K♣ K♥ in the small blind on the bubble of the final table. nicosty21 called with 10♣ 10♦ in the big blind and was left with less than eight big blinds after the loss, while Akameo moved into the lead for the first time all tournament. A few hands later delfina_47 took out past Super Tuesday and Sunday Warm-Up champ AnyGameSir on the bubble with A♦ Q♦ against Q♠ J♥ to set our final table lineup.
Akameo entered in the lead but 23noraB would soon storm ahead
Seat 1: Tatiana "Mysters_Y" Barausova (5,989,070 in chips) took 7th in the 4-16-17 Sunday Million
Seat 2: delfina_47 (11,525,232 in chips) runner-up in two WCOOP 2016 events
Seat 3: south2 (5,370,398 in chips) bubbled the 12-20-15 Sunday Million final
Seat 4: Alexandre "Cavalito" Mantovani (12,852,565 in chips) took fourth in the WCOOP 2017 Main Event
Seat 5: 23noraB (3,637,309 in chips) past Super Tuesday finalist with $5 million in PokerStars tournament cashes
Seat 6: Mortan23 (5,336,772 in chips) past Super Tuesday champ & SCOOP runner-up with $2.4 million in PokerStars cashes
Seat 7: Akameo (13,235,856 in chips) past Sunday Warm-Up runner-up
Seat 8: nicosty21 (1,581,304 in chips)
Seat 9: Ulver83 (1,681,494 in chips)
Akameo held the lead as the final table began but the next hour of play would revolve around one of the three players who started the final with less than a dozen big blinds. Ulver83 doubled up first, flopping a king with A♥ K♦ to win with a pair against south2's unimproved A♦ Q♠ . Then 23noraB got aggressive and won two in a row to chip up to 30 big blinds without ever seeing a flop. But when nicosty21 picked up A♦ K♣ , hitting a pair of kings on the river of the 8♦ 2♦ 6♦ 3♣ K♥ board, it wasn't enough. 23noraB had already turned a set of treys and nicosty21 collected the final table's first payout.
About 15 minutes of eight-handed small-ball poker put the pressure on south2. The Swede got in as a big favorite for about six big blinds with pocket tens against delfina_47's pocket fours. Then the 5♥ 2♥ 3♦ A♣ Q♦ board delivered a wheel straight to delfina_47 and sent south2 to the rail in eighth.
23noraB began a steep climb up the leader board ten minutes later. The Austrian isolated from the small blind with A♣ 9♠ to get heads-up with Ulver83, who had opened all-in for about four big blinds in early position with K♦ 4♦ . Ulver83 made a pair of fours on the flop but 23noraB paired the ace on the turn to end Ulver83's tournament in seventh.
23noraB stayed on the attack and took out Mortan23 in sixth place minutes later, winning unimproved with A♠ 5♦ after calling in the big blind and watching Mortan23's J♦ 8♦ miss the board completely. The pot was only worth just over ten big blinds but it was enough, along with the proceeds from the earlier knockouts, to move 23noraB two blinds ahead of Akameo and into the chip lead.
Former Team Online Pro Tatiana "Mysters_Y" Barausova now looked likely to be the next out. She managed to keep elimination at bay for a bit after re-raising all-in from the small blind for about six big blinds and hitting a set with her 7♣ 7♠ to crack Akameo's pocket jacks. That kept her afloat for another ten minutes, long enough to pick up A♦ 8♥ under the gun and move all-in. 23noraB successfully isolated with 6♥ 6♠ in the small blind and earned the check-mark after flopping bottom set. Mysters_Y didn't catch anything on the J♥ K♠ 6♣ 4♠ 3♠ board and left in fifth.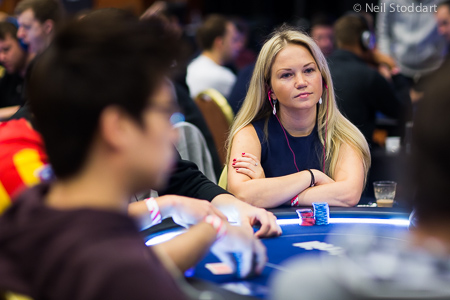 Tatiana "Mysters_Y" Barausova finished up in fifth
Scoring that fourth knockout boosted 23noraB's stack to 27.5 million chips, more than 30 big blinds ahead of second-place delfina_47's. Then 23noraB went for an easy steal from the small blind and opened all-in with A♠ 3♦ . Akameo snap-called with K♣ K♠ and won with kings and deuces after the board fell 6♠ 2♦ J♠ 2♥ 8♠ , dragging a 25.6-million-chip pot.
That win changed the table dynamic, placing the largest stack directly to the left of the most aggressive player at the table. Plenty of pots still went to 23noraB over the next 25 minutes but the share was smaller and they were rarely worth more than just the blinds and antes. Finally, 23noraB picked up 10♦ 10♠ under the gun and opened the action with an all-in bet of 14 million chips. Akameo was holding Q♦ Q♠ and came along on the button, taking down another monster pot – this time worth 29.6 million chips – and knocking 23noraB out in fourth.
The other two players were both short and ended up clashing almost immediately. Alexandre "Cavalito" Mantovani opened all-in two hands later with Q♥ J♥ on the button. delfina_47 called in the big blind with A♥ 7♦ . The latter made trip aces when the board fell 3♠ A♦ A♣ 4♦ 9♠ and Cavalito left in third.
The two remaining players quickly cut a deal, hedging against the enormous 400,000/800,000/80,000 blinds and antes, and getting back to work. delfina_47 made up some ground with a good call on the river of a 10♦ 4♥ Q♥ 5♥ 6♣ board – the Argentine player's A♦ 8♠ was good against Akameo's bluff with 9♣ 8♦ . But a 15-big blind deficit would be delfina_47's high point.
After taking one last break the two players returned to play a final coin-flip hand. delfina_47 limped on the button with 8♣ 8♦ and then called when Akameo moved all-in with Q♣ J♦ . delfina_47 made a set of eights with the same card that gave Akameo the bottom of a queen-high straight to close out an entertaining final table.
Tonight's champion stayed patient no matter what happened at this final table, and it paid off in a huge way. Congratulations to Akameo for earning the title, and to delfina_47 for sharing in the deal with another high-profile runner-up finish!
2-25-18 Sunday Million ($215 NL Hold'em) results
Entrants: 6,121 (4,868 entries, 1,253 re-entries)
Total prize pool: $1,224,200
Places paid: 1,106
1. Akameo (Hungary) $157,245.37*
2. delfina_47 (Argentina) $124,014.22*
3. Alexandre "Cavalito" Mantovani (Brazil) $81,392.89
4. 23noraB (Austria) $57,118.96
5. Tatiana "Mysters_Y" Barausova (Russia) $40,084.34
6. Mortan23 (Faeroe Islands) $28,129.91
7. Ulver83 (Mexico) $19,740.71
8. south2 (Sweden) $13,853.53
9. nicosty21 (Uruguay) $9,721.98
* – denotes results of a heads-up deal leaving $24,484 for the winner
---
Life-changing money is up for grabs every week in the Sunday Million. Click here to open your PokerStars account today.
---
Back to Top