Galochina10 entered this week's Sunday Million final table with a guarantee: no matter where the journey ended, the cash at the end would be at least the second-best of the Brazilian's eight-year online poker career.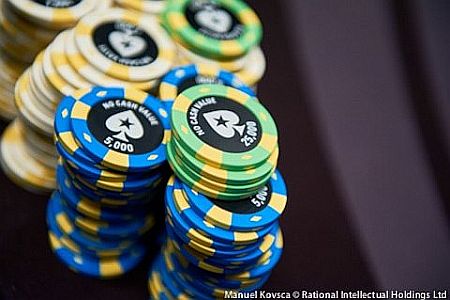 Surviving to seventh place made it the best ever. Then a few fortunate flops — and one great call with everything on the line — primed Galochina10 to run away with the tournament and set a new personal best cash in memorable fashion.
Galochina10's journey to the final table was comfortable most of the way. The Brazilian took over the lead briefly with 72 players left before dropping back to the average until the final two tables. Then a desperate double with K♦ J♦ — after rivering a ten for a Broadway straight to beat larrytur's pair of aces — kept Galochina10 in the mix with more than 30 big blinds as a long bubble period approached. In the end the unlucky 10th-place finisher was 13santoy13, who jammed for 2.6 million in the big blind with pocket jacks after It.happ3ns. raised small to 404,000 under the gun and Andreas "mrAndreeew" Berggren called in the cutoff. mrAndreeew called with A♣ Q♣ and flopped an ace, eliminating 13santoy13 and setting up what would end up being a brief final table.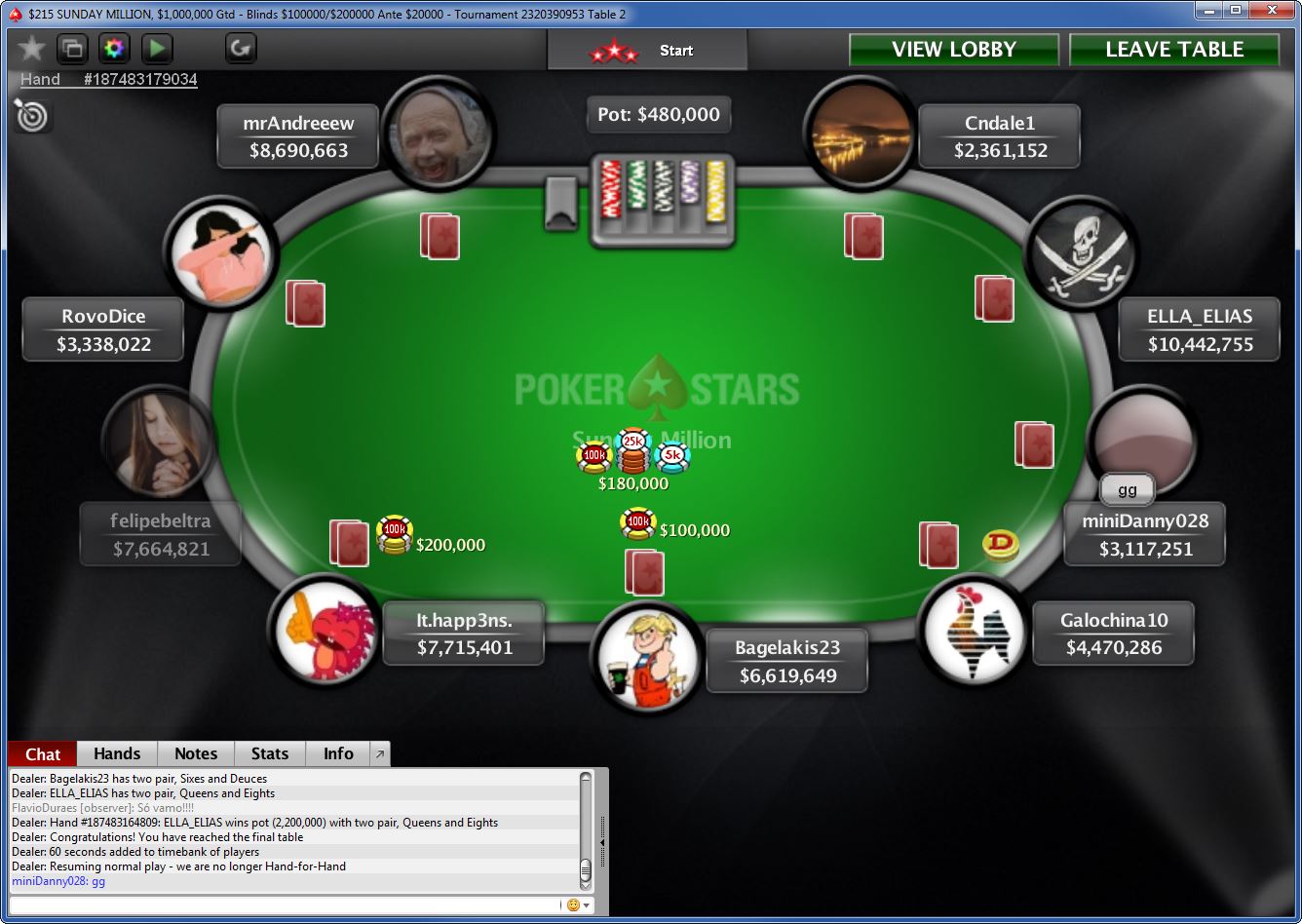 The calm before the storm
Seat 1: Cndale1 (2,381,152 in chips)
Seat 2: ELLA_ELIAS (10,462,755 in chips)
Seat 3: miniDanny028 (3,137,251 in chips)
Seat 4: Galochina10 (4,490,286 in chips)
Seat 5: Bagelakis23 (6,739,649 in chips) past Sunday Warm-Up runner-up
Seat 6: It.happ3ns. (7,935,401 in chips) past SCOOP-Low finalist
Seat 7: felipebeltra (7,684,821 in chips) past SCOOP-Medium finalist
Seat 8: Romans "RovoDice" Voitovs (3,358,022 in chips) Sunday Million finalist in 2013 & 2017
Seat 9: Andreas "mrAndreeew" Berggren (8,710,663 in chips) past Super Tuesday champ
The early game wasn't friendly to the short stacks and miniDanny028 was the first to go. The Russian player got in ahead with Q♠ Q♥ in the big blind, shoving for 2.99 million chips over the top of ELLA_ELIAS's 780,000-chip opener with A♥ J♥ , but fell in ninth when the board ran out J♠ 7♥ K♦ 10♥ Q♦ to give ELLA_ELIAS a Broadway straight.
Eight hands later It.happ3ns. opened small for 505,000 with 10♦ 10♣ UTG+1 and called when Cndale1 shoved for 1.44 million with A♣ J♣ . The nine-high board changed nothing and Cndale1 left in eighth.
Galochina10 looked likely to follow seven hands later. The Brazilian moved all-in for 5.29 million with A♥ J♦ in the big blind over the top of ELLA_ELIAS's 750,000-chip opener from the small blind and the Swede snap-called with K♥ K♠ . Then the board ran out Q♦ 4♦ 10♦ 7♦ 10♠ to give Galochina10 a diamond flush, the 10.7-million-chip pot, and a desperately needed reprieve.
Instead the seventh-place finisher was Romans "RovoDice" Voitovs, who put his third career Sunday Million final table appearance on the line with 10♣ 10♠ with an all-in three-bet worth 5.6 million. Original raiser mrAndreeew called with A♥ K♦ under the gun and flopped the K♥ to end Voitovs's tournament.
Bagelakis followed minutes later after defending the big blind with 6♠ 3♠ , calling Galochina10's bet on the A♠ 2♠ 10♣ flop, and raising all-in for 4.07 million chips after catching the 9♠ on the turn. Galochina10 called with A♥ 10♠ for top two pair and a draw to a better flush — the latter came home with the 4♠ on the river and out went Bagelakis in sixth.
The first hourly break came along with the blinds and antes at 150,000/300,000/30,000, the five-handed table led by ELLA_ELIAS (14.8 million chips) and Galochina10 (14.7 million). mrAndreeew quickly trimmed the field by one more with 10♠ 10♣ , which held up in the big blind against small-blind jammer felipebeltra's A♠ 2♦ to eliminate the Brazilian in fifth. That put mrAndreeew within a double-up of the lead.
Galochina10 runs away with it
Galochina10 had nudged ahead by a few big blinds with an early win after the break, but it was a much larger pot 15 minutes later that set the Brazilian down the path to victory.
mrAndreeew opened the action for 735,000 under the gun and called when Galochina10 re-raised to 2.1 million from the small blind with A♣ 10♣ , bringing the Q♥ Q♠ 6♦ flop. Both players checked there and then mrAndreeew called Galochina10's 1.5-million-chip bet on the 4♦ turn, which led to the 2♥ river. Galochina10 slowed down this time and checked, only to see mrAndreeew bet 3.23 million into the 7.69-million-chip pot. Galochina10 made the call and won 14.1 million chips with an ace kicker when mrAndreeew turned over J♦ 10♦ for air.
ELLA_ELIAS managed to stay alive a few minutes later despite three-betting with K♣ Q♠ against It.happ3ns.'s A♣ A♥ , thanks to the 4♥ Q♥ K♦ flop. Things didn't go as well against Galochina10 three hands after that. ELLA_ELIAS called for 1.05 million in the big blind with 7♥ 6♥ , caught an inside straight flush draw on the 2♦ 3♥ 5♥ flop, and check-raised for 2.4 million. Galochina10 smooth-called and did the same when ELLA_ELIAS jammed for 8.1 million on the 7♦ turn, turning over A♠ 4♣ for the flopped wheel straight. ELLA_ELIAS was drawing plenty live but the 7♠ river changed nothing and the Swede bowed out in fourth.
Taking down that pot gave Galochina10 39 million chips — good for 112 big blinds — compared to It.happ3ns.'s 13.2 million and mrAndreeew's 2.6 million. The two shorter-stacked players would manage to delay the inevitable for a bit, but neither of them managed to take many chips off the leader. Instead they took turns doubling through each other. Then Galochina10 strung together eight consecutive wins and closed out the tournament.
First mrAndreeew jammed for 3.94 million with A♦ 5♦ in the small blind and Galochina10 woke up with 8♣ 8♠ in the big. Galochina10 made a flush when the board fell 9♥ 6♣ 9♣ Q♣ 3♣ and knocked out mrAndreeew in third. Four hands later Galochina10 open-shoved with K♦ 3♠ on the button and It.happ3ns. called with A♠ A♦ in the big. The board came 10♠ 2♦ K♠ Q♦ K♣ , cracking It.happ3ns.'s aces for the second time at this final and bringing the tournament to an end.
It took just an hour and 20 minutes for Galochina10 to run away with this one and earn a cash worth $132,000 more than the Brazilian's previous personal best. Congratulations to Galochina10 on making the most of a big opportunity!
6-10-18 Sunday Million ($215 NL Hold'em) results
Entrants: 5,490 (4,403 entries, 1,087 re-entries)
Total prize pool: $1,098,000
Places paid: 998
1. Galochina10 (Brazil) $148,292.04
2. It.happ3ns. (Germany) $104,064.15
3. Andreas "mrAndreeew" Berggren (Sweden) $73,028.96
4. ELLA_ELIAS (Sweden) $51,249.58
5. felipebeltra (Brazil) $35,965.42
6. Bagelakis23 (Cyprus) $25,239.39
7. Romans "RovoDice" Voitovs (Latvia) $17,712.27
8. Cndale1 (Norway) $12,430.01
9. miniDanny028 (Russia) $8,723.06
---
Reach for new heights of your own in next week's Sunday Million. Click here to open your PokerStars account today.
---
Back to Top