NEED100KFAST has been building a reputation for strong performances in the Super Tuesday over the past two years. In three previous appearances at the final table the Swede has improved each time, finishing fifth and then fourth before winning the tournament last August. Despite entering tonight's final table near the bottom of the chip counts, and facing elimination on multiple occasions, NEED100KFAST persevered and backed up that first Super Tuesday victory with a second title in less than six months.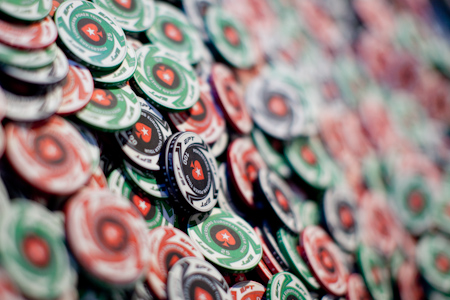 NEED100KFAST's journey to another big win didn't exactly carry an air of inevitability. The Swede barely rose above an average stack in the first eight hours of play before picking up pocket aces with two tables remaining and beating DSmunichlife's pocket sevens to buy some breathing space. Holding onto those chips for the next 30 minutes was enough to advance NEED100KFAST to the final along with three former Super Tuesday champions.
Four past Super Tuesday champions were among this week's finalists.
Seat 1: DRONCHEK (976,045 in chips) past Super Tuesday finalist
Seat 2: Nicolás "PKaiser" Fierro (369,204 in chips) past WCOOP & Super Tuesday champion
Seat 3: Christian "eisenhower1" Jeppsson (434,217 in chips) two-time WCOOP & past Super Tuesday champ
Seat 4: Sw33ney (1,490,760 in chips) WCOOP 2017 Progressive KO runner-up
Seat 5: Squa1l (581,726 in chips) High Rollers Series Main Event finalist
Seat 6: NEED100KFAST (545,426 in chips)
Seat 7: cigarromata (703,355 in chips) two-time Sunday Warm-Up finalist
Seat 8: DSmunichlife (1,147,281 in chips) WCOOP 2017 winner
Seat 9: Ole "wizowizo" Schemion (676,986 in chips) two-time Super Tuesday winner
The deck treated the short stacks unevenly early on. Christian "eisenhower1" Jeppsson doubled up after spiking a set with Q♣ Q♦ against DRONCHEK's K♦ K♥ on the fifth hand, but Ole "wizowizo" Schemion wasn't as unfortunate. He jammed for 228,226 chips with 9♦ 8♦ and was live when DRONCHEK called with A♥ 10♠ , but DRONCHEK made aces and tens on the 8♠ 4♣ 10♥ J♥ A♣ to eliminate wizowizo in ninth.
One orbit later cigarromata limped for 25,000 chips under the gun. Squa1l jammed for 286,151 with K♠ J♣ when the action folded around to the small blind, and then NEED100KFAST re-shoved for 430,426 with K♣ K♥ . cigarromata folded, the board ran out 6♦ 9♣ A♠ 3♦ 7♣ , and Squa1l was gone in eighth.
The good times for NEED100KFASt almost ended a few hands later after moving all-in from the big blind with 2♣ 2♠ over a button raise from eisenhower1, who had opened with A♥ K♣ . eisenhower1 called and flopped a king to win the 1.28-million-chip pot and leave NEED100KFAST with 120,170 chips, good for just under five big blinds. But the Swedish player jammed from the small blind with J♥ 8♠ on the next hand and caught an eight on the flop to outrun cigarromata's A♣ 4♠ in the big blind.
NEED100KFAST stayed out of the limelight for a bit while the other short stacks fought for their tournament lives. DSmunichlife survived with pocket nines against Sw33ney's K♥ 9♥ , but PKaiser wasn't as fortunate, moving all-in as an even bigger favorite with A♥ J♦ in the small blind after DRONCHEK opened on the button with A♠ 4♦ . DRONCHEK called, a four hit the turn, and PKaiser bowed out in seventh.
The blinds and antes continued to increase. NEED100KFASt responded to the pressure by calling all-in with 3♦ 3♠ in the small blind when Sw33ney shoved with J♠ 7♠ in the small blind. No jacks or sevens on the board meant a double to 535,160 chips for NEED100KFAST, who then shoved from the small blind with Q♠ J♠ on the following hand after DRONCHEK opened with 7♦ 7♥ . NEED100KFAST flopped a pair of jacks and rivered a Broadway straight, earning the 1.1-million-chip pot and climbing out of immediate danger.
Sw33ney's effort to double up were thwarted by an uncooperative deck. His A♠ K♠ resulted in a chop with DSmunichlife's A♣ K♥ . Then a flopped set with 2♣ 2♦ resulted in another chop with NEED100KFAST, the board giving each a wheel straight. Sw33ney finally caught a break after re-raising all-in with A♠ Q♣ . eisenhower1, the original raiser, called with A♣ J♣ , moving up to 1.18 million chips in the process.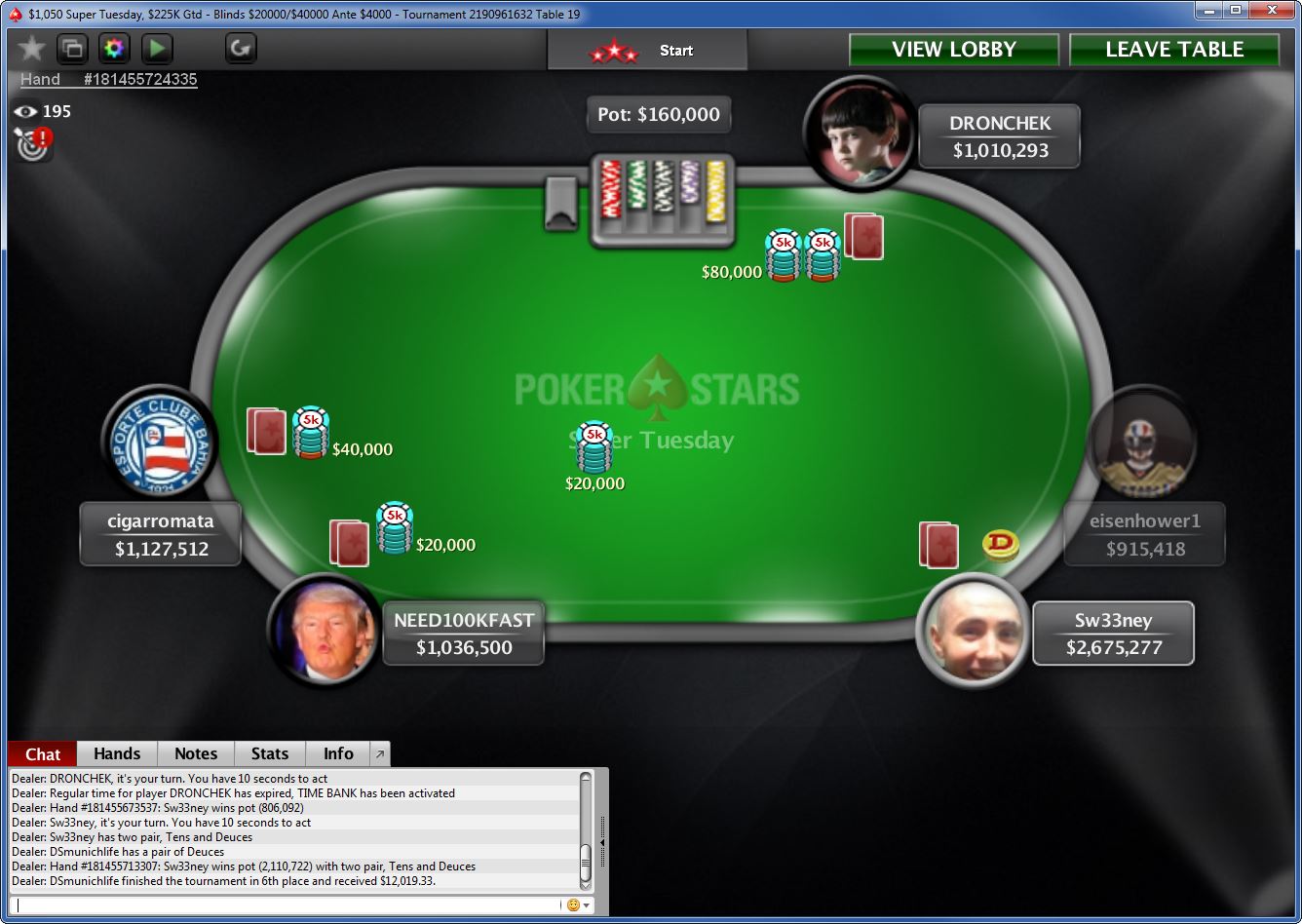 Four hands later Sw33ney became the chip leader after jamming with 10♣ 10♠ . Original raiser DSmunichlife called with A♠ Q♣ but missed the board and exited in sixth. Ten minutes later eisenhower1's bid for a second Super Tuesday title ended in a coin flip. The ace on the A♦ 7♥ 3♠ gave DRONCHEK's A♠ 10♣ a pair, topping eisenhower1's 9♠ 9♦ to bust him in fifth.
With the short-stack having 20 big blinds, a potentially drawn out finale looked likely. But playing down to the finish would take only 20 minutes, NEED100KFAST finding the perfect moment to hit a hot streak.
After winning a few smaller pots without showing down a hand, NEED100KFAST opened for 100,000 on the button with A♠ J♥ and then called when cigarromata jammed for 948,512 in the small blind with A♦ 7♠ . The board went runner-runner to give NEED100KFAST a Broadway straight – and the lead with 3.1 million chips. Cigarromata left in fourth.
NEED100KFAST leaned on the other two players for ten minutes and slowly piled up more chips before opening with J♣ J♦ on the button and then calling when DRONCHEK jammed with 3♣ 3♦ in the small blind. The board ran out K♣ A♥ A♦ 7♦ 2♦ , NEED100KFAST took the 3.2-million-chip pot, and DRONCHEK left in third.
After one early split pot when both players made fives and treys, NEED100KFAST flopped a draw and then rivered a wheel-straight with 4♠ 3♠ . That left Sw33ney with 15 big blinds. They went in on the next hand with A♦ 10♠ . NEED100KFAST called with 10♣ 10♥ and made a flush on the river, ending a near-perfect stretch run to a second career Super Tuesday title.
It's hard enough to win the Super Tuesday once. Congratulations to NEED100KFAST on defying the odds and pulling off the double.
1/23/18 Super Tuesday ($1,050 NL Hold'em) results
Entrants: 277
Total prize pool: $277,000
Places paid: 39
1. NEED100KFAST (Sweden) $52,824.08
2. Sw33ney (United Kingdom) $39,286.24
3. DRONCHEK (Russia) $29,218.01
4. cigarromata (Brazil) $21,730.04
5. Christian "eisenhower1" Jeppsson (Sweden) $16,161.09
6. DSmunichlife (Germany) $12,019.33
7. Nicolás "PKaiser" Fierro (Chile) $8,939.03
8. Squa1l (United Kingdom) $6,648.16
9. Ole "wizowizo" Schemion (Austria) $4,944.36
---
Start your own hot streak in the Super Tuesday. Click here to open your PokerStars account today.
---
Back to Top