When Hurricane Irma forced the cancellation of Streamboat 2, the guys had to figure out a way to give competition winners an experience they wouldn't forget. At Run It Up Reno, they did.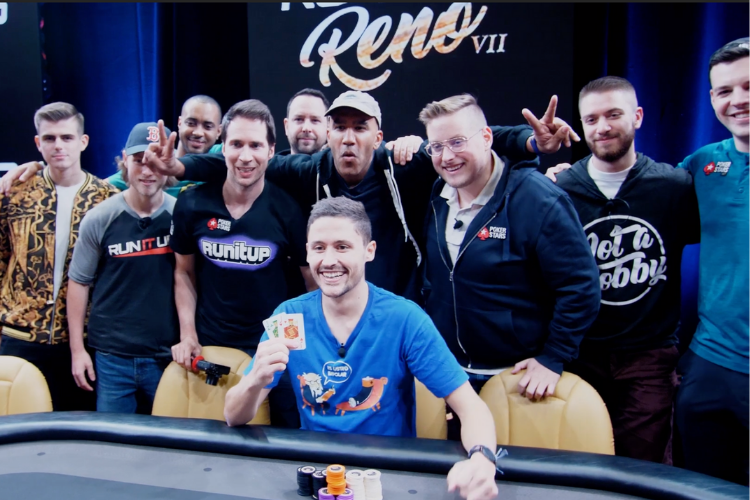 ---
September 2017.
Bill Perkins, Jeff Gross, Jaime and Matt Staples, Kevin Martin, and Mike Vacanti move into a luxury house in the British Virgin Islands, with a yacht moored outside. For the next month they were set to stream poker, have fun, and welcome in a group of competition winners who were no doubt looking forward to joining them.
Unfortunately, Hurricane Irma had other plans. With 185mph winds, Irma was a Category 5 hurricane –the highest on the scale– and the islands were in its path. The guys were forced to evacuate.
So where did that leave the competition winners?
Well, back in July we told you that the plan was now for them to fly out to Run It Up Reno, and a couple of weeks ago they did just that.
Each winner would get:
• Flights to and from Reno
• One week stay at the Peppermill Resort and Casino in a suite (six suites for six nights, 23rd – 29th October)
• $2,000 Live Play Credit per person
• $300 Merchandise Credit for the RIU shop per person
• Welcome dinner with Bill Perkins and Streamer at the Steak House
• Tag-Team Sit&Go
• Each streamer will have their freeroll host as a coach throughout a live streamed Sit&Go, with $5k in prize-money (1st $2k – 2nd $1,5k – 3rd 1k – 4th $500)
PokerStars Blog was on hand to record it all.
Check it out.
---
Ready to sign up for PokerStars? Click here to get an account.
---
Back to Top
Study Poker with
Pokerstars Learn

, practice with the PokerStars app

Try our Free Scholars Leader Board to practice your new skills.
Quick Links
Learn
Practice
Chat with us
Watch and share