After a slow and short-stacked start to the final table, Alexandros "mexican222" Kolonias picked up momentum with six players left in the $2,100 Winter Series Main Event. The only player able to keep up with him at that point was Canada's freezeplay, who had followed a similar trajectory. One by one the other players fell away until just mexican222 and freezeplay remained, at which point freezeplay offered to make a deal. Despite being behind in chips with a six-figure difference between first and second, mexican222 said he preferred to play it out. He fought with everything he had for 40 minutes but in the end the key pots all went freezeplay's way, earning the Canadian a new all-time personal best cash, the Winter Series Main Event title, and a $30,000 PokerStars Players Championship Platinum Pass.
The $1.5 million guarantee for the first-ever High-tier Winter Series Main Event was met by the initial entries alone. Another 248 re-entries on top made for a hefty $2.2 million prize pool and lots of money awaiting the players who could wade through the deep waters and make their way to the final table.
Day 1 finished with 89 players still in the hunt, all guaranteed at least $6,000 wherever they finished on the second day. needdollarz led the way with a 112-big-blind stack, followed by freezeplay (72 BB), WCOOP 2017 Progressive KO runner-up Ruis Maker (69 BB), EPT13 Malta Main Event finalist Dmitry "yurasov1990" Yurasov (68 BB), and WCOOP 2016 champ CalmRevolver (64 BB). With the exception of yurasov1990, who finished in 30th, all of those players were still around with two tables left.
The final table bubble came and went with not one but two players hitting the rail. On Table 65, Ruis Maker called all-in with A♥ 9♥ in the big blind after needdollarz opened from the small blind with pocket nines, which held up to win the hand. Meanwhile, over on Table 40 it was the short stack who had 9♣ 9♥ . Past Sunday Million champion adkaf moved all-in with them but lost out to big-blind caller KRab42's A♦ Q♣ hwne the 7♥ 7♣ 8♣ 7♠ 7♦ board gave both players four of a kind. Ruis Maker started with the smaller stack and took 10th place, while adkaf claimed the ninth-place prize and these eight players moved on to the final table: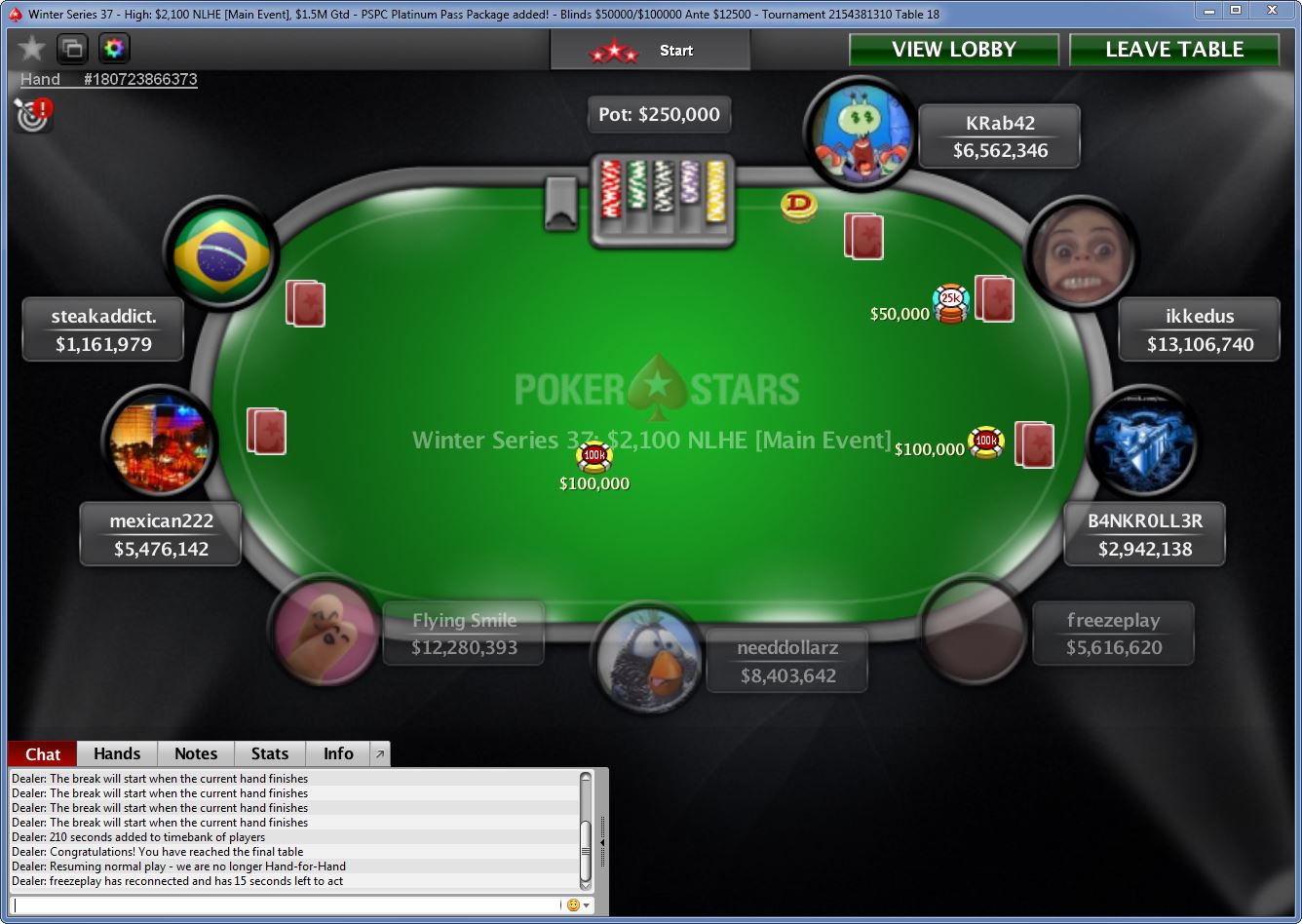 Seat 1: KRab42 (6,574,846 in chips) past Sunday Million finalist and WCOOP Heads-Up semifinalist
Seat 2: ikkedus (13,169,240 in chips) past Super Tuesday & SCOOP finalist
Seat 3: Juanki "B4NKR0LL3R" Vecino (3,054,638 in chips) past TCOOP & WCOOP finalist
Seat 4: freezeplay (5,629,120 in chips) past Sunday Second Chance winner
Seat 5: needdollarz (8,416,142 in chips) past Sunday Warm-Up & Sunday Million champion
Seat 6: Flying Smile (12,292,893 in chips) past WCOOP champion
Seat 7: Alexandros "mexican222" Kolonias (5,488,642 in chips) two-time SCOOP winner
Seat 8: Alex "steakaddict." Papazian (1,174,479 in chips) past Super Tuesday champ
It took less than 10 minutes for the field to be trimmed by one more. Alex "steakaddict." Papazian opened the action all-in for 11 big blinds with Q♥ J♠ in the hijack seat. KRab42 came along from the cutoff with A♦ J♣ and made a pair of aces on the flop to win the pot and bust steakaddict. in eighth.
Most of the pots that played out for the rest of the hour were small, with the exception of a few pair-over-pair situations. Juanki "B4NKR0LL3R" Vecino doubled with Q♣ Q♦ against ikkedus's 10♦ 10♥ early on, winning unimproved for a touch over 5 million chips. About 20 minutes later a pot nearly three times that size unfolded between two medium-stacked players. needdollarz called in position with 5♣ 5♠ after freezeplayer opened the betting with J♦ J♣ . freezeplay led out and then jammed for 6.5 million after needdollarz raised with a set on the 8♣ 5♥ 10♠ flop, only to end up winning the 13.8-million-chip pot after making a straight thanks to the 9♦ turn and Q♦ river.
It looked like the hour might finish seven-handed, especially after short-stacked B4NKR0LL3R got in for 3 million with A♣ K♠ on the button against ikkedus's A♦ Q♥ . The 2♦ K♦ 5♦ 8♠ Q♦ board made a flush for ikkedus, though, eliminating B4NKR0LL3R to close out the hour with a six-handed table.
needdollarz needed chips in a big way now, as did Alexandros "mexican222" Kolonias. mexican222 had slightly more when the two clashed 10 minutes after returning to play, which made all the difference after needdollarz opened all-in for 13 big blinds with A♦ 7♦ . mexican222 isolated with K♣ K♠ on the button and chipped up to 5.1 million when the board ran out 5♥ Q♠ 8♥ 7♠ J♣ , ending needdollarz's tournament in sixth.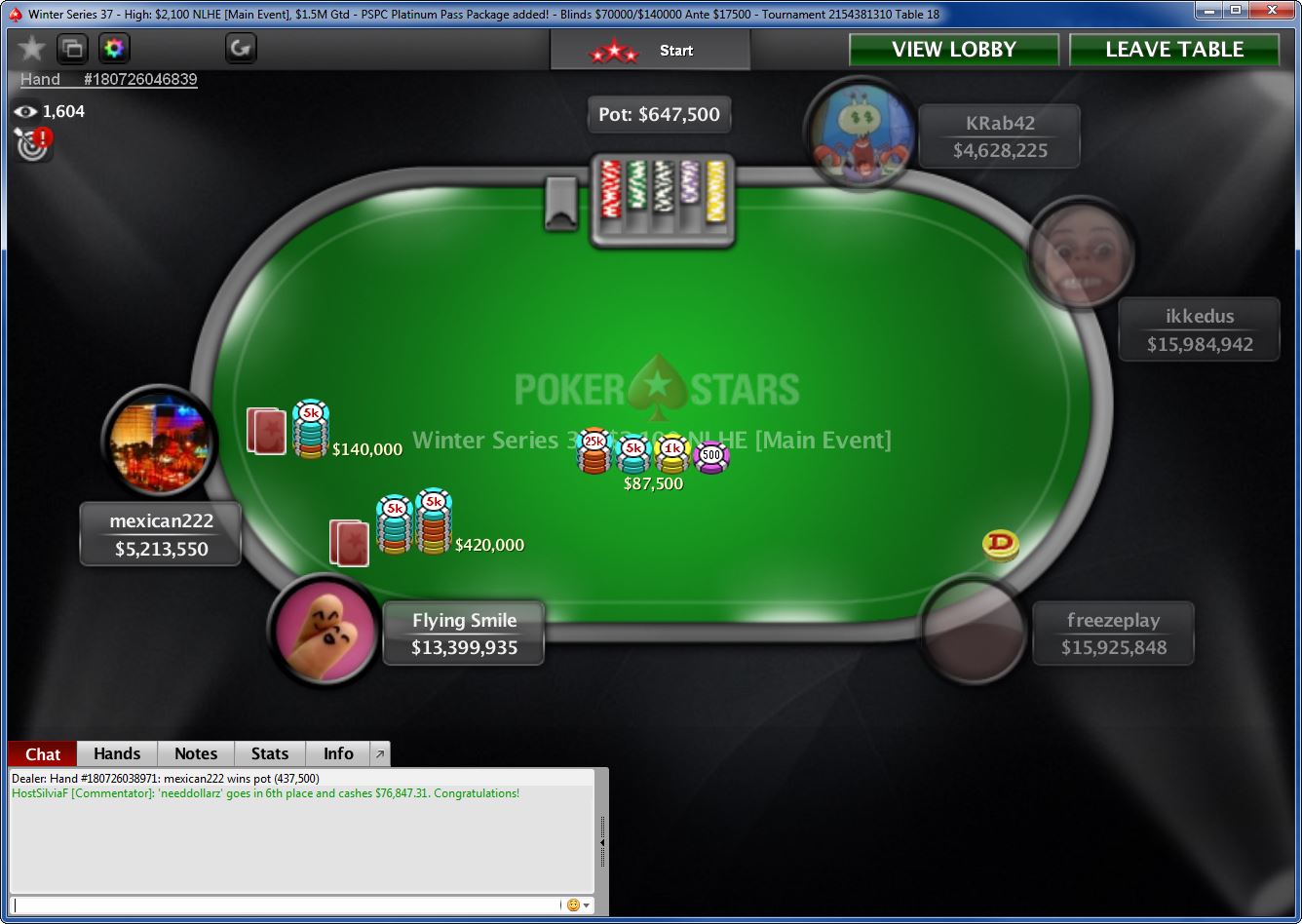 Everyone here was guaranteed at least $104K.
Winning there still left mexican222 with the shortest stack at the table. KRab42 was only a big blind ahead at 5.2 million but the other three players all had at least three times that many chips. Once mexican222 won a flip with A♣ Q♥ against Flying Smile's pocket tens and followed it two minutes later with a 7.4-million-chip win against ikkedus, though, the entire texture of the table had changed.
freezeplay had the lead on mexican222 by about a dozen big blinds, ikkedus and Flying Smile were in between with comfortable stacks, and KRab42 was still on the outside looking in. That situation held for the next hour. KRab42 managed to hang on with a short stack, surviving all-in once with the best of it and once with the worst, while mexican222 and freezeplay took turns leading the way.
Flying Smile and ikkedus took too many small losses during this stretch and either could have been the next out. The latter was worse off but Flying Smile got tangled in a pot first, after calling in the big blind with A♣ 9♥ following a KRab42 raise in the cutoff and a freezeplay call in the small blind. The flop came Q♠ 2♣ A♠ and both blinds checked to KRab42, who bet 397,500 only to fold when freezeplay check-raised to a million chips and Flying Smile re-raised all-in for 4.1 million. freezeplay called, showing A♥ Q♣ for top two pair, and took down the pot to shoot down Flying Smile in fifth.
Now it was ikkedus's turn to play short-stack survivor. Doubling to 4.9 million chips with A♥ 10♣ against freezeplay's K♥ J♥ got ikkedus through the next 18 minutes, after which the Dutch player would put the tournament on the line with 6♣ 6♥ against KRab42's A♣ J♦ . There was an ace on the flop but there was also the 6♦ , making the set that won the 6.3-million-chip pot for ikkedus.
KRab42 was left with 2.8 million after that loss, a stack the Dutch player maintained until picking up Q♣ 10♦ on the button 15 minutes later. The chips went in there but the hand never improved after ikkedus called with A♠ K♥ in the small blind, sending KRab42 to the rail in fourth. ikkedus followed minutes later in third after defending with J♣ 10♦ in the big blind and making top pair on the flop, only to see button raiser freezeplay's 10♠ 9♠ become a jack-high straight on the river.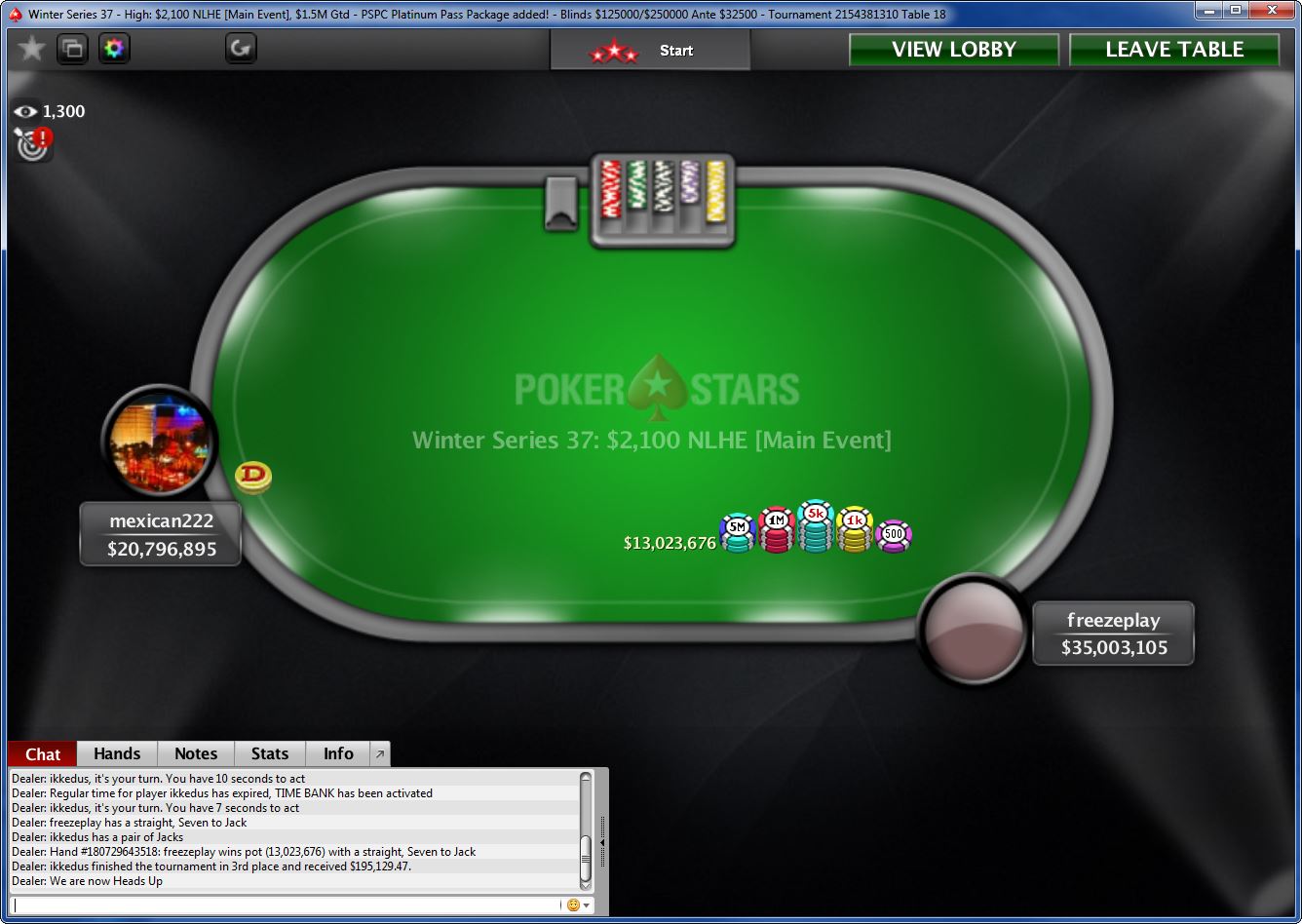 Heads-up with $103K on the line
That left just the two players who had dominated play for the last two hours, with freezeplay holding an advantgae of nearly 2-to-1 and a $103,000 pay jump awaiting whoever could outlast the other. "want to see numbers?" asked freezeplay. "i like to play," replied mexican222. "sounds good," said freezeplay.
The two wished each other luck and then it was down to business for the next 40 minutes. Unfortunately for mexican222, who needed to make up ground, the pots stayed mostly small and freezeplay won the ones that didn't. Instead of losing one big pot that changed the tournament, mexican222 suffered a lot of small losses that added up. When he finally picked up A♥ A♦ and doubled up, it was only to 8.7 million chips – just 29 big blinds' worth by that point.
mexican222 eventually made trip eights in the big blind with 8♦ 7♠ on the turn of a 2♠ 6♦ 8♠ 8♣ board. He moved in after the K♥ came on the river, but frezeplay snap-called with 8♥ 6♠ on the button, good for eights full of sixes. That took down the pot and brought the Winter Series Main Event to its conclusion.
Alexandros "mexican222" Kolonias may not have found a way to come back after deciding to play it out heads-up, but he still earned the second-largest cash of his career here at PokerStars for finishing second. As for freezeplay, there's also a $30K PokerStars Players Championship Platinum Pass to go along with the Winter Series Main Event title and a new personal best cash of more than a third of million dollars. Congratulations to them both on wrapping up this inaugural Winter Series in style!
Winter Series Event #37-High ($2,100 NL Hold'em Main Event) results
Entrants: 1,116 (868 entries, 248 re-entries)
Total prize pool: $2,232,000
Places paid: 134
1. freezeplay (Canada) $363,177.75
2. Alexandros "mexican222" Kolonias (United Kingdom) $266,207.73
3. ikkedus (Netherlands) $195,129.47
4. KRab42 (Canada) $143,029.23
5. Flying Smile (Russia) $104,839.94
6. needdollarz (Russia) $76,847.31
7. Juanki "B4NKR0LL3R" Vecino (Morocco) $56,328.76
8. Alex "steakaddict." Papazian (Romania) $41,288.87
9. adkaf (Slovakia) $30,264.80
---
Don't miss out on the big-money action. Click here to open your PokerStars account today.
---
Jason Kirk is a Freelance Contributor to PokerStars Blog.
Back to Top