This year, PokerStars Blog is attending its 15th consecutive World Series of Poker (WSOP) Main Event. We've been here since Raymer, through Hachem, Eastgate, Cada, Duhamel et al. Periodically through the 2018 renewal, we'll dig out some coverage from yesteryear and take a look at how things went down back then.
Today, we revisit the most moving story we've ever published on PokerStars Blog. It's the tale of two remarkable women living their dream and playing the World Series of Poker, but doing so under the toughest circumstances. There's an update to the story at the bottom of this piece.
---
July 6, 2014
The two women standing in the Rio on the periphery of the World Series of Poker are impossible to miss. One has a bright pink wig brushing her shoulders. The other one is using the edge of an index finger to wipe the underside of her eyes.
"I'm not crying," she says. "I just don't have eyelashes, so…"
She trails off, but she doesn't need to say more. Her head is hairless, smooth, and shining.
Doctors rank cancer stages from zero to four, with four being the worst, the kind of cancer that goes wherever it wants in the body.
"Stage four," Vanessa Pacella says and wipes her eye again. She's not crying, but no one would blame her if she did. They say life is a stage, but death is, too.
Pacella doesn't loiter on the subject. She's feeling good this morning.
"I haven't had chemo in, like, ten days," she says.
For her, that's a long time.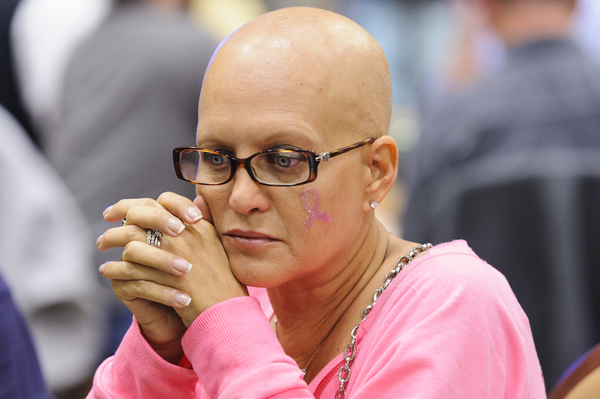 Vanessa Pacella: Playing the WSOP under the toughest circumstances
There are a lot of ways to measure time, and people like Pacella and her pink-wigged friend Nicole Rowe know all of them. There's the time before they had cancer. There's the time since their diagnosis. There's the time since chemo. And crucially, there is the time they have known each other.
Pacella had been told by her doctors not to worry about getting a mammogram until she was 40.
"I don't have a history of breast cancer, I breast fed both of my children, I was vegetarian, I exercise," she said. "I was the person who would never get cancer."
But Pacella was also a 9/11 responder in New York. She knew hundreds of her fellow responders had suffered cancer after 9/11. What's more–despite what her doctors told her–she had a feeling something was as wrong with her. She was right in a way she never wanted to be.
It was breast cancer, and it was a battle she set out to win. She bought a $5,000 wig and prepared herself for the worst. And she played cards.
"We met playing poker," Rowe said. "I watched her go through hell."
Rowe was an up-and-coming poker player horrified to see what was happening to Pacella. Rowe's own cancer-stricken grandmother died at age 57. Like Pacella, Rowe had a feeling something was wrong with her, too. And she found a lump.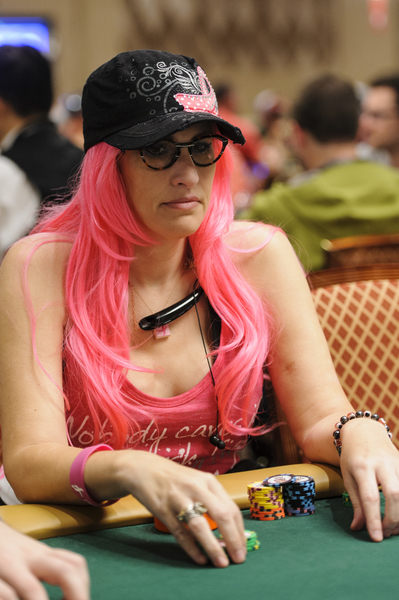 Nicole Rowe
Pacella had never worn her own wig, but she knew just what she had to do with it. She gave the expensive wig to Rowe. It was something other than a gift. It was hope. Rowe is in a different, bright wig now, because Pacella's wig had more work to do.
In the years to come, that gift–now known as the Healing Wig–has passed from cancer-stricken woman to cancer-stricken woman, a sort of talisman that has seen all its wearers on a path to better health.
"I bought the wig, but I was the only one who didn't wear it," Pacella said.
A lot of people might be bitter about that and what happened next, but Pacella wasn't. Instead, she watched her gift travel near and far, and she saw hope.
Meanwhile, Rowe was recovering slowly. She made it on the PokerStars Million Dollar Challenge with Daniel Negreanu as her coach. She was the last woman standing in a big ladies event at the Borgata, and, but for a guy who thought he'd be clever and play in the event meant for women, Rowe would've won. That was all five years ago.
***
The are degrees of relief, but people who survive cancer can't feel them all. It's as if the cancer eats away a person's ability to ever feel fully at ease again. Pacella knows that too well.
Her cancer came back and started to spread into her liver. The woman who had given away her custom-made wig and helped so many other women make it through their treatment had reached the worst possible stage of cancer.
Nicole Rowe hadn't forgotten.
"When I got sick, she was there for me," Rowe said.
Pacella didn't need a wig, but it occurred to Rowe that she knew exactly what her friend could use.
"I wanted to give her something to look forward to and push through those dark days, which is what she did for me," Rowe said.
And so, Rowe called her friend and told her she was going to buy her in to the World Series of Poker Main Event, a $10,000 gift and a box ticked on the things Pacella had always wanted to do.
"I feel like I was gifted to have a friend like her. To be able to do this for her, it's her dream come true just as much as it is a dream come true for me."
Struggling through weeks and weeks of therapy, Pacella found herself weak and spending more time sleeping than being awake.
"That's all I did. I thought 'Is this really the life I want to live?'" she said. "But then I was like, 'Hell! We're going to the World Series of Poker and I want to make sure I get better so I can get there with Nicole.'"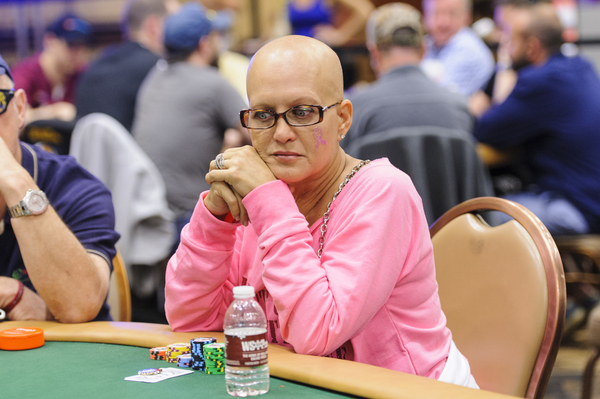 This morning, Pacella and Rowe walked in with $10,000 tickets in their hand. They were willing to tell their whole story from beginning to end, but they said their trip is about much more than two women playing a poker tournament.
Both feel their new mission is to convince as many women as possible–no matter what their doctors might say–to get mammograms before the age of 40.
"It saves your life, so why not take that one hour out of one year to save your life," Pacella said.
So, now, they sit among the grinders, among the pros, and among the hopefuls. Of those three, they are the latter, the most hopeful of all. They are decked out and impossible to miss. If you ask them why, they'll tell you. That's why they are here.
"If it saves one life, it's worth the $20,000," Rowe said.
The World Series of Poker is measured in days. Day 1 leads to Day 2 and so on. You can't make it to Day 2 without surviving Day 1.
If there is anyone in the field who knows how to navigate through a day where survival isn't guaranteed, it's the two ladies who found friendship in a fight for their own lives. Today, they've taken shelter in the shared joy of competing for a poker title. No matter what happens, they'll leave here with the shared mission of surviving their illness and helping as many other women as they can along the way.
"I just felt like we were meant to have this connection," Pacella said. "It was meant to be."
---
There are two further stories about Vanessa Pacella and Nicole Rowe. Please also read:
Never stop fighting and Vanessa Pacella: Fighter to the end.
---
What happened next?
• On Monday, May 11, 2015, Vanessa Pacella died at the age of 45. It was the day after Mother's Day.
• Despite a herniated disc and needing surgery for that, Nicole Rowe is doing great. She is celebrating her birthday this week and is fundraising for the Susan G. Komen Foundation. You can support Nicole here.
• Brad Willis won the Poker Media Content of the Year for his coverage of Vanessa and Nicole at the American Poker Awards.
---
Day 1A full chip counts
Day 1B full chip counts
Follow Team Pro's progress
Previous WSOP coverage:
Negreanu continues preparations for PokerStars Players Championship
Then and Now: Andre Akkari
An exceptional Day 1A
From the archive: Rio here, Rio there
Then and Now: Maria Konnikova
All systems go on 'cattywumpus' World Series
WSOP photos by PokerPhotoArchive.com.
Back to Top