A little bit more about the six men who take their seats at the APPT Macau final table:
1: Alexandre Chieng, Beijing, China – 1.73 million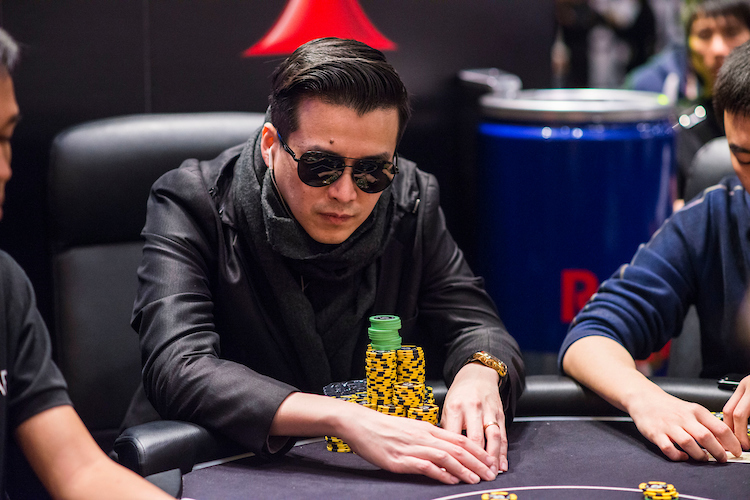 Alexandre Chieng
Alexandre Chieng comes into the final table in Macau looking for a rare double. He won this event in 2013, picking up a career-best HK$2.16 million payday and becoming the first player from China to win on the Asia Pacific Poker Tour.
Chieng actually holds dual nationality between France and China, though he lives in Beijing and plays most of his poker in the region. He named one poker idol from each region too: Belgium's Davidi Kitai, who he described as a "perfect ambassador for the poker industry", and Team Pro's Celina Lin, who he says he knows and respects the most. Chieng says he enjoys the social aspect of poker the most: "It's about the people," he said. "We get to play with amazing people all around the world."
This tournament has been all about patience: Chieng stuck around with a short stack for several days before scoring a triple-up with pocket aces, knocking out two players (including Kitai), and leaping into contention. Away from poker, Chieng describes himself as a company CEO and investor, citing Elon Musk as a particular influence. In his spare time he plays video games with his two sons.
2: Lin Wu, 32, Xi'An, China – 1.94 million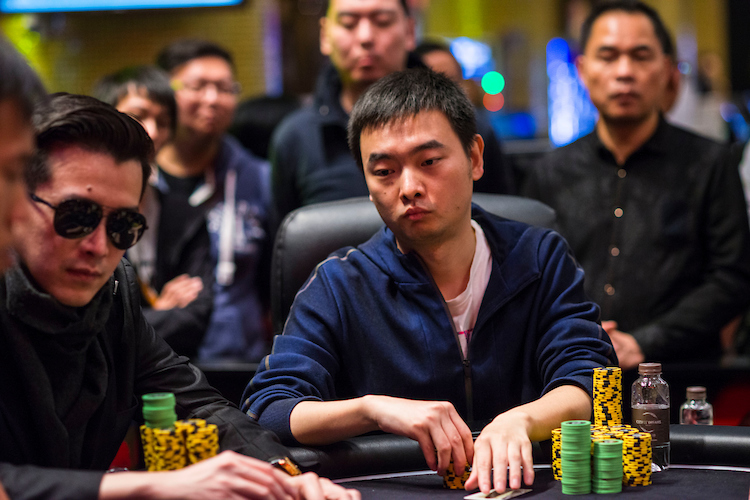 Lin Wu
The 32-year-old hails from Xi'An in North-western China, home of the Terracotta army and the starting point of the Silk Road. While Wu only has three live cashes on his Hendonmob poker resume, they have all come in Macau's most popular tournament – the Red Dragon Main Event. Wu has US$13,440 in live cashes to his name, with his best result coming a 68th place finish in the September 2017 Macau Poker Cup Red Dragon Main Event.
He may be the least accomplished tournament player of the remaining six finalists but is a seasoned cash grinder and his regular cash stake is HK$300/$600 (~US$40/80), which in Macau is a game filled with some of the toughest pros. Wu has played a solid and patient game get to this point and is currently third in the pecking order behind Aditya Agarwal.
3: Aditya Agarwal, 33, Bangalore, India – 2.035 million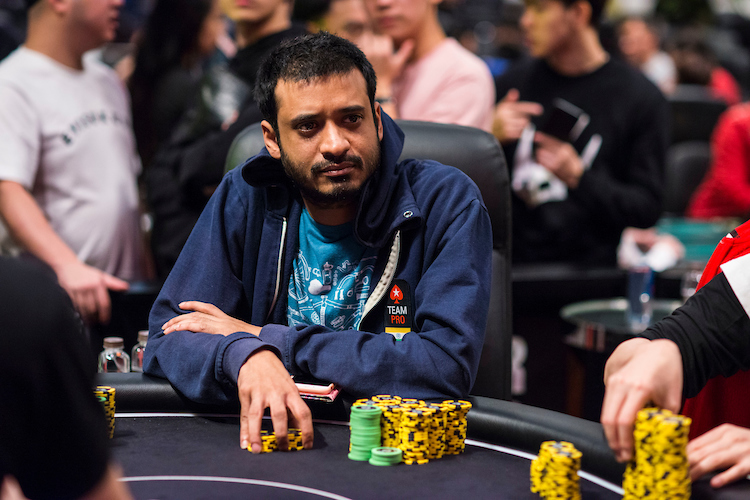 Aditya Agarwal
The face of poker in India for more than a decade, Aditya Agarwal is on the verge of securing the maiden major title of a career in which he has achieved pretty much everything else. Having learned the game while an engineering student at Drexel University in the United States, Agarwal made his name playing online at PokerStars as "intervention" and ran up a string of high-profile online results. He transitioned effortlessly to the live felt and has been a regular force at the World Series Main Event, in particular, cashing six times over the past 10 years. He became Team PokerStars Pro's first Indian representative in early 2015 and is now the standard bearer for the game in his home country.
Seat 4: Jen Chun Chiu, 42, from Taipei, Taiwan – 907,000
Jen Chen Chiu
While he finished Day 5 with more chips than he started with Taiwan's Jen Chun Chiu is coming in as the final table's shortest stack. The Taipei native has over US$91,883 in career tournament winnings with his best result from a monetary perspective coming at the 2017 Asia Championship of Poker (ACOP) where he finished fifth for US$28,909 in the HK$9,000 Spadie Event.
With all remaining finalists guaranteed to make a minimum of HK$546,532 Chiu is already set to make his largest-ever career score. Having already outlasted some of the game's greats, with both John Juanda (7th) and Davidi Kitai (9th) coming up just short of the six-handed finale, Chiu will be playing with confidence. However, he still has five hurdles to overcome in his hunt for his first title.
5: Maxi Lehmanski, 29, Germany (living in Austria) –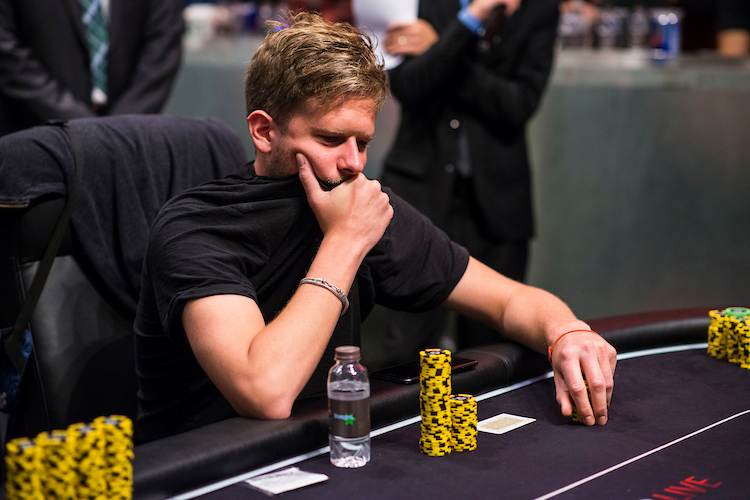 Maxi Lehmanski
No major final table in poker is complete without at least one German representative, and Maxi Lehmanski flies the flag here at the APPT Macau Main Event. Although officially living in Austria, Lehmanski is a travelling poker pro with a string of high-profile results from across the world, including final table appearances at the World Series of Poker, the PCA, and various EPT stops. The grinding has so far earned Lehmanski $1.35 million in live tournament winnings, but he could be on for his biggest single tournament score if he can bounce back from the short stack to win the title here.
Seat 6: Phanlert Sukonthachartnant, 52, from Bangkok, Thailand – 2.965 million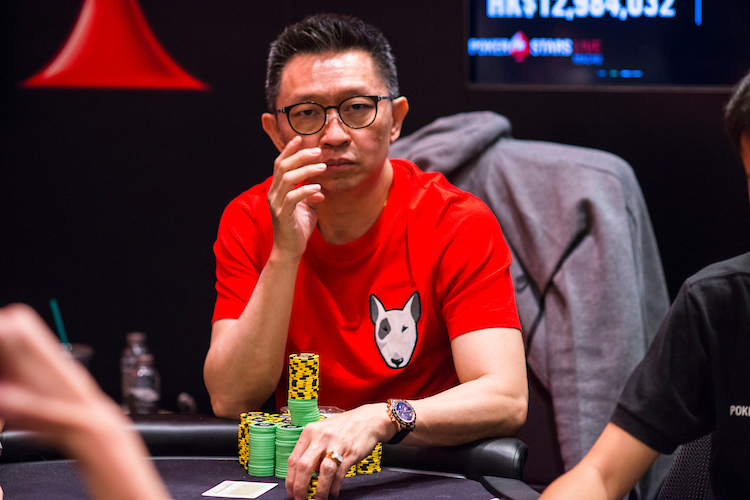 Phanlert Sukonthachartnant
The man with the longest name on the final table is also coming in with the largest stack; though it is possible these two facts are unrelated. Thailand's Phanlert Sukonthachartnant has been playing poker for six years after learning the game from a friend. Whoever it was must have been a good mentor as Sukonthachartnant sits atop the Thailand All Time Money List with over US$1.12 million in live tournament earnings.
Sukonthachartnant is a regular visitor to Macau with over $1.01-million of his winnings coming at the tournament tables of the former Portuguese enclave. The Thai player remains cool under pressure and is not afraid of tangling with some of the world's best, his most impressive accolade coming at the 2015 ACOP High Roller where he saw off challenges from German wunderkind Fedor Holz and Australia's Stevan Chew to take the title and US$630,941 first prize.
Thailand's most accomplished tournament player may be unfamiliar to many, but has exhibited all the necessary skills needed to take the trophy and title. Sukonthachartnant topped the Day 4 chip counts and carried this lead over to the official eight-handed final table, increasing his stack still further after railing Poker Hall of Famer John Juanda in seventh to set up the final six.
Compiled with help from Ben Wilson, Media Co-ordinator
Back to Top
Study Poker with
Pokerstars Learn

, practice with the PokerStars app

Try our Free Scholars Leader Board to practice your new skills.
Quick Links
Learn
Practice
Chat with us
Watch and share