Five hours. That's all it took for this eight-player final table to play down to a winner. But when it got down to heads-up between Jonathan Jaffe and Christopher Kruk, it sure seemed like we'd have a different person hoisting the trophy and winning the $836,350 first-place prize.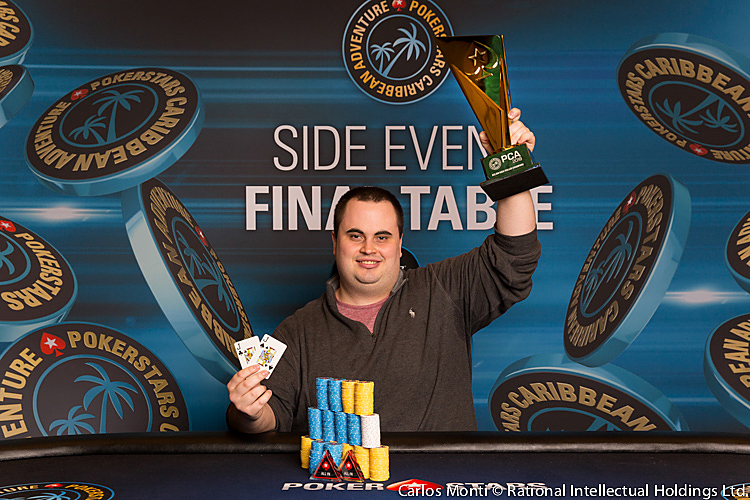 The apotheosis of Kruk's incredible career so far
You see, the speed of today's session was mostly down to Jaffe. The American pro decimated this finale, eliminating four of his seven opponents. By the time he reached heads-up against Canada's Kruk, Jaffe held 88% of the chips in play.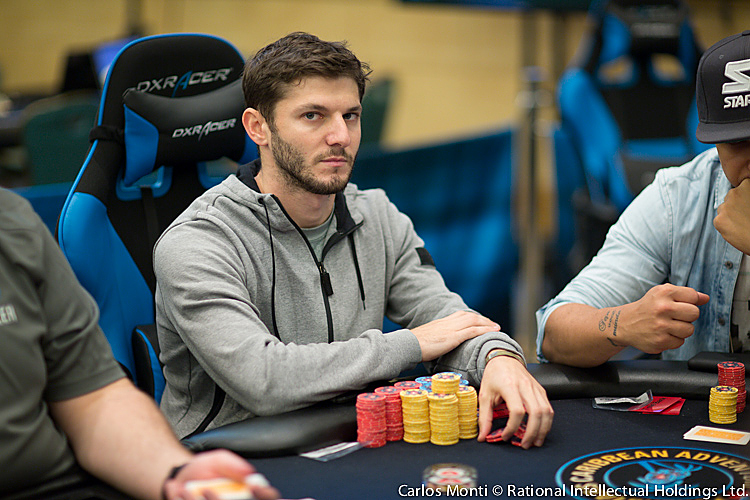 Jaffe – close but no cigar
It was never going to be easy though; not when Kruk was the man you have to get through. Known online as 'Apotheosis92', Kruk had already final tabled the Single Day $25K a couple of evenings ago and is truly a force to be reckoned with in the high roller world.
He showed that today with an incredible comeback. At one point during the 20K/40K/40K level, the counts were 320,000 to 6.88 million in favour of Jaffe! Kruk was able to get it in good and double up twice, as well as pick off a big bluff from Jaffe that saw his stack crumble.
In the hand in question, Kruk opened to 125,000 and Jaffe defended to see an 8♠ 5♦ K♠ flop. Kruk continued for 200,000 which was called, before slowing down and checking the 10♠ turn. Jaffe grabbed the betting lead for 450,000 and Kruk matched it, bringing the 6♦ river. Jaffe fired huge for 1.9 million, and Kruk looked anguished. He would eventually make a great call with the A♣ K♦ for top pair, while Jaffe had the A♠ 7♥ for ace-high. The chip stacks had completely reversed.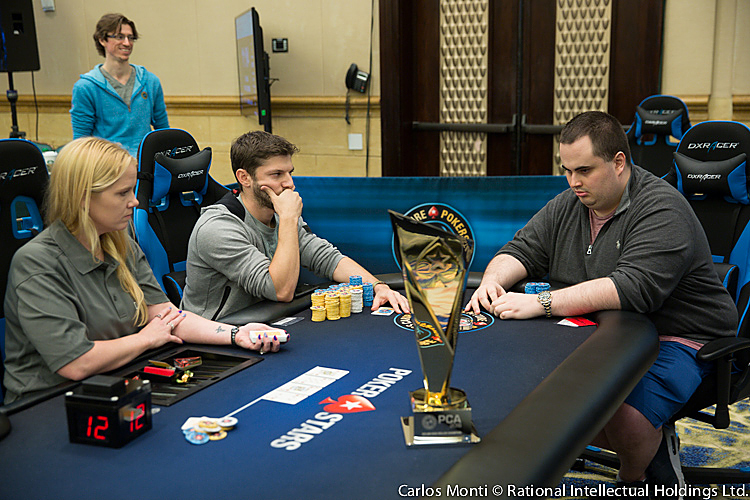 Heads up
In the final hand, Kruk limp-called a nine-big-blind shove with pocket jacks against Jaffe's pocket fours. The jacks held, and Kruk's incredible comeback was complete.
"I thought I played pretty well when the stacks got more even," Kruk told us after his victory. "Then when he was short, it was always going to go all-in. I was just lucky enough to have the jacks and not the fours."
This is no doubt the apotheosis of Kruk's career in live poker so far, but he was mellow in his victory.
"Honestly, it's nice [to win] but I try not to let the emotion take over as you can't have the highs without the lows – that's tournament poker unfortunately. You lose most of the time, so if you let the emotion get into it, you don't play as well. I'm glad I won but I'm happier with the decisions I made."
As for the rest of his 2018, you're more likely to see Kruk across the pond.
"It's a little tricky as I can't play tournaments in the States," he explained. "Most guys say they want to win a [WSOP] bracelet but, as a Canadian with the taxes, it's impossible. I'll come and do my thing at the EPTs and hopefully I can keep running good!"
---
Ready to sign up for PokerStars? Click here to get an account.
---
Play kicked off at midday, and in complete opposite fashion to how last night's Main Event was running (very very slowly, in case you missed it), this final table got off to a speedy start. Felipe Ramos was the first to fall just 20 minutes into the day after two hands didn't go his way.
First Ramos doubled up Justin Bonomo when his A♦ J♦ couldn't win a race against Bonomo's 8♠ 8♦ . Then Ramos got his last two big blinds in with pocket sevens against Christopher Kruk's pocket fives, but Kruk flopped a set to seal the Brazilian's fate. Ramos banked $108,030 for eighth.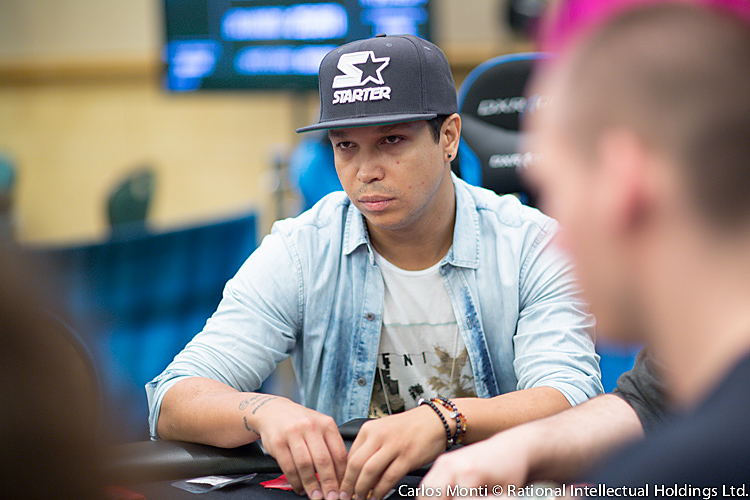 Felipe Ramos
It's pretty rare these days to have a High Roller tournament with only one German. Stefan Schillhabel was repping the black, red and yellow here today, but would be the next to bust. He got all his money in with the Q♠ J♠ , which lost to Jonathan Jaffe's set of tens. Schillhabel collected $146,360, and that meant Mikita Badziakouski had managed to ladder up with the shortest stack.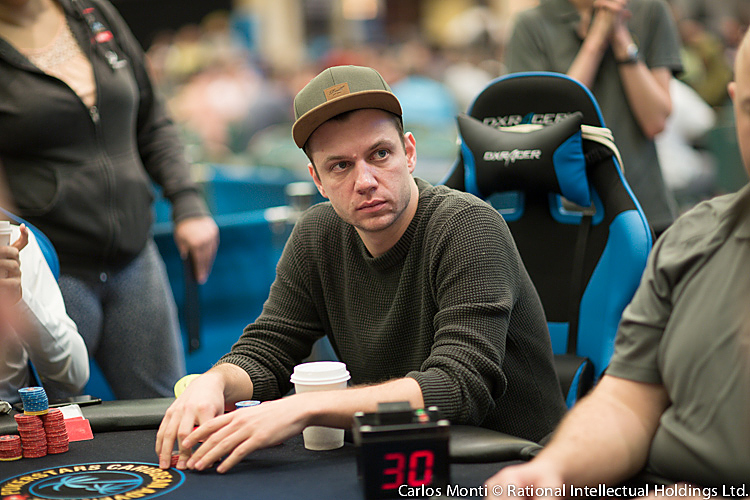 Stefan Schillhabel
Badziakouski doubled up a few times, but always remained short and ultimately was the next player to leave. He moved most of his chips in from the small blind with the A♠ 9♣ , but Jaffe woke up in the big blind with the A♥ A♣ and the pocket rockets held. Badziakouski collects yet another high roller final table cash, good for $195,150.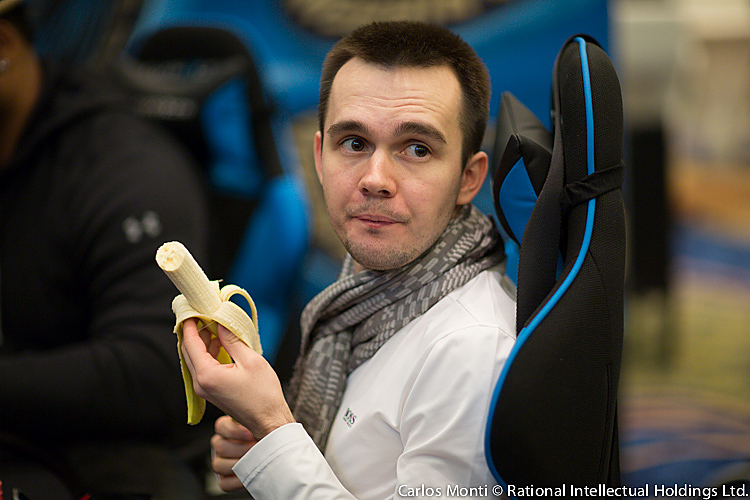 Badziakouski. Busto. Banana.
Badziakouski wasn't the only player who managed to ladder up of course. PokerStars Team Pro Igor Kurganov was down below 15 big blinds for much of the first few levels, and now found himself guaranteed fifth place money of $249,160. That's what he'd end up with, as he lost an all in with the K♠ 6♥ against Bonomo's Q♥ J♦ , which made two pair.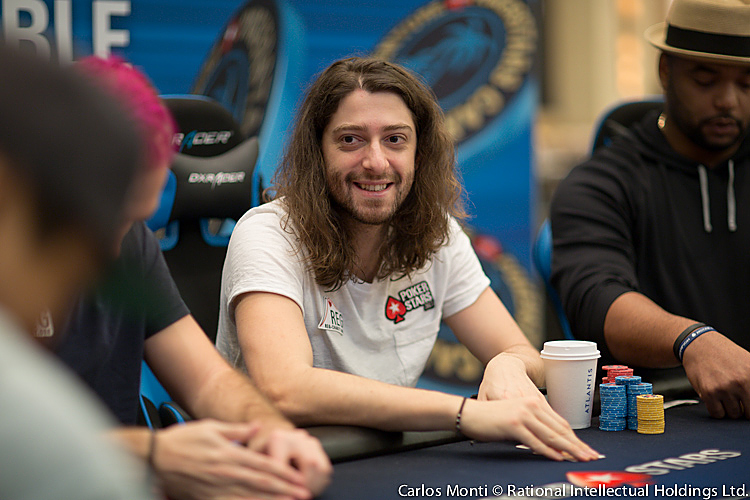 Igor Kurganov
Four-handed had the longest stretch of action so far, and saw Kruk drop down to ten big blinds after an unsuccessful bluff against Jonathan Jaffe. Kruk triple-barrelled with the J♦ 10♦ on an 8♠ 7♣ 4♠ 8♠ 3♦ board, while Jaffe sat with the K♠ 8♥ for trips.
Despite that, a shocking turn of events saw Justin Bonomo (second in chips) fall to Jonathan Jaffe (chip leader), meaning it was Kruk's turn to ladder. Bonomo called three streets and ultimately all in with the A♣ Q♥ on a 7♣ A♥ J♠ 5♦ K♥ board, but Jaffe had the goods with the A♠ 5♥ for two pair. Bonomo's surprising exit (for $310,150) meant Jaffe had more than half the chips in play.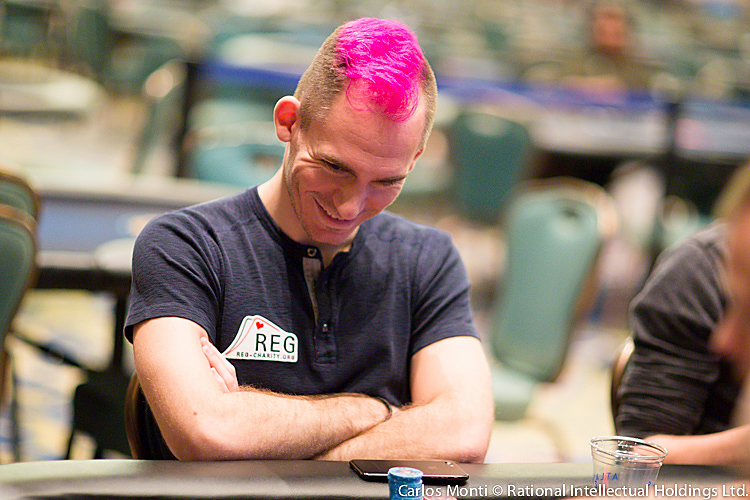 Justin Bonomo
Following on from Maria Konnikova's success earlier at this PCA, the real story of this final table was of another non-pro: Richard Seymour. The former NFL star and SuperBowl winner is no stranger to the poker tables, but to have made the final table in such a hard field shows real talent. In fact, this was Seymour's first ever final table. Incredible.
He had a great run, even taking the chip lead before Bonomo's departure. But three-handed, after Kruk found a double up, Seymour became the short stack and needed some help himself. He got it all in with the A♣ 9♥ versus Jaffe's Q♥ Q♣ , and Seymour couldn't catch an ace. He'll take home $376,360 for a career-best score, and like Konnikova, it's safe to say Seymour is right up there with the pros now.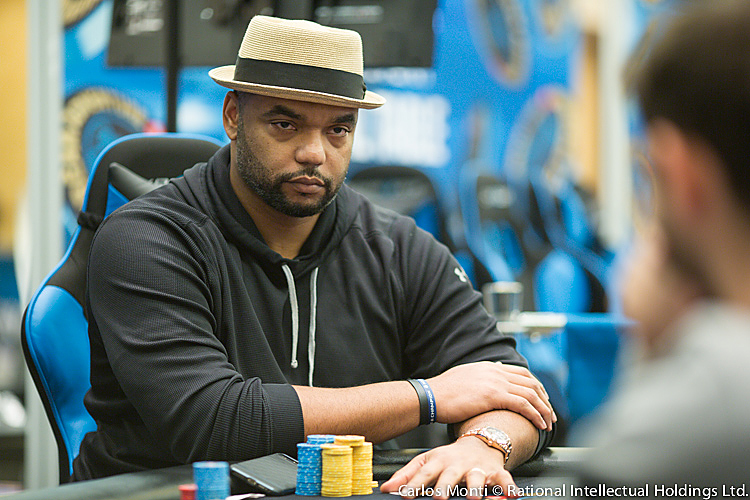 Great result for Seymour
Jaffe had a 6:1 chip lead at the beginning of heads-up play, but Kruk wasn't going to just lie down and accept second place. As you already know, Kruk managed to switch those counts and pull off an insane comeback. Check out all of our blow-by-blow coverage right here.
That was five hours well spent.
PCA 2018 $25,000 Single Re-entry High Roller
Dates: January 12-14, 2018
Entries: 144 (including 45 re-entries)
Buy-in: $25,000
Prize pool: $3,484,800
| POS | NAME | COUNTRY | PRIZE |
| --- | --- | --- | --- |
| 1 | Christopher Kruk | Canada | $836,350 |
| 2 | Jonathan Jaffe | USA | $569,760 |
| 3 | Richard Seymour | USA | $376,360 |
| 4 | Justin Bonomo | USA | $310,150 |
| 5 | Igor Kurganov | Russia | $249,160 |
| 6 | Mikita Badziakouski | Belarus | $195,150 |
| 7 | Stefan Schillhabel | Germany | $146,360 |
| 8 | Felipe Ramos | Brazil | $108,030 |
Jack Stanton is a freelance contributor to the PokerStars Blog. Photos by the awesome Carlos Monti.
---
Has the PCA inspired you to start playing poker? Click here to open a PokerStars account.
---
Back to Top
Study Poker with
Pokerstars Learn

, practice with the PokerStars app

Try our Free Scholars Leader Board to practice your new skills.
Quick Links
Learn
Practice
Chat with us
Watch and share