Zheng is the new Red Dragon! (HK$3,055,000) Hong busts in 2nd (HK$1,824,000)
Level 28: Blinds 60,000/120,000 (ante 10,000)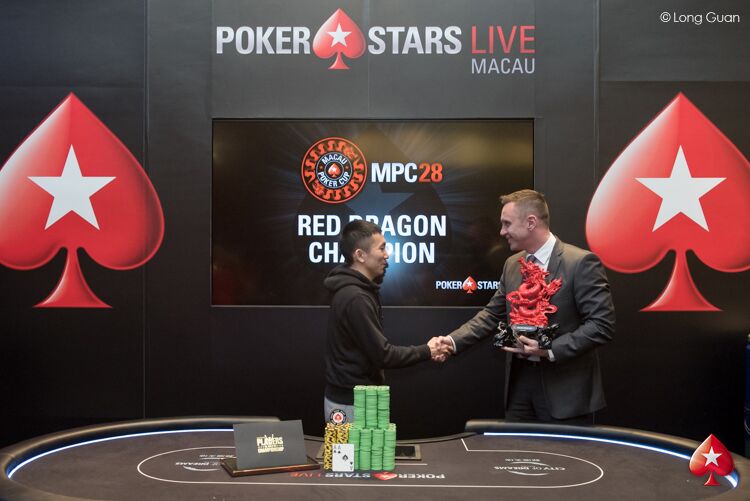 The only shake we saw from the nerveless Zheng at the final table.
The heads up looked like it could take a while, both men started 100BBs deep. The pair traded blows for several hands, maintaining rough equilibrium before the pot of the tournament played out to end the day in incredible fashion.
• PRIZE POOL AND PAYOUT INFORMATION
• HIGH ROLLER UPDATES
• FINAL TABLE PLAYER PROFILES
• ALL MPC INFO | DOWNLOAD POKERSTARS
• Follow @PokerStarsBlog on Twitter
Alvan Zheng raised to 280,000 on the button, Junhao Hong made it 700,000 and after a short delay, Zheng slid out four full towers of 25,000 chips – 2 million the price to pay.
Hong did some calculations of his stack before quietly announcing call.
It was a huge preflop pot and it was about to get bigger…
The board fell A♥ 10♦ 5♥ , Hong checked and Zheng fired out 1,500,000. Hong paused before picking up his own huge stacks, raising to 3,500,000. Alvan just formed his hands into a triangle – the local way of announcing you are allin here – and it was back on Hong. What was going on? Most of the chips in the tournament were already in the pot. Hong had 4,400,000 back if he decided to fold but a protracted period in the tank and he called! The crowd volume swelled as this momentous showdown for all the chips in the competition took place…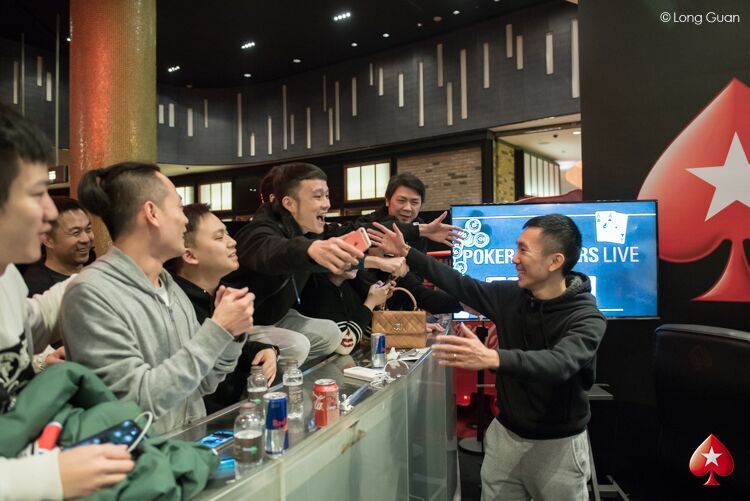 The new Red Dragon Alvan Zheng celebrates with his dragon pals.
He showed down 10♠ 4♠ for second pair, clearly a nonbeliever, but Zheng had shown strength throughout the hand and it became apparent why. He turned up A♠ A♣ for the nuts preflop and the nuts postflop! The J♠ on the turn snuffed out any scenario where he could lose so none of his fans noticed the K♥ on the river as they were already cheering and hugging their man – the new Red Dragon Champion.
Congratulations Alvan Zheng. You've been calm and collected in the eye of the storm and proved yourself a worthy Red Dragon winner. $3,055,000 awaits you at the payout desk as well as that US$30,000 Platinum Pass in top. Not to mention the fantastic Red Dragon trophy. What a day, what a winner.
Well done also Junhao Hong, who crushed so many players to reach this point. An incredible effort that fell just short. Your own chunky payday of HK$1,824,000 awaits you and we hope to see you again soon.
We'll have a full report from the final to follow shortly but for now thanks for following our coverage. The Red Dragon event is done! –RS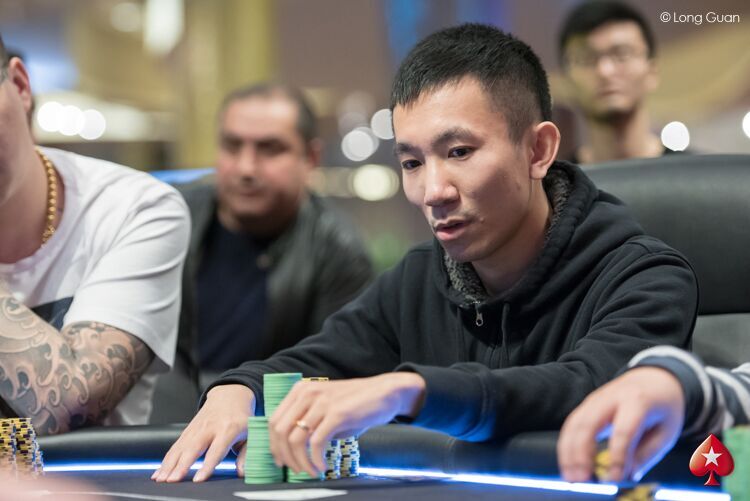 Ironically for a newly crowned Dragon, Zheng was unflappable.
8:10pm: Zheng shuts down Huang in 3rd – HK$1,094,000
Level 29: Blinds 60,000/120,000 (ante 10,000)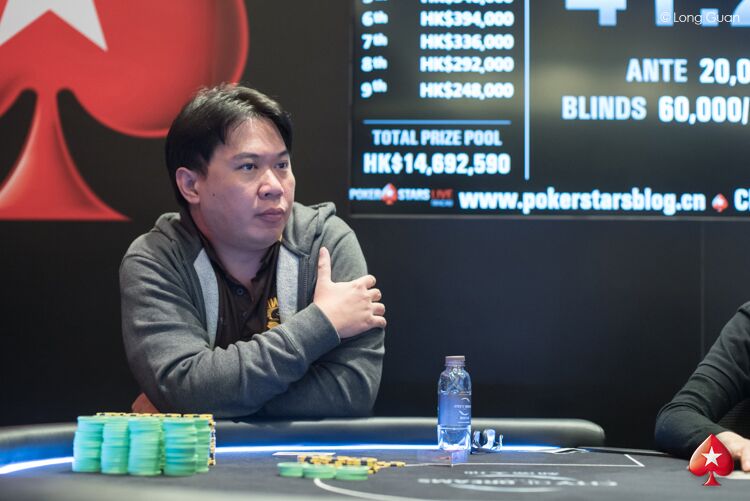 Huang came within a dragon's whisker of the title.
Alvan Zheng has had an incredible few minutes. First off he raised to 240,000 with 2,800,000 back and K♥ Q♦ only for Hong to move all-in from the big blind. It looked like a painful decision for Zheng but eventually he emerged from the tank with a call. It was a great call as Hong could only table the dominated Q♥ 5♥ . A board of K♠ 2♠ 6♠ 9♠ 9♦ had his rail cheering and he high-fived all his supporters individually – no mean feat as there's about ten of them!
So up to 6.5 million now and back in the game, Zheng could realistically start to dream of Red Dragon glory. It was about to get even better…
He raised to 360,000 from the small blind which Huang called in the big before firing out 325,000 on the 6♦ 6♥ 4♠ flop – again Huang called.
Come the 7♥ turn, Zheng checked and Huang moved allin for a giant 4.7 million! They like big pots here…
Zheng looked confused. He counted his stack, recounted, sat back in his chair bemused, stared at his opponent. This ritual went on for minutes. There was talk of the clock being called.
Eventually he made the call and it was a great one – his [AS]7♦ ahead of Huang's semi-bluff with 4♦ 5♥ for a pair and straight draw.
Zheng's crowd started bubbling with excitement and the A♦ confirming his victory caused a massive cheer to resound through the card room.
Huang looked a tad disappointed but the HK$1,094,000 prize will help him sleep tonight.
That leaves Zheng heads up with Hong and he now has the chip lead for the first time in the tournament 11,915,000 to Hong's 10,540,000
One of these two men will be the next Red Dragon! –RS
7:55pm: Zhenhua Lu goes in 4th for HK$800,000
Level 29: Blinds 60,000/120,000 (ante 20,000)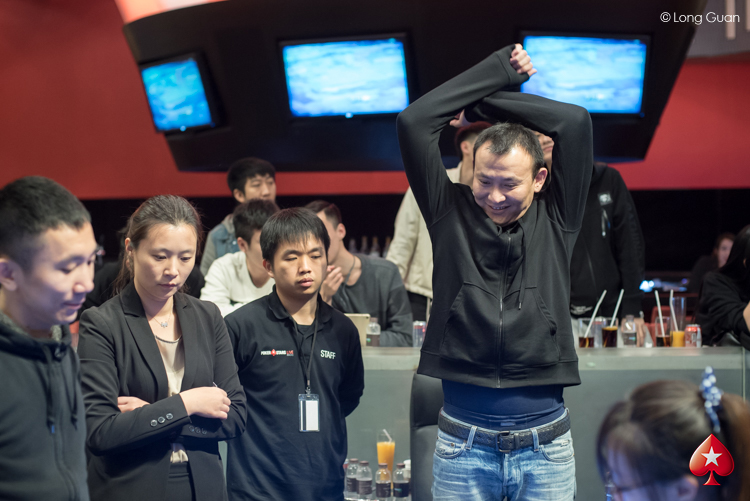 Zhenhua Lu – 4th place
Zhenhua Lu didn't last much longer than Aleksei Opalikhin after failing to come from behind in a hand versus Jiang Ho Huang.
He moved all-in for 1.495 million from the cutoff and Huang made the call from the button.
Lu: K♥ Q♠
Huang: A♠ 10♦
The board ran 9♥ 2♣ 5♥ 9♣ A♦ to see Huang's hand hold. He shouted yes as the pot was passed his way.
Final three counts:
Junhao Hong – 12.87 million
Jiang Ho Huang – 6.065 million
Alvan Zheng – 3.520 million
–MC
7:35pm: Opalikhin's nine lives run out, busts 5th for HK$540,000
Level 29: Blinds 60,000/120,000 (ante 20,000)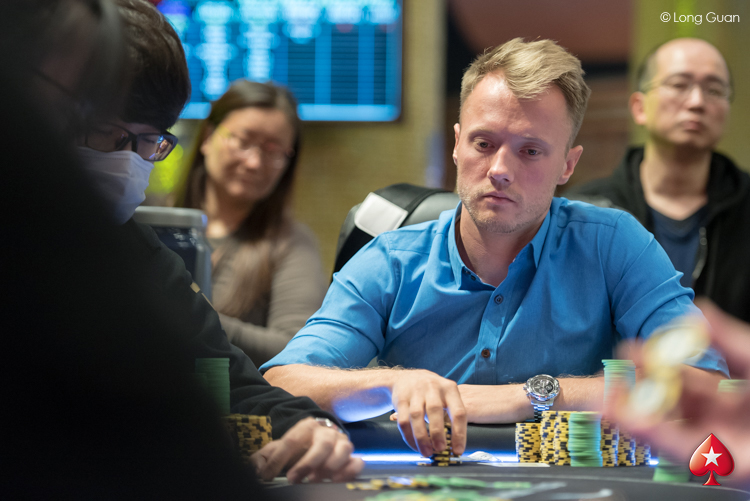 Aleksei Opalikhin – 5th place
There was only one man capable of stopping Aleksei Opalikhin today, and that was the unstoppable Junhao Hong.
The Russian moved in on for 1.54 million from the cutoff and Hong made a quick call from the button.
Opalikhin: A♠ 5♥
Hong: A♦ 10♠
The board ran 3♠ 8♣ J♠ 9♠ 7♣ . Opalikhin picked up a flush draw on the turn but it failed to come in. He's had quite the ride in this tournament and it finally came to an end. Hong moved up to 12.8 million. –MC
7:20pm: King Hong crushes Lin in 6th – HK$394,000
Level 28: Blinds 50,000/100,000 (ante 10,000)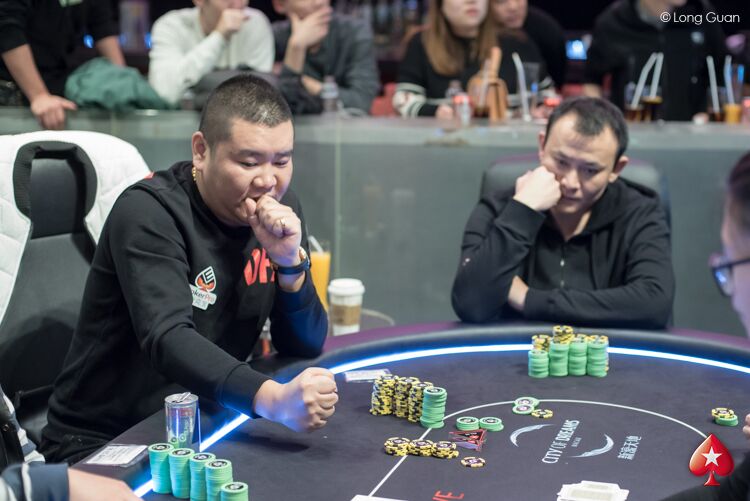 My A-J is supposed to win, bro!
Junhao Hong has blended skill and fortune to great effect in this tournament and he just took another victim to become the first player to breast the 10 million chip mark.
Dongqi Lin was the latest man to fall under the Hong juggernaut – shoving for 1,380,000 once Hong had opened to 280,000. Hong took a few seconds to think it over before announcing call -showing down K♣ J♠ though he was dominated by Lin's A♠ J♦ . Lin punched the air and let out a gutteral roar as he realised the edge he had…but poker just isn't that straightforward…
The dealer laid out a K♦ 7♠ 6♣ 6♠ 3♥ board…and Lin's day was over just like that! He looked cheerful enough despite the beat – the blow softened by that HK$394,000 payday no doubt.
Hong meanwhile has a mountain of chips – his stacks worth 10,600,000 now. –RS
7:05pm: Minho Lee explodes in 7th HK$336,000
Level 28: Blinds 50,000/100,000 (ante 10,000)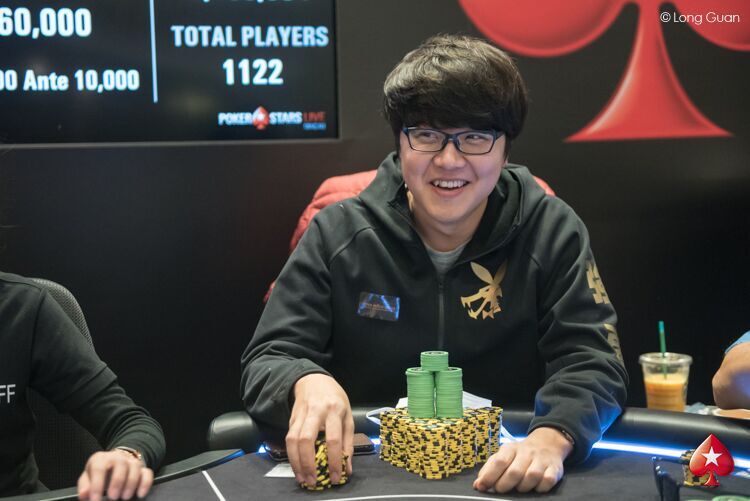 Minho Lee has been a really fun presence at the final.
Hopes of a Korean Red Dragon champ have been scuppered by the elimination of Minho Lee. The Korean has brought action and drama to this final table – we've enjoyed watching him perform but his day is over.
His exit saw Jiang Ho Huang raise to 200,000 and Lee put in one of his frequent three-bets to 420,000 – this time with just over a million back.
Huang called and the pair saw a Q♣ Q♥ 2♠ board peel off. Let the fireworks commence. Checked to Lee, he led out for 260,000 only for Huang to stop and consider before carving a mammoth 1,120,000 check-raise from his stack.
Lee spent a moment or two collecting his thoughts before announcing all-in for little more. Snap-call from Huang and Lee showed down A♥ 9♣ drawing virtually dead versus Huang who had A♠ Q♠ for flopped trips – as good as the nuts in this spot.
A 4♣ and 9♦ on turn and river completed proceedings and that was it for Lee! Well played, we hope we see you bring your enthusiasm back to the casino soon. He collects HK$336,000 for 7th and Huang is now up to 6,100,000 – well in contention for the Red Dragon crown. –RS
6:50pm: Tong gets his aces cracked to bust in 8th for HK$292,000
Level 28: Blinds 50,000/100,000 (ante 10,000)
Zhou Tong – 8th place
Zhou Tong got it in about as good as he could, but Junhao Hong continues to be a forced to be reckoned with, busted him, and moved up to 7.15 million.
The latter opened to 220,000 from under the gun and then called after Tong moved all-in for 1.305 million from two seats along.
Hong: 5♠ 5♦
Tong: A♦ A♣
The board ran 7♣ 2♥ 5♥ 9♦ 6♦ to make Hong a lucky set and Tong walked away with HK$292,000. –MC
6:34pm: Russian orders another double
Level 28: Blinds 50,000/100,000 (ante 10,000)
The all-in showdowns are going the way of the shortstacks right now, meaning we are still 8-handed 3.5 hrs into the day!
The latest modest stack to run the gauntlet successfully was piloted by Aleksei Opalikhin. The Russian has had some terrible fortune mixed with great fortune in this tournament, but right now he is the darling of the poker gods as he just can't lose a flip.
The hand saw him jam A♠ K♣ – isolated by Zhou Tong with 10♠ 10♦ and the dealer helped him out once more with an A♥ J♦ 6♣ 3♣ 9♥ board.
He's up to 2,000,000 whilst Tong drops to 1,100,000 and will be facing his own shortstack allin gauntlet soon we imagine… –RS
6:22pm: Dongqi bucks odds to punish Lu
Level 28: Blinds 50,000/100,000 (ante 10,000)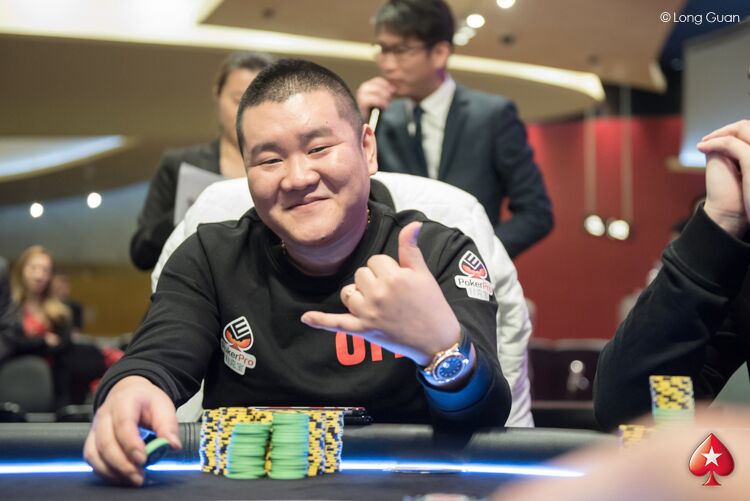 Feels good man!
We've reached that point of the tournament where the shorter stacks only really have one option. Fold or pile it.
Dongqi Lin had lost a small pot in the previous hand and he chose the latter approach when it was folded to him in the blinds. All-in.
Lu is a laid-back man and languidly asked for a count. Before making the call. There'd been a slight lull in action preceding this so the audience were hyped to see an all-in showdown and the players exposed their hands to whoops of excitement as an elimination was well on the cards – shorter stack Lin with a dominated K♣ 3♦ vs A♠ 3♥ .
The poker gods intervened however. A board of K♣ 3♦ J♦ 2♣ 2♠ turned the equity tables and the relieved scream of joy from Lin told the story all by itself.
Lin up to 2,300,000, Lu down to 1,400,000. –RS
6:15pm: Big Hong river bluff?
Level 28: Blinds 50,000/100,000 (ante 10,000)
Junhao Hong has soared up to 6.2 million after he shoved on Minho Lee and then showed the 3♣ .
Lee opened to 220,000 from the cutoff and was called by both blinds. The flop fanned 7♦ 5♦ 2♠ and Hong continued for 340,000. Hong was the only check-caller from the small blind, and he jammed another 465,000 on the Q♣ turn. Things got very interesting on the A♦ river as Hong moved in for an effective 2.61 million. Lee doubled checked his cards and through them into the muck and was then cheekily shown that card by Hong. –MC
6:10pm: Red Bull covers Red Dragon
Level 28: Blinds 50,000/100,000 (ante 20,000)
As the exclusive energy drink provider here at PokerStars LIVE at The City of Dreams, Red Bull are providing fridges full of Red Bull scattered around the venue. They are free for players and fans alike, so feel free to help yourselves if you find your energy flagging as your cheer on your favourite Red Dragon wannabe. –RS
6:05pm: Break over, back to the action
Level 28: Blinds 50,000/100,000 (ante 10,000)
All eight players have returned from their 15-minute break and it's once again time to play some poker. The blinds are going to start to catch up everyone as the short stacks won't be able to last long with 50,000/100,000.
Here are the official chip counts as players return:
| First name | Last Name | County | Chip Count |
| --- | --- | --- | --- |
| Junhao | Hong | China | 4,855,000 |
| Jiang Ho | Huang | Singapore | 3,750,000 |
| Minho | Lee | Korea | 3,645,000 |
| Alvan Yifan | Zheng | China | 2,725,000 |
| Zhenhua | Lu | China | 2,435,000 |
| Zhou | Tong | China | 2,235,000 |
| Dongqi | Lin | China | 1,520,000 |
| Aleksei | Opalikhin | Russia | 1,290,000 |
5:48pm: First Break
Level 27: Blinds 40,000/80,000 (ante 10,000)
The first two 75 minute levels of the day are complete and that means the players have 15 minutes of downtime to take stock and re-calibrate. We'll be back shortly for level 28 where the blinds will have reached a whopping 50,000/100,000(ante 10,000.) Yikes! Fun times ahead. –RS
5:44pm: Lu progress arrested
Level 27: Blinds 40,000/80,000 (ante 10,000)
Zhenhua Lu's serene passage up the chip counts has hit a stumbling block in the form of Minho Lee.
Three way to a A♥ J♦ 3♥ flop with Lee and Alvan Zheng, Lu fired out 160,000 and both players made the call.
The 2♦ on the turn saw Lu fire again – 380,000 the price to pay and this time Lee was the only one willing to continue.
Heads-up, the pair saw a brick-ish looking 7♣ hit the river and Lu finally checked, eyeing Lee suspiciously.
Lee just checked back his A♣ Q♥ to claim the pot with the better kicker once Lu showed down his A♠ 8♦ . The one way stream of chips into Lu's stack has ended. Lu 2,760,000, Lee 3,800,000. –RS
5:25pm: Opalikhin doesn't know when to quit
Level 27: Blinds 40,000/80,000 (ante 10,000)
In tournament poker terms, Aleksei Opalikhin is as tough as they come. He just plain refuses to be killed off.
The Russian player moved all-in for 615,000 from early position and was called by Zhenhua Lu on the button.
Opalikhin: A♠ Q♠
Lu: J♣ J♠
It was a classic flip and Opalikhin did not have the partisan crowd with him. Poker gods don't care about anti-sweats though, ignoring the noise from the rail to hand Opalikhin a double up via a 6♣ 2♥ 8♦ Q♠ 8♥ board. Hua dropped to 2.8 million. –MC
5:10pm: Dongqi Lin puts Aleksei Opalikhin on the ropes with massive river bluff
Level 27: Blinds 40,000/80,000 (ante 10,000)
Donqi Lin is looking to follow his friend Siyou Cao, who won the Baby Dragon tournament earlier this week, to the 2019 PokerStars Players Championship and he just took a significant step.
In the hand Aleksei Opalikhin opened for 155,000 from the hijack and Lin called from the big blind. The flop came K♣ 8♣ 2♥ and Lin checked but Opalikhin followed up with a bet of 175,000. Lin called and the turn came A♠ .
Both players checked the turn and the river finished with the 10♦ . The river sent Lin deep into the tank as he considered his options. Lin asked for a count of Opalikhin's stack and then counted out his own chips.
Eventually Lin decided to move all-in for about 1.1 million chips. Lin and Opalikhin were evenly stacked with Opalkhin having him slightly out-chipped.
Opalkhin weighed his options but after several minutes of thought he threw his hand in the muck.
Lin triumphantly slammed down 9♦ 2♦ as he raked in the pot. Lin is up to nearly 2 million chips while Opalkhin is on life support with about 700,000. –AC
4:50pm: Lu flushes out Hong
Level 27: Blinds 40,000/80,000 (ante 10,000)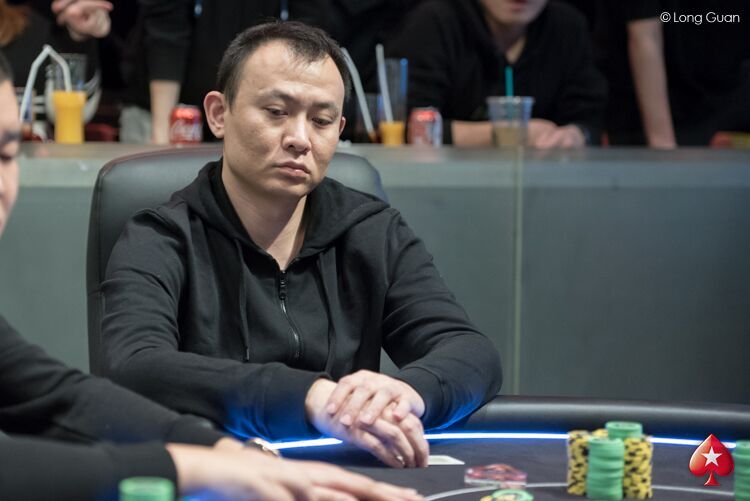 Zhenhua Lu gathering ominous momentum.
Hong's stack just took a dip courtesy of Zhenhua Lu. The action opened with a 160,000 raise from middle position by Hong, Lu took the aggressive route – something he is starting to do with increasing frequency and re-raised to 400,000. Hong called.
The flop fell 6♥ 5♣ 5♠ Lu bet 280,000 and Hong called.
Turn: 5♦
Lu now fired 560,000 and this chunkier bullet removed Hong from the pot. Lu is on the march – up to 3 million and rising. Hong takes a hit – down below 4 million for perhaps the first time today. –RS
4:26pm: Jiang Ho Huang takes a big one off Aleksei Opalikhin
Level 27: Blinds 40,000/80,000 (ante 10,000)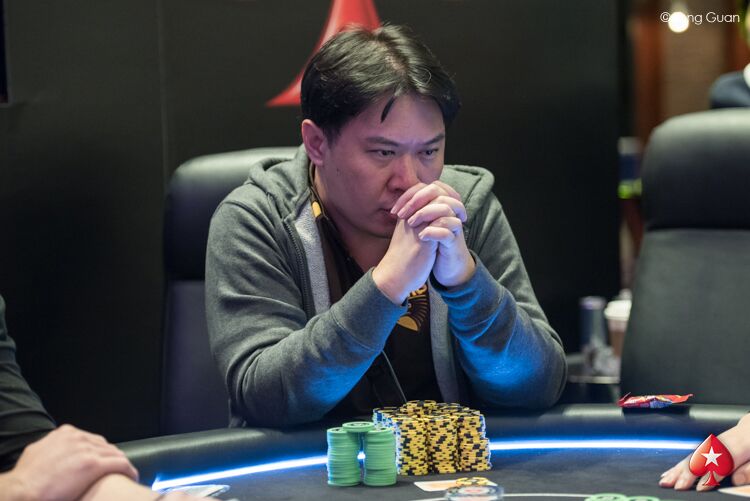 Jiang Ho Huang on the rise.
Singapore's Jiang Ho Huang is making his case for the chip lead.
He's not quite there yet but he's on his way thanks to a big pot he won off Aleksei Opalikhin.
Huang opened for 120,000 on the button and Opalikhin called from the big blind. The flop came K♦ 4♠ 2♦ and Opalikhin checked but Huang followed up with a c-bet of 110,000.
Opalikhin call and the turn came Q♥ . This time both players checked and the board finished with the 8♠ on the river. Opalkhin once again checked but Huang pushed a green tower of chips worth 500,000 into the middle.
The Russian player seemed perturbed by the play and carefully weighed out his options. Finally he made the call only to be shown K♥ 9♦ , which prompted Opalikhin to throw his hand in the muck.
After the hand Huang was up to 3.9 million chips while Opalikhin fell all the way down to 1.2 million. –AC
4:16pm: Zhenhua Lu doubles through
Level 26: Blinds 30,000/60,000 (ante 5,000)
Timing in poker is everything and Zhenhua Lu just showcased exquisite timing here to double his stack. He's been the shortest stack since Chen's elimination and decided to try and change that, moving all-in in an unopened pot for his 965,000 stack.
Jiang Hi Huang behind looked down at pocket tens and considered this more than strong enough to take on Lu, re-raising to isolate the shorter man.
Hands on their back and a casual Lu, arm slung over his chair like he hasn't a care in the world turned over pocket aces!
The board ran out K♥ 8♦ 6♠ 7♠ 6♦ to secure him a full double-up to 2,060,000 whilst Huang drops to a still impressive 3,310,000. –RS
3:45pm: Deadly, deadly Minho
Level 26: Blinds 30,000/60,000 (ante 5,000)
Action folded around to Korean pro Minho Lee in the small blind and he opted to fire out a bet of 160,000.
Aleksei Opalikhin decided to defend his big blind by calling the bet. That brought a flop of K♥ 5♠ 4♦ .
Lee bet out 120,000 and Opalikhin made the call. The turn brought the 7♠ and both players decided to slow things down a bit and checked. The board finished out with the 3♠ on the river.
Lee made a hefty river bet of 385,000. Opalikhin wasted no time in calling and tabled K♠ Q♣ for top pair. Lee showed a surprising 6♠ 3♦ for the rivered straight. Lee scooped the pot and is now up to over 3,500,000 while Opalikhin dropped below 2,000,000. –AC
3:37pm: Hunker down folks
Level 26: Blinds 30,000/60,000 (ante 5,000)
The structure of the final table has been extended somewhat. The blinds have been rolled back from most of the way through level 27 to the beginning of level 26 and the levels extended to 75 minutes. The players have every opportunity to showcase their poker chops, make some moves and use skill rather than luck to guide their destiny.
The early going has been cautious, most hands involving a raise and a fold, meaning the stacks have remained fairly similar since the Chen elimination.
The biggest hand of note saw Minho Lee three-bet to 305,00 after Alvan Zheng had opened to 120,000 UTG.
Zheng however was in no mood to let the aggressive Korean bully him and cut out a 620,000 four-bet. This was enough to dissuade Lee from any further action and Zheng's strong rail support let out a cheer as their man bolstered his stack to over the three million mark. –RS
3:19pm: Jiming Chen hits rail early, out in 9th place (HK$248,000)
Level 26: Blinds 30,000/60,000 (ante 5,000)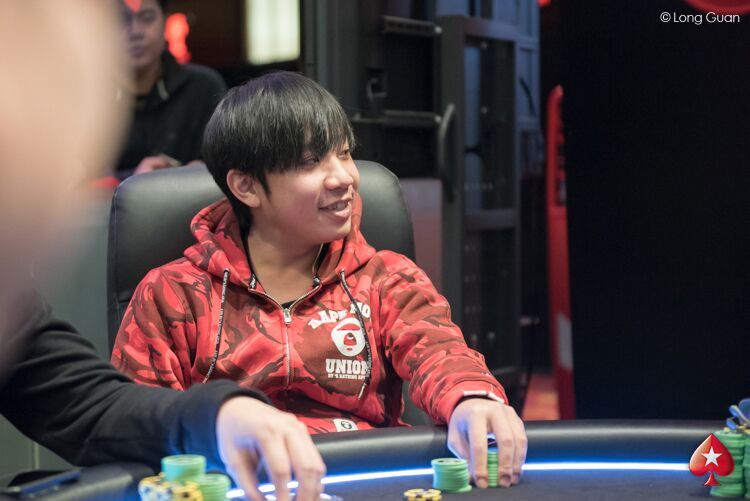 Chen's day was exciting but brief.
Well that didn't take long.
On just the third hand of the final table Jiming Chen found his way to the rail via a bad beat.
Junhao Hong opened from UTG for 145,000 (get used to that) and Chen moved all-in for 685 from the cutoff. Everyone got out of the way and Hong thought for a couple seconds but then made the call.
Chen's tournament life was on the line but he was in the lead with A♦ K♠ against Hong's A♥ 7♥ . The good feelings didn't last long, however, as a seven flashed as the window card on a 7♣ 5♦ 4♣ flop.
The board finished with the 5♠ and then the 6♦ and just like that we have our first casualty at the final table.
Chen will earn HK$248,000 for his efforts in this one while Junhao got one step closer to the first-place payout and that coveted $30,000 Platinum Pass. –AC
3:15pm: Shuffle up and deal!
Level 26: Blinds 30,000/60,000 (ante 5,000)
We're officially underway here at the final table of the Macau Poker Cup 28 final table. The floor staff just announced every player at the final table and the only thing left to do is play to a winner. Time to breath some fire! –AC
Big day ahead for Red Dragon final table contestants, $30,000 Platinum Pass awaits winner
Here at PokerStars LIVE at The City of Dreams, Macau, the moment of glory has arrived.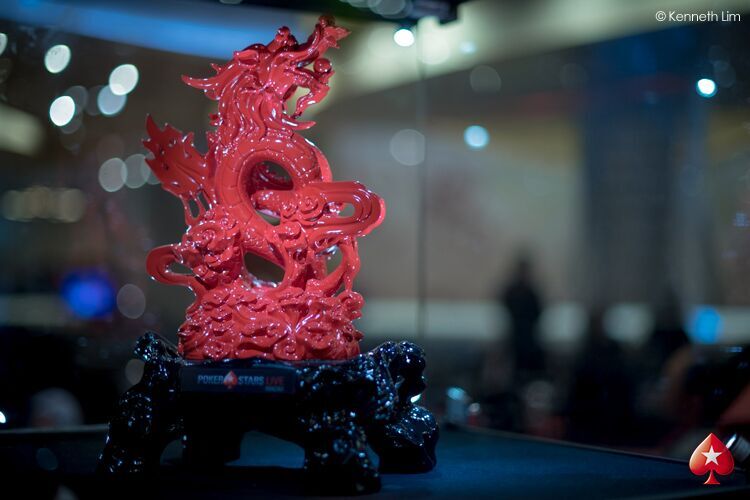 The beautiful Red Dragon trophy they're all gunning for.
The Red Dragon final table is set – nine plucky poker players having earned their right to claim the title by besting the 1,122 players who entered the fray over the last five days. It's been a fascinating journey so far – the hunger and passion for poker here in Macau is unquestionable – and we anticipate a toughly contested final as these nine talented survivors grapple for supremacy.
It almost goes without saying but there's a great deal on the line today.
The winner will walk off with HKD$3,055,000 as well as that coveted US$30,000 Platinum Pass package PokerStars has added to the first place. The last man standing will also collect the unique Red Dragon trophy that would grace any players' mantelpiece but perhaps most importantly, they will have earned the right to call themselves a Red Dragon. You can't put a dollar value on that kind of accolade.
The final nine will line up as follows and you can read more about the finalists' credentials in these player profiles.
| Seat | Name | Country | Chip Count |
| --- | --- | --- | --- |
| 1 | Minho Lee | Korea | 2,655,000 |
| 2 | Aleksei Opalikhin | Russia | 2,200,000 |
| 3 | Junhao Hong | China | 4,610,000 |
| 4 | Alvan Zheng | China | 2,830,000 |
| 5 | Zhou Tong | China | 2,965,000 |
| 6 | Dongqi Lin | China | 1,680,000 |
| 7 | Zhenhua Lu | China | 995,000 |
| 8 | Jiming Chen | China | 535,000 |
| 9 | Jiang Ho Huang | Singapore | 3,985,000 |
Leading the line is Chinese national Junhao Hong with 4,610,000. Hong has worn his heart on his sleeve during this tournament – every allin moment punctuated with effusive bellows. If you're within earshot, you'll know whenever Hong is in a big pot. He's played fearsome, aggressive poker throughout and will start the table as the marginal favourite by virtue of his bulging chipstack.
There are eight hungry players looking to topple Hong from his pedestal however and given the numerous twists in the tail we've witnessed so far, we'd be fools to make any concrete predictions.
It's all up for grabs and we can't wait to see how this tournament-defining day plays out.
Play begins at 3pm. A thrilling denouement beckons. Good luck one and all. May the best Dragon win. –RS
PokerStars Blog reporting team at the MPC: Marc Convey, Arthur Crowson and Rod Stirzaker. Photography by Long Guan of Kenneth Lim Photography. Videos by Alex Pinkett and James Beer of 23 Digital
Back to Top
Study Poker with
Pokerstars Learn

, practice with the PokerStars app

Try our Free Scholars Leader Board to practice your new skills.
Quick Links
Learn
Practice
Chat with us
Watch and share