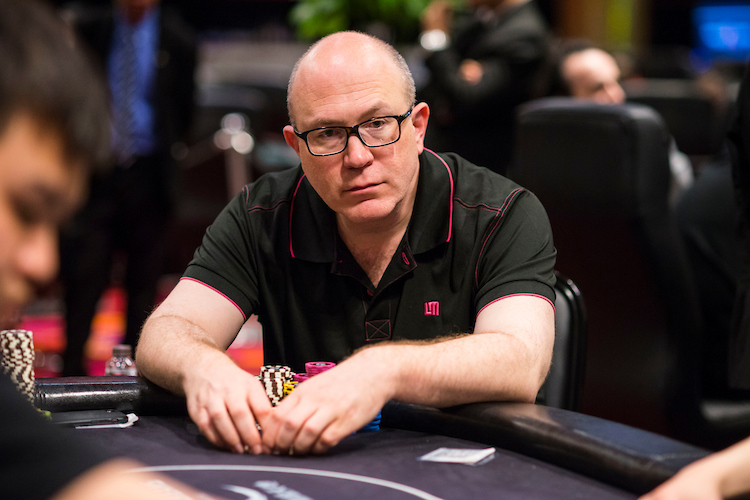 Joshua Zimmerman leads, just
The second and final starting flight of the APPT Macau Main Event was a nocturnal affair today. The 6pm start time was introduced so that players had a choice over starting times on each day. Local players like to play later and the Day 1B numbers showed that, with 179 entering compared to the 153 that played on Day 1A.
That means 332 players have entered so far. We write so far as registration will remain open until the end of Level 9 tomorrow and there are a bunch of faces we know are in Macau and haven't seen appear as yet. But that's tomorrow's news — let's get back to what happened on Day 1B.
It was past 2am local time when the players bagged up their start of Day 2 chips, with 114 of them making it through. Joshua Zimmerman enjoyed the most success today on the baize and will sleep well knowing his chip-leading 158,200 stack will armor him as he continues to battle tomorrow. Rounding out the Day 1B top five are Lin Wu (157,200) Seung Yong Wi (137,500), Lester Edoc (122,800), and Jinxi He (113,200).
The red spade was represented on three fronts today with Aditya Agarwal, Celina Lin and Randy Lew in attendance. They enjoyed varying success, but all made it through with 79,200, 23,400, and 16,700. respectively. Click here for a full list of all Day 1B survivors with their chip counts.
Click here for a combined list of the chip counts for the 212 survivors of Days 1A & 1B.
Click here for the start of Day 2 seat draw.
Day 2 will commence at 2pm tomorrow, so make sure to join us back here then as we continue the Main Event journey. Until then, good night from Macau! –MC
---
Day 1B Live coverage archive:
• DAY 1B PLAYERS: 120 (of 181 tbc – late registration open until start of Level 9)
• End of Day 1A chip counts (98 of 153 advanced)
• ALL APPT MACAU INFO | TOURNAMENT SCHEDULE
• DOWNLOAD POKERSTARS | Follow @PokerStarsBlog on Twitter

2:15am: Day 1B concludes
Bag 'em up, folks. The day is done. Back shortly with a full recap of the day. –MH
2:13am: Zhang gone
Level 6 – Blinds 250/500 (ante 75)
Dayong Zhang just took a chance on the last hand of the night and hit the rail as a result.
The action opened with Kue Seung Tchong raising to 1,150 under the gun. Randy Lew called behind him, as did Timothy Mitchell in the hijack seat. Then the action reached Zhang, who jammed for his last 7,050 on the button.
Things got interesting when Tchong called, putting Lew and Mitchell to decisions of their own. Lew gave it about a minute's thought before folding. Mitchell had a tougher time – he took more than two minutes before finally groaning and tossing his cards in. That set up the showdown:
Tchong: 9♠ 9♥
Zhang: 5♣ 5♠
Zhang needed help from the board but was shut out when it fell K♠ J♣ 8♠ 4♣ K♥ , ending his tournament in Day 1B's final moments. –JK
2:10am: Zimmerman adding at the end
Level 6 – Blinds 250/500 (ante 75)
In one of the last hands of the night, the board was showing 6♦ 6♥ 5♦ A♠ 9♦ and big stack Joshua Zimmerman had bet 7,000 into a pot of around 9,000. Quan Zhou was his opponent, and after some hemming and hawing and a little table talk, Zhou finally came up with a call.
Zimmerman tabled A♦ 7♦ for an ace-high flush, and with a wry grin Zhou showed his K♦ 2♦ for a second-best flush.
Zimmerman looks like he has about 165,000 or so at the moment, while Zhou has 40,000 with just a couple of hands to go. –MH
2:05am: Such a shame
Level 6 – Blinds 250/500 (ante 75)
A quick update on Mr. X – AKA Johnny Chan – from our 1:35am post.
He's now out.
And somewhere, a tiny violin plays just for him. –JS
2:02am: Dong Kim unlucky
Level 6 – Blinds 250/400 (Ante 50)
High-stakes pro Dong Kim just picked a great spot to get a chunk of his chips into the middle but, as is often the case in poker, the cards refused to cooperate.
We arrived to see Kaue de Souza all-in against Kim for 8,575 with the flop reading 10♥ 6♠ 5♥ . Kim was in the lead with A♠ 10♣ for top pair against de Souza's 7♦ 6♥ . The turn was the 7♣ , putting de Souza in the lead, and the J♦ on the river made his double-up official.
de Souza is now on just over 21,000 while Dong Kim is down to 11,000. –MS
2am: Six more hands
Level 6 – Blinds 250/500 (ante 75)
They've paused the tournament clock and after a drawing have determined each table will play six more hands.
As was done last night with Day 1A chip leader Diego Palma, tonight the staff chose the apparent chip leader Joshua Zimmerman to do the honors and draw the card.
Zimmerman does look to be one of the biggest stacks in the room, but Lin Wu, Seung Yong Yi, and Jinxi Hi are all close and there may even be someone else nudging into the top spot during these last hands. –MH
1:55am: Celina lays it down
Level 6 – Blinds 250/500 (ante 75)
We just arrived at Team PokerStars Pro Celina Lin's table in the middle of a very eventful hand – and there weren't even any community cards on the table.
Though we missed the action that led up to it, Masahiro Yamada's entire 33,000-chip stack was laid out across the betting line, counted down by the dealer for Lin to see exactly how much Yamada had bumped her 12,000-chip bet up. With only 20,000 chips left herself it was obviously a tough spot and Lin agonized over her decision.
Celina Lin
"Maybe you have ace-king?" Lin asked. Yamada just smiled as the rest of the table guessed as to what hand he was playing. "You have a very good image," she told him, riffling her green chips and trying to come to a decision, and once more Yamada had nothing to say.
After several minutes Lin finally tossed her hand into the muck. She asked Yamada to show one card, and he let her pick the one she wanted to see – the A♦ , as it turned out. Lin's fold leaves her with that last 20,000 chips, and Yamada is up over 42,000. –JK
1:45am: Aces over kings
Level 6 – Blinds 250/500 (ante 75)
Benjamin Hamnett just survived an all-in spot here near the end of Day 1B in a hand versus Timothy Mitchell.
The chips all went in on the strength of the two players' hole cards only. And they were strong indeed, as Mitchell had K♠ K♥ and Hamnett A♣ A♠ .
The aces held through the five community cards, the result of the hand being both Hamnett and Mitchell are now hovering around 20,000. –MH
1:40am: Zinno leaves foe with zero
Level 6 – Blinds 250/500 (ante 75)
Anthony Zinno just eliminated a short-stacked opponent who'd put his last 4,550 in the middle behind 10♥ 10♣ and was up against Zinno's A♥ 6♥ . I arrived too late to say anything more about just when the chips went in, and to be perfectly honest Zinno was the one informing your humble scribbler of the exact amount his opponent had put at risk.
I did spy two sixes on the board before the community cards were swiped away, which means Zinno's three sixes were better than those two tens. That's poker!
Zinno is at around 40,000 with a half-hour to go in the day. –MH
Anthony Zinno
1:35am: Johnny f***ing Chan
Level 6 – Blinds 250/500 (ante 75)
We love a bit of banter here at the PokerStars Blog. So fair play to one player who, although he lost a hefty pot, has just managed to ensure we can't write about it properly.
Let's rewind 15 minutes.
Manig Loeser opened from under the gun to 1,100 and that bet was called by Ippei Takaki in the hijack. It folded to the guy on the button – let's call him Mr. X for now – and he three-bet it up to 3,200. Both players called, and it was flop time.
[7C][6C][4C]
It checked back to old Mr. X and he made a continuation bet worth 4,000. That couldn't shake off Loeser, and Takaki ended up coming along to a turn too. That card was the 6♦ , and after two checks it was back on Mr. X. After a minute or so he fired another bullet for 8,500, and this time Loeser had had enough. He gave his cards to the dealer, but Takaki wanted to see a river.
The dealer laid the 2♠ , and now Takaki decided to take the lead and move all in for his last 10,550. Mr. X did not like this.
He squirmed, started waving his hands and talking to himself as he tried to piece together the puzzle. He looked confused, even when he was putting in the chips to call.
Takaki turned over the 8♠ 8♣ for an overpair to the board, and Mr. X saw he was beat. He tried to muck, but as it was an all in situation, he was made to show his A♠ K♠ for just ace high.
Takaki took a huge sigh of relief as he raked in the pot, and now sits with 53,000, while Mr. X is down to 27,000. And this is where things got…funny.
Mr. X didn't have the I.D. card us media lot use to identify players in front of him, and when asked he claimed he couldn't find it.
"Is it important?" he asked me. "Well, it's how we know who players are," came my response.
"Please don't write about that hand," Mr. X pleaded, but of course I had to (it was an interesting one). However, I did reassure him that here on the Blog we don't judge, we just write it like we see it. Mr. X then offered to write his name down for me, and continued talking to me as he did so.
"I just felt like I was pot committed, y'know?" he said, handing back the bit of paper. I nodded, said goodbye and made my way back to the desk to begin writing up this very post you're reading right now. I go to look at his name and what do I see he has written down?
Johnny Chan.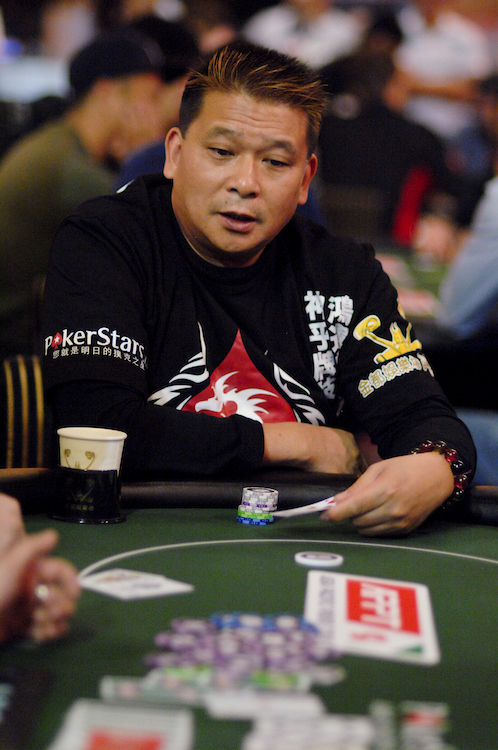 Will the real Johnny Chan please stand up
Consider me well and truly owned. Congratulations Mr. X. You may have lost the pot, but you won this battle*.
* I realise I could just find out his name another way, but where's the fun in that?? –JS
1:30am: Big double for Zheng Yu
Level 6 – Blinds 250/400 (Ante 50)
Zheng Yu just doubled up to 77,150 after a big hand against Nauvneel Kashyap.
It began with Kashyap opening to 1,200 from under the gun and Yu three-betting to 3,300 from the button. Kashyap called and the flop came down Q♠ 5♠ 3♣ . Yu bet 3,000 when it was checked to him and Kashyap made the call.
The turn was the 3♦ and Kashyap check-called again, this time 7,500. The river was the 8♣ and after Kashyap checked one last time, Yu went into the tank. He counted out his remaining stack and it totalled 25,075. After another moment he deposited the lot across the line.
Now it was Kashyap's turn to deliberate. He cut out the call and saw he had 3,500 more behind. After a bit of head-shaking he decided to make the call and saw the bad news when Yu tabled A♣ A♦ . Kashyap mucked and the pot went to Yu. –MS
1:25am: End of the Lin
Level 6 – Blinds 250/500 (ante 75)
Chen An Lin had been sitting with under 20 big blinds for a while and moving all-in whenever the oportunity to pick up a pot presented itself. It's the kind of move that works unless an opponent picks up a hand – and this time, Jonathan Roy was that opponent.
Roy, who had won the previous hand by firing off three barrels to eventually chase Zhenrue Xie from the pot, opened the action for 1,200 in the cutoff. Xie called in the small blind and then Lin moved his stack across the betting line. The bet: 9,475. Roy didn't think long before calling, which scared Xie off and set up a showdown:
Lin: A♠ 4♠
Roy: 6♠ 6♦
The 6♥ 9♣ 5♦ flop gave Roy a set and sent Lin walking away from the table before the turn and river could hit the table. Roy's now on 45,000. –JK
1:15am: Mu moves all in, survives
Level 6 – Blinds 250/500 (ante 75)
With the board showing J♦ 2♥ 6♣ 3♠ , Dapeng Mu moved all in for his last 4,500 or so. The action moved over to Darren Judges who judged he had a hand with which he could call. But Benjamin Hamnett had had it and folded.
Mu had J♥ 10♥ and Judges J♣ 8♦ — both had jacks, with Mu's the better kicker — and after the 5♥ river Mu kept his seat.
Mu has about 12,000 now, Judges 26,000, and Hamnett 11,000. –MH
1:05am: Kitai avenges King with queens
Level 6 – Blinds 250/500 (ante 75)
Davidi Kitai gave a bunch of chips to King Wang a while back with the latter holding pocket queens. It was role-reversal just now as Kitai scored a double up holding them himself.
Wang opened to 1,100 from the cutoff and called after Kitai three-bet to 2,800 from the next seat. The board rolled out 2♥ 7♠ 6♣ 4♣ 4♠ with Wang checking to face bets of 2,200, 5,700 and all-in for 12,725. He called all the way with A♠ 6♦ and dropped back to starting stack after he was shown Q♠ Q♣ on showdown. –MC
12:53am: Big and notable stacks
Level 6 – Blinds 250/500 (ante 75)
As we enter the last level of the night, here are some of the bigger and more notable stacks in the room. –JS
Kuen Wai Jeffrey Lo – 110,000
Lester Edoc – 105,000
Jinxi He – 102,000
Lin Wu – 85,000
Aditya Agarwal – 80,000 (PokerStars Team Pro)
Celina Lin – 36,000 (PokerStars Team Pro)
Randy Lew – 18,000 (PokerStars Team Pro Online)
Davidi Kitai – 13,000
12:50am: "Come to poppy"
Level 5 – Blinds 200/400 (ante 50)
A big all-in over on Seung Yong Yi's table just now in the final hand of Level 5. The board showed 7♥ 8♠ 5♠ , and over a flop bet of 7,000 by Chen Cui, Yi had pushed all in for 47,500 total.
Yi remained somewhat animated while Cui thought about what to do, rubbing each of his hole cards into the felt as though trying to cast a spell. Cui finally chose to call, and "oohs" came from the table when Yi showed 10♠ 7♠ (sevens and a flush draw) while Cui tabled J♠ J♥ .
The 2♠ on the turn filled a flush for Yi, then he dodged Cui drawing out a better one when the 10♣ completed the board.
"Come to poppy!" said Yi with a wide grin who then walked away from the table making rooster-like noises.
Cui's down to about 19,000 now. I can't say exactly how much Yi has since he's yet to stack up his chips, but it's over 100,000 for certain. –MH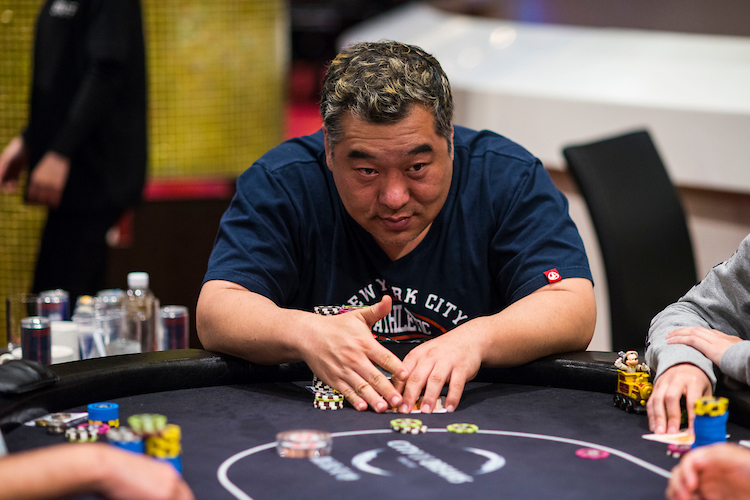 Seung Yong Yi
12:48am: Soulier flops fab, turns terrible
Level 5 – Blinds 200/400 (Ante 50)
French poker pro Fabrice Soulier saw his stack slip to 8,675, all of which ended up in the middle for the last time in this event moments ago.
Daniel Lee got the action started with a raise to 1,000 and two other players called before Soulier shipped it in. Lee was the only caller and he turned over 8♥ 8♣ , a slight favourite to Soulier's A♦ K♦ .
The flop was a dream for Soulier, coming A♣ A♥ J♥ , but it turned into a nightmare when the 8♠ hit fourth street. the river was the 3♣ and Soulier was out. –MS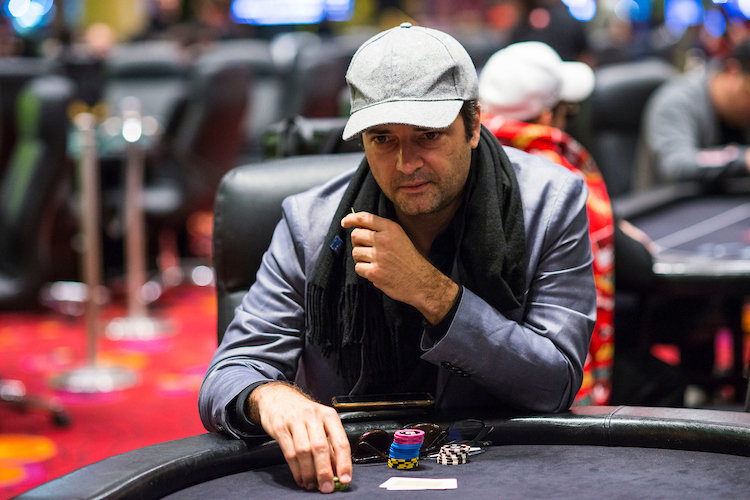 Au revoir, fabsoul
12:43am: "No stop signs… speed limit… nobody's gonna slow me down"
Level 5 – Blinds 200/400 (ante 50)
Kind of an interesting contrast going on here in the City of Dreams at the moment.
The tournament proceeds in somewhat serene fashion, with players focused and locked in as hands play out between them. Meanwhile performing on stage at the adjacent Hard Rock Macau is a raucous six-piece cover band that most recently ran through a sequence of songs by Metallica, Rage Against the Machine, and AC/DC.
Just now they were wrapping up their energetic rendition of "Highway to Hell," although neither Chien Chen nor Dapeng Mu seemed to notice as they battled each other for a pot.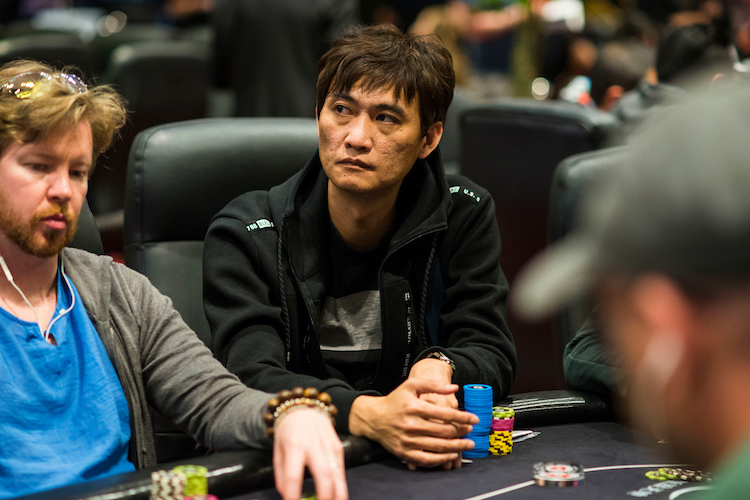 Chien Chen
With the board showing 5♣ 7♣ 3♠ , Chen led for 2,600, Mu raised to 7,600, and Chen called. After the A♠ turn Chen checked again, and this time Mu bet almost the size of the pot — 18,000 — as the singer belted out "Hey mama… look at me! I'm on my way to the promised land."
That put Chen into the tank for a while, and eventually he came up with a call. It looked like Chen was ready to go do-ow-ow-own all the wayyyyyy-ayyyyyy with his hand. But after the 3♣ river he checked, and Mu rapped the table behind him to check as well.
Chen tabled A♣ Q♣ for a pair of aces, and Mu shook his head as he mucked.
Chen is up to 90,000 now, Mu is down to 13,500, and I think the band might have just finished their set. –MH
12:33am: Soyza sunk
Level 5 – Blinds 200/400 (ante 50)
Michael Soyza couldn't hit the three-outer he needed after four-bet shoving into Chahn Jung's jacks.
He opened to 900 from the button and then four-bet jammed for 22,750 after Jung had three-bet to 3,300 from the small blind. Jung only had a few thousand more that Soyza and gave it some thought before he called.
Jung: J♦ J♣
Soyza: A♥ 3♣
The board ran a blank 10♥ 6♣ K♥ 2♥ 8♣ . –MC
12:26am: Kitai's boat sails into choppy waters
Level 5 – Blinds 200/400 (ante 50)
Davidi Kitai hasn't been able to get much going so far on Day 1B.
In his most recent hand, Jinhai Zhang opened from the hijack and Kitai just called from the big blind, taking them to a 2♣ 3♠ Q♠ flop. Kitai checked it, and then called Zhang's 1,100 c-bet.
The dealer burned and turned the 2♦ , and now interestingly Kitai opted to lead out for 1,750. Zhang looked a little surprised but would make the call bringing the Q♥ on the river. Kitai didn't slow down and fired another 6,200 into the pot, which after a minute or so of thinking Zhang called.
Kitai rolled over the Q♣ 10♥ for a full house – queens full of deuces – but unfortunately for him, Zhang now had the same hand with his Q♦ 9♣ thanks to that river.
After that chopped pot Kitai still had 20,000, while Zhang has managed to eclipse the starting stack with 34,000. –JS
12:19am: Xie can't call Panek's push
Level 5 – Blinds 200/400 (ante 50)
Passing by Polish player Tomasz Panek's table just now, we saw the familiar glass triangle sitting before him, signaling his all-in raise over a river bet by Weijian Xie.
To fill in some details, it was the turn with the board showing 9♠ 2♠ 10♣ 3♦ and there was about 10,000 in the middle. Xie had fired 6,500 forward in an effort to win what was out there, but Panek's jam ultimately caused Xie to give up and concede the pot.
Panek has about 45,000, while Xie is at 15,000. –MH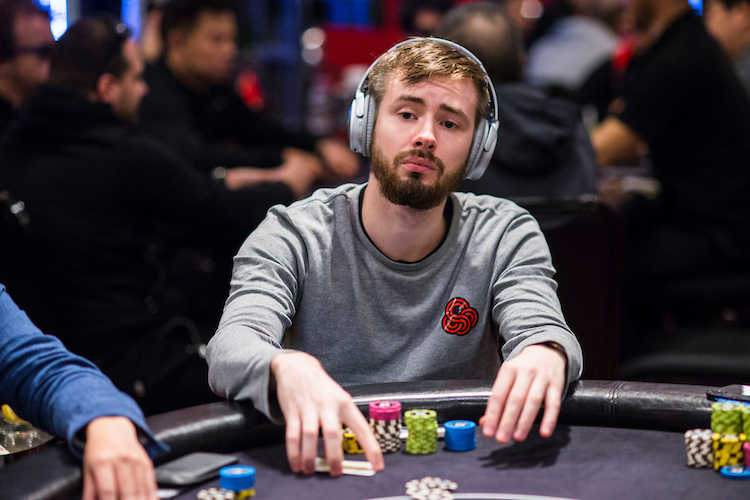 There's panic in the streets when Panek's at the table
12:09am: Family pot (without Wu)
Level 5 – Blinds 200/400 (ante 50)
Davidi Kitai limped from under the gun, and it seemed that everyone wanted to play with the Belgian except for Lin Wu. He folded from the UTG+1 seat, but everyone else at the table called/completed/checked to see the K♣ 6♣ 2♥ flop. Cue eight checks.
The 2♦ hit the turn, and now Albert Paik led out for 1,500 from the small blind seat. Kitai folded but Paik got two callers in King Wang (big blind) and Wai Wa Cha, bringing the 10♥ on the river.
Paik now checked, letting Wang lead out for 3,500. Cha had a decision and took his time before making the call, while Paik made something of a frustrated fold. King Wang turned over a king – the K♦ – complete with the 10♠ , giving him top two pair. Cha could only muck. –JS
12:04am: Loeser calls, collects
Level 5 – Blinds 200/400 (ante 50)
Manig Loeser is part of the Main Event field now as one of the most recent arrivals to join the fun.
Just now he was opening a pot to 900 and getting one caller in Ippei Takaki. Both checked the 8♦ 5♥ 7♣ flop, then Loeser led for 2,500 after the 5♣ turn and Takaki called.
The river brought the 3♦ and Loeser checked. Takaki took the opening to bet 3,500, and after thinking a bit Loeser called.
Takaki turned over A♦ 6♦ for a flopped straight draw that hadn't panned out. Meanwhile Loeser had ace-high, too, with A♥ 10♦ , earning the pot as well as some reactions around the table.
Loeser's at 38,000 now, Takaki 32,000. –MH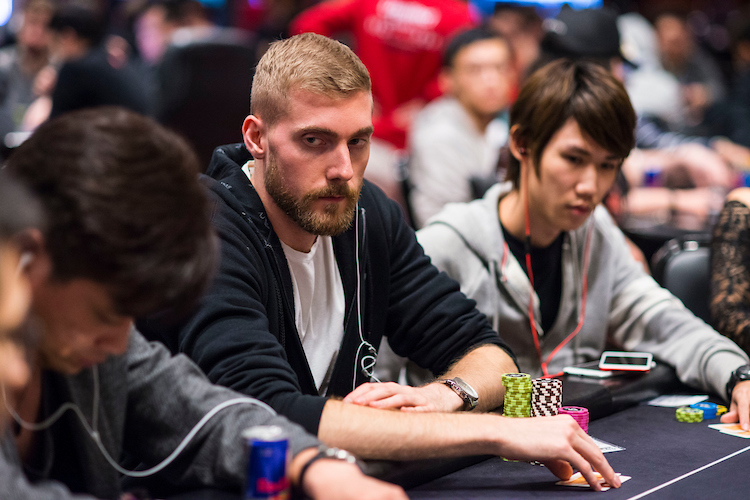 Manig Loeser gets a little closer
11:55pm: Shen's the man, Lo's stack getting higher
Level 5 – Blinds 200/400 (ante 50)
A quick post-break scouting trip around the City of Dreams poker-room confirms that Zheng Shen of China has continued his evening-long race to the front of the chip counts.
Shen is sitting with 128,000 at the moment, and I can't say I saw anyone else with that much after visiting each of the tables and the 150 or so players in action out of the 180 registered so far on Day 1B.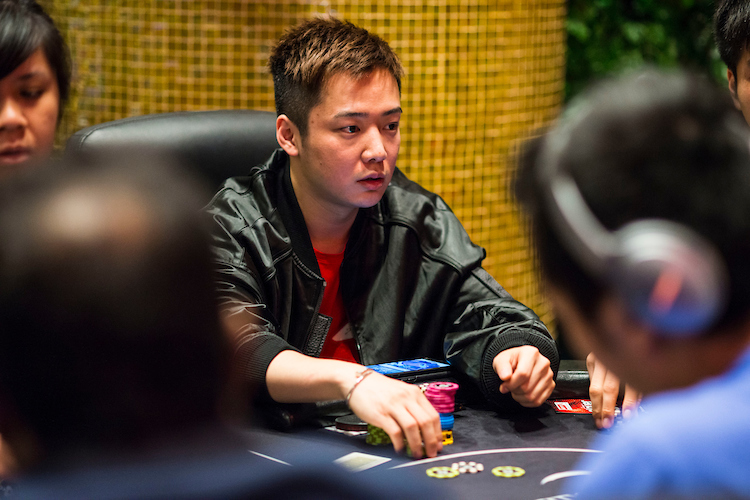 Zheng Shen tops the chip counts heading to Level 5
Probably the closest to Shen at present is Jeffrey Lo of Hong Kong who is hovering around 110,000. –MH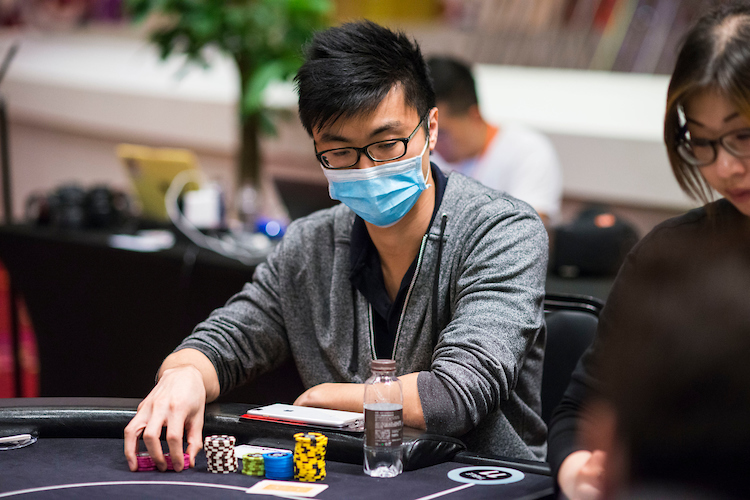 Jeffrey Lo has more than tripled his stack on Day 1B
11:52pm: Lew dislikes the river
Level 5 – Blinds 200/400 (ante 50)
Randy Lew has dropped to 15,000 after he was rivered in a hand that doubled Darren Judges up.
The Team Online Pro opened to 925 from middle position and was called in one spot before Judges squeezed to 2,250 on the button. Both opponents called and the flop fanned 8♣ 6♣ 6♥ . The action was checked to Judges who moved all-in for 11,575. Lew tank-called and the cards were flipped up after the third party folded.
Lew: J♥ J♣
Judges: A♥ K♥
The board ran out 7♦ A♦ and Lew gave a disappointing looking nod. "It was a good call," commented Judges to no-one in particular. –MC
11:50pm: A flurry of chips for Murry
Level 5 – Blinds 200/400 (ante 50)
The seven's always coming, right?
After Hui Wang opened to 900 from early position, Xin Zhang made the call on the button before Benjamin Murry moved all in for his last 8,400 from the small blind. Back to Wang, he made the call while Zhang stepped out of the way.
Wang: A♣ K♦
Murry: 7♣ 7♦
The 4♠ 2♦ K♣ flop was not what Murry wanted to see, and he got no help on the 8♥ turn either. But the 7♥ river resulted in him banging the table with approval. He's up to 17,300 now, while Wang is still healthy with 43,000.
Year of the sevens. –JS
11:35pm: We're back, and the 2013 champ is in the house
Level 5 – Blinds 200/400 (Ante 50)
Players have returned for Level 5, and 2013 APPT Macau Main Event champ Alexandre Chieng is now out in the Day 1B field. –JS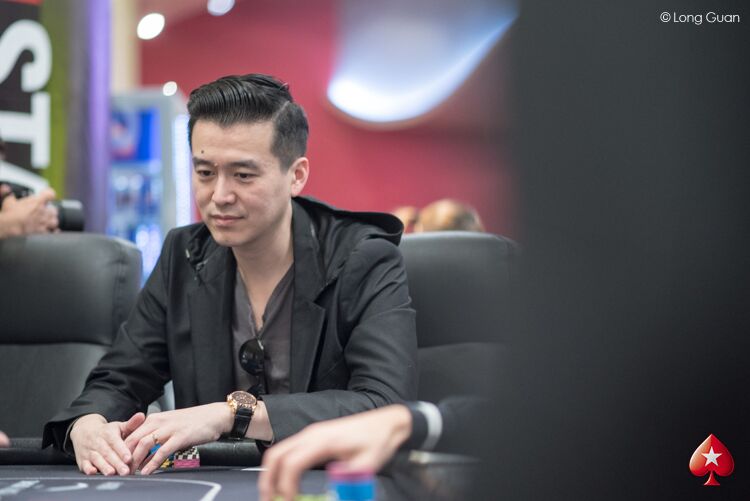 Chieng's back for another crack at it
11:22pm: Take fifteen
The 150 or so players still in here on Day 1B have gone on their final break. Back in 15 minutes for the final two 75-minute levels of the day. –JS
11:20pm: Alex Foxen wins APPT Macau Super High Roller
Level 4 – Blinds 150/300 (Ante 50)
Last night American poker pro Alex Foxen took down the APPT Macau HK$400,000 Super High Roller, quite an accomplishment on its own. Amazingly, just a couple days before, his girlfriend Kristen Bicknell won the APPT National High Roller. Even more amazing? They both won holding the same hand: Ace-six.
As we head to the final break of the evening, enjoy the video interview with Foxen from moments after his victory. He shares how surreal a coincidence it was, why he absolutely loves high-stakes tournaments and how his background as an athlete led to a career as a professional poker player. –MS
11:15pm: Queens for King
Level 4 – Blinds 150/300 (ante 50)
Davidi Kitai has dropped down to 22,000 after he couldn't beat King Wang's pocket queens on showdown. The latter rose to 42,000.
The action was four-way to a 9♣ 5♦ 5♦ flop and Kitai bet 1,050 when his opponents checked to him in the cutoff. The blinds folded but Wang called from the hijack and then check-called another 2,500 on the J♥ turn. The A♥ completed the board and both players quickly checked. Wang opened Q♠ Q♦ and Kitai mucked. –MC
11:05pm: Quan Zhou-ming up the counts
Level 4 – Blinds 150/300 (ante 50)
Quan Zhou participated in the Super High Roller won yesterday by Alex Foxen. And of course we remember Zhou from last summer's World Series of Poker Main Event where he went out on the stone-cold bubble after a stone-cold bluff went a little sideways.
Zhou has been here today from the start of Day 1B as well, steadily accumulating chips from his opponents at Table 12.
The player from China with nearly $1.9 million in career earnings is now up around 80,000, making him one of the bigger stacks as they move into the latter part of Level 4. –MH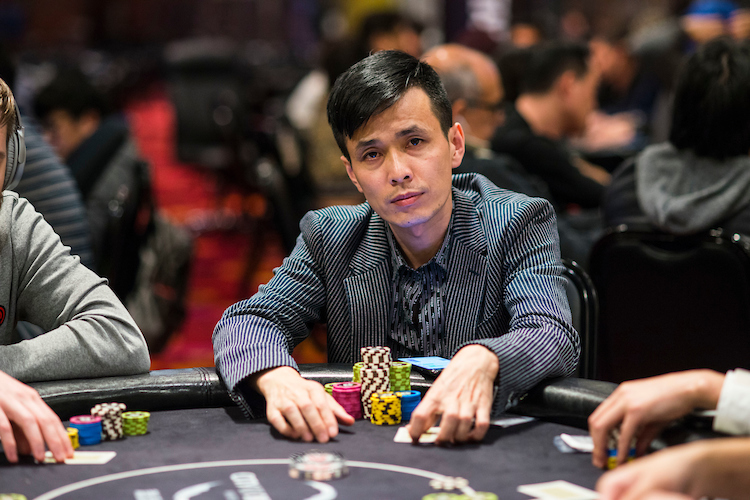 The ever-stylish – and ever-dangerous – Quan Zhou
10:55pm: A-A pays off for A.A.
Level 4 – Blinds 150/300 (ante 50)
Team PokerStars Pro Aditya Agarwal just picked up a very nice pot at the expense of Chen An Lin.
We arrived on the scene with Agarwal, Lin, and Canada's Jonathan Roy all having checked after the turn to find themselves on the river of a 4♣ A♠ 9♦ 9♠ 10♥ board with about 5,000 chips in the pot. Roy checked and Lin took the opportunity to bet 2,500. Agarwal pondered the situation for a moment and then tossed out two yellow chips – 10,000. Roy quickly declined to continue, but Lin wasn't going anywhere. He made the call and showed down 4♦ 4♥ for a flopped set of fours, only to lose the pot when Agarwal showed A♦ A♥ for his own flopped set of aces.
That tough spot for Lin drops his stack to 26,000, while Agarwal climbs to 60,000. –JK
10:50pm: Hi, Kitai
Level 4 – Blinds 150/300 (ante 50)
Belgium's highest earning tournament poker player has sat down, joining the field of 175-plus (so far) for this Day 1B. You know him, you love him… it's Davidi Kitai.
Kitai has over $8.1 million in lifetime earnings, which I believe makes him the highest earning player in the Main Event field so far, although there are a number of high rollers ahead of Kitai on the all-time money list who could still join in either later tonight or even tomorrow since late registration lasts through the first two levels of Day 2.
Kitai has a few Macau cashes among his long list of tourney successes, the biggest coming in 2014 when a final table appearance in a $500,000 (HKD) Super High Roller earned him $2.4M HKD (or about $312K USD). –MH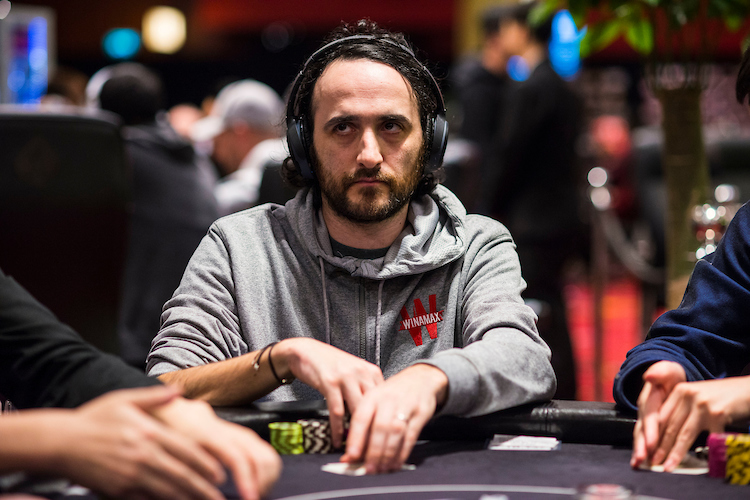 Belgium's all-time money leader is in the house
10:45pm: Loo's chain yanked by Lin
Level 4 – Blinds 150/300 (ante 50)
Chen An Lin has moved up to 41,000 after he took out Junzhong Loo.
Aditya Agarwal raised from under the gun and was called by Loo (hijack) and Lin (bb) before a 7♥ 4♣ 3♦ flop appeared. The Team PokerStars Pro continued for 1,000 and was called by Loo but Lin had other ideas and check-raised to 4,600. Only Loo called to the K♠ turn where he called another 5,000. The 5♦ cosplayed the board and Lin checked to see Loo move all-in for 8,175 with J♥ J♦ . Lin snapped him off with 3♥ 3♣ for a set and that was all she wrote for Loo. –MC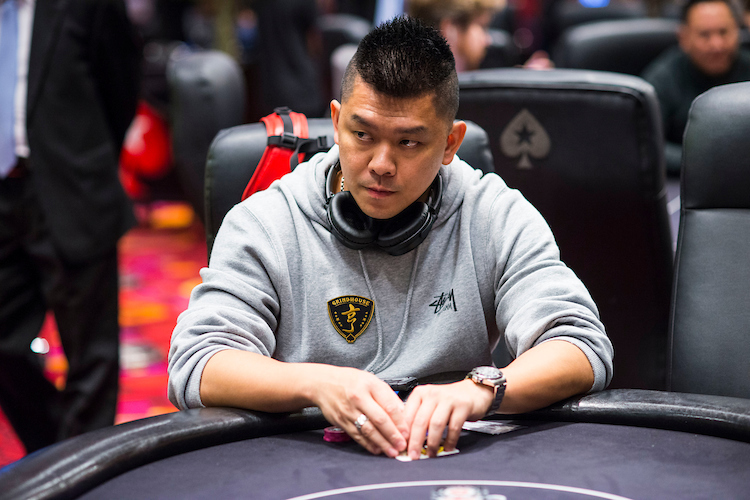 Lin's in, Loo's out
10:40pm: Mu are you? I really wanna know
Level 4 – Blinds 150/300 (ante 50)
Dapeng Mu came awfully close to the final table of this tournament back in 2015, finishing in 17th place. That HKD$109,000 prize is still the largest of his career. But if he continues to play as well throughout the rest of this tournament as he has on Day 1B, he'll have a great chance of setting a new personal record.
Mu was on the button moments ago and faced a raise to 700 from Ku Seong Tchong in the hijack seat. Mu reraised to 2,100 and Tchong called to see the 8♣ 7♠ 8♥ flop.
Tchong thought it over and called, then checked again when the 7♥ came on the turn. Mu continued his line with a bet of 3,500. Tchong didn't look like he believed Mu, but with only about 6,000 chips behind he wasn't willing to pay on that street (and most likely another after it) to find out what Mu was holding.
Mu is now up to about 40,000. –JK
10:35pm: Cui over Li
Level 4 – Blinds 150/300 (ante 50)
With the board showing 2♦ A♦ 8♥ 6♠ J♣ and a bit more than 30,000 in the middle, Chen Cui pushed all in for his last 15,150 then sat and waited for Shuo Li to decide what to do about it.
Li wasn't thrilled with the situation, caught as he seemed to be between calling and letting his hand go. Ultimately there was an attempt by a third party to call the clock, although it was decided he deserved a little more time to think it through before that would be necessary.
Finally Li did make the call, and when Cui tabled A♥ J♠ for two pair, Li tried to muck his hand face down, but as it was an all-in situation his cards were turned over — A♠ 10♠ .
Cui climbs to 66,000, while Li slips to 37,000. –MH
10:30pm: Ichinose lets one go in a six-way pot
Level 4 – Blinds 150/300 (ante 50)
You don't see many six-way pots in tournament poker. Japan's Kosei Ichinose set the ball rolling for one, managed to get it to heads-up, but when one player remained, it wasn't him.
He opened to 800 from early position and was called in five spots en route to a J♠ 2♠ 3♣ flop. He continued for 3,500 and was raised to 8,900 by Sangium Lee in the hijack. All other players folded to leave Ichinose to call to the 7♥ turn. He checked and then gave up when faced with a 9,975 bet. That dropped him down to 16,700 and Lee rose to 52,000. –MC
10:25pm: Kim stems Shen's ascent
Level 4 – Blinds 150/300 (ante 50)
Zheng Shen drew Seat 1 on Table 1 today, and for the first three levels of the day he steadily climbed toward the No. 1 position in the chip counts.
Just now he got involved in a multi-way pot which if Shen had won it probably would have pushed him up to the top of the Day 1B leaderboard. But Dong Kim got in the way with a river raise to thwart that plan.
The hand began four-way, with a hijack raise to 600 and both Shen (cutoff) and Kim (button) coming along with calls as did the big blind. The 10♣ 6♥ 2♠ flop was checked around to Shen who bet 1,500 and only Kim stayed, then the 2♦ turn saw Shen bet 3,000 and Kim call again.
The K♥ fell on the river, and Shen wound up and fired once more with a bet of 8,500. Kim sat quietly for about 30 seconds, then tossed out a raise to 21,000 and Shen quickly relented.
Shen still has about 72,000 after that one, with Kim now edging toward him in the counts with around 60,000. –MH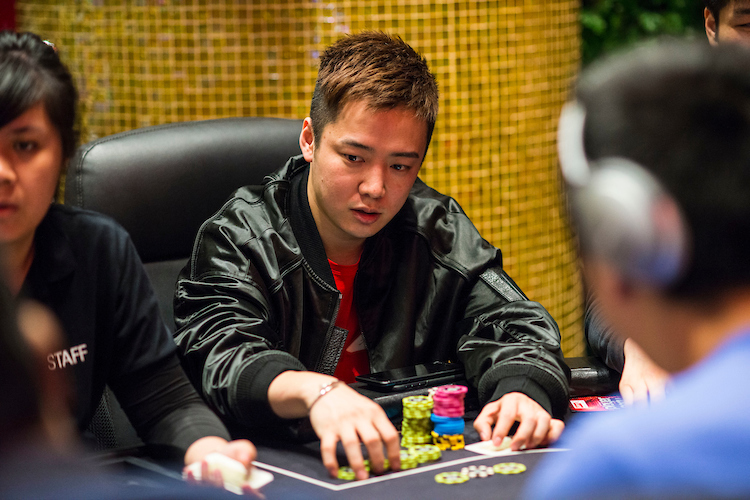 Kim dampers the Shen party
10:20pm: Agarwal shows no mercy to Ming
Level 3 – Blinds 100/200 (ante 25)
Aditya Agarwal has risen to around 60,000 after he picked up pocket aces to eliminate Ming Zheng.
The Team PokerStars Pro opened and then four-bet to 5,000 after Zheng three-bet him in position. Call. The flop came down 10♣ K♠ J♥ and Agarwal continued for 5,500. Zheng raised to 15,300 leaving himself just 75 chips behind. Agarwal called and then set Zheng in for the remaining on the 8♥ turn. Call.
Agarwal: A♠ A♦ for an overpair
Zheng: A♣ K♦ for top pair and broadway draw
The 7♣ river was a blank and Zheng left for Mongo. –MC
10:15pm: Platinum Pass confidence
Level 4 – Blinds 150/300 (ante 50)
Lester Edoc is playing with confidence right now. I guess winning a $30,000 Platinum Pass to the Bahamas for 2019 will have that effect.
Edoc took down a tournament in Manila last month for $28,514, which also had a Platinum Pass included for the winner. That meant he essentially got double the first place money!
In a hand just now against Raghav Bansal, Edoc called Bansal's pre-flop bet of 2,700 (we didn't see but can assume it was a three-bet) to go to the 9♥ 5♠ Q♣ flop. He checked it to the raiser and Bansal continued for 3,100, only for Edoc to click it back to 6,200. Call.
The 4♥ arrived on the turn and and Edoc put Bansal all in for his remaining 21,000. He thought for some time — more than four minutes — but eventually let it go, bringing Edoc's stack up to 56,000. –JS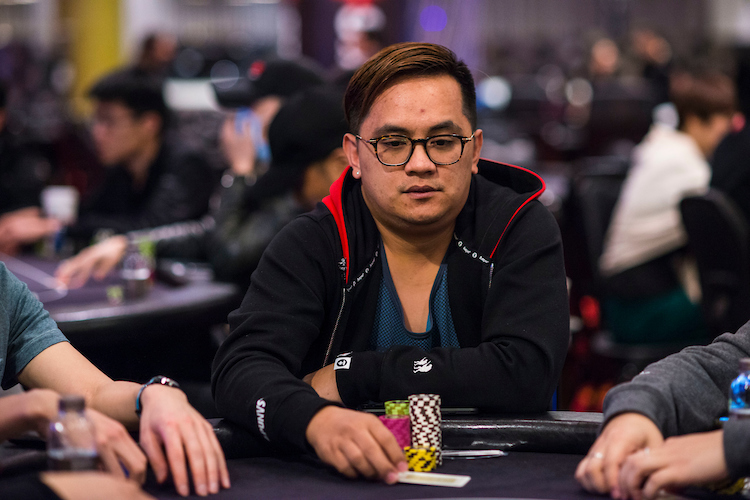 Edoc will be in the Bahamas
10:08pm: Moving on up
Level 4 – Blinds 150/300 (ante 50)
The tournament continues to cruise along. We're now up to our fourth level of play, with 150/300 blinds and a 50 ante. We'll play this level and two more before closing out the action for the night. –JK
10:05pm: Yu can't always get what Yu wants
Level 3 – Blinds 100/200 (ante 25)
Han Yu is out. His last hand was against Dapeng Mu. Details are sketchy. We can say Yu had 5♦ 4♦ and a handful of hopes, but Mu had 8♣ 8♦ and luck on his side.
The board didn't come as Yu desired it would and he's out while Mu moves up to 32,000. –MH
9:55pm: Derx dents Dongqi
Level 3 – Blinds 100/200 (ante 25)
Arriving at the table where Derx Lai and Dongqi Lin are sitting next to each other, there was a single yellow 5,000 chip sitting before Lai — representing a reraise, no doubt, but for an amount I cannot say — and another reraise of 6,400 sitting before Lin.
Eventually Lai called that to close the preflop betting, and the flop came monotone — 6♠ 3♠ 9♠ . Lai checked and Lin bet 3,000, then Lai set his entire stack forward for a check-raise shove to 8,700.
Lin thought about it for several seconds, then called with 10♦ 10♣ for an overpair. But Lai's overpair of Q♣ Q♠ was better than that, and when the 2♠ came on the turn Lai had improved to a flush and unbeatable hand.
Put Lai up to 39,000 after that hand, while Lin slips to 15,000. –MH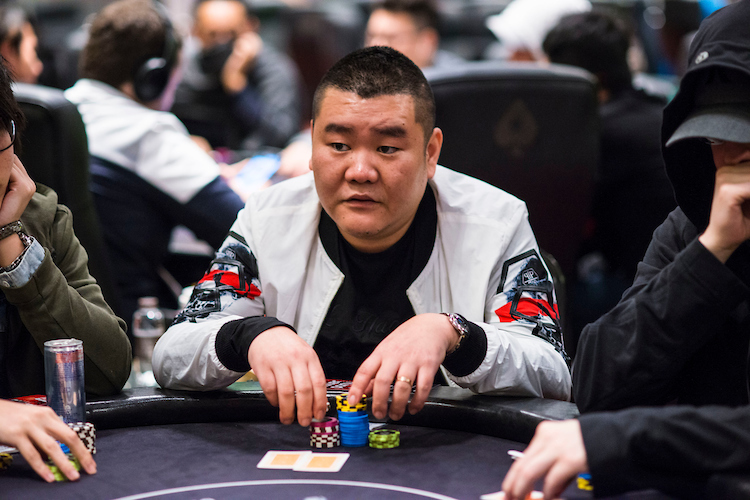 Dongqi Lin takes a hit
9:50pm: Paik making his presence felt
Level 3 – Blinds 100/200 (ante 25)
We just introduced you to Albert Paik, and in the meantime he's certainly been introducing himself to his tablemates.
First off, after a 500 open and two calls, Paik put in a healthy squeeze to 3,200 from the small blind. Three folds later the pot shipped his way.
Then in the next hand, a 500 hijack open and a call from the cutoff brought Paik in from the button too. The three went to a 5♣ 5♠ 4♠ flop which checked to Paik. A simple bet of 1,100 got the job done there too.
He's up to 32,500. –JS
9:45pm: Energy available when required
Level 3 – Blinds 100/200 (ante 25)
The 6pm start time here today on Day 1B of the Main Event means we'll be playing through until the early hours of tomorrow. That could get tiring for the players but luckily there are fridges full of Red Bull scattered around the poker room. Red Bull is exclusive energy drink provider here at PokerStars LIVE at The City of Dreams so players: help yourself when your energy levels need replenishing.
Just pull here for wings
9:38pm: Thumbs up to Toma
Level 3 – Blinds 100/200 (ante 25)
The first time I remember covering Japanese player Tsuganari Toma was about five-and-a-half years ago right here in Macau. He probably remembers that event well, too — the Asia Championship of Poker Main Event in November 2012, where he had a big stack at the final table before falling in sixth place.
That in fact still represents Toma's career-high tournament cash ($952,000 in HKD or about $123,000 USD), but in truth everything's been going great for Toma since. Most recently he's shown up on the European Poker Tour where among his cashes he made a deep run in the 2017 PokerStars Championship Barcelona Main Event, finishing 12th.
It's nice to see the always amiable Toma in Macau again today as he's taken a seat to join today's Day 1B field. And it will be fun to see as well if he can make another deep tournament run in Macau. –MH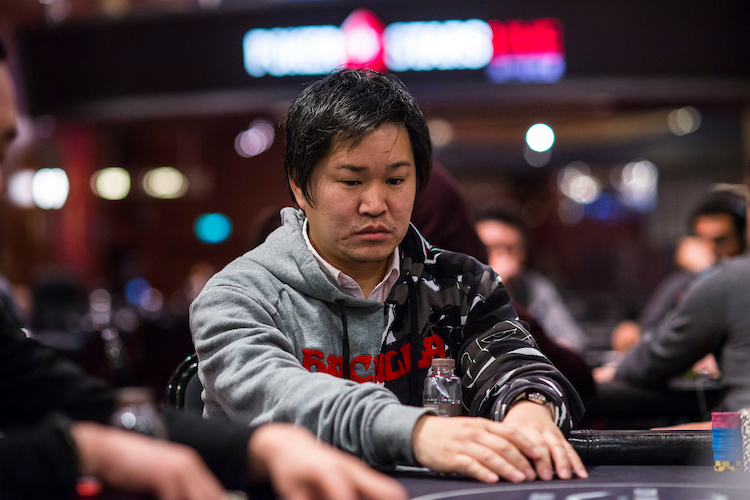 Tsuganari Toma has enjoyed great success in Macau
9:30pm: Aditya trips over Jin
Level 3 – Blinds 100/200 (ante 25)
Aditya Agarwal sat down this level and wasted no time getting his hands on a few extra chips to his day rolling.
It started with Xin Jin opening to 525 from under the gun and Agarwal defending in the big blind. The flop came 10♣ 9♣ 2♥ and Jin fired 500. Agarwal called and the turn was the 2♠ .
Agarwal check-called again, this time 1,100, and the river brought the 10♦ .
Agarwal took the lead on fifth street, pushing 5,200 into the middle. Jin didn't look like he loved it but made the call anyway. His fears were confirmed when Agarwal turned over Q♦ 10♥ for trip tens. Jin showed the 2♣ for worse trips.
Agarwal is now on 36,000. –MS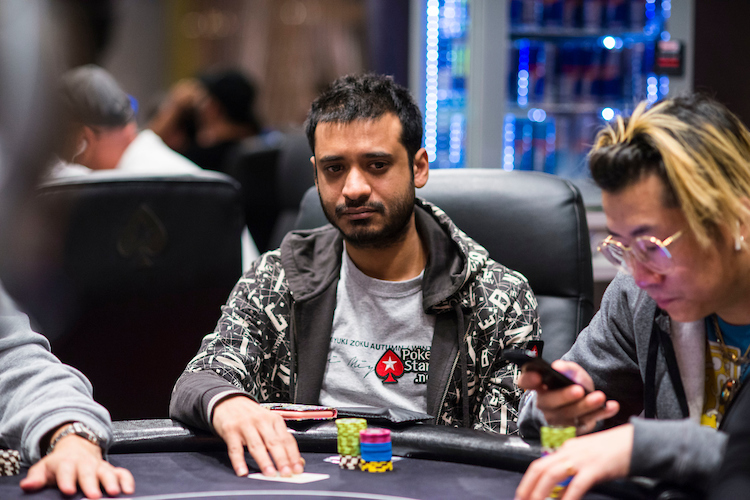 Aditya Agarwal is on the move
9:29pm: Get Paik to where he once belonged
Level 3 – Blinds 100/200 (ante 25)
We just saw a recognisable face stroll in and take his seat in the Main Event, even though most of his face was (and usually is when he's playing) covered by a surgical mask.
Albert Paik, from South Korea via the USA, took down the APPT Seoul Main Event back in June 2016 for ₩119,097,600 (~$101,000 US) with a dominating performance throughout.
Since that win he's notched up around $150,000 in winnings, and he's now chosen Level 3 as the best time to arrive and begin another run at a title. –JS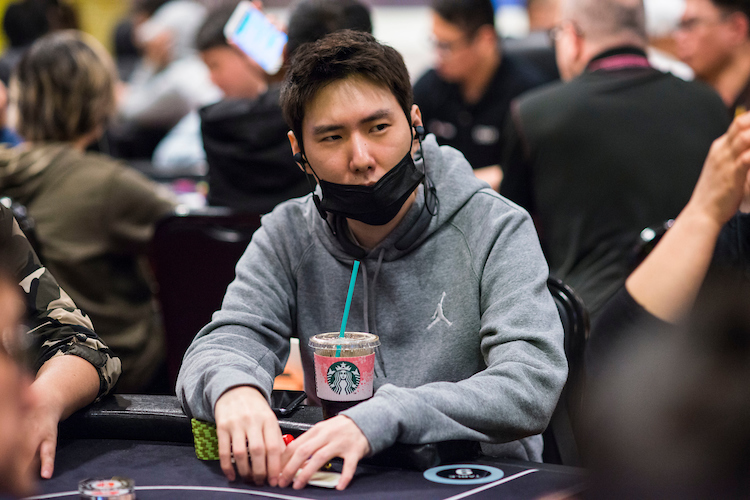 Albert was a man who once won a tourney
9:27pm: Luo suffers from Panek attack
Level 3 – Blinds 100/200 (ante 25)
High drama at the table of Qi Luo and Tomasz Panek just now. Well, maybe not that high, but it was a big hand, nonetheless, with Panek all in before the flop with A♥ K♦ and needing to improve against Qi Luo's Q♣ Q♦ .
The flop fell 10♠ 3♣ A♠ , and a standing Luo's disappointment was telegraphed by his slumping shoulders. He shook his head through the K♠ turn and 7♣ river, then recovered with a shrug while the chips were counted out.
Panek doubles to 52,000 with that pot, while Luo keeps his seat with 14,000. –MH
9:20pm: Lin stays in the action
Level 3 – Blinds 100/200 (ante 25)
Team PokerStars Pro Celina Lin stayed very much in the action after winning her first hand. She played the next two, winning one and losing one.
Hoang Quach opened to 450 from the cutoff and was called in two spots. He continued for 600 on a 2♠ 9♦ 5♦ flop but folded when Lin check-raised to 1,500 from the big blind.
On the very next hand, Lin raised to 600 from the small blind and Jeffrey Lo peeled from the big blind. The board ran out 2♠ Q♣ 5♣ K♦ 3♥ with Lin leading for 700 and 1,600 on the flop and turn before checking the river. Lo called all the way and checked back the river with Q♠ 8♦ to beat Lin's 6♥ 6♣ . –MC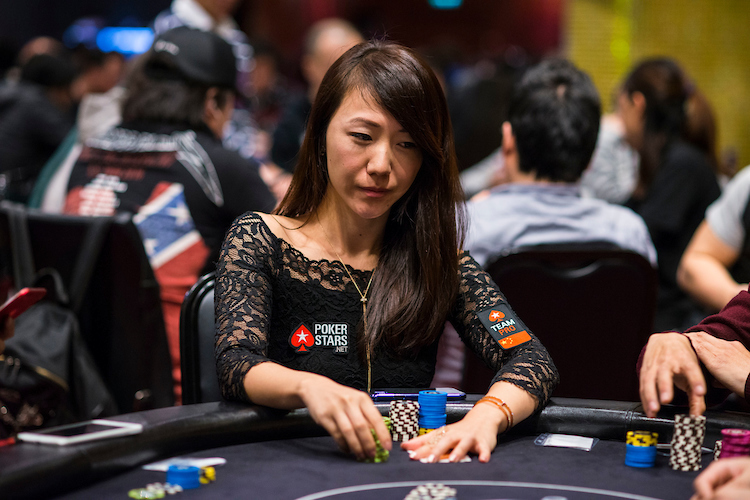 Celina Lin drives the action
9:15pm: Lin's in and gets a quick win
Level 3 – Blinds 100/200 (ante 25)
What an incredible start to this Main Event for Team PokerStars Pro Celina Lin.
In what was very likely her first hand, Lin opened to 500 from under the gun and it folded around to Hoang Quach on the button. Quach put out a three-bet to 1,250, which shook off the blinds. But Lin wanted to play higher; she four-bet to 3,700, and Quach made the call.
The flop fell 5♣ K♥ A♥ , but interestingly after so much pre-flop action both players checked. Lin would make a delayed c-bet of 3,700 on the 2♦ turn though, and Quach considered it for a while before calling once more.
Finally the 3♥ completed the board, and after a minute of thinking Lin checked it. Quach took his time before leading out for 6,500, and Lin thought for around 20 seconds before she made the call.
Quach turned over the A♠ K♠ for top two pair, but that was no good. Lin had the 4♠ 4♣ for a rivered straight, meaning the board had run out perfectly for her (albeit for the third heart).
One hand in, Lin's up to 44,000 while Quach drops to 22,000. –JS
9:13pm: Barausova back to starting stack
Level 3 – Blinds 100/200 (ante 25)
Tatiana Barausova had a rough couple levels to start the day but is back to the 30,000 starting stack thanks to a big hand moments ago.
The player under the gun opened to 500 and when it got to Barausova on the button she re-popped to 1,500. Both of the blinds flat-called and the original raiser four-bet to 6,600.
Barausova opted just to call and after the blinds got out of the way, the flop came down 7♦ 5♥ 2♣ . The player under the gun thought for a moment before checking and Barausova moved all-in for 14,200. It didn't take long for her opponent to muck his hand and send the pot her way. –MS
9:10pm: Hello, nanonoko
Level 3 – Blinds 100/200 (ante 25)
They're up over 160 players registered so far here on Day 1B, which means the field for this second and final Day 1 flight has already exceeded the 153 who played Day 1A.
Among the latest arrivers is Team PokerStars Pro Online's Randy "nanonoko" Lew, returning to the city where he earned his largest career cash when he won almost HKD$3.8M (~$485K USD) for winning the APPT Macau Main Event in 2011. –MH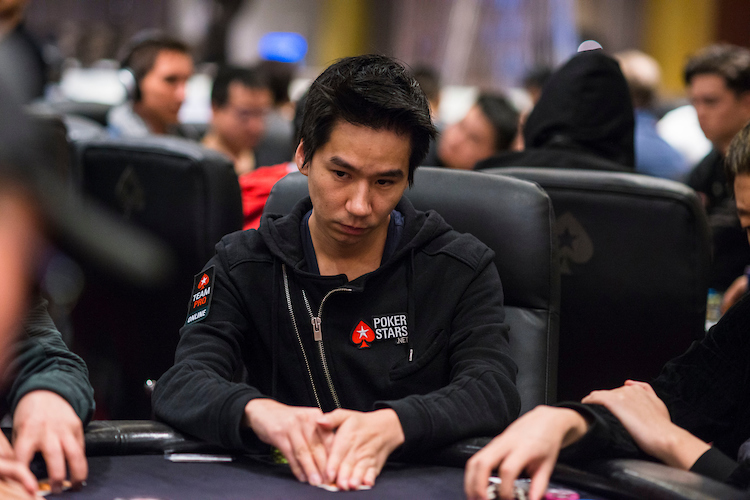 Randy "nanonoko" Lew is in the house
8:52pm: Back at it
Level 3 – Blinds 100/200 (ante 25)
Players are back and poker is being played once more. A reminder — they'll play four more 75-minute levels here on Day 1B. –MH
Day 1B continues
---
Don't have a PokerStars account? Getting one couldn't be easier and could mean a trip to the next big PokerStars series. Click here to get started.
---
8:37pm: Break time
They've reached the end of Level 2, and with 146 players registered so far today. Players are off now for the first 15-minute break of the day. –MH
8:35pm: Aditya Agarwal on booming India and Platinum Passes
Level 2 – Blinds 75/150
Team PokerStars Pro Aditya Agarwal has taken his seat in the Main Event. Last month, during the MPC28 poker festival, we had the pleasure of interviewing India's premiere poker player where he discussed the booming poker scene in his homeland and him wanting to get his hands on a Platinum Pass. –MC
8:32pm: Did you know…
Level 2 – Blinds 75/150
Quanzhou, formerly known as Chinchew, is a prefecture-level city beside the Taiwan Strait in Fujian Province, China (thanks Wikipedia).
Quan Zhou, however, is an always-stylish Chinese high roller regular with more than $1.8 million (US, not HKD) to his name, putting him fifth on China's all-time money list. His biggest cash to date was for HKD$3.6 million (~$469,000 US) when he took down a single day high roller at last year's PokerStars Championship Macau.
Zhou has just taken his seat towards the end of Level 2 here in the Main Event. He took down his first pot, too, opening the button to 400 but getting no action. –JS
8:30pm: Karlic lucky in Macau
Level 2 – Blinds 75/150
Austrian poker pro Gerald Karlic took his seat during the second level of the day and, based on the amount of success he's had in Macau, it's no wonder he's taking another shot.
Karlic has racked up over $1.64 million (USD) in live tournament earnings in events all over the world, but his record in Macau is mind-boggling. He's had nine cashes here since 2016. Six of them were final tables and two were outright wins.
We just saw him pick up a nice pot after making trip sixes on the river to jump up above starting stack as this Day 1A starts to pick up speed. –MS
8:25pm: You've got to know when to open-fold'em
Level 2 – Blinds 75/150
Nobody piles up a million dollars US in cashes without knowing what they're doing at the table, even when the moves they make seem a little unorthodox.
Take Dong Guo, for example, who has collected just over $1 million in career tournament earnings. He defended his big blind moments ago against Yi Shi, who had raised to 400 in the cutoff. That brought a flop of 8♦ J♥ 2♠ … and an immediate open-fold from Guo.
That got Shi shaking his head and laughing as he showed the J♠ . He didn't even get the chance to bet his pair. –JK
8:20pm: Platinum Pass winner back in action
Level 2 – Blinds 75/150
As we noted earlier, last night amateur player Shuize Cai won the first of four Platinum Passes being given away APPT Macau and today he's back on the felt. Cai snagged his Platinum Pass in the APPT National Championship and it came with a first-place prize of USD $165,000.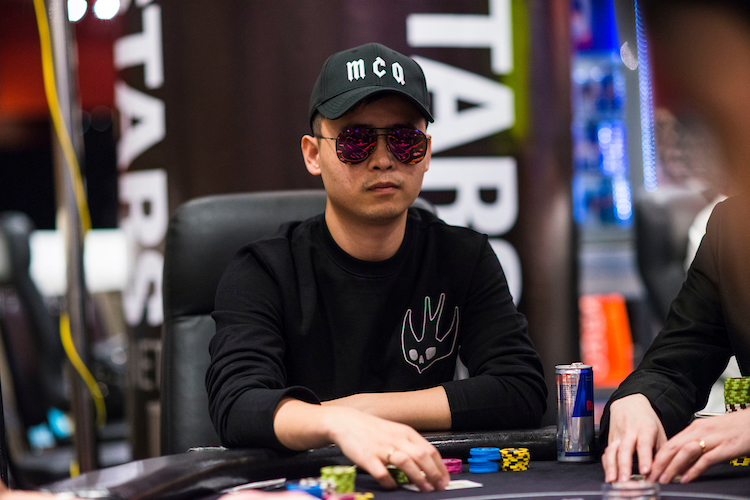 Shuize Cai, APPT National Championship winner
Amazingly, it was the first poker tournament Cai had ever played and he didn't even know a Platinum Pass was up for grabs until he made the final table. Scroll down to the bottom of this page to watch our video interview with him.
We've been keeping an eye on Cai today and so far he's stayed quiet. Meannwhile he's sitting in between two other players who have been anything but.
Zhaojun Ruan and Liang Tong have been battling and so far it's been pretty even. We caught one hand starting on an A♥ 8♥ 6♣ flop with 3,300 already in the middle. Tong bet 1,550 and Ruan raised to 3,300. Tong called and the turn was the K♠ . Tong checked and Ruan took it down with a roughly half-pot sized bet.
We returned to their table about five minutes later to see another pot brewing between the same two players. We picked up the action on the flop with 3,500 in the middle and the board reading 9♠ 6♥ 8♠ .
Tong was first to act in the big blind and fired 3,150. Ruan called and the 4♥ hit the turn. Tong reached for chips again and pushed in 7,550. Ruan looked like he was on the fence and wanted to continue but ultimately threw his hand in the muck, shaking his head as he did.
Ruan is now on around 22,000 while Tong is up to 36,000. –MS
8:15pm: Lai returns the gesture
Level 2 – Blinds 75/150
Paul Vas Nunes and Kwok Chun Lai just tangled in another pot, and this time it was Lai who would end up tapping the table.
Vas Nunes found himself in the cutoff with no action in front of him, so he came in for an open which was called by Lai on the button and Shawn Buchanan in the big blind (we missed the amount).
The three saw a K♥ Q♥ K♠ flop which Buchanan checked, before Vas Nunes continued for 550. Only Lai would call to see the 8♠ turn, and Vas Nunes didn't slow down, betting 1,350 and getting called once again.
The 3♥ was clearly a card that Vas Nunes could get three streets of value from or had to fire a triple-barrel bluff on. He led for 2,500 this time, and Lai went into the tank for around a minute and a half. He thought better of calling in the end, giving his cards to the dealer while tapping. –JS
8:10pm: Power poker aids Guo
Level 2 – Blinds 75/150
Dong Guo has soared up to 60,000 after forcing a fold from two opponents with some heavy betting.
He three-bet from the small blind preflop, then emptied the clip with bets of 2,500, 5,500 and all-in for an effective 26,000 on the river of a 5♦ 10♦ 9♥ K♠ K♥ board. Carson Wong (button) bailed on the flop but Timothy Vukson hung around to the river where he admitted defeat. –MC
8pm: A tale of two Vrakases
Level 2 – Blinds 75/150
There's a sizable contingent of Western players in our field here today. Only two of them are from Greece and they both share a last name — Vrakas.
Georgios Vrakas, sitting on Table 1, has enjoyed enough success in the last few years to be ranked No. 145 on the Global Poker Index, and No. 3 among players from Greece. He bagged two titles in 2017: the €1,100 PokerStars Championship Prague National for €338,000, and the €2,200 PokerStars Championship Barcelona National High Roller for €330,000. He hasn't made many waves yet today, but he obviously has the skills to pay the bills.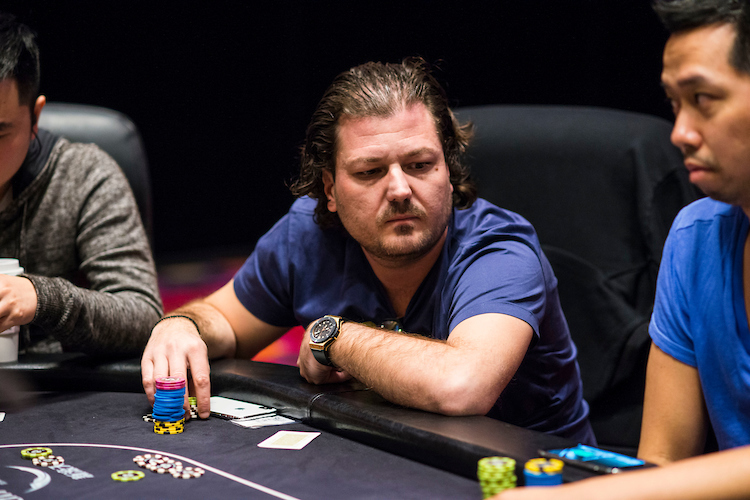 Georgios Vrakas
Our other Vrakas in our field is Lambros. His résumé is a little lighter than Georgios's but it does include a cash in last year's EPT Grand Final Main Event in Monte Carlo. Lighter résumé or not, he's picked up more chips in the early going than Georgios has. He showed down pocket nines minutes ago to top Chun-Ho Law's pocket sevens and climb to about 35,000 chips. –JK
7:55pm: Huang gets Sun-burnt
Level 2 – Blinds 75/150
Yunsheng Sun came here to play tonight, that's for sure. He's just made an excellent call — multiple calls, actually — to take a nice pot from Bingfu Huang.
Huang got things started with a 400 open from early position, which got calls from Jiafei Yu in the cutoff and Sun on the button. After the 9♥ K♥ 5♠ flop was dealt, Huang wasted no time in continuing for 600, which shook off Yu but caught the Sun, as it were.
Heads up to the 3♦ turn, Huang kept firing. This time the bet was 1,250, which Sun called again to take them to the A♣ river. A final bet of 3,000 was put out by Huang, and after around 30 seconds of thinking Sun made the call.
Huang turned over the J♦ 10♣ for a busted gutshot, while Sun had the 9♣ 8♣ for just third pair on the board. Sun rises to over 30,000 after that nice call down, while Huang drops to 19,000. –JS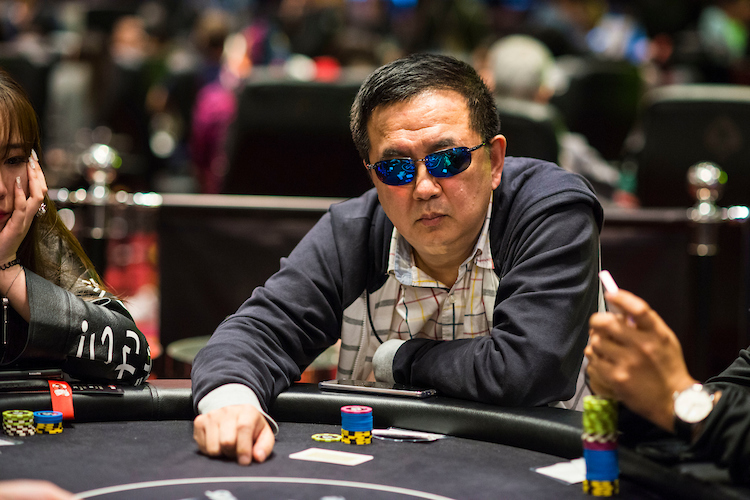 Here comes Yunsheng Sun
7:45pm: Joshua Morse finds the code to unlock Wang
Level 2 – Blinds 75/150
Joshua Morse Zimmerman's stack has swelled to 58,000 by eliminating Michael Wang after a preflop raising war.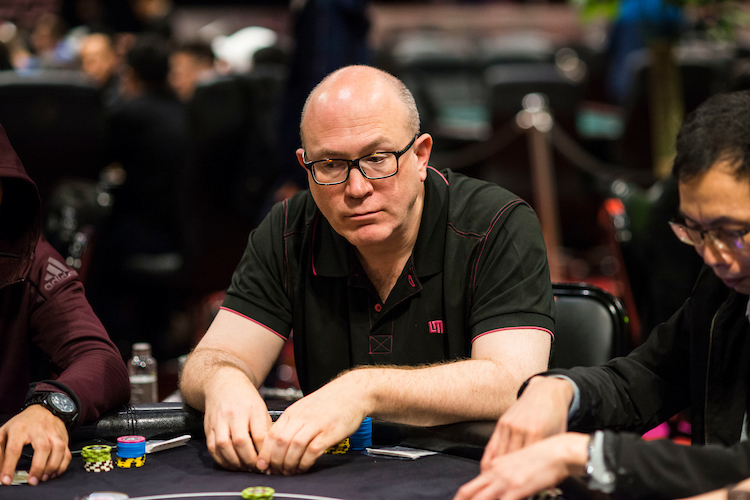 Joshua Zimmerman
We got there there as the cards were already on their backs.
Zimmerman: K♥ K♦
Wang: A♦ K♠
The board ran a blank 8♦ 10♦ 4♣ 5♥ J♥ . As Wang was walking away, a tablemate who wasn't involved in the hand and shall remain nameless said to him, "F%&%ing fish, it's Level one dude!"
Luckily Wang didn't seem hear the salty and inaccurate send off (it's was actually Level 2). –MC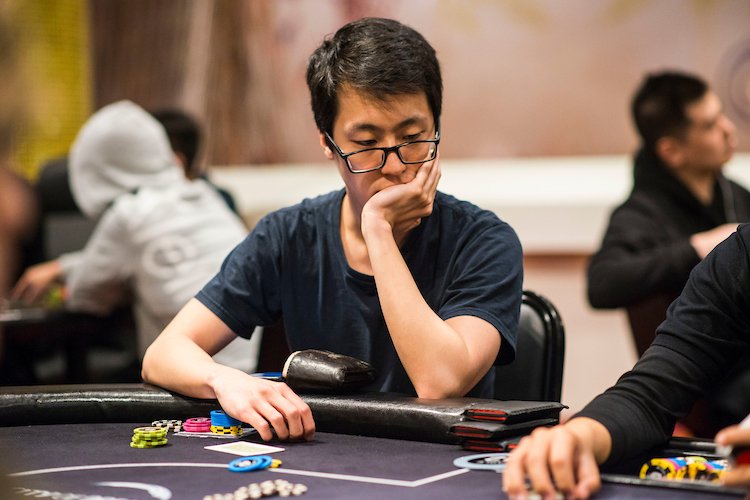 Michael Wang, early elimination
7:30pm: Nice shot
Level 2 – Blinds 75/150
In the game of snooker, or pool for that matter, it's customary to tap the table in acknowledgement after your opponent has played a good shot, even if it's one that puts you in a bad position (such as a "snooker"). And while tapping the table in poker usually indicates a check, you sometimes see the "nice shot" tap, too.
Kwok Chun Lai opened to 250 under the gun, which got called by Dongqi Lin (a great poker name) in the UTG+1 seat.
Like everyone else here, Dongqi Lin hopes to win this event's title and the Platinum Pass that goes with it. Lin actually came close to winning a Platinum Pass already this year when he finished sixth in the APPT Red Dragon Main Event in early February — his first career cash!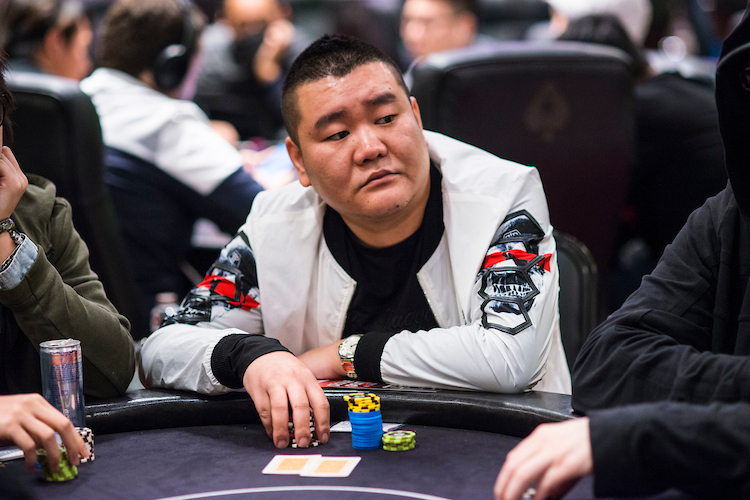 Dongqi Lin
Xuming Qi came along on the button, and when the small blind folded Paul Vas Nunes tried to clear them all out with a three-bet squeeze to 1,150.
Lai wasn't having any of it, though. He glanced around before putting in the four bet to 5,100, which shook off Lin and Qi. Back to Vas Nunes, he took one more peek at his hand before folding while tapping the table in recognition.
Nice shot, Lai. –JS
---
Don't have a PokerStars account? Getting one couldn't be easier and could mean a trip to the next big PokerStars series. Click here to get started.
---
7:20pm: Shen doubles in five-bet pot
Level 1 – Blinds 50/100
Zheng Shen ended the first level of the day in style, getting a double-up through Ralph Wong.
Wong raised from the hijack before the small blind three-bet to 900 and Shen four-bet to 2,275 from the big blind. Wong then came back with a five-bet to 4,900 and only Shen called. Both players checked the J♠ 8♥ J♥ flop before Shen led for 5,000 and all-in for 11,350 on the K♠ turn and 5♦ river.
"I hope we have the same hand!" Said Wong as he called.
That didn't run out to be the case as he mucked when Shen opened J♦ 9♦ . Wong dropped to around 20,000, while Shen bumps up to just over 43,000. –MC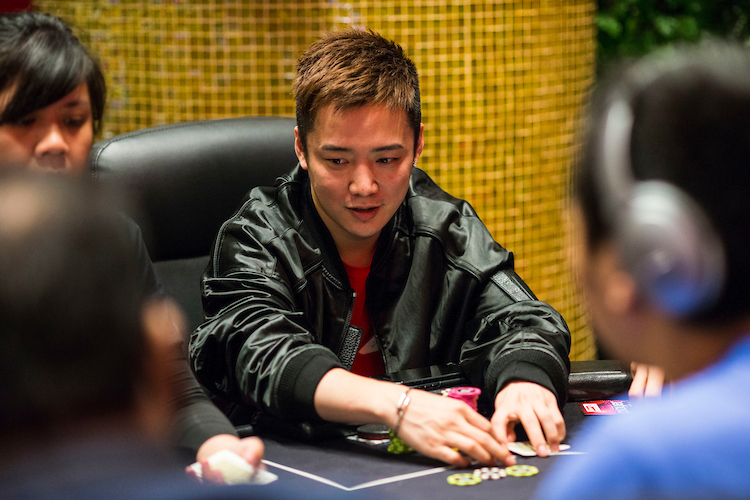 Ship it to Shen
7:15pm: Lo tries trapping with quads
Level 1 – Blinds 50/100
Jeffrey Lo has seven cashes on his record, all from right here in Macau. And thanks to a big pot moments ago he's off to a good start in his effort to earn an eighth in this APPT Main Event.
As we walked by his table we couldn't help notice the mountain of chips already in the middle. It looked to be around 24,000 and both Lo and his opponent in the hand Hoang Quach were eyeing it intently.
The board read 10♣ 9♦ 4♣ 6♥ 9♠ and Lo had checked the river. After a bit of thought Quach did the same. Lo turned over pocket nines for four of a kind and may have been ruing that final nine on the river for killing his action.
Lo is now on 38,000. –MS
7:10pm: No going under the radar this time, Mr. Buchanan
Level 1 – Blinds 50/100
Over the years, contributors to the PokerStars Blog have discussed many a poker topic, as you would expect. One of those topics is players with big reputations and records going unnoticed by us for whatever reason. Former WSOP Main Event champion Carlos Mortensen was one such example in the past. A more recent case is this year's PCA runner-up, Shawn Buchanan.
Even before his near $700,000 score a couple of months ago, the Canadian had already accumulated more than $6 million in tournament winnings. Even so, it often seemed we wouldn't notice him unless he made it deep in a tournament.
To be fair to us and tournament reporters all over the globe, Buchanan does often wear black hoodies, sunglasses, and a big pair of headphones to really blend in with the modern day poker player. But we've spotted him right from the start of his Main Event journey this time, so expect him to feature on a Day 1 more than ever! –MC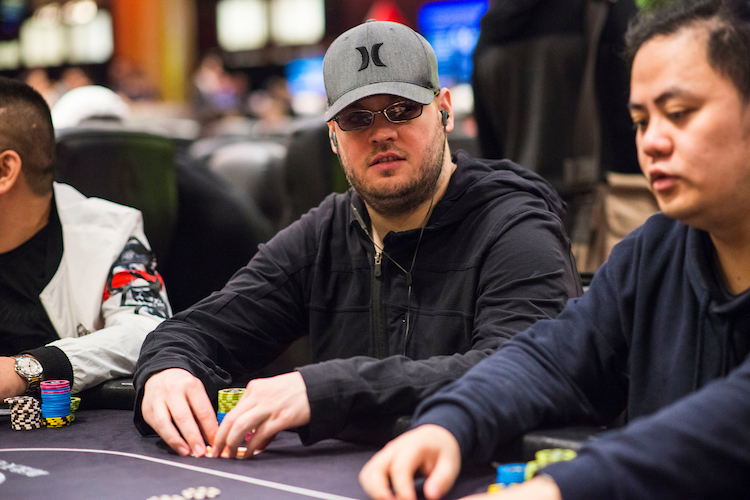 We've spotted you Shawn!
7:05pm: Zealous Zinno
Level 1 – Blinds 50/100
We're less than an hour into the day, but high roller regular Anthony Zinno has already found himself all in.
After Benjamin Murry opened the cutoff to 300, Sun Fei called from the small blind before Zinno three-bet squeezed to 1,200 from the big. Murry got out of the way, but Fei called and it went heads up to a flop.
The dealer spread 6♣ 10♥ Q♦ and Fei checked it, letting Zinno in for a 1,500 continuation bet. Fei had a plan, though, raising it up to 4,000. In a few hours this pot won't seem like that much, but at this stage of the tournament, this 82-big blind bounty was already huge.
It was about to get bigger, as Zinno four-bet shoved for just over 15,000. Fei gave it some serious thought, but ultimately laid it down, meaning the pot shipped Zinno's way. –JS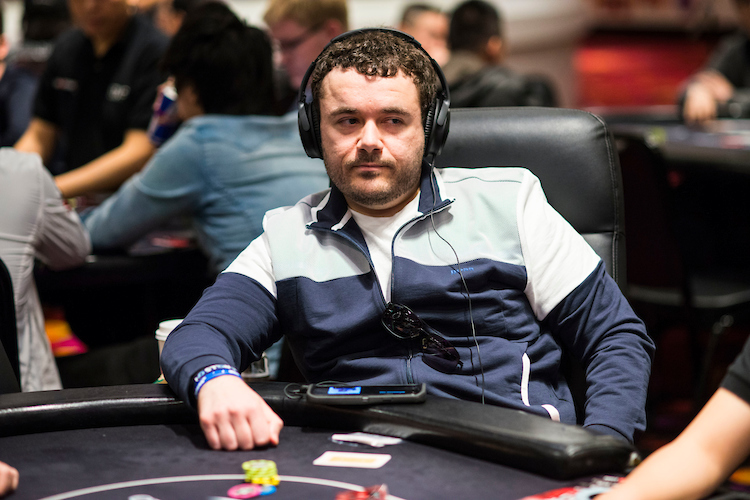 Zinno, all in already
6:55pm: Telltale chips
Level 1 – Blinds 50/100
With so much action on so many tables, it can be hard to catch meaningful individual hands. But even in the absence of specific information, it's still easy to spot who's been the most active at a particular table. All you have to do is look for who's piling up the chips with the smaller denominations.
In our case today that means the green 25s and black-and-white 100s. Among those who have already begun amassing them are Chengbei Li over on Table 10, Yiguang Xu on Table 14, Juncong Cao on Table 9, and Chanh Hoon Jung on Table 8.
And then there are the players who are picking up pink 500s and blue 1000s, like Dong Guo. We caught up to his table with the board reading 6♥ A♠ 5♥ Q♦ just as he came in for a check-raise against Canada's Timothy Vukson. Guo bumped the bet to 3,500, a raise of 2,500 over Vukson's bet. Vukson thought it over and called, which brought the 7♥ river. Guo didn't hesitate to bet 4,500 and Vukson eventually folded.
Guo is now on about 45,000 — including a double-size tower of 25s and 100s — and looks to be one of our early chip leaders. –JK
6:50pm: River overbet prompts painful fold from Chen
Level 1 – Blinds 50/100
We arrived on the river with the board reading Q♦ J♣ 8♣ 10♥ 7♦ and Spanish player Paul Castrillon pushing 5,500 across the line from the button. Yuanye Chen was in the small blind, clearly pained by the decision put to him.
With 4,150 already in the pot it was a big bet and from the sounds of it Chen may have had a nine. "Do you have ace-king?" Chen asked. "Maybe you had clubs?"
After a few more questions and a lot more chip-shuffling, Chen pushed his cards into the muck and conceded the hand.
Castrillon didn't say a word as he raked in the pot. –MS
Castrillon collects
6:45pm: Harry writes the Law
Level 1 – Blinds 50/100
Former EPT Deauville finalist Harry Law (pictured below) added some chips to his stack just now after rivering a full house versus Yuanjun Lui.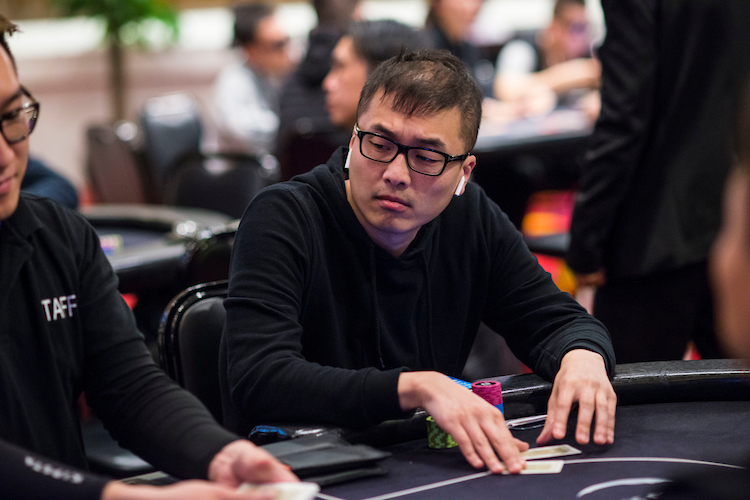 Lui fought Harry Law and Law won
The big blind was absent when Lui raised to 250 off the button and Law called from the small blind. The board ran out 8♠ 2♣ 8♦ 8♥ Q♣ with Law check-calling bets of 250 and 525 before the river was checked through. Law opened Q♦ J♦ and Lui mucked. –MC
6:42pm: The vast accomplishments of Vas Nunes
Level 1 – Blinds 50/100
We've just spotted Paul Vas Nunes out in the Day 1B field, a regular on the European poker circuit and one hell of a player, both live and online.
His résumé may only boast one cash thus far on Asian soil (that one came back in 2012 at the APPT in Taipa), but the $8,180 he won in that one is just a miniscule percentage of the more than $1.5 million he's racked up in live earnings over the years.
Vas Nunes really cuts hit teeth on the online felt, though, where he's accumulated more than $2.5 million in career winnings. His two Sunday Million wins on PokerStars put him in an elite club, while he's also won a SCOOP event for $403,000 and has a WCOOP runner-up finish worth $218,000.
One to watch, then. –JS
Van Nunes in action
6:40pm: Bumpy start for Barausova
Level 1 – Blinds 50/100
Russian poker pro Tatiana Barausova took her seat early in Level 1, but based on how things have gone so far she might be wishing she'd shown up later. She's down to 24,000 from the 30,000 starting stack. From the looks of it her chips went to Chahn Hoon Jung who's now up close to 37,000.
Thanks to this event's deep structure, however, Barausova still has loads of chips and lots of room to maneuver.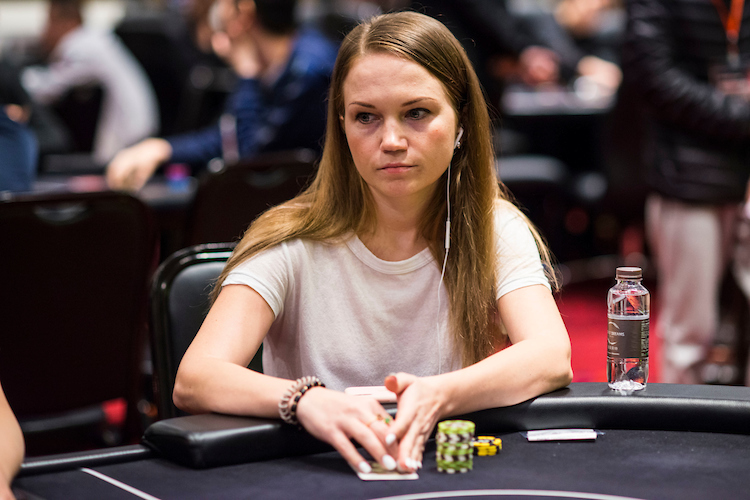 Tatiana Barausova is here for Level 1
Barausova has had success here in Macau before. Just last October she finished second in a side event at the PokerStars Asia Championship of Poker for $34,582 and she's had five other in-the-money finished here over the last two years. –MS
6:35pm: Way to Guo
Level 1 – Blinds 50/100
One of the most recognizable faces out in the field is that of Dong Guo, one of China's best (currently 15th on the country's all-time money list).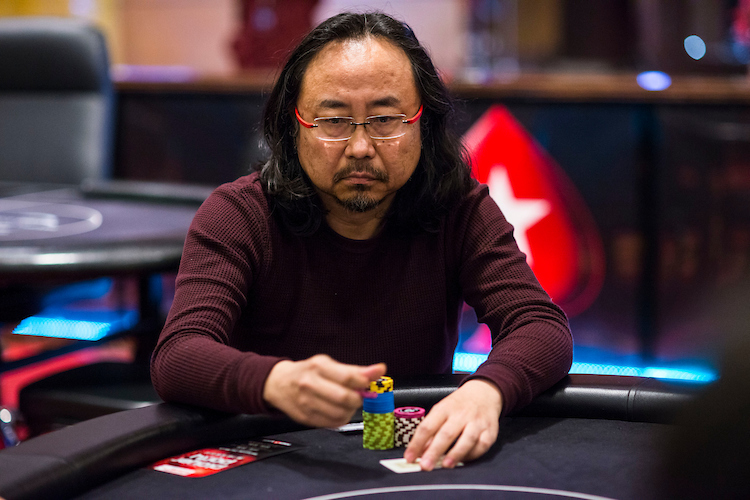 Dong Guo seeking another deep run in Macau
PokerStars Blog remembers him well from last year's Main Event, when he ultimately finished in 10th place for HKD$291,300, having eliminated the likes of David Peters along the way courtesy of a mistimed bluff by the American pro.
But Guo is a regular here at the City of Dreams, and just last month he had a deep run in the Macau Poker Cup High Roller. He's got a long way to go before another cash in this one, but is it too early to say he's got his eyes on the prize? –JS
6:30pm: Gupta straightens out Soulier
Level 1 – Blinds 50/100
One more early hand between Ashish Gupta and Fabrice Soulier to share with you. In this one Gupta made a straight versus Soulier in a battle of the blinds and got paid, extending his early lead at his table that's still playing four-handed.
A 6♦ 10♦ 9♣ flop was out and Soulier led and then called when raised to 800. Both players checked the 8♣ turn before Soulier check-called 1,450 on the 4♥ river. Gupta opened 7♥ 4♦ and his French opponent mucked. –MC
6:25pm: Fasten your seatbelts
Level 1 – Blinds 50/100
Everyone knows that all the most exciting poker hands take place during Level 1 before the antes have even kicked in. This one is no exception.
Action folded to Fabrice Soulier in the small blind — and by action I mean two people on the four-handed table folded — before Soulier made it 200 to go. Ashish Gupta defended his big blind to see the 7♠ 7♥ 10♦ flop, which Soulier continued on for 250. Call.
The 10♥ turn double-paired the board, and Soulier checked it. Gupta didn't bet either, bringing the 6♠ on the river. Soulier checked once more, and when Gupta checked behind the Frenchman turned over 5♠ 5♥ for a counterfeited pair. Gupta had A♣ 3♠ and took it down with tens, sevens and an ace kicker.
Let's hope the action continues down this crazy road. –JS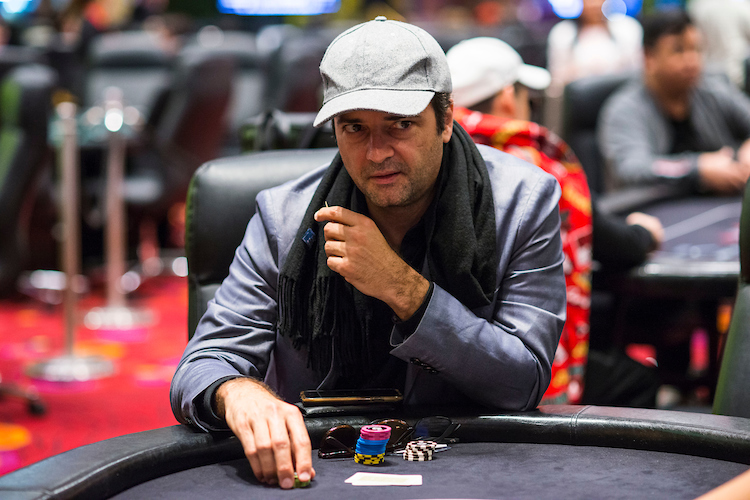 Soulier at the starting line
6:22pm: Early faces
Level 1 – Blinds 50/100
It seems weird saying early faces with a 6pm start time, but we're doing it "Macau style" today.
Fabrice Soulier finaled this event last year and he was in his seat from the start. Chen An Lin is one of Asia's top pros and he finds himself sat opposite Junzhong Loo shown the WSOP Asia-Pacific title back in 2014.
Other familiar faces already seated include Anthony Zinno, Harry Law, and Xuming Qi.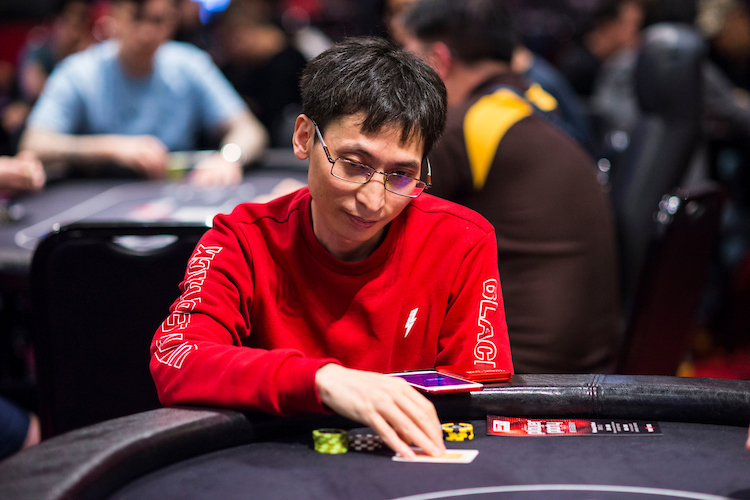 Qi begins the quest
The American Ben Hamnett is here as well, looking to add to his career winnings of more than $1.35 million. –MC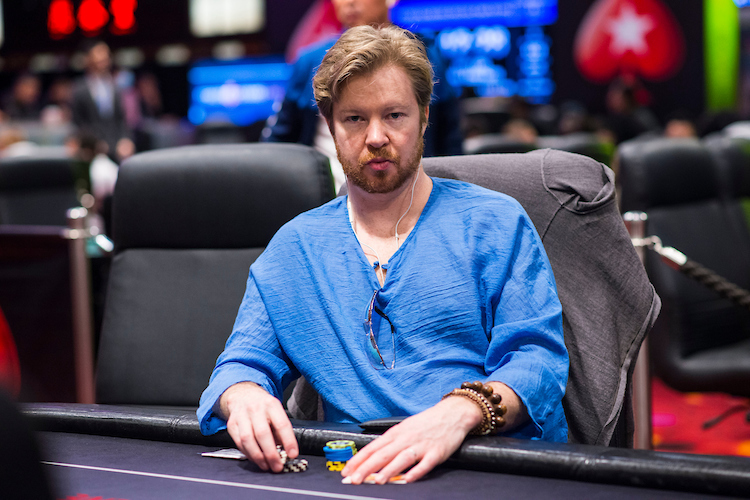 Hello, Mr. Hamnett
6:20pm: Meet APPT Macau's first Platinum Pass winner, Shuize Cai
Level 1 – Blinds 50/100
In addition to the winner's trophy and first-place prize money, the winner of this event will earn a coveted PokerStars Players No-Limit Hold'em Championship Platinum Pass worth $30,000 (USD), just like the one earned yesterday by APPT Macau National Championship winner Shuize Cai.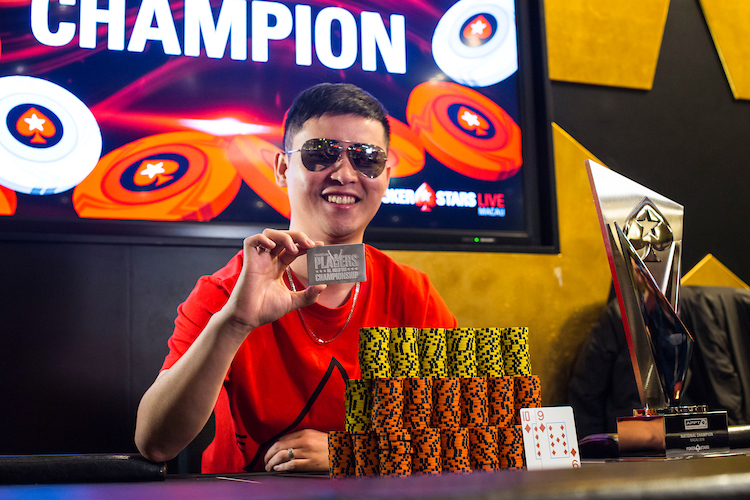 Shuize Cai, APPT Macau National Championship winner
The stock broker and amateur player was in fact playing his first tournament ever (!), having entered without even knowing the winner was going to earn the first of four Platinum Passes being awarded during the series.
We expect Cai to be in the Main Event field today. Read more about Cai's story here, and rail the moment he won and enjoy some of the post-tournament excitement below. –MH
6:10pm: Time for some poker
Level 1 – Blinds 50/100
The tournament director has informed the dealers it's time to "shuffle up and deal," and the first hands of Day 1B are being dealt. Back shortly to let you know who is here. –MH
---
Don't have a PokerStars account? Getting one couldn't be easier and could mean a trip to the next big PokerStars series. Click here to get started.
---
5:30pm: Let's play Day 1B of the Main Event!
Greetings from PokerStars LIVE Macau at the City of Dreams, where we're getting ready to kick off Day 1B of the APPT Macau Main Event.
Last year's APPT Macau Main Event saw Canada's Elliot Smith defeat China's Terry Tang for the title, taking home $2,877,500 in Hong Kong Dollars (roughly $370K USD).
The price of admission for this tournament is $40,000 HKD – about $5,000 USD – and there's a coveted PokerStars Players No-Limit Hold'em Championship (PSPC) Platinum Pass worth $30,000 USD awaiting the winner.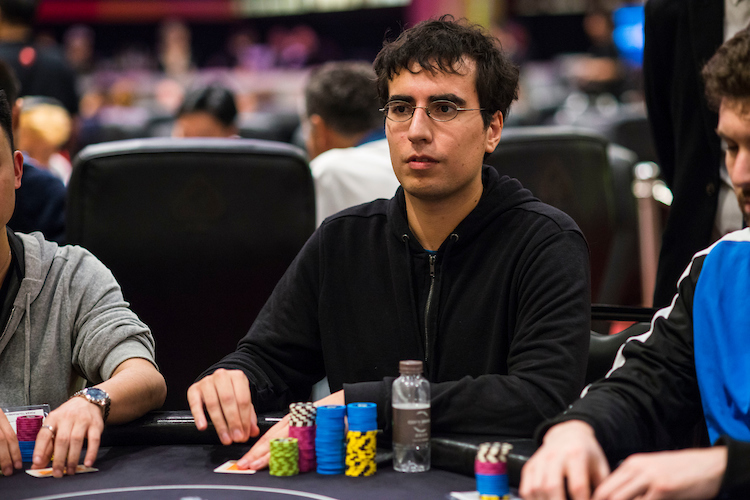 Diego Palma, chip leader after Day 1A of the APPT Macau Main Event
Day 1A of this year's event played out yesterday, drawing a total of 153 players. Of the starters, 98 progressed to tomorrow's Day 2. Leading the way was Chile's Diego Palma, who bagged up 133,500 chips at the end of the night.
The plan for today is to play six 75-minute levels, breaking for 15 minutes after Levels 2 and 4. Our players will start with 30,000-chip stacks and blinds at 50/100.
We're due to get going at 6pm local time, about half an hour from now. Be sure to keep your browser here on the PokerStars Blog and keep refreshing throughout the night for all the updates, photos, and videos your heart desires. –JK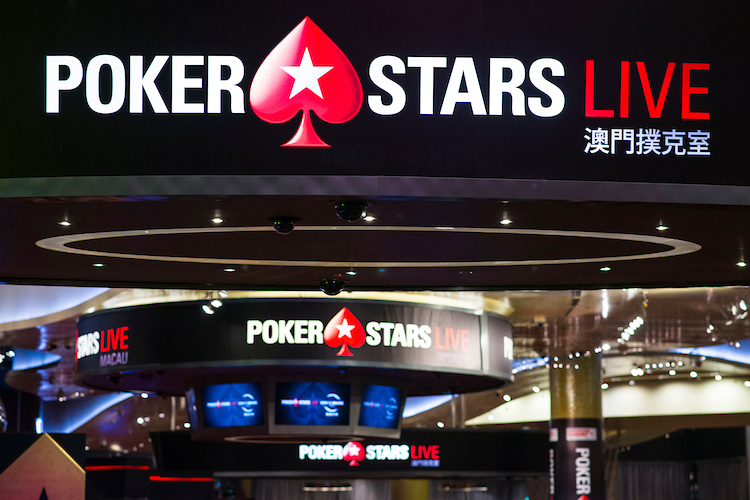 ---
Download the PokerStars LIVE! app with all tournament information. Available for IOS and Android.
PokerStars Blog reporting team on the $40,000 Main Event: Marc Convey, Martin Harris, Jason Kirk, Matt Showell, Jack Stanton, and Howard Swains. Photography by Joe Giron/PokerPhotoArchive and Long Guan of Kenneth Lim Photography.
Back to Top