The card clubs of Southern California have given poker many of its best things. The movie California Split is the best of its genre; David Hayano's Poker Faces is the best study of the life of professional players; and the whole scene down there offers a way forward for regulated clubs dedicated to the game we all love.
This evening in the Imperial Ballroom of the Atlantis Resort in the Bahamas, those California clubs also gave us the final two players at the Main Event of the PokerStars Caribbean Adventure (PCA). David "Chino" Rheem, of Los Angeles, and Daniel Strelitz, of Torrance, were the last of 623 players in January's regular showpiece, going head-to-head for a $1.567 million first prize and one of poker's most sought-after titles.
When it came to it, there was no stopping Rheem. When he's on form, this 38-year-old grinder is one of the best in the business: he has all the table talk, he makes every decision in the blink of an eye, and he has a natural ability to read every situation. Several times during this week-long tournament, Rheem picked opponents' hands perfectly, enabling him either to seize on weakness or make disciplined lay-downs when required.
---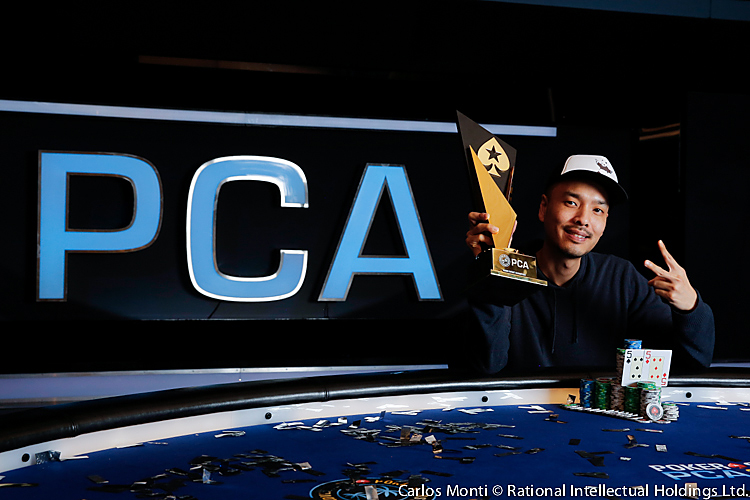 David "Chino" Rheem: King of the PCA
---
Rheem has his detractors. Ever since he rose to the very highest prominence as a member of the inaugural November Nine in 2008, Rheem has attracted (and sometimes even courted) controversy. But what we saw this week, and especially today at the final, was the very best of this raw talent. He knocked out all five of his last-day opponents and was an unstoppable force. Victory pushes his live earnings past $10 million.
"You just gotta have fun while you work," Rheem said. "That's the best way. That's the best work ethic. You gotta have fun while you do it. Just being able to play and having a chance to win it, it's an honour. It feels good."
Strelitz will look back on today with plenty of pride (and over a pile of banknotes totalling $951,480). He had the second smallest stack at the start of the day, and was one card away from busting in sixth. But he hit a two-outer, strapped himself in, and watched as Rheem did all the heavy lifting. The heads-up battle between the two Californians was brief: Rheem's pocket fives beat Strelitz's ace-two and the tournament — and extraordinary festival — was over.
---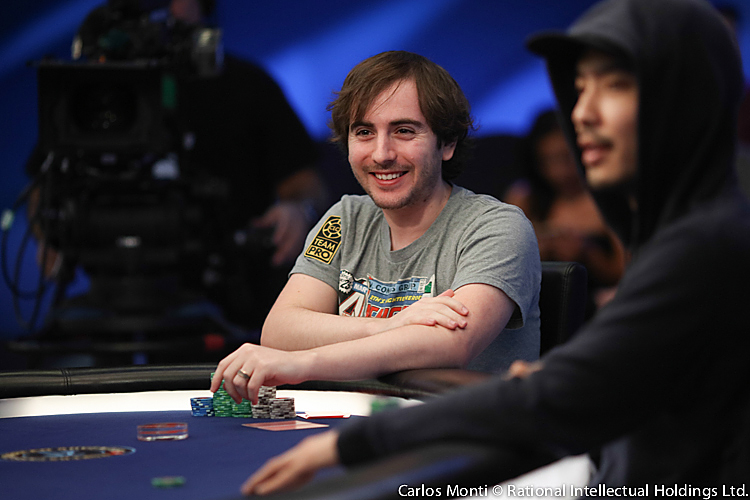 Daniel Strelitz: A fine second place
---
THE FINAL DAY
After four long preceding days, the final table was set late on Tuesday night with Rheem leading the pack. There were three Americans, and one player each from Canada, Spain and Ukraine, representing all ages and poker experience.
The final table line-up
| Name | Country | Chips |
| --- | --- | --- |
| David "Chino" Rheem | USA | 7,550,000 |
| Scott Wellenbach | Canada | 6,015,000 |
| Brian Altman | USA | 4,995,000 |
| Vicent Bosca | Spain | 2,875,000 |
| Daniel Strelitz | USA | 2,355,000 |
| Pavel Veksler | Ukraine | 2,035,000 |
Brian Altman's ride to the final table was smoother than anybody's. He entered Day 2 in fourth place from 349 players remaining. He was sixth heading into Day 3; fifth going into Day 4 and made the final table ranked third out of six. But it was only then that the good times halted for Altman.
He sat card-dead for almost all of the opening exchanges as the final table played its first hour without either an elimination or a double up. And then after Daniel Strelitz survived the first called all-in (of which more later), Altman got a rough break. He found a playable-ish hand — A♦3♦ — and open raised from under the gun. Rheem three-bet his big blind, a move that might have represented pretty much anything, and Altman shoved in his last 3 million. Unfortunately for Altman, Rheem had Q♥Q♦ and the board bricked.
Altman was first man out today, picking up almost $300,000. He would have had legitimate hopes for five times that much, but that's another excellent week's work from one of tournament poker's most accomplished talents.
---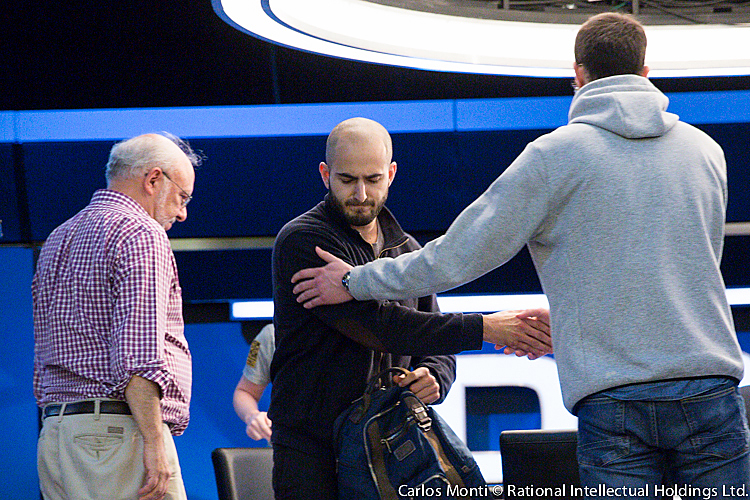 Brian Altman: ride ends in sixth
---
Rheem was leading going into the final day, and hadn't yet dropped even one place down the leader board. Below him, all of Scott Wellenbach, Daniel Strelitz and Pavel Veksler jostled for second place, continually taking chips from one another. Strelitz scored a major double when his pocket threes won a race against Wellenbach's A♠J♥. Though it was pretty equal when they got the money in, the ace on the turn, followed by the three on the river made it dramatic.
The only player who could never quite move into contention was Spain's Vicent Bosca. Despite the presence on the rail of his friend, countryman and all-conquering PSPC hero Ramon Colillas, Bosca nursed a short stack for much of the day. He scored one double through Rheem — A♥K♦ > A♦Q♣ — but had slid back down to only a little more than 10 big blinds when he flopped very strongly with A♦J♦ on a 3♦T♦Q♣ board. Rheem pushed with his 5♣3♣, Bosca called, and although the Spanish player was favourite in this spot, Chino is Chino. The turn and river were blanks and Bosca was out. He takes $396,880 (and maybe a piece of Colillas's $5.1 million, who knows).
---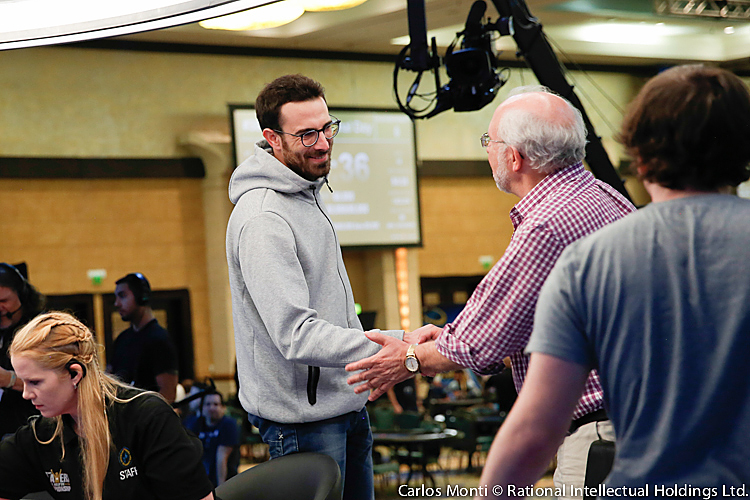 Vicente Bosca: No shame in fifth
---
Rheem had been an equal-opportunities trash talker throughout the whole week, but Pavel Veksler's presence at the table today had offered a great chance for the Californian to needle all the way over to Eastern Europe. Not only did Veksler take it all in his stride, he also set about posing the most significant threat to Rheem, continually picking up any stray chips and potentially mounting a title challenge.
However, when Rheem and Veksler played their most significant pot between one another, Rheem knocked out his Ukrainian opponent and had one hand on the trophy. It was a straight race, with Rheem moving all-in from the small blind with 6♠6♣ and Veksler calling all-in for his last 3.51 million with A♠Q♣. Veksler couldn't hit and became Rheem's latest victim. Veksler took $503,440 for fourth.
---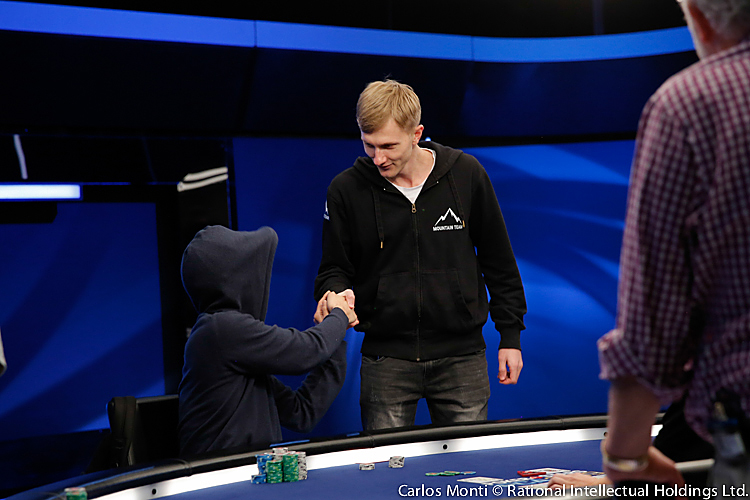 Pavel Veksler – 4th place
---
Anyone casting an updated version of The Odd Couple — one of poker's most celebrated screen depictions — could do worse than placing Rheem opposite Scott Wellenbach, the man who ultimately had the task of taking on the two Californians.
Wellenbach is a 67-year-old Buddhist from Halifax, Nova Scotia, Canada, who gives all of his poker profits to charity. He is a softly spoken translator by day (of Buddhist teachings, in Sanskrit and Tibetan) and a mean online poker player by night, where he often qualifies for live events on PokerStars. He had been excellent this week — matching the pros blow for blow, while also providing a remarkable counterpoint to Chino. The pair seemed to earn one another's mutual respect as they battled through two days together, and it was a shame that the pair eventually had to be separated.
---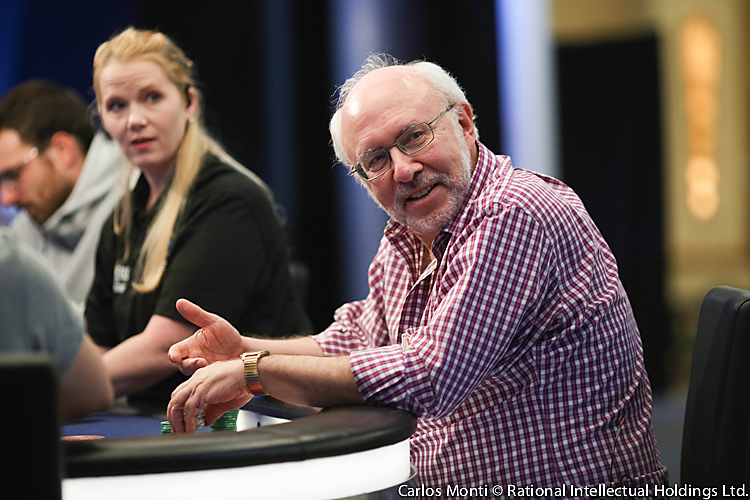 Scott Wellenbach: Yin to Chino's yang
---
Rheem saved his most dramatic elimination for Wellenbach, taking his A♣T♦ against Wellenbach's K♣Q♥. Wellenbach flopped a king, but then Rheem went runner-runner for a straight. Wellenbach smiled once more — he has done a lot of that all week — and then did one more interview. He then went looking for his $671,240 prize for third, a lot of which will go to fund good causes close to Wellenbach's heart.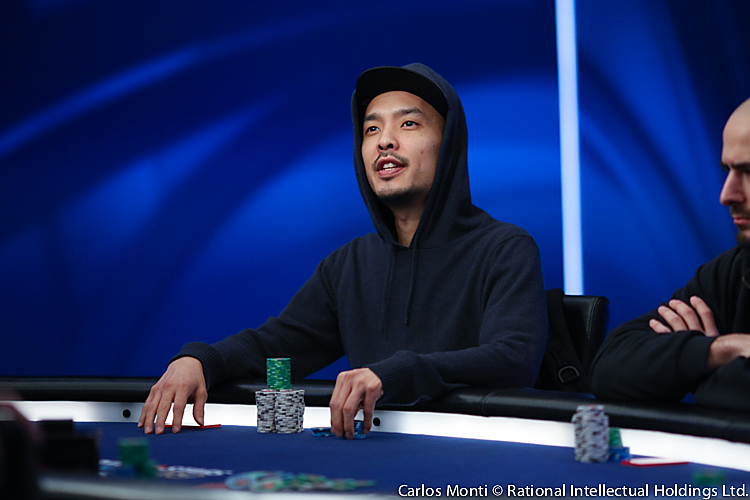 Chino Rheem: Dared to dream
---
And then there were two, but Rheem not only had all the momentum, he also had all the chips. Strelitz did his best to overcome a 12 to one disadvantage, but there was really not much he could do in the face of the champion elect.
When they got it all in, Strelitz had an ace, but Rheem had the pocket pair and there was very little fuss. "You just gotta be lucky." Rheem said. And now he's off to see how he can spend $1.5 million.
---
---
With that, we bid farewell from the Bahamas. We had a joyous PSPC, a scintillating Super High Roller, a quickfire $25K, and then we had Chino's steamroller. Relive all of that with our live updates.
Until next time, goodnight.
---
PokerStars Caribbean Adventure (PCA) Main Event
Dates: January 11-16, 2019
Buy-in: $10,000 + $300
Entries: 865 (inc. 242 re-entries)
Prize pool: $8,390,500
| RANKING | NAME | COUNTRY | STATUS | PRIZE |
| --- | --- | --- | --- | --- |
| 1 | David "Chino" Rheem | USA | | $1,567,100 |
| 2 | Daniel Strelitz | USA | | $951,480 |
| 3 | Scott Wellenbach | Canada | PokerStars qualifier | $671,240 |
| 4 | Pavel Veksler | Ukraine | | $503,440 |
| 5 | Vicent Bosca | Spain | | $396,880 |
| 6 | Brian Altman | USA | PokerStars player | $297,020 |
Back to Top