Things are looking up in the Staples SCOOP kingdom. A cash in the $530 Deepstack nearly turned into a first Day Two, if not for a pesky Ace-King vs Aces collision late in the day. Jaime's playing well, streaming like a champion and the best is yet to come as we reach the business end of SCOOP. But instead of us telling you about it, let's hear from the man himself in the latest episode of Jaime's SCOOP Video Diary…
It's been a Staples kind of day here on PokerStars Blog. First, we brought you an exclusive interview with personal trainer Mike Vacanti, the guy who helped turn Jaime into half the man he used to be.
Then we published the latest standings in the PokerStars Blog Golden Scythe Awards and guess who is on top? That man Staples again. We even gave him a ceremonial Golden Scythe 'yellow jersey' on his Twitch page. Check it out here.
So, when the latest Staples update arrived earlier today it wasn't a surprise to find him in typically high spirits;
Now all he's got to do is turn those deep runs into final tables, and SCOOP trophies. We've got faith Jaime – go get 'em!
Play in the exclusive SCOOP Diaries Freeroll
PokerStars Blog has teamed up with Jaime Staples for an amazing value freeroll where we are giving away 25 $109 tournament tickets for use in the SCOOP Main Event [Low], with a guaranteed prizepool of $1,500,000!
To earn a seat into the freeroll, simply make a deposit of at least $10 and use the code 'JaimeDiaries'. You'll then be automatically registered for the SCOOP Diaries Freeroll. You can find this by going to the Tourney tab on PokerStars and searching for 'Diaries', or by using the tournament ID 2299843641. Good luck!
Watch Jaime on Twitch NOW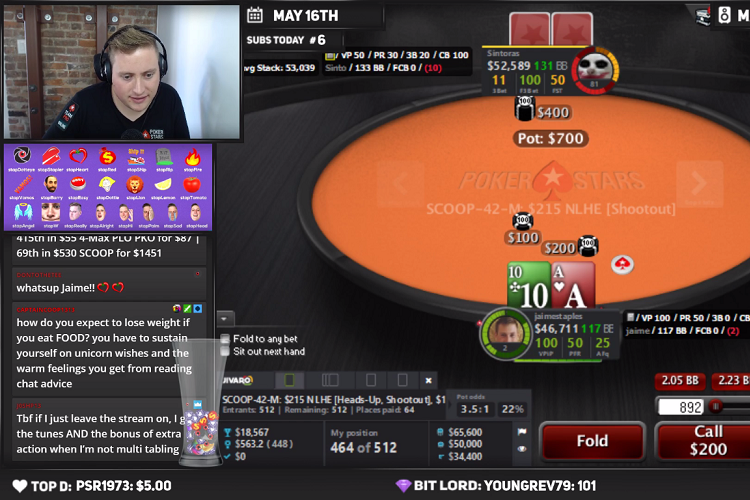 Staples on the stream train
Staples is streaming RIGHT NOW on Twitch so make sure you check in and tell him you've come from PokerStars Blog by leaving this message: !blogfan. You can find the stream right here.
Back to Top